If you're looking for a spicy Neapolitan Style Pizza Recipe then this is calling for you! Made with a small handful of simple ingredients, this pizza packs big flavor and is perfect for your outdoor pizza oven.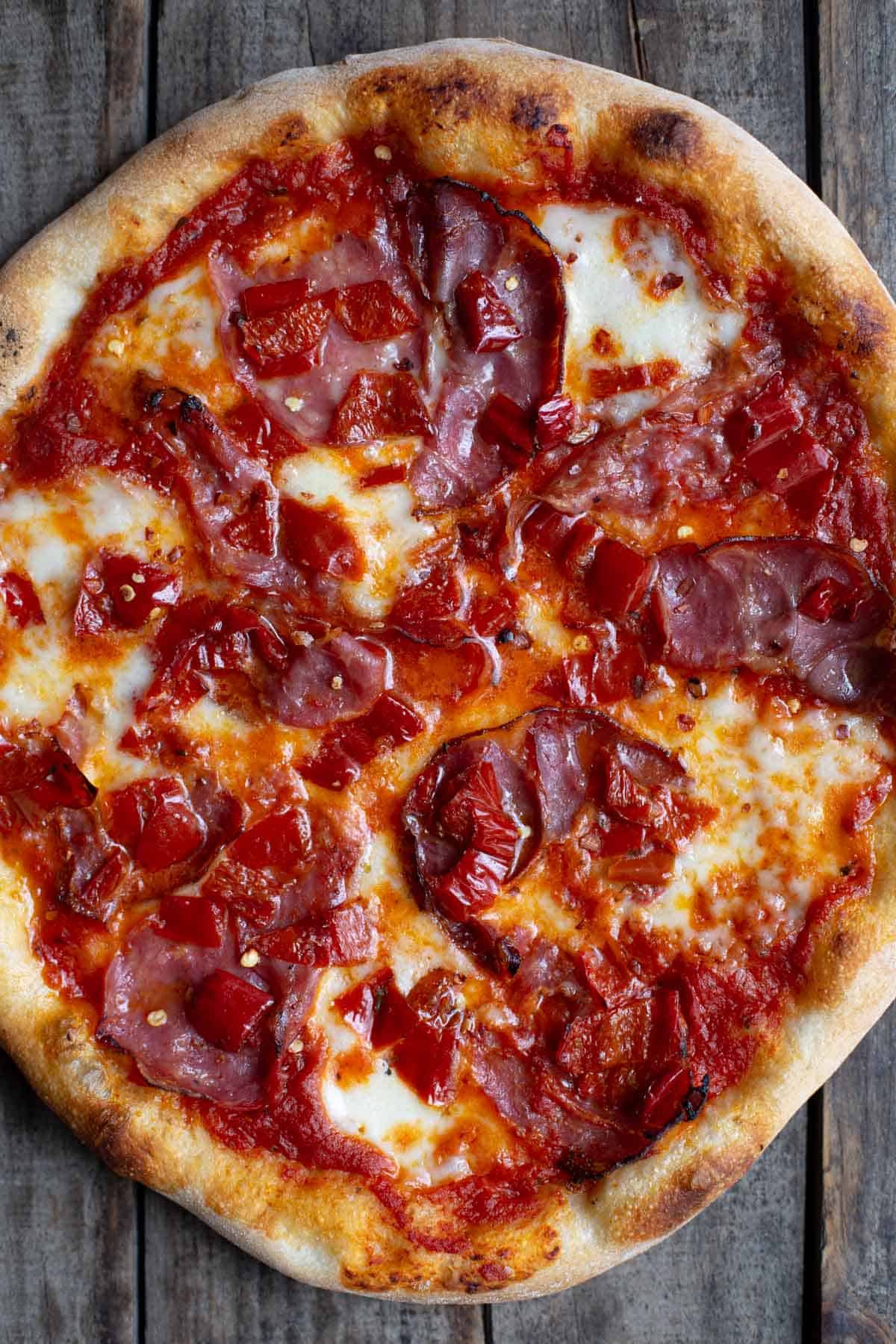 When we look for Neapolitan style pizza recipe inspirations, we often turn to some of our favorite restaurants for ideas. And this amazing pizza was inspired by Pizzeria Otto's Diavola Pizza in Portland, OR. The combination of their crust, sauce, and spicy toppings make this one incredible flavor combination and we needed to find a way to make something similar since we no longer live in Portland.
Jump to:
Recipe Highlights
The ingredients are simply prepared, including a no cook pizza sauce.
The dough is the secret ingredient to a good Neapolitan inspired pizza.
For the perfect classic texture, the pizza stone needs to be at 700 degrees F (370 degrees C).
It's best to cook in a dedicated table top pizza oven, but you can modify in your kitchen oven at 550 degrees F.
Ingredients for Neapolitan Style Pizza
For the best flavor, use the freshest ingredients you can find. Here is what is on our Neapolitan Style Pizza (hint: it starts with the dough).
A good pizza dough with a 66% hydration level (that's water ratio to flour)*.
Fresh and simple tomato based pizza sauce. A classic sauce is simply tomatoes and salt. We use a pizza sauce made in the blender and ready to go. You can use a canned or jarred sauce. Whatever is easier for you. The secret to a good pizza sauce is less liquid. It should be thick.
Fresh Mozzarella cheese, ideally packed in liquid, lightly pressed of the excess water. You can use the small balls, or break up the larger logs or balls into smaller pieces. If you use low moisture shredded mozzarella it will burn as you cook it at very high heat. So we strongly suggest fresh mozzarella packed in water (unless you're adapting this to the kitchen oven at a lower temperature).
Meat – Specifically a hot soppressatta and coppa. This combination of cured meats has incredible flavor. Be sure it's sliced thin.
Pickled Peppers – We love Mama Lil's spicy pickled peppers, but any hot pickled peppers will work.
The goal is not to have too much moisture from the ingredients otherwise as the pizza is cooking, it will steam and not cook through.
* Most store bought doughs are made with around 70% hydration level, which is fine, it just means you may have to cook it longer in the oven or pay attention to how fast it cooks in an outdoor pizza oven.
Basic Tools
A few key tools are very important when making any pizza, here are some of them. For a complete list check out our complete guide for pizza tools.
Good Pizza Stone – If you are using your kitchen oven (and not a dedicated pizza oven), you need this to retain that thermal heat for the crust texture. 13 inches is a good size for the average kitchen oven. Be sure to measure your oven before buying so it will fit with the door closed.
Wooden Pizza Peel – Wood is superior to metal because it stays cool. A warm pizza peel makes it more difficult for the pizza to slide off.
Good IR Thermometer – You need to know the temperature of the stone and this is the only tool that will do it.
Optional – A turning pizza peel is a great addition as it's smaller and easier to turn the pizzas in a dedicated pizza oven. We strongly recommend it.
Preparation
Make sure the dough is at room temperature so it is easy to work with. Also be sure your pizza stone is at the desired temperature based on how you are cooking it. A good Neapolitan style pizza starts with having the right heat on the stone for that crispy exterior and chewy bite.
Outdoor Pizza Oven – See below if using your kitchen oven and a pizza stone.
Pre-warm the pizza oven so the pizza stone is 700 degrees Fahrenheit measured using a good instant read IR thermometer.
Lightly flour a wooden pizza peel. (Metal pizza peels can be too warm and make it difficult to slide off onto the stone)
Place the dough ball on the center of the pizza peel. With your fingers, gently press the dough in the center and slowly press and work your way outward to stretch the dough into a 10 or 11-inch width. Use your fingers to then pinch around the edge so you have a slightly larger edge than the center. We do not recommend using a rolling pin as that will cause the air pockets that make great texture from forming.
Gently slap the center of the dough, this removes excess bubbles. DO NOT USE A FORK to press out bubbles on this style of pizza.
Lift the edges of the dough and dust with more flour so it's easy to slide off the peel.
Add the ingredients and prepare to cook.
How to Make Neapolitan Style Pizza at Home
We recommend this method for any pizza oven in the style of Roccbox, Ooni, or the Gozney Dome.
Total cooking time (excluding preheat): less than 90 seconds
With the dough rolled out and still on the pizza peel, add the tomato sauce with a large spoon. You want a light coating. See recipe card for details.
Add the cheese, soppressatta, coppa, and spicy peppers and distribute the ingredients evenly, leaving 1″ space for the crust.
Place the pizza in the pizza oven with the stone at 700 degrees. Using a small pizza peel, slowly rotate the pizza every 10 – 15 seconds to allow for an even cook. After the pizza has rotated fully, the edges should have raised, and the cheese should be slightly bubbling. You can lift the pizza and see if the bottom of the crust has the right leopard style spots.
Remove the pizza, and then top with a light amount of olive oil and then some finishing salt. Slice and serve.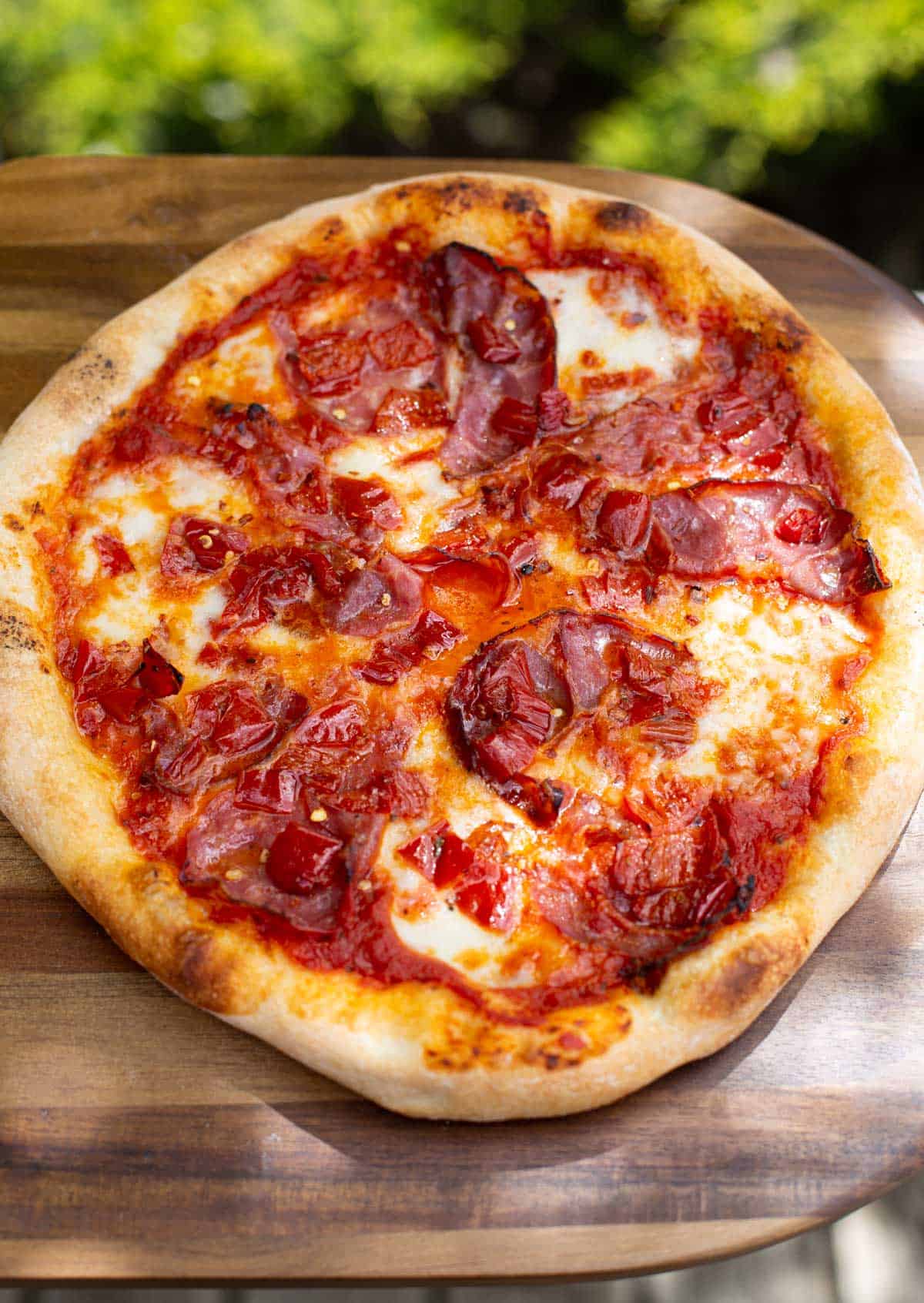 Modification for Indoor Oven
If you do not have a pizza oven that can get a stone to 700 degrees, the next best option is to use your oven and a pizza stone. This method is inspired by Ken Forkish, a legend in wood-fired pizzas for creating the closest thing to a Neapolitan Style Pizza in your home oven.
Total cooking time (excluding the preheat): 8 minutes
Position your pizza stone to the third slot from the broiler (6-8 inches from the broiler). Preheat your oven and pizza stone to 550 degrees F for 30 minutes.
Then put the broiler on high for 10 minutes. This adds more heat to get the pizza stone to 600 degrees F. You don't want the stone on the top slot as the amount of heat may crack the stone.
After 10 minutes, turn off broil and adjust the heat back to 550 degrees F and then place the pizza directly on the stone. Cook for two minutes, and then rotate the pizza 180 degrees using a turning pizza peel or tongs.
Let cook an additional 4 minutes and then turn the broiler on high. Cook an additional 2 minutes under broiler or until you see the mozzarella melted and the base of the dough cooked.
Remove, add finishing salt and then serve.
Recommended Sides
Some of our favorite sides for this Spicy Pepper Pizza Recipe include the following.
Or you can check out our full list of side dishes.
Other Pizza Inspired Recipes
This post may contain affiliate links. This means if you click on the link, we may receive a small commission if you purchase through the link. We partner with brands we know and love and use and it helps keep the blog going!
---