Cast Iron Skillet cornbread is the perfect way to get a crunchy crust and a soft and fluffy interior. We cook our skillet cornbread on the grill at high heat for the perfect touch of outdoor flavor, and finish it with a drizzle of smoked honey for a sweet finish.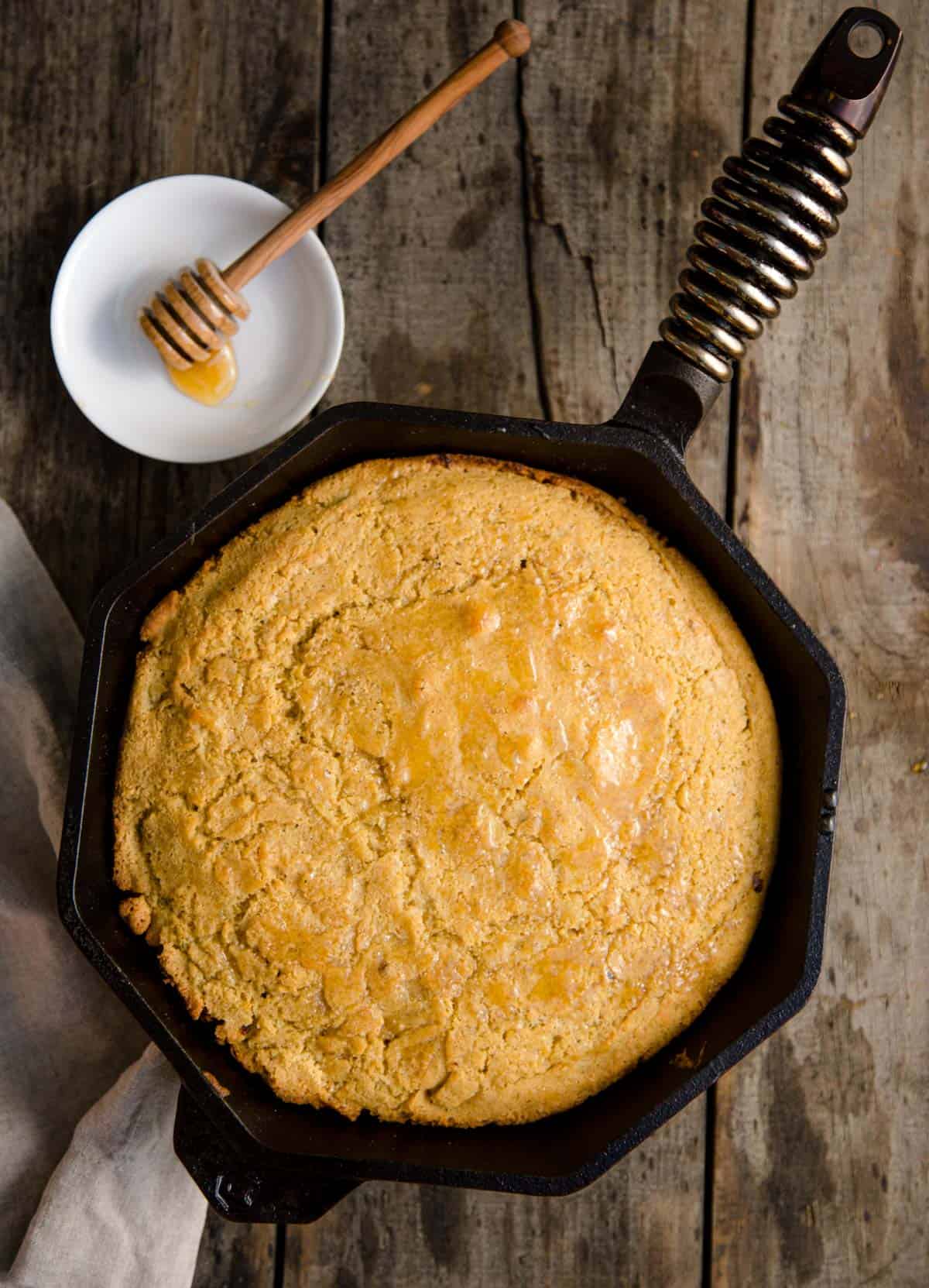 Jump to:
Skillet cornbread is comfort food at its finest. Back in the day we used to make our cornbread using the Trader Joe's boxed mix (it's a really good mix btw). To jazz it up I would add a can of green chilies and some cinnamon to add more flavor to the store bought mix. It had a sweet and savory mix to it that we loved!
This is a homemade version with some of those flavors I grew to love in a savory style cornbread.
Cornbread generally comes in two categories: Corn bread mix with flour, and cornbread mix without flour. Cornbread without flour is a very typical style, and a more traditional way to make it, especially in the south. Slightly crumbly, this style is awesome with a soup, stew or chili. Many of the southern style of cornbreads are naturally gluten free.
Our cast iron skillet cornbread recipe focuses on adding a small amount of flour to give a little more density to the cornbread and less flakiness (and a softer interior). It's almost to the consistency of a light cake on the inside (with a crunchy crust on the outside from cooking in the cast iron). This provides a texture we enjoy and also helps retain moisture.
Gluten Free Tip: You can sub gluten free 1:1 baking flour in this recipe and make it gluten free as well.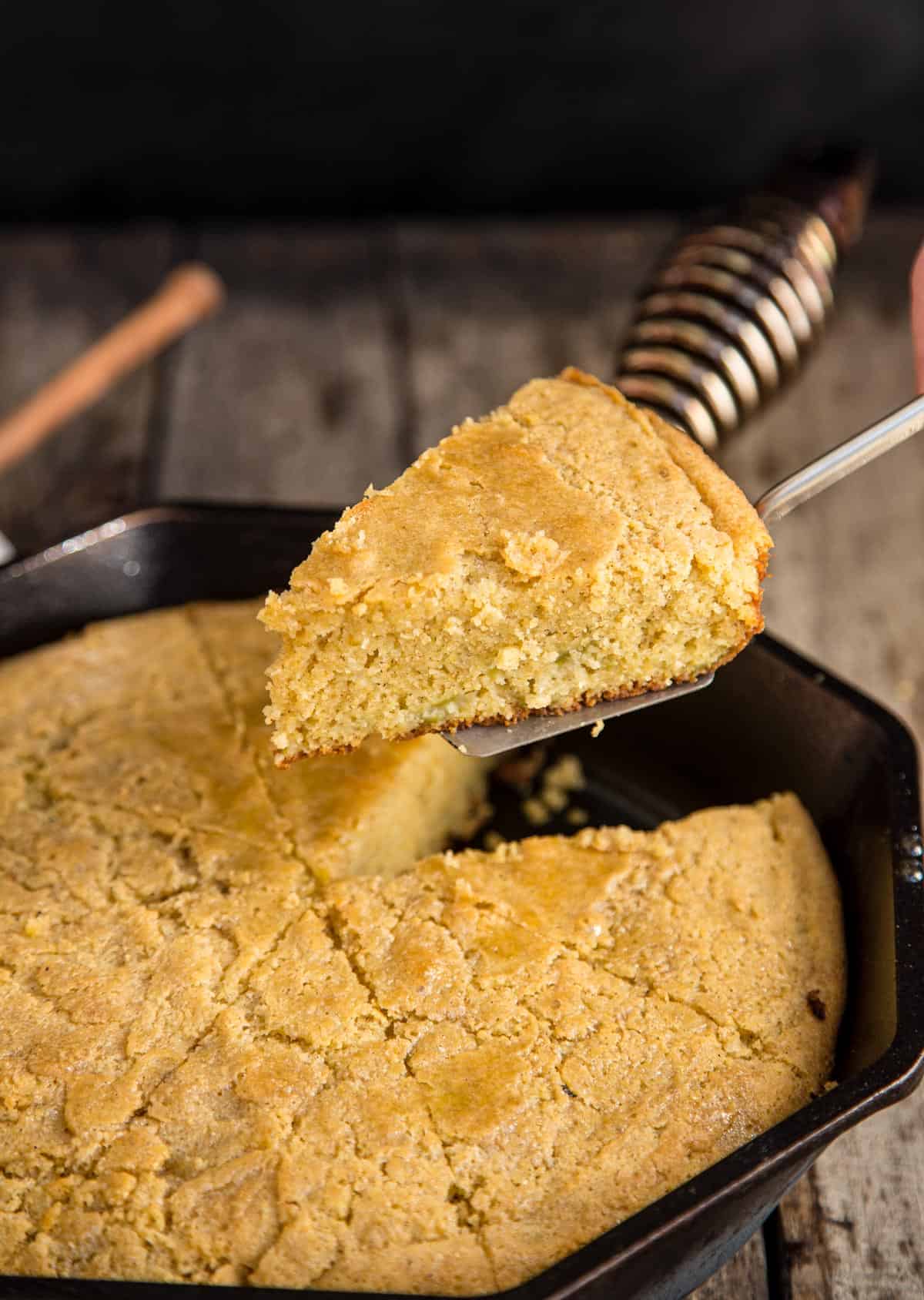 No Buttermilk?
We love to use buttermilk in our cornbread. It's a taste preference, and we've always done it that way. But if you don't have buttermilk on hand, there's no need to rush out to the store to buy some! Here is a buttermilk alternative.
You can make your own buttermilk by adding 1 tablespoon of distilled white vinegar to 1 cup of milk (we prefer whole milk for its richness, but you can also use 2% if that's what you have). Just stir them together and let it sit for 10 minutes.
You can read this useful article for more information on the process.
How to Make Skillet Cornbread On the Grill
Preheat Grill: Start by preheating the grill to 400 – 425 degrees Fahrenheit. Use two zone or direct/indirect heat. We're using our MAK Pellet Grill at the set temperature of 425 degrees F.
Get Skillet Hot: As the grill preheats, place your 10-inch cast iron pan onto the grill to warm up. While the grill and skillet warm up, make the cornbread mix.
Prepare Cornbread Mix: In a large bowl, combine dry ingredients: cornmeal, flour, sugar, salt, cinnamon, and baking powder, and mix. In a separate bowl, combine the wet ingredients: buttermilk, eggs, green chilies (with the liquid), and half a stick of softened butter, and mix them together. Slowly add the dry mix into the wet mix to incorporate.
Heat Butter: add the other half of the stick of butter into the hot cast iron skillet on the grill. As it melts move the skillet around to melt and distribute the butter (oiling the pan).
Cook Cornbread: Add the cornbread mix into the butter-oiled skillet and then cook on the grill for 30-40 minutes or until it is done. Adding the butter to the hot pan helps to caramelize that batter touching the pan.
Remove the skillet cornbread when you insert a knife or toothpick into the center of the cornbread and it comes out clean with no batter attached. Drizzle with smoked honey (or a dollop of honey butter).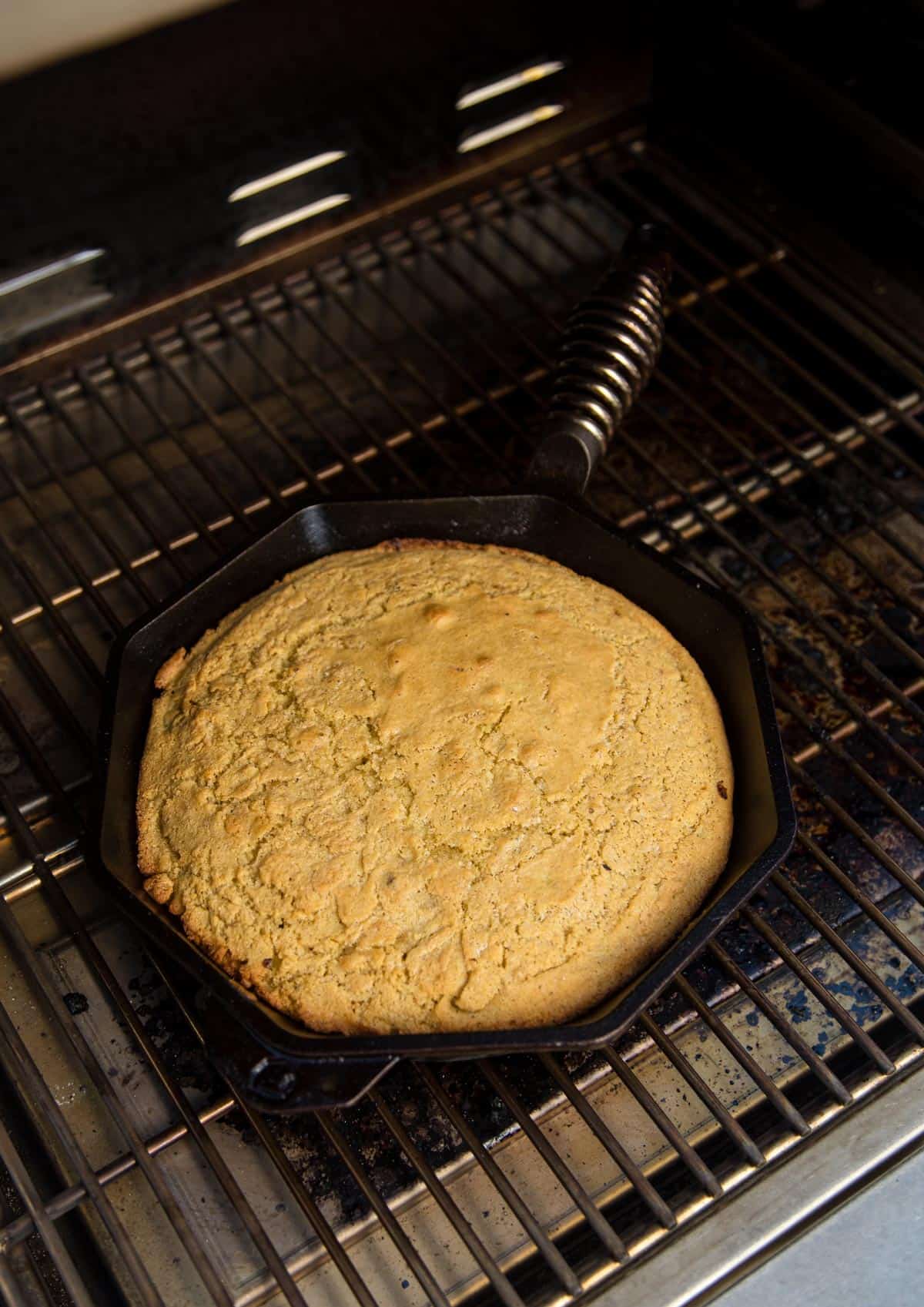 Smoked Honey Drizzle
Typically you'll see cornbread served with a dollop of butter. We like to add a little sweet touch by adding smoked honey.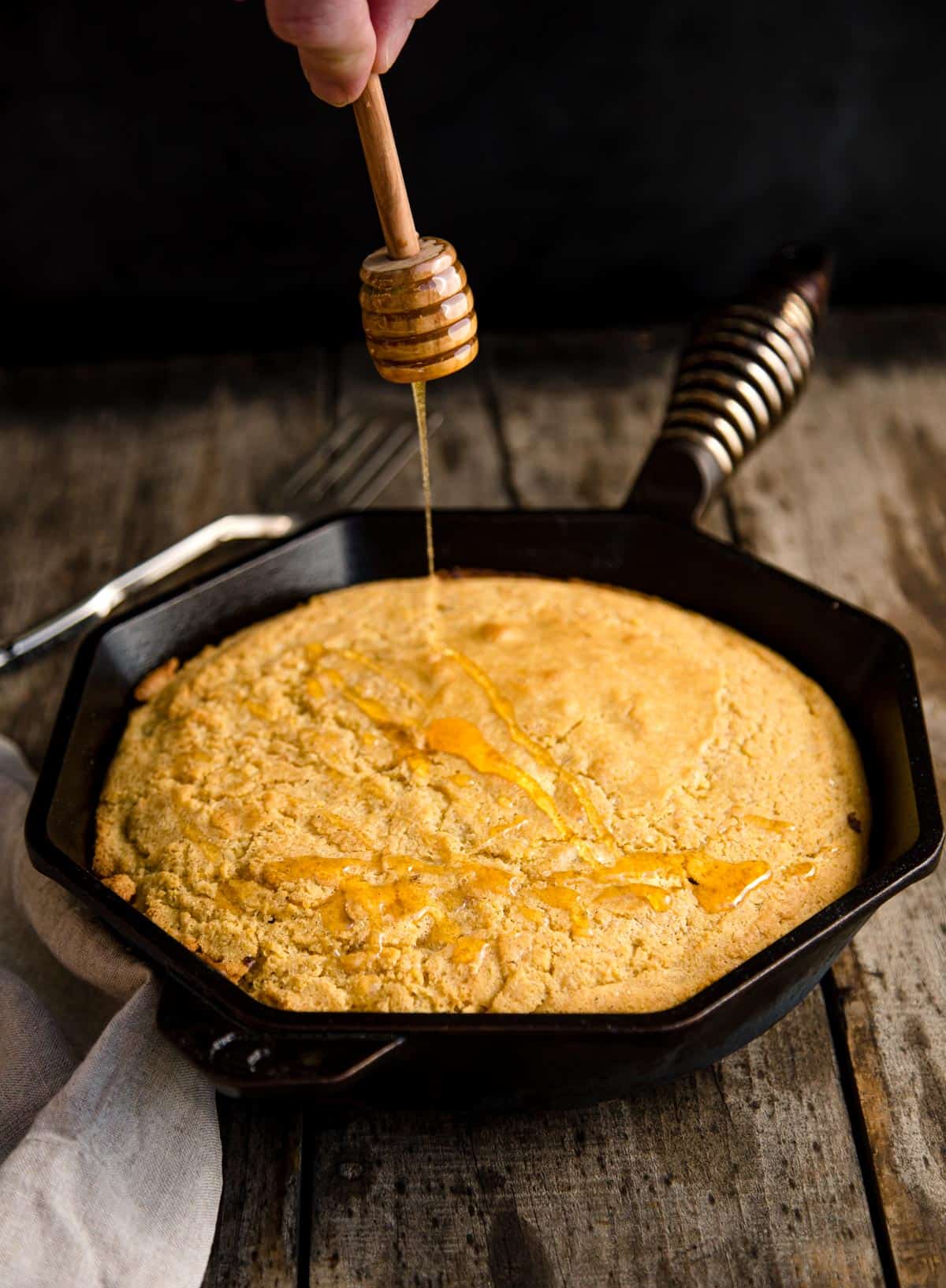 Just take some smoked honey and drizzle over the top of the cornbread just as it comes off the grill. As it cools it soaks into the cornbread adding a little more sweet.
If you don't have smoked honey, any regular honey works. Simply drizzle over the top of the cornbread. Alternatively you can use smoked honey butter. Or use hot honey for a little spice and fun flavor.
More Classic BBQ Side Dishes:
This post may contain affiliate links. This means if you click on the link, we may receive a small commission if you purchase through the link. We partner with brands we know and love and use and it helps keep the blog going!