A pot of chili is the perfect stick-to-your-ribs dinner for a cozy fall or winter evening. Make our Ground Beef Chili recipe to serve on hotdogs at a tailgate. Or try our Easy Chicken Chili to win your next cook-off! Here are 16 of our favorite chili recipes.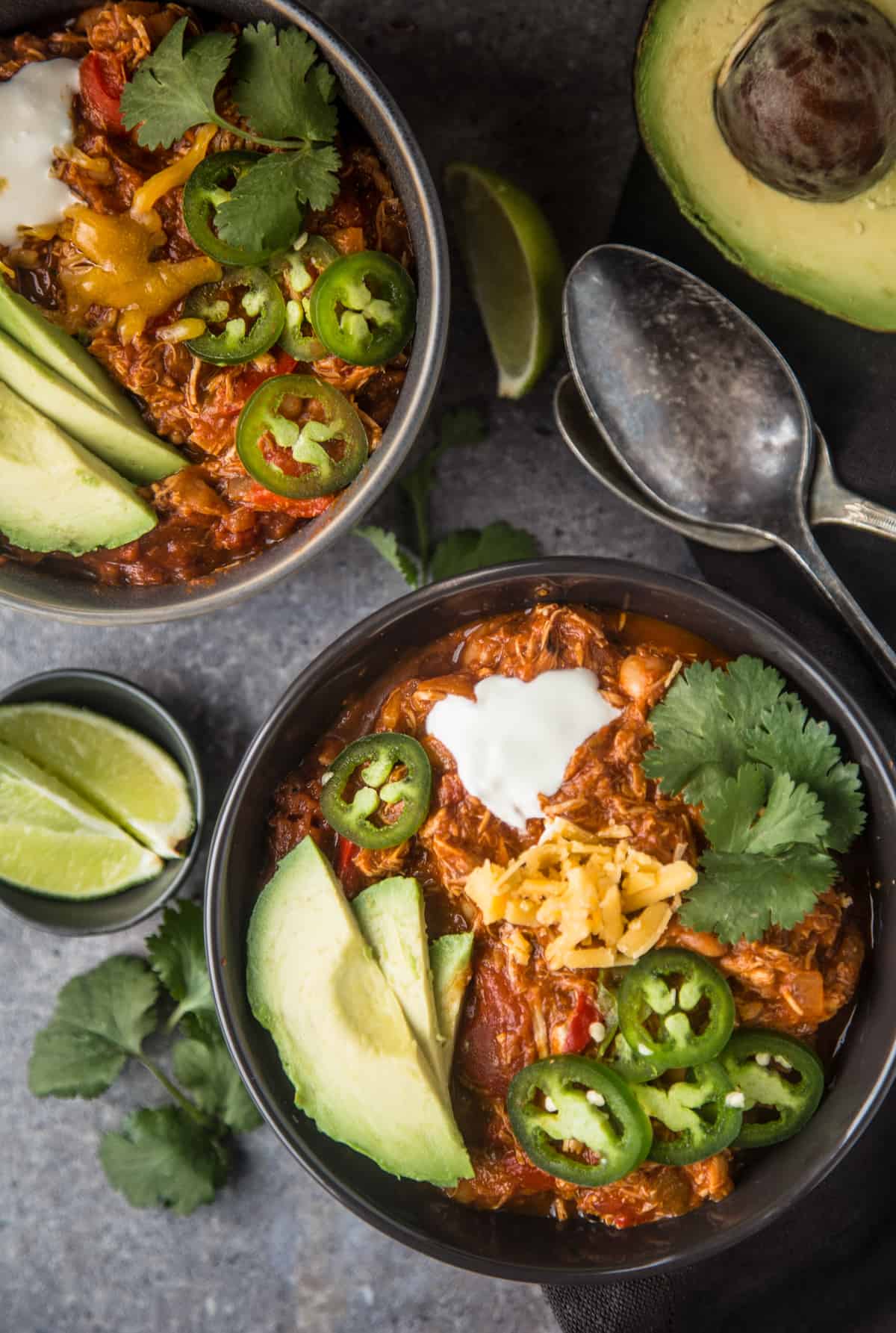 Jump to:
What is Chili?
Any chili (or chili con carne) by definition is a stew (thicker than a soup) cooked with chile peppers (either fresh or dried chiles). That's it! It's pretty open to interpretation and doesn't even require meat. Common types of chili that you'll see are:
Texas Chili– Meat (typically chuck meat), chile peppers (most often dried peppers made into a paste), beer, and then it's slowly cooked with stock to reduce and thicken. Note – no beans. Tomatoes will depend on where in Texas you are.
White Chicken Chili– Includes white beans like cannellini, mild chiles, chicken broth, cheese or other dairy, and chicken.
Green Chili Turkey– Is sautéed onions, bell peppers, and roasted Anaheim chilies combined with leftover turkey. It's rich and wholesome and perfect served over rice or as a filling for tacos, burritos or filling for enchiladas. It's been a family tradition of ours for generations.
Ground Beef Chili- The easiest chili to make and a staple across most of America. This chili has a tomato base and is made with ground beef rather than larger beef cuts. Ground Beef Chili can also include beans and/ or corn.
Vegetarian Chili– Will often sub in lentils, beans, or sweet potatoes in place of animal protein.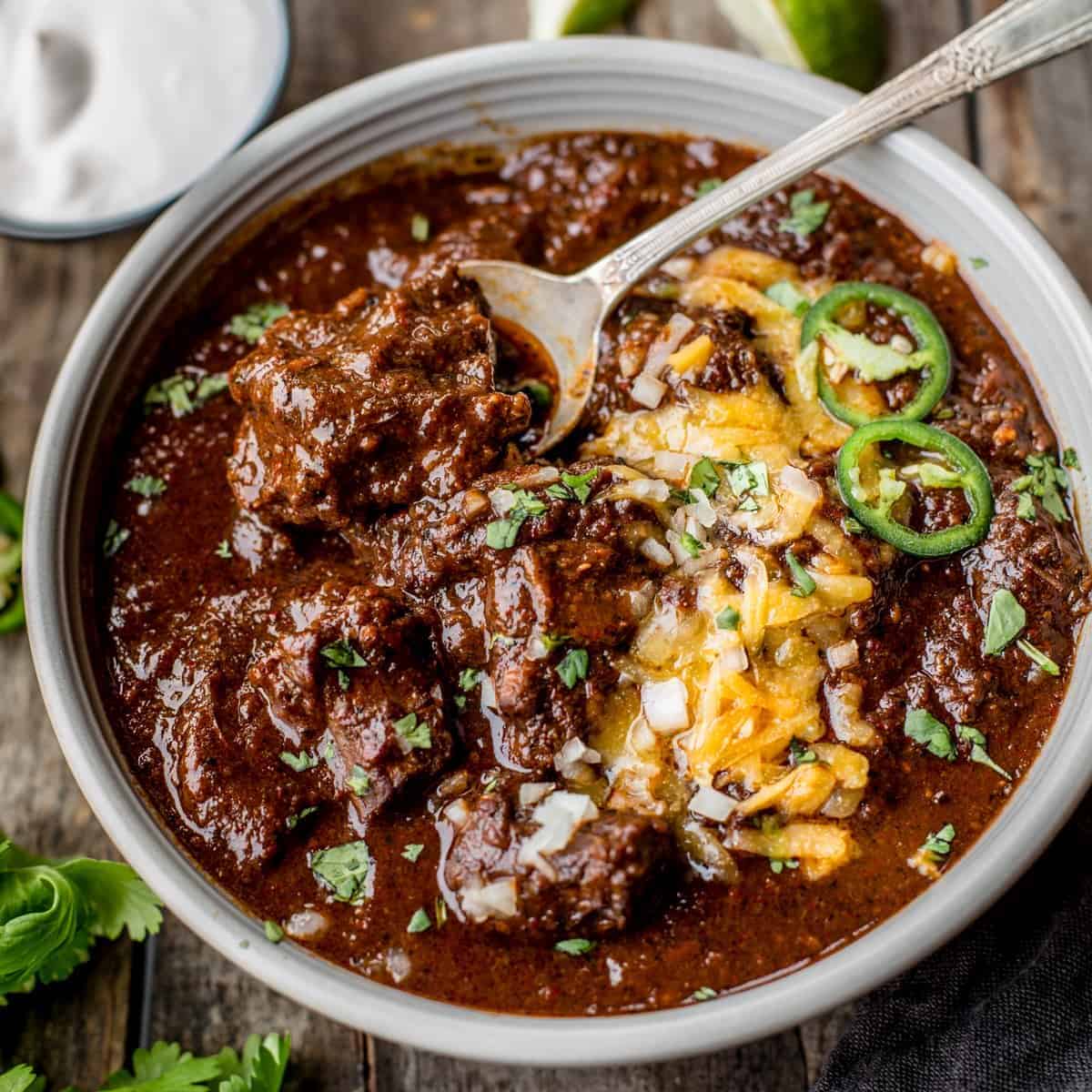 ---
Our Favorite Chili Recipes
Chili is a great go-to meal when we're looking for a quick and easy way to use items around the pantry or leftover smoked meat from the weekend or a big holiday. Try experimenting with the toppings you add. We like avocado, cilantro, crema fresca, jalapeños, and shredded cheese. Try these chili recipes for your next tailgate or chili cook-off. If you win be sure to let us know!
---
What to make with Chili?
Chili is a wonderful meal all on its own, but sometimes you need a little something extra. Try layering chili over spaghetti Skyline style, or serve some chips and queso dip for an added crunch. Plus, you can never go wrong with cornbread!
---
Chili Recipes from our friends
There are hundreds of chili recipes out there from vegetarian chili to chili made with deer meat. Each chef has their own unique spin. Here are some chili recipes from our friends. Starting with Chef Billy Parisi's Lentil Chili.
Short on time but craving flavor? This Instant Pot white bean chicken chili from Mom's Dinner is for you.
These fried jalapeño rings from Hey Grill Hey are smokin' hot!
If you are into deer hunting, Culinary Hill's deer chili recipe is a must.
---
Thank you for being part of our community. If you make any of our dishes we'd love to see them on social media using the hashtag #vindulge and give it a 5 star review.
This post may contain affiliate links. This means if you click on the link, we may receive a small commission if you purchase through the link. We partner with brands we know and love and use and it helps keep the blog going!
---