This is a sponsored post written by me on behalf of Albertsons. All opinions are 100% mine.
Smoked Candied Pecans are a tasty snack that can also dub as a great edible holiday gift idea. These Candied Pecans are tossed in a mix of sugar and cinnamon, then slowly smoked giving them a great mix of sweet, savory, and smoky flavors that are sure to be a holiday hit!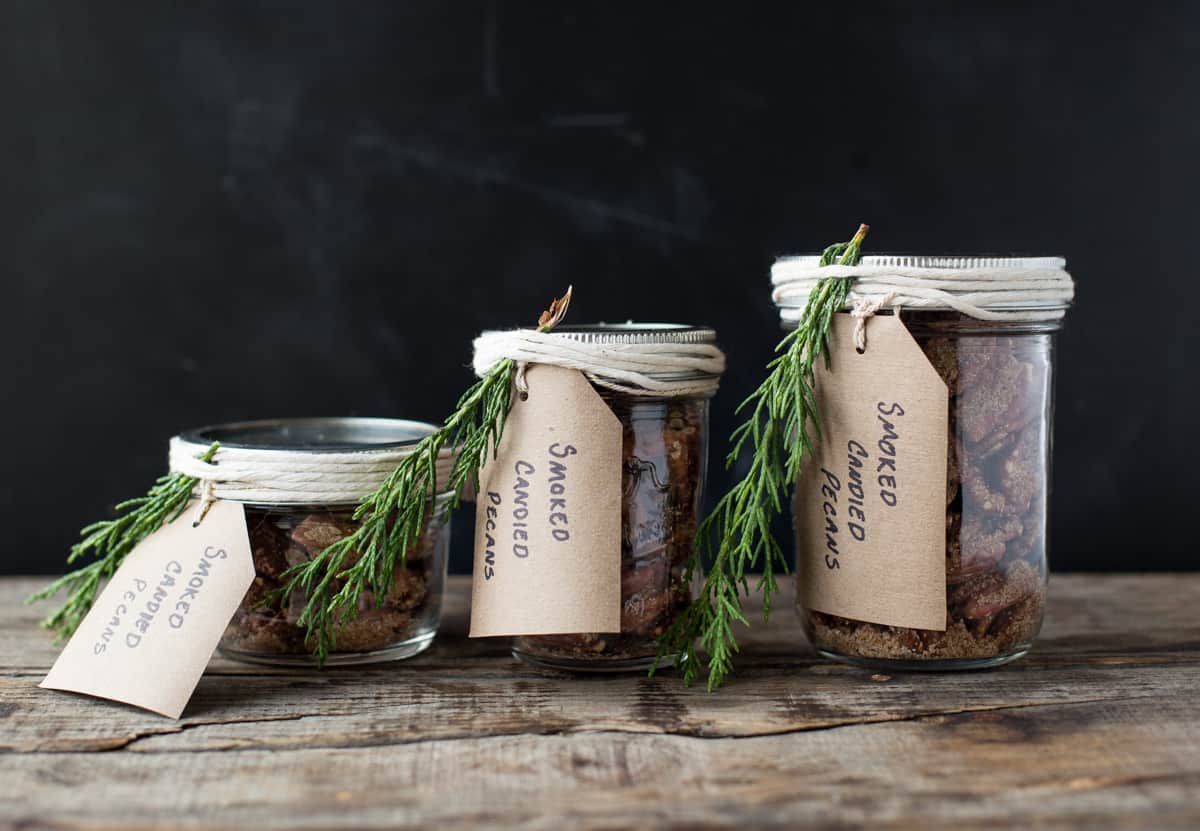 We're huge fans of smoking all varieties of nuts around here. Smoking nuts gives them a crunchy and slightly smoky flavor that is one of my favorite snacks. I love then simply tossed with some olive oil and salt, or even tossed with a favorite dry rub (like the mixed nuts in our cookbook, Fire + Wine.
But around the holidays I'm all about the sweet candied nuts, especially if I'm looking for some great edible gift ideas to give to friends, neighbors, or a host gift. Edible gifts are truly the best IMO. And this year, more than ever before, it's important to spread some (edible) holiday cheer to those we care about. And I'm so stoked that I can find everything I need for holiday entertaining, edible gift ideas, and decor, all at my local Albertsons.
Smoked Candied Pecans
Candied nuts are pretty much a staple of any holiday. Whether having on the table to snack at during gatherings, or given as a gift. And since we're not doing as many gatherings this year, I'm gifting my Pecans to alllll my friends this year.
We love to candy nuts in several ways, including a sticky and sweet version like this one. But if I'm looking for a less messy version, I want the sweet (without the sticky) and extra crunchy, like you'll find in this method.
How to Make Smoked Candied Pecans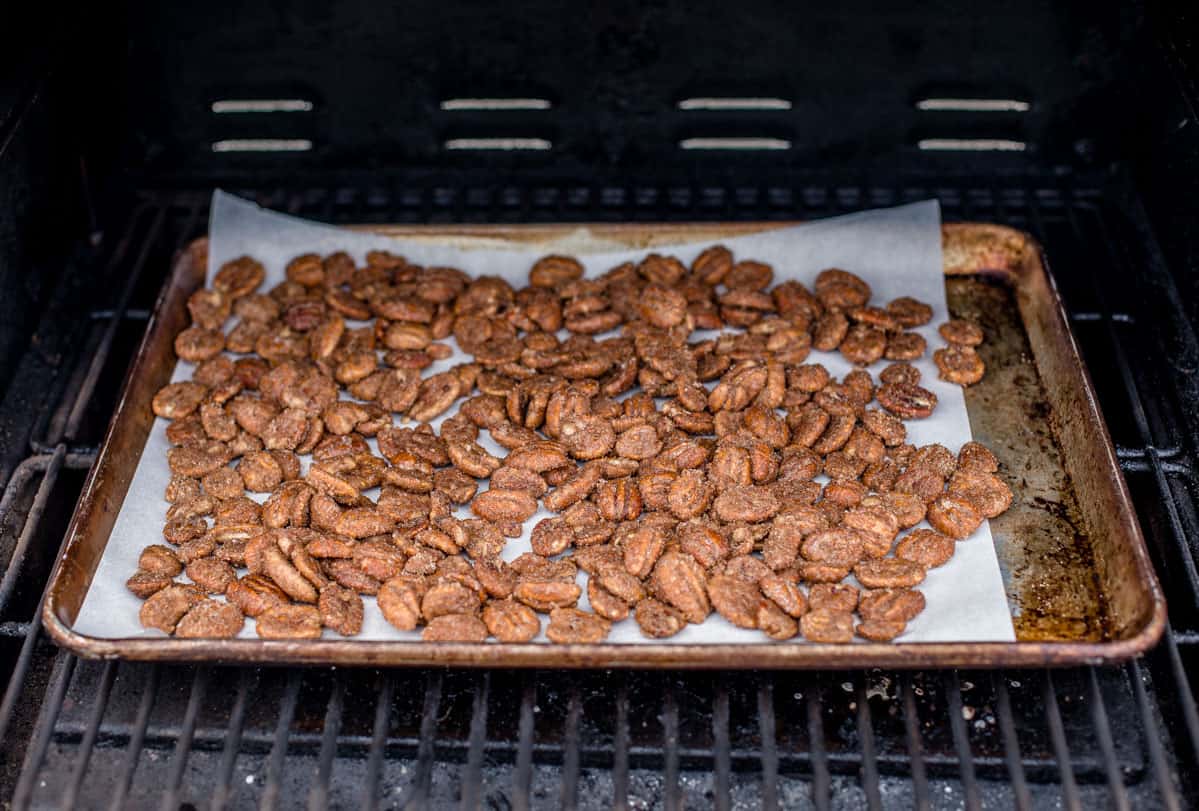 Prepare Smoker: Preheat your smoker or grill to 225 degrees Fahrenheit using fruit wood like apple or cherry.
Whip Egg Whites: In a kitchen mixer add the whites of two eggs and vanilla extract. (Discard the yolk or use it for some other dish). Put the mixer on high until the whites are whipped with stiff peaks, about 2 minutes. While the egg whites are mixing place all the sugar mix ingredients in a medium sized bowl and stir to incorporate.
Prepare Pecans: Toss pecans in with whipped egg whites and stir with a spoon. This will help the sugar/cinnamon mix stick to the nuts and coat them thoroughly. Toss the egg white coated nuts with the sugar mix, stir again until coated, and then lay them out on a large baking sheet lined with parchment paper.
Smoke Pecans: Place the baking sheet on the smoker, and smoke for 60 minutes, tossing once halfway though.
Remove and let cool: If giving as a gift, distribute into mason jars and wrap a little ribbon on them with a personalized note.
Note: when we smoke nuts, for recipes like this or this, we don't need to coat the nuts in egg whites. This is because we're doing a very light finishing flavor. But for these candied pecans we're going for that thick coating of the sugar cinnamon mix, with a crunchy texture. To achieve this it's important to coat the nuts in the egg whites first. This will help coat the nuts and allow the mix to stick to the nuts. If you want a more sticky sweet version with no egg whites, check out this recipe.
Tis the Season for Gifting
My goal this year is to shop at as few of places as possible for my holiday gifting (and grocery) needs. The good news is Albertsons is a one stop shop for all things smoked candied pecans, AND gifts for my friends and neighbors. I love that I can pick up some of the gorgeous debi lilly design™ floral products and candles to create a gift basket to go along with my candied pecans.
And I can get all of my ingredients, including the pecans, sugar, cinnamon, and more, so I don't have to go driving around from store to store this year.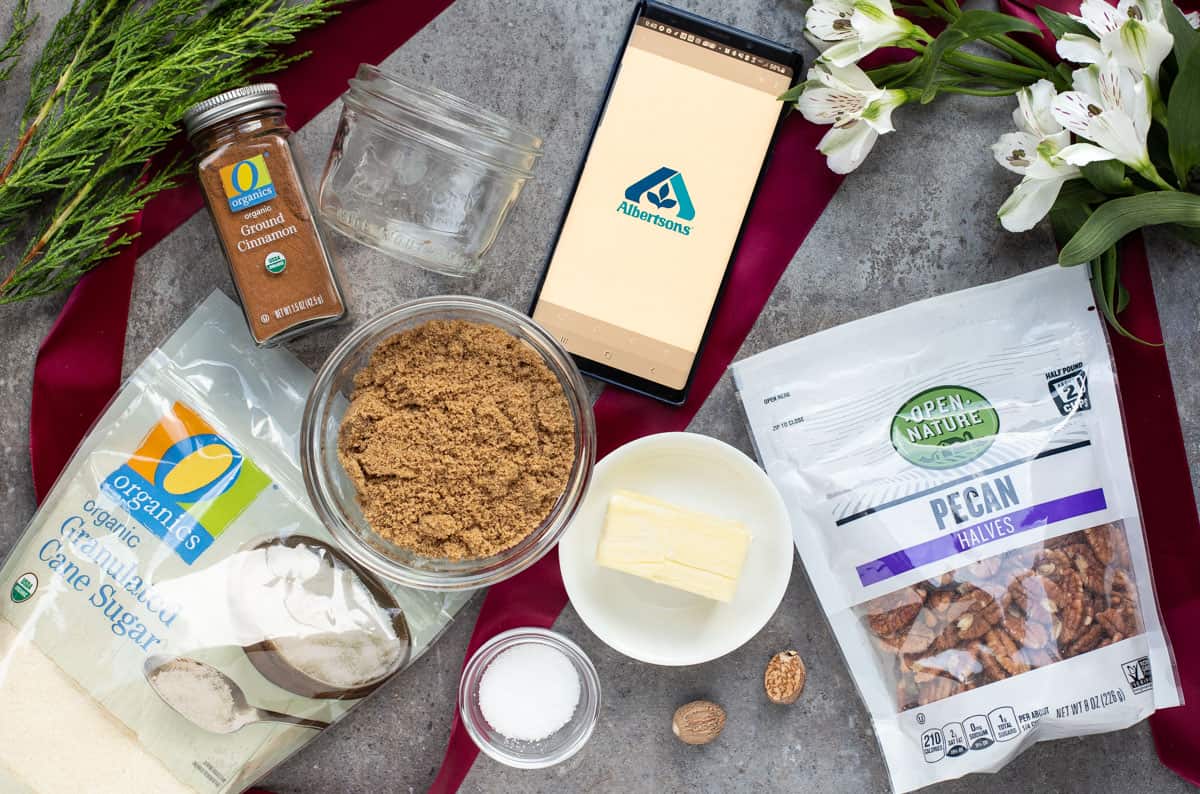 I shopped at Albertsons Barrows, but you can also find the ingredients these candied nuts, along with debi lilly design™ floral products, at the Albertsons Companies family of stores, including Albertsons, Safeway, ACME Markets, Jewel-Osco, Vons, Randalls, Shaw's Supermarket, Star Market, Tom Thumb and Vons.
The best part is that they also offer Grocery Delivery and DriveUp & Go™ for convenient ways to shop! This has been such a fantastic service in this particular year where we're trying to avoid going inside too many stores. Not to mention the time saver it is during the busy holiday season.
Holiday Gift Ideas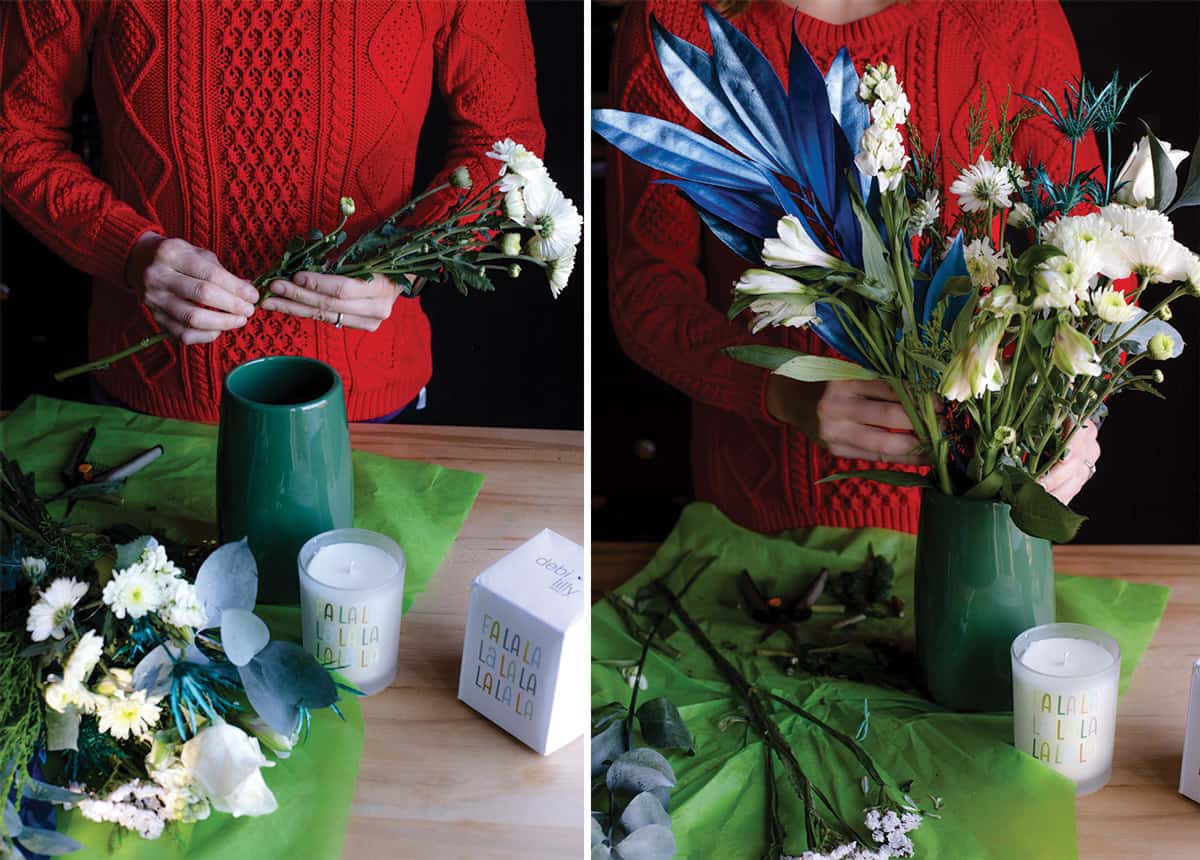 Looking for ways to use these smoked candied pecans? I thought so. I like to jar them up in various sized mason jars, place a personalized note, then bundle them up in a basket with a scented candle and a small floral bouquet. It's such a beautiful (and useful!) gift to give to a friend or neighbor.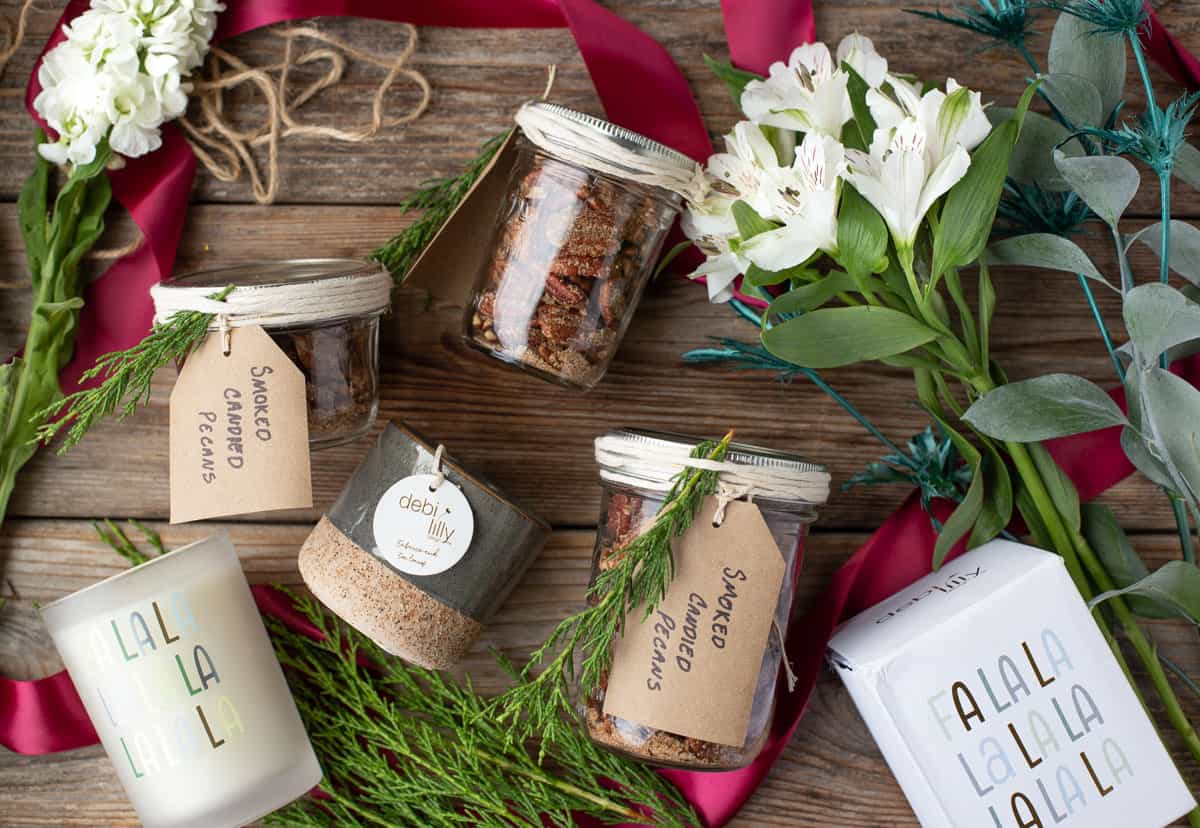 Looking for more ideas?
Edible Gift Ideas
Smoked Candied Pecans Recipe