Smoking beets adds incredible flavor to this earthy root vegetable. The smoked beets are slowly smoked until tender, and then served with a creamy goat cheese ranch dip. This recipe is also vegetarian and gluten-free.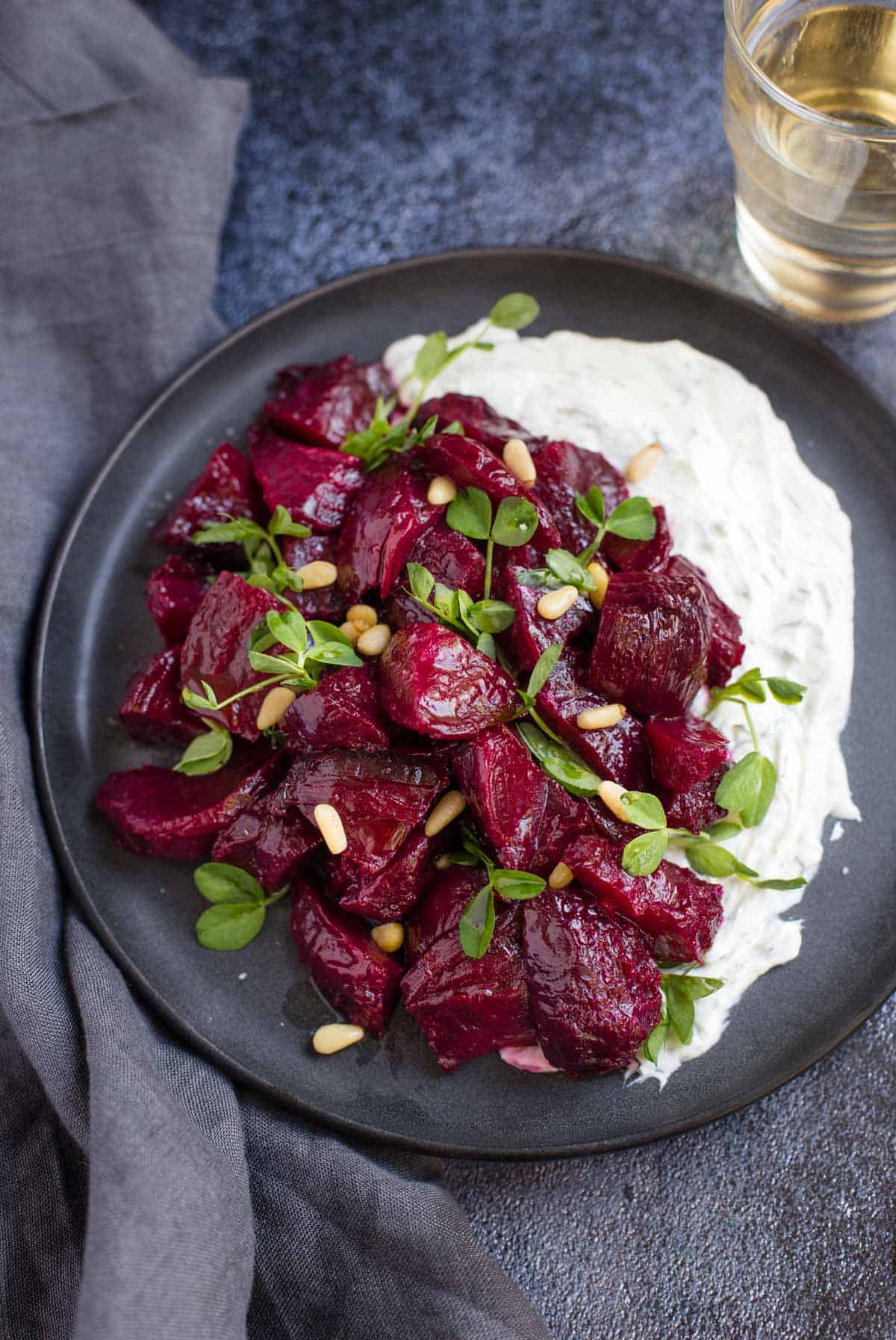 Beets are a favorite vegetable in our family. It's one we can all agree on. And while our kids prefer golden beets, this recipe works great for both golden and red beets.
Always looking for new ways to prepare beets I was inspired by a restaurant I recently went to in Santa Rosa, California, called Bird & The Bottle, where I had a smoked beets dish served with what they called a "goat cheese ranch". The beets had a perfect kiss of smoke, and the dip was creamy, much like a thick ranch dip you'd serve with vegetables (not like a watery ranch dressing for a salad), with fresh herbs. I loved it! And since I don't live in Santa Rosa I won't be going back to that restaurant anytime soon, so I had to try to crack the code on the recipe at home. This is my version. Pretty darn close to what I remember.
But if you happen to be visiting Santa Rosa anytime soon, I urge you to check out Bird & The Bottle. The food is excellent and the recipes are inspired by wood-fired flavors!
Beets
Beets are a root vegetable that are easily found year round. From earthy and rich, to sweet and fruity, beets will have a diverse flavor profile. If you grew up with the canned stuff and are turned off by beets, then grab a fresh bunch from your local farmers market, give 'em a whirl, and taste how rich and delicious they can be.
Red Beets – The richest and earthiest in flavor. The most common red beet is called "Bull's Blood". These rich red, almost purple, beets have an earthy aroma and flavor. When roasted or smoked, the earthiness is enhanced.
Golden Beets – Light in color, these beets offer a fruity and sweet flavor. If you are turned off by red beets flavor profile, these are a great choice because they don't have as much of that earth flavor.
Chioggia Beets – These beets are typically a light red and have a unique red and white striped pattern to them when you slice into the beet. They are not as sweet as golden, and not as earthy as red, making for a nice visual when cooking, and with a moderate flavor. After smoking or roasting the contrasting stripes will blend a little.
For this smoked beet recipe we use red beets for the color contrast and flavor, but tested with the other beets for the same results.
Preparation
Smoked beets are very easy to prepare. Simply chop off any beet greens, and wipe them clean of any dirt. From there simply place them directly on the smoker to cook. While the beets do take a while to cook, this is a great vegetable to add to the smoker if you're doing any other long cooks (such as a pork butt, brisket, ribs, etc.). If you're going to have the smoker on to cook your main dish, this is an easy vegetable to add while the meat is cooking.
How to Smoke Beets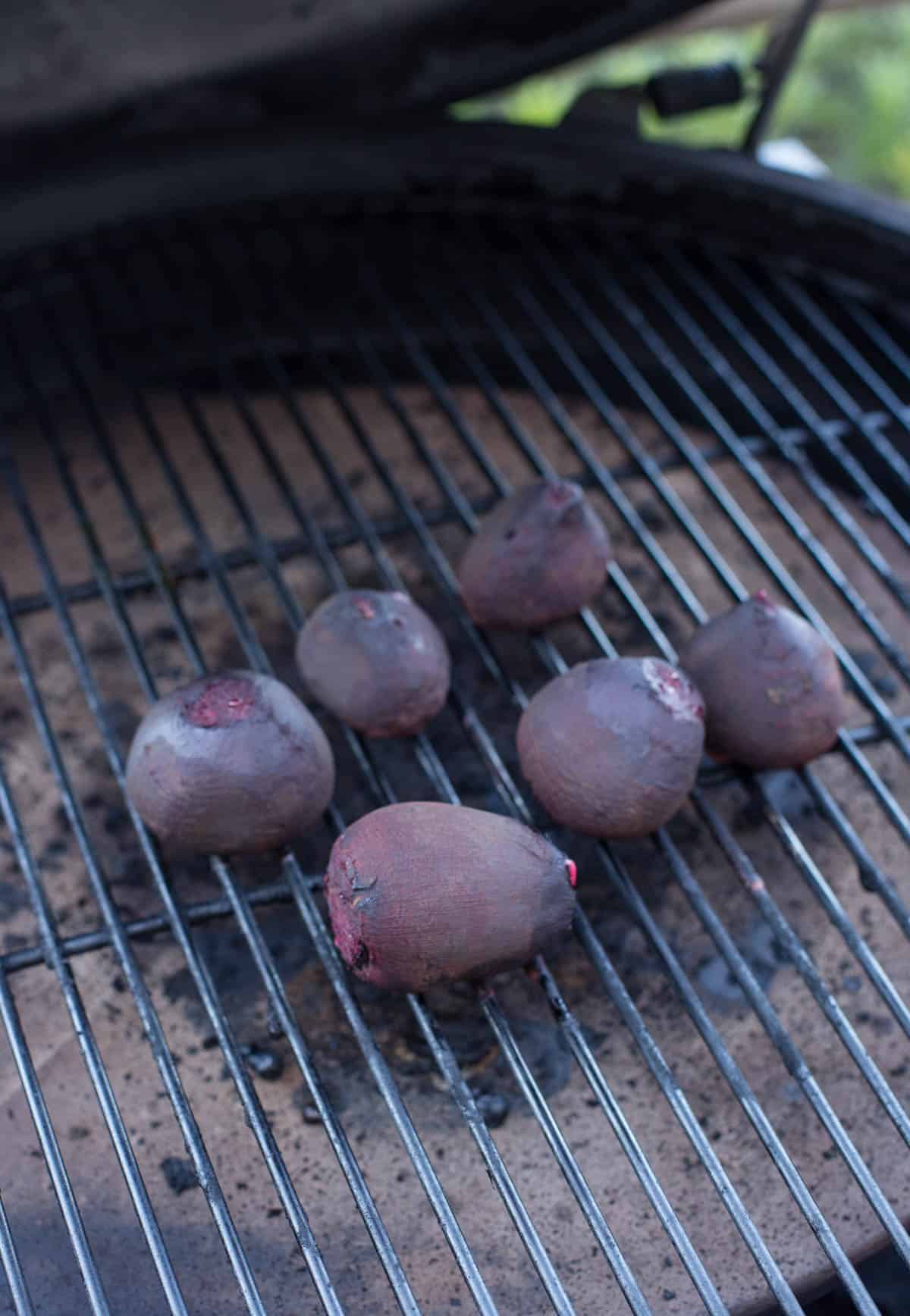 Preheat your smoker to 275 – 300 degrees Fahrenheit. Try not to go above 300 if you want the smoky flavor. After 300 it becomes more like roasting.
Place the beets in the smoker and close the lid. Continue Smoking for roughly 2 hours, or until the beets are soft. The exact time will depend on how large or small your beets are (larger will take longer to cook). We use our Thermoworks One Thermapen to test for the texture and typically the internal temperature of the beet is around 205 – 210 degrees F.
Remove the beets from the smoker when they are either at 205 temperature (or if you can pierce the beets with a toothpick or knife and they go through easily). Let cool for 10 minutes. Then gently peel the skins off the smoked beets, and dice into large chunks.
When serving the smoked beets, serve at room temperature. This step can be done the day prior to make for easier preparation when preparing for a large meal. Just peel them and store in the refrigerator until ready to eat.
Goat Cheese Ranch
The goal is to get the consistency of creamy ranch dip (not like a liquid dressing) and still keep the richness of the goat cheese. To do this we mix goat cheese with sour cream. And then we add lemon juice, dill, and salt to add some additional flavor. You can also add a small amount of ranch seasoning for more spice and classic "ranch" flavor.
Pro Tip – Let the goat cheese come close to room temperature to make it easier to mix.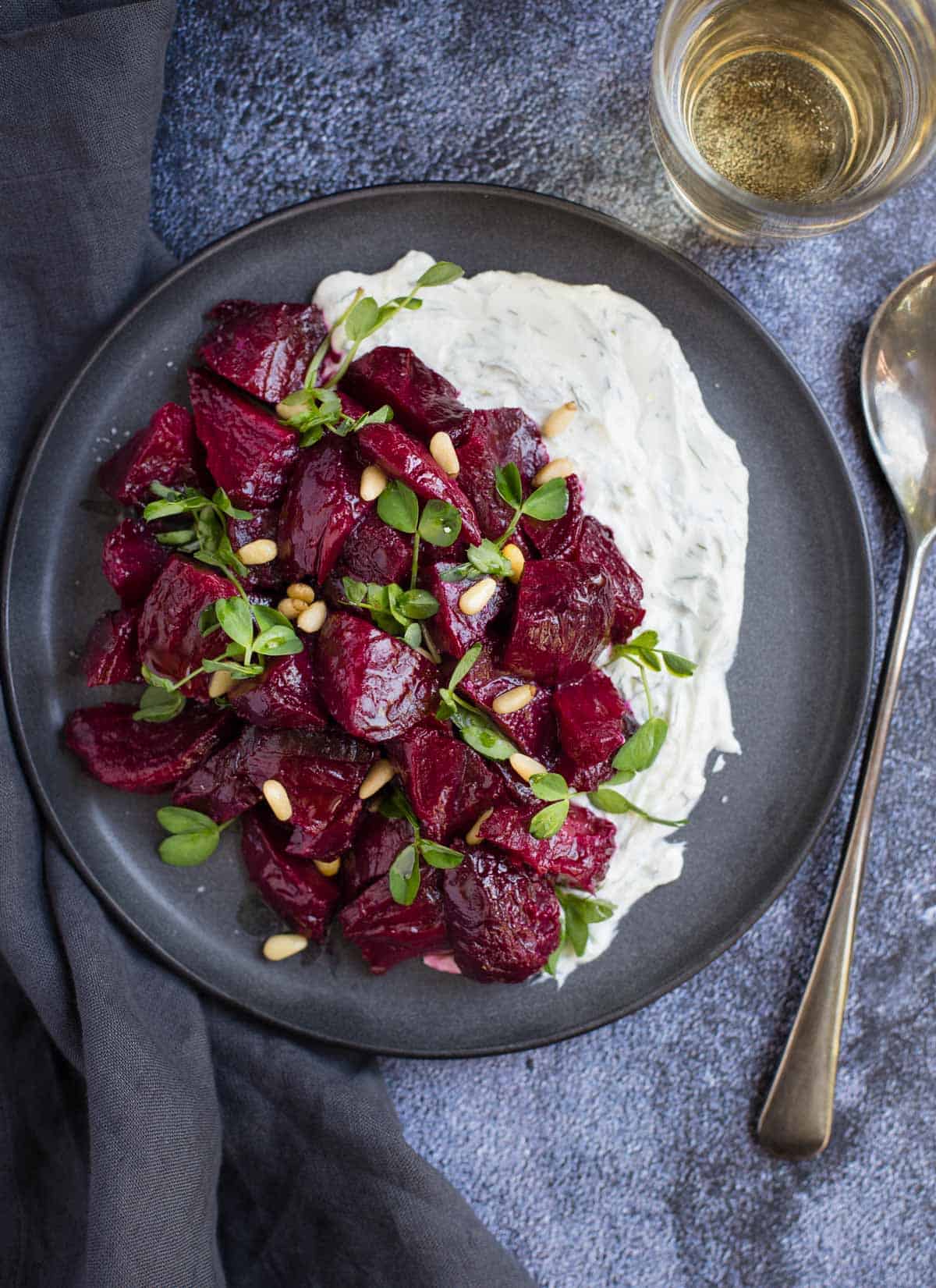 Plating the Beets
In a bowl, combine the cubed beets with the micro greens, pine nuts, olive oil, and finishing salt. This will coat the beets and add both texture and flavor.
Add the goat cheese ranch to the bottom of a plate or shallow bowl.
Top the ranch with the smoked beets and serve.
Wine Pairing
We're going for contrasting flavors here. The beets are rich and earthy, with a mild smokiness to them, and the creamy ranch is lemony with fresh dill. While you can pair beets with a red wine (I'd suggest something fruity with a touch of earthiness like a Gamay Noir or Pinot Noir), I prefer a white wine with good acid to cut through the richness of the dish. Sauvignon Blanc and an off dry Riesling work great and are a refreshing choice for the dip and beet combo. A crisp dry Rosé is also a flavorful and safe choice for this also.
Other Salad Recipe Inspirations
---
---