When you're craving wings, but need to eat more salad. This Healthy Grilled Buffalo Chicken Salad recipe satisfies all your wing cravings, without the guilt.
This Grilled Buffalo Chicken Salad recipe is also Keto friendly, gluten free, sugar free, low carb, and can easily be adjusted for Paleo and Whole 30.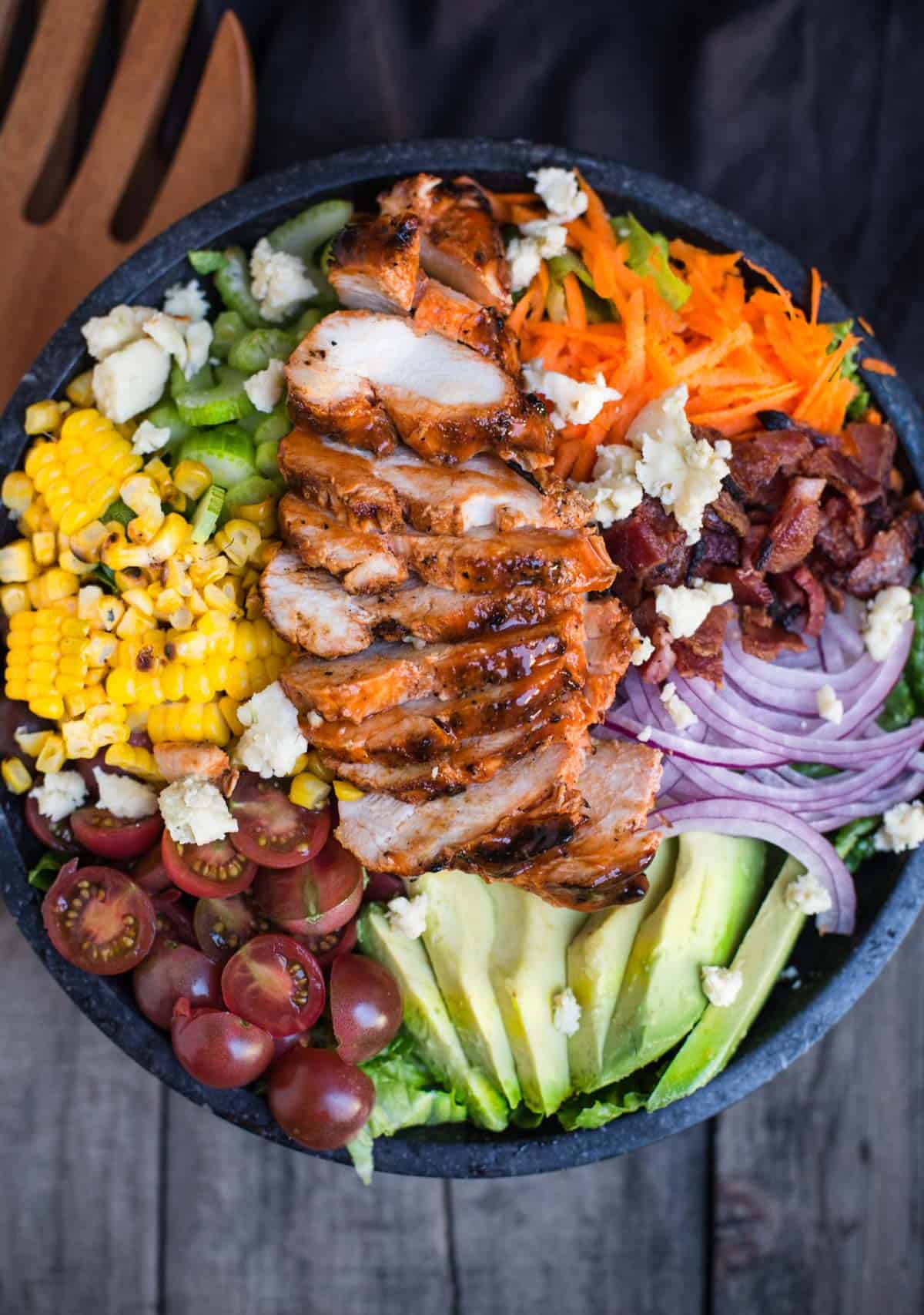 Damn, this is just one friendly salad!
Buffalo style chicken wings are our family's #1 weakness. Even the kids are on board with the spicy goodness and deliciousness of perfectly cooked wings drowned in the dreamy flavors of Frank's RedHot hot sauce. It's just something we can't kick, and something we'll never willingly give up in our house. Can't stop won't stop.
Buuuuut over the holidays we indulged a bit too much, and realize it's time to cut back. Unwilling to give up those delicious flavors, we just simply satisfy those cravings in different ways. We've got buffalo chicken pizza, buffalo chicken dip, buffalo chicken jalapeño poppers, and more. But when it comes to trying to eat a bit cleaner this month, we're in need of some vegetables, and health(ier) proteins (sorry fried wings, we need a break). So enter….
Grilled Buffalo Chicken Salad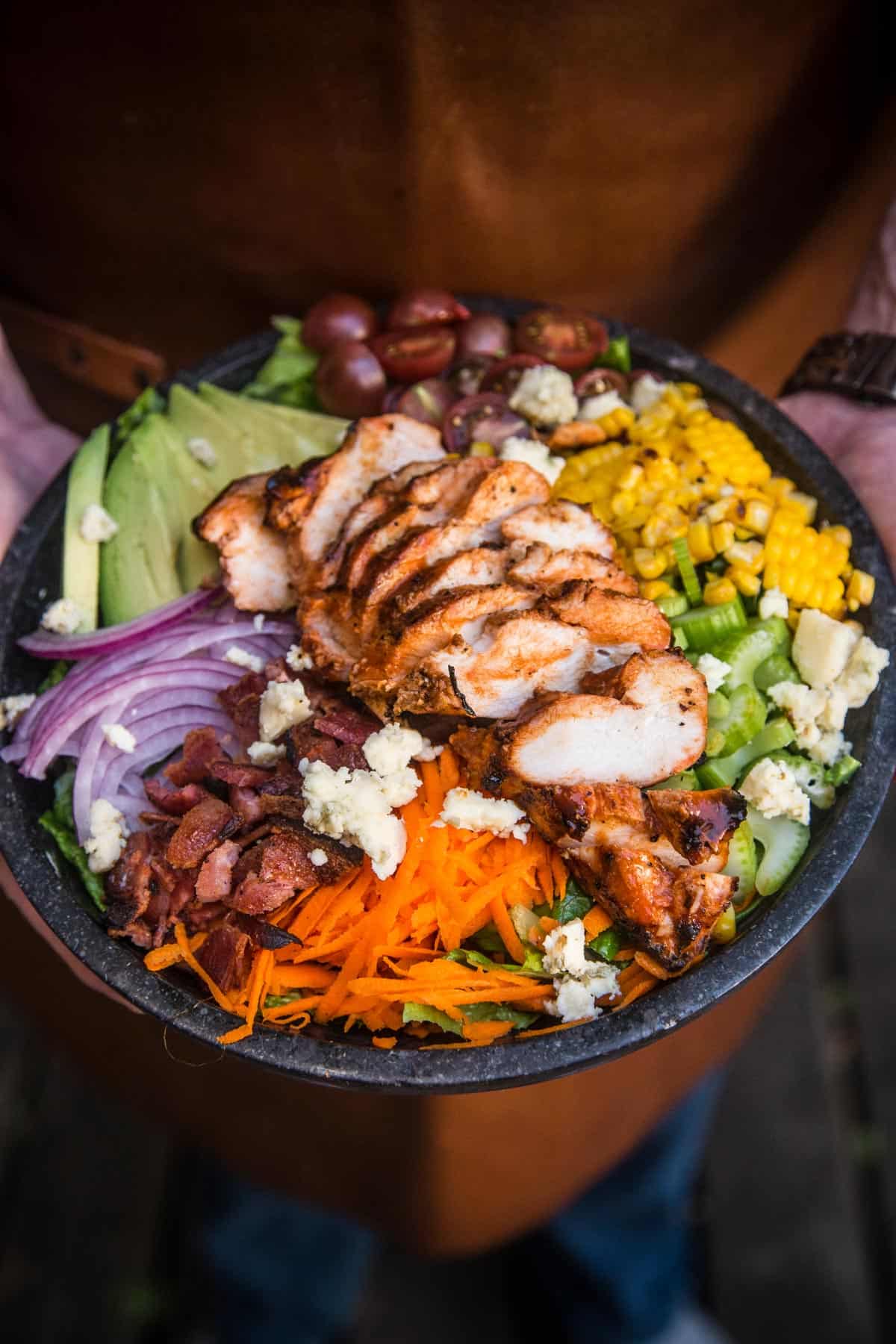 We take boneless skinless chicken breasts and simply coat them with our go-to Ultimate Dry Rub, then place them on the grill for about 5-6 minutes per side. Then, when they're close to being done on the grill, we finish with the Buffalo sauce mix. Once we pull them from the grill, we coat them one more time in the hot sauce/butter mixture, then slice to serve.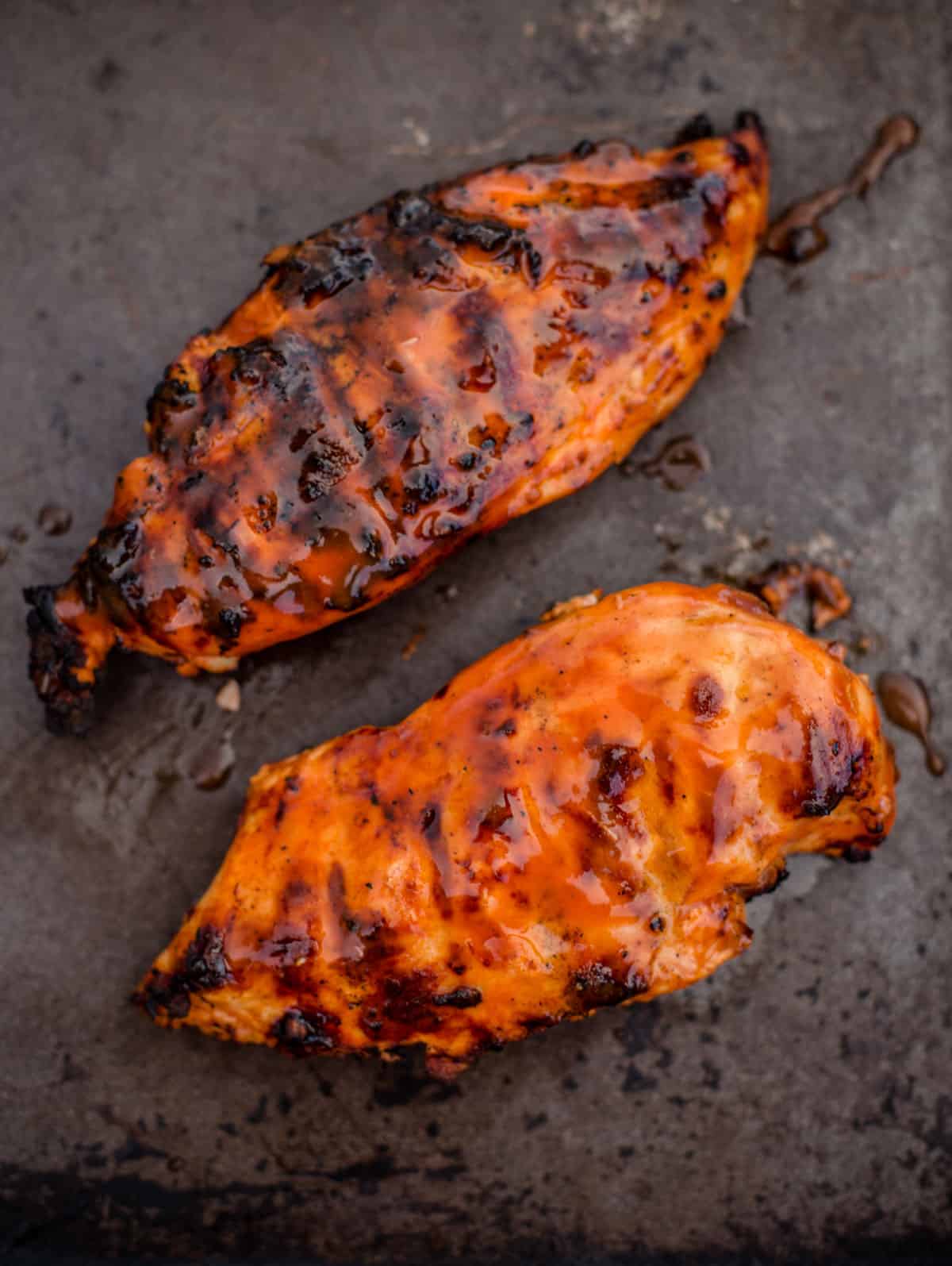 Now you could serve this grilled chicken over some romaine lettuce. But come on. I said we were going full in on this salad adventure. We're adding all the stops to make it the ultimate grilled buffalo chicken salad!
Grill Corn and Bacon While Chicken Cooks
Since we're grilling the chicken, might as well throw on some corn on the cob (if you can find some this time of year), and some bacon. Just a smidge of bacon in your salad isn't going to ruin your diet, and it will add great flavor and crunch to this salad. The corn will add color and just a touch of sweetness (and creates some balance to that spicy hot sauce).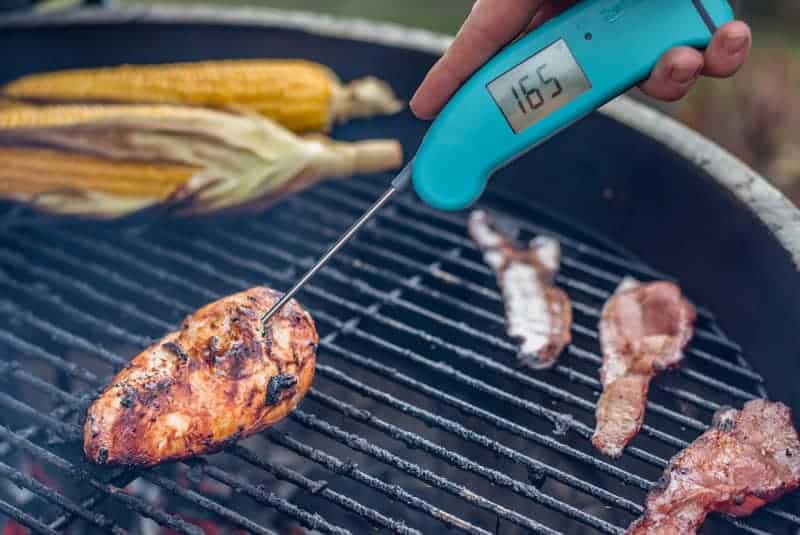 Just cook the bacon and corn on the grill next to your chicken until they're done. Cook the chicken to 165 degrees (F), the corn till soft, and the bacon till crispy. Next crumble the bacon, and slice the corn from the cob, and set aside to mix into your salad. Can[t find corn due to the season? Sweet canned corn drained of liquid works too.
Best Toppings for Grilled Buffalo Chicken Salad
At restaurants, it's traditional to serve your wings with celery and carrots, so we've gone ahead and added them to the salad so you don't miss the nostalgia the restaurant provides.
Other optional salad toppings:
Grilled crispy bacon
Grilled corn (or warmed up frozen corn if you can't find any seasonally)
Cherry tomatoes, halved (for color and flavor, and well, more veggies!)
Red onions, thinly sliced
Avocado, sliced
Crumbled blue cheese (or gorgonzola)
Drizzle with ranch or blue cheese dressing
Which Dressing is Best for the Salad?
Well, if you live in a divided house, like I do, then you have both blue cheese and ranch on hand. I'm from the southwest, where ranch is king. Sean is from Rochester, NY, where there is only one answer – blue cheese. The way we compromise is by using homemade ranch dressing and topping with blue cheese. Marriage involves compromise, and I like to think we do that well when it comes to food 😉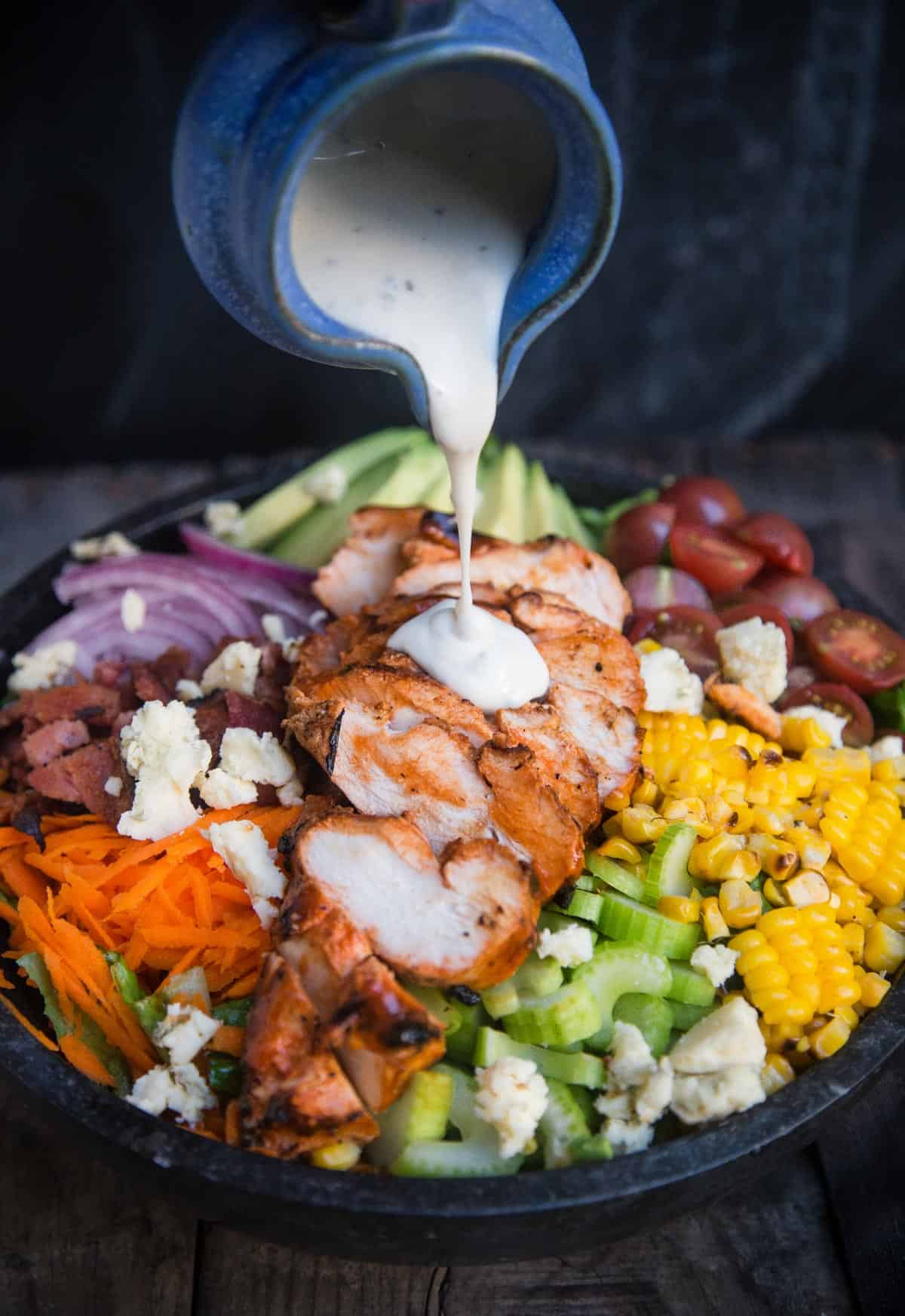 There you have it.
This is truly my favorite salad of all time, because I get my veggies and my wings craving all in one delicious (guilt-free) dish!
Is This Salad Keto, Paleo, Whole 30 approved?
Yes! With some substitutions this is friendly to Keto, Paleo, and even Whole 30.
If you're Keto, go all in! This salad is very Keto friendly.
With Paleo you will want to make sure to use a Paleo friendly ranch dressing and possibly ditch the blue cheese (if you're not eating any cheeses).
If Whole 30, similar to Paleo, go with a Whole 30 approved ranch dressing (there are SOO many good ones out there), and just leave out the blue cheese crumbles. I promise, it will still be great! With the Buffalo sauce, just sub your favorite butter substitute for the sauce.
Want more Buffalo Wing Inspired Recipes
Grilled Buffalo Chicken Salad Recipe
---
If you like this recipe we'd truly appreciate it if you would give this recipe a star review! And if you share any of your pics on Instagram use the hashtag #vindulge. We LOVE to see it when you cook our recipes.
---