If you are looking for a great leftover chicken recipe idea for Buffalo chicken wing fans, this Buffalo Chicken Pizza Recipe is it. Not only is it amazing to eat with the rich flavors unique to chicken wings, it also comes together quickly.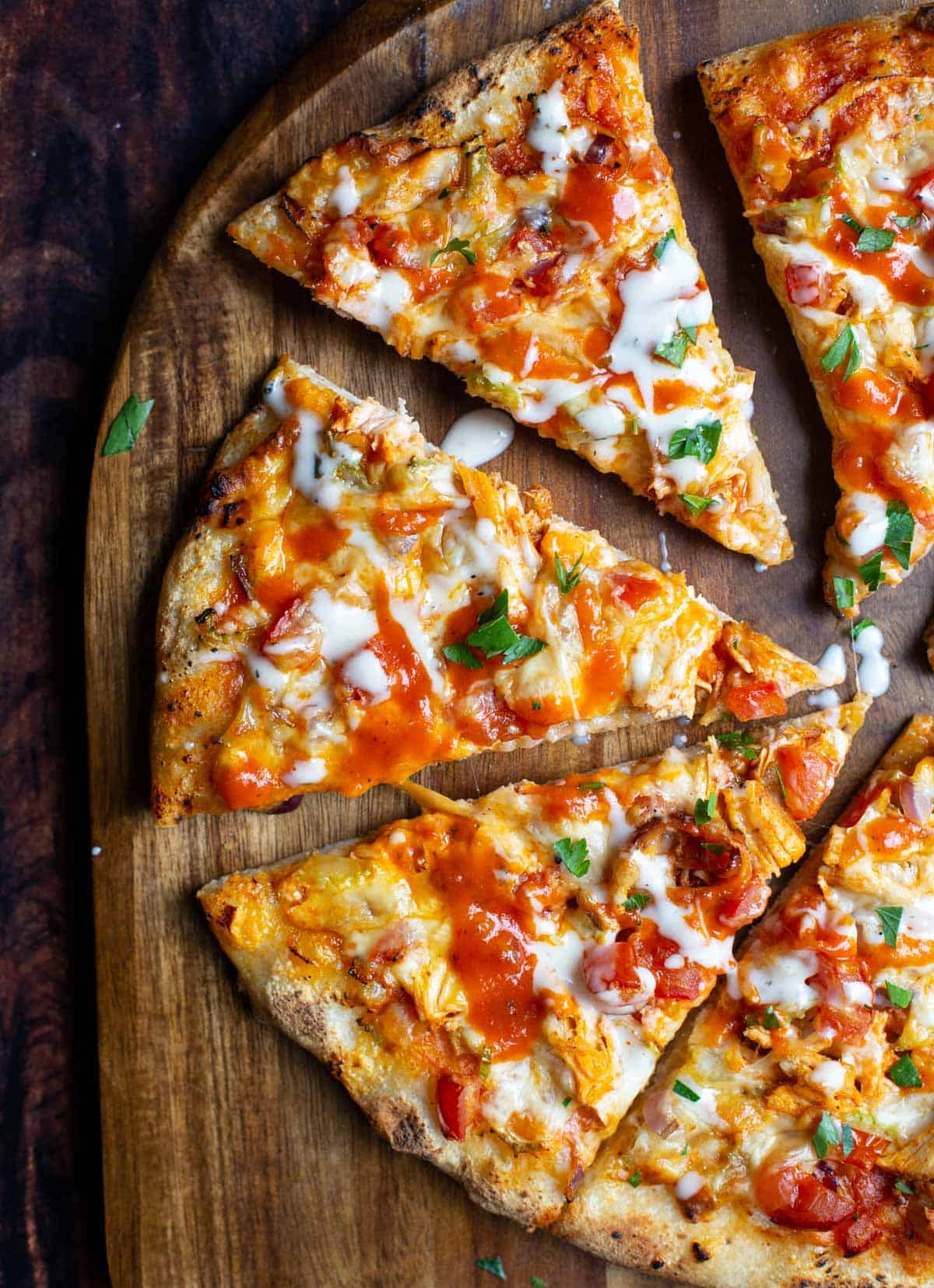 Buffalo Chicken Pizza Highlights
Great use for leftover chicken of any type, like our smoked chicken.
Even easier to make if you buy your own pizza dough.
For the sauce, just mix pizza sauce and Frank's Red Hot for the balanced flavor.
Ingredients
Start with any leftover chicken. You can buy a roaster chicken and shred it or use some from your weekend cooks, like our pellet grill chicken.
Pizza sauce and Frank's RedHot hot sauce for the base. Yes, it has to be Frank's (that this original flavor for classic Buffalo chicken wings).
A mix of cheddar and mozzarella cheese.
Additional toppings, like thinly sliced celery, onions, and tomato
A drizzle of ranch at the end.
See recipe card for portions.
Preparation
Prepare your oven or grill for making pizza. Target 500 degrees Fahrenheit and use a pizza stone, ideally using an IR Thermometer, to make sure the temperature of stone is 500 degrees. In an oven the stone should be placed on the middle rack.
Be sure the remaining ingredients are all prepped and chopped. We will mix the sauce and make sure our dough is at room temperature to make it easy to work with.
How to make Buffalo Chicken Pizza
Roll out your dough to 11 – 12 inches using a pizza peel. Be sure the oven or grill is at temperature before doing this so the dough is ready to slide onto the stone. If you make it in advance the dough gets too wet and it can stick to the peel. Then you are stuck with something that resembles a calzone.
Apply the sauce to the dough and then add the chicken. Continue to layer the pizza with the cheese, then the onions, celery, and tomatoes. Carefully slide the pizza onto the stone in the pre-heated oven. Close and cook the pizza for 5 – 6 minutes.
After the first 5-6 minutes the dough should be slightly browning and the edges starting to rise, rotate the pizza using a turning peel 180 degrees. This evens out the cooking since all ovens and grills have hot spots. Finish cooking an additional 5 – 6 minutes or until you see a golden crust on the edges and underneath.
Remove the Buffalo chicken pizza with your peel and then drizzle with the ranch. Slice and serve.
Make pizza often? Be sure to see our guide on essential pizza tools.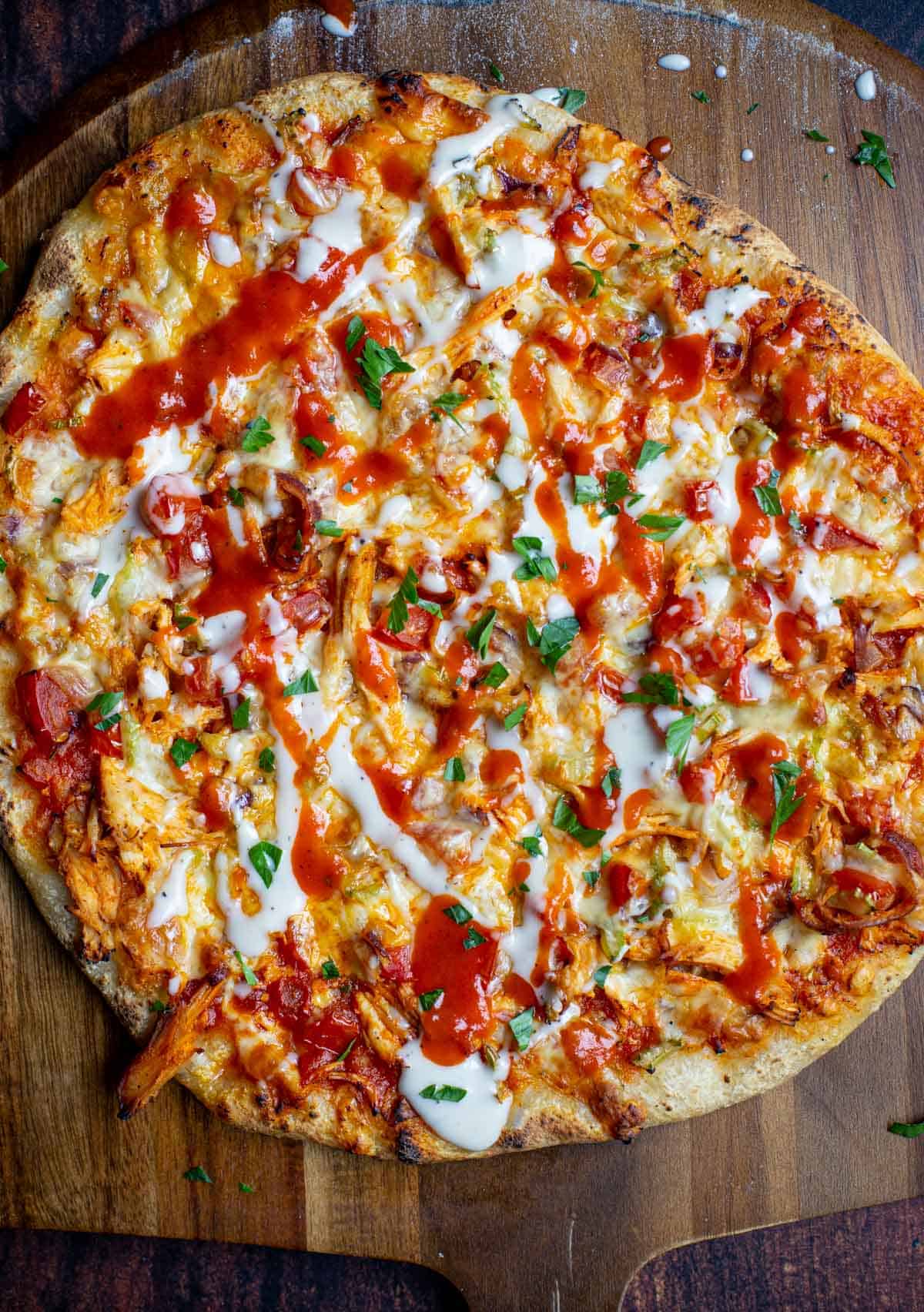 Wine Pairing
The flavor of the hot sauce isn't as dominant as if you we were just having wings solo. The sauce is balanced out by the cheeses, smoky chicken, and dough. That being said, Frank's RedHot is still a very distinct flavor, strong in vinegar with a mild heat level. This is not a spicy pizza, but the heat can be noticeable to those who are sensitive to heat (I don't personally find it spicy).
Off dry Rieslings work quite well with wings (the strong acidity and bold fruity flavors stand up well to the sauce). But my favorite pairings for this Buffalo chicken pizza is rosé and sparkling wine.
You can find a variety of wines as well from our online wine shop.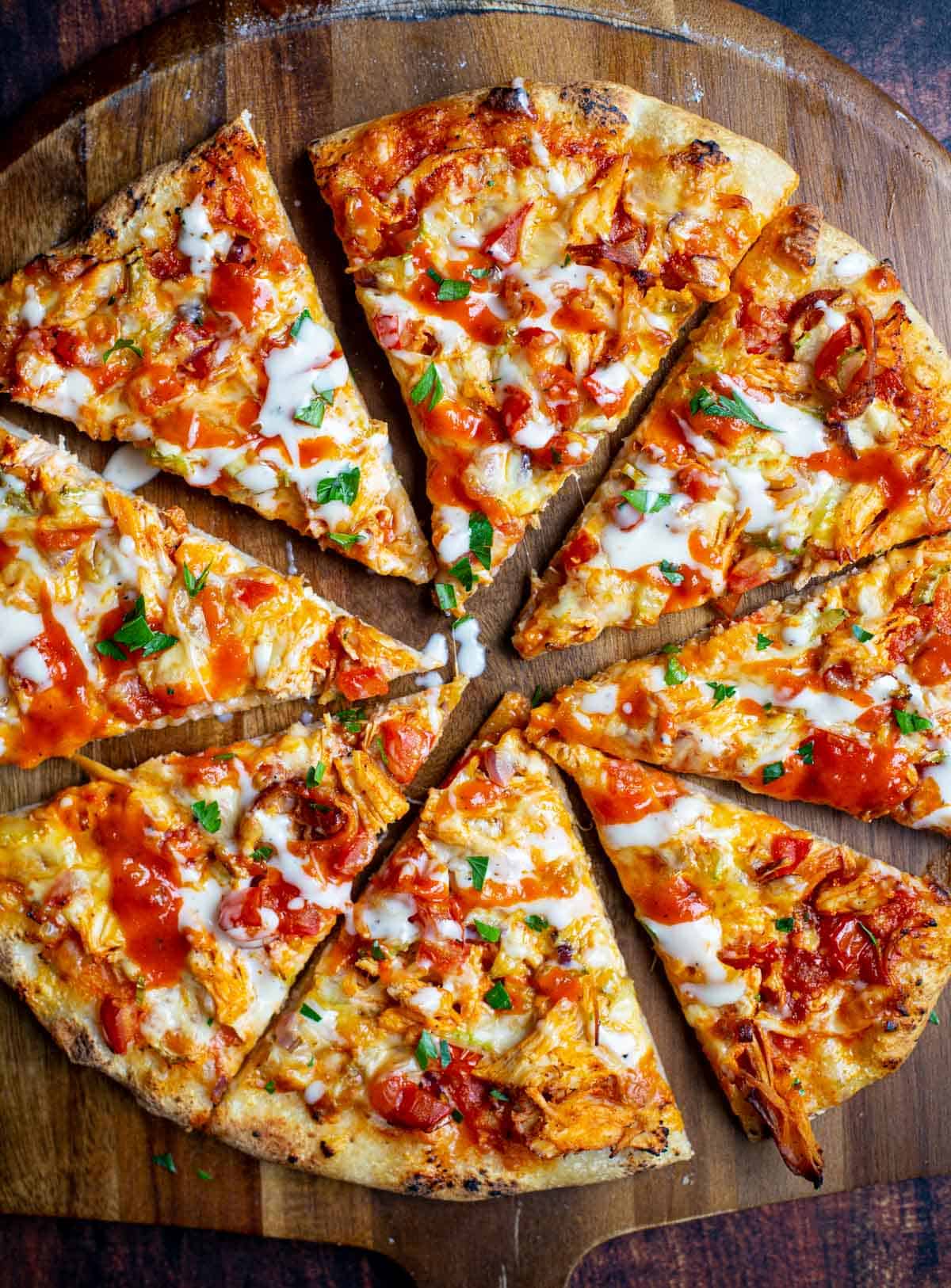 More Buffalo Style Recipes
---
*This recipe was originally published in January 2014, and updated in June 2022 with updated information. The recipe remains the same.
If you like this recipe we'd truly appreciate it if you would give this recipe a star review! And if you share any of your pics on Instagram use the hashtag #vindulge. We LOVE to see it when you cook our recipes.
---