Smoked. Buffalo. Chicken. Pizza.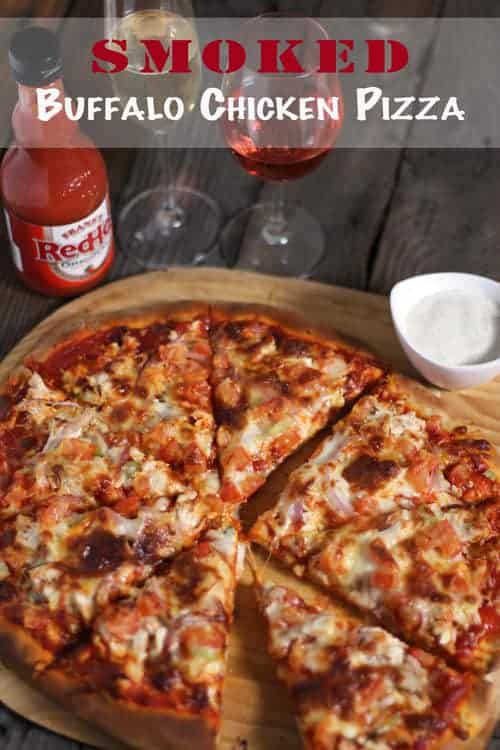 I didn't know Buffalo wings could be elevated to such a level… until this weekend.  I thought we'd reached the pinnacle of Buffalo deliciousness with this dip. I was wrong.  It's this pizza.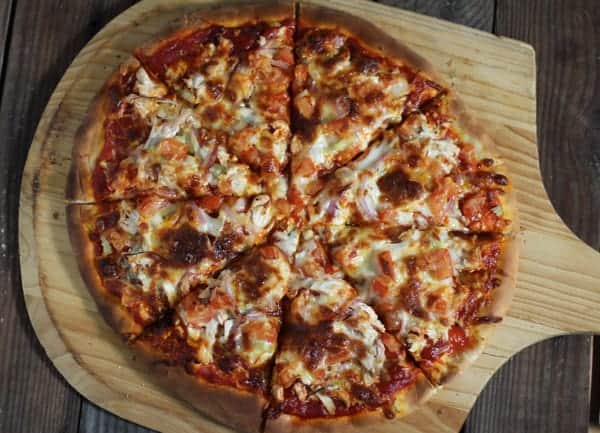 MY LATEST VIDEOS
We've made Buffalo Chicken Pizza in the past, usually with leftover grilled chicken.  We've perfected our Smoked Chicken Wings.  This pizza is the perfect marriage of the two.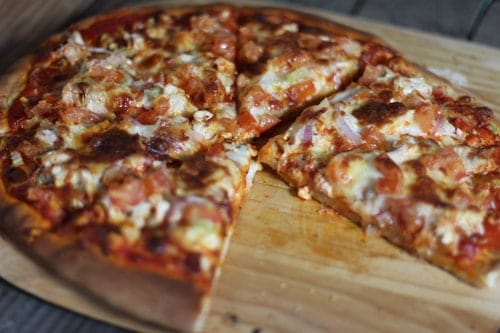 Adding smoked chicken instead of grilled adds a whole new flavor dimension to an already delicious pizza.  The tender and juicy meat combined with the perfect amount of smoky flavor  from three hours of slow smoking is unbeatable.
You start by smoking your chicken.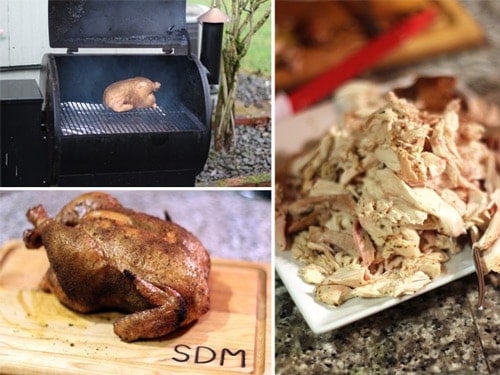 Start with a five pound whole chicken.  Rinse with cold water, dry it, then cover with olive oil and your favorite dry rub.  You can do this a few hours before starting.  Put the bird on the smoker at 300 degrees F for roughly three hours until the internal temperature reads 165 degress F on a thermometer inserted into the thickest part of the thigh.  Let it rest for 20 minutes to let juices redistribute and then shred it up.  NOTE:  Cooking times when smoking meat vary based upon outside temperature, wind, etc., so the most important factor is cooking the meat to the internal temperature.
No Smoker?
If you don't have the ability to smoke your chicken don't fret.  This pizza is still fantastic with roasted or grilled chicken, but just doesn't have the flavor nuances you get from smoking it.  Cheat tip?  Use smoked blue cheese from producers like Rogue Creamery in Oregon.
Now we're ready to assemble the pizza.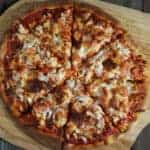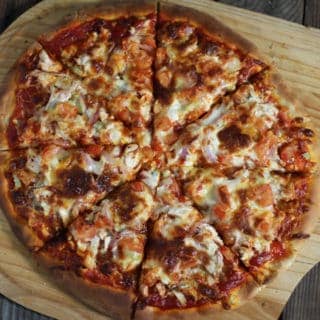 Smoked Buffalo Chicken Pizza
Ingredients
Sauce:
2

tablespoons

butter

¼

cup

Frank's Red Hot sauce

it's gotta be Frank's, no substitutions!

¼

cup

tomato sauce

1

tablespoon

tomato paste

optional. This will help to thicken the sauce
Toppings:
1

pizza dough

homemade or store bought

1

heaping cup precooked smoked chicken

shredded

2

medium sized celery stalks

diced

½

small onion

thinly sliced

1

medium sized tomato

diced

¼

cup

blue cheese crumbles

½

cup

shredded mozzarella cheese

½

cup

shredded cheddar cheese
Instructions
Preheat oven to 450 degrees with pizza stone placed in the center of the oven.

In a small saucepan heat up the butter, hot sauce, tomato sauce, and tomato paste until combined and thickened. Approximately 5 minutes.

Roll out dough on a wooden pizza paddle to desired thickness (I prefer my dough as thin as I can get it). After rolling out the dough, transfer it into the oven onto the pizza stone and par-bake it for about 1 minute — just to give it a little strength to hold the load, and then remove it. (If you don't have a pizza stone and use a round aluminum pizza pan then you can just omit this step of par baking the dough. I find it helpful to par-bake the dough so you easily load it up with the ingredients without the pizza falling apart.)

After removing the dough from the oven, load it up with sauce first; then evenly layer the chicken, celery, onion, tomatoes and cheeses. Bake approximately 12-14 minutes, or until crust is golden brown and cheese is nicely melted.
WINE PAIRING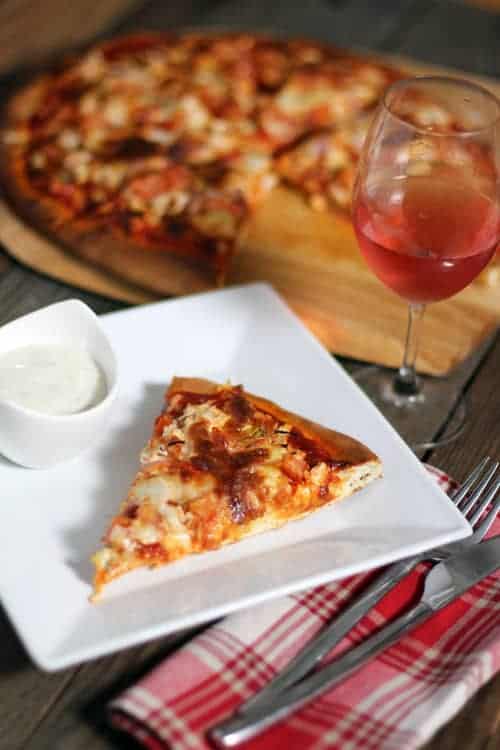 The flavor of the hot sauce isn't as dominant as if you we were just having wings solo.  The sauce is balanced out by the cheeses, smoky chicken, and dough.  That being said, Frank's Red Hot is still a very distinct flavor, strong in vinegar with a mild heat level.  This is not a spicy pizza, but the heat can be noticeable to those who are sensitive to heat (I don't personally find it spicy).
Off dry Rieslings work quite well with wings (the strong acidity and bold fruity flavors stand up well to the sauce).  But my favorite pairings for this pizza is rosé and sparkling wine – or better yet, a fruity sparkling rosé.   Sparkling wine is the epitome of refreshing and provides a similar cooling effect that beer (the typical choice for wings) has on the palate, which is helpful for bold flavors like those found in this pizza.  Additionally if the wine has a bit of residual sugar in it, it will help cool any heat from the sauce.
Berlucchi Cuvée '61 Brut NV
Lombardy, Italy
11.5% abv  |  $18 (sample)
Loved the fresh fruit aromas coming from the glass; apple, apricot, melon, citrus and a hint of fresh baked bread (which played off the pizza dough quite well).  Full bodied on the palate with more fruit flavors and fresh acidity.  Clean and fresh and refreshes the palate with each sip.  The wine has a nice elegance to it, but has the bold fruit flavors and acidity to stand up to the pizza.
Lucien Albrecht Crémant d'Alsace Brut Rosé
Alsace, France
$20 (purchased)
This is one of my all time go-to standards for bubbly, and it had been awhile since I picked up a bottle.  Beautiful berry aromas mixed with some fresh citrus the wine is creamy yet crisp on the palate.  The strawberry flavors, though not sweet, certainly work to keep the palate refreshed with each sip.  This is a very versatile wine that works with anything from an elegant roast chicken to this full flavored Smoked Buffalo Chicken Pizza!
Game Day Food
I would be remiss if I didn't mention the big game coming up in a couple weeks (a-hem, Superbowl).  How impressed will your friends be if you decided to show up to the party with this pizza?!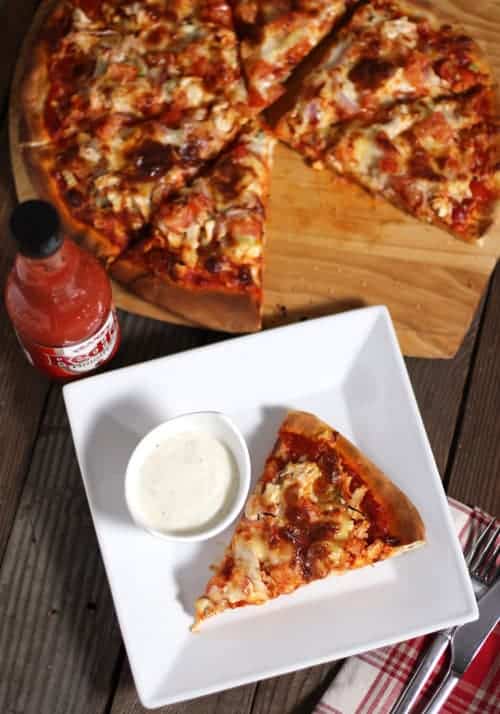 For more Buffalo Wing inspiration check out these other recipes: