Smoked Sausage Risotto combines smoked sausage and mushrooms for a creamy, meaty, hearty and comforting risotto recipe.
This risotto recipe uses homemade smoked chicken stock giving it a rich mildly smoky undertone. This delicious meal also comes with wine pairings.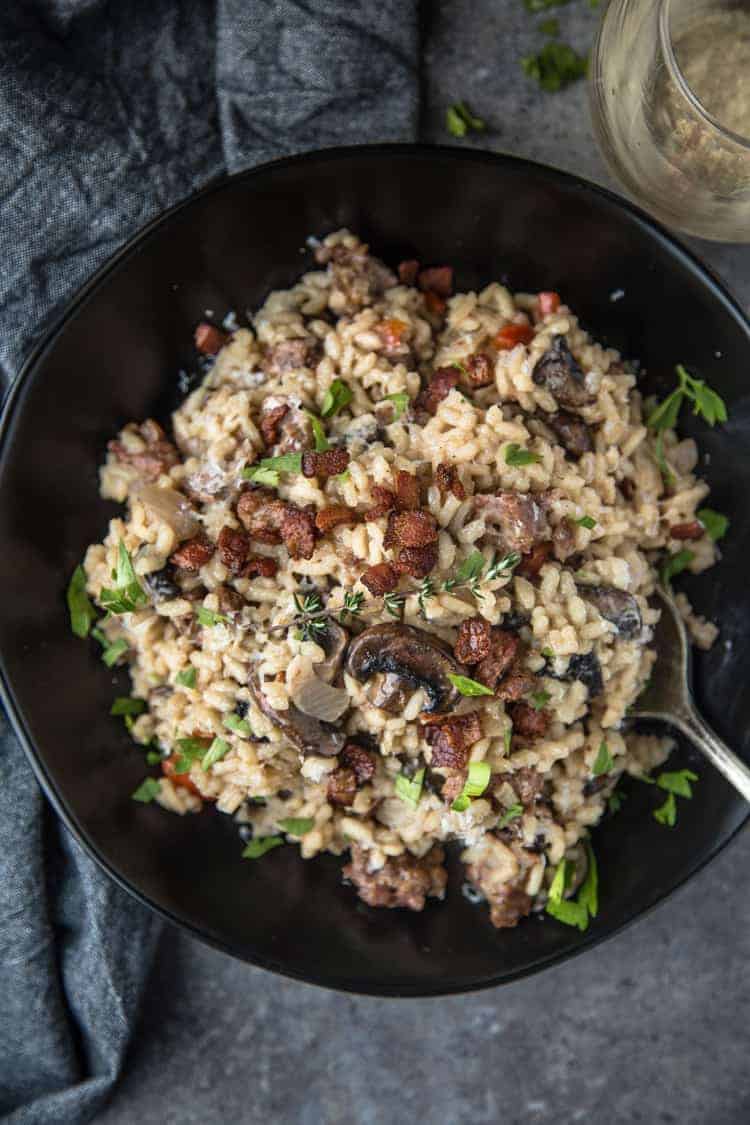 A traditional mushroom risotto has just taken traditional risotto up about 100,000 notches by adding smoked sausage and smoked chicken stock.
I'd been looking for excuses to make risotto again since falling head over heals for arancini (aka the greatest use for leftover risotto, ever), so we came up with a smoked version. Only it came out so delicious the first time we made it that we didn't have any leftovers for the arancini. #foodpeopleproblems
It's only a good excuse to make it again, so we can have some smoked sausage arancini in our future. Don't even try to stop me.
But first, let's talk about how good this smoky risotto is.
There's something super comforting about a warm bowl of creamy delicious risotto. This one is not only creamy and rich, like you would expect, but also hearty, meaty, and also has the perfect smoky backbone to it.
How to Smoke Sausage for Risotto
Start your risotto by smoking the sausage. We love Snake River Farms Kurobuta ground pork or sausage, you can also use bulk ground Italian sausage as well from your local butcher. Regardless of the style, be sure to smoke bulk ground sausage.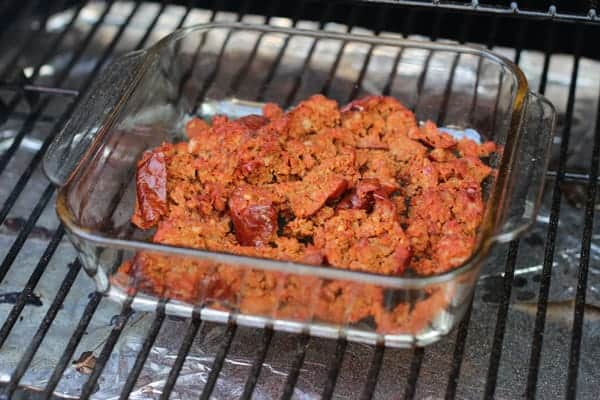 You can place the bulk sausage in a smoker safe bowl (like above), or break it up into 1″ chunks and place on a baking sheet to cook. The later will cook faster, with the bulk sausage in the dish will cook for about 1 hour, until the internal temperature of the sausage reaches 160 degrees F.
Once your sausage is cooked, remove it from the smoker and when it has cooled enough to work with, break it up into smaller bite-sized pieces to add to your risotto when it's ready.
It's time to make risotto!
How to Make Risotto
The key to risotto is to layer it slowly.
Start by warming up your stock (smoked or regular), in a medium sized sauce pan and bring it to a low simmer. You'll be adding this warm stock into the risotto mix.
Next, cook up the diced bacon until crispy, then setting it aside. I pour out a bit of the bacon grease if there's too much (I don't want that strong of a bacon flavor. You won't need it. But go ahead and do what your heart tells you).
In the same pan that cooked the bacon, heat up your veggies until they begin to soften.
Add your rice and mix together with the vegetables, giving the risotto a slight toast. Now comes the technique for creamy risotto.
Add your wine and warm stock, one ladle at a time, to the rice and mix over medium heat. Start with the wine and let it absorb into the rice. Once it's absorbed, add the warm chicken stock one ladle (or ½ cup) at a time and slowly stir and incorporate into the rice. Once it has absorbed (about 3-4 minutes per ladle) add another ladle and repeat, until all of the liquid has been absorbed, and the rice is cooked and tender. The whole process should take around 25-30 minutes.
Once risotto is finished, add back in the sausage, and top with the parmesan cheese. Mix together and serve. Top each portion with the crispy bacon and more parmesan cheese.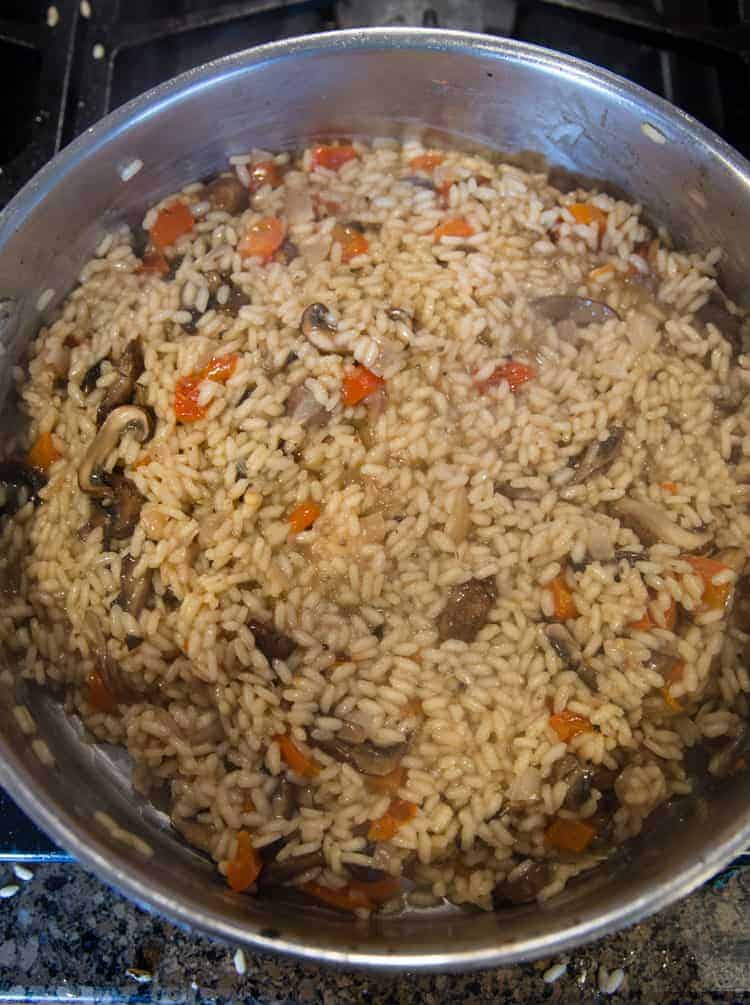 Tips for Making Perfect Risotto
Stay close to the pot. You're going to be stirring constantly, while adding your liquid in small portions every 3-4 minutes. It may be a good idea to have something nice to drink while you're cooking because you won't be leaving the kitchen. So stick around and sip on something delicious while you patiently perfect your risotto.
Consider using homemade smoked chicken stock to give it that smoky backbone. You can go ahead and use store bought stock too, but I promise it won't be the same. That's why you must always have smoked stock on reserve in your freezer, for moments like this! It's the #1 rule of smoker ownership. True story. My favorite recipe for smoked chicken stock is from our cookbook, Fire + Wine.
Wine Pairing for Risotto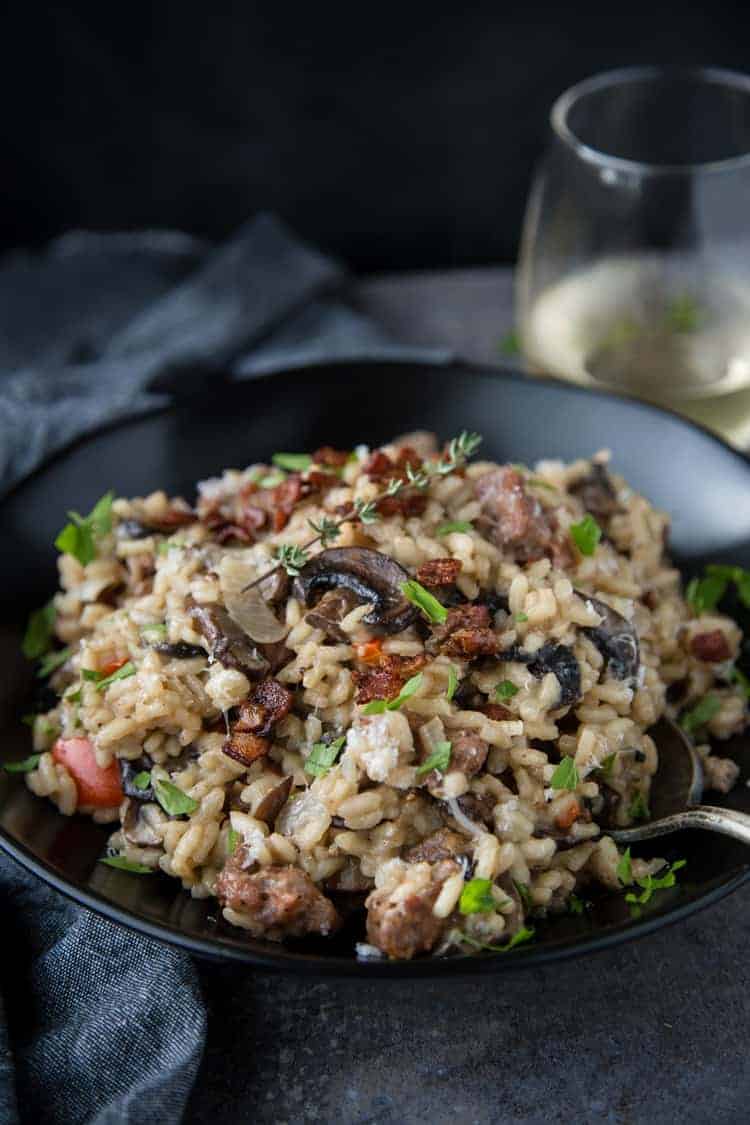 The elements with this dish to pay attention to are the sausage, earthy mushrooms, mild smoky flavor, and creamy texture. I like wines that would compliment the mild smokiness especially. Pinot Noir from Oregon or California works great with the smoked pork, but for something a little richer a nice Syrah works great. If you can find a Rhone style red, they work fantastic with this dish.
For a white wine, an oaked Chardonnay with some spice and some wood flavors from being aged in oak barrels is my preference. They also tend to have some pretty tropical aromas to it, brightening up the dish. The spice can stand up well to the sausage and the oakiness of the wine blended in well with the smoked flavors of the dish.
Have any leftover risotto?
Make sure make these Arancini if you do. They rock, big time!
*This post was originally published in April of 2015, and updated in October 2019 with new photos.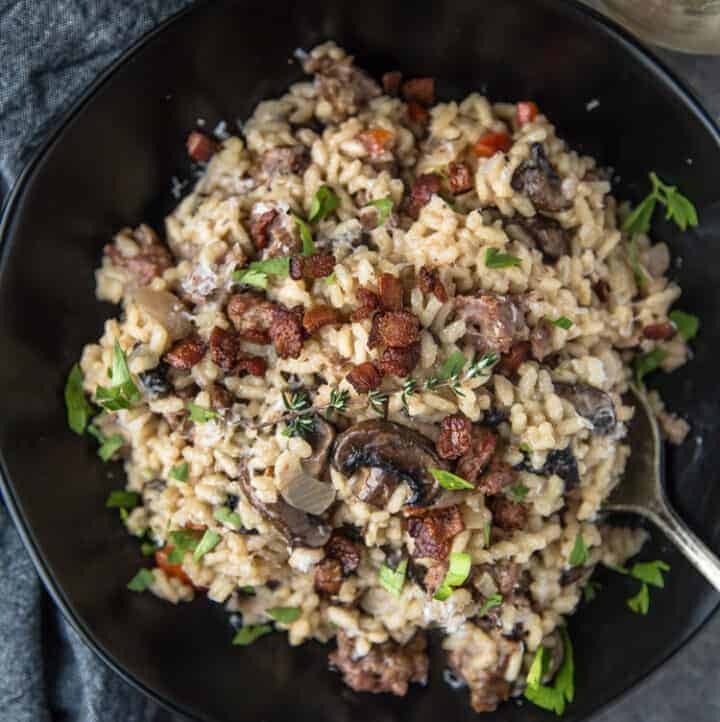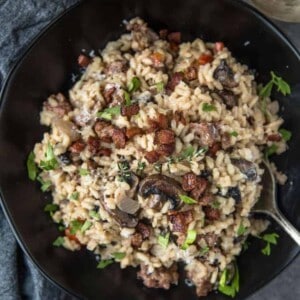 Smoked Sausage and Mushroom Risotto Recipe
Risotto made with smoked sausage, mushrooms, and smoked chicken stock. This recipe will take your typical mushroom risotto and kick it up about 100,000 notches by adding a delicious smoky backbone.
Print
Pin
Rate
Ingredients
½

lb

bulk sausage, broken into large chunks,

(chorizo or Italian pork sausage recommended)

5

cups

smoked chicken stock

2

tablespoons

butter, separated

3

slices

thick cut bacon, diced

½

cup

shallots, diced

½

cup

red bell pepper, diced (about ½ a red bell pepper)

8

oz

cremini mushrooms, sliced

Salt and Pepper to taste (approx 1 teaspoon salt, ½ teaspoon pepper)

1 ½

cups

Arborio rice

¾

cup

white wine

¾

cup

Parmesan cheese, shredded
Instructions
For the Smoked Sausage:
Preheat smoker to 250 degrees.

Place sausage chunks on a baking sheet and place in smoker for about 1 hour or until internal temperature reaches 165 degrees with a meat thermometer. Set aside, and when cool enough to handle break into smaller bite sized pieces.
For the Risotto:
In a medium sized saucepan, heat up the smoked chicken stock and bring to a simmer.

In a separate, large heavy saucepan, melt 1 tablespoon of the butter and add the bacon and cook over medium heat until the bacon is cooked and crispy (about 5 minutes). Remove the bacon and set it aside. Pour out any excess bacon grease (a little left inside is fine).

Add the other 1 tablespoon of butter, then add the shallots, red bell pepper, and mushrooms, and sauté until tender (about 5 minutes).

Add the rice into the vegetable mixture and stir together. Add the wine and simmer about 1-2 minutes, until the rice has absorbed the liquid.

Next add about ½ cup of the simmering smoked chicken broth and slowly stir until it has been absorbed, about 3-4 minutes. Continue by adding about ½ cup of the broth at a time, stirring constantly, until all the rice has been cooked and is tender. This should take around 25-30 min total. The risotto should be creamy and the rice a bit al dente. Stir in the smoked sausage pieces and Parmesan cheese. Serve immediately. Top each serving with the smoked bacon and more Parmesan cheese.
Find the perfect wine pairing at the Vindulge Wine Shop
Nutrition
Serving:
4
g
|
Calories:
817
kcal
|
Carbohydrates:
80
g
|
Protein:
32
g
|
Fat:
36
g
|
Saturated Fat:
15
g
|
Polyunsaturated Fat:
4
g
|
Monounsaturated Fat:
14
g
|
Trans Fat:
0.4
g
|
Cholesterol:
89
mg
|
Sodium:
1255
mg
|
Potassium:
988
mg
|
Fiber:
4
g
|
Sugar:
9
g
|
Vitamin A:
963
IU
|
Vitamin C:
27
mg
|
Calcium:
267
mg
|
Iron:
5
mg
---
This post may contain affiliate links, which means if you purchase a product through one of the links we may receive a small commission. We only partner with brands we know, use, and love and use the funds to keep the blog going!
If you like this recipe we'd truly appreciate it if you would give this recipe a star review! And if you share any of your pics on Instagram use the hashtag #vindulge. We LOVE to see it when you cook our recipes.
---