Authentic Sicilian Arancini di Riso (i.e. Sicilian Rice Balls) are easy and absolutely delicious! Find out how easy it is to make this Italian treat on your own.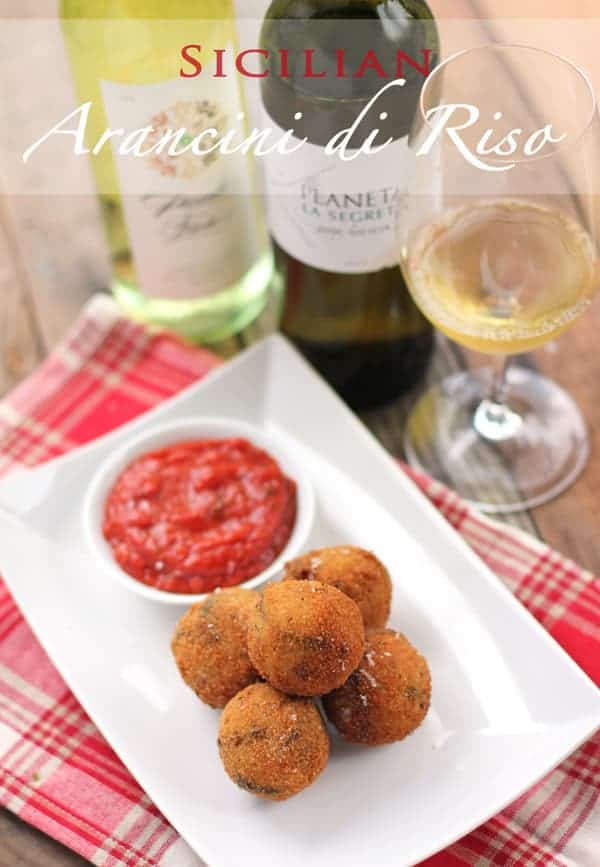 Sicilian Arancini di Riso
These little cheesy crispy delicious fried rice balls are a staple of Sicilian street food and bar fare. You'll see them from street vendors to nearly every restaurant appetizer list. They were one of the very first things I ate upon arrival in Sicily and I'm sure we had at least one round of arancini every day during my week there.
The word "arancini" translates to "little oranges" in Italian, referring to what they look like once cooked. Often times the rice is cooked with saffron, which turns the rice an orange color, and when fried the balls resemble little oranges.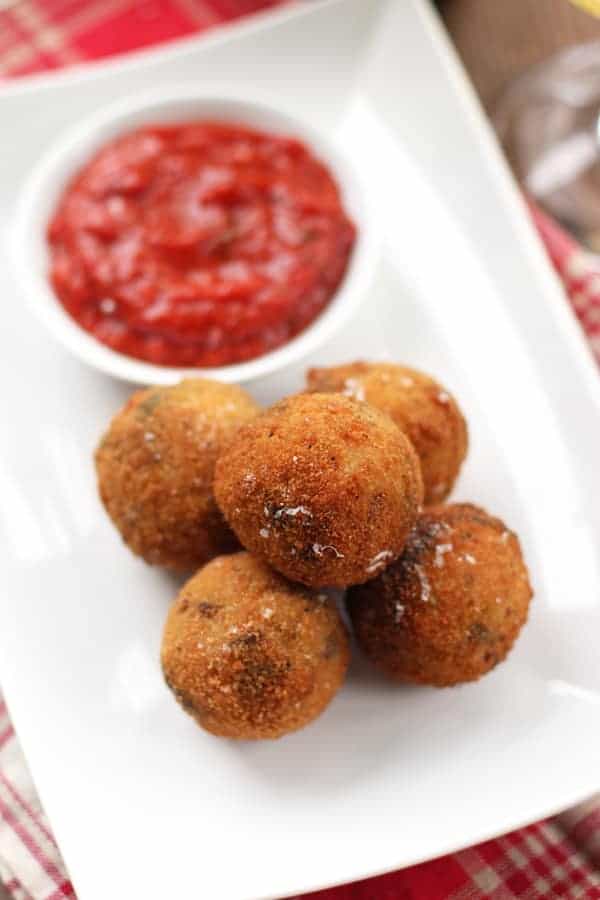 It seems pretty basic — fried rice balls — but each restaurant or host that served this dish prepared them with slight (or not so slight) variations. Sometimes they were savory and on the dry side, filled with different types of meats or vegetables like ham, prosciutto, peas, or mushrooms. Sometimes they were creamy, filled with dense gooey cheesy goodness (these were my favorite!).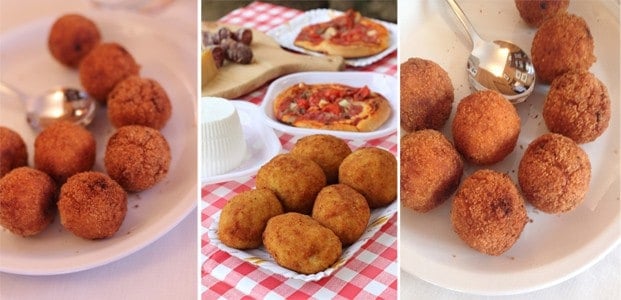 No matter the filling, they were always perfectly fried and crispy on the outside, and divine on the inside.
How to make Sicilian Arancini di Riso
Even with an endless variety of filling options, these are quite simple to make. You just start with a rice mixture (the easiest way to prepare them is to use leftover risotto), then add any additional filings you wish, and then fry them. How could you screw that up? Well, it's possible!
After some trial and error I discovered a few key things that separate mediocre from perfection.
It may seem obvious, but you've gotta start with a filling that you love! If you start with a risotto or rice mixture that is dry and just "okay" then your aranchini is going to be that… just okay and will result in dry and flavorless rice balls. Boooooring!
I'm a huge fan of Ina Garten's recipe for Wild Mushroom Risotto. The recipe starts with salty pancetta, earthy mushrooms, white wine (for added depth), savory cheese, saffron, and results in a rich, creamy, full-flavored risotto. I make it all the time. In fact, I used to make it for the sole purpose of using the leftovers to make risotto cakes (my kids love them!). But I've discovered a new perfect use for Ina's delicious risotto. Making these fried rice balls. This risotto is the perfect base for creamy and flavorful arancini.
I made the risotto for Christmas dinner, and used the leftovers to make these rice balls the very next day.
They came out fantastic because the risotto recipe already had lots of creaminess, and savory fillings, like pancetta and earthy mushrooms. But if you chose to make a basic risotto, you can go ahead and add whatever fillings you want; ham, prosciutto, vegetables, your favorite cheeses, etc.
I also discovered after making these several different ways that it's best to stuff a cube of mozzarella (or easily melted cheese) in the center of the ball, rather than adding to the mix (pre-rolling), because the cheese may get too hot and could easily burn if it's mixed throughout the ball mixture. So stuff it into the middle! When you open your ball you'll be rewarded with a string of lovely melted mozzarella cheese.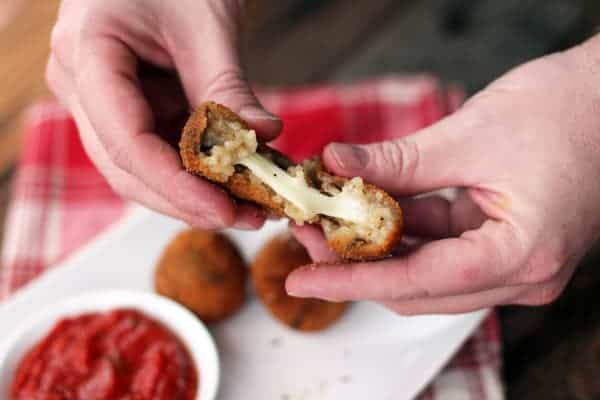 If you find your mixture is too dry when you try to roll it into a ball then add an egg to help bind it. But I found that this specific risotto recipe is creamy and moist enough (even cold the next day) that it rolls into perfect balls without any added binding. I just added extra Parmesan cheese because, well, there's no such thing as too much cheese! True story.
Forget making rice cakes next time (and every time thereafter) I make Ina's mushroom risotto, from now on it's Arancini di Riso for dinner the next day!
Wine Pairing for Arancini
Sicilian white wine of course!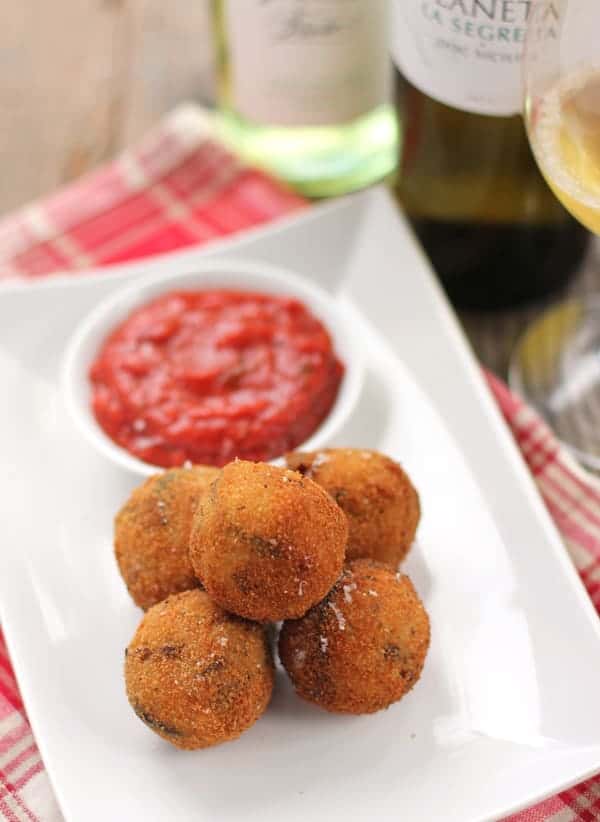 I loved the white wines in Sicily. In one word they were…fresh! Fresh as the ocean sea, and often had a salty minerality (likely from the close proximity to the sea) to boot. You'll find lots of familiar grape varieties in the white wines of Siciliy, like Chardonnay, Viognier, Pinot Grigio, but also indigenous Italian grapes like Cataratto, Grillo, Inzolia, Fiano, Carricante and more. Quite often you'll find wines that are a blend of two or more of these grape varieties. At their best you'll find crisp, zesty, refreshing wines that are as fresh as an ocean breeze.
One in particular that I've been drinking a lot of since my return, and incidentally goes marvelously with these Arancini, is the 2013 Planeta La Segreta Bianco (Sicily, Italy), purchased for around $12 at my local New Seasons Market.
Made from 50% Grecanico, 30% Chardonnay, 10% Viognier, and 10% Fiano, this wine is fruity, aromatic, and fresh with lots of juicy peach, apricot, and pineapple up front with some lemon and lemon peel on the palate. Light in body, yet bold in flavor, a fantastic value, and an equally fantastic partner for fried Arancini. The Warning, it goes down very easily, so pace yourself!
Recipe for Sicilian Arancini di Riso: Sicilian Rice Balls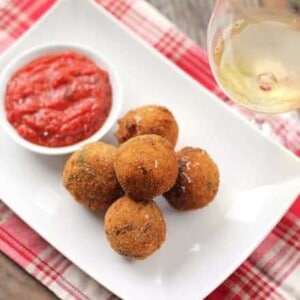 Sicilian Arancini di Riso: Sicilian Rice Balls
Authentic Sicilian Arancini di Riso (i.e. Sicilian Rice Balls) are easy and delicious to make! See how to make your own. These are perfect for leftover risotto!
Print
Rate
Servings:
12
-15 rice balls
Ingredients
3

cups

leftover cooked mushroom risotto,

(see my favorite in the notes)

¼

cup

Parmesan cheese, shredded

¼

lb

mozzarella, cut up into ½ inch cubes

2

large eggs, beaten

1

cup

dried breadcrumbs

¼

teaspoon

of each: dried oregano, basil, marjoram (or 1 teaspoon dried Italian seasoning)

Vegetable oil, for frying
Instructions
In a large bowl, combine the leftover risotto and ¼ cup Parmesan cheese. If the mixture seems too dry to roll into a ball without falling apart, then add 1 egg to help bind the mixture. With the risotto I used, that was not a problem and I did not need the additional egg.

In a shallow dish, add the beaten eggs.

In another shallow dish add the breadcrumbs and the Italian seasonings, and mix well.

Scoop out a spoonful of the rice mixture and roll into a ball about the size of a golf ball (about 2 inch diameter).

Make a hole in the center of each ball with your finger, and insert a cube of mozzarella. Cover up the hole and roll the balls tightly!

Roll each ball in the egg mix, and then the breadcrumbs. Coat well.

In a heavy saucepan, pour enough oil to fill the pan about 2 inches high.

Heat to medium heat until either a thermometer reaches 350, or use a test batch with a piece of bread.

In small batches, fry the rice balls four at a time, turning occasionally, until golden (about 3-4 minutes). You want to avoid frying too many at once pulling down the cooking oil temp and creating a greasy ball.

Remove the balls and place on paper towel lined plate to remove any excess oil. Season with salt.

Serve plain, or with your favorite marinara sauce.
Notes
You can use whatever risotto recipe you wish. Or you can make a basic risotto, then add your favorite fillings as you prepare the mixture: peas, ham or prosciutto, you name it.
If your oil is too high and the balls brown quickly on the outside but don't cook the inside thoroughly (if they brown in under a minute or so), transfer the nicely browned Aranciti to a cookie sheet and bake in the oven at 400 degrees for about 10-12 minutes. This way the outside will remain crispy, and the oven will help to melt the cheese and warm up the rice mixture.
Alternatively (if you want to make the batch ahead of time), fry the balls quickly until browned then place on baking sheet until you are about ready to serve. Then put them in the oven for 12 minutes (until cooked through). That way each Aranchini is perfectly warm and cooked through when you serve them. Believe me, they are best served warm and gooey!
Find the perfect wine pairing at the Vindulge Wine Shop
---
If you like this recipe we'd truly appreciate it if you would give this recipe a star review! And if you share any of your pics on Instagram use the hashtag #vindulge. We LOVE to see it when you cook our recipes.