A great white sauce pizza starts with a great pizza dough and is followed by an herbal and tangy white pizza sauce. From there it's a blank canvass that we add fresh cheese, caramelized onions, and wild shiitake mushrooms. Top it with arugula and it's practically a salad.
For more sauce inspirations check out our chimichurri sauce or no bake red pizza sauce.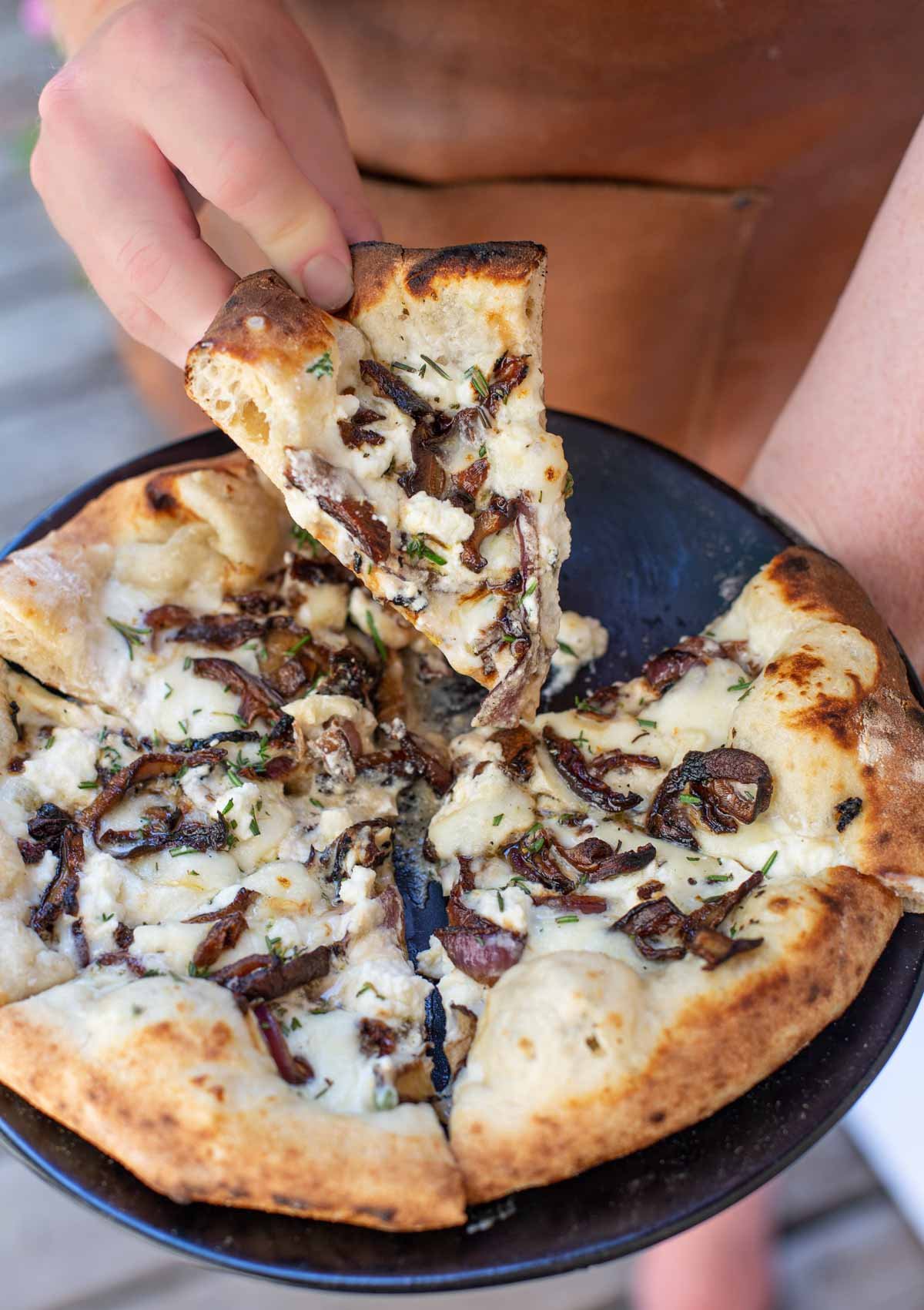 Jump to:
Ingredients and Variations
An pizza starts with an amazing dough. Source your own from a local pizza joint or even the store. Or consider making your own. The rest is up to you. We are inspired by the following:
White Pizza Sauce – You can buy it from the store or even sub out a good Alfredo sauce (it has Parmesan cheese added). Or you can make it because it's one of the easiest sauces outside of our no bake pizza sauce. Alternatively you can use an olive oil and garlic base instead of a white sauce like in our garlic pizza recipe.
Fresh Cheese – That means high quality fresh mozzarella and ricotta cheese.
Caramelized Red Onions – This adds a nice sweet element that balances well with the rich sauce and earthy mushrooms. You can use a sweet or yellow onion as well.
Wild Mushrooms – We opt for shiitake mushrooms for the size and flavor but you can also use cremini or porcini. The key is to brown them first before cooking in the oven.
Arugula – Fresh arugula added just as the pizza comes out of the oven adds a peppery flavor and crunch. And hey – isn't that kind of like a salad?
Preparation
As we preheat the pizza oven or stove we start by prepping the toppings.
Caramelized Onions – Thinly slice the onion. In a skillet over medium heat add oil or butter and the onions. Stir occasionally to let the onions reduce and brown. This can take up to 20 minutes.
Browned Mushrooms – After the onions are done or in a separate skillet over medium heat add more butter or oil and roughly chopped mushrooms. Let the mushrooms sauté for 6 to 7 minutes before moving them. Then stir and continue to brown for another 5 – 7 minutes.
Prep Pizza Dough – It should already be made and ideally at or near room temperature. This makes it easier to form rather than just pulling from the refrigerator.
Tools
For our full list of pizza accessories check out our full must have pizza tools article. But the two most important for any homemade white sauce pizza is a good pizza stone and an instant read infrared thermometer like the Thermoworks IR Thermometer.
How to Make White Sauce Pizza
Prepare your pizza oven. We do a Neapolitan style which we cover in our Neapolitan Pizza Recipe targeting 1,000 degrees in the oven and a stone that is 700 degrees. For the oven see notes below.
Lightly coat the pizza peel with flour. Gently form the pizza dough into an 11 – 13 inch circle on your pizza peel. With a large spoon add the sauce to the center and then even it out on the dough. Follow the sauce with the cheeses. Drop the crumbled fresh mozzarella and ricotta evenly over the white pizza sauce. Top with the onions and the mushrooms.
Gently shift the pizza on the peel to make sure it will slide slightly. If not carefully lift the edge of the pizza and dust the peel with more flour. Then slide it onto the pizza stone.
With a pizza peel slowly turn the pizza in quarter turns every 15 seconds until its cooked through with the edges crusty and browned and the cheese melted.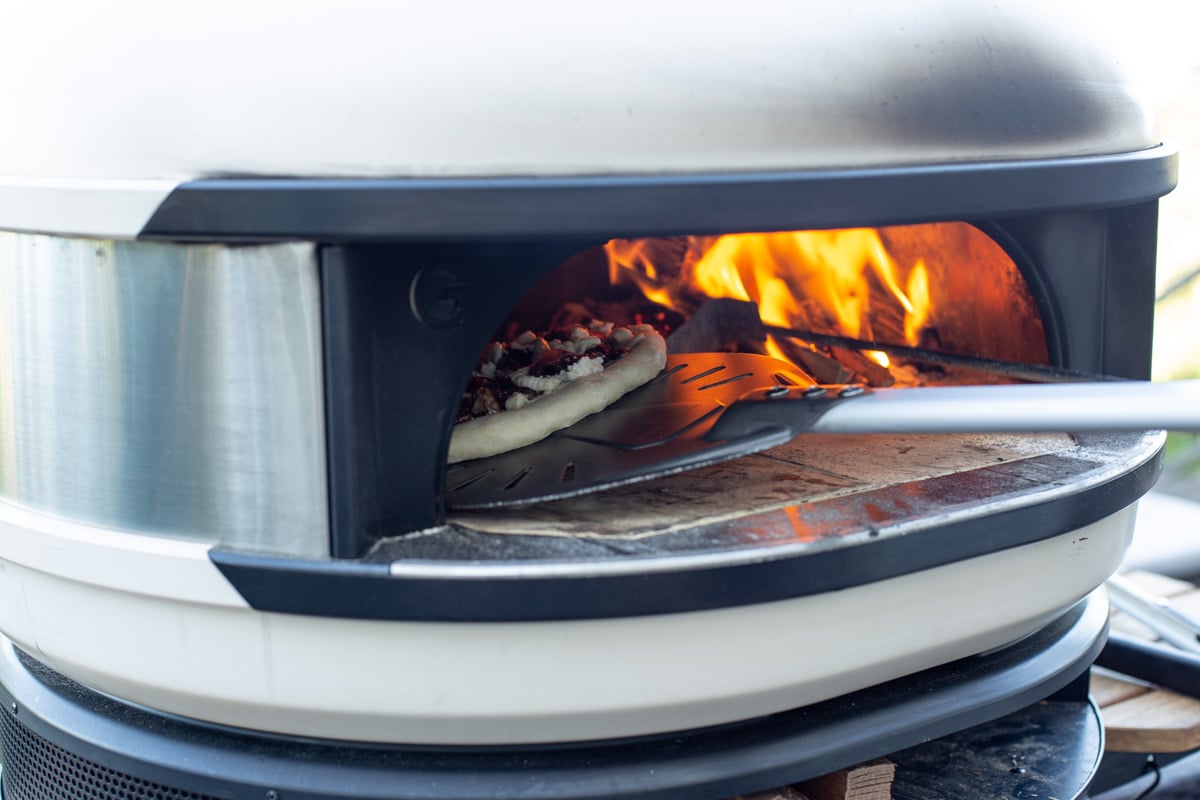 White Sauce Pizza in a Conventional Oven: If using an oven set the oven to 550 degrees Fahrenheit with the pizza stone on the middle rack. Wait 30 minutes so the stone can heat up to 500 – 550 degrees F. Slide the pizza on the stone and cook for 5 minutes. Rotate the pizza 180 degrees for additional 5 minutes until done. Be sure to watch the pizza as ovens are not even.
Serving
As soon as it comes out of the oven top with the arugula so it doesn't completely wilt in the heat. We also love topping with a little Maldon finishing salt. Cut and serve while warm.
If you really want to impress then drizzle some truffle oil or hot honey over the top.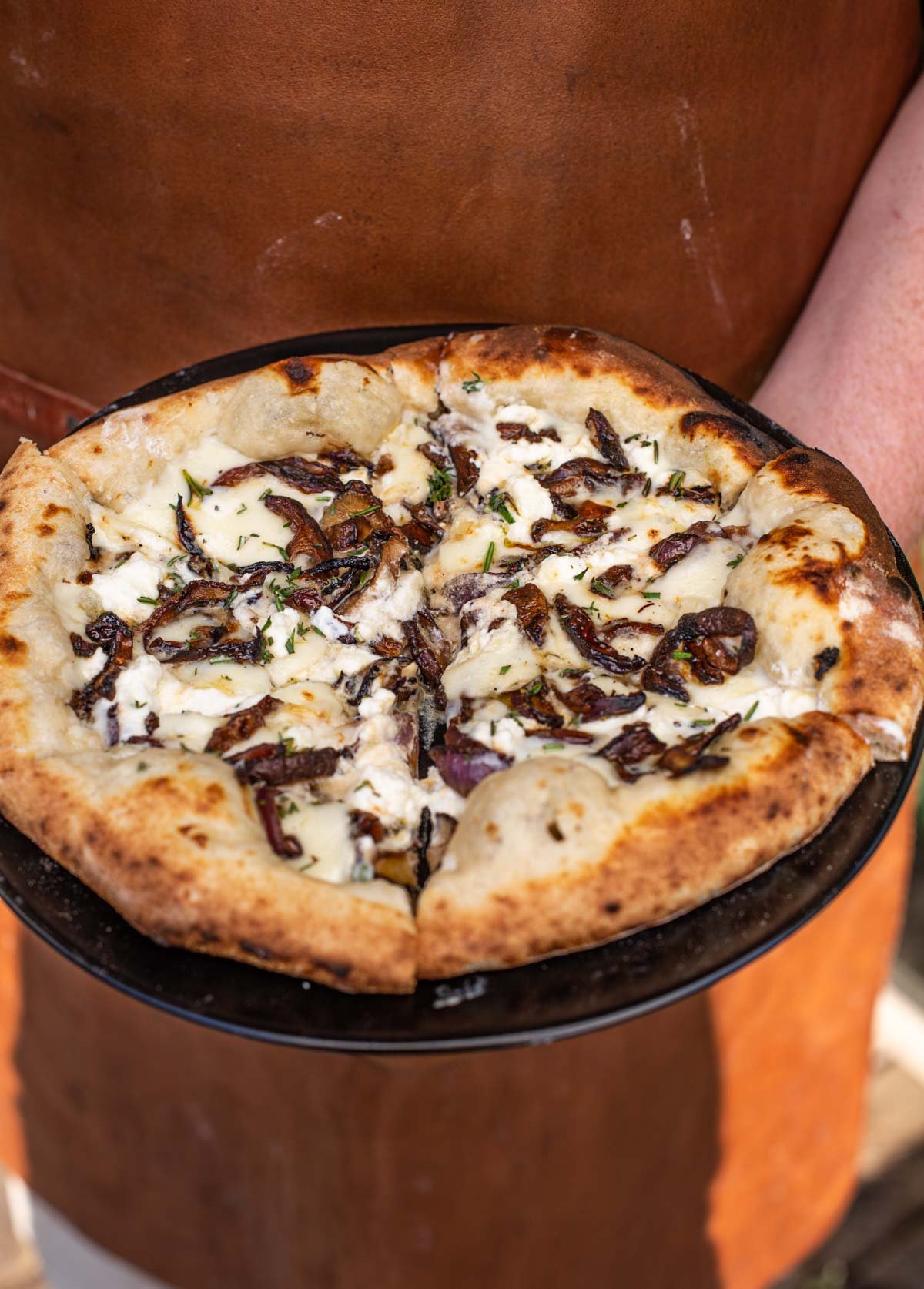 Related Recipes
You can see our full list of pizza recipes or check out some of our favorites.
Tried this recipe? Give us a star rating and we would love to see! Mention @vindulge or use the hashtag #vindulge on all the social media handles. And consider subscribing to our newsletter where we drop all our favorite ideas and inspirations every week.
This post may contain affiliate links. This means if you click on the link, we may receive a small commission if you purchase through the link. We partner with brands we know and love and use and it helps keep the blog going!
---