Portland Dining Month is almost over, with more than 120 restaurants offering three-course dinners for $29 throughout March. But you still have time!

This is a great time to check out one of those restaurants on your radar or return to an old favorite. But with so many restaurants on the list it's crazy hard to decide where to go, right?!
My strategy is usually to hit up a restaurant I've never been before but always wanted to. And if I'm lucky enough to get a sitter twice in the same month I'll usually return to one of my all time favs (like Paley's Place). The nice part is that the website lists the full offerings from each menu so you can peruse the list in your PJs late night while watching Netflix, then make your reservations through Open Table so you don't miss out!
Speaking of Open Table, for every Portland Dining Month reservation made using OpenTable (or on the main Portland Dining Month page), a donation will be made to the Oregon Food Bank. How cool is that?
Olympia Oyster Bar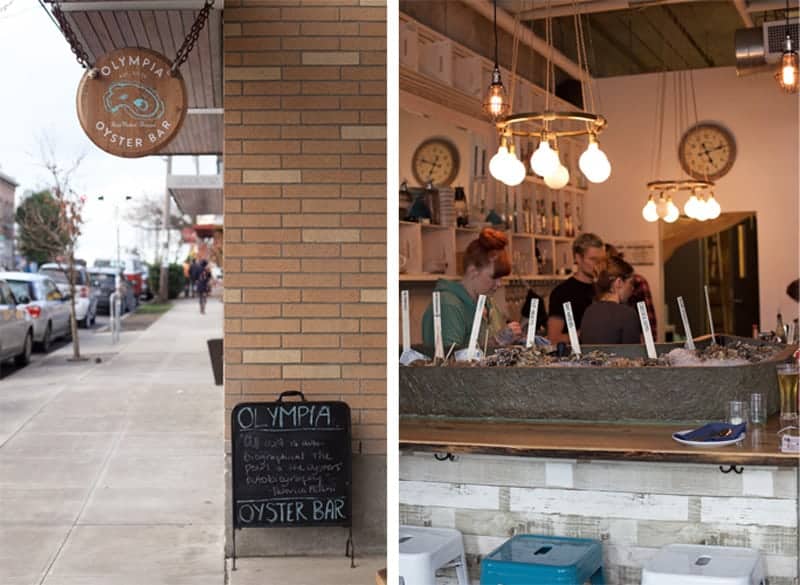 This year for Portland Dining Month I decided to check out Olympia Oyster Bar, because shockingly I had yet to go.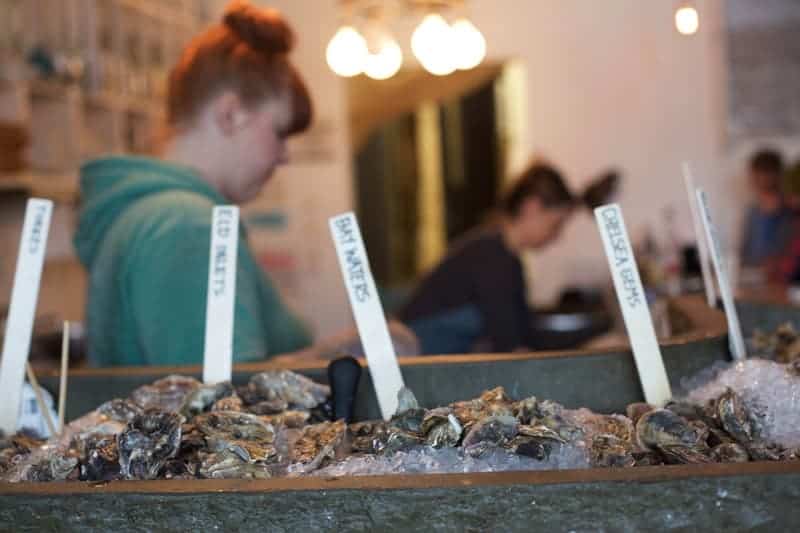 For the first course they offered a half dozen chef selected oysters on the half shell served with house pickled serrano peppers and limes, house smoked goat butter and artisan bread.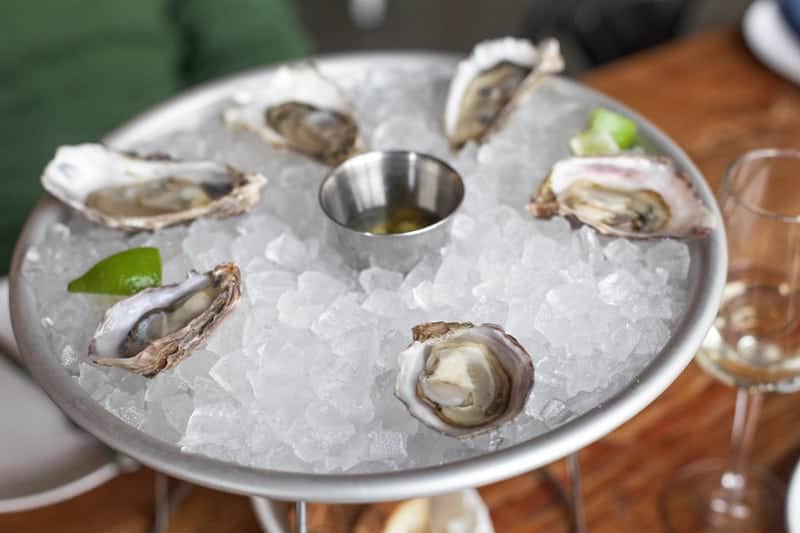 So fresh and tasty! The pickled Serrano peppers were delicious but I'd recommend eating them solo so as not to distract from the freshness and delicate flavors of the oysters.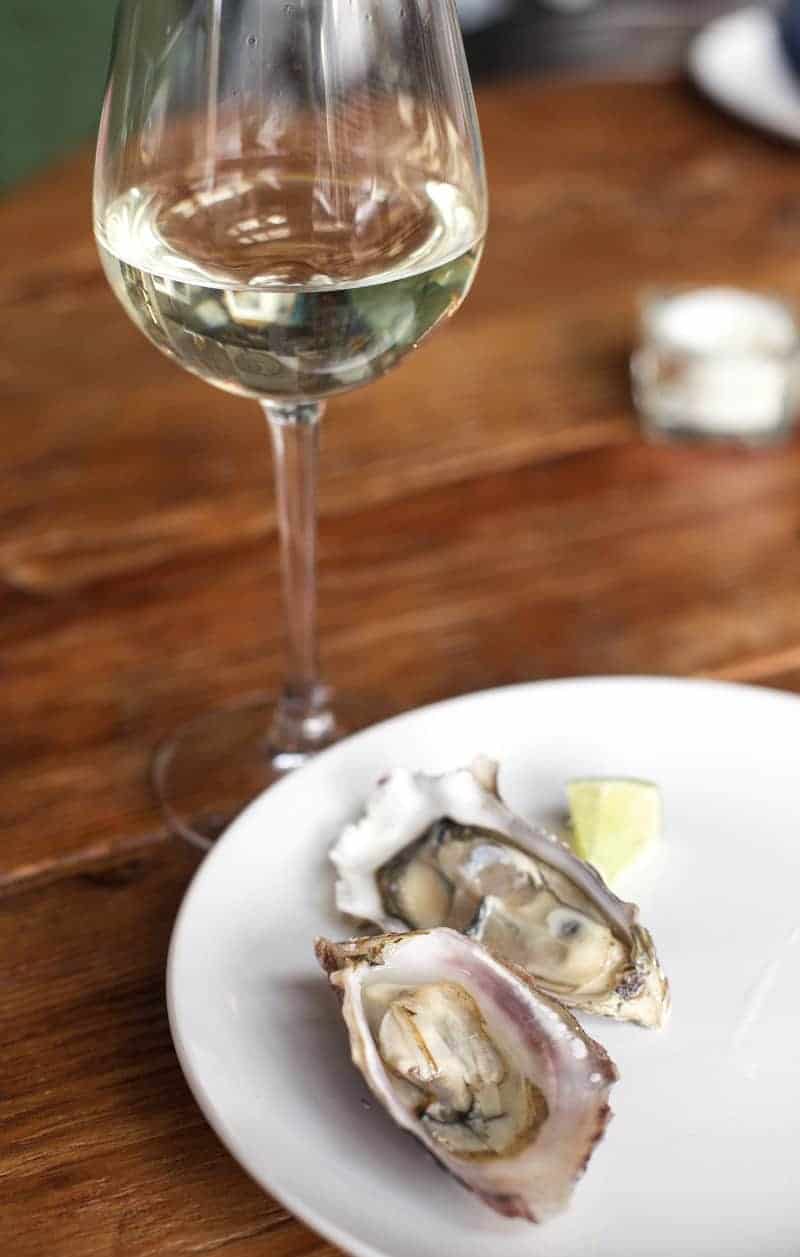 For the second course I had Olympia's sea board with sardine rillettes, mussels in escabeche, radishes, beurre de barratte, crostini and mustard.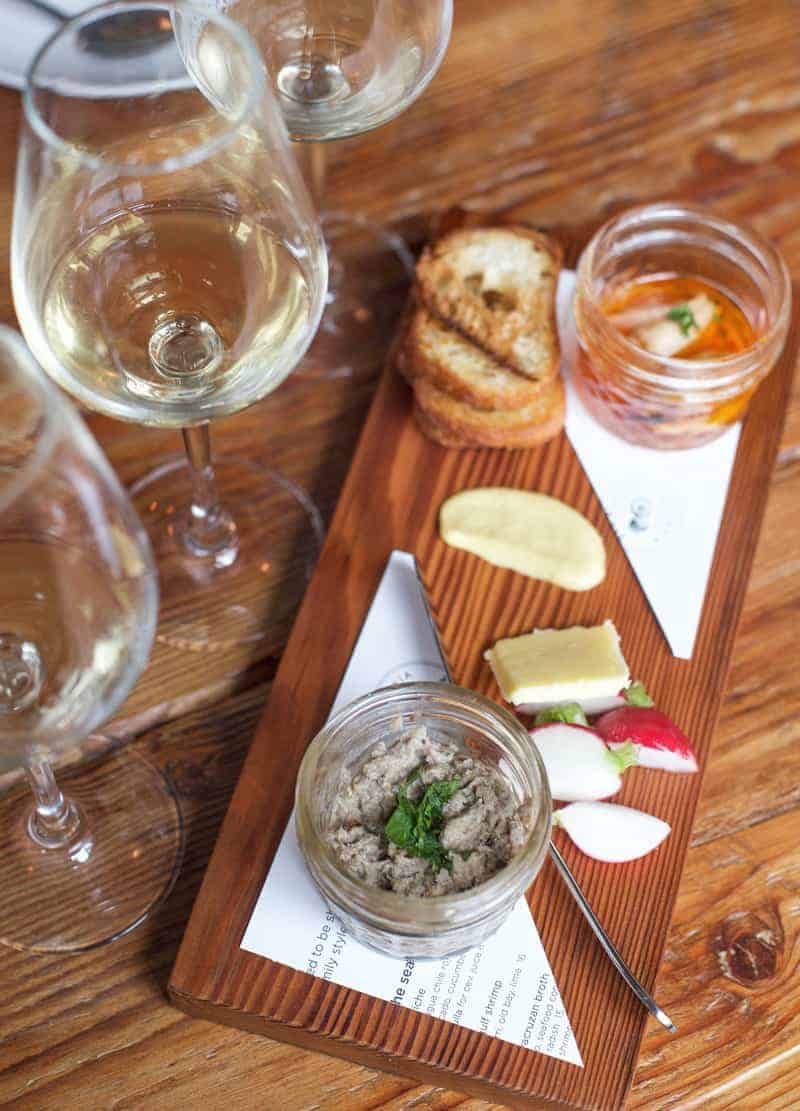 Finally, for the third course, they presented a half dozen oysters many ways. Two of each: Baked with fennel and leek, smoked goat butter and pistachio crumble; crisped kataifi with shredded phyllo, pickled serrano jam and smoked avocado; and pan seared tostada ancho with avocado, pickled cabbage and a cumin crema.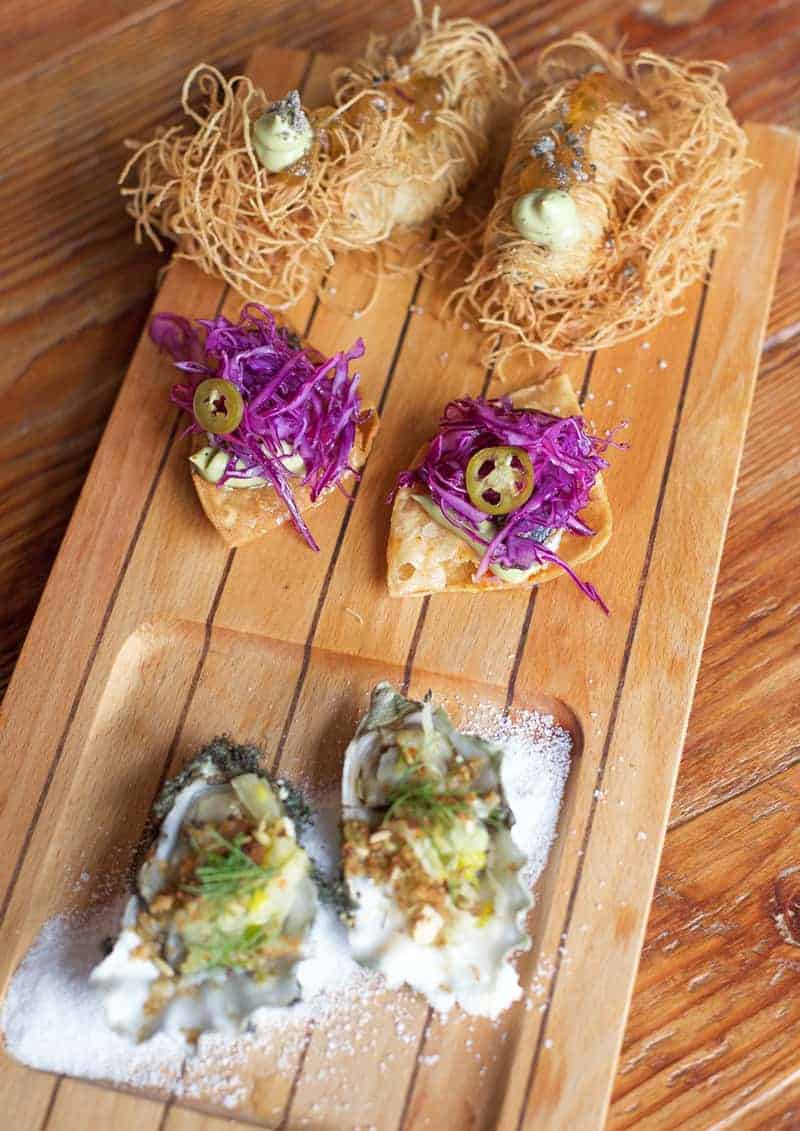 Those were pretty killer (especially the crisped kataifi one with the shredded phyllo).
We didn't just stop at the Portland Dining Month menu, however. We also added a round of their ceviche, because it sounded so damn good.
*The ceviche is not a part of their Portland Dining Month menu.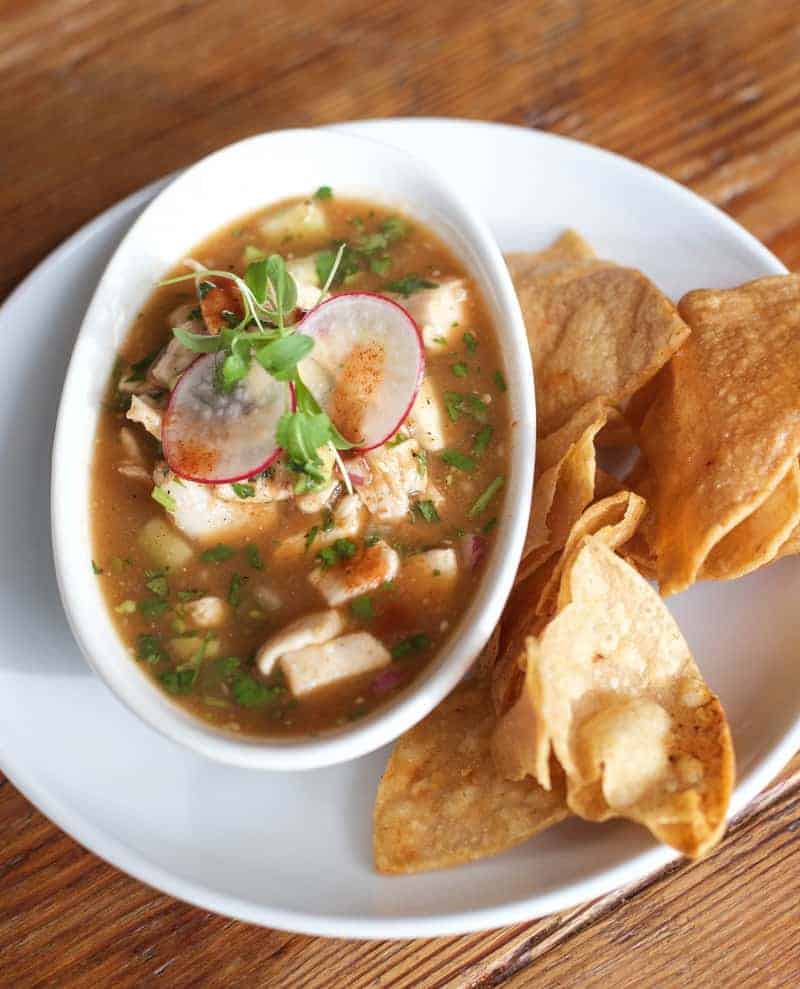 I should also mention that they have a limited but sufficient (not to mention pretty cool) wine list comprising of all biodynamic and/or organic, with an emphasis on natural winemaking and artisan production. Just make sure you're in the mood for white wine, as there is only one red on the list. You'll want a crisp and minerally white wine to pair with those delicious fresh oysters anyways.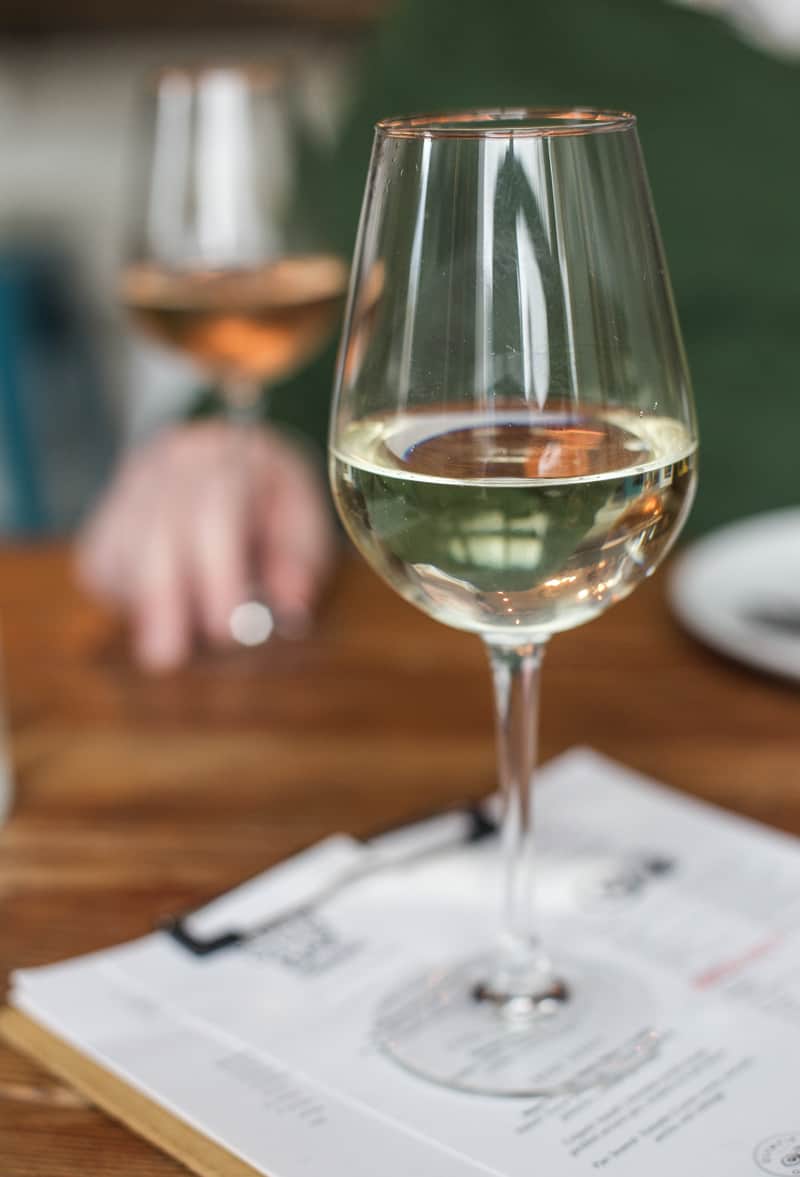 If oysters aren't your thing, there are a few others whose menus really stood out to me, including:
23Hoyt
First course (choose one): Polenta terrine of roasted peppers, Italian sausage, herb salad and goat cheese in a smoky tomato sauce -Or- Mushroom arancini of wild mushrooms, winter squash and fennel in a cream sauce
Second course (choose one): Winter caprese with oil cured tomatoes, burrata, basil pesto, crushed olives and balsamic -Or- Brodo di pollo with confit chicken, risoni pasta, Pecorino and grilled crostini
Third course (choose one): Veal scallopini with a roasted parsnip puree, capers and shallots in a lemon butter sauce -Or- House made pasta with radicchio, butternut squash, Calabrian chilies, toasted pistachios and Pecorino Romano
Bar Avignon
First course (choose one): Kohlrabi and potato soup with horseradish, bacon, brown butter and leek oil -Or- Butter lettuce with radish, hazelnut, herbs and green goddess dressing
Second course (choose one): Pork shoulder confit, creamy polenta, charred radicchio, fried shallot and pork jus -Or- Tagliatelle with rabbit ragù, escarole, rosemary, roasted garlic and Piave -Or- Risotto with winter vegetables, foraged mushrooms and ricotta salata
Third course (choose one): Saffron panna cotta, blood orange, pistachio, biscotti and yeasted Chantilly cream -Or- Earl grey mousse with vanilla sponge cake croutons and dark chocolate shavings
Irving Street Kitchen
First Course (choose one): Wagyu steak tartare with mustard crema and grilled bread -Or- Early spring farm salad, cider braised onion and parmesan bread crumbs
Second Course (choose one): Pan roasted trout fillet with a warm potato and celery leaf salad with poached egg and bacon vinaigrette -Or- Pork sausage crépinette with fermented white beans and pickled vegetables
Third Course: ISK butterscotch pudding with vanilla bean caramel and a pecan bar
Kachka
First course: Roasted beet salad with smoked tvorog, walnuts and caraway vinaigrette
Second course: Handmade lamb pelmeni, adjika butter, smetana and cilantro
Third course: Sharlotka with Mountain Rose apples, apple cider caramel, fenugreek ice cream and chicory salt
Little Bird
First course (choose one): Shredded kale salad with toasted sesame seeds, pecan vinaigrette and buttermilk blue -Or- Potato gnocchi with pickled apple, parmesan vinaigrette, and marcona almonds
Second course (choose one): Cedar plank cod with heirloom carrot puree, fried salsify, bread and butter jalepeños, and a crab cake -Or- Grilled lamb terrine with chickpea stew, nicoise olives, citrus with a harissa vinaigrette
Third course (choose one): Dluce de leche panna cotta with a chocolate crumb, candied ginger and pinapple granité -Or- Ice cream and sorbet duo served with a shortbread cookie
Other tasty looking menus include:
Bluehour
Clyde Common
Departure
Firehouse Restaurant
Headwaters
Imperial
Irving Street Kitchen
Kachka
Paley's Place
RingSide Grill
CLICK HERE FOR THE FULL LIST OF PARTICIPATING RESTAURANTS AND THEIR OFFERINGS.
---
Disclosure: My meal at Olympia Oyster Bar was provided by Travel Portland to help promote Portland Dining Month. I'm a true believer in the awesomeness of our restaurants in this great city, so my enthusiasm is 1,000%.