Brazilian wines are a surprising and worthy addition to anyone's table. Not only are they an incredible value, the care taken in winemaking and the regions unique terroir make for wines worth seeking out. There is a good reason Steven Spurrier is quoted as saying, "Brazil makes the best sparkling wine in the Southern Hemisphere." But there is definitely more than sparkling wine to learn about about from this exciting region.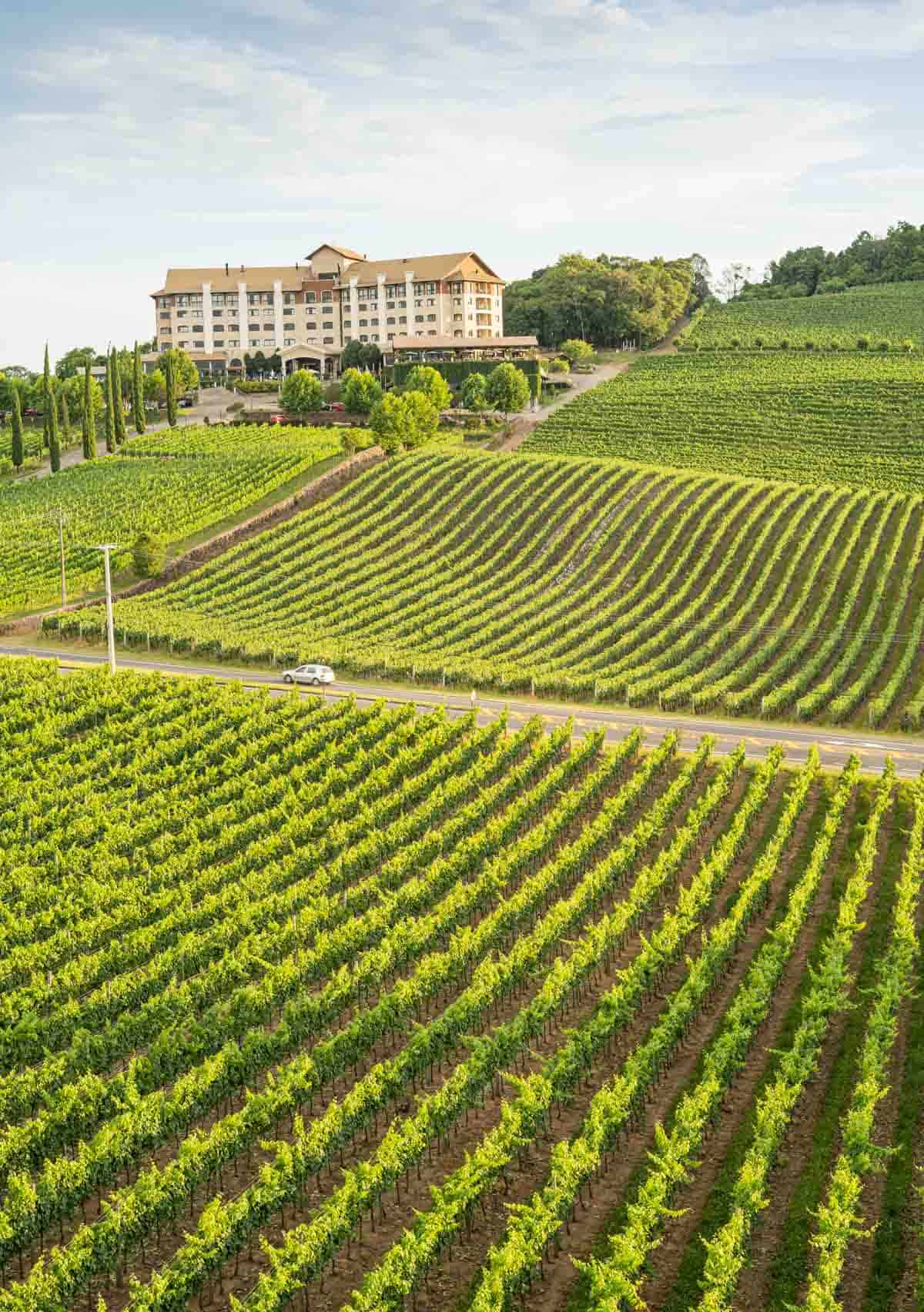 Fun Brazilian Wine Facts
Sparkling wine is the primary style of wine coming out of Brazil.
There are close to 1,200 wineries throughout the country.
80,000 hectares (roughly 200,000 acres) of planted area. For comparison Oregon has roughly 40,000 planted acres (as of 2020).
Merlot is an important varietal, followed by Cabernet Sauvignon and Chardonnay.
While Brazilian Wines are hard to find (especially in the US) they are incredible value for the quality produced.
More than 200,000 people in Brazil are involved in the sector, per Wines of Brazil.
After a recent press trip hosted by Apex Brasil I returned home with the discovery that although they produces great wines at a great value, this emerging wine region hasn't quite found its audience in the US… yet, but hopefully that will change soon.
The community that makes up the diverse geographic regions of the wines of Brazil were excited to highlight not only the history of the wines over the last century but also where they intend to go over the next 100 years.
Jump to:
Geography
Let's start by level setting how big the country of Brazil is. If you mapped from north to south of Brazil it is roughly 2,700 miles, as the crow flies. That's like driving Interstate 5 from the Canadian border in Washington State to the border of Mexico in California and then back (roughly 1,400 miles one way). Or just shy of the entire width of the continental United States.
From south to north Brazilian vineyards can be found grown in roughly ⅔rds of that north to south patch, which is a huge geographic profile and collection of microclimates. But when you isolate the heart and soul of Brazilian wine it's in a relatively small and concentrated area in the southernmost part of the country.
Background
While grapes have been planted in Brazil since the early days of colonization, the more modern story starts with Italian immigrants settling in the state of Rio Grande do Sul (Southern Brazil) in what is now the heart of Brazilian wine country. As early as 1875 families like Valduga (founders of Casa Valduga) brought with them the love and passion of wine and planted some of the first vineyards in Brazil.
More families eventually immigrated, like Giuseppe Miolo, planting more grapes and focusing on viticulture (Miolo Wine Group would later be founded from some of those vineyards in 1989). The influence of Brazilian wines took off as vineyards continued to be planted and wine production evolved. Even today you see a strong Italian influence throughout the region, especially evident in the food in Bento Goncalves, combined with the Brazilian cuisine like churrasco (grilled meats).
Related Article: Pao de Queijo – A Southern Brazil Cheese Bread worth making.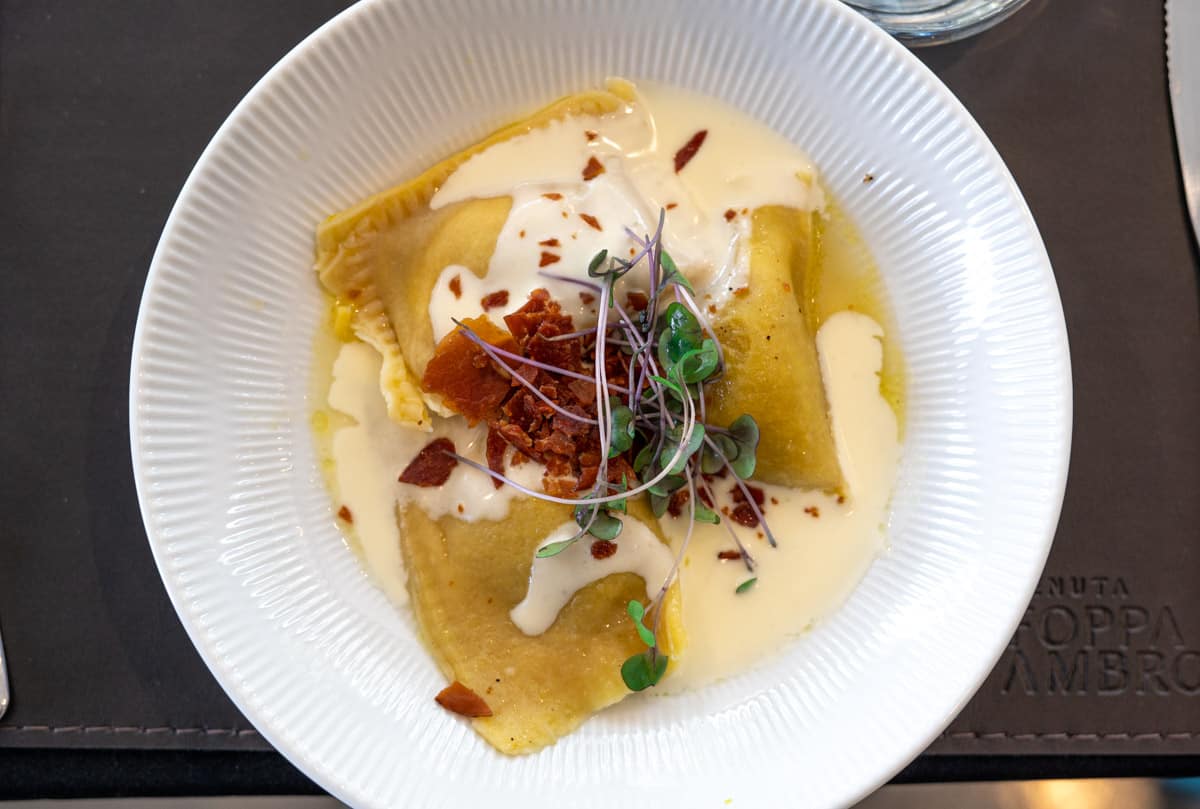 Today
In the early 90's there was a concentrated effort among producers throughout the region to focus on fine wine at a scale that rivals wines made all over the world and could stand the test of time, especially when witnessing the growth within Argentina and Chile. That's when Cabernet Franc, at the time the most planted red, gave way to Cabernet Sauvignon and Merlot in what was dubbed the "French Paradox" as explained by wine educator, Mauricio Roloff.
The 2000's saw the explosive growth of sparkling wines and the emergence of more Brazilian wines capturing awards at major wine events.
Flash forward to today and you have roughly 1,100 wineries supporting a growing community of growers, vintners, and owners in 9 geographic indications (or IG's) that begin to showcase the geographic variety that the country has to offer. Of the approximate 1,100 wineries, 90% of the production resides in the Rio Grande do Sul (in the far south of the country).
But the exciting part of the story combines generational winemaking experience and an emerging community of young entrepreneurs looking to showcase Brazilian wine throughout the world. The catch is that Brazilian wine producers need importers and distributors to pay attention so that we, as consumers, can find, buy, and taste these wines outside the country.
Climate and Terroir
Depending on where you are within the large and long country of Brazil the climate and the terroir are quite different.
Another visual that stands out are the slopes and valleys. While not unique to Brazil the slope (and soil type) definitely encourage healthy grape growth in a more tropical environment.
Many of the vineyards are planted along the sloping hills throughout the southern region. Add to that the basalt and clay soil and you have favorable drainage during the summer and fall rains.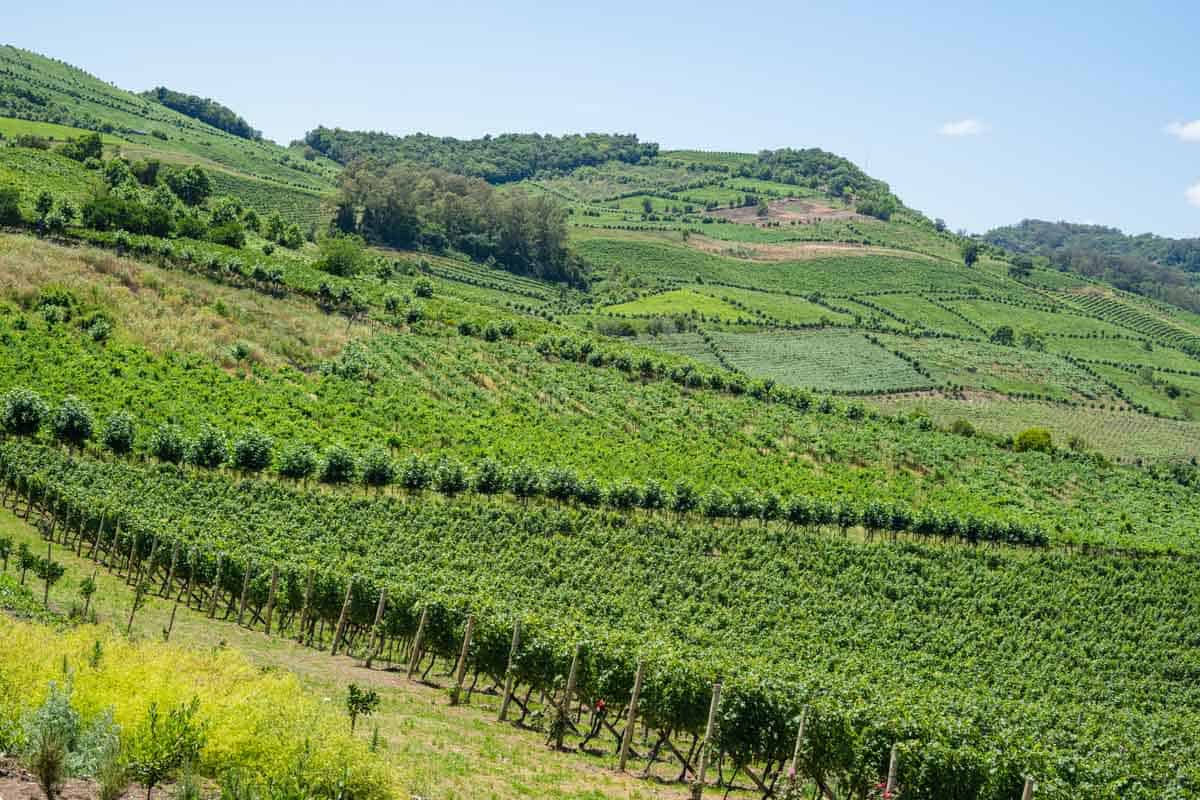 Primary Grapes Grown
Whites
The whites had quite a diverse tasting profile, ranging from light and fresh, to big and rich wines with new oak barrels, to those with a rich fruity nose and tropical notes with acidic finishes.
Reds
Generally the red wines had lower alcohol than their counterparts in the western part of the US, averaging around 14%. The lower alcohol allowed dark berry fruit and earthy notes, like minerality and mushroom, to carry through with nice acidity. Great food wines across the board.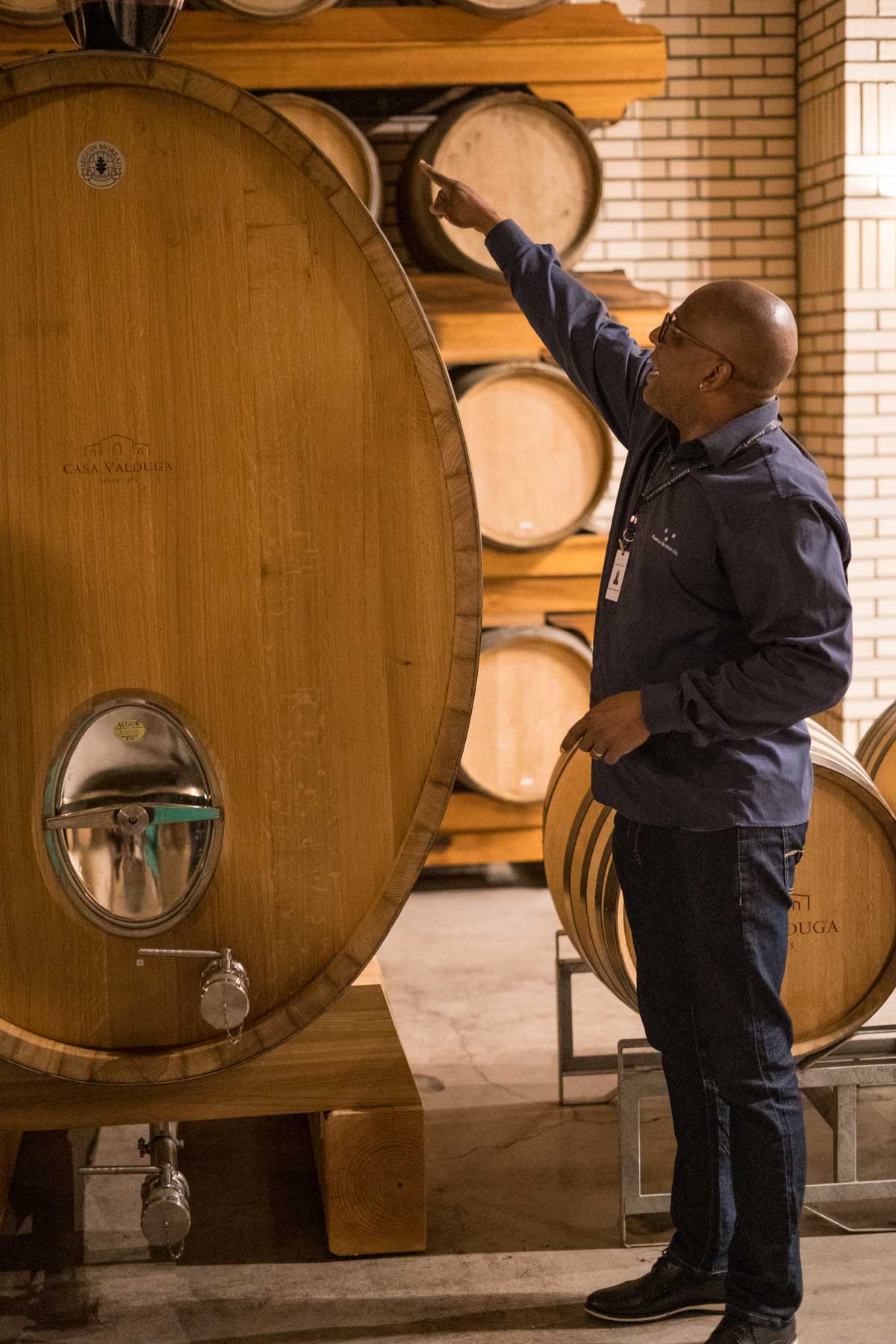 Sparkling Wines
You can't talk about Brazilian wine unless you start with sparkling. The first sparkling wine in the country was produced in 1913 and today is the flagship style of wine Brazil is known for.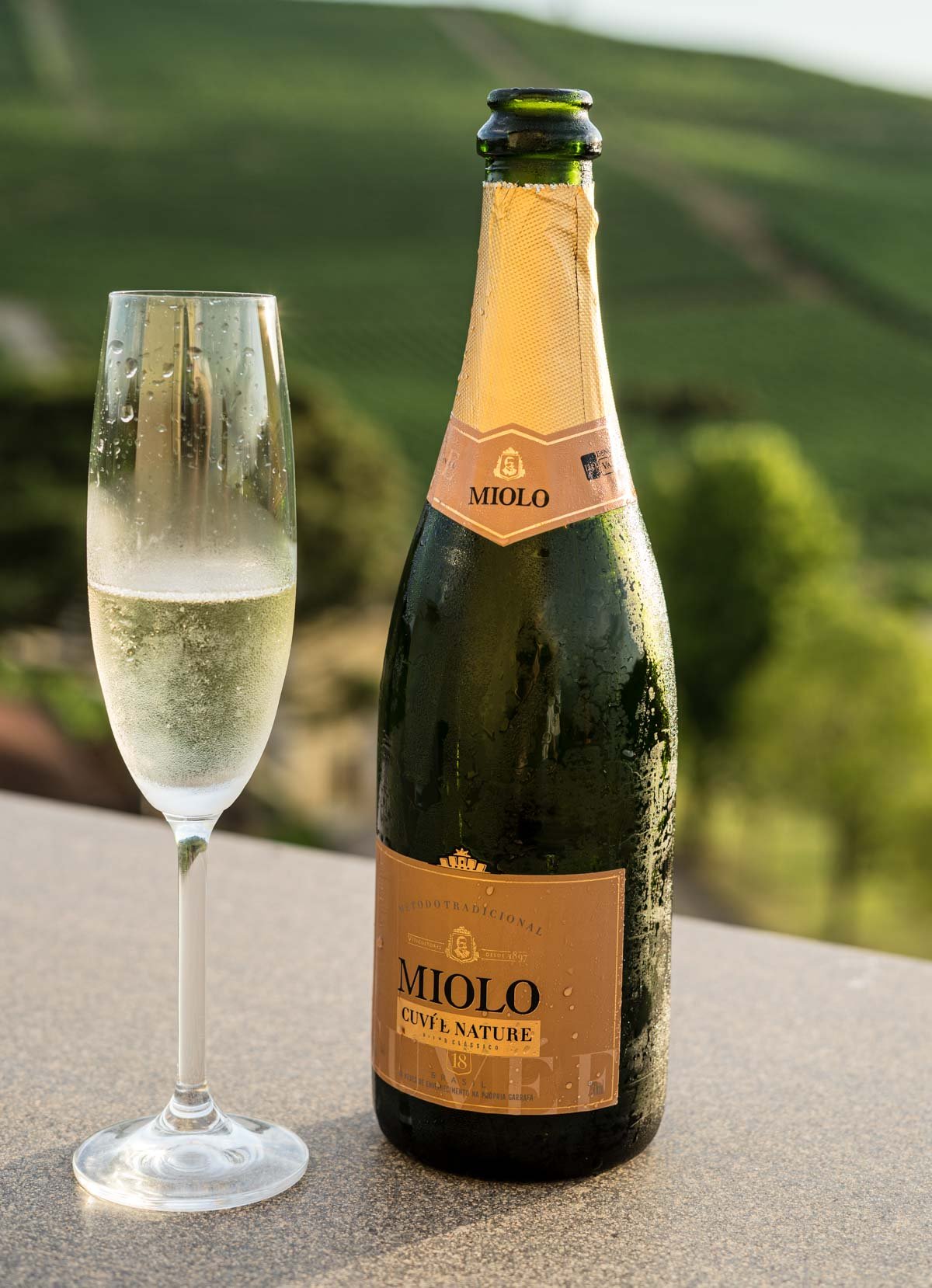 We were not aware of any producer making sparkling wines with Pinot Meunier at this time (a grape popular in the production of Champagne).
Major Wine Regions
From south to north the following regions are DO or IG designations.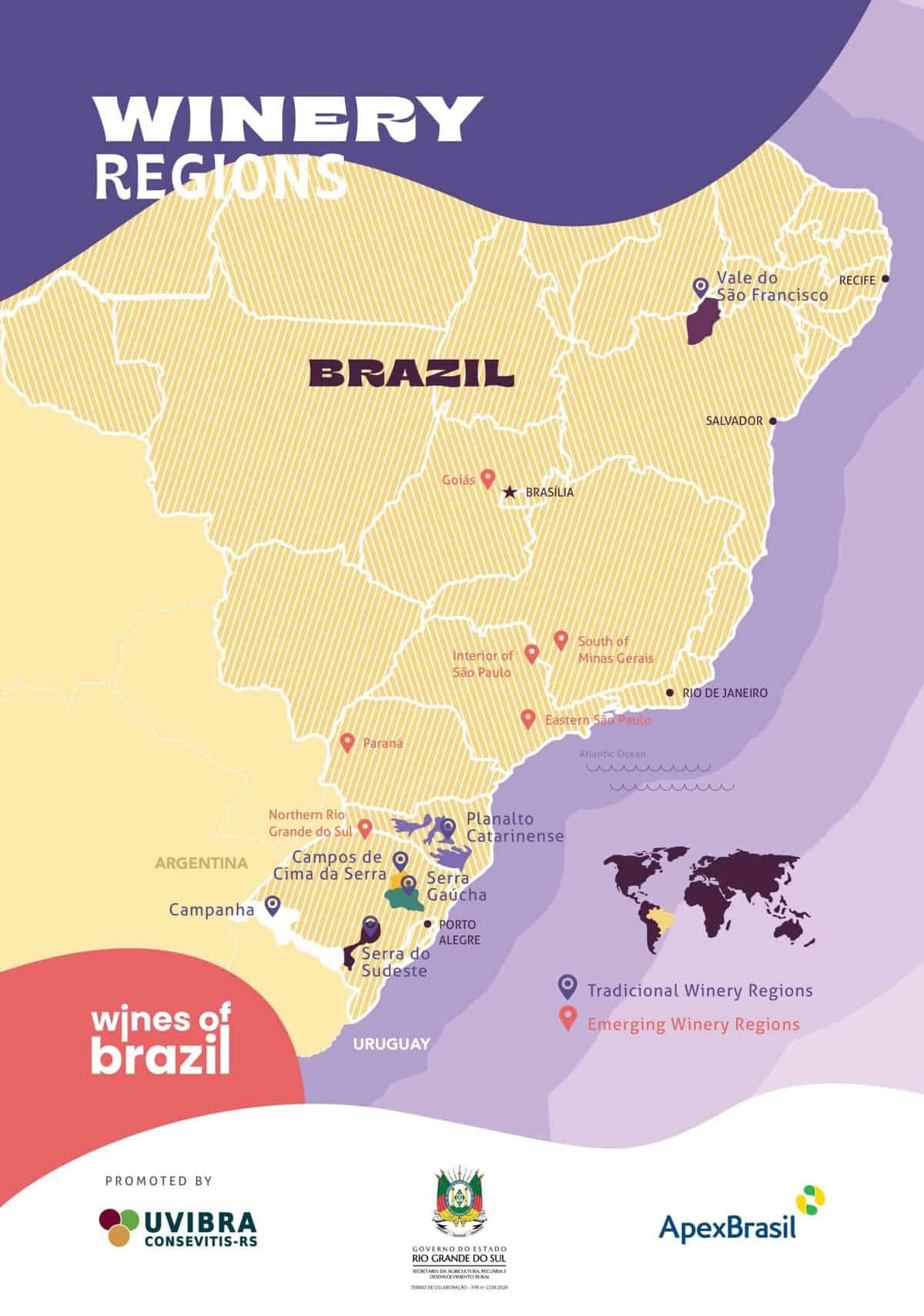 Campanha
Situated along the border of Uruguay, Campanha is a high plateau among the mountains of Southern Brazil. It shares the same general growing area as counterparts in Argentina, Chile, Australia and South Africa. The soil is loam and basalt with great drainage. It makes the vines really work for the nutrients and that struggle combined with low rainfall during harvest make rich and dense wines with big berry notes.
Common Varieties: Sauvignon Blanc, Chardonnay, Viogner, Pinot Noir, Merlot, Cabernet Sauvignon
Serra do Sudeste
This region borders Camphana and stands out with granite soil type. It's a much warmer climate with low lying slopes, and here you will find mostly vineyards (few, if any, wineries). It's a young region, which highlights a warm growing season with cooling harvest with winds that cascade along the slopes helping with the complexity of the wine and avoiding disease.
Common Varieties: Moscato, Gewürztraminer, Cabernet Franc, Merlot, Cabernet Sauvignon
Serra Gaúcha
If you had one region to spend time in while learning about Brazilian Wines this is the region. This is the center of the winemaking community with the 80% of the national production occurring here. Basalt rocks can be seen as you drive through the hills and valleys with vineyards stretching up along the mountainsides. The altitude ranges from 980 feet up to 2,700 feet (300m – 850m) which also provides for many micro-climates throughout.
From small farms to large wineries producing millions of bottles a year, you experience a vast array of styles, from both generational winemakers to small emerging winemakers looking to bring new flavor profiles to the wines of Brazil.
Common Varieties: Chardonnay, Italian Riesling, Moscato, Merlot, Pinot Noir, Tannat, Cabernet Franc
Campos de Cima da Serra
Grape cultivation is more recent (last 10 – 12 years) in this region, situated in a high plateau and adjacent to Serra Gaúcha. The high altitude (2,900 feet or 900m), combined with winds that flow through the mountains, keep the grapes dry and minimize any disease that can grow in the more humid regions. The cooler weather also make fore more acidic wines that stand out in the sparkling and still wines.
Common Varieties: Sauvignon Blanc, Chardonnay, Viogner, Pinot Noir, Merlot, Cabernet Sauvignon
Planalto Catarinese
The vineyards in this region are among the coolest and highest (2,900 feet to 4,500 feet/900 -1,400m) in the country and are often used in sparkling wine production. A longer growing season with more sun exposure, combined with the cool climate, are a great combination for wines with high acidity and delicate bright fruit flavors.
Common Varieties: Sauvignon Blanc, Chardonnay, Cabernet Sauvignon, Merlot, Pinot Noir
Vale do Sao Franisco
The northernmost region in the country. As mentioned, this region is unique in that two harvests can occur in a given year. When walking through the vineyards you will see four stages of the vines in one stroll; from bud break, to fruit development, verasion, and winter dormancy. Controlled irrigation, combined with a semi-arid low rainfall environment, allow this to happen since the temperature stays warm all year long. Historically the wines from this region were made for table wines, but recently winemakers have been focusing on producing quality wines from grapes like Syrah.
Common Varieties: Moscato, Chardonnay, Chenin Blanc, Syrah, Cabernet Sauvignon
Brazilian Wines and Wineries of Note
During my experience in the country, we tasted through the portfolios of many wineries that have been harvesting or making wine since the late 1800s, showcasing the amount of investment and care that goes into not only the traditional winemaking but also experimentation as the many regions continue to find the best wines for the various microclimates.
A few that stood out:
Miolo – Miolo has a large portfolio of brands, from single vineyard to large production wines. One stand out was the 2020 Miolo Merlot Terroir Series. 2020 was known as the best vintage in Brazil. The wine had a nose that was big with blueberry and blackberry. The body was full with a rich and smooth finish with just the right amount of acidity. French oak for 12 months and 15% ABV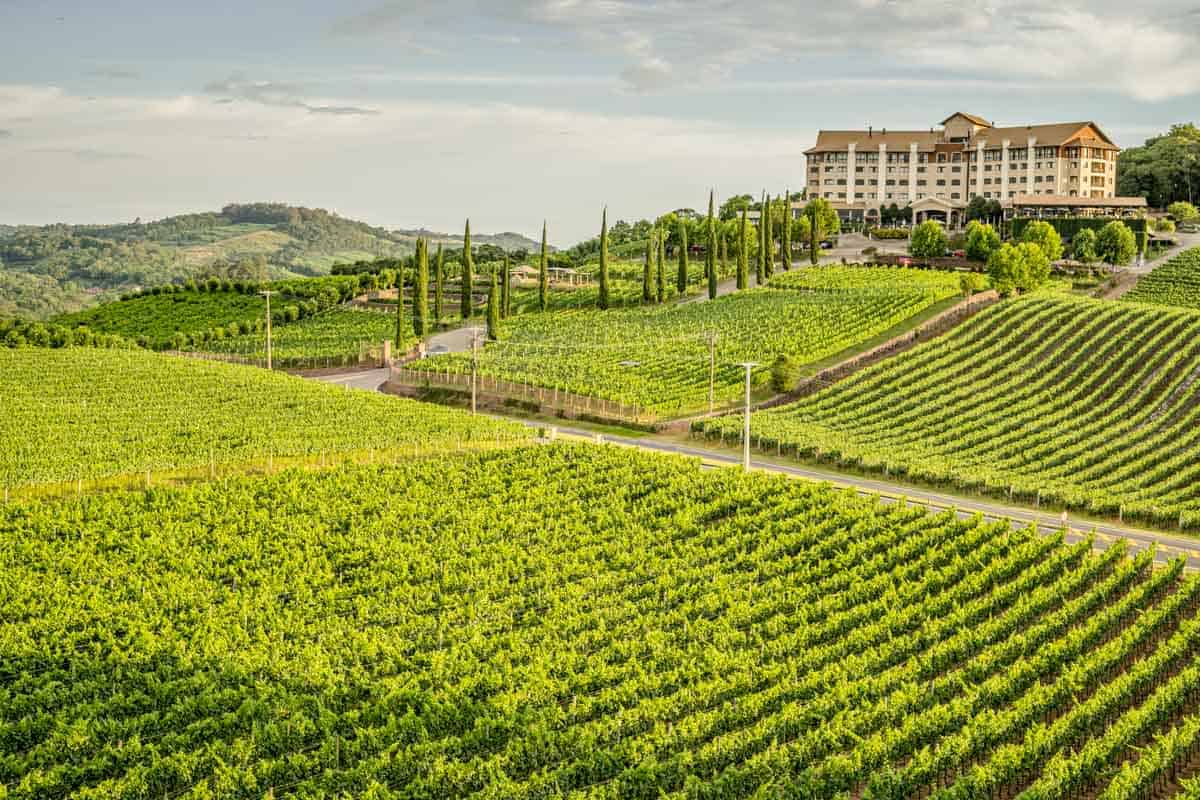 Guaspari – The "Vista da Serra" (the name of a Syrah) from the winter harvest region that showed great fruit characteristics with a rich and complex finish after 17 months in French Oak. While the finish had less acidity than I may have been used to, it didn't take away from the overall balance that came from peppery nose, rich dark fruits, and a hint of chocolate on the finish. It was exciting to experience a nice wine from a winter harvest. 14.5% ABV
Tenuta Foppa & Ambrosi – Starting with one wine sold via Whatsapp, this up and coming winery is an exciting example of an emerging group of young winemakers pushing the envelop on different styles of wine. Lucas Foppa and Ricardo Ambrosi created an incredible winery that features sparkling wine and an array of still wines. With harvest experience in Spain and California, Lucas and Ricardo are bringing their experience back to the cellars of their Brazilian label.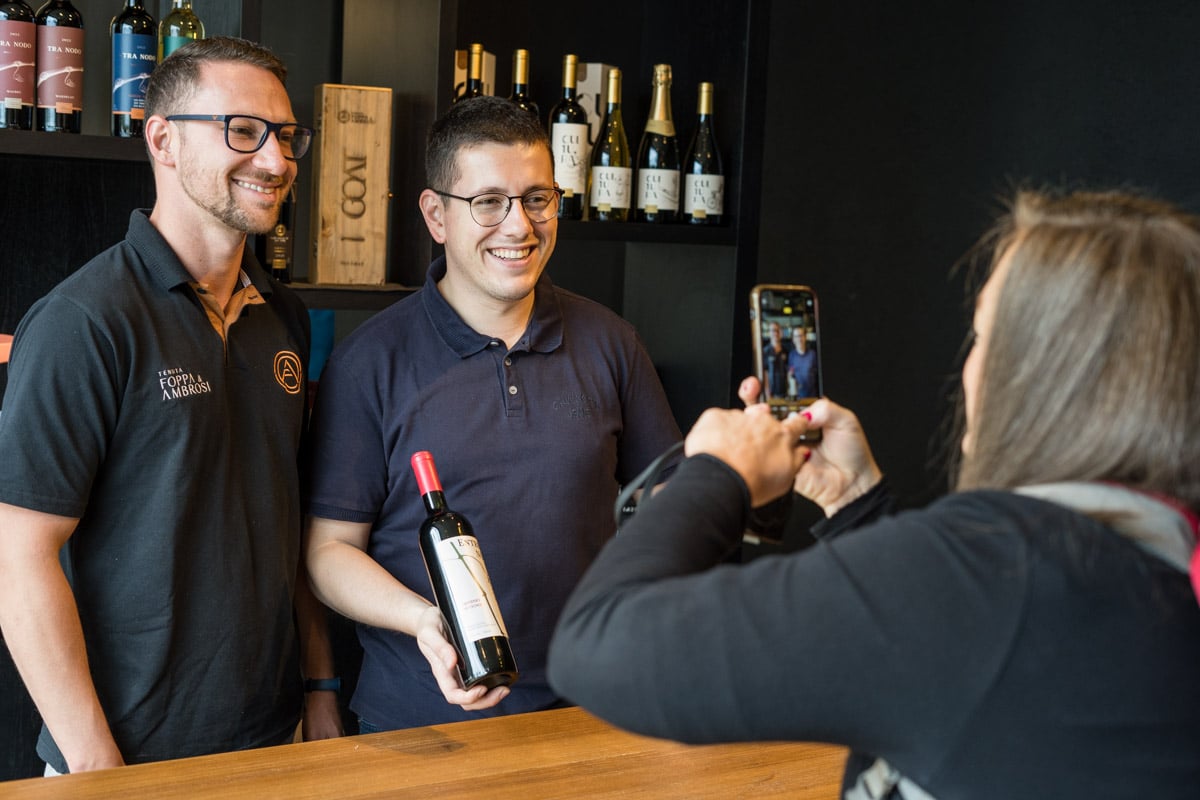 One stand out (of many) was the Viticcio Brut Bianco (NV) which was a blend of Chardonnay, Pinot Noir, and Riesling Italiano. It was brioche on the nose, vibrant lemon effervescence and floral. When tasting it had peach and Meyer lemon with a structured finish. The wine was made in the long charmat method and had a structure to it that surprised us all (versus many of the method Champenoise styles that impressed us). 11.5% ABV
Casa Valduga – When walking through the massive wine caves you get a sense of the massive scale that this winery can manage. The hand riddled method Champenois wines had amazing acidity and balance. Some of their higher end wines are hand labeled to honor the traditions of the family and the quest for the highest quality wines.
While I loved their sparkling portfolio the gem I was smitten by was their 2019 Cabernet Franc. Using medium toast barrels this wine had a dried cherry and a rich nose with a hint of coffee. It was full bodied with rich velvety texture and hints of pepper, caramel, and coffee. What was notable was that the green pepper you often find from California or Loire seems muted and replaced with a deeper and darker flavor profile.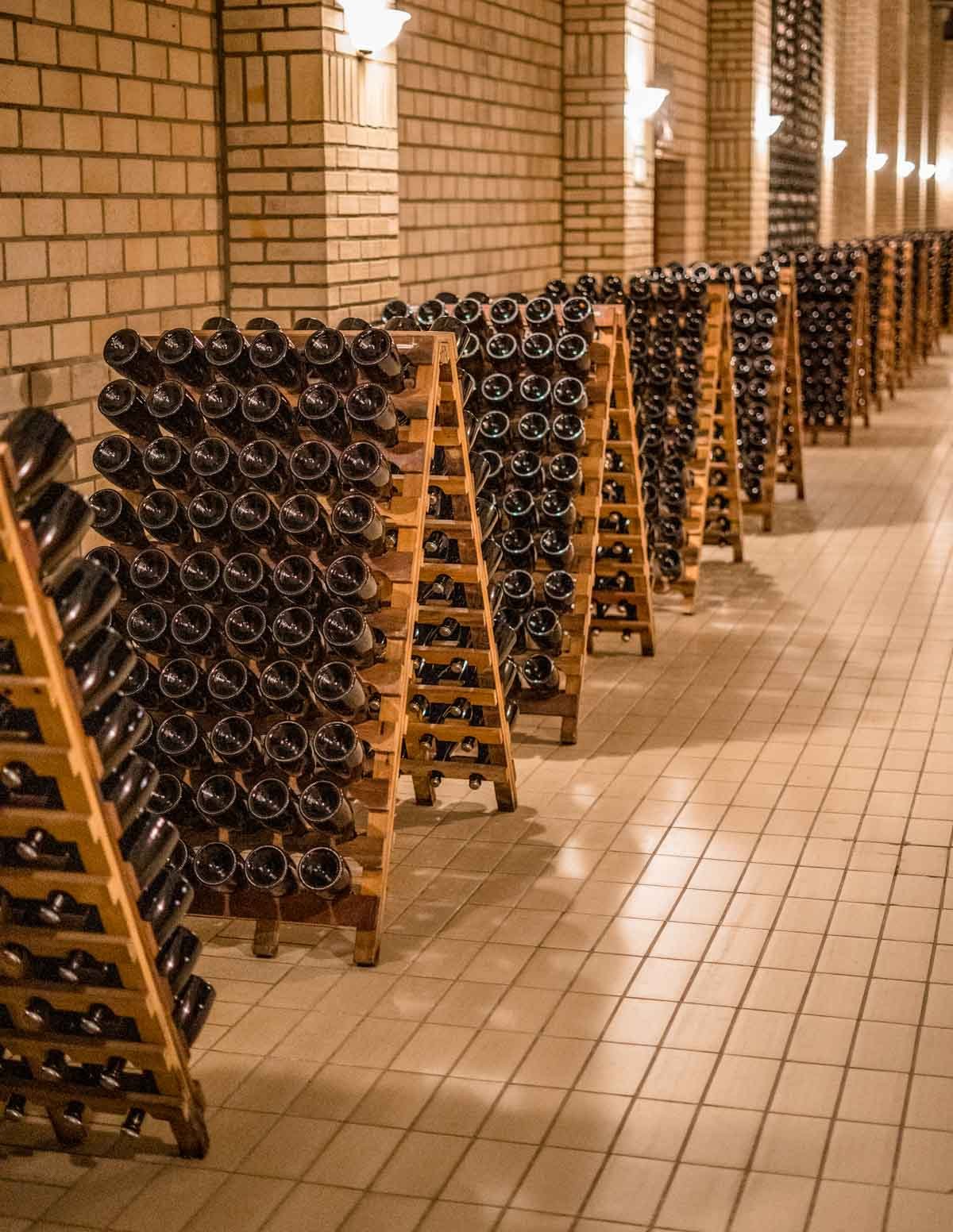 Visiting Bento Gonçalves
If you are looking to explore the wines of Brazil, the heart of the wine region, Bento Gonçalves, is where you want to stay. There is a great food and hotel scene here, with lots to do. Many wineries and other destinations are within a short driving distance of the city center.
How to get there: You can fly into the local airport in Caxias do Sul and take a car about 40 minutes to Bento Gonçalves. There are a number of hotel and guest house options from the downtown area and wineries offering lodging. You can also search for various Airbnb properties as well.
What language to expect: While some winery employees do speak English, be prepared to have some Brazilian Portuguese ready because it's not generally an English focused tourist destination.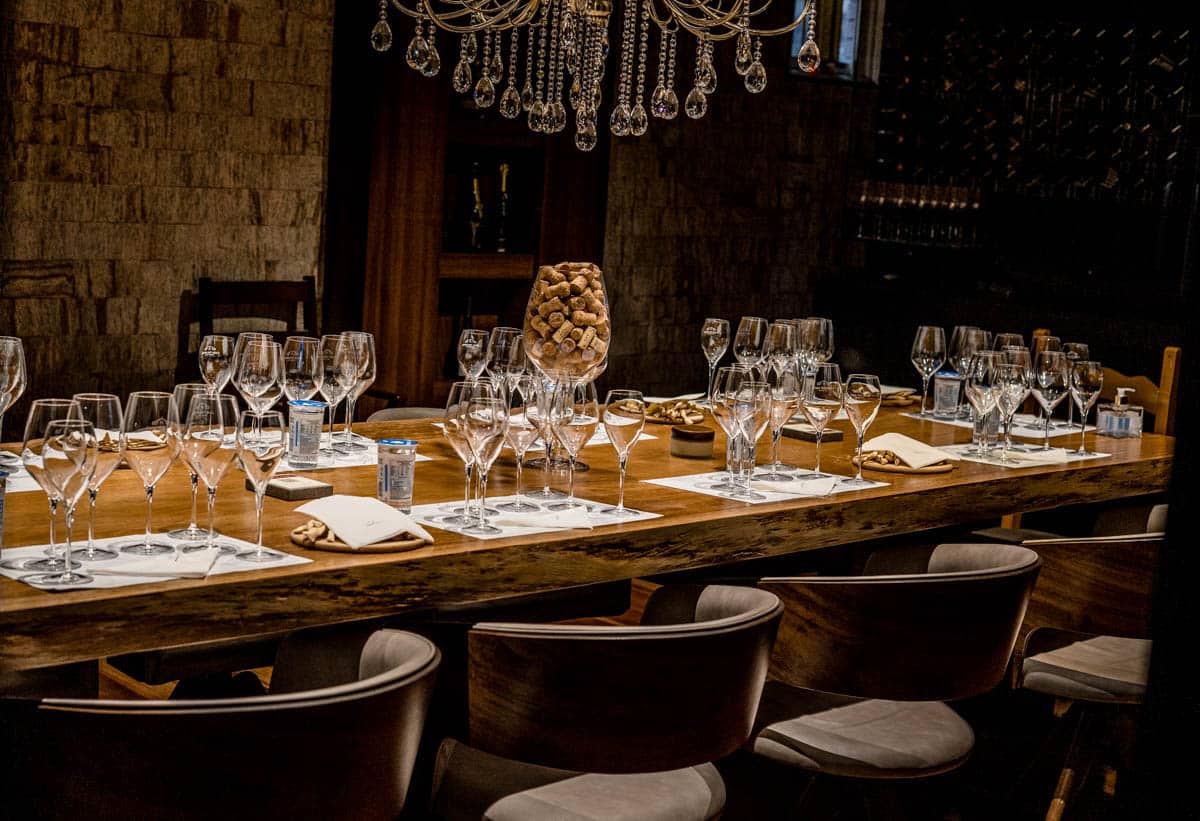 Be sure to book appointments with the wineries in advance, and for larger wineries you may want to reach out via the contact page on their websites to request an English speaking employee. Note that many wineries are closed on Sundays so be sure to plan out your itinerary appropriately.
Where to Buy Brazilian Wines
At the moment the number of importers bringing in Brazilian wines to the US is very small, and the distributors who buy the wines from importers aren't really asking about Brazilian wine. This needs to change!
Familia Salton features wines on Wine.com as well as select Total Wine Stores in the continental US. You can read our review of the Salton Intenso wines. At Total Wine you will likely find their Alma sparkling brand and the styles retail for $7.99.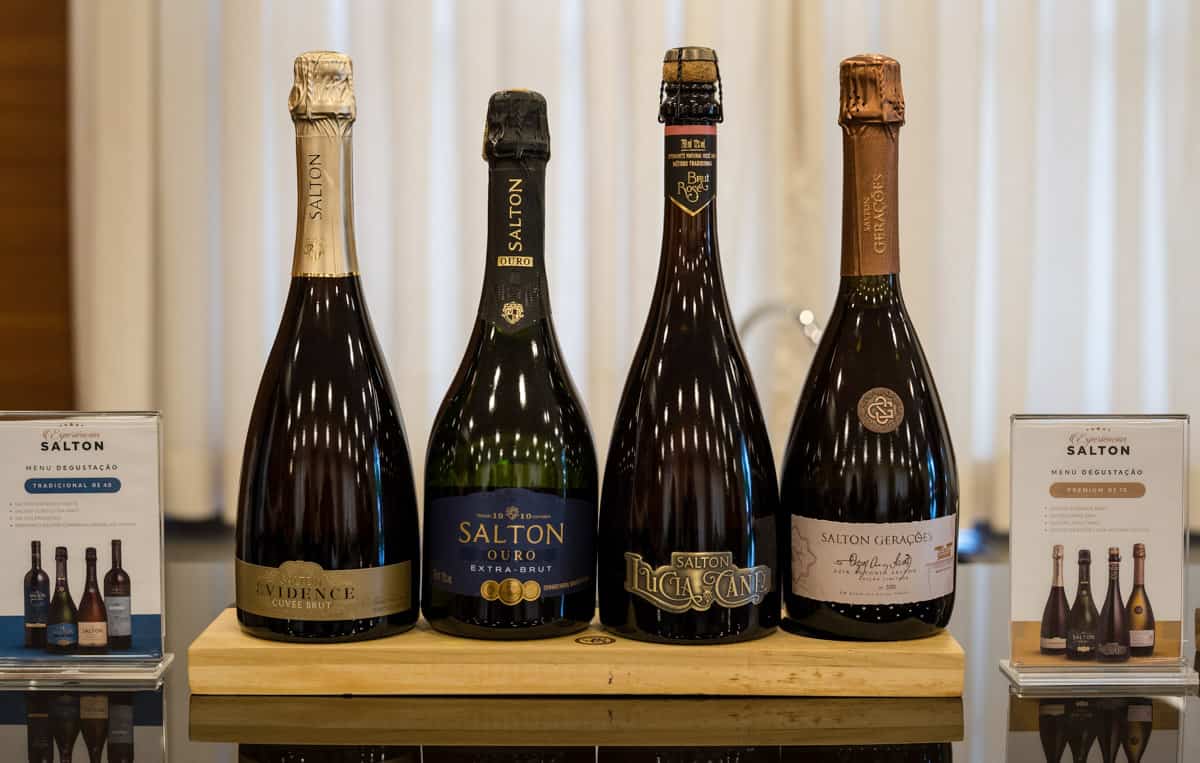 Call your local wine merchant to see if they have any other Brazilian wine in their inventory as well. If they don't, ask them to find some so their distributors can reach out to find them from importers.
You may see Casa Valduga and some of the labels of Miolo Brands in local fine retailers, especially in California and Florida.
We need to start requesting these wines, so importers start to pay attention!
As we find new markets selling Brazilian wine we will update here.
Additional Resources
If you love this article share it on social media with all your wine loving friends! You can follow Vindulge at all the social channels.
This post may contain affiliate links. This means if you click on the link, we may receive a small commission if you purchase through the link. We partner with brands we know and love and use and it helps keep the blog going!
---