Authentic Arancini di Riso (i.e. Sicilian or Italian Stuffed Rice Balls) are easy to make and absolutely delicious to eat. You can prepare this Arancini recipe as a main entrée or as an appetizer with your favorite dipping sauce.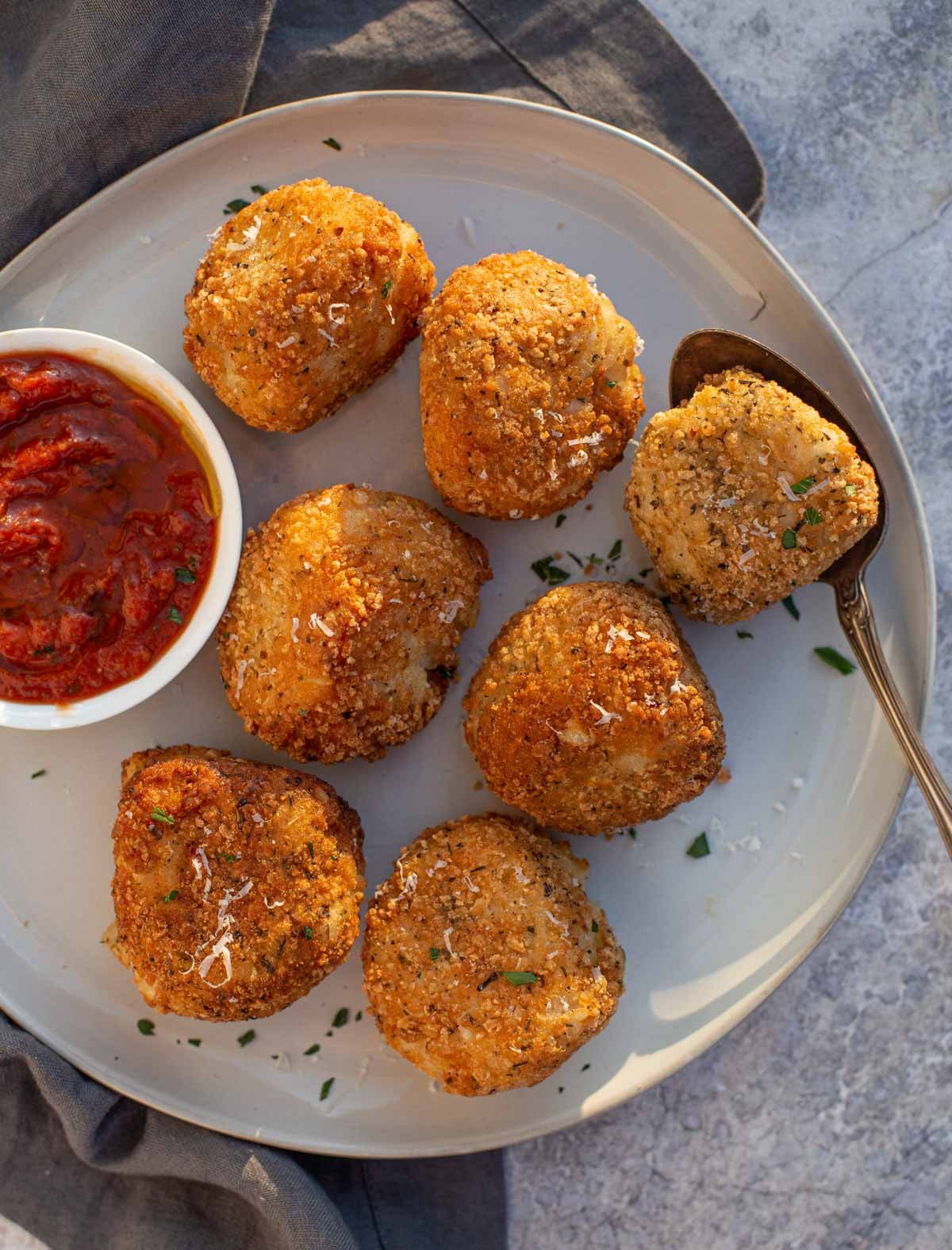 Jump to:
Recipe Highlights
This is a great use for leftover risotto.
Arancini translates into "little oranges" which is what they look like after the rice is cooked in saffron and fried.
An easy recipe to scale up for a full meal or serve as an appetizer.
Arancini di Riso
Each time I visit Sicily I am reminded that Arancini is the ultimate street food. These little cheesy crispy delicious fried Italian rice balls are available from the smallest street vendors to nearly every restaurant appetizer list all over this Italian island. You can even find delicious versions at the airport!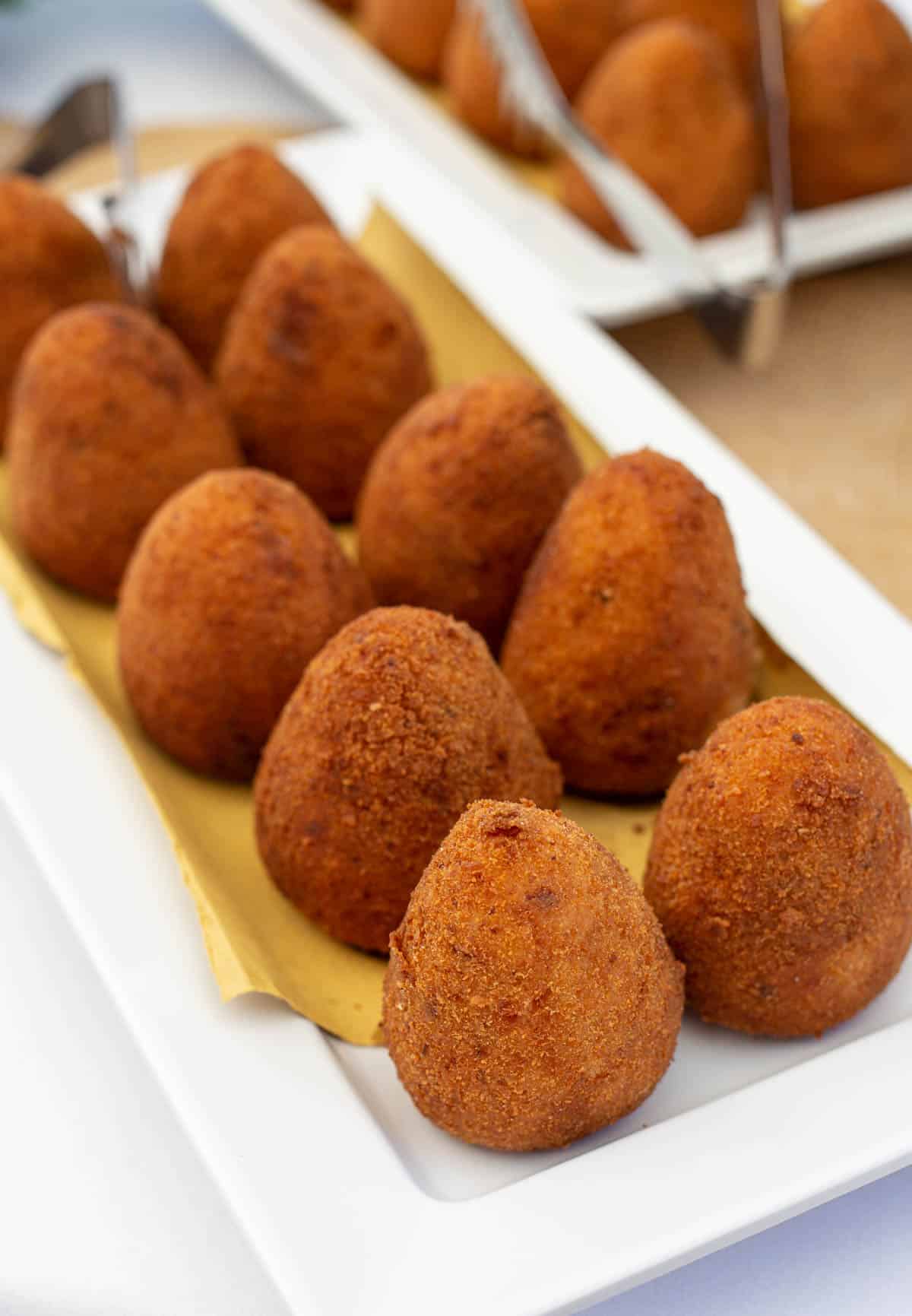 Referred to as arancio (masculine for orange) in the eastern part of the island, in a cone-like shape in reference to the shape of Mt. Etna, and arancia (feminine for orange) on the western part of the island, in reference to the circular nature of a little "orange". Arancini has become the more popular and widely accepted reference for this treat throughout Sicily.
From a meat based ragù, to peas, to seafood, or simply cheese, the fillings are always a little different from place to place. No matter how you pronounce it, and no matter the filling, they were always perfectly fried and crispy on the outside, and divine with a creamy texture on the inside, whether you get them from the western part of the island, the east, or the mainland.
You can read more on the classic traditions of arancini here and here.
Traditionally you would make the rice with the intention of making arancini, but our shortcut uses leftover risotto to use as a base for our little orange balls. This recipe is simply inspired by my visits to this amazing place.
Ingredients for Arancini
Cooked risotto from arborio rice
Parmesan cheese
Eggs
Dried seasonings like oregano, basil, or marjoram (or to make it easy use a generic Italian seasoning blend).
Breadcrumbs – we use gluten-free panko, but if you want a more classic take use regular breadcrumbs
Mozzarella cheese – Consider buying the sticks because you can cut them easier into small portions for easy stuffing.
Olive oil or other high heat oil for frying
Preparation
Parchment-lined baking sheet for when you prepare the balls before frying.
A separate baking sheet lined with paper towel or a wire rack for after frying to let excess oil drain.
You can make these ahead up to the frying step. Store in an airtight container in the refrigerator until ready to fry. Just prior to frying be sure they come to room temperature.
Serving and Dipping Sauce
It's great to have a dipping sauce and a basic tomato sauce or meat sauce are great like our smoked tomato marinara sauce. Or for a brighter flavor consider our Alabama White Sauce. It's best to serve these warm straight from the fryer. As they approach room temperature the cheese hardens up.
Arancini Recipe Steps
These arancini balls are quite simple to make.
For risotto balls to become arancini start with an arborio rice mixture that's already been cooked. Because so much of the flavor is derived from the risotto be sure you start with a great risotto recipe. Then add any additional filings you wish in a shallow bowl, and then fry them in a large pot or shallow frying pan.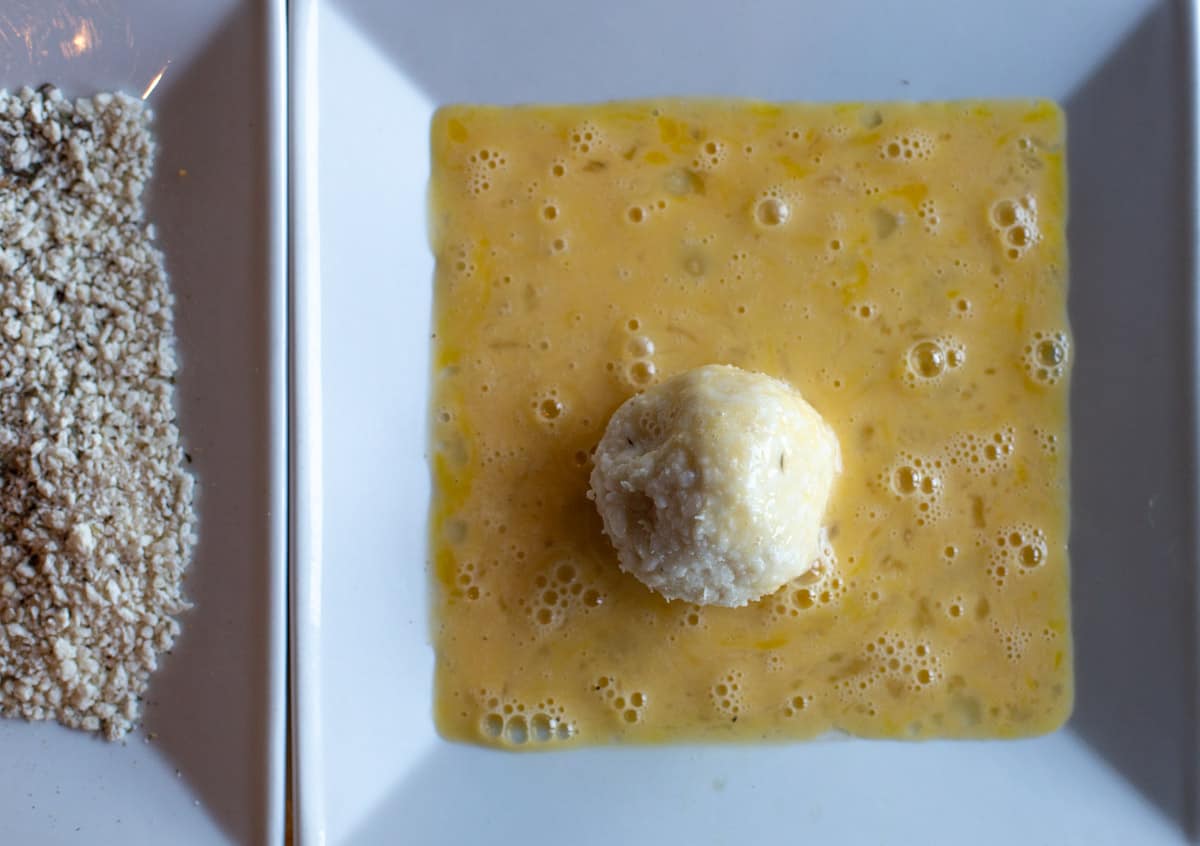 Warm the oil over medium-high heat in a shallow pan or large pot depending on what you have. Be sure the oil only comes up about one inch in the pan. When frying we target the oil at 375 degrees Fahrenheit.
In a medium bowl add the risotto and Parmesan cheese and combine. With an ice cream scoop begin forming the risotto into 2-inch balls. Place them on baking sheet lined with parchment paper.
In a shallow bowl or plate add the beaten egg. In another shallow bowl or plate add the bread crumbs and Italian seasonings.
Roll each of the arancini balls in the beaten egg mixture and then immediately roll them in the bread crumbs mixture. Using your fingers press a small indentation in the rice ball and place your small piece of mozzarella cheese. Then enclose the ball around the cheese. Repeat this for all the balls.
Place the arancini in the hot oil. We will put five of them into one 10-inch skillet. Using a slotted spoon rotate the arancini until all the edges have a dark golden brown look. Before cooking the next batch let the oil come back to temperature. As they finish in the frying oil you can place them on paper towel to let the oil drain. Dust with a pinch of salt.
Serve with warm marinara sauce or your favorite dipping sauce.
Variations
It seems pretty basic — fried rice balls — but each restaurant or host that served this dish prepared them with slight (or not so slight) variations. Sometimes they were savory and on the dry side, filled with different types of meats or vegetables like ham, prosciutto, peas, or mushrooms.
Sometimes they were creamy, filled with dense gooey cheesy goodness (these were my favorite!). Sometimes they were even served with something sweet in the middle!
Wine Pairing for Arancini
Sicilian white wine definitely paired the best. But that's not always so easy to find. The key is finding a crisp, fresh, and acidic white that mimics the coastal and salty flavors that come from the Sicilian climate.
You'll find lots of familiar grape varieties in the white wines of Sicily, like Chardonnay, Viognier, Pinot Grigio, but also indigenous Italian grapes like Cataratto, Grillo, Inzolia, Fiano, Carricante and more.
If you can't find Italian crisp whites also consider Greek whites like Assyrtiko or a Washington State Sauvignon Blanc.
Other Recipe Ideas
This post may contain affiliate links. This means if you click on the link, we may receive a small commission if you purchase through the link. We partner with brands we know and love and use and it helps keep the blog going!
---