While traveling on a press article in Puglia, Italy, I was introduced to some amazing local women who taught me their technique for making amazing homemade Orecchiette Pasta. If you are looking to learn how to make authentic orecchiette pasta, from local experts themselves, this guide is for you.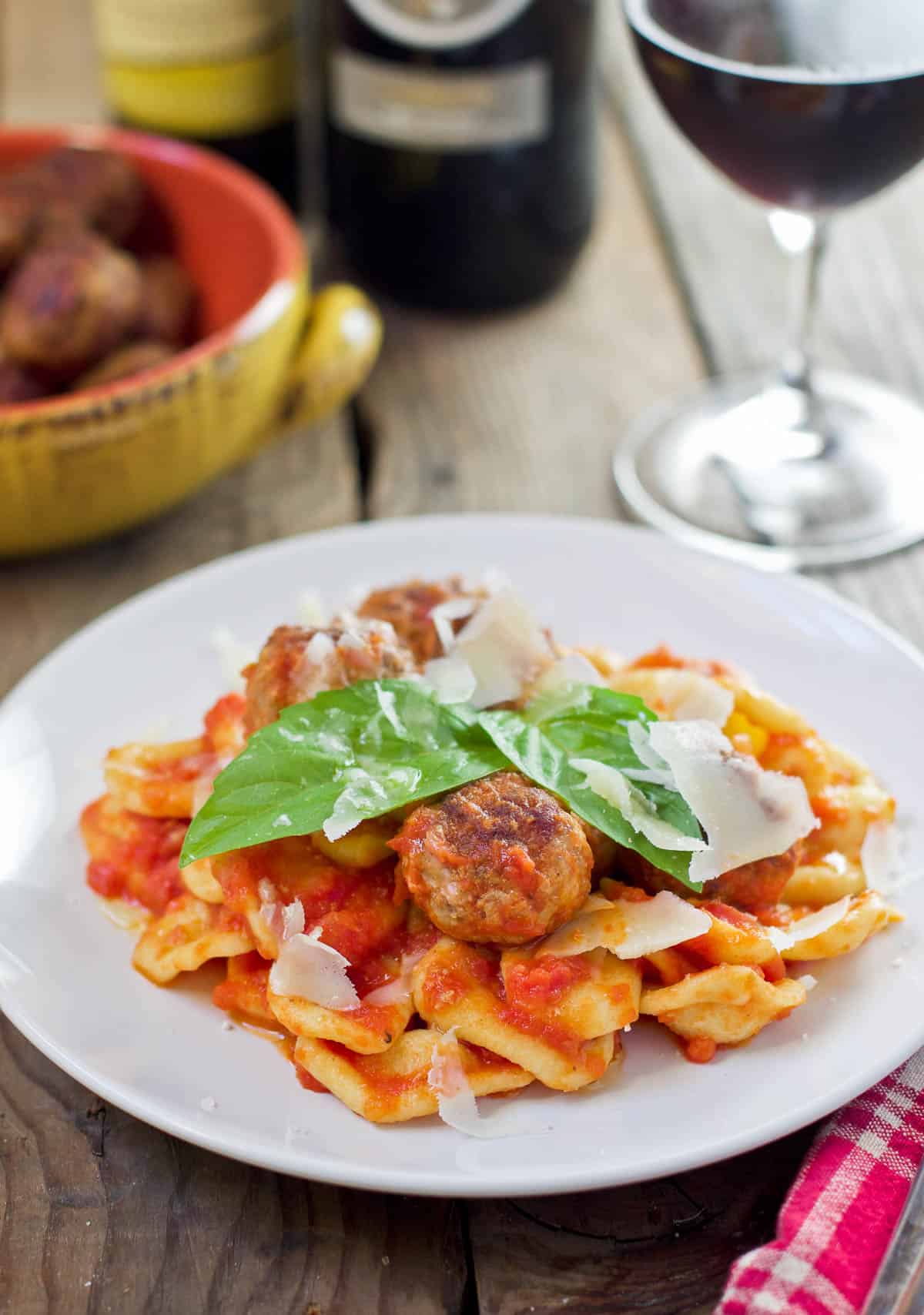 It was already getting dark by the time our group arrived at Masseria Il Frantoio for a cooking lesson and dinner. This 72-acre property was filled with century old olive trees, citrus groves, farm land, and an agriturismo (working farm/restaurant/b&b). It's there that met with some local women and dove into the simplicity and technique for homemade orecchiette pasta.
Jump to:
Recipe Highlights
To make the pasta all you need is three simple ingredients — flour, water, and olive oil.
We add a delicious marinara sauce and meatball to complement the flavors.
When rolling out the pasta, it just requires a little upper arm strength to knead the dough, form into a long string, and then make the pasta into the ear shapes.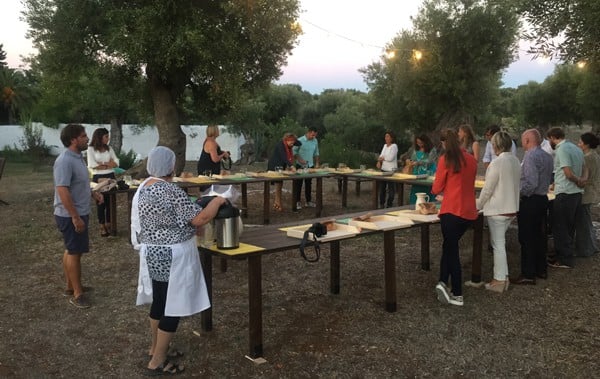 What is Orecchiette Pasta?
Orecchiette Pasta hails from Southern Italy in the Puglia (Apulia) region of Italy (or the heel of the boot). The name, orecchiette, is inspired by the shape, which looks like a small ear. After rolling the dough, like gnocchi, you press a small indentation in the pasta which gives it the unique shape.
How to pronounce Orecchiette: Oar-i-kye-tey
Orecchiette Ingredients
Simplicity of ingredients does not take away from the amazing flavor. Using good quality ingredients is what makes the difference between good and great pasta.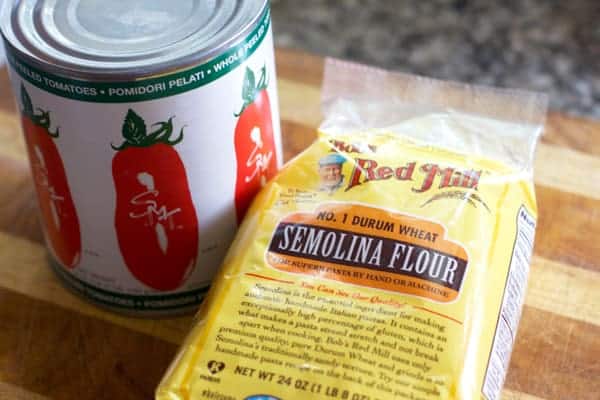 Flour – The most important ingredient is to use Semolina Durum Wheat Flour. The grind size and style of flour is what gives authentic Orecchiette the elasticity and texture. You can find Bob's Red Mill in the specialty aisle of your grocery store.
Water – It's an important parto of making pasta.
Extra Virgin Olive Oil – Not only does a good olive oil add flavor it helps when rolling pasta of any kind. Especially Orecchiette.
Equipment and Preparation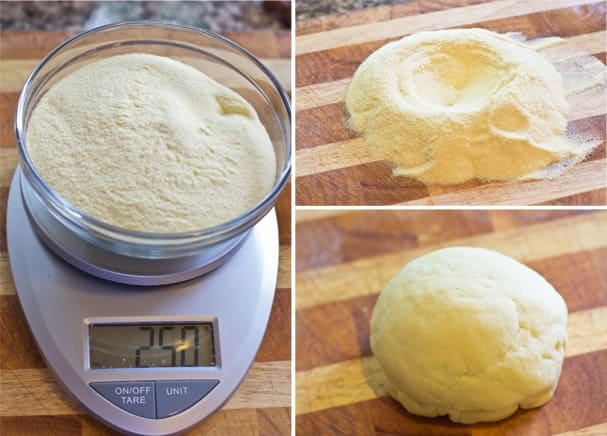 Digital Scale – If you love making home made pasta, you need a digital scale to weigh the flour for best results. We do approximate the cups in the recipe card.
Spoon or Large Butter Knife – After rolling the dough, the spoon or butter knife allow you to easily make the indentation in the pasta.
Large Cutting Board – You need space and having a large good cutting board is important too.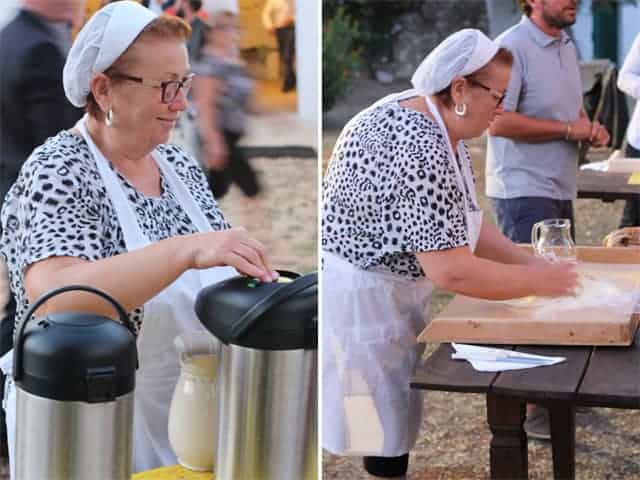 Our group was able to participate in a true masterclass of homemade pasta making. Our teacher was Signora Filomena. It came time to mixing the dough, rolling it into a fine string, and then making the actual shape of the orecchiette. And that's when she dropped the truth. Don't use a mixer. Use your hands and make the pasta on your cutting board.
How to Make Orecchiette Pasta – The Technique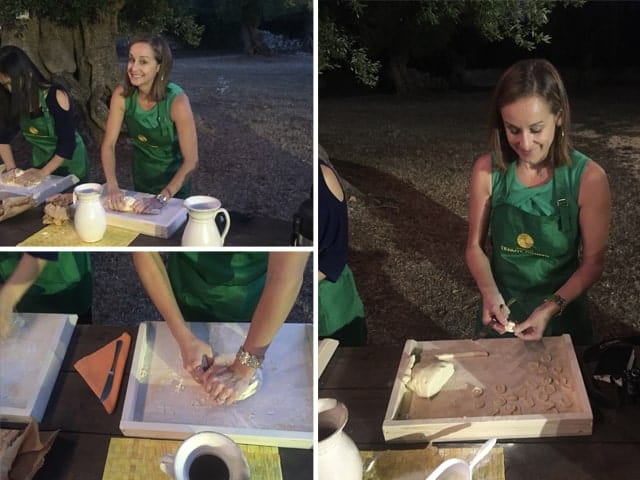 Making the Pasta: This step is actually quite easy. Start with Semolina Durum Wheat flour on your cutting board, shaped like a volcano. Then add some warm water and a touch of extra virgin olive oil into the crater of the flour. The amount is in the recipe card. The warm water makes the flour easier to work with. Using your hands, combine the ingredients until they come together to form a dough ball. Combine from the outside of the volcano in. Add additional water until the texture is where you want it.
Wrap: Wrap the dough ball in plastic wrap for 15 minutes to let rest. Then remove the plastic wrap when kneading.
Knead the Dough: Knead the dough ball until it is smooth (this will take a different amount of time depending on your brute strength!). It's also a great hand and arm workout, so you can feel free to skip your regular upper body strength workout the day you make this. Kneading is important to combine the gluten and proteins and get the right texture.
How to Knead: To knead, place the dough ball on a floured cutting board. Using the lower portion of the palms of your hand, press the dough into the cutting board away from you until it flattens out. Then return the dough to a ball structure. Flip the dough ball over, and repeat pressing it down with the palm of your hands to flatten it. Repeat this process for about 15 seconds to integrate the flour.
Shape the Orecchiette: After kneading, cut the dough ball into three sections. Using the palm of your hands start to gently roll the smaller sections into a long string about the width of a cigar.
Form the Orecchiette: Now that you have your strings of orecchiette, cut off small pieces about the size of the end of your thumb, then roll them (with a spoon or knife) into the shape of a small ear.
Cook: It's then ready to drop into boiling salted water.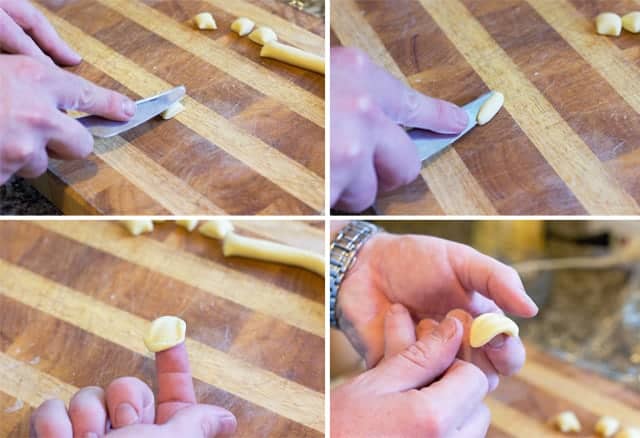 Chef's Tip for easier dough – You can mix the flour, water, and olive oil in a stand mixer. It will work just fine, but is not typically the traditional way of making the orecchiette pasta.
Orecchiette Sauce
Inspired by the meals we had at the farm and prepared by Signora Filomena's amazing hands, we also added a simple sauce and tender and soft meatball to mirror the dish from the farm.
The Sauce: Making the sauce is just as easy. I kept it simple with just some chopped onion, a large can of San Marzano tomatoes, some EVOO and salt and pepper, and let it cook down for about 30 minutes. That's it. No frills or fancy. Just good quality tomatoes, and other ingredients.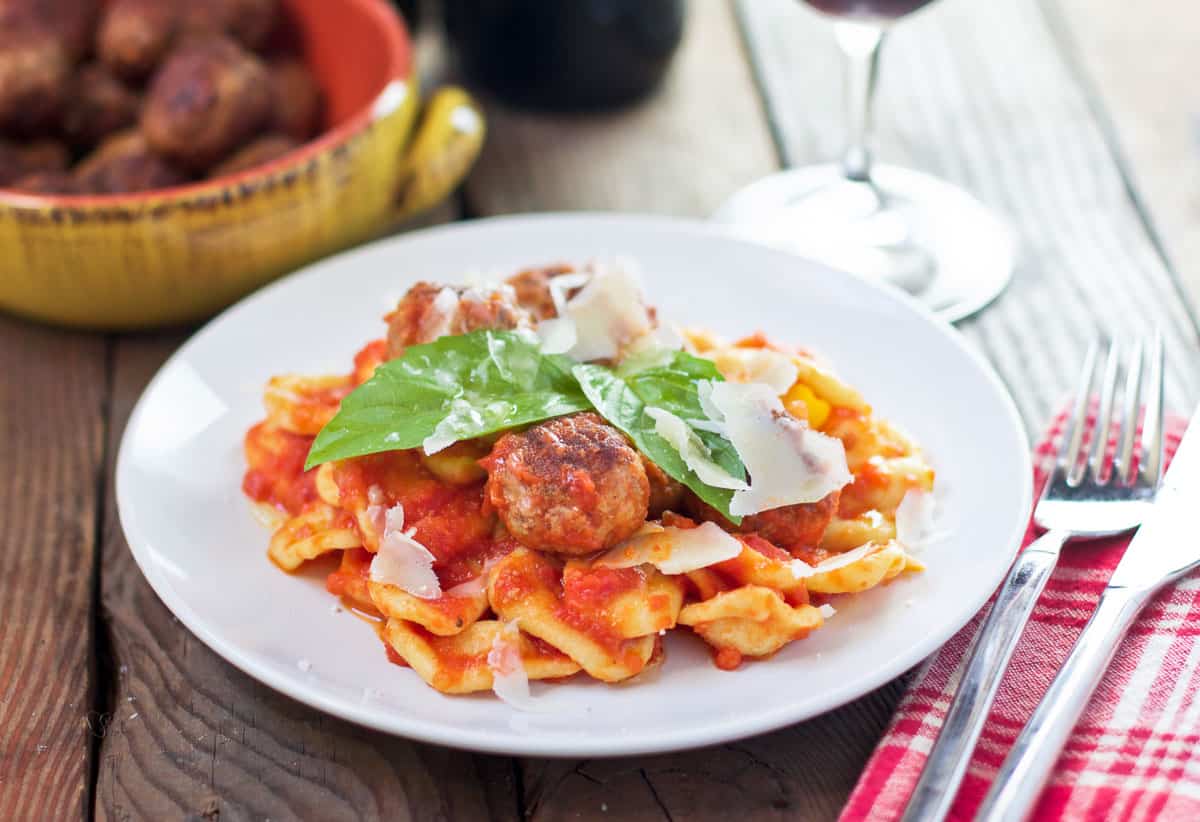 How to Cook Orecchiette
Bring a large pot of heavily salted water to a boil. The water should taste like the ocean before boiling. Cook until the Orecchiette rise to the top (this happens quickly, just a few minutes, so don't walk away). Remove with a slotted spoon or colander and set aside.
Plate the orecchiette and toss with the tomato sauce and then top with the meatballs, fresh basil, and a sliver of Parmesan cheese.
Wine Pairing for Orecchiette and Meatballs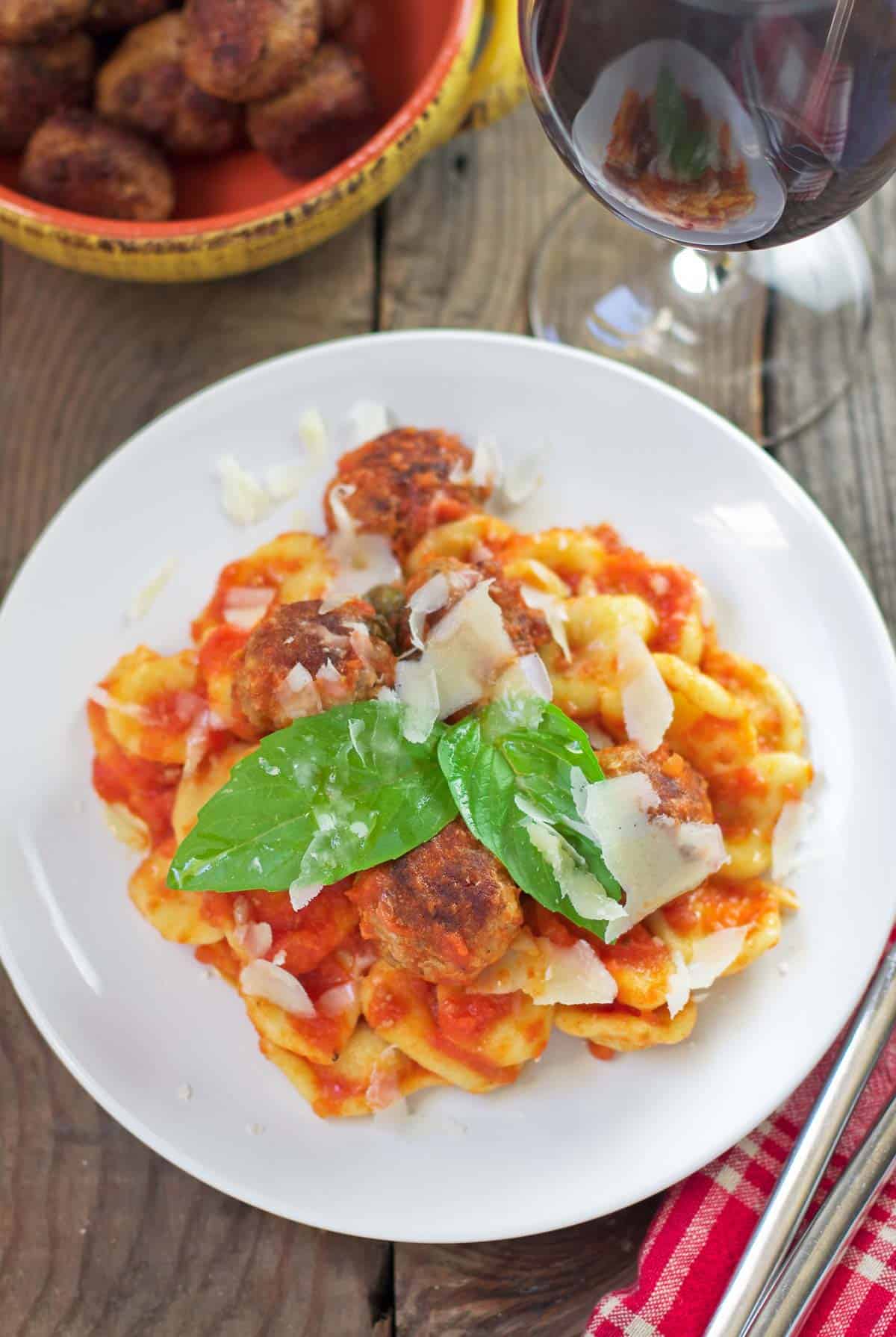 This is a traditional Puglian meal, so for the full experience go with wine from the region. We enjoyed this dish with the red wines from Tenute Rubino made from Negroamaro and Susumaniello grapes.
But if you can't find these wines in your area look for red wines from Puglia made from the same grapes. They are rich and smoky with dark berry fruit flavors and good acidity that pair fantastically with the local cuisine, like this orecchiette and red sauce recipe.
Alternatively a nice Italian Sangiovese or Barbera red wine would be great if you don't have as many options. If you can't find the Italian varietals look to their equivalent from Washington State or Southern Oregon.
You can also explore some wine options from the Vindulge Wine Market as well.
Other Recipe Inspirations
If you want an authentic appetizer try our Puglia Tuna Toasts. Such a tasty and fresh dish to kick off a meal. You can also try with our Smoked Marinara Sauce.
---
Visiting Masseria Il Frantoio
Masseria Il Frantoio Agriturismo is located in Ostuni, just north of the town of Brindisi. If you're visiting Puglia, you simply cannot miss this destination! From lodging, dining, several homemade products they make in house (including jams, olive oils, and 35 homemade liqueurs), they have everything. Worth visiting.
---
Mary Cressler is the founder of Vindulge and co-author of the critically acclaimed cookbook Fire + Wine. She can be found traveling the globe in pursuit of great food and great wine experiences. She continues to share those inspirations here at Vindulge.
Tried this recipe? Give us a star rating and we would love to see! Mention @vindulge or use the hashtag #vindulge on all the social media handles. And consider subscribing to our newsletter where we drop all our favorite ideas and inspirations every week.
This post may contain affiliate links. This means if you click on the link, we may receive a small commission if you purchase through the link. We partner with brands we know and love and use and it helps keep the blog going!