You may have cooked pork chops, but these pork tomahawk steaks are just as dramatic and delicious as their beef counterparts. Pork tomahawk chops are incredibly tender, and make for a great dish to serve at a dinner party.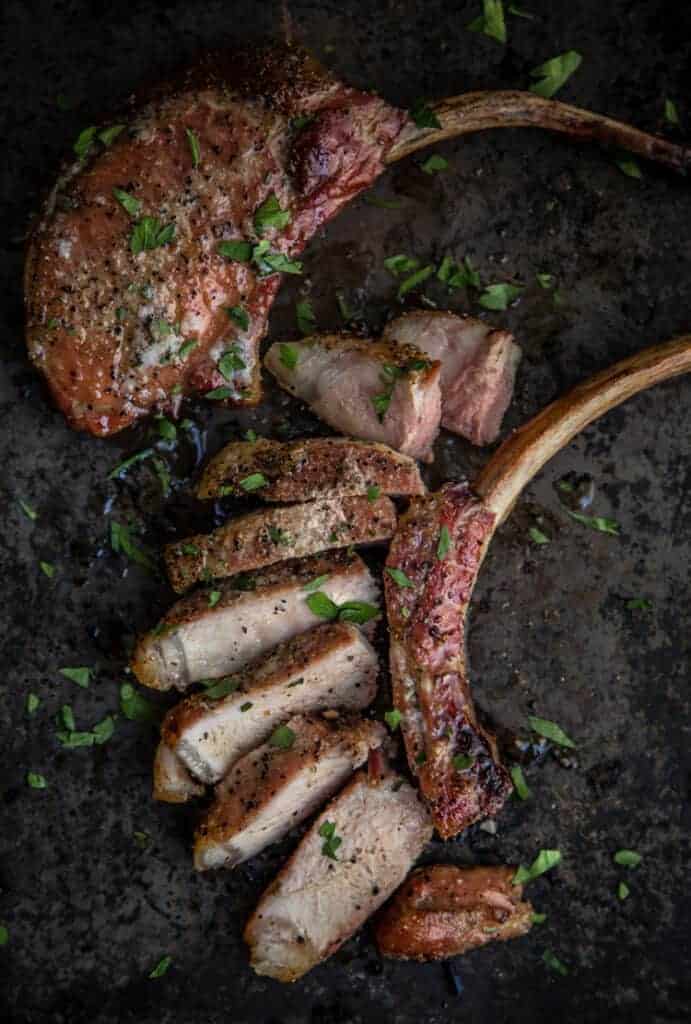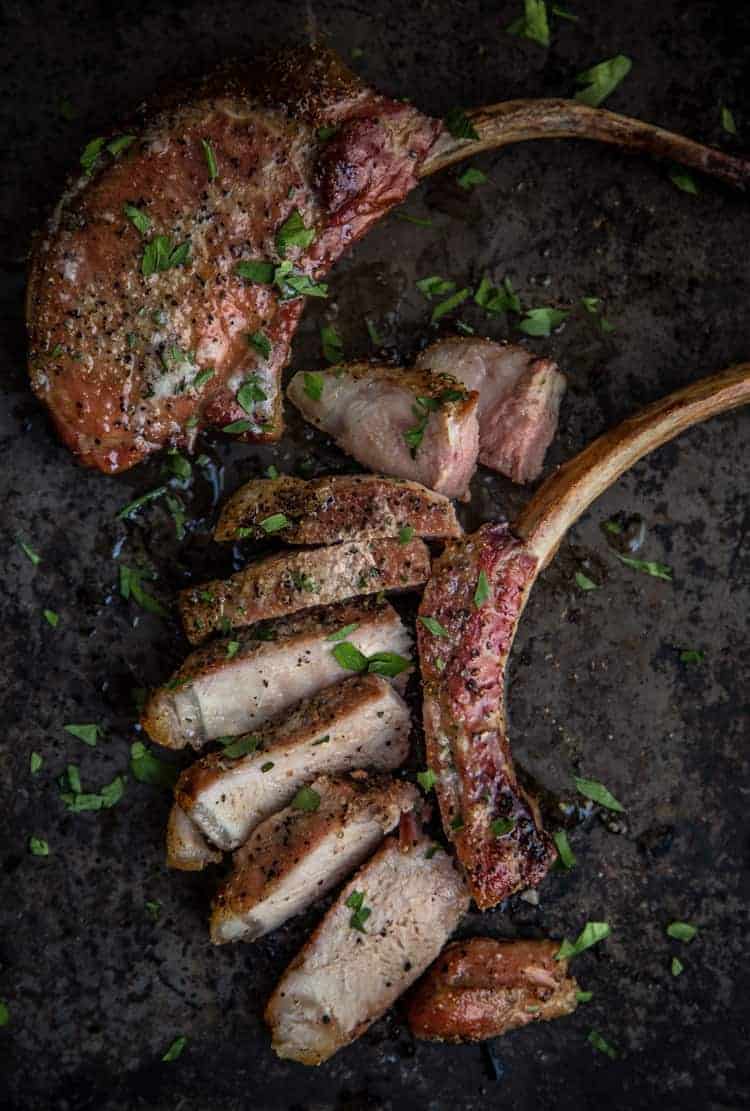 Sometimes when we have friends over, it's fun to have a great visual reaction to the food we cook. Make no mistake, flavor comes first, but with pork chops, these tomahawk style pork chops make for a great centerpiece (and something your friends will want to Instagram the heck out of ;). This same recipe and cooking method can be used with any bone-in pork chop.
Let's highlight our take on Pork Tomahawk Steaks:
Understanding What It Is
Best Ways to Cook Chops outside
Wine's To Pair With Pork
First, let's talk about the cut.
What is a Tomahawk Pork Chop?
The Tomahawk Chop refers to a bone-in pork chop, where inches of the trimmed and cleaned bone are left exposed. It's cut from the ribs of the animal, or the bone-in ribeye, which lends itself to a very tender cut given the position on the animal.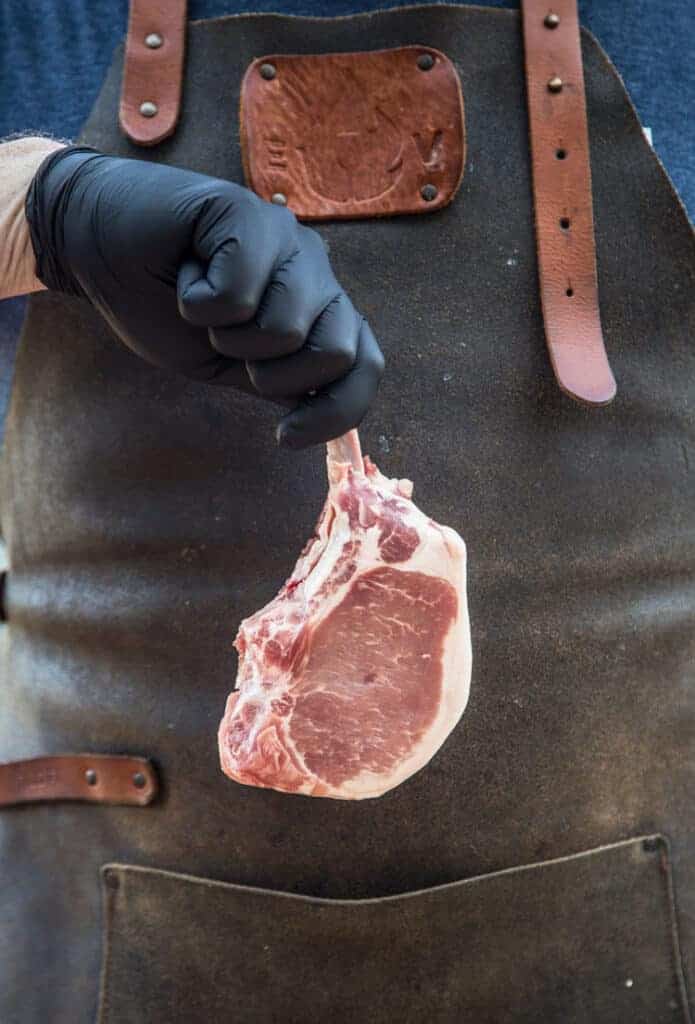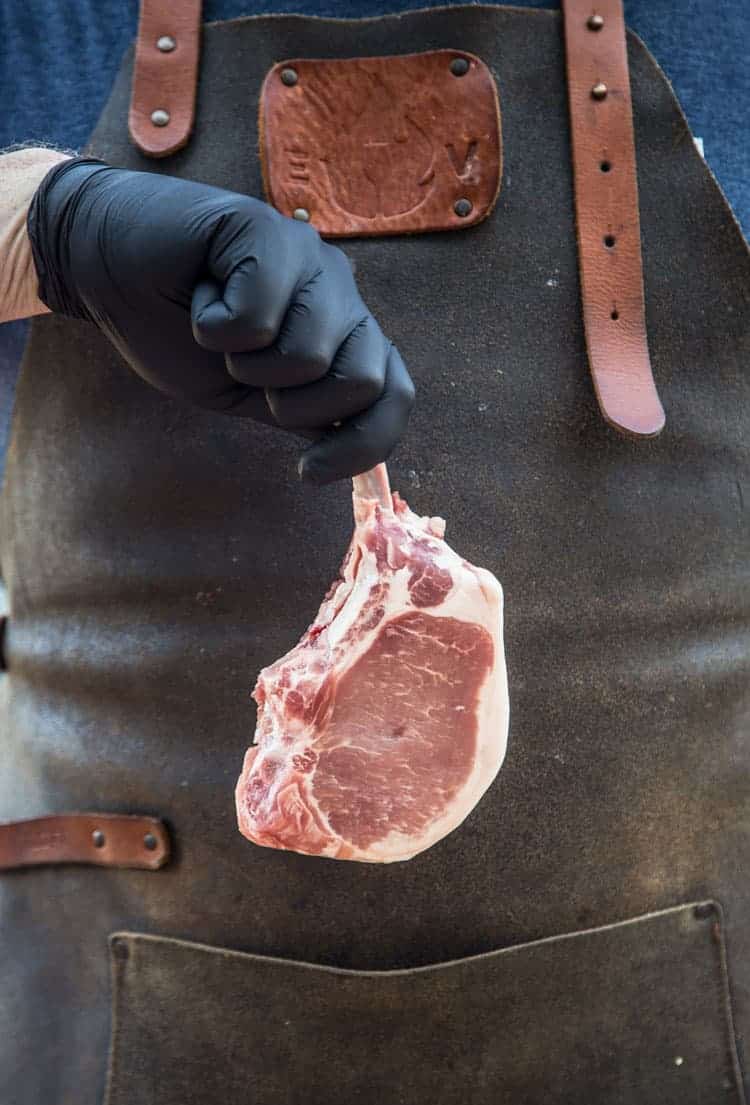 *You can use the term pork chop or pork steak interchangeably.
How To Prepare Tomahawk Pork Chops
A simple seasoning of kosher salt and pepper is a great way to prepare the pork. No brine needed. These specific chops come from Snake River Farms and have incredible marbling and flavor on their own. We will finish with an herb compound butter to add just a finishing touch of flavor.
Best Method for Cooking Pork Chops
Our favorite way to cook pork chops for the best flavor is to reverse sear in a smoker. Reverse sear is smoking the meat at a low temperature, and then finishing the pork chops over high heat.
Smoke – Smoke the pork chop at 225 degrees until the internal temperature is between 125 – 130 degrees Fahrenheit. Remove and let rest for 15 minutes while preparing your grill for high heat searing.
Sear – Finish the chop over direct high heat until the internal temperature of the pork is around 140 degrees Fahrenheit for medium rare pork.
Rest – Add a simple compound butter while resting the meat for 10 minutes. The butter will melt and the chops will continue carry over cooking and the internal temperature will increase another 5 degrees to 145 degrees F.
The best wood to use for smoking pork chops are fruit woods. They burn sweet which is a nice addition to the natural sweet flavor of pork.
The other way to cook chops is to grill with lump charcoal. If you're going to opt for grilling (vs. reverse searing), the key to grilling pork chops is to use the two zone, or direct/indirect method. This way you don't burn the outside of the pork over direct heat. You can get your sear on direct heat and then move to indirect to finish. Or if using a propane grill, simply turn down the flame after getting the sear.
When is Pork Done?
Pork is technically done at 145 degrees Fahrenheit for medium rare and is safe to eat per the USDA. This was revised down from the previous 165 degrees.
How to Make a Compound Butter
Simply allow butter to come to room temperature. Add your preferred ingredients (ideally finely diced or minced) to the butter and then mix. We like a combination of minced garlic, minced shallots, diced rosemary, and salt). Layout the butter on plastic wrap and cover. Gently roll into a log and place back into the fridge to harden. When you want to use it simply cut a few medallions off the log in ¼ inch portions.
Recipe for Tomahawk Pork Chops
The Video
Wine Pairing With Pork
Pork is very wine friendly and fantastic with so many red wines (Pinot Noir is my favorite). But it also works great with white wines, especially barrel aged white wines like Chardonnay. Not only does the butteriness and creaminess of a barrel aged Chardonnay a fantastic match for the herbed compound butter, but the oak notes are also a nice match for the sweet fruit wood we used in smoking the meat.
Other Pork Chop Recipe Ideas
---
Products Used
We love featuring the best tools and meat on our blog. The following are highlights from this post and may contain affiliate links, which means if you purchase, we may receive a small commission. But we only highlight and recommend products that we actively use and love.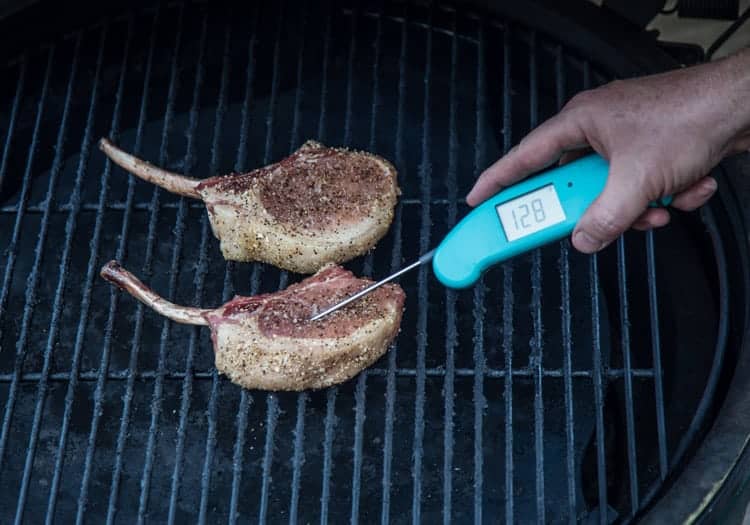 ---
If you like this recipe we'd truly appreciate it if you would give this recipe a star review! And if you share any of your pics on Instagram use the hashtag #vindulge. We LOVE to see it when you cook our recipes.