This super easy Chimichurri Sauce recipe is made in the food processor with fresh herbs and comes together in under 5 minutes. It's fantastic over grilled meats and vegetables!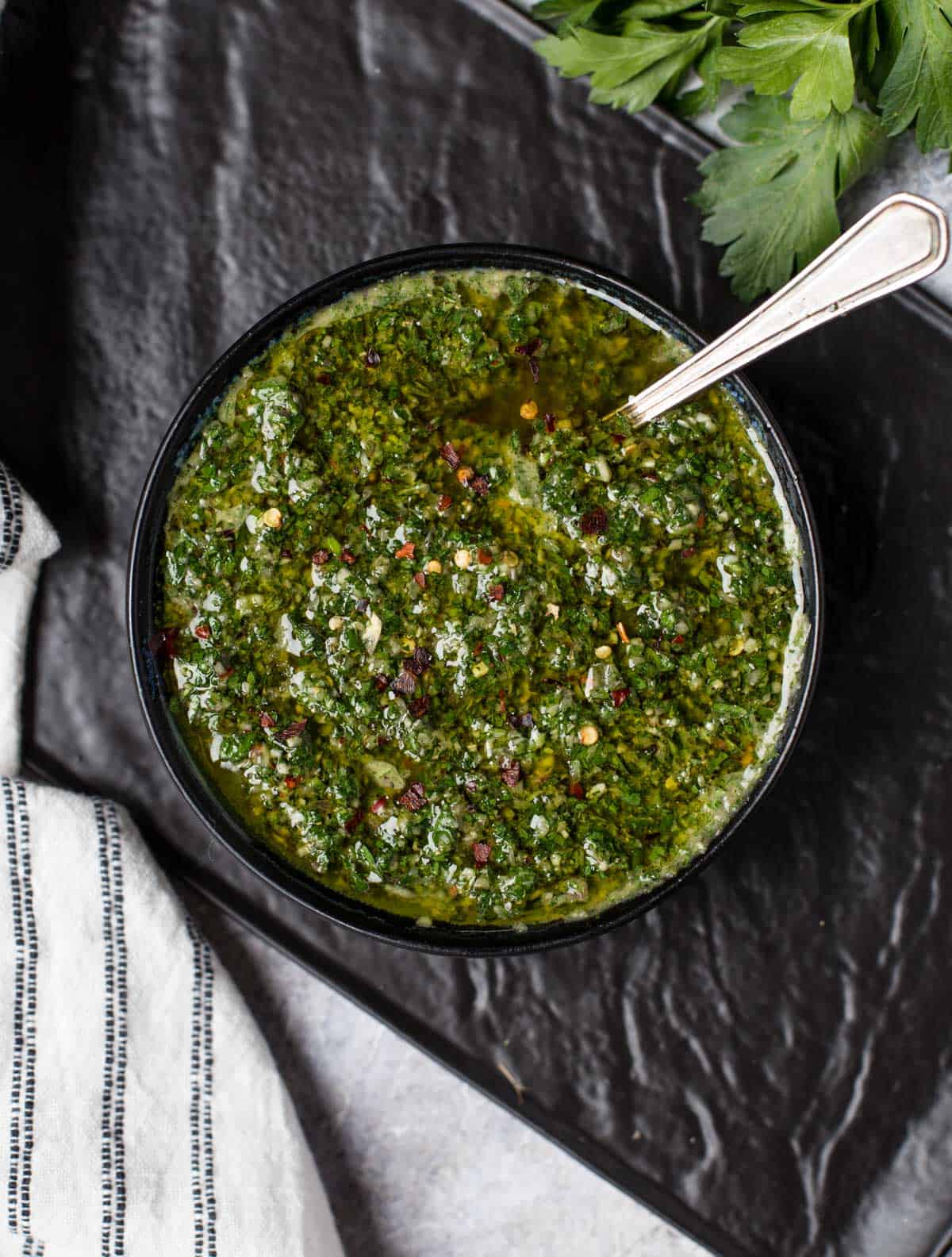 Recipe Highlights
We make it for catering events all the time and serve with grilled steak as an alternative to BBQ sauce and it's always a HIT.
You can use Chimichurri sauce as a salad dressing or it makes a great marinade.
This green sauce can be made with any protein or you can modify ingredients, like our Jalapeño Chimichurri.
Growing up I remember my folks using A-1 or other similar steak sauce to douse over grilled steaks. Not my thing these days. A good steak doesn't need much to jazz it up. That being said, I simply cannot resist a good authentic chimichurri sauce drizzled over some grilled or smoked meats!
And while steak can be great on its own, chimichurri sauce can do wonders for beef, chicken, pork, fish, and so much more! One of the most popular dishes we serve at Ember & Vine catering events is Smoked Tri Tip served with Chimichurri Sauce. It's popular for a good reason. It's damn delicious, that's why!
Jump to:
What is Chimichurri Sauce made of?
Chimichurri sauce may look like an Argentinian version of pesto of sorts, but it's quite different (and made without any nuts). It's more of a salsa or sauce originating from South America, but without tomatoes.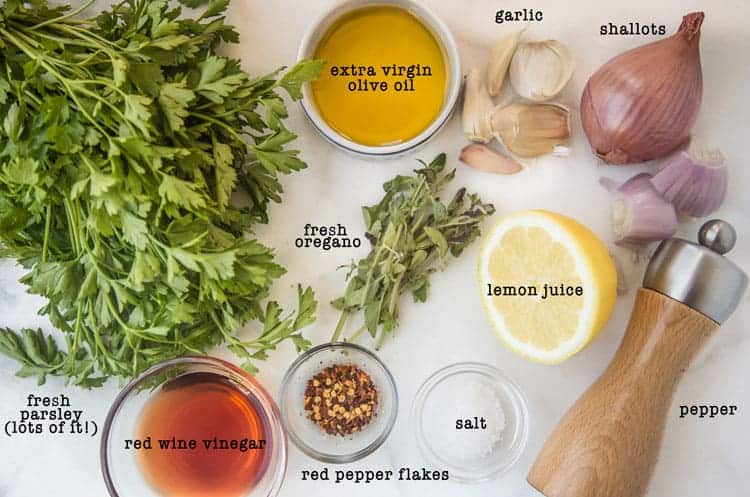 The classic version is a mix of simple ingredients. The important part is making sure they are fresh ingredients.
fresh parsley – Use flat leaf parsley versus curly parsley for better texture and the best flavor. It's the main herb and important to be fresh flat-leaf parsley leaves.
shallots (or red onion)
cloves of garlic
fresh oregano
red pepper flakes – You can adjust the heat level by increasing or decreasing the dried red chili peppers. This recipe is low heat.
red wine vinegar – You can substitute with apple cider vinegar or white wine vinegar depending on how much vinegar flavor you want.
olive oil
kosher salt and black pepper to taste
Optional: You can add fresh cilantro if you like the flavor. Simply sub out some of the parsley for cilantro based on your personal preference.
There are certainly variations, but this is its most basic form. Traditionally you would hand chop everything and layer it together. But you can also can take a little help from the food processor (like I do for large catering events) and toss everything in to let it do it's thang!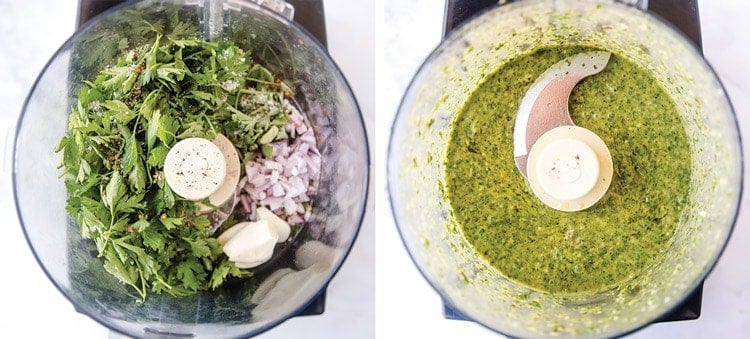 Using the food processor you can make a big batch of chimichurri sauce in under 5 minutes. The difference in flavor between hand chopping and food processing is minimal. Nobody will ever know by taste! Boom.
Tip: If you want that classic hand chopped look, but still want a shortcut, pulse all of the dry ingredients in the food processor, then transfer to a bowl and slowly mix in the wet ingredients.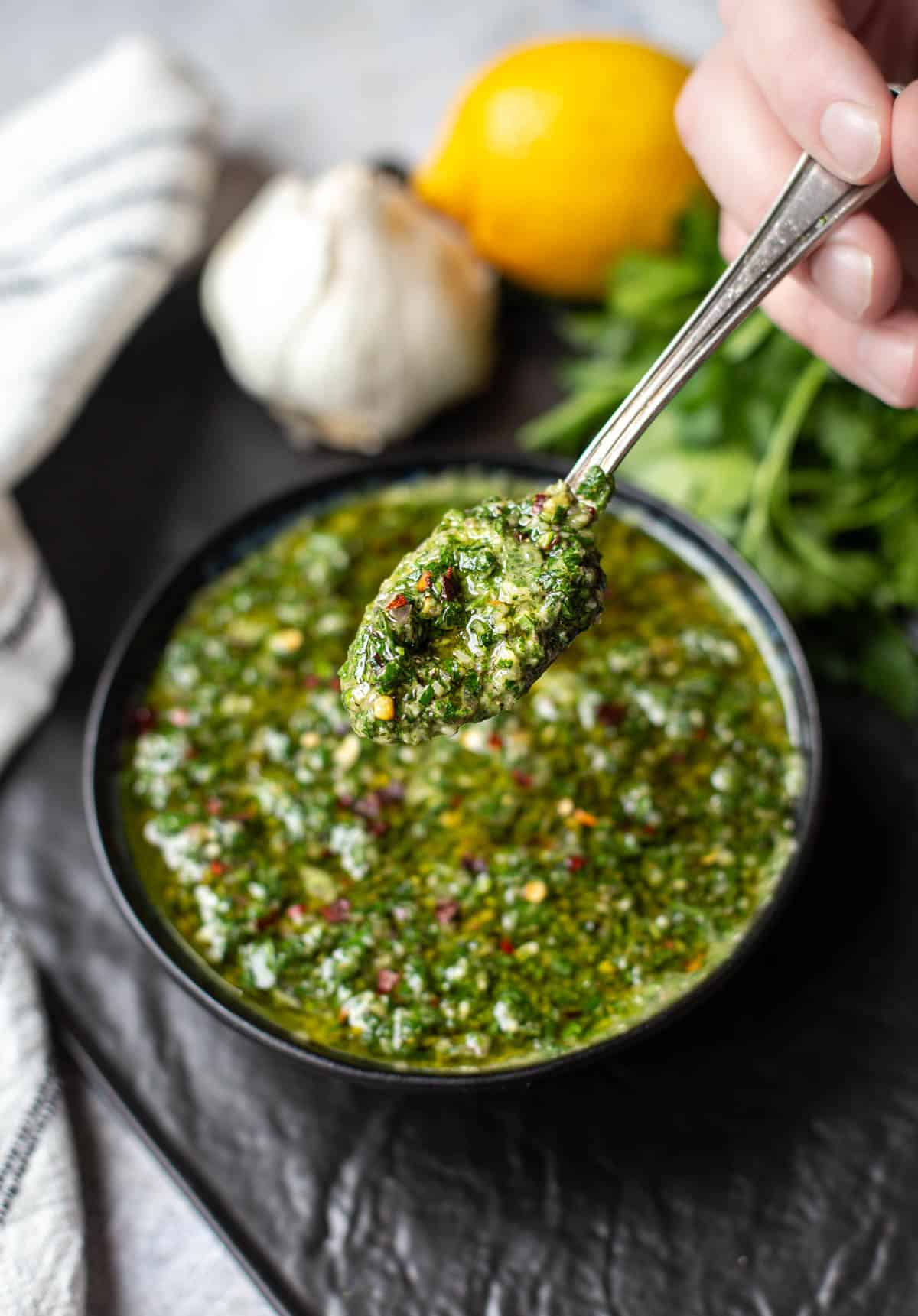 What to Serve Chimichurri Sauce on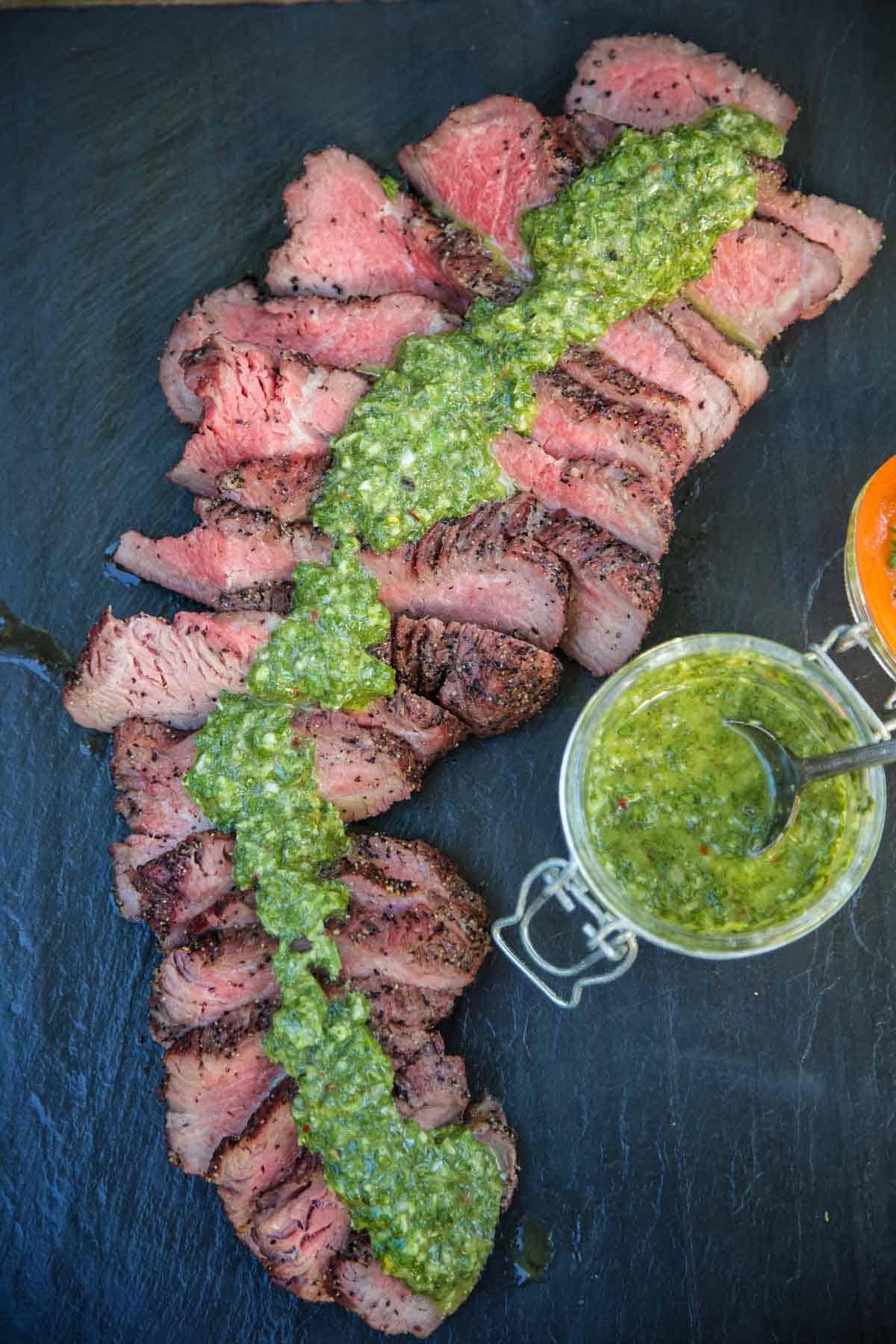 How to Store Chimichurri Sauce
Place in a sealed glass container, and keep it in the refrigerator for up to 2 weeks. When you pull it back out it may harden up due to the oil, but it will soften back when you leave it out for a few minutes at room temperature.
Hand Chopping
If you don't have a food processor, or prefer a chunkier style of Chimichurri, here are the steps to follow:
Prepare a medium bowl. Start by hand chopping the parsley, garlic, shallots, and oregano and add to the bowl. Then add the salt, pepper, and red chili pepper flakes.
Add the lemon juice and red wine vinegar. Stir, and then add slowly stir in olive oil until you get your desired texture. You don't want too much oil as it will become too wet. Stop adding oil when the consistency becomes paste-like.
For a variation on this chimichurri sauce recipe try our jalapeño chimichurri sauce as well.
---
*This recipe was updated from this post in 2014 with new pictures and content. The recipe remains the same.
This post may contain affiliate links. This means if you click on the link, we may receive a small commission if you purchase through the link. We partner with brands we know and love and use and it helps keep the blog going!
If you like this recipe we'd truly appreciate it if you would give this recipe a star review! And if you share any of your pics on Instagram use the hashtag #vindulge. We LOVE to see it when you cook our recipes.
---