The next time you want Grilled Pork Chops, take them to the next level by making this super easy, yet elegant, Wine Brown Butter Sauce. Pair it with a bottle of delicious Prosecco Superiore, and you've got yourself an incredible meal for date night or entertaining guests.
Jump to:
Grilled Pork Chop Recipe Highlights
Pork Chops can be any pork steak, from the T-Bone to the Pork Tomahawk. This recipe works for them all.
Adding Prosecco wine to the brown butter sauce adds incredible flavor.
You can also use this sauce if reverse searing your steaks.
I'm passionate about our bubbly around here. And ever since traveling to the Conegliano Valdobbiadene region of Northeast Italy, home of the best Prosecco, I've been preaching my love non-stop for the sparkling wines from this region.
And one of the things I love most about sparkling wine, especially Prosecco, is how well it pairs with a diverse variety of foods. And this brown butter sauce recipe was inspired by my trip there.
Sourcing Pork Chops
Since we're grilling, and you want it to cook evenly, you want thick chops. I mean like 1 ½ – 2 inches thick. Having thicker chops helps prevent overcooking your pork. You can go bone-in or boneless.
You can use any cut for this pork chop recipe. They come available just like beef steaks, meaning they can be ribeye, T-Bone, loin, tenderloin steaks, or even Tomahawks. Just look for thick chops for this. And adjust the timing of the grill to the desired internal temperature you want to achieve.
Pork Chop Seasoning
Next we're going to season it with our herbed dry rub. This is going to add great flavor as the grilled pork chop sears.
fresh ground black pepper
dried oregano
garlic powder
dried sage
We avoid sugar when grilling to avoid the rub from burning over high heat. See recipe card for portions.
How to Grill Pork Chops
We often love to do a reverse sear on our pork chops. But for a quicker cook we're sticking to grilling hot and fast for this recipe.
Prepare your grill for two-zone grilling targeting 400 – 450 degrees Fahrenheit in the cooking chamber.
Place the seasoned pork chops over direct heat for 5 minutes per side or until you see a nice flavor crust on the outside.
Move the pork chops to indirect heat and finish until the reach your desired internal temperature. We like our pork medium rare and pull them when the internal temperature is 135 degrees F.
Let rest for 10 minutes and then serve. After you pull the pork it will continue cooking another 5 degrees with carry over cooking.
If you don't have a grill you can mimic these same instructions over a searing hot cast iron pan on your stovetop.
Note: The USDA recommends cooking pork to 145 degrees F, however we like to cook it to medium rare because we know and trust the pork we source. Cook to your desired temperature versus time. Use a good quality instant read thermometer like the Thermoworks Thermapen One.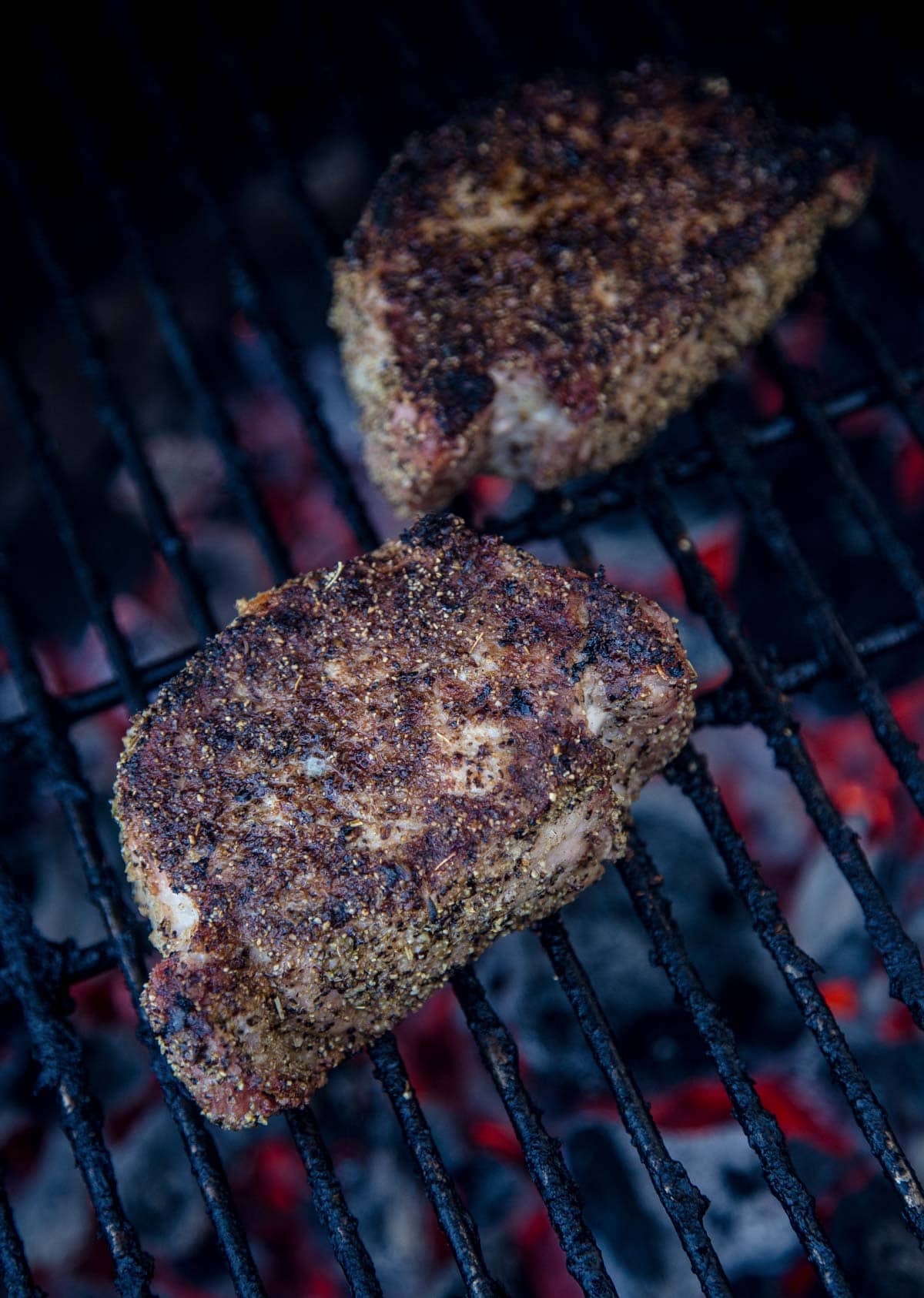 Once they are resting, make your wine brown butter sauce.
How to Make Wine Brown Butter Sauce
You can do this on a cast iron pan directly on your grill, or on the stovetop. Your choice.
Start by melting butter in a pan (use a cast iron skillet if doing this directly on your grill). Let the butter slowly simmer for about 5-6 minutes, until you start to see the butter start to turn a darker shade of brown.
Next add your chopped shallots, garlic, sage, and salt. Let it mix until the vegetables soften and the sage starts to fry (about two minutes). If the skillet is too hot move it to indirect heat or reduce flame. You don't want to burn the shallots.
Then pour in the wine and let it simmer one more minute. That's it! So simple and it adds incredible flavor to your pork chops. Total time is about 9 minutes.
The last thing you need to do is to be sure to pour yourself a glass of wine to pair with this simple, yet elegant dish to find out for yourself how great sparkling wines from this region can pair with grilled meat!
A good substitution for the Prosecco Superiore for the brown butter sauce is a Brut (dry) sparkling wine.
Wine Pairing with Pork Chops
There are a million pairing options for Prosecco Superiore, but one of my favorite things to debunk is the idea of pairing sparkling wine with meat. If you are wondering is a red wine or white wine with pork chops better the answer is both. Most folks will default to red wine or a rich white wine for a meat pairing (especially grilled meat).
But sparkling, and Prosecco Superiore in particular, have both the richness and acidity to handle so many cuts of meat. Pork chops have a great natural sweetness to them, and when grilled take on a fantastic smoky char. The brown butter sauce we use is finished off with some of the Prosecco Superiore giving it a depth of flavor and acidity to brighten up the grilled meat and bring everything together.
Alternatively you can use any dry sparkling wine, oaked Chardonnay, or lighter style red wine like Pinot Noir.
Other Recipes
For more grilled pork chop and roast recipe inspirations check out our collection.
Best Sides for Grilled Pork Chops
We love a good parsnip puree to soak up the sauce. Alternatively you can make the following side dishes:
This recipe was originally published in December 2018, and updated in May 2022 with more details. The recipe remains the same.
f you like this recipe we'd truly appreciate it if you would give this recipe a star review! And if you share any of your pics on Instagram use the hashtag #vindulge. We LOVE to see it when you cook our recipes.
---