These Reverse Seared Pork Chops are smoked first for that awesome flavor, and then finished hot and fast medium rare for a perfectly cooked pork chop.
These ain't your mama's pork chops!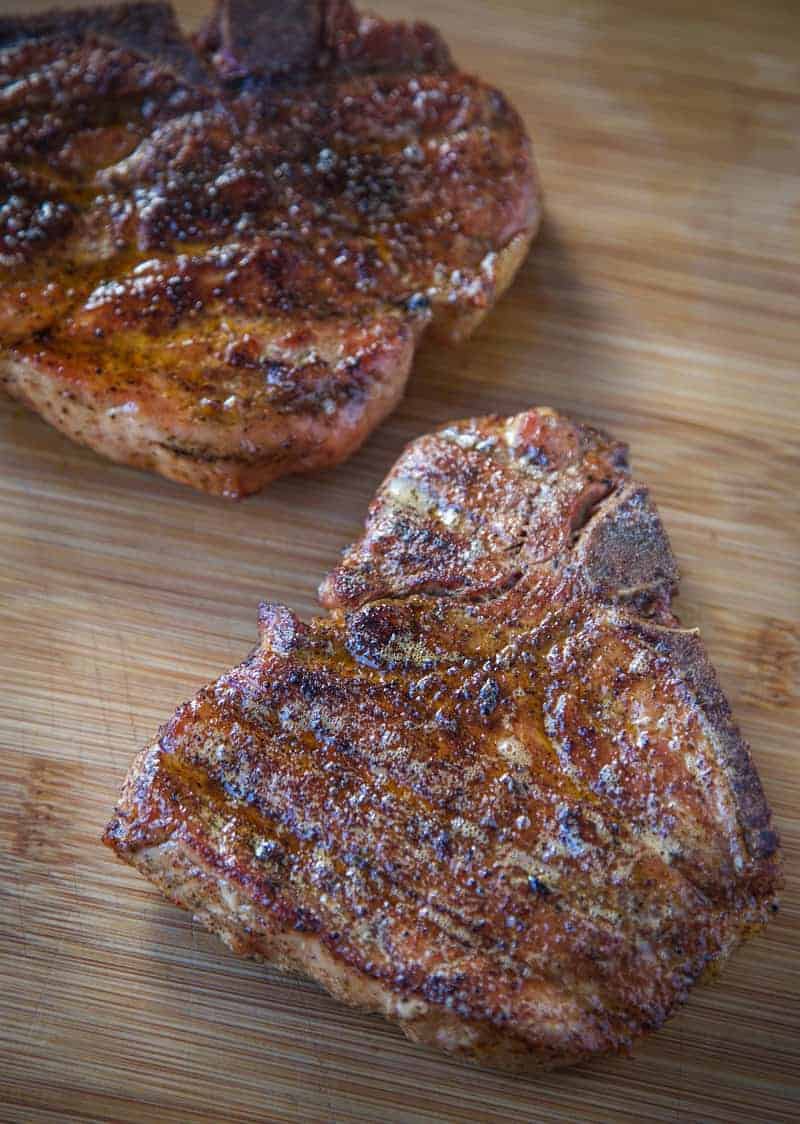 Sometimes when I hear people turn their noses at the idea of pork chops, I can't help but ask them why they dislike such an amazing cut of meat. Without fail, I hear the classic story of growing up and family overcooking pork chops almost like a hockey puck (that's the kind of pork chops I grew up with anyways… SHHHH DON'T TELL MY MOM!). So when that happens, I try to turn on my charm and convince them to rethink the classic pork chop oven bake, and try it out on a grill or smoker.
Pork chops have a bad rap, and I'm fully dedicated to bringing back the love for the pork chop. And when cooked right with a reverse sear (not overcooked), and paired with a good wine, you've got yourself (dare I say) a fancy meal worthy of date night!
Like I said, these ain't your mama's pork chops!
For this we're doing the reverse sear method to make sure you get that gorgeous slow smoke infusion, then finish on the grill, or in this case, a hot cast iron pan, for that great sear and char.
What is a Pork Chop? The Cut
The pork chop is a loin cut of the pig, essentially it is the t-bone steak of pork. You can get them bone in or boneless. I love bone in for flavor and presentation and I like the butcher to cut me a thick piece, like 1 ½ to 2 inches thick.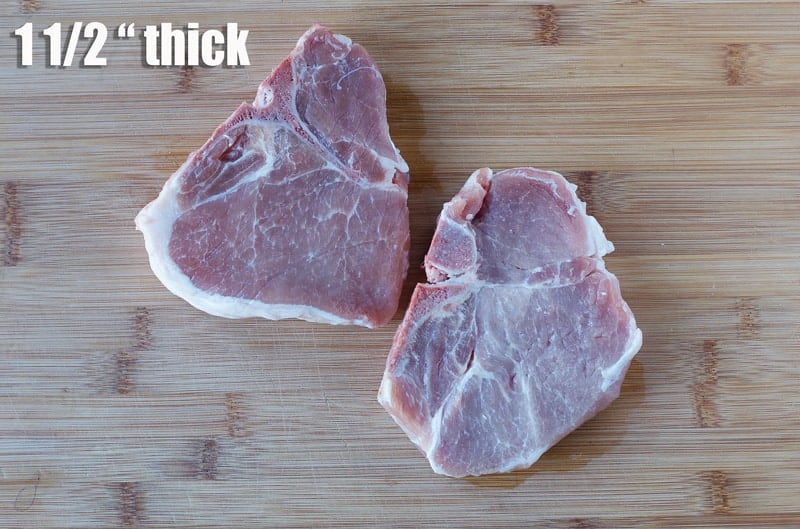 It is relatively lean unlike its beef cousin, but you will still want to look for good marbling.
How to Trim a Pork Chop
This is really low maintenance. You may want to trim excess fat on edge of meat if there is any.
What is the Best Seasoning for a Reverse Seared Pork Chop
You can always go salt and pepper. We like our ultimate rub recipe for pork. It is what it was made for. It has a little sugar, a little savory and a little spice.
How to Reverse Sear a Pork Chop
We are going to reverse sear to lock in a little bark with the rub, then finish in a cast iron pan with a butter bath or baste as some call it. Place it on your smoker at 225 degrees (F) until the internal temperature of the meat is 135 (F), then remove.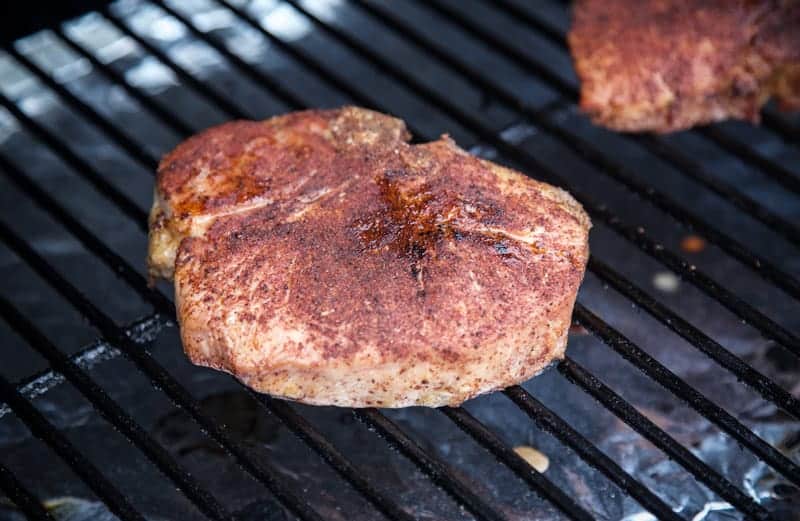 You can finish it on a hot grill, but for added flavor we finish it on a hot cast iron pan until our desired temperature of 145 degrees (F).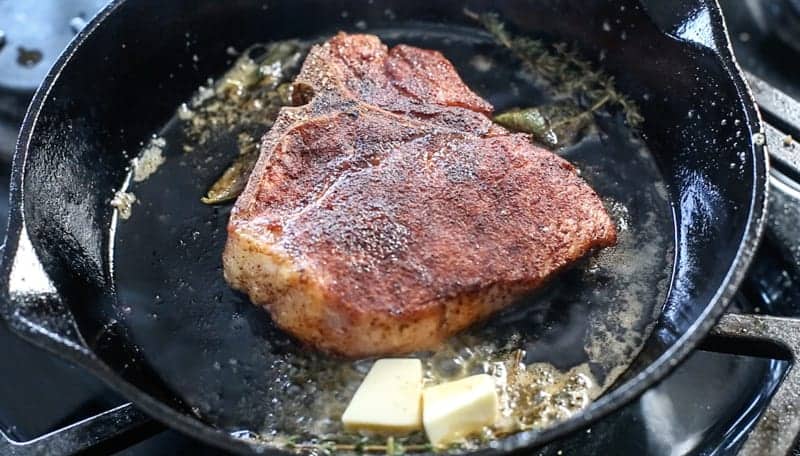 Throw into the butter your favorite herbs or ingredients and spoon it over the top for extra flavor.
You guys! Try this and tell me you don't love pork chops!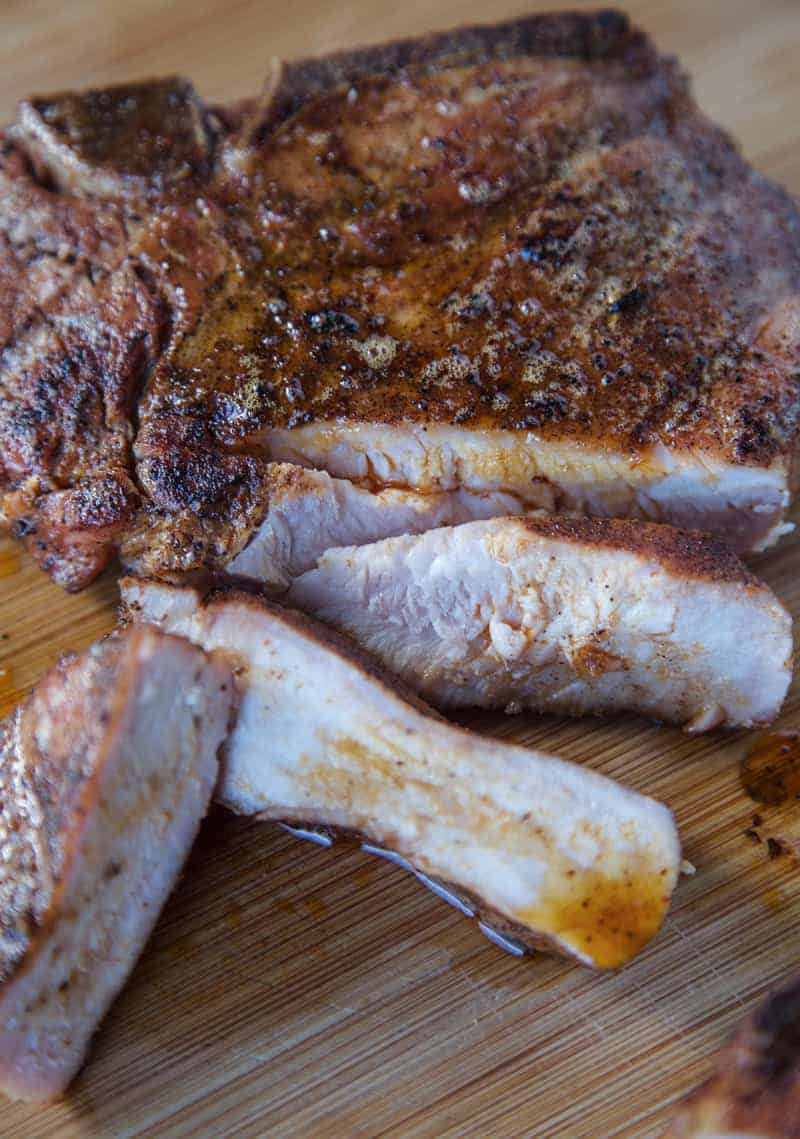 Reverse Sear Smoked Pork Chop Recipe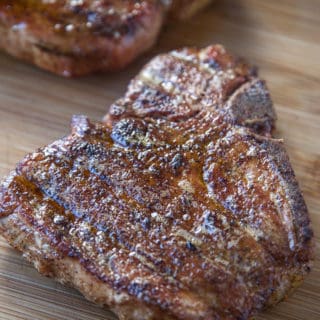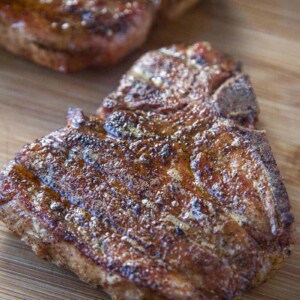 Reverse Sear Smoked Pork Chops
Jazz up boring old pork chops by reverse searing them. Slowly smoke them for an hour then finish on a hot grill for amazing flavor.
Print
Pin
Rate
Ingredients
2

Bone in Pork Chops, thick cut,

roughly 1 ½ pounds total

2

tablespoons

extra virgin olive oil

2

tablespoons

dry rub

4

tablespoons

butter

4

sprigs of fresh thyme

4

leaves

of fresh sage
Instructions
Preheat smoker to 200 – 225 degrees (F) using oak or apple wood.

Coat pork chops with olive oil and liberally apply the dry rub.

Place the pork chop on the smoker and cook until internal temperature is 135 degrees (F) and then remove (they will be on about 45 minutes – 1 hour).

When your temperature gets close to 135 degrees (F), preheat large cast iron skillet on stove top.

Place pork chops into the skillet and add the butter and fresh herbs.

Butter will melt quickly, be sure to quickly start basting the pork chops with the melted butter in the pan and then flip after 2 minutes and repeat the basting for 2 more minutes.

Remove pork chops from pan and let rest for 10 minutes tented with aluminum foil to let the juices redistribute.

Cut and serve with your favorite sauce, we used the brown butter sauce from the pan.
What Wine to Pair with Pork Chops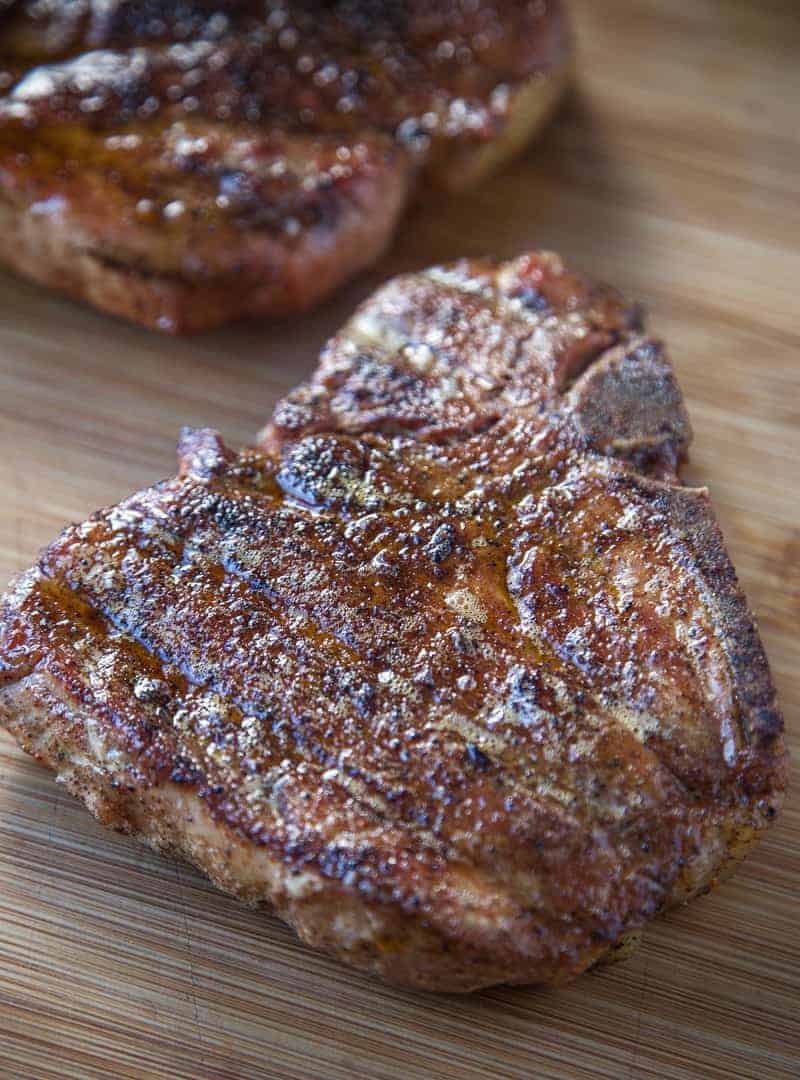 Pork works great with so many red wines (Pinot Noir comes to mind). But it also works great with white wines, especially barrel aged white wines like Chardonnay. Not only does the butteriness and creaminess of a barrel aged Chardonnay a fantastic match for the pan sauce we created, but the oak notes are also a nice match for the sweet apple wood we used in smoking the meat.
Video
---
For more tasty recipes, BBQ tips and tricks, check out the Recipe Index.
If you like this recipe we'd truly appreciate it if you would give this recipe a star review! And if you share any of your pics on Instagram use the hashtag #vindulge. We LOVE to see it when you cook our recipes.
---