Grilled Baked Brie topped with a delicious homemade Blackberry Jam is a decadent recipe for any party! This dish is grilled making it one of the easiest and festive appetizers you will ever make with melted cheese and the amazing rich flavors of the blackberry jam.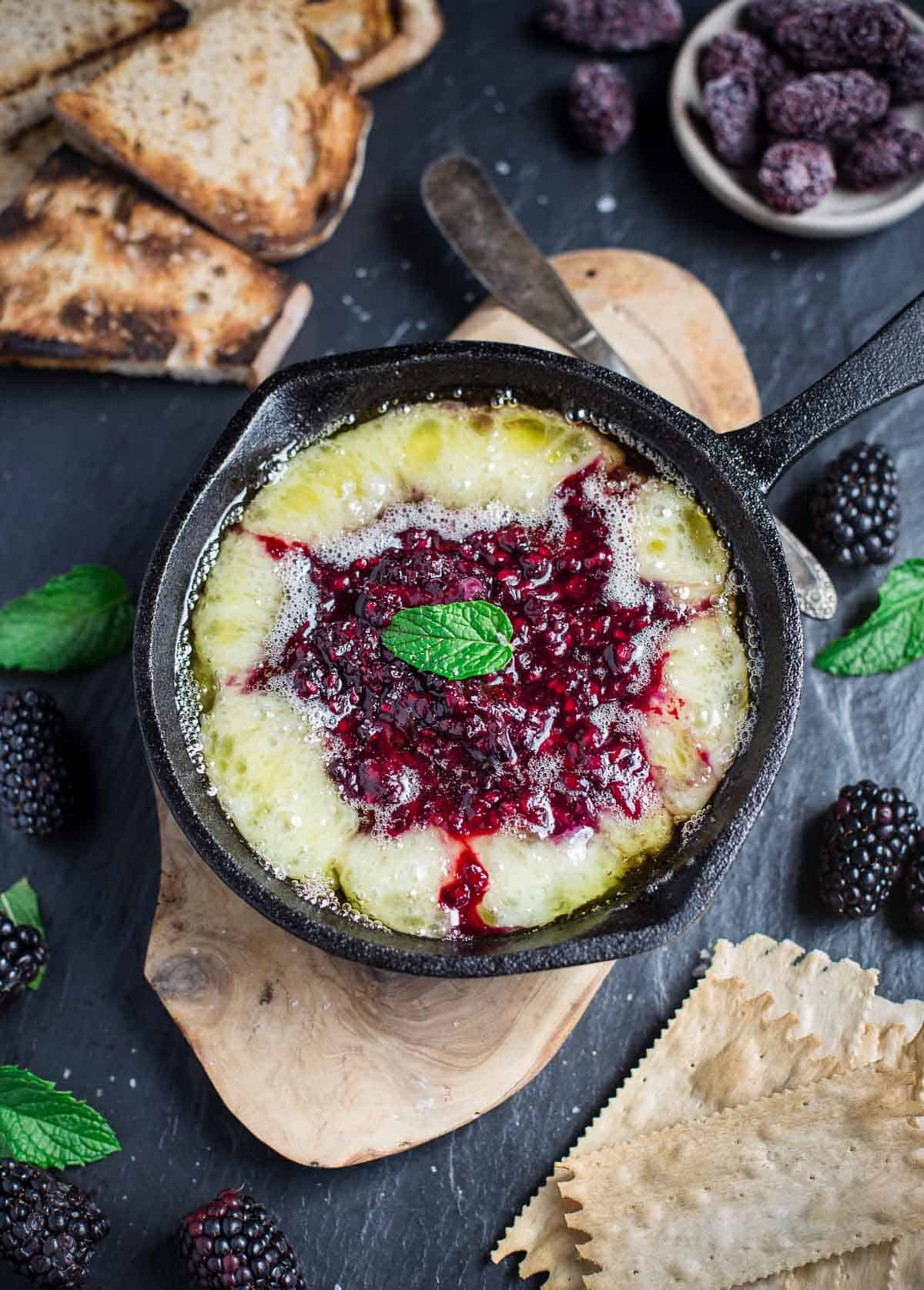 This recipe was sponsored by the Oregon Raspberry and Blackberry Association and all opinions are our own. And our opinion is that this is one of our favorite recipes ever using blackberries!
Jump to:
Are you looking for an amazing appetizer that will "wow" your guests at your next party?
Whether you're looking to simply jazz up your next charcuterie board or just trying something new, then add our favorite easy homemade jam to the top of a wheel of brie cheese and then bake it on the grill! The sweetness of the jam complements the rich flavors of the cheese for an epic brie appetizer. This recipe is sure to become your new favorite holiday appetizer.
Ingredients for Grilled Baked Brie with Blackberry Jam
We encourage you to seek out the freshest berries you can find for this recipe. If in season, look for fresh berries from your local farmers market or U-Pick farm. Alternatively you use frozen blackberries. We use simple ingredients so that the flavor of the blackberries stands out.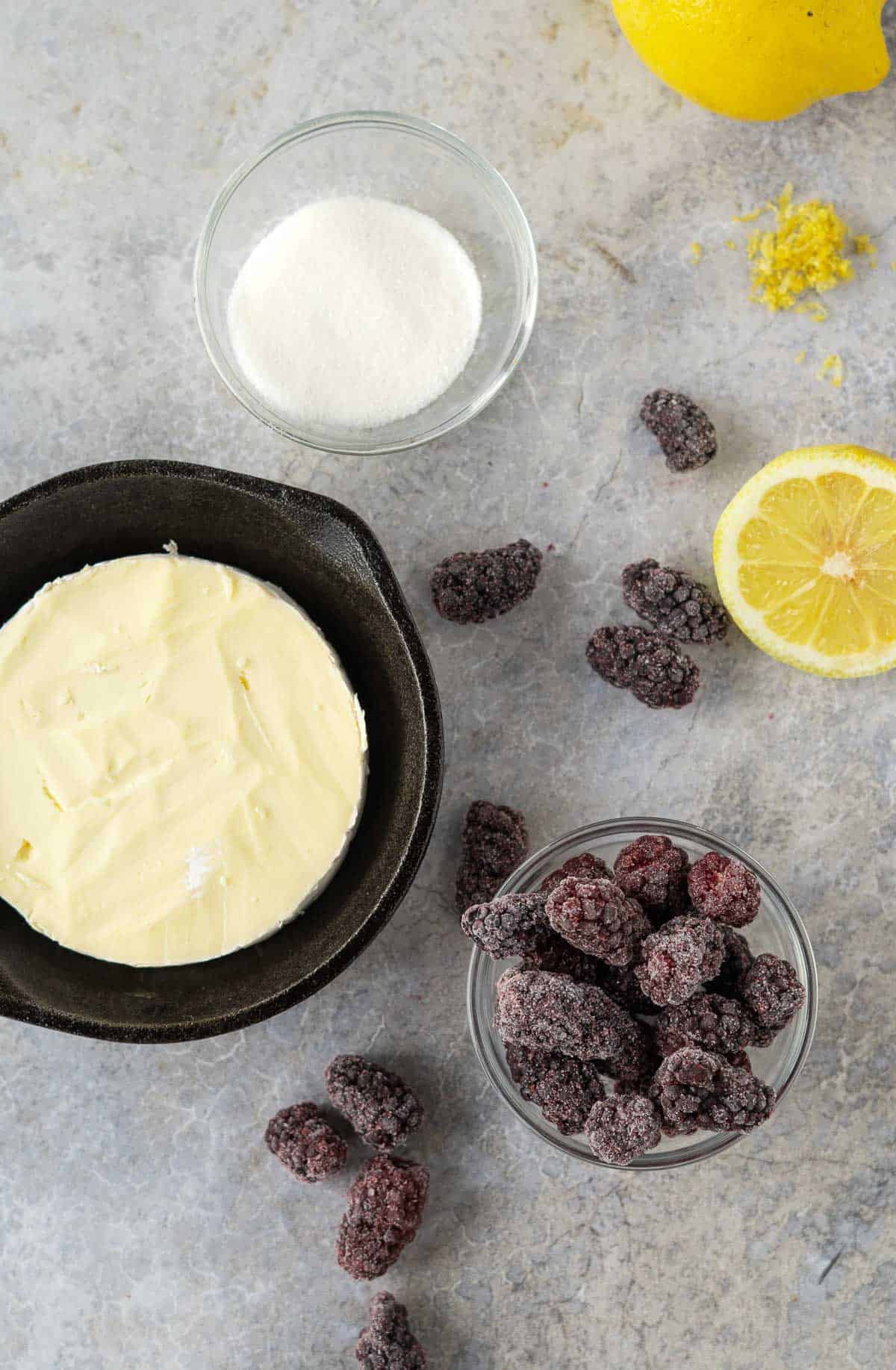 Blackberries – Buying fresh blackberries, in season, is ideal. But because blackberry season is such a short window, you should use frozen blackberries as an alternative (see below for why).
Lemon – Use both the juice and zest of a lemon for the jam.
Cane Sugar – If you are using freshly picked blackberries, like the Marionberry varietal, you likely won't need any added sugar. If using blackberries out of season, then the sugar will help enhance the flavor. We do not recommend using brown sugar because the richer flavor competes with the blackberries.
Brie Wheel – Ideally find an entire brie wheel which typically come in 7 and 8-ounce options. If you only find a wedge of brie then see the notes on how to adjust this recipe. Brie is a soft cheese that melts nicely with when you apply heat. It also has a mild earthy flavor that pairs excellent with the blackberry jam.
Mint – Adding fresh mint to the top of the blackberry jam brings a refreshing twist to the dish.
Optional – We also like to add a touch of finishing salt and an aged balsamic drizzle.
Fresh versus Frozen Blackberries
We live in Oregon, where the best blackberries in the country come from! Full stop! We have an incredibly bounty throughout berry season, so we encourage fresh berries when you can find them. But if you are from out of state, or if berries are out of season, then you should absolutely reach for a bag of frozen blackberries vs buying berries out of season.
*Did you know that Oregon is the number one producer of frozen blackberries sold in the US? That means if you buy a bag of frozen blackberries that says "Grown in the USA" it is most likely Oregon berries that were flash frozen at peak ripeness. These are delicious my friends!
Fresh blackberries during peak season in North America (late spring and through early fall, most regions peak July – August) will be rich with a lot of natural sugars. So you may not need added sugar in the recipe. Taste a berry first to see how sweet it is before making the berry jam.
Frozen blackberries are just as delicious. They are flash frozen immediately after harvest to lock in that natural sweet flavor. If using frozen blackberries you can just add them in the same portions. Just add the frozen berries directly into the saucepan (no need to thaw).
There are many amazing varieties of blackberries that you find. We encourage you to explore some of your favorites.
Preparation
Take the entire wheel of brie and remove the rind from the top of the brie with a pairing knife or other sharp knife. Discard the brie rind that was removed. Removing the top of the rind helps the cheese melt faster and a more creamy texture as the brie warms.
Making the Easy Blackberry Jam
In a small saucepan over medium heat combine blackberries, sugar, lemon juice, and lemon zest. Bring to a simmer and stir frequently to avoid scorching the berries. As the berries simmer the juice will start to develop. After 15-20 minutes use a fork to roughly mash the berries, then remove from heat.
If you like a sweet jam – you can add a little more sugar, but be sure to taste the blackberries first before adding any sugar so you don't make it overly sweet. This recipe is intended to make the berry fruit shine (not to mask it with too much sugar).
Remove from heat and place the jam in a small bowl place into the refrigerator to let cool faster and thicken up to 1 hour (or 1 day ahead of cooking the brie).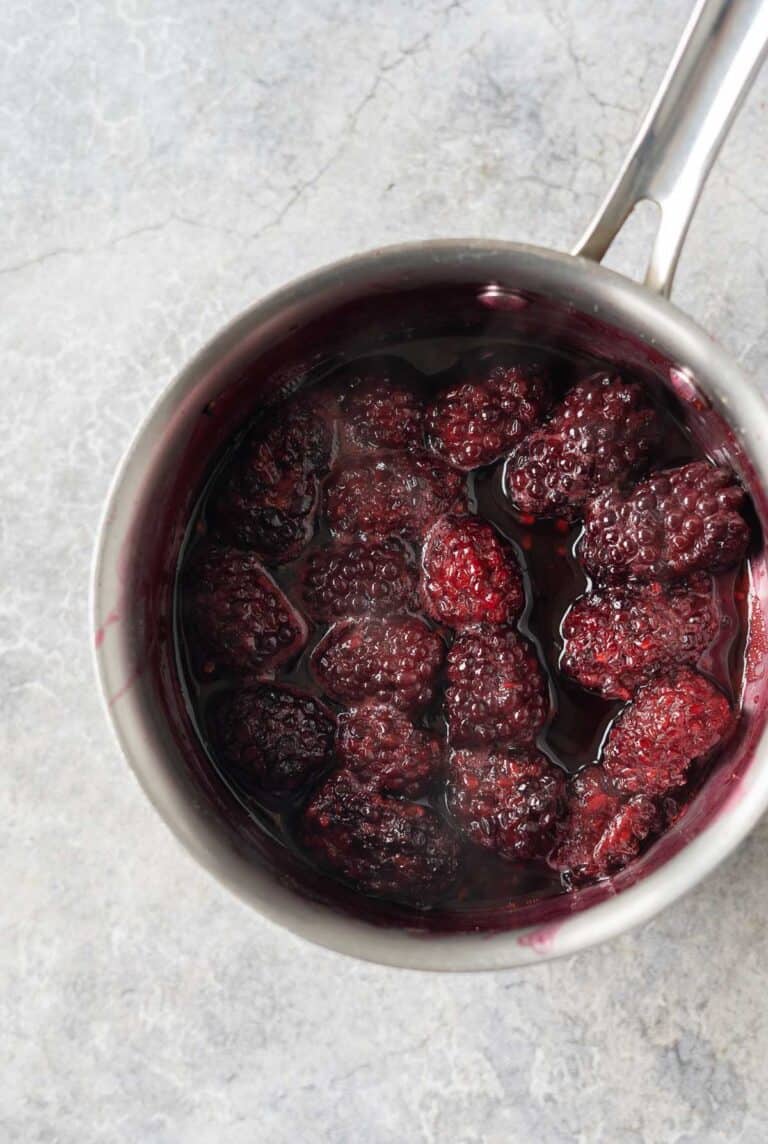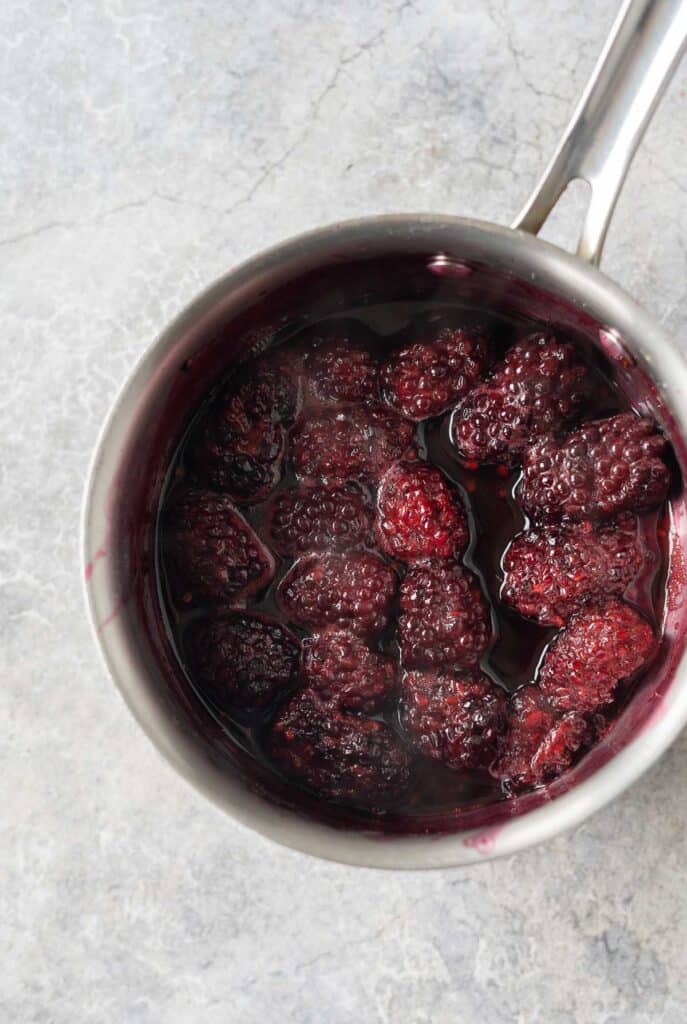 Grilling the Brie with Blackberry Jam
Prepare your grill for direct grilling, targeting 400 degrees Fahrenheit. Place the brie wheel with the rind side down on a small cast iron skillet (or other grill safe pan). Place the blackberry jam on top of the cheese. Place on grill grates over direct heat and grill for roughly 7 minutes, or until the brie just starts melting and the blackberry jam is simmering.
If using an oven, set the oven to 400 degrees F. Place the cast iron (or other oven safe circular baking dish) on top of a baking sheet (this avoids anything spilling into the oven). Then follow the same instructions. Bake in the oven for up to 12 minutes on the center rack or until the cheese is slightly melted and the berry jam is bubbling.
Serving Baked Brie with Blackberry Jam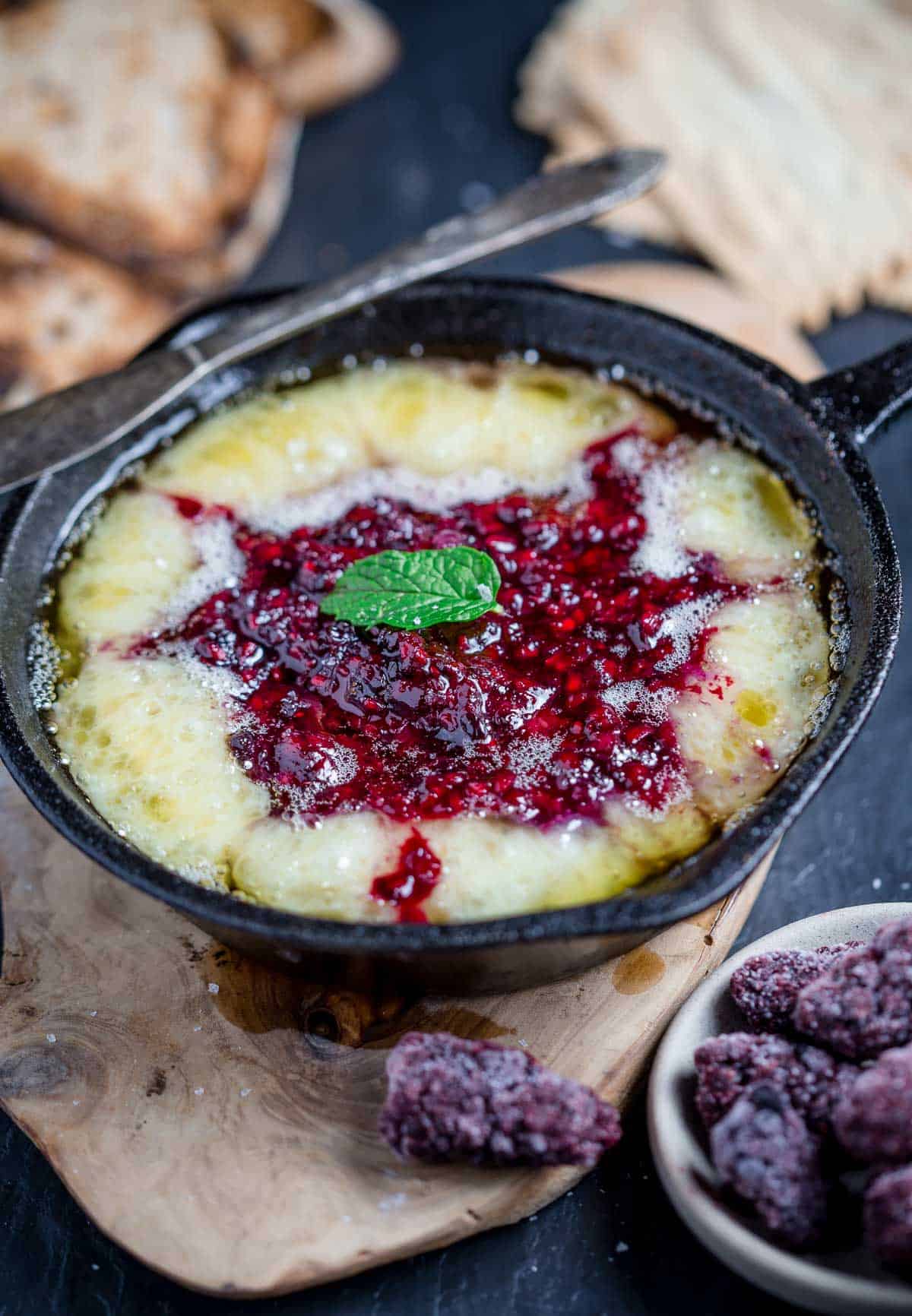 Instead of transferring to a serving platter we just remove the cast iron from the heat and place on a trivet. Serve directly from the hot pan and sprinkle with mint leaves. For optional toppings and more flavor add some Maldon finishing salt and a light drizzle of AGED balsamic vinegar. Serve with grilled bread (like baguette) or your favorite crackers as part of a charcuterie and cheese board.
Caution: If serving right from the cast iron pan be sure you use good gloves and leave the gloves or a towel on the handle so your guests don't burn themselves when it first comes off.
Bonus: Serve this with our Blackberry Aperol Spritz recipe, especially if a holiday party.
You can also watch us make this recipe on AM Northwest, our local ABC affiliate station along with our very popular Bourbon Spiked Apple Cider Cocktail.
Make Ahead Tips
You can make the jam up to three days prior to any party which is perfect when preparing for holiday parties. Just store the jam in an airtight container.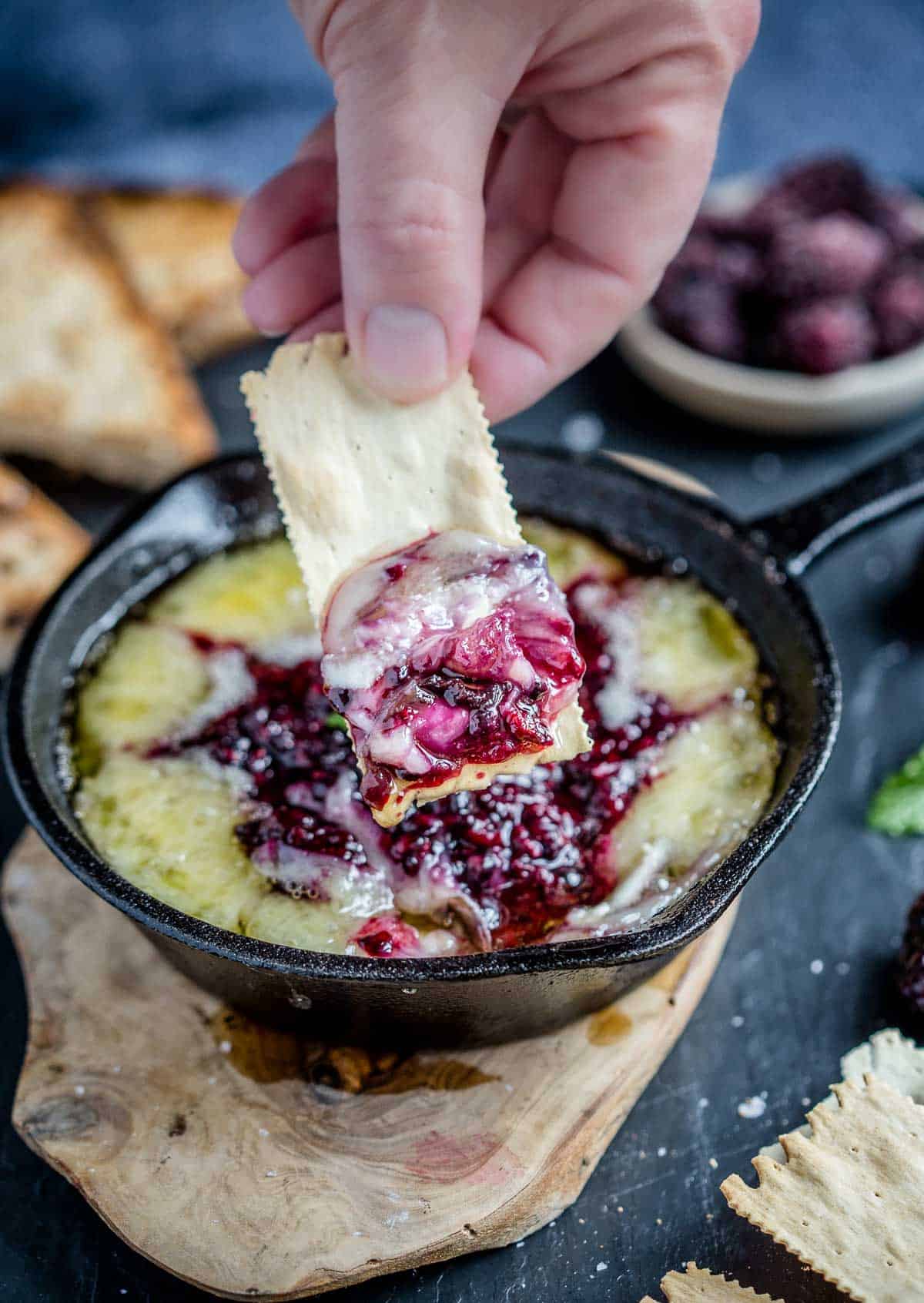 ​Other Blackberry Recipe Ideas
Here are some of our favorites. Or you can read our guide on how to cook with blackberries and our favorite recipes.
---
About Vindulge
Mary (a certified sommelier and recipe developer) and Sean (backyard pitmaster) are co-authors of the critically acclaimed cookbook, Fire + Wine, and have been creating content for the IACP nominated website Vindulge since 2009. They live in Oregon on a farm just outside Portland.
Tried this recipe? Give us a star rating and we would love to see! Mention @vindulge or use the hashtag #vindulge on all the social media handles. And consider subscribing to our newsletter where we drop all our favorite ideas and inspirations every week.
This post may contain affiliate links. This means if you click on the link, we may receive a small commission if you purchase through the link. We partner with brands we know and love and use and it helps keep the blog going!