Grilled Peach Crostini with Mascarpone and Honey is the perfect summer appetizer.
Grilling peaches is a must during the summer months! Grilled peach wedges and baguette slices are grilled up, the bread is topped with some creamy mascarpone, layered with a grilled peach wedge, and topped with honey and a drizzle of aged balsamic and fresh mint. You're gonna love this summer treat!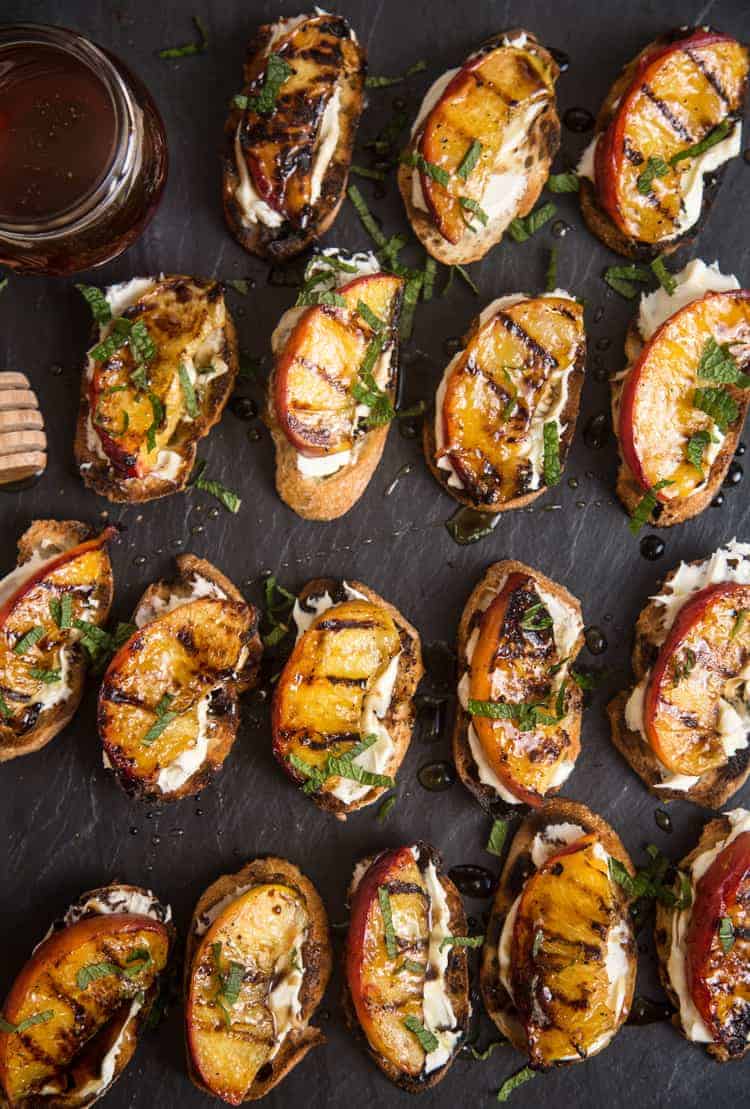 We grill alllll the fruit in the summer months, especially as they start to reach their peak freshness. Nearly all tree fruits do well grilled hot and fast, and we love to use fresh Pacific Northwest berries to smoke low and slow and incorporate into savory sauces or cocktails.
But there's just something about peaches that makes them extra tasty when grilled, and one of my favorites. They're great on their own, served over ice cream, pizzas, or like we're doing today, as a topping for a simple and delicious crostini. This is a fantastic appetizer (or meal, as I proved when making one of the test batches 😉 )
Jump to:
So let's get started!
Do peaches need to be ripe to grill?
It's much easier to slice and remove pits, when peaches are slightly under ripe. While the taste of under ripe peaches won't be as sweet as a fully ripe peach, it will grill easier. And when you grill peaches it brings out and intensifies the natural sweetness in peaches, so the flavor will be maximized when you finally bite into the grilled fruit and the result will be sweet, caramelized, and oh-so-delicious.
How to halve and pit peaches for grilling
The easiest way we find to prep peaches for this recipe, is to slice the fruit into wedges and work out the wedges in preparation for grilling. Hold the peach with one hand (or on a cutting board) and find the natural seam that runs from one end to the other, and run along that with your knife, and gently remove one wedge at a time.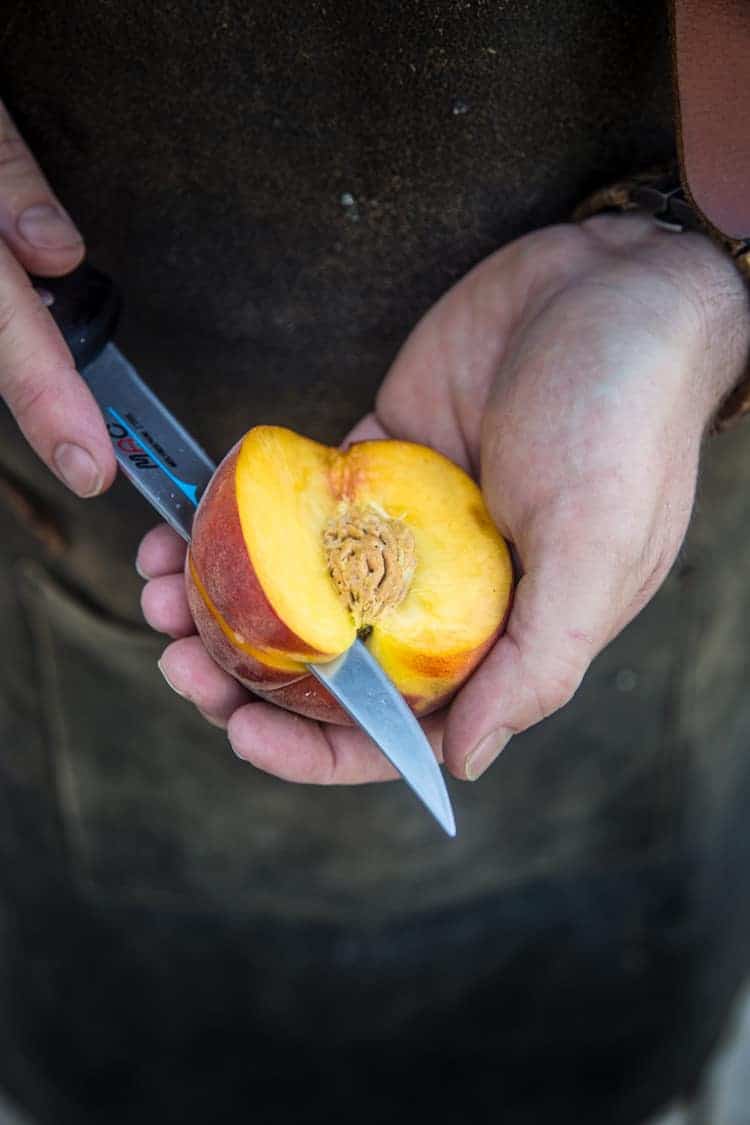 Alternatively, using both hands, slice the peach in half using that natural seam and twist the peaches until you have 2 halves. This is easier with firm peaches. Soften peaches will have to be cut into individual wedges to remove because they will otherwise crush as you try to separate the halves.
Using a spoon or pairing knife to gently loosen the pit and remove, after it has been halved, is helpful.
How to grill peaches
Once you've sliced your peaches into wedges, drizzle them with olive oil and place them on a hot grill for about 3-4 minutes per side, until you see grill marks and they look slightly caramelized.
Pro Tip: The grill needs to be blazing hot, like 500 degree sear hot. Otherwise the peaches will not sear, they will get mushy.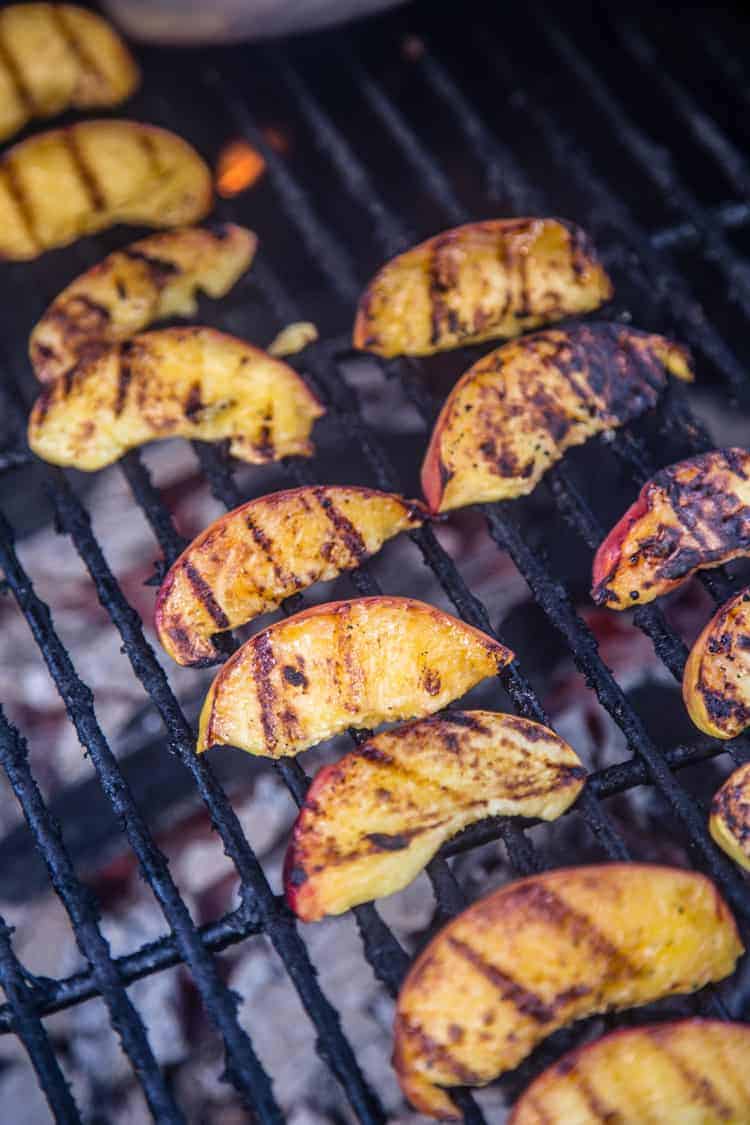 How to serve grilled peaches
Over ice cream
Drizzled with honey
A topping for grilled flatbread
With grilled pork or chicken
Accompanying a salad
On top of grilled baguette slices, like the following grilled peach crostini
Once the peaches are grilled, toast up baguette slices on the same grill. Just coat them with olive oil on one side, place them for 1-2 minutes per side over direct heat to get a nice toasted char, then remove and assemble your crostini.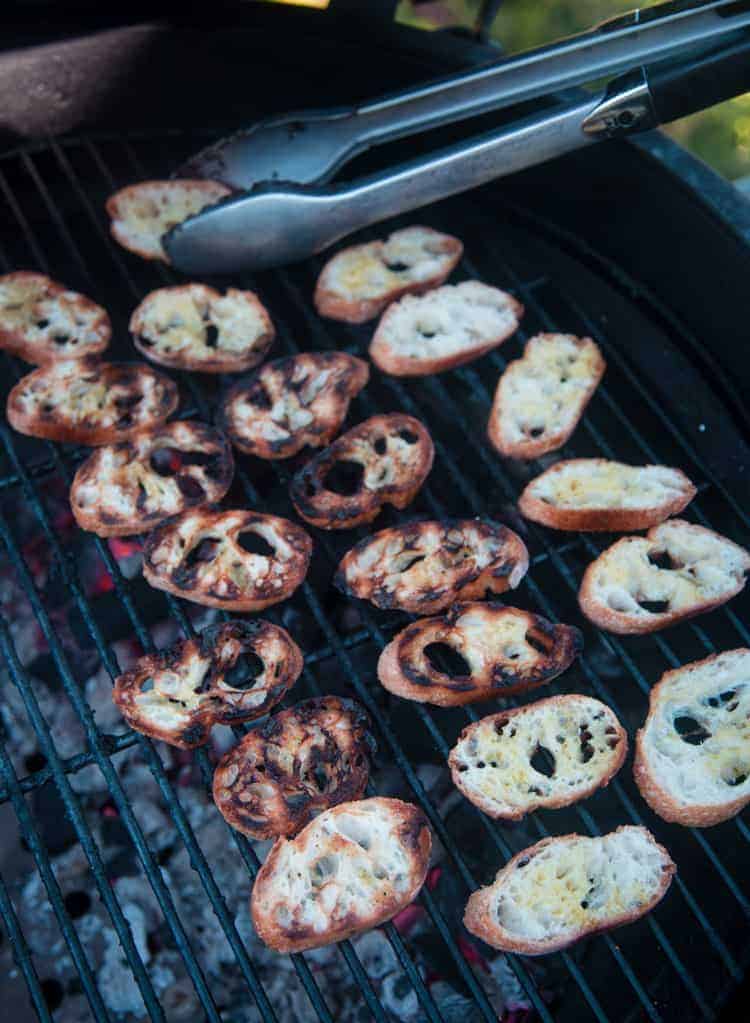 To assemble, place about a teaspoon of mascarpone cheese on each slice of baguette, layer with a slice of grilled peaches, and drizzle with honey (fresh or smoked honey), some aged balsamic vinegar, and chopped fresh mint. So perfect!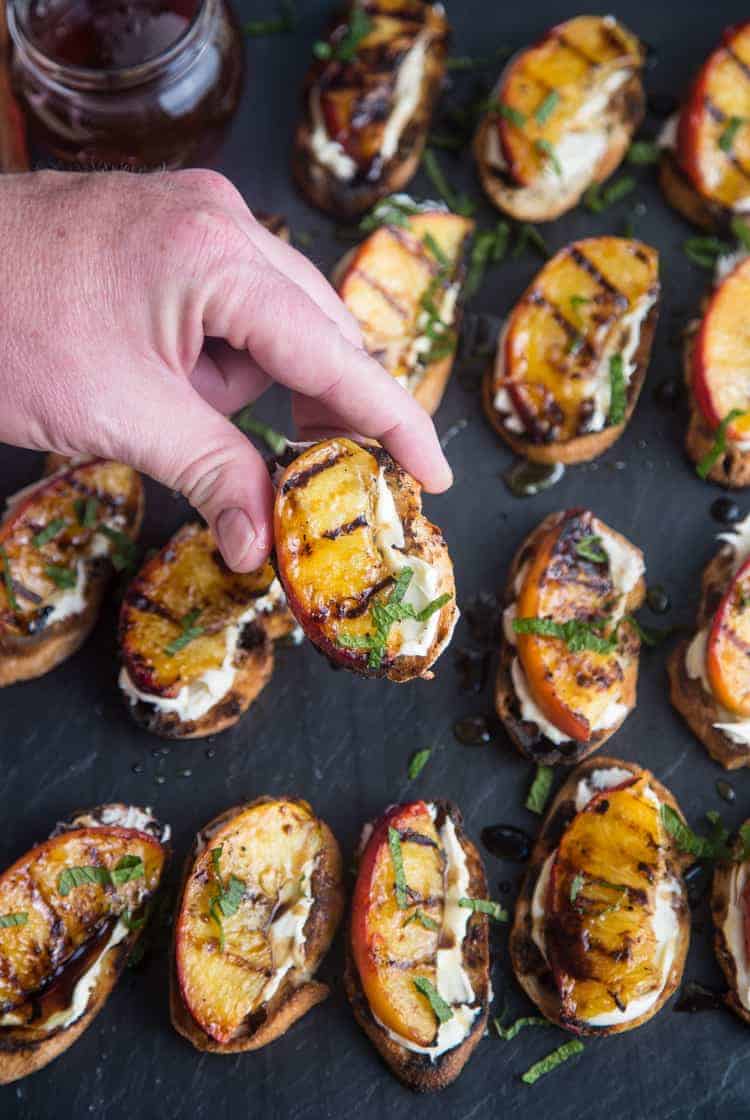 Wine Pairing for Grilled Peach Crostini
This dish isn't as sweet as it looks. It has the savory toasted baguette and creamy mascarpone to balance out some of the sweetness. I also recommend serving as an appetizer. Bubbly Moscato d'Asti works great with this, as does a fruity Prosecco. The bubbles are a great match for the creamy cheese, and you'll find some bright peach characteristics to the wines. Alternatively, Riesling and Pinot Gris (Grigio) work well too.
Want more grilled fruit recipes?
If you like this recipe we'd truly appreciate it if you would give this recipe a star review! And if you share any of your pics on Instagram use the hashtag #vindulge. We LOVE to see it when you cook our recipes.