A Pacific Northwest twist on a classic Aperol Spritz.
Aperol Spritz gets a new personality by adding some homemade blackberry simple syrup.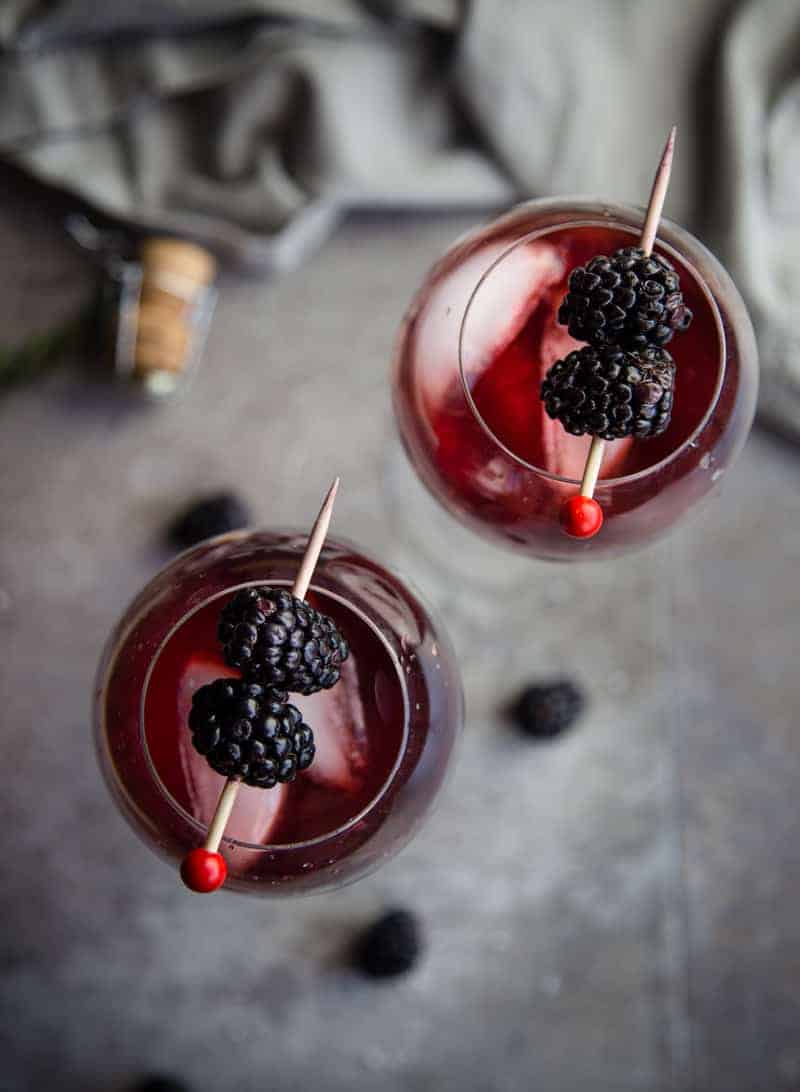 Anybody who has been to the Veneto region of Northeast Italy will testify to the fact that the Aperol Spritz is *the* cocktail of the region. Shoot, many will say it's *the* cocktail of the entire country!
Hundreds of thousands of these refreshing drinks are sucked down daily, and for good reason.

MY LATEST VIDEOS
So I thought, with the introduction to my trip to the region last December, it was fitting to begin with a cocktail… though one with a Pacific Northwest twist.
You see, the property we now live on in wine country is surrounded by blackberry bushes. Like crazy surrounded! I simply couldn't keep up with the mass amount of blackberries on our farm last summer, nor did we have the room in our freezer. We've remedied the and now have a gigantic freezer in our garage all prepped for next summer. I'm ready for you, blackberries! I'm also ready for summer. Please come quickly!
That being said we still have plenty of last season's blackberries in our freezer, used mostly for smoothies. But I can't help but make some simple syrup with them from time to time. Because, you know, cocktails.
As I write about my trip to Italy we've been sipping on classic Aperol Spritzes.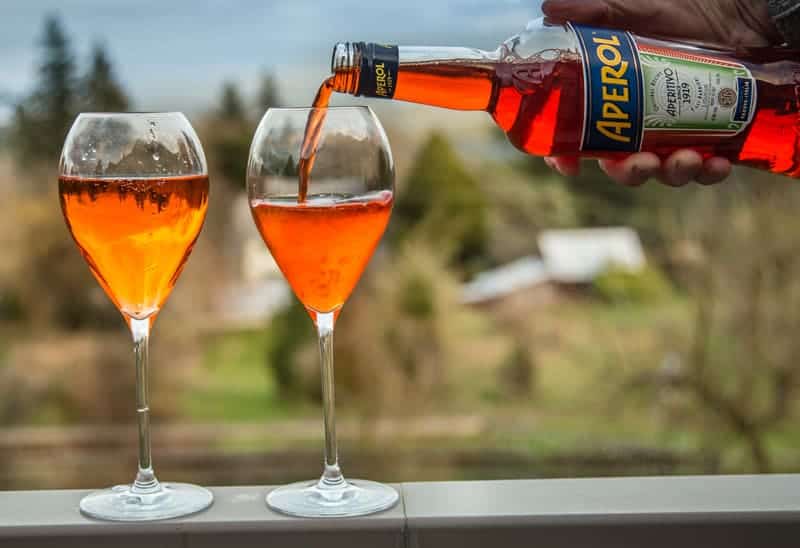 The classic is usually made with three parts Prosecco, 2 parts Aperol, a splash of club soda, served on the rocks often in a rocks glass or standard white wine glass. I'm obsessed with my bubbly flutes (pictured above) so we used them, and added ice cubes after pouring. Side note, these are pretty darn remarkable to sip on while waiting for your smoked and grilled meats to finish cooking. #themoreyouknow
In playing around with a few variations I couldn't help but try it with some of our blackberry simple syrup. The results were not only gorgeous, but delicious and equally refreshing as the original! The syrup balances out some of the bitterness from the Aperol.
I'd be remiss to say that this would be quite the cocktail for Valentine's Day this weekend. I mean, that color! So fun.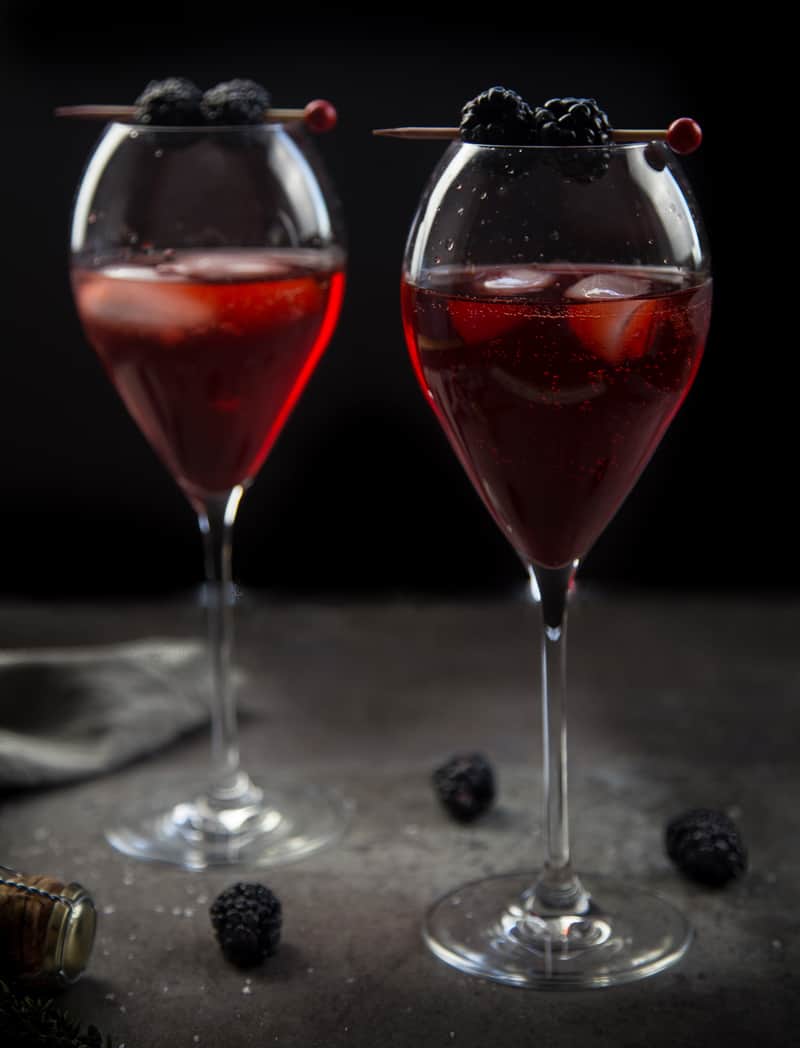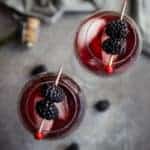 Blackberry Aperol Spritz
A twist on a classic Aperol Spritz inspired by the Pacific Northwest. Blackberry Aperol Spritz Cocktail, made with blackberry simple syrup.
Ingredients
For the Blackberry Simple Syrup
1

cup

water

1

cup

sugar

1

cup

blackberries
For the Blackberry Aperol Spritz
3

parts

Prosecco

2

parts

Aperol

1

part

blackberry simple syrup

1

part

club soda

Ice cubes, for serving
Instructions
For the Blackberry Simple Syrup
In a small saucepan, bring the water, sugar, and blackberries to a boil. Reduce heat and simmer 15-20 minutes until the berries burst and the mixture thickens slightly, and you reach your desired consistency.

Strain the contents into a glass jar through a very fine mesh strainer while gently pressing the fruit to extract as much of that delicious juice as possible. Discard the solids.
For the Blackberry Aperol Spritz
In a rocks glass or wine glass add the Prosecco, followed by the Aperol, blackberry simple syrup, club soda, and finish by adding a few ice cubes. Garnish with fresh blackberries.
Recipe Notes
Your "parts" can easily be measured in ounces, or eyeball based on size of your glass.
The Video:
Coming Soon: A Preview of Conegliano Valdobbiadene, the heart of the Prosecco region.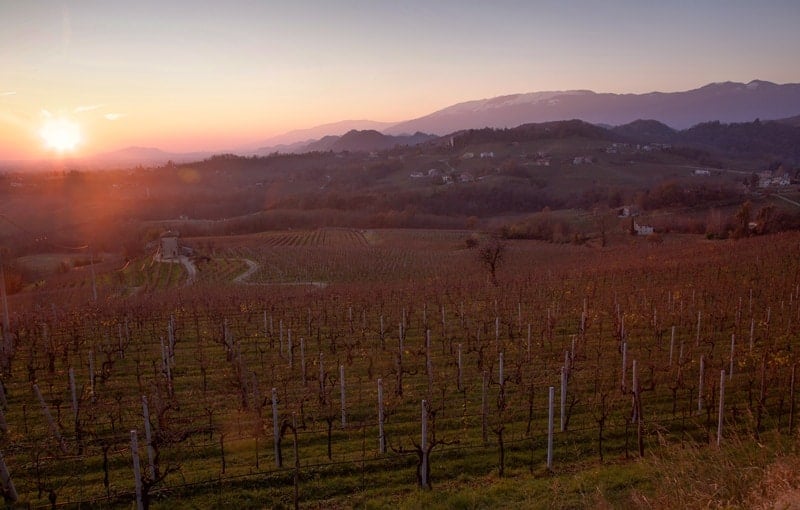 In the next couple weeks I'll be sharing stories and photos of my trip to Conegliano Valdobbiadene, located just north of Venice, in the heart of the Prosecco Superiore DOCG wine region. Stay tuned!
---
For more tasty recipes, BBQ tips and tricks, check out the Recipe Index.
Want more? If you liked what you read you can subscribe to Vindulge and have new posts delivered directly to your inbox.
0