Rhubarb Simple Syrup is a fruity flavored liquid sweetener you can add to your favorite summertime drink or cocktail to add a punch of tartness and a beautiful pink hue. You can also use this simple syrup in sweet tea, on top of ice cream, pancakes, or in an afternoon aperitif.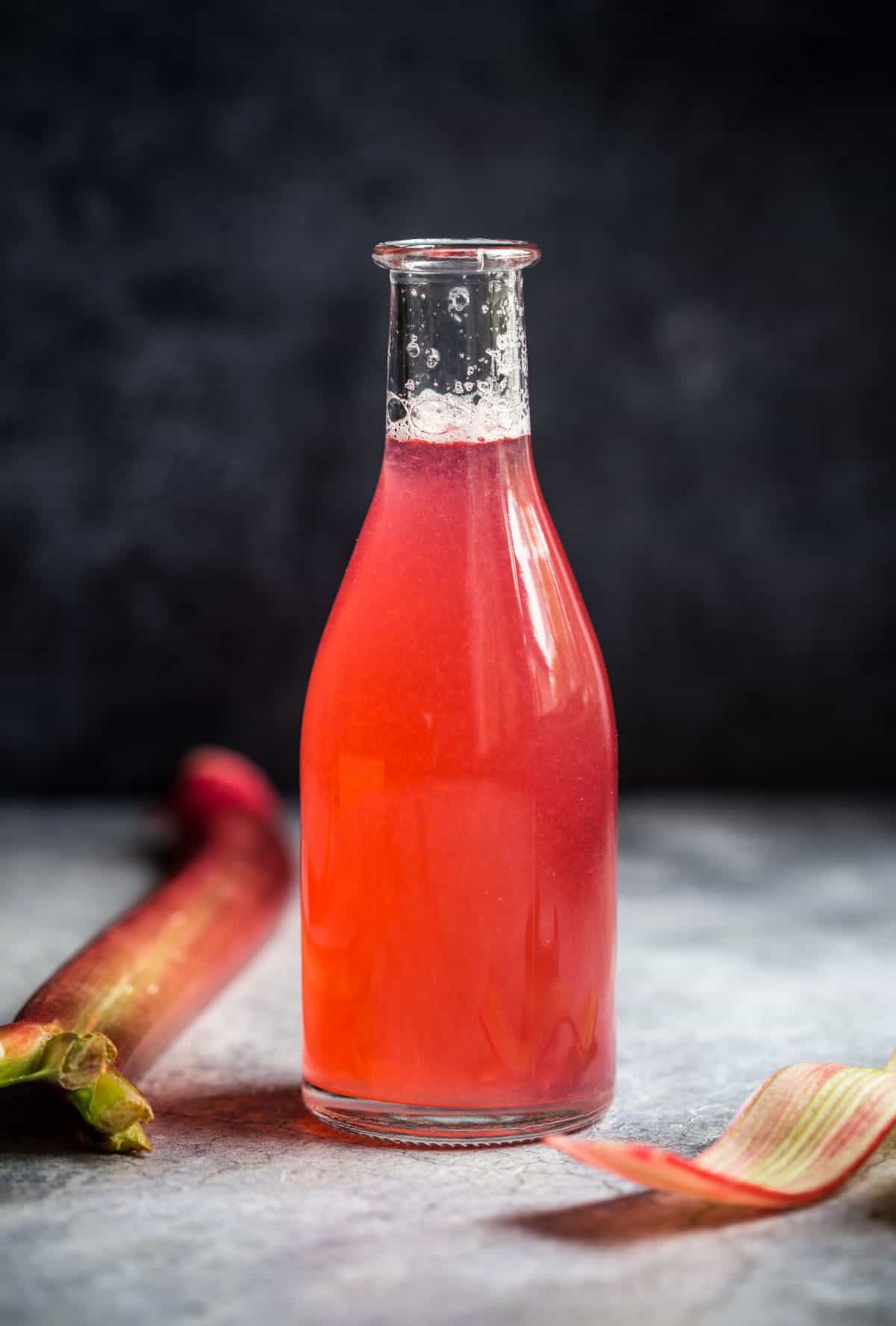 Use this syrup to make our Lemon Rhubarb Fizz cocktail.
Jump to:
Rhubarb Simple Syrup Inspiration
A few summers ago my neighbor gave me a bucket full of rhubarb. A full on bucket full! I had no idea what to do with all it. After making Rhubarb Coffee Cake, followed by a rhubarb crisp, then rhubarb muffins, I still had some leftover…. so I made some rhubarb simple syrup and used it in several cocktail concoctions.
What are Simple Syrups?
Simple syrups are a mixture of sugar dissolved in water, used to give sweetness to a drink. Sugar does not dissolve well when you add it to alcohol (or other liquids for that matter). So by heating up a combination of water and sugar, the sugar gets dissolved in the water. The result is a clean liquid that will sweeten your drink without any sugar residue settling to the bottom of your glass. I've been jazzing up plain simple syrups with whatever berry or fruit I have in excess.
Note: Most simple syrup recipes use equal parts water to sugar. I don't like that combination, as I'm not a fan of overly sweet drinks. So most of my simple syrup recipes are 2 parts water to 1 part sugar, as to make a syrup that isn't too sweet. If you like a sweeter drink, then use equal parts water to sugar.
Rhubarb Simple Syrup Ingredients
Rhubarb – Rhubarb is a tart and crunchy edible plant. The woody stalk is similar in shape and texture to celery, and is the part you should eat. The leaves of the plant are poisonous and should not be consumed.
Water – Water allows the sugar to dissolve. The resulting syrup liquid is easier to mix into a cold drink. If you just added sugar you would wind up with a gritty texture – yuck!
Sugar – Sugar adds sweetness to the simple syrup. Other sweeteners can be substituted but may result in a slightly different flavor.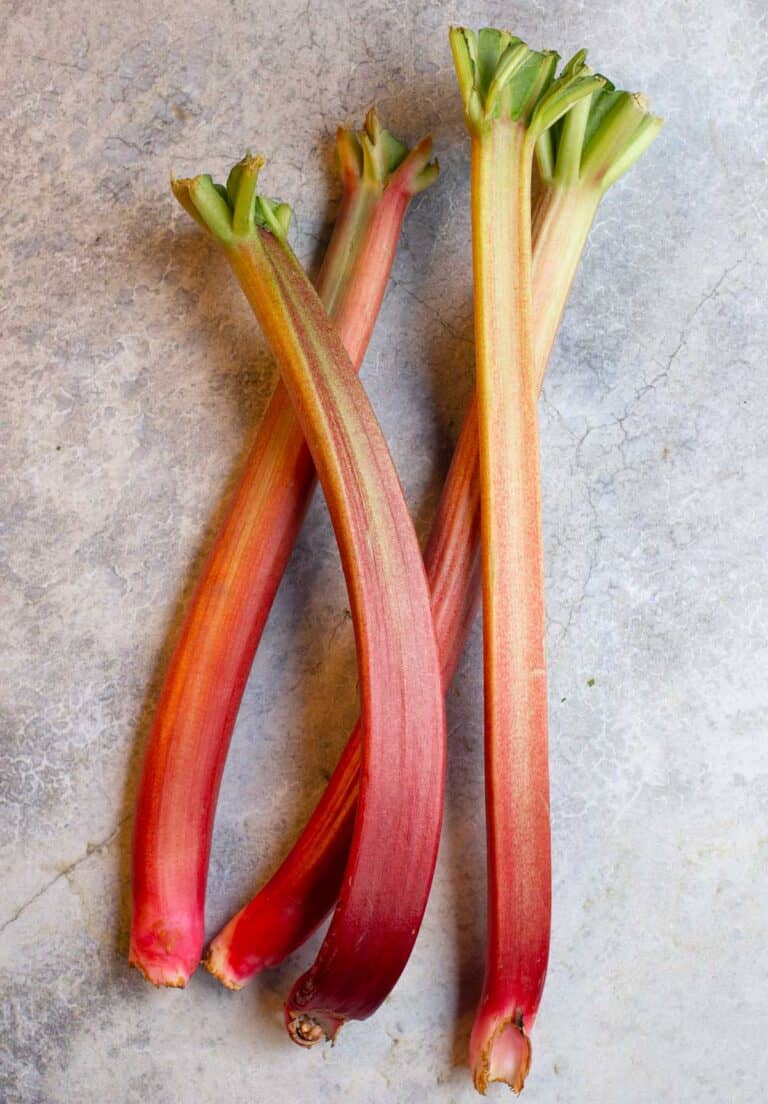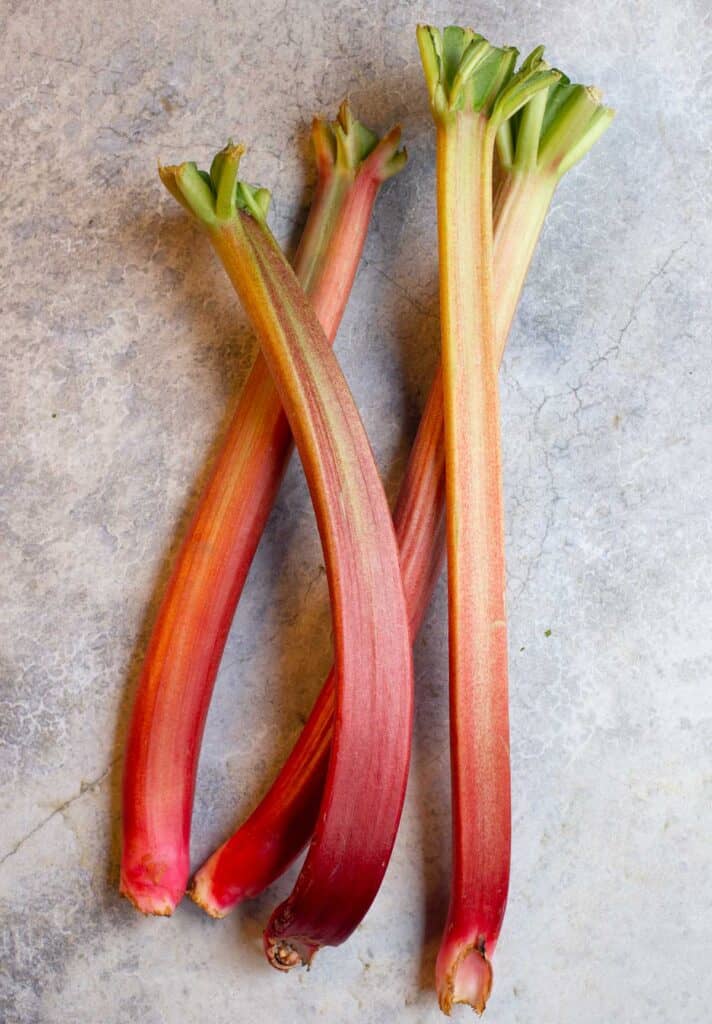 How to Make a Simple Syrup
Combine the chopped rhubarb, water, and sugar in a saucepan and bring it to a boil, then let it simmer for 10 minutes, or until the rhubarb has softened. Allow it to cool and then strain it through a fine mesh sieve to remove any fruit skins or seeds. You can store rhubarb simple syrup in the fridge for several weeks.
How to Use It
Your imagination is the only limit to what you can do with your liquid sweetener. You can add your rhubarb syrup to a number of drinks and desserts.
Cocktails – Simply stir in to add a fruity twist
Cold Drinks – Add to flavor your iced tea or lemonade
Club Soda – Add a smash to your favorite club soda or flavored sparkling water
Sparkling Wine – How about a Rhubarb mimosa? Add one part rhubarb syrup to 3 parts sparkling wine for a great twist on a classic
Oatmeal or Yogurt – Sweeten your breakfast
Sorbet – Mix it in to sweeten your base
Ice cream – Drizzle over the top to make a sundae
Related Recipes
This post may contain affiliate links. This means if you click on the link, we may receive a small commission if you purchase through the link. We partner with brands we know and love and use and it helps keep the blog going!
---
If you like this recipe we'd truly appreciate it if you would give this recipe a star review! And if you share any of your pics on Instagram use the hashtag #vindulge. We LOVE to see it when you cook our recipes.
---