This Blueberry Simple Syrup recipe is a lightly sweetened syrup you can add to your favorite summertime drink or cocktail to add some extra flavor. You can use this simple syrup in iced tea, on top of pancakes or ice cream, or in an afternoon aperitif.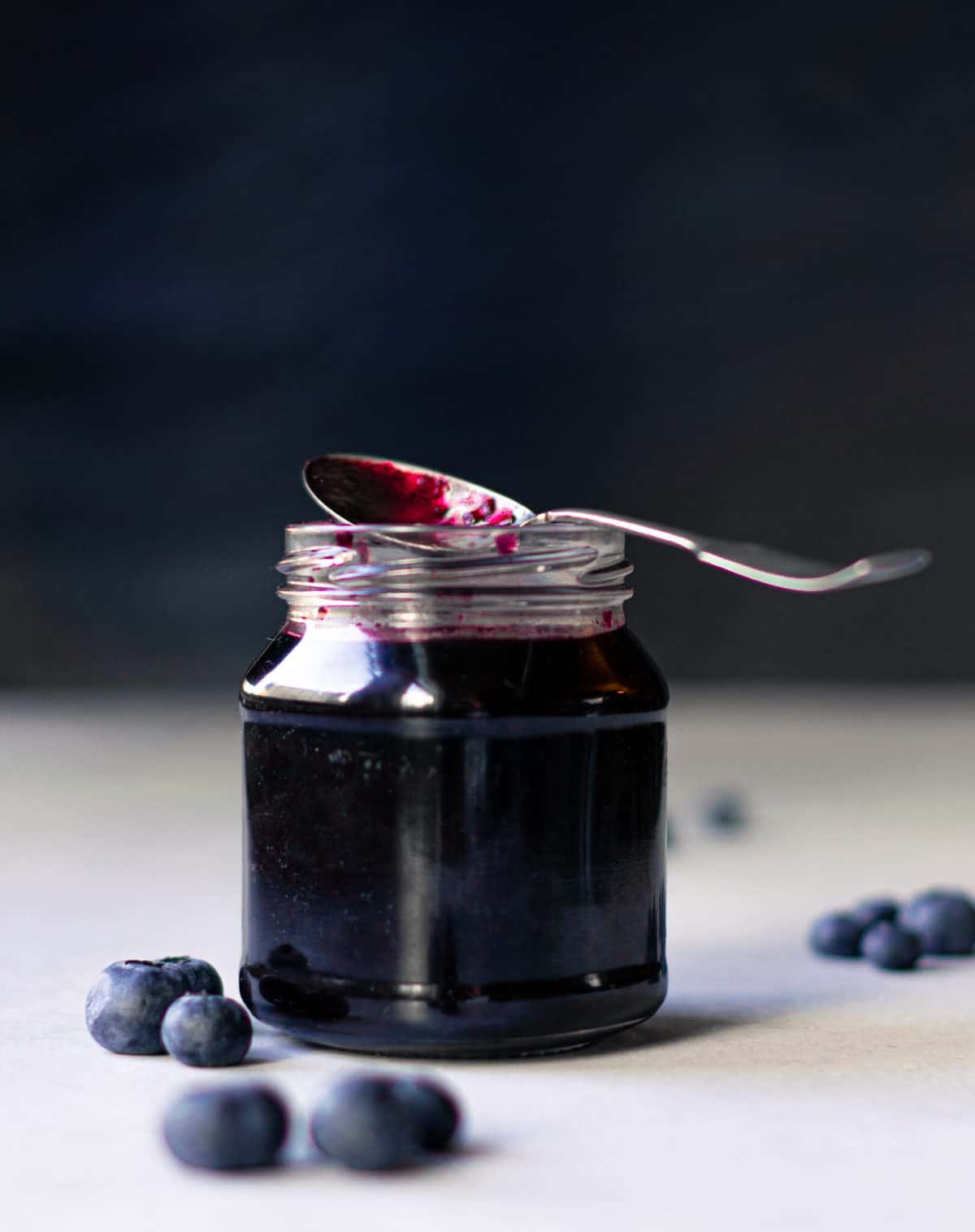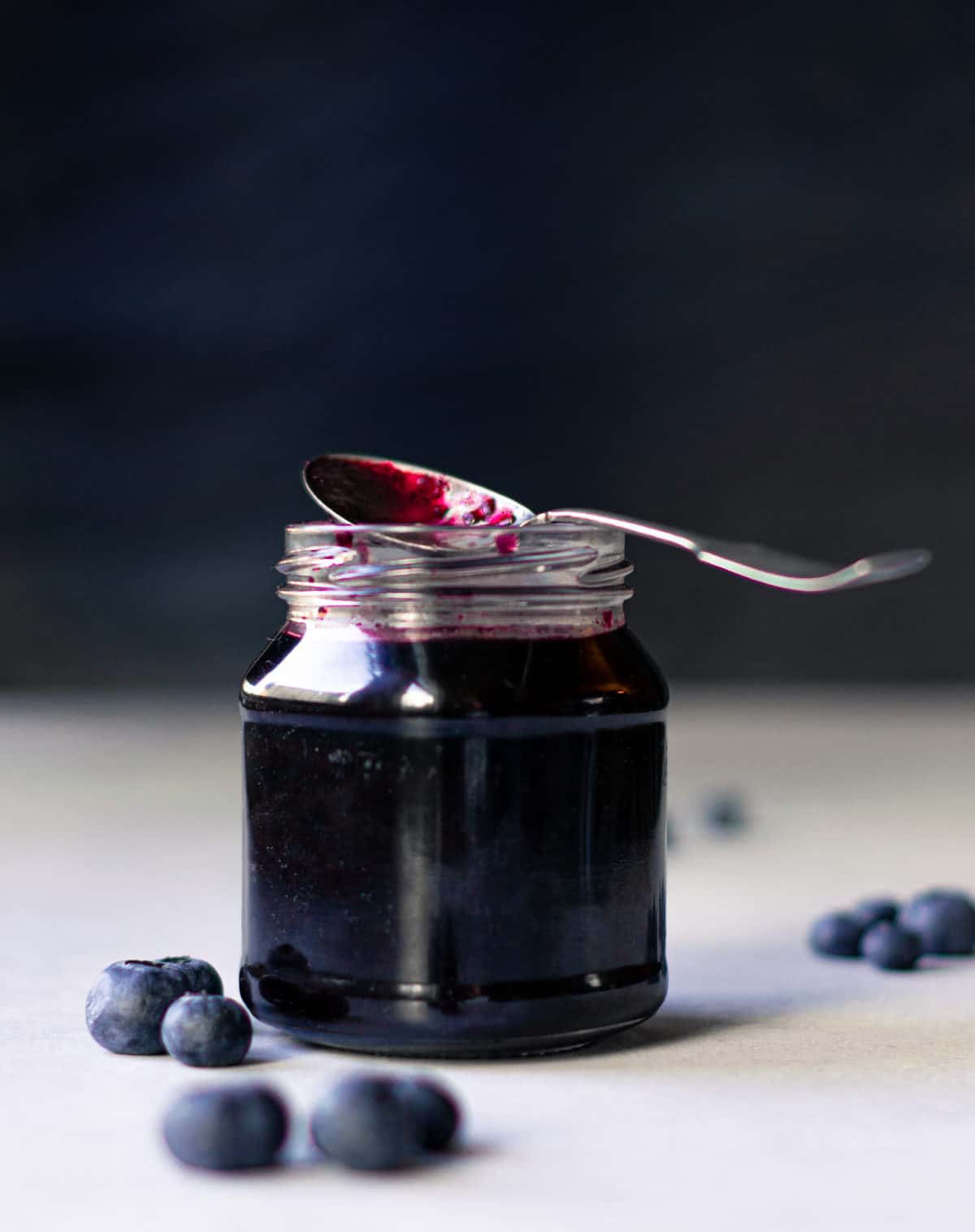 Use this syrup to make our Blueberry Lemonade Cocktail.
Jump to:
Blueberry Simple Syrup Inspiration
We live in the heart of America's blueberry country and have about 25 blueberry bushes on our property. As they mature between June and August we have had to create some unique recipes to use them all. And this recipe was one of our favorites.
What are simple syrups?
Simple syrups are a mixture of sugar dissolved in water, used to give sweetness to a drink. Sugar does not dissolve well alone when you add it to alcohol (or other liquids for that matter). So by heating up a combination of water and sugar, the sugar gets dissolved in the water. The result is a clean liquid that will sweeten your drink without any gritty sugar residue settling to the bottom of your glass. I've been jazzing up plain simple syrups with whatever berry or fruit I have in excess.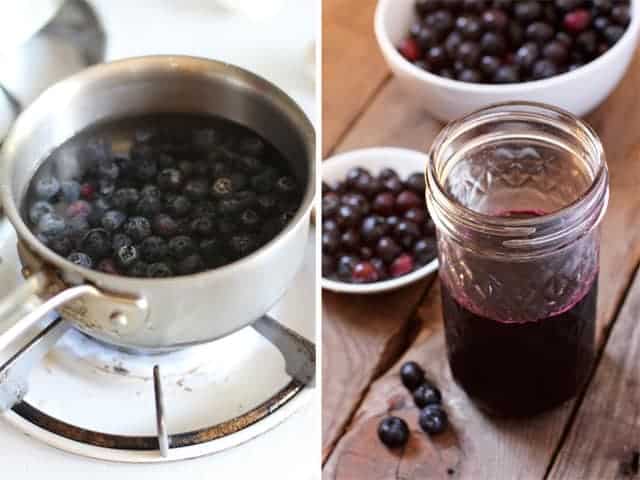 Most recipes will call for equal parts water and sugar, and there's probably a reason for that. But since I was adding fruit to my simple syrups I didn't want the result to be overly sweet. They still come out the perfect consistency, just not super sweet. If you prefer your drinks on the sweeter side, then go ahead and add equal parts sugar, water, and fruit. It's about your preferences.
And since simple syrups are so ridiculously simple to make (really, you can't screw it up), this is really the simplest way to add some great flavor to an already simple syrup.
Blueberry Simple Syrup Ingredients
Sugar – Sugar adds sweetness to the simple syrup. Other sweeteners can be substituted but may result in a slightly different flavor.
Water – Water allows the sugar to dissolve. The resulting syrup liquid is easier to mix into a cold drink. If you just added sugar you would wind up with a gritty texture – yuck!
Berries – You can use any type of berry to make a flavored simple syrup, but we're using blueberries in this recipe. Fresh and frozen berries will both work. You may need to adjust the amount of sugar added depending on how sweet or sour your berries are.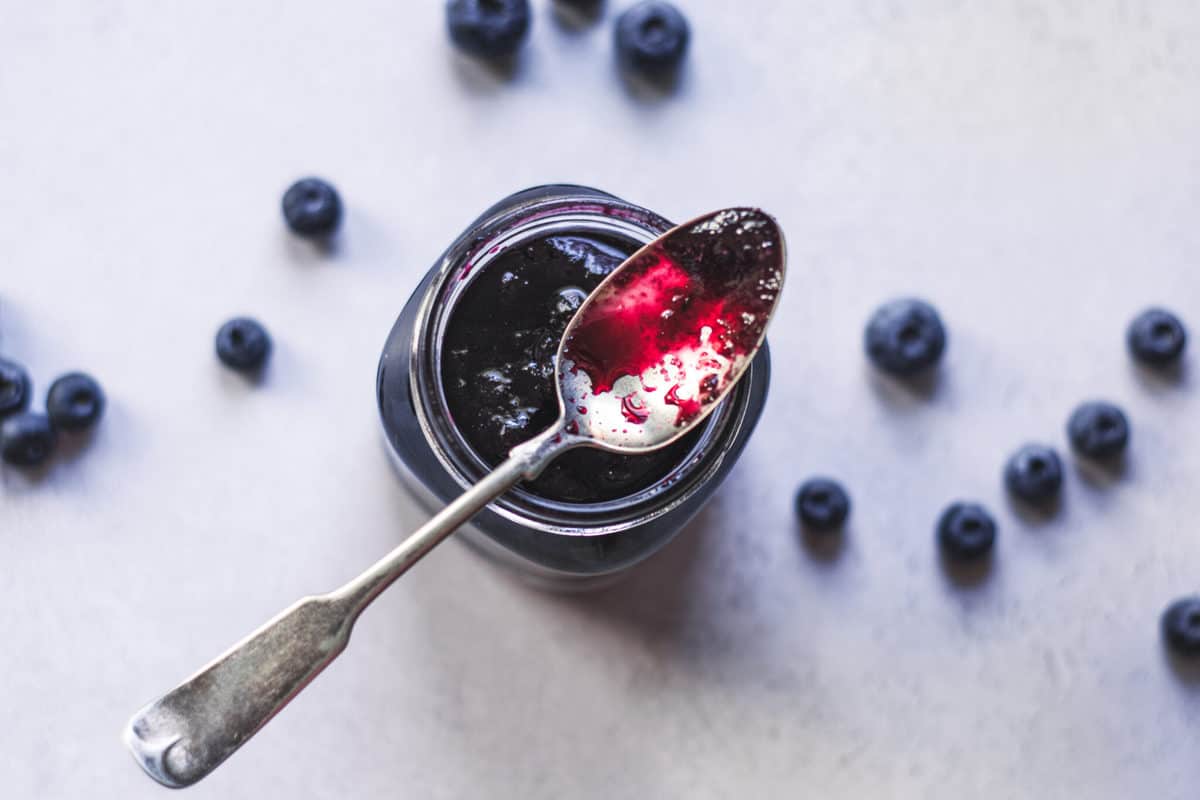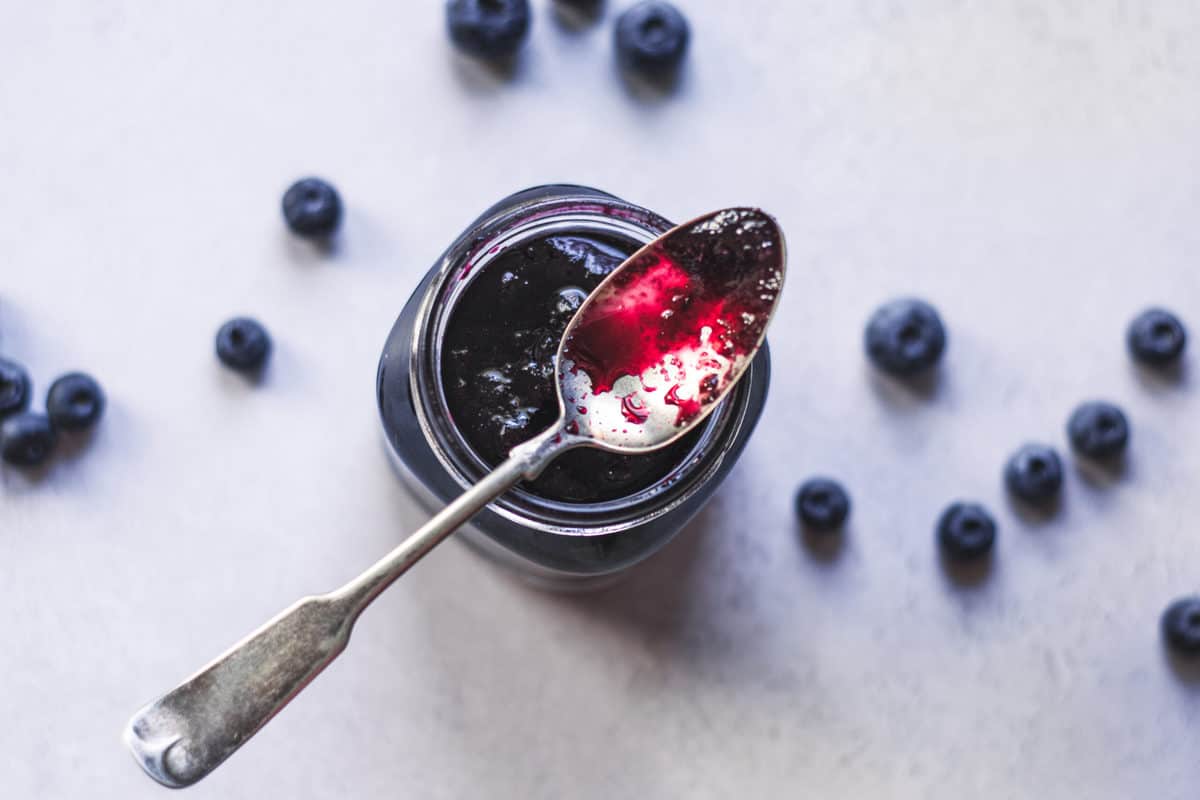 How to Make a Simple Syrup
Making a blueberry flavored simple syrup really is simple! All you do is combine the three ingredients in a saucepan and let it simmer until thickened. Once it is cool, you can strain it through a fine mesh sieve to remove any fruit skins or seeds. You can store blueberry simple syrup in the fridge for several weeks.
Variations
Your imagination is the only limit to what you can do with your liquid sweetener. You can add your fresh berry syrup to a number of drinks and desserts.
Cocktails – Simply stir in to add a fruity twist
Cold Drinks – Add to flavor your iced tea or lemonade
Sorbet – Mix it in to sweeten your base
Ice cream – Drizzle over the top to make a sundae
Pancakes – Use in place of maple syrup
Fruit salad – Add sweetness to fresh fruit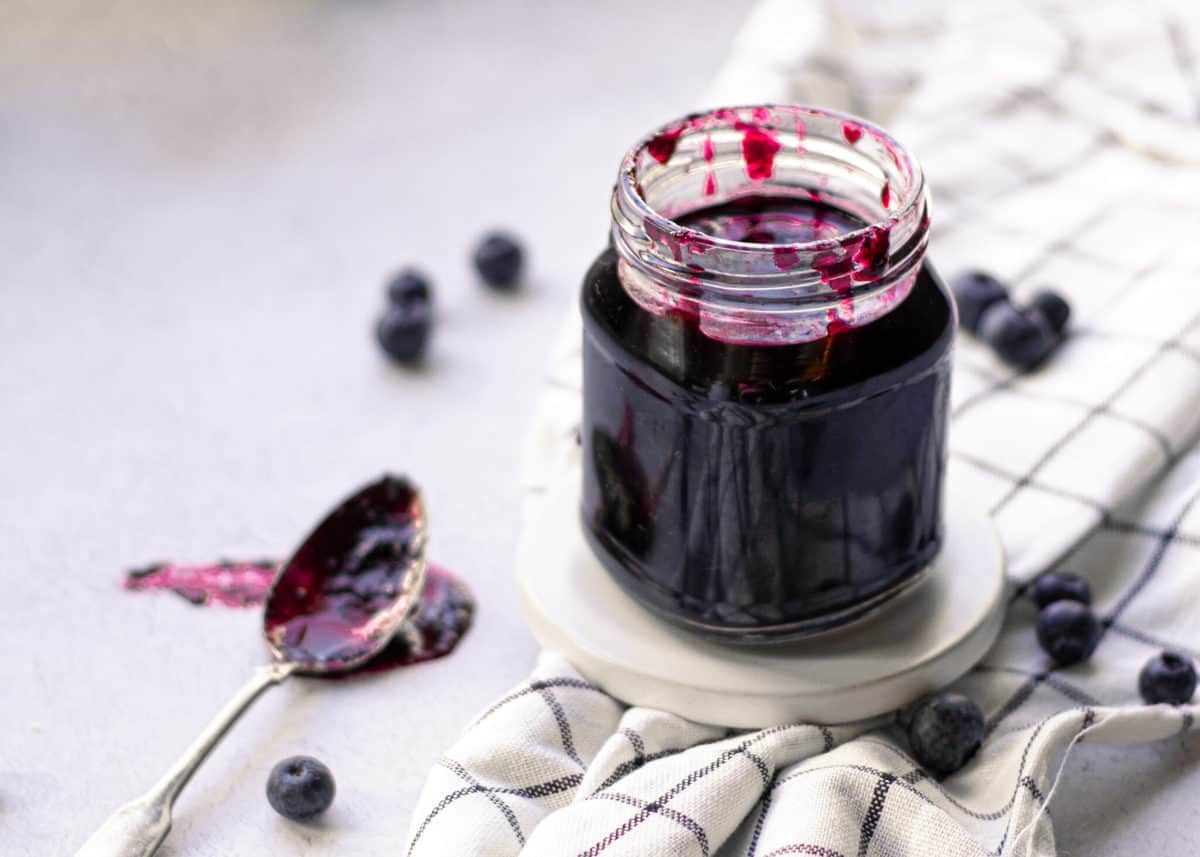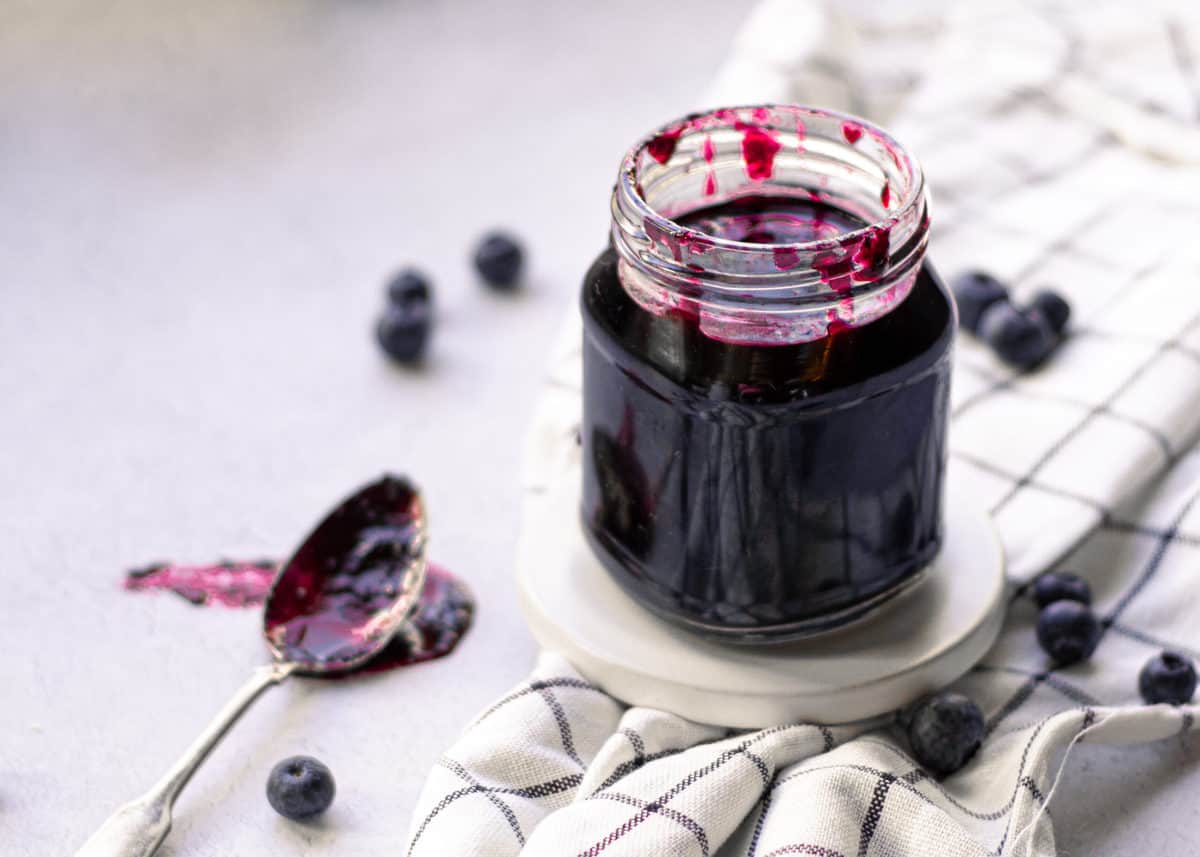 Related Recipes
This post may contain affiliate links. This means if you click on the link, we may receive a small commission if you purchase through the link. We partner with brands we know and love and use and it helps keep the blog going!
---
If you like this recipe we'd truly appreciate it if you would give this recipe a star review! And if you share any of your pics on Instagram use the hashtag #vindulge. We LOVE to see it when you cook our recipes.
---