Crispy Smashed Potatoes are a delicious street food with amazing flavor and texture. Crispy on the outside and soft and chewy on the inside. These are topped with an incredibly flavorful creamy tarragon herb sauce inspired by green goddess sauce. Vegetarian and gluten-free.
Smash Potatoes are the best of everything a potato can be. They have a crispy exterior reminiscent of French fries, and a soft interior like mashed potatoes. Bringing the two textures together makes this a new favorite side dish. Top with an herbal and savory tarragon cream sauce that will have all your friends begging for this crispy smashed potatoes recipe.
Jump to:
What's the Difference Between Smashed and Mashed Potatoes?
Mashed potatoes are typically potatoes that have had skins removed and boiled until soft enough to mash into a creamy and smooth texture. Smashed potatoes are skin-on potatoes that have been par-boiled, just enough so they are fork tender and soft, then drained, and gently crushed so they can then be fried in a grill pan or oven for a crispy exterior and soft interior. The two textures together are like a dance in your mouth!
Ingredients
Start with the right potatoes. While any potato can technically be "smashed" the best potatoes we have found are small yellow or red potatoes. The reason is the consistent size and ability to parboil evenly for texture. Fingerlings are another option, however they often come in a lot of size variations, which can cause issues with some being overcooked and some being undercooked. Using the same size is key for consistency.
In addition to the potatoes, a good olive oil is important because the texture of the smashed potatoes will rely on the oil to crisp up in the final cooking stage.
Crispy Smashed Potatoes Recipe
For our crispy smashed potatoes recipe lay out all the ingredients before you start to make it in the most efficient way.
Par-boil potatoes
Turn on grill, get the grill griddle hot
Make the tarragon cream sauce while potatoes par-boil
Smash the potatoes
Crisp up the potatoes
Sauce
This creamy sauce is inspired by a classic green goddess sauce, which has lots of fresh herbs, a touch of anchovies, and a mayo base. The flavor of the anchovy is very subtle and made easier for you by using anchovy paste (which can keep well in the fridge for several weeks, and also used for our caesar dressing).
I'm not a huge fan of mayo, so I use a minimal amount of mayo and add some sour cream and whole fat Greek yogurt to balance out the creamy texture. It may seem like a strange blend, but I love the balance of all three together. You can use all sour cream or all Greek yogurt, or even all mayo if that's your thing. But I recommend this combination.
Simply mix all of the dry ingredients and the lemon juice in a small food processor and then whisk in the mayo, sour cream, and/or Greek yogurt, until you have a creamy texture. Serve the sauce as a dipping sauce or drizzle over the final dish. This is also an excellent dipping sauce for raw vegetables.
Grill Set Up
To get the crispy texture, we are using our MAK Two-Star General set to 400 degrees Fahrenheit. One Flamezone plate has been removed and the griddle attachment is placed over the direct heat.
For other grill setups, use a plancha or griddle over the direct heat source targeting 400 degrees F in the grill chamber. Or you can use your stovetop griddle over medium heat.
How To Make Crispy Smashed Potatoes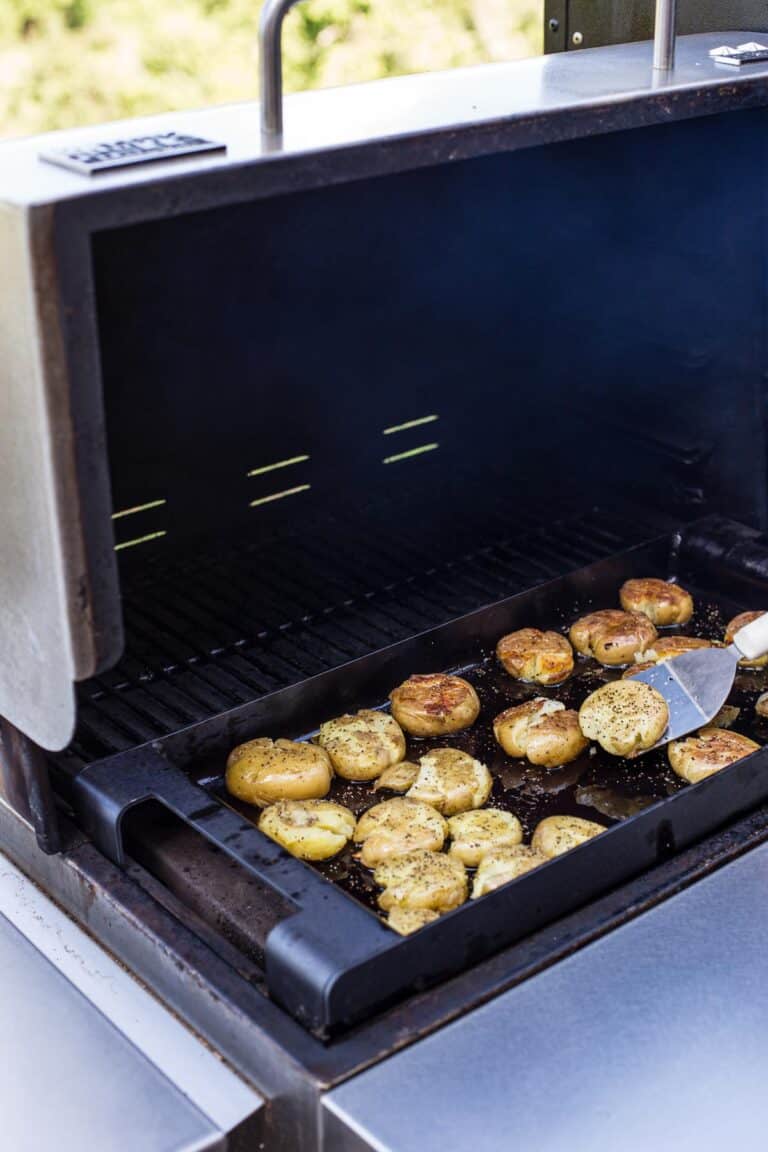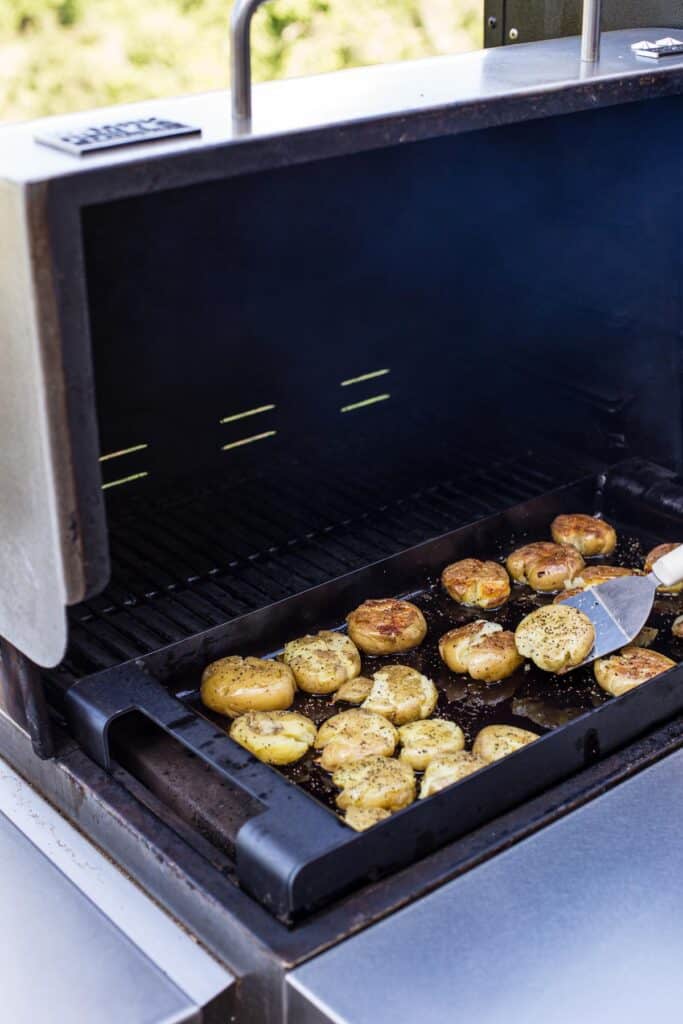 Par-Boil Potatoes: Start by par-boiling the potatoes whole in salted water for 20 – 25 minutes. This will vary depending on your stovetop and the potato size. You boil long enough so you can insert a fork into the potato with little resistance, but not so easy it falls apart.
Prepare Grill: While the potatoes are boiling get your grill or (in this case) griddle hot.
Strain and Smash Potatoes: When the potatoes reach the right texture, strain them. Place on a baking sheet lined with parchment paper or foil. Use a clear glass to gently smash the potato until they begin to break apart (or flatten slightly). The clear glass lets you see, so you don't over smash. The goal is not to mash them, just press them down enough so they lightly crack.
Season Potatoes: Brush the smashed potatoes with extra virgin olive oil, and lightly season with kosher salt and coarse black pepper.
Grill Potatoes: Place the seasoned potatoes on the well-oiled grill or griddle for five minutes per side. Remove when they are crispy. Sprinkle grated Parmesan cheese and drizzle with the tarragon cream sauce and serve warm.
Tip: The key to crispy skin is having a nice coating of oil in the grill pan or griddle. This fat element will help achieve a golden and crispy exterior while keeping the interior soft. We use our griddle attachment on our grill, but you could also use a grill pan or cast iron with a good coating of oil. Alternatively you can grill them directly on your grill if your grates aren't too wide (just make sure the potatoes are well oiled).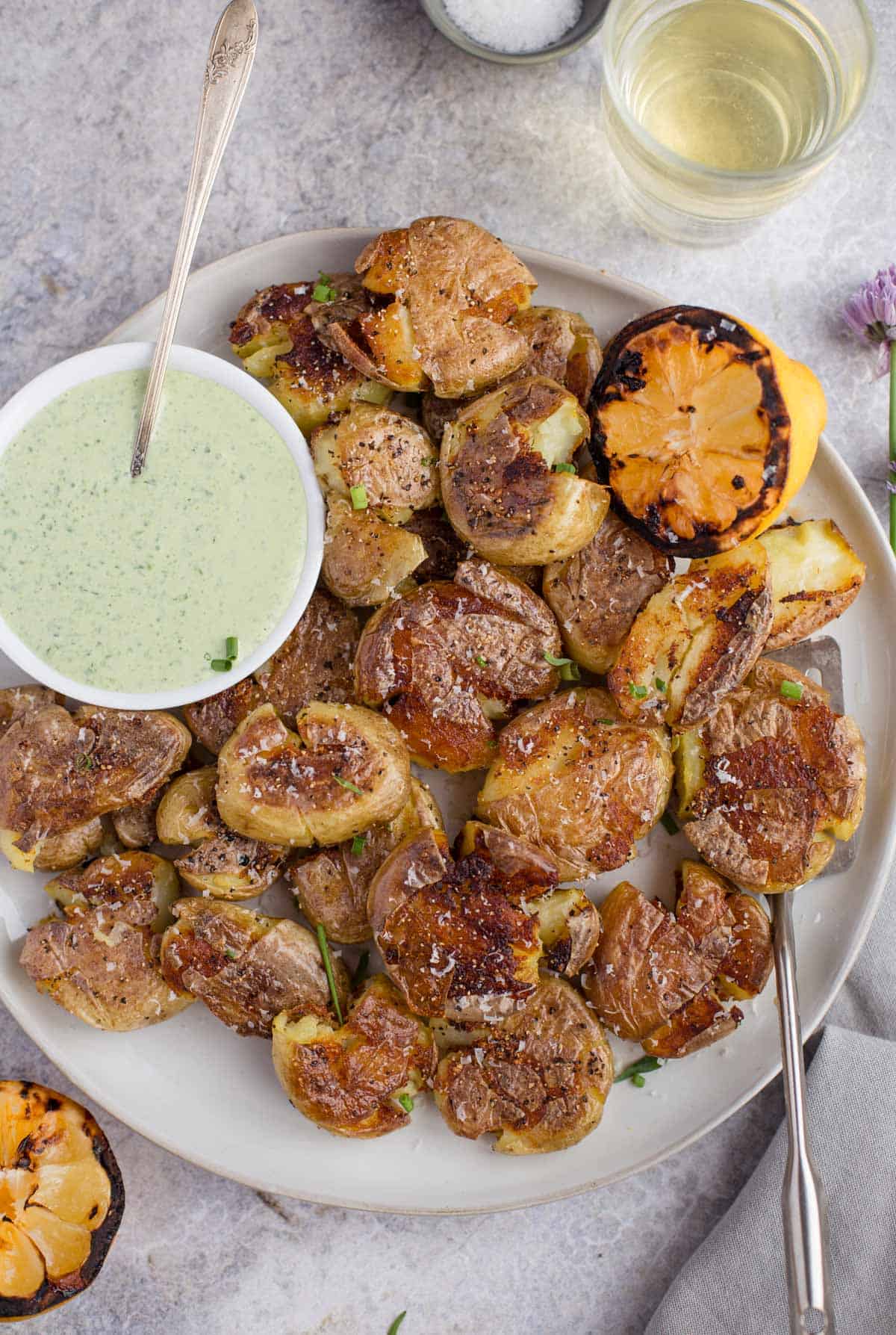 Other Potato Inspired Recipes
Mary (a certified sommelier and recipe developer) and Sean (backyard pitmaster) are co-authors of the critically acclaimed cookbook, Fire + Wine, and have been creating content for the IACP nominated website Vindulge since 2009. They live in Oregon on a farm just outside Portland.
This post may contain affiliate links. This means if you click on the link, we may receive a small commission if you purchase through the link. We partner with brands we know and love and use and it helps keep the blog going!
---