Mashed Sweet Potatoes are a great alternative to regular potato mash. This grilled version is a tasty addition to any steak dinner or holiday side dish. Simply add some chipotle and maple syrup for the perfect sweet and slightly smoky mashed sweet potato recipe.
Dietary Notes: Gluten Free, Vegetarian, Contains Dairy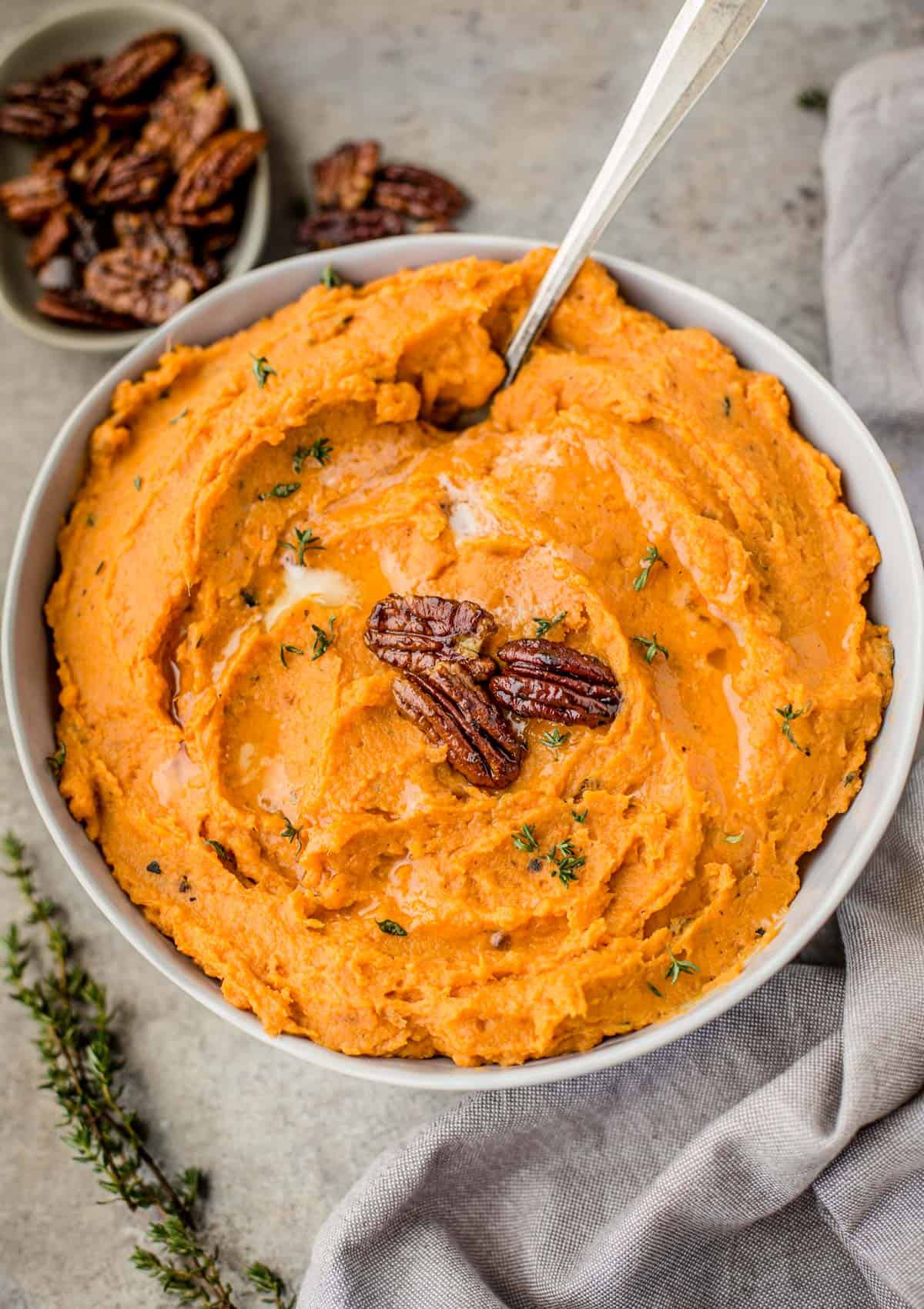 Sweet potatoes are available year-round, but the vast amount we see in the late fall is why this has become such a classic holiday recipe idea. Sweet potato mash is typically made on the stovetop, but in this case we're grilling the sweet potatoes for extra flavor! We par boil the potatoes (just to get them started), then finish them on the grill, giving the resulting dish a sweet kiss of smoke flavor. We then jazz up the softened potatoes with a blast of flavor.
But we need to clear a few things first on sweet potatoes versus yams.
What is a Sweet Potato?
Sweet Potatoes are not actual potatoes. They are a root of a plant not related to potatoes at all. Sweet potato varieties originated in Central and South America. The true sweet potato is dense and tends to ripen best in North America around mid to late fall (but you can find them available year-round), just in time for holidays. The color will be a reddish hue, including the skin, but as with most plants there are many variations of color. Sometimes at grocery stores they may actually label certain varieties of sweet potatoes as yams.
Yams
Yams, on the other hand, are an unrelated root. Yams tend to take on a more yellow or lighter color. The flavor profile is different as is the skin (harder and coarse). So when you go to the grocery store and all you see are yams, they may in fact be a variety of sweet potato, just labeled as yams.
Just know the yam flavor profile will tend not to be as sweet and may need some sugar, or other sweetener, to sweeten up the dish and make it taste closer to a sweet potato. They also won't take on that distinct orange hue of sweet potatoes. Alton Brown has a fun and informative video highlighting the two.
So for this mashed sweet potatoes recipe seek out the orange, darker colored, sweet potato for the best flavor and color.
Preparing the Potatoes
For the best flavor and texture you want to start by par-boiling the sweet potatoes (similar to this recipe) and then finish them on the grill. Doing both adds a grilled flavor and texture that makes the potatoes easy to mash and avoids over grilling or burning the potato.
Remove the skins from the sweet potatoes.
Quarter the potatoes lengthwise for even pieces that will grill. They will resemble large thick potato wedges.
Place in a large soup pot, and bring water to a boil. Boil for about 15-17 minutes or until just fork tender (but not too soft). Start forking the sweet potato wedges at the 15 minute mark to avoid overcooking them.
Drain the water and then coat the wedges with olive oil (so they won't stick to the grill grates).
How to Make Mashed Sweet Potatoes on a Grill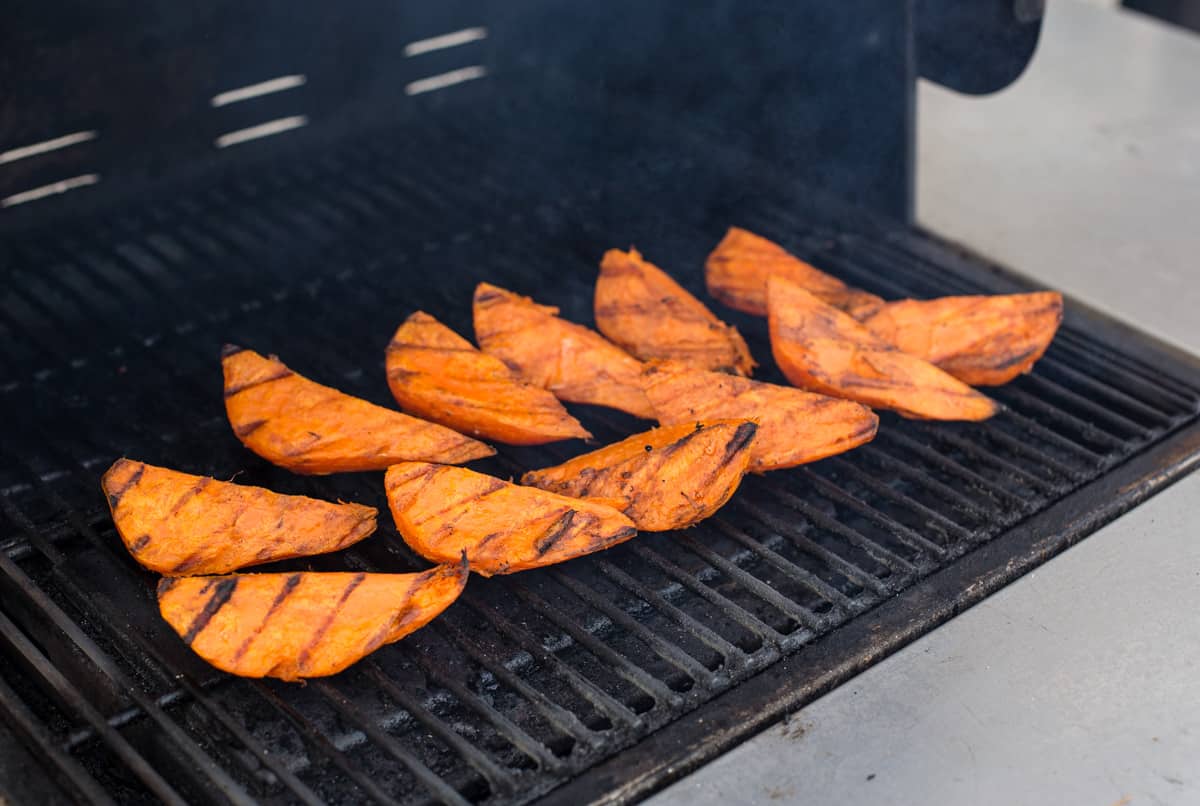 Preheat your grill to 375 degrees Fahrenheit while the potatoes par-boil.
Place the oiled sweet potatoes on indirect heat. The goal is to rotate the three sides of the wedges for about 14 minutes or until each side is just crisping up. If you have a gas grill, simply use medium heat so the wedges don't burn (targeting 375 degrees).
Remove from the grill and then place in a large soup pot for mashing. Add the remainder of the ingredients while potatoes are still warm, and use a masher to combine. If you want a smoother texture mash the potatoes using a hand immersion blender (or place everything in a countertop blender and pulse until smooth). The butter will melt and the cream and syrup will give the nice texture.
The mashed sweet potatoes will be slightly chunky. If you prefer a less rustic approach to the presentation, then feel free to blend the ingredients for a puree like texture.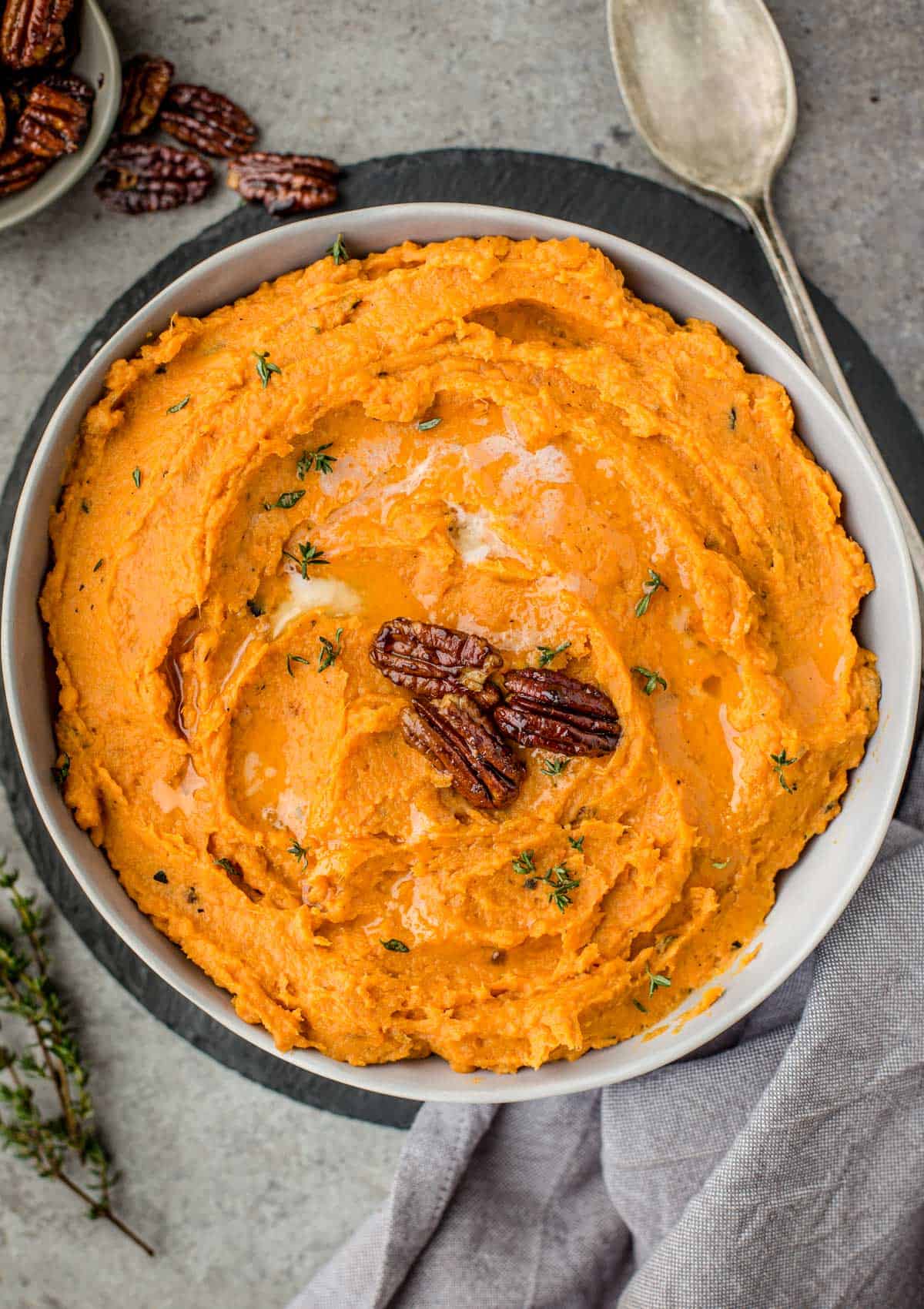 More Great Side Dish Recipes
Great Holiday Recipe Ideas