Grilled Sweet Potatoes are all about simplicity and ease. Think of them as baked sweet potatoes, cooked directly on the grill. The flavor is incredible using our ultimate dry rub, with a soft interior and a nice char on the exterior, and then topped with a decadent smoked honey butter.
This recipe is gluten free and vegan (if you leave out the butter topping).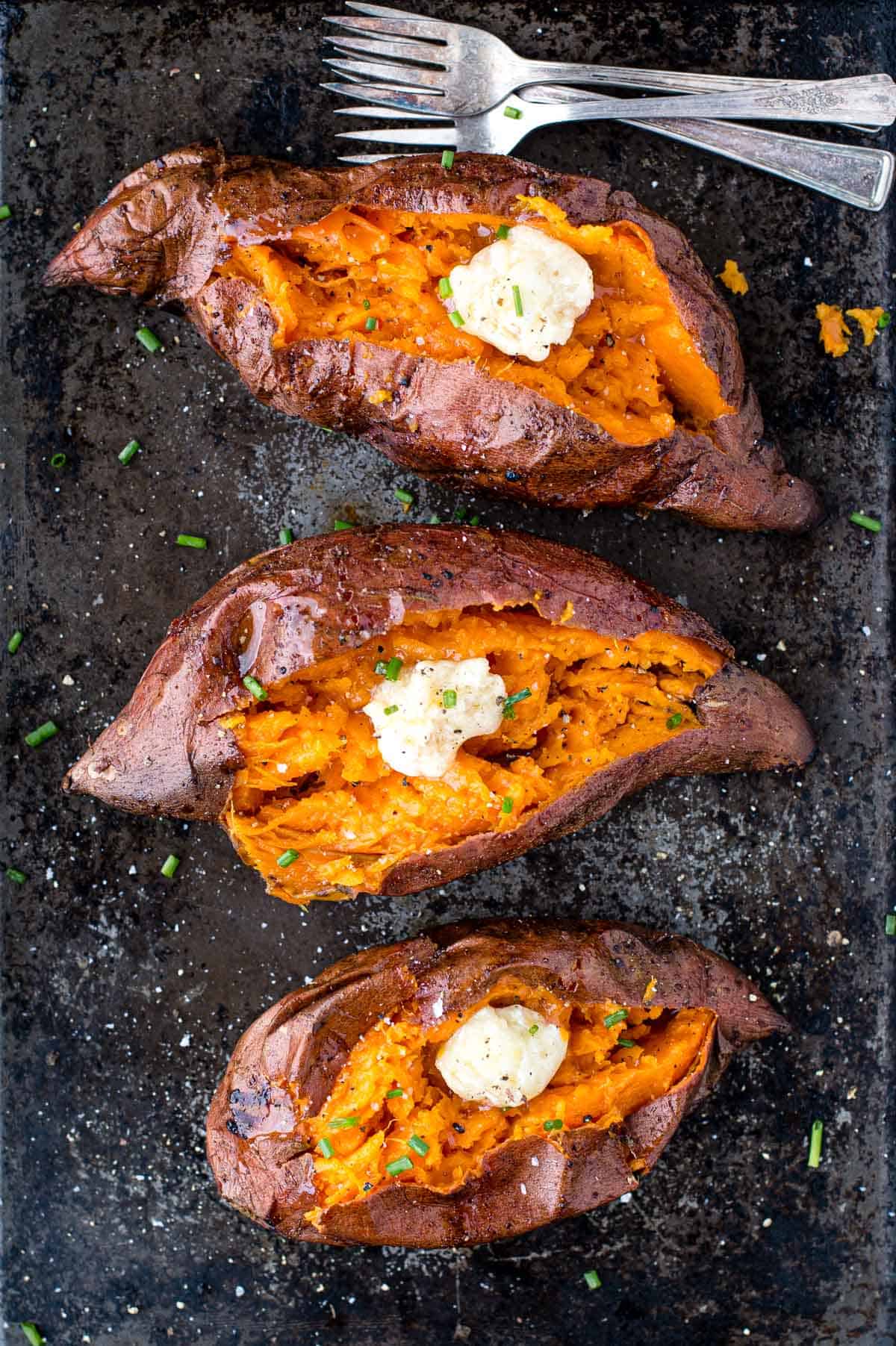 We loved Grilled Sweet Potatoes as a sweet and savory side dish (especially in the fall!). Whether you're serving it alongside a grilled steak or pork chops, a baked sweet potato is even better when grilled. We firmly believe anything you can cook inside, in your oven, can be adapted to cooking on the grill, including baked sweet potatoes. The bonus is that grilling gives a nice texture to the outside and a smoky, soft flavor inside.
These are coated with a savory dry rub, then cooked on the grill until soft.
Portions and Preparation
Plan on one potato per person.
The potatoes should be cleaned of any dirt and then dried. The best way is to rinse under cold water, then use a paper towel to dry them off. After they're dry, use a fork to poke holes throughout the potatoes then season them.
Seasoning for Grilled Sweet Potatoes
Start with a generous coating of extra virgin olive oil and then coat with the dry rub. The oil helps the rub adhere to the sweet potatoes.
We are using our Ultimate Dry Rub with both sweet and savory flavors, but you can substitute your favorite dry rub if you don't have all of the ingredients. If using a store bought, seek out one with some sugar to allow for some caramelization on the sweet potato skin.
How to Grill Sweet Potatoes
We have tried direct and indirect methods as well as higher temperature. We find grilling at 375 degrees Fahrenheit over indirect heat is the best option to get the best texture and soft interior. We also don't wrap them in foil because we want the sugar in the rub to slightly caramelize to add flavor to the skin of the grilled sweet potato.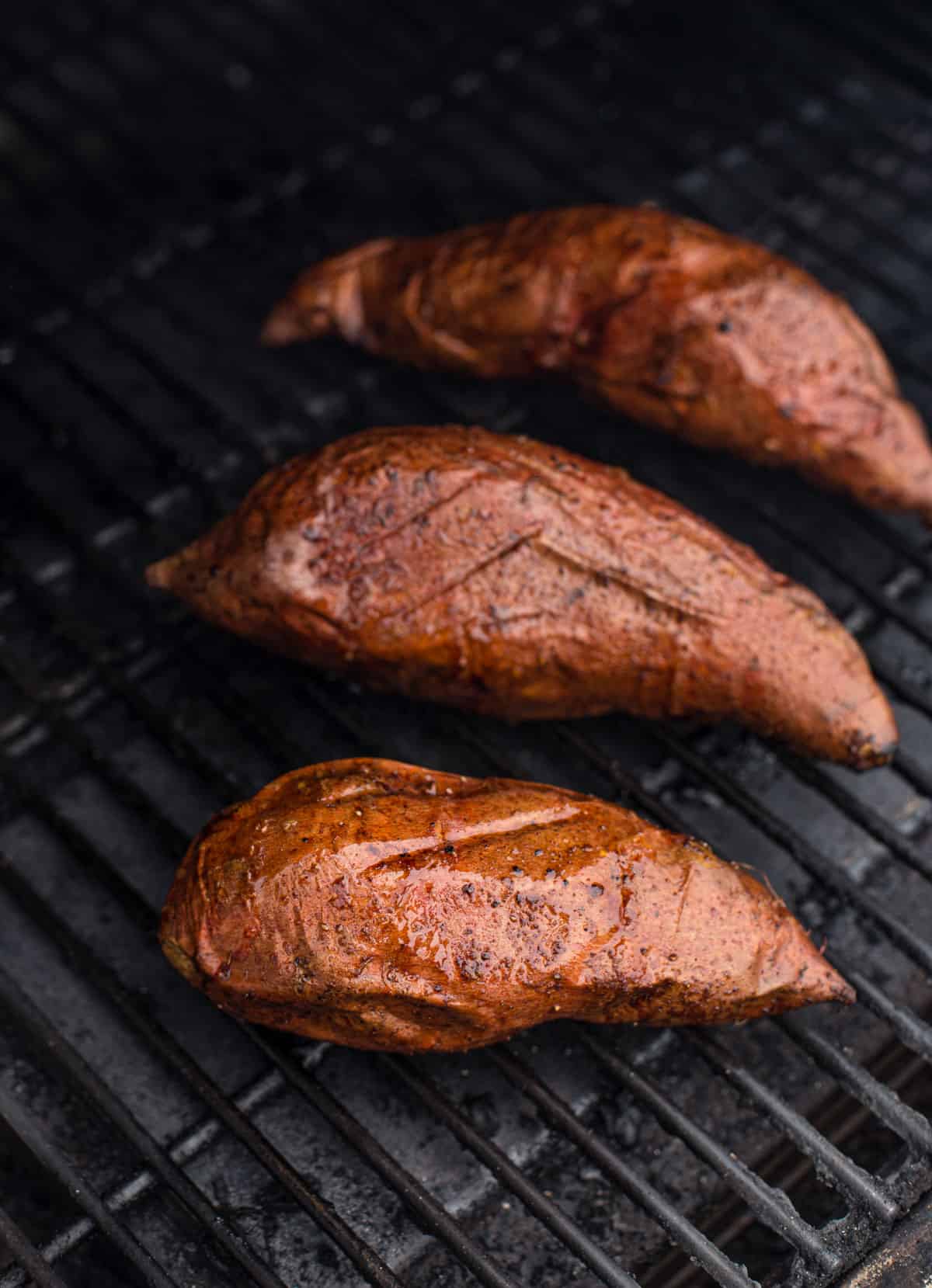 Prepare the grill for indirect grilling, targeting 375 degrees ambient temperature in the grill.
Grill indirect for up to an hour, flipping the potato once halfway through grilling to get even heat on both sides.
Remove when the texture is soft. We use a knife or an instant read thermometer, like a Thermoworks MK4 Thermapen, so we can see how soft the interior is. It should insert with little friction.
Remove and serve with smoked honey butter, or your favorite toppings.
On a gas grill, use the same method. Cook the baked sweet potato on the indirect side of the burner.
Other Great Holiday Side Dishes on the Grill
This post may contain affiliate links. This means if you click on the link, we may receive a small commission if you purchase through the link. We partner with brands we know and love and use and it helps keep the blog going!