This classic Shepherd's Pie is comforting, healthy(!), delicious, and cooked on the grill or smoker for added flavor. Anything you can cook in your oven or stovetop you can cook on the grill, and it's so much more fun (and flavorful!), including this take on a Grilled Shepherd's Pie!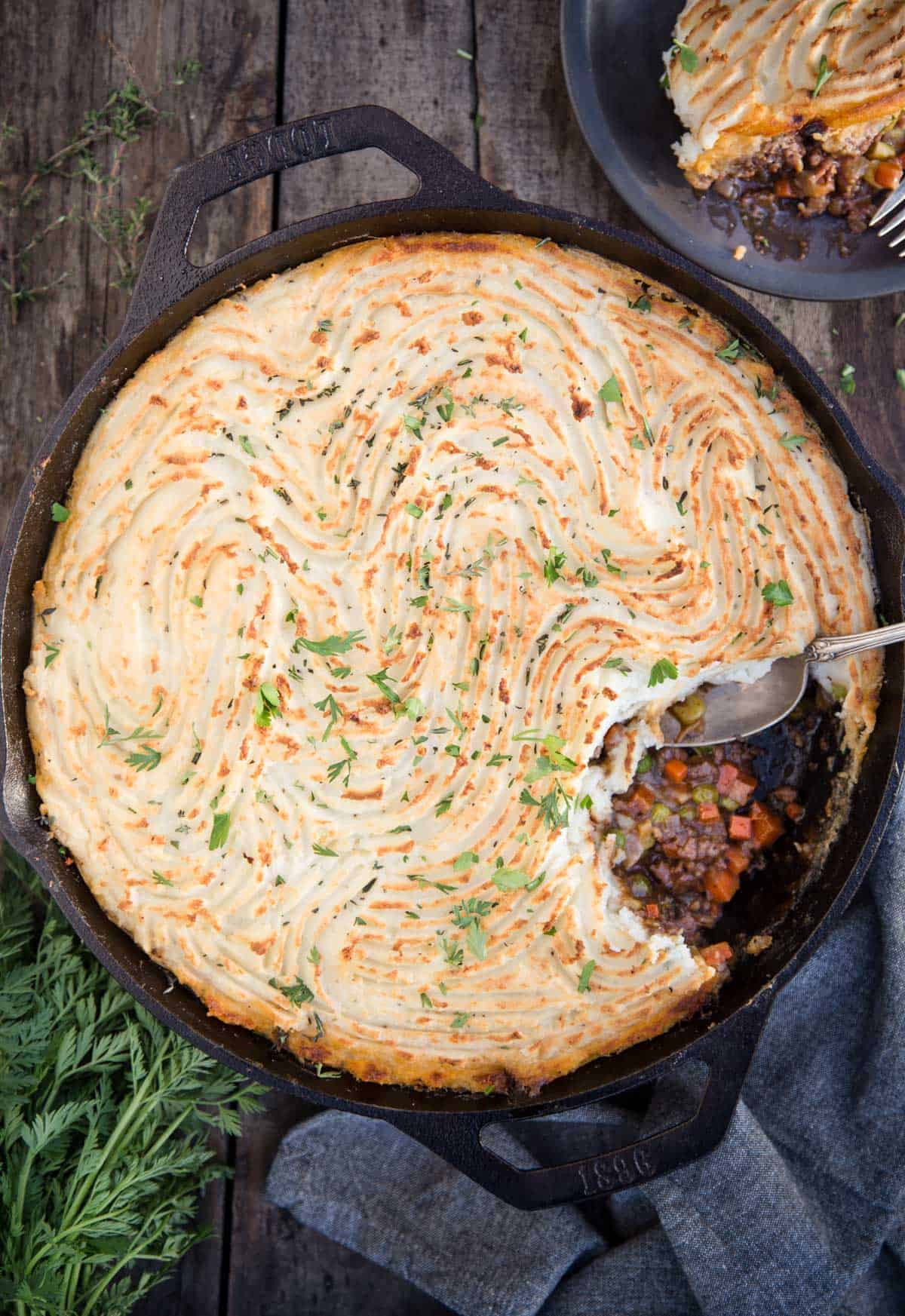 What is Shepherd's Pie?
Called a "Shepherd's" pie when made with lamb, or "cottage" pie when made with beef) this meat-based "pie" is made from a combination of ground or minced meat (typically lamb or beef), and topped with creamy mashed potatoes and baked.
You'll find an eternity of variations on the classic recipe, but most will involve ground meat cooked with vegetables in a savory gravy, and mashed potatoes (with or without meat). You'll find variations from vegan to diet specific, like paleo or keto.
This is simply a take on the classic, with lamb or beef (your choice), veggies, a wine based gravy (because wine is awesome), and a simple mashed potato topping.
But what we're doing here is cooking it IN the GRILL! Because why not?
You can use any kind of grill you have (smoker, kettle grill, ceramic, electric, pellet, you name it). We're treating our grill like an oven, because, I repeat, anything you can cook inside in your oven, you can cook outside on the grill!
And your friends are going to be so impressed when you invite them over for your St. Patrick's Day party and tell them you made a Grilled Shepherd's Pie. No lie!
Let's start with the basics of a traditional Shepherd's Pie shall we?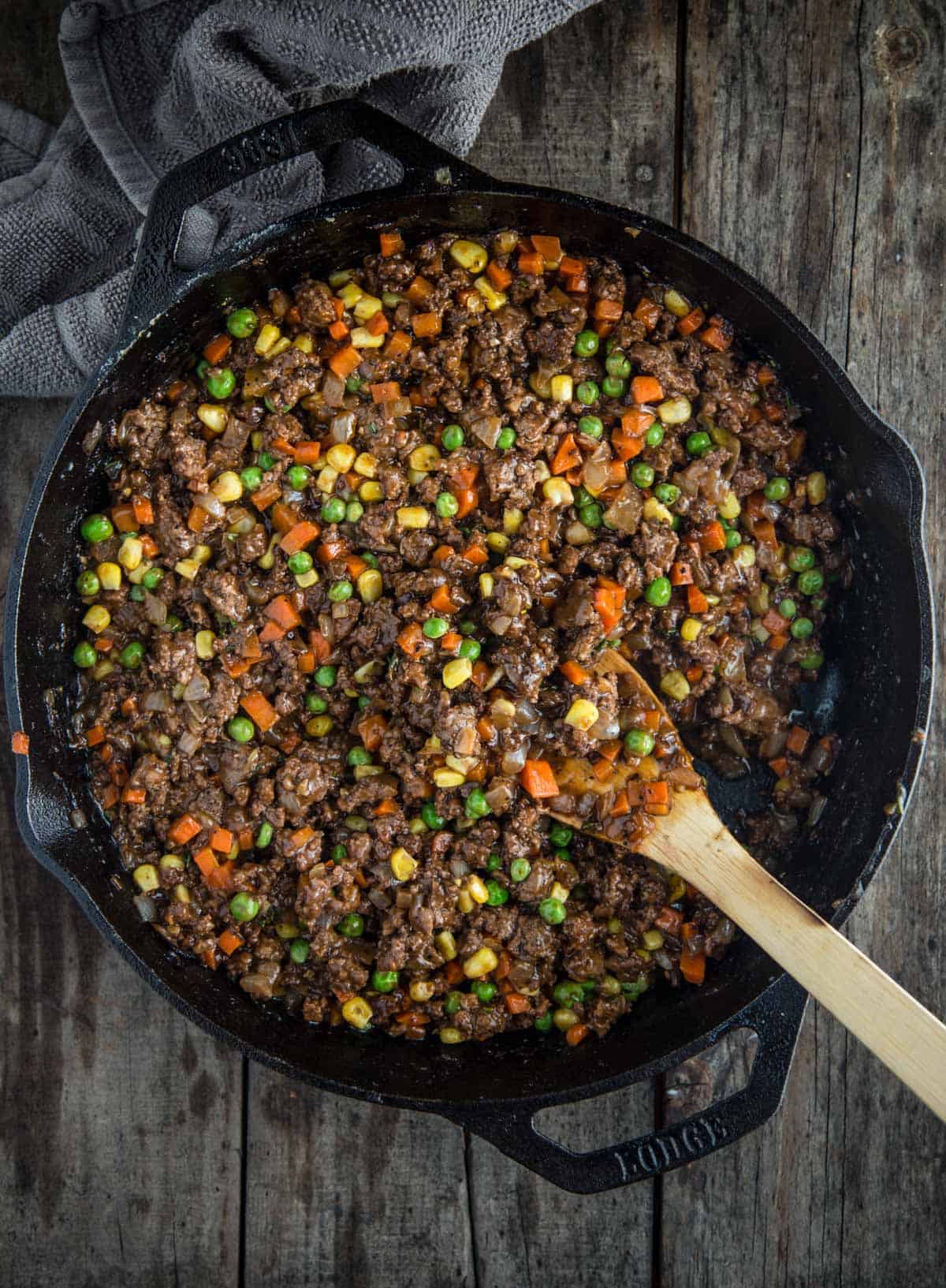 Shepherd's Pie Ingredients:
Ground Meat: traditional Shepherd's Pie uses lamb, but you can use beef too, because it's YOUR meat pie dammit! We swear by Snake River Farms ground beef.
Vegetables: think colorful rainbow here. We like the classics of onions, carrots, peas, and corn. But you can go a little cray cray and add mushrooms, bell peppers, or whatever your veggie heart desires.
Liquids: we're wine people, so we start with a base of wine. I've seen people use Guinness too, and guess what, I like how those people think! Next up add some broth (beef or chicken), and Worcestershire sauce (it adds great savory flavor!).
Thickeners: a little flour (we use gluten free flour) to create your gravy, and a little tomato paste for richness and flavor.
Flavor/Seasoning: add some fresh herbs for great depth of flavor. We love fresh rosemary and thyme, and don't forget to add basic seasonings like salt, pepper and garlic!
Mashed Potatoes: for the topping! Wouldn't be a Shepherd's pie without the "crust" right? We're sticking to the classic russet potatoes for our mash, but feel free to walk on the wild side with your potato choice (sweet potatoes anyone?).
How to make Shepherd's Pie on the Grill
We start this recipe inside, using the stovetop, but if you have outdoor burners, use them! We're just getting the party started in a large cast iron skillet, then we're going to transfer everything to the grill or smoker to cook. Make sure to use a sturdy cast iron pan if you're cooking it on your grill.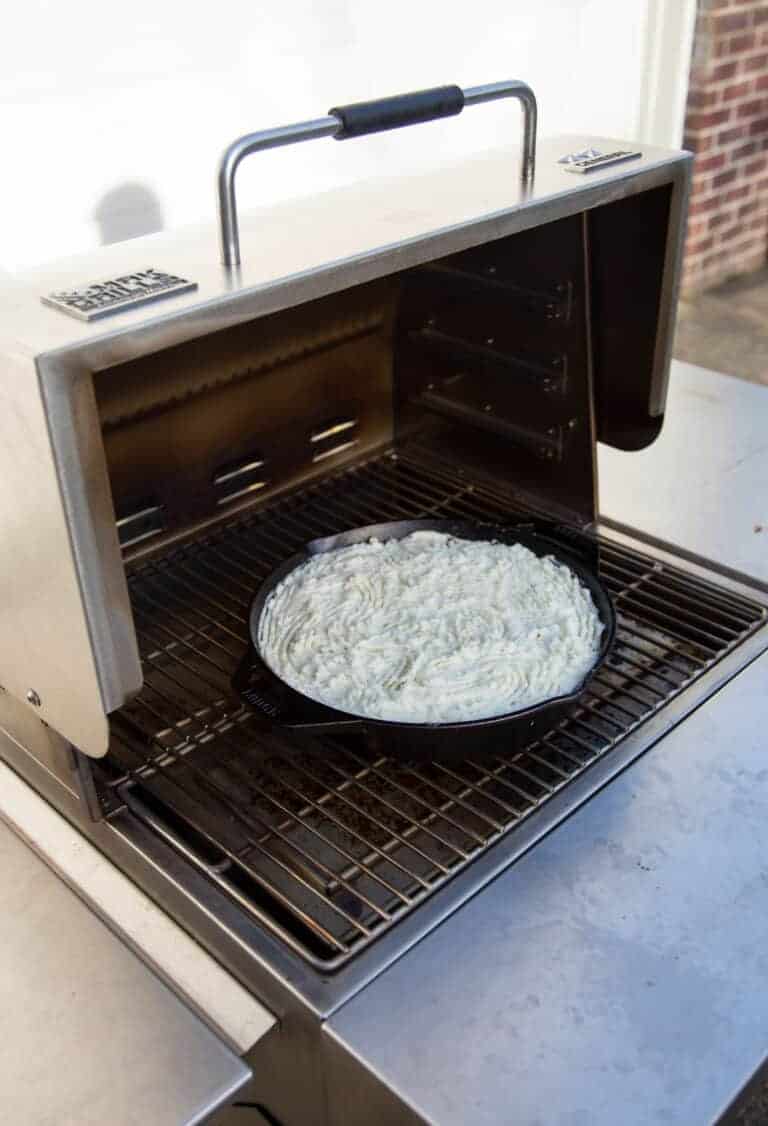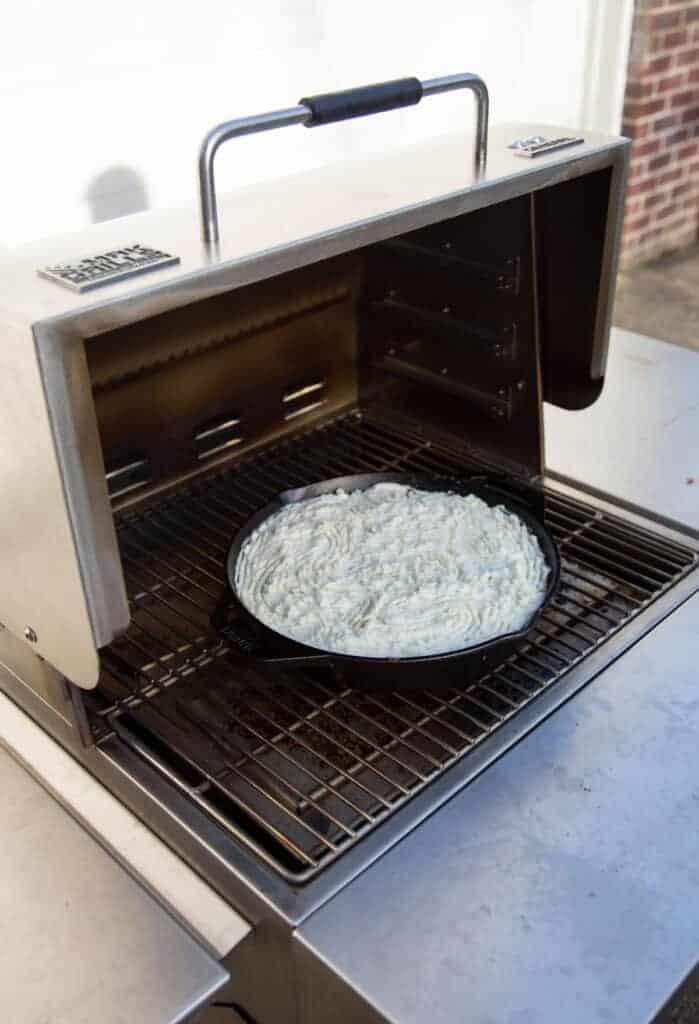 Preheat Grill: preheat grill or smoker to 375 degrees Fahrenheit using fruit wood. We used cherry.
Make Your Mashed Potatoes: Peel potatoes and cut into a half inch dice and boil them until tender. Drain. Add cream, butter, seasonings, and mash away until creamy. Set aside.
Cook Meat: in a large cast iron skillet (at least 12″) brown the meat, and make sure to season it while cooking. Once the meat is cooked remove it and place in a bowl and set aside (you'll add it back later)
Cook Vegetables: in the same skillet cook the vegetables until soft. Then add back the meat and stir together.
Add Thickeners & Liquids: add flour and let it cook into the mixture. Next add the wine and let it simmer, then add broth, Worcestershire, and tomato paste. Mix together.
Add the Remaining Vegetables & Seasonings: add your herbs, seasonings, corn, peas, and simmer for 5 minutes.
Top with Mashed Potatoes: In the same pan, gently top the mixture with the mashed potatoes, and spread it evenly over the top of the pie. We use a fork making S-patterns to get peaks and valley's so the peaks brown while on the grill.
Grill: place the cast iron pan over indirect heat on your grill and cook for 35-40 minutes, uncovered, until the top is slightly browned and the filling is slightly bubbly.
That's it! Shepherd's Pie on the grill, my friend! You rock.
There's no need to make a side dish or salad, because allll the food groups are here, inside this pot of deliciousness (protein, so many veggies, creamy starches, you name it).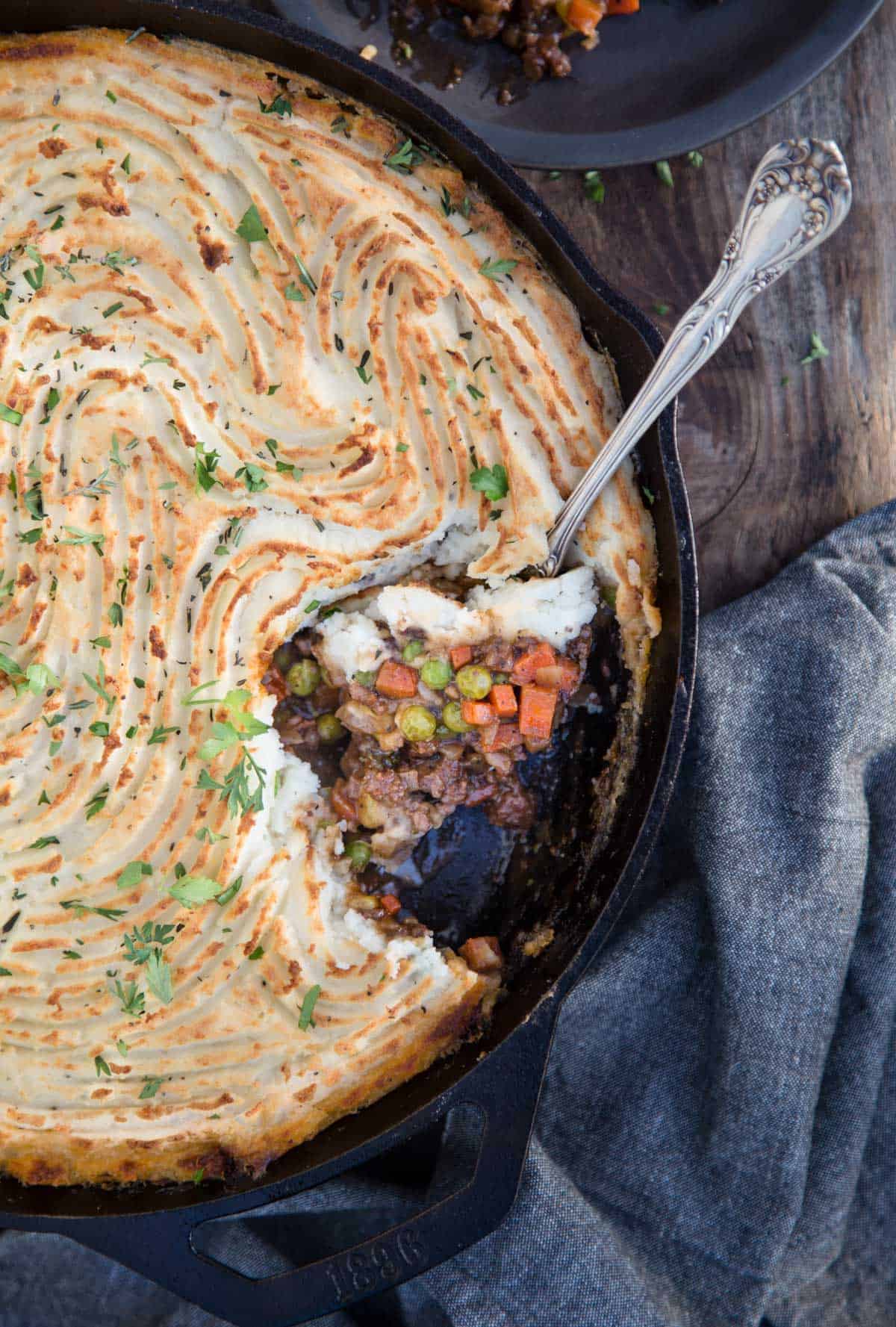 More Comfort Food Recipes for the Grill or Smoker
Shepherd's Pie Recipe Cooked on the Grill or Smoker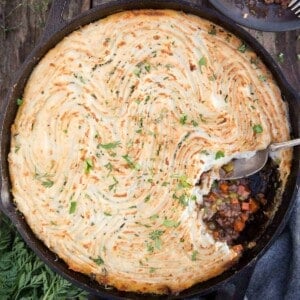 Shepherd's Pie on the Grill
A Classic Shepherd's Pie recipe cooked on any grill or smoker for great smoky flavor. This recipe is easy, healthy, delicious and perfect for your St. Patrick's Day celebrations!
Print
Pin
Rate
Ingredients
Mashed Potatoes
2

pounds

russet potatoes, peeled and cut into a ½-inch dice

2

tablespoons

kosher salt (for the water to cook the potatoes)

¾

cup

half and half

2

tablespoons

unsalted butter

½

teaspoon

kosher salt

½

teaspoon

coasrse black pepper
Filling
1 ½

pounds

80/20 ground beef (or lamb for traditional "Shepherd's Pie)

We use Snake River Farms

2

teaspoons

beef rub

1

medium

onion, diced (about 1 ½ cups)

2

large

carrots, diced (about 1 ½ cups)

2

cloves

garlic, minced

2

tablespoons

flour

¾

cup

red wine

We used an Italian Red

¾

cup

beef broth

1

tablespoon

tomato paste

2

tablespoon

Worcestershire sauce

½

tablespoon

fresh chopped rosemary

½

tablesoon

fresh chopped thyme

½

cup

frozen peas

½

cup

sweet corn (frozen or fresh)

½

teaspoon

kosher salt

½

teaspoon

ground black pepper
Instructions
For the Mashed Potatoes
In a large pot, cover potatoes with water and add 2 tablespoons of kosher salt. Bring to a boil, then down to a simmer, and cook until potatoes are soft and tender (14-16 minutes). Drain potatoes and return to pot.

Add cream, butter, salt and pepper, and mash until creamy. Adjust liquids and seasonings to your preference. Set aside.
Shepherd's Pie Filling
Preheat Grill or Smoker to 375 degrees F using cherry wood.

In a 12-inch large cast iron pan over medium heat add olive oil. Add ground beef or lamb, dust with dry rub, and stir to brown (about 8 minutes). Remove beef and side aside. (If the fat from the beef has cooked off, you may need to add ½ tablespoon of olive oil prior to adding the vegetables. Otherwise leave the liquids that remain from the meat).

In the same cast iron pan, over medium heat, add onions and carrots and sauté about 5-7 minutes until starting to soften. Add garlic and cook 1 more minute.

Add the meat back to the vegetable mixture. Then add the flour and combine until dissolved.

Add the wine, broth, tomato paste, Worcestershire sauce and simmer 2-3 minutes.

Mix in the herbs, peas, corn, and seasonings and toss together. Cook about 5 minutes to let everything integrate.

Gently coat the mashed potatoes evenly over the filling. Add peaks and valley's using a fork to make S-patterns along the potatoes.

Place the cast iron skillet with the Shepherd's Pie in the grill, over indirect heat, for 35-40 minutes, until the potatoes are lightly browned and the filling is bubbly. Serve and enjoy!
Find the perfect wine pairing at the Vindulge Wine Shop
Nutrition
Calories:
596
kcal
|
Carbohydrates:
42
g
|
Protein:
25
g
|
Fat:
34
g
|
Saturated Fat:
16
g
|
Cholesterol:
104
mg
|
Sodium:
3017
mg
|
Potassium:
1202
mg
|
Fiber:
4
g
|
Sugar:
5
g
|
Vitamin A:
5433
IU
|
Vitamin C:
15
mg
|
Calcium:
104
mg
|
Iron:
4
mg
---
This post may contain affiliate links. This means if you click on the link, we may receive a small commission if you purchase through the link. We partner with brands we know and love and use and it helps keep the blog going!