Duck Fat Potatoes are a crispy and flavorful way to make roasted potatoes and still get a crunchy texture and soft interior. Duck Fat is not as hard to find as you may think and truly elevates the flavor. These are great side for your breakfast or favorite roast.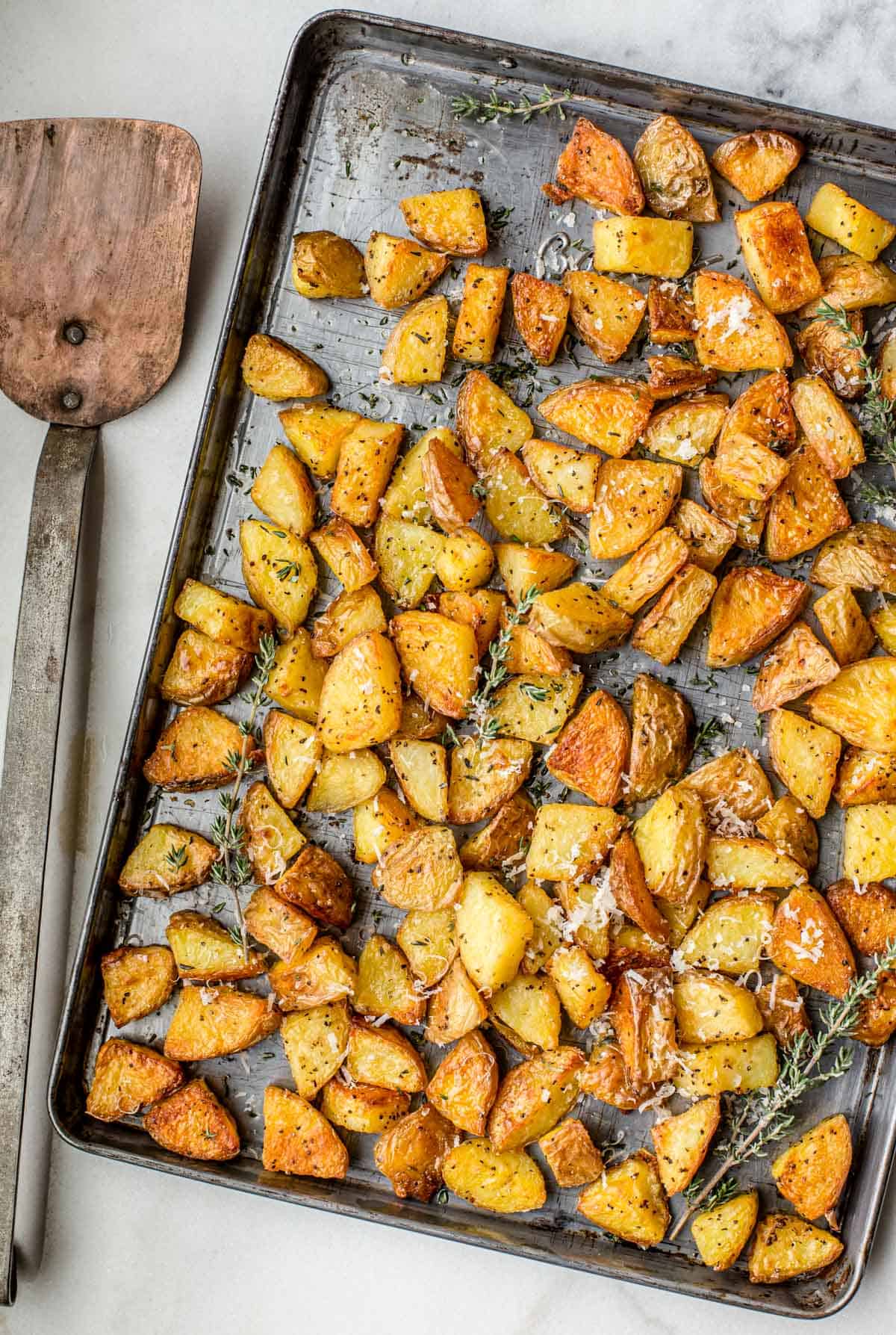 Our first experience with duck fat potatoes was an incredible French restaurant in Bordeaux, France, called La Tupina. They slowly roasted their potatoes as fry wedges in a cauldron of duck fat. The flavor is very subtle but pronounced, and the crispy texture was perfect. So we had to figure out how to do this at home, and have since added this dish to our regular rotation with some slight modifications.
Jump to:
What is Duck Fat?
Duck fat is rendered fat from duck. It's used as both a fat and flavoring ingredient, much like olive oil or butter. Anything that calls for butter or olive oil can be substituted with duck fat. The flavor is very distinct and for a roasted dish, provides a dark color and amazing crispy texture.
When we make homemade duck fat at home we take the skins, and other discarded pieces of duck that we did not use, and place them all in a pan over the lowest heat possible. That low heat will slowly render fat from the skin, meat, and other parts of the duck carcass. After a few hours, we strain the duck fat from the solids and keep the fat and discard everything else.
You can make duck fat at home as explained, or you can buy it from the grocery store.
Where To Buy Duck Fat
Duck fat will be found in a jar at most specialty grocery stores (think Whole Foods) with your other fats like ghee or oils. It can sometimes be found frozen for local versions, often found near the butcher counter. You can also buy amazing duck fat online. The Fatworks brand is what we used for this recipe and seen in many specialty grocery stores. We also make it with homemade duck fat as explained above.
Best Potatoes to Use
While there are many varieties of potatoes, golden or yellow potatoes work best for duck fat potatoes. The texture and density work perfectly to give the creamy yet roasted texture.
If all you have are reds or fingerling, then modify the cooking time and watch until they are the right color and texture. Because they are darker in color, it is more difficult to see when they reach the perfect color so use your fingers (and be careful not to burn yourself) to feel the texture versus look at it.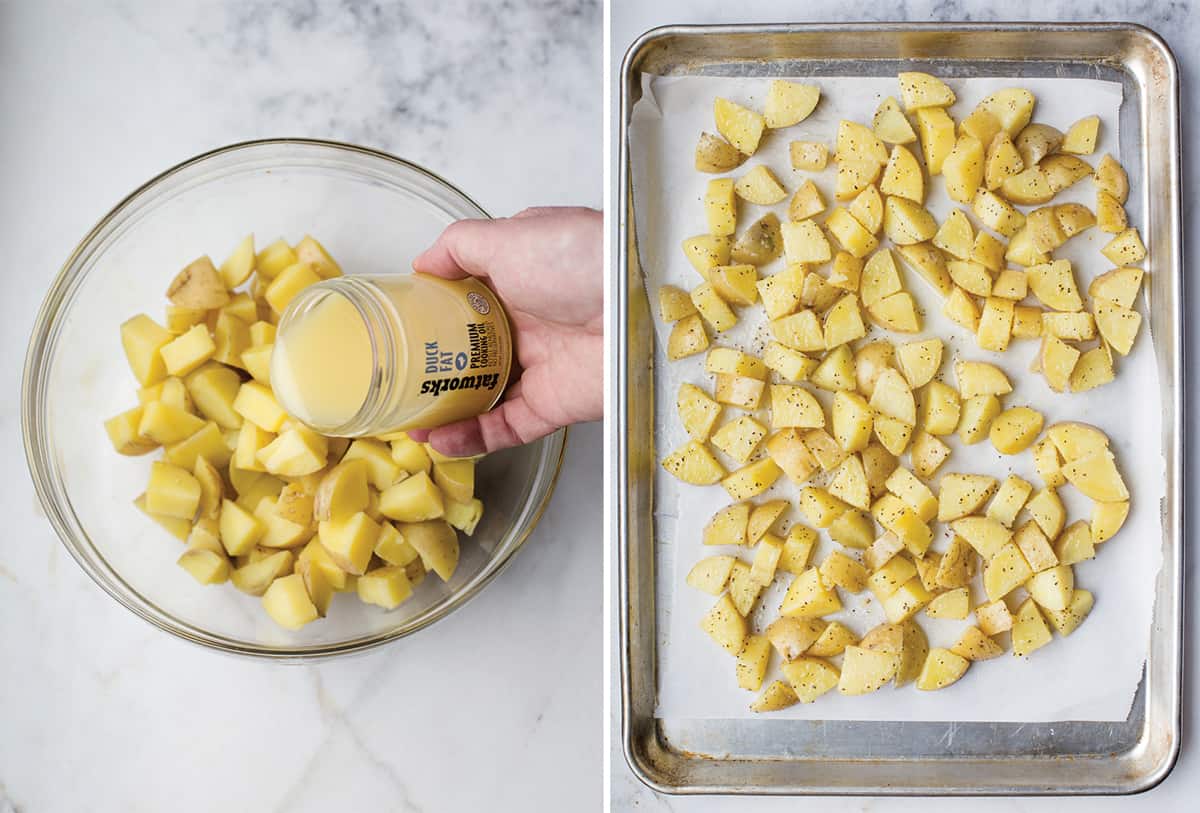 How To Make Duck Fat Potatoes
There are two steps in making the creamy interior and crispy exterior to duck fat potatoes. The first is to par-boil the potatoes, and the second is to roast them at 450 degrees in the oven. We go into more detail for par-boiling potatoes in our roasted classic roasted potato recipe.
Cut the potatoes into small squares and place into a pot. Pour water into the pot covering the potatoes, add salt, and boil/simmer for 14 minutes.
Strain the potatoes and then add them to a large bowl. Season them with the duck fat, kosher salt, and black pepper. Toss them well to integrate.
Pour the potatoes onto a large sheet tray lined with parchment paper and roast them for around 45 minutes at 450 degrees Fahrenheit.
While roasting stir them every 15 minutes. The surface are of the potatoes touching the pan are where the golden crispy color comes from as the fat cooks the potatoes.
Remove the potatoes and then season with graded Parmesan and fresh thyme.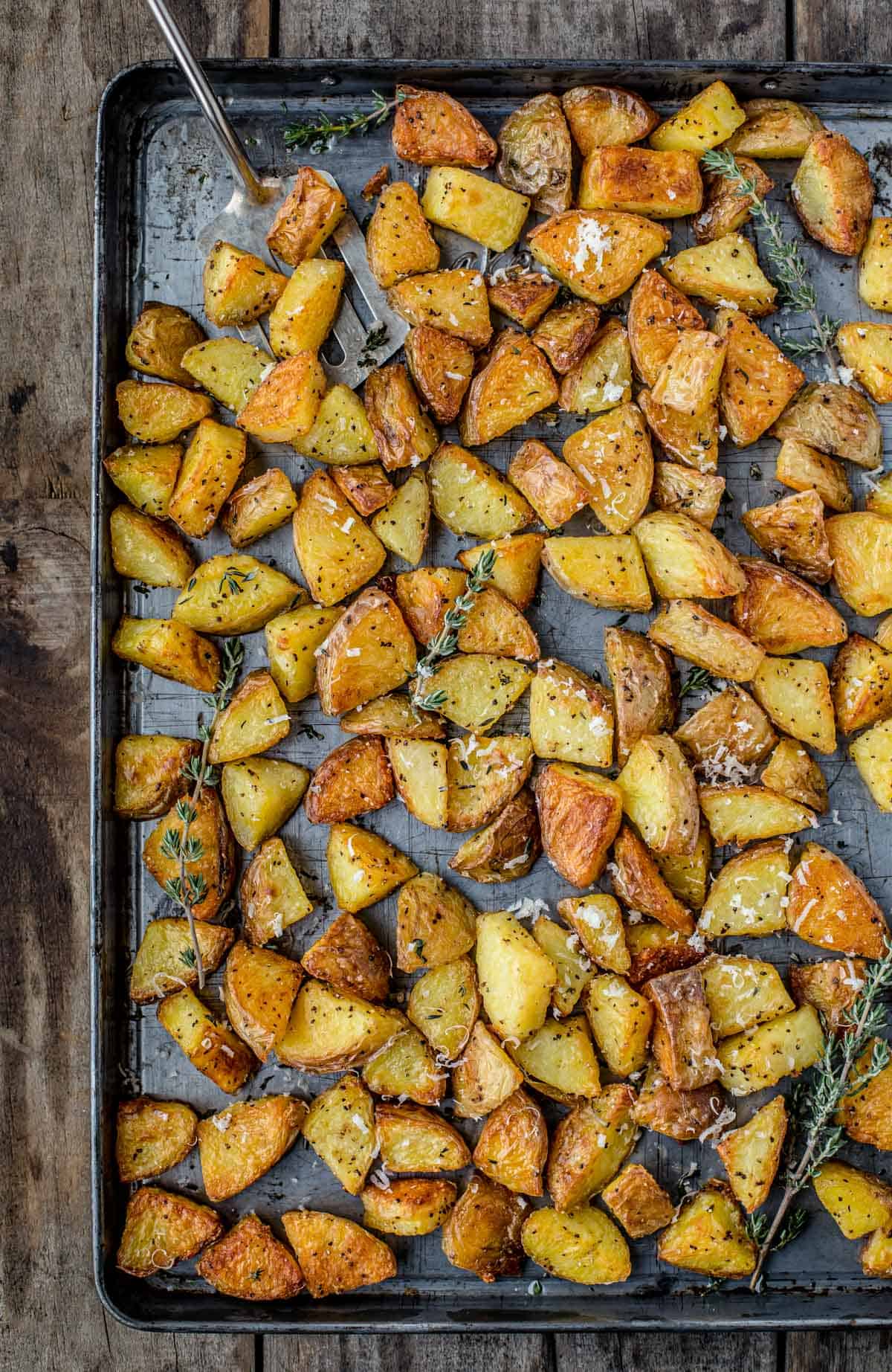 Ratio for Duck Fat to Potatoes
For every pound of potatoes, use 2 tablespoons of duck fat. If you are cooking for a large crowd, only cook 3 pounds of potatoes per sheet tray. Do not crowd the pan. If the tray crowds too much the potatoes will end up steaming. So give them some space to cook and get crispy.
How to Cook Duck Fat Potatoes on the Grill (Alternative to the Oven)
You can also cook these in a cast iron skillet on the grill over direct heat.
Follow the par boil method.
Target 450 degrees over the direct heat.
Use a large cast iron pan and have good gloves for heat protection. Be sure to preheat it first.
Place seasoned potatoes in the PREHEATED cast iron pan. Stir every 10 minutes and remove when the potatoes are crispy. (likely around 25 minutes)
It's best to cook 2 pounds of potatoes at the most in one cast iron pan. Like the oven method, you don't want to crowd the pan. So keep them in one layer, and don't overcrowd the pan.
Other Side Dishes For the Grill
Amazing Main Dishes to Compliment The Potatoes
This post may contain affiliate links. This means if you click on the link, we may receive a small commission if you purchase through the link. We partner with brands we know and love and use and it helps keep the blog going!