This Easy Blender Salsa is probably the best salsa you'll ever make. It's incredibly delicious (and addictive) and perfect for quick and easy weeknight dinners or parties! It's been in my family for decades, so it's tried and true!
The best part is it comes together in less than 5 minutes!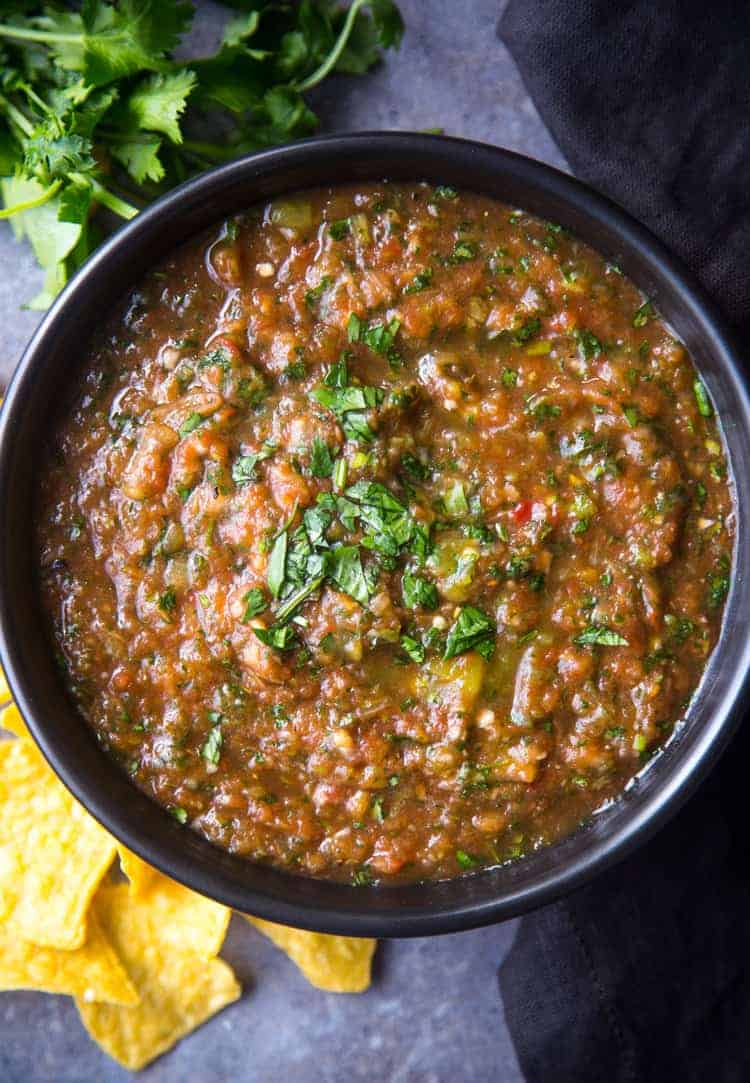 My mom's cooking has inspired several posts here on the blog; including her Green Chili Turkey (my favorite ever!), her Basic Red Chili Sauce (perfect for enchiladas like these), several other of her salsas, and many more.
My mom loves cooking and sharing her love for people through food. Incidentally, the recipe she's probably best known for (aside from her Green Chili Turkey) is the easiest recipe of all – this blender salsa.
This salsa has been a family favorite since before I was born! There's a reason it's still her #1 requested recipe after all these years.
Secret Ingredient
Mom makes dozens of different types of salsas. The woman can make a homemade salsa out of practically anything! But the one that is requested the most, and also my very favorite, is the easiest salsa recipe of all. And you'll never guess what the secret ingredient is?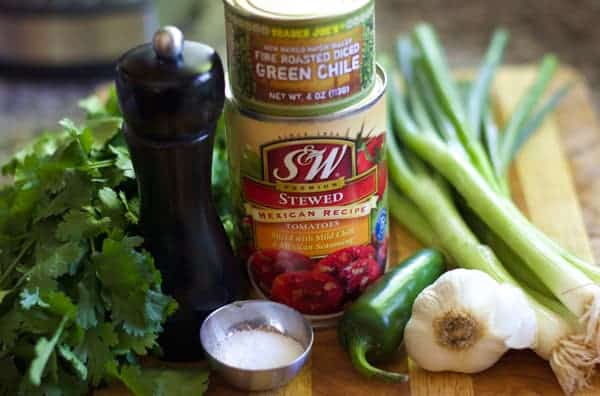 Canned stewed tomatoes. Well that, and a generous amount of cilantro.
The stewed tomatoes and lots of cilantro give this salsa its signature sweet and herbal flavors and the jalapeño gives it just the right amount of heat. You'll want to make a double batch because it will go quickly! I'm not kidding.
How to Make Blender Salsa
There's very little chopping involved in this Blender Salsa. I do like to roughly chop/dice the green onions, garlic, and jalapeños. It doesn't have to be perfect since it will all be blended anyway. Now throw everything in the blender and pulse a few times. Don't leave the blender on for too long, however. This is not a purée (hence the pre-chop). It's a salsa, and I like small chunks. Just pulse a couple times to break down the tomatoes and cilantro.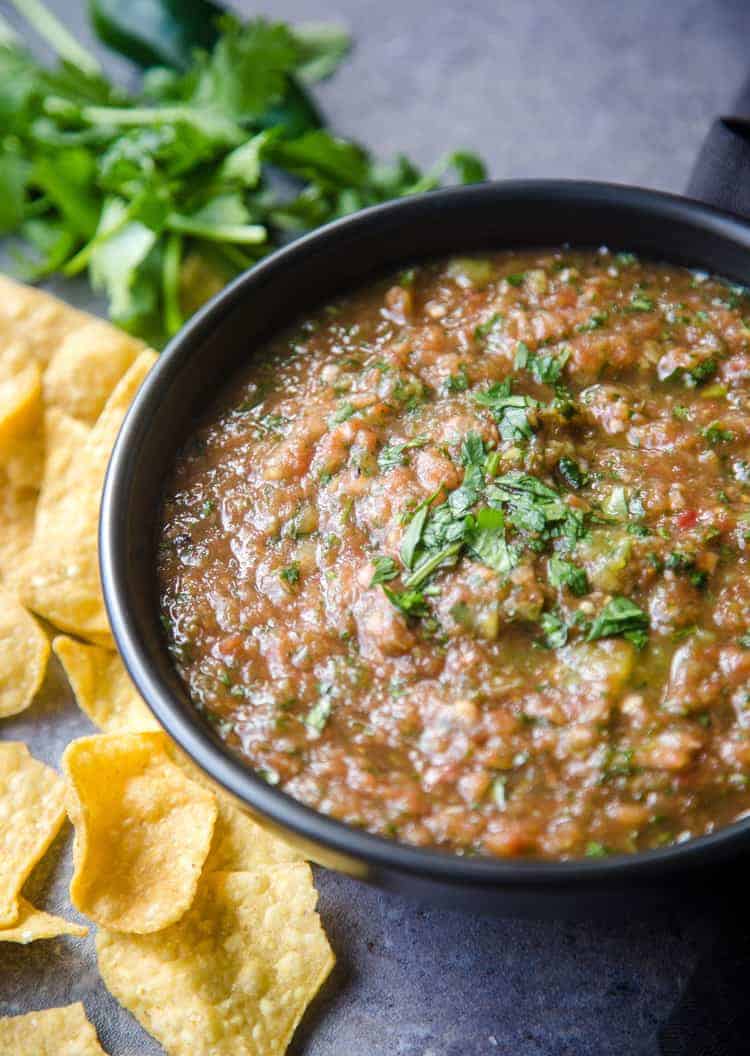 How to Store Blender Salsa
Once you make the salsa it will keep for up to two weeks in the fridge.
One of my favorite things to do when making a large batch is put it in a mason jar and give it to a loved one or neighbor. Combine it with your favorite tortilla chips and a 6-pack of Mexican beer for a great gift!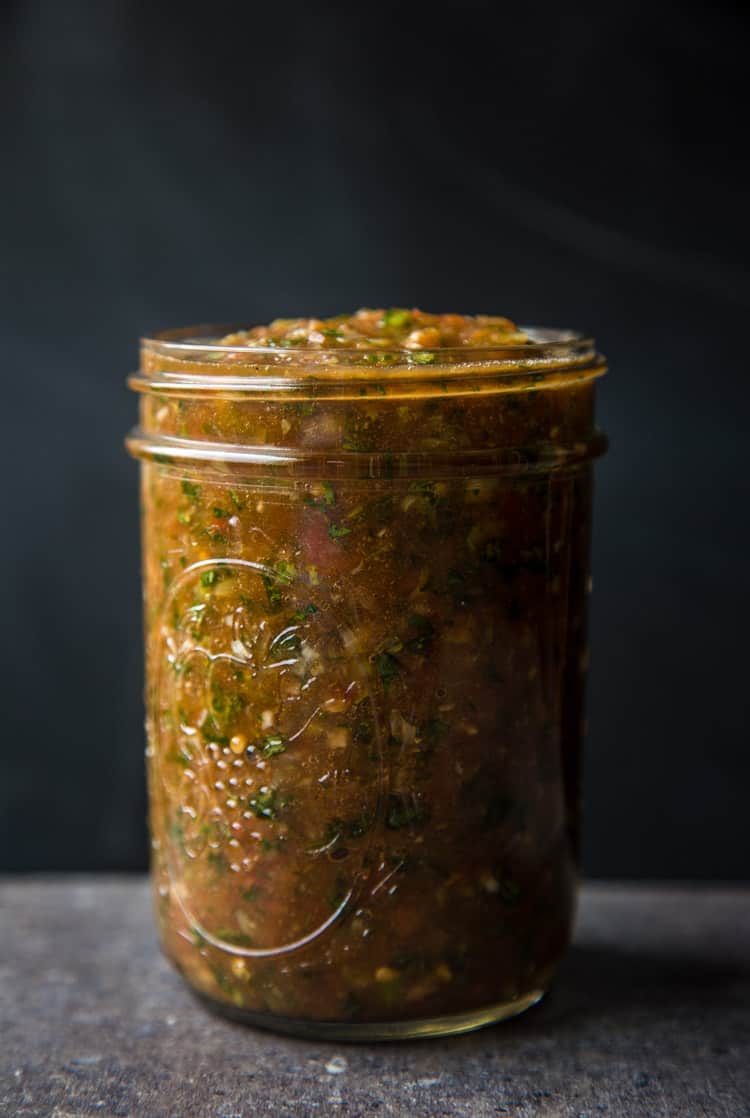 More Family Favorite Recipes
I love you, Mama! And I love learning your secrets in the kitchen. Keep them coming.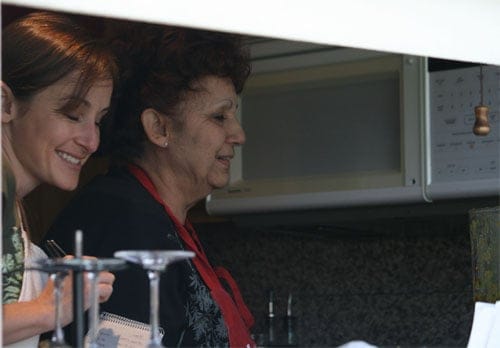 *This recipe for my Mama's Blender Salsa was originally published in May 2014, and updated in March 2016 with new photos. The recipe has been the same since the beginning of time!
If you like this recipe we'd truly appreciate it if you would give this recipe a star review! And if you share any of your pics on Instagram use the hashtag #vindulge. We LOVE to see it when you cook our recipes.
---
This post may contain affiliate links. This means if you click on the link, we may receive a small commission if you purchase through the link. We partner with brands we know and love and use and it helps keep the blog going!