A simple tomatillo salsa using smoked tomatillos and made in the blender. A delicious topping for sausages, chicken, or simply with chips.
Yes please!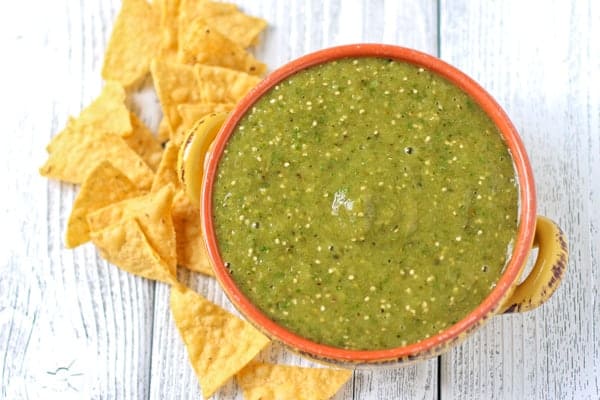 This past weekend we (over at Ember and Vine) catered our biggest event to date. Despite the pouring rain, Willakenzie Estate's "Pigs 'N' Pinot" Party brought in over 400 people to sip on their delicious lineup of wines and nibble on all things smoked pork — pork that our team at Ember and Vine had the honor of cooking up!
OMG!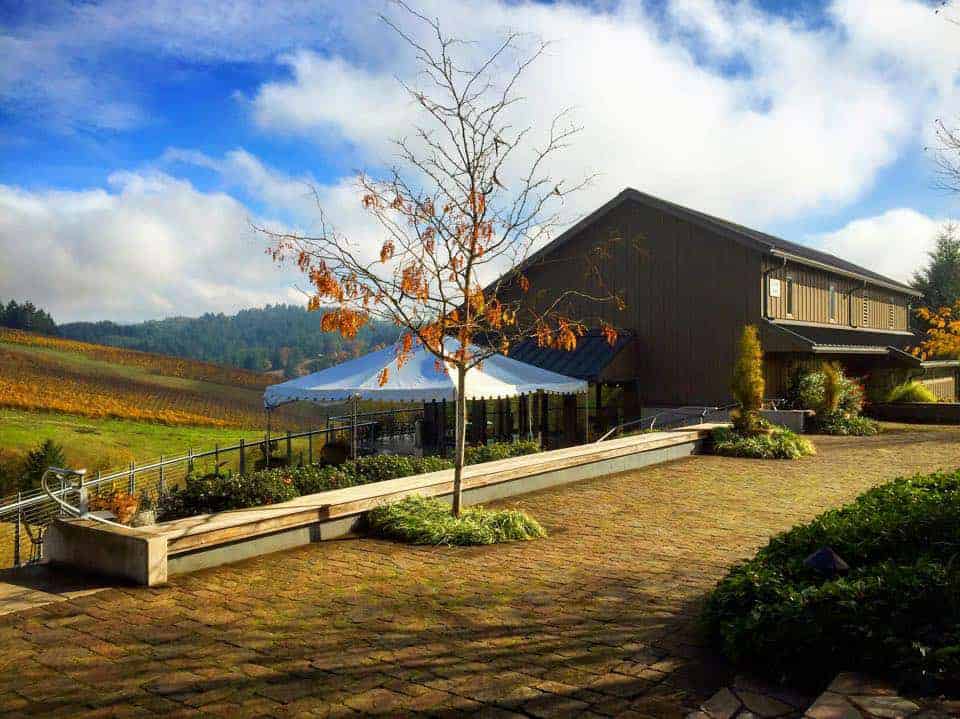 Wow! What an event. I hardly took any pictures because we were too busy prepping, cooking, and serving.

We were approached with the idea of creating four appetizers to pair with four of Willakenzie's wines, all focusing on pork. Oh yeah!
The lineup included:
Smoked 'Little Chubby' Chorizo Verde Pork Sausages with Smoked Tomatillo Salsa (recipe below) paired with Willakenzie Chardonnay
Smoked Pork Tenderloin with Gamay Noir Reduction Sauce and Crème Fraiche paired with Willakenzie Gamay Noir.
Smoked Pulled Pork Sliders with Pinot Noir BBQ Sauce paired with Willakenzie 'Gisele' Pinot Noir.
And the crowd favorite, a Smoked Sausage and Lentil Soup paired with Willakenzie 'Pierre Léon' Pinot Noir
This is the kind of thing we live for — pairing delicious wines with our food! We had a blast coming up with these recipes. We'll have the soup recipe up next week, but today I wanted to share the recipe I've been waiting nearly a year to post.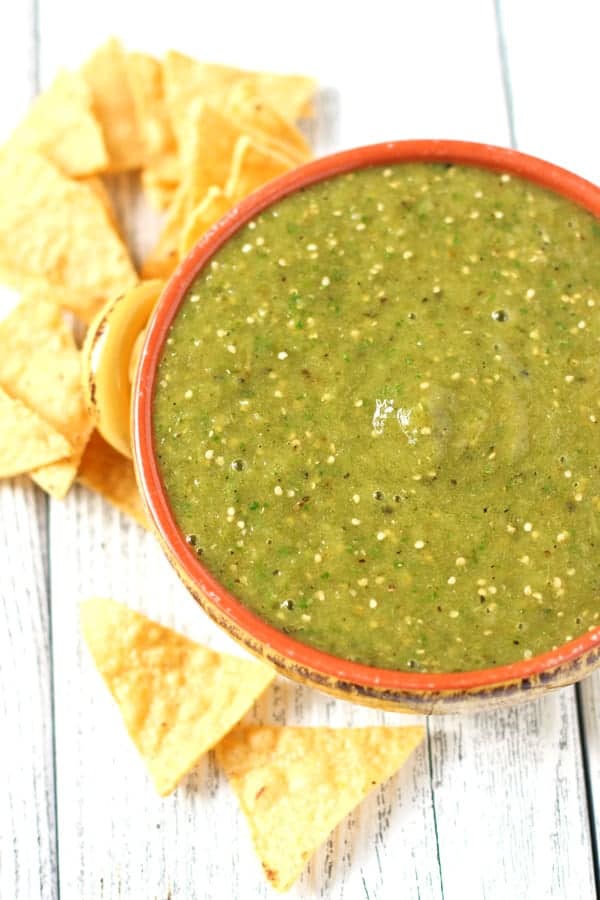 Smoked Tomatillo Salsa
Earlier this year we partnered up with Executive Chef Adam Ruplinger, who makes some of the most amazing sausages I've ever had. Now if you were to tell my 10-year younger self that I would be raving about sausage of all things (something I never enjoyed, ever!), I would have laughed in your face and gone back to eating my tofu stir fry. But, oh my, things have changed. Thanks to Chef Adam and his Lil' Chubby magical sausages.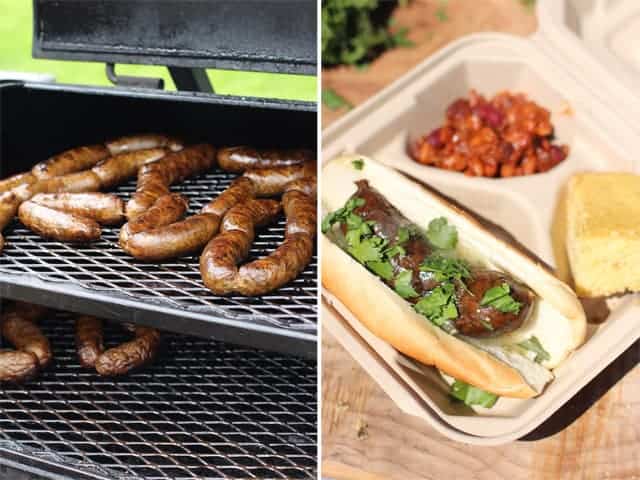 We've cooked up these sausages at a few events, and they are always a hit!
Maybe we will write up the recipe someday but trust us, this savory sausage is not meant for mustard or ketchup. No way! Instead we top it with a salsa that balances out with some of the herbs and spices found in the sausage. This Smoked Tomatillo Salsa.
This salsa is not just a fantastic topping for sausage, it's also an incredible marinade for chicken, and it's great on top of tacos, served over your breakfast eggs, paired with flank steak, or just served with some chips.
It's incredibly versatile, and incredibly delicious.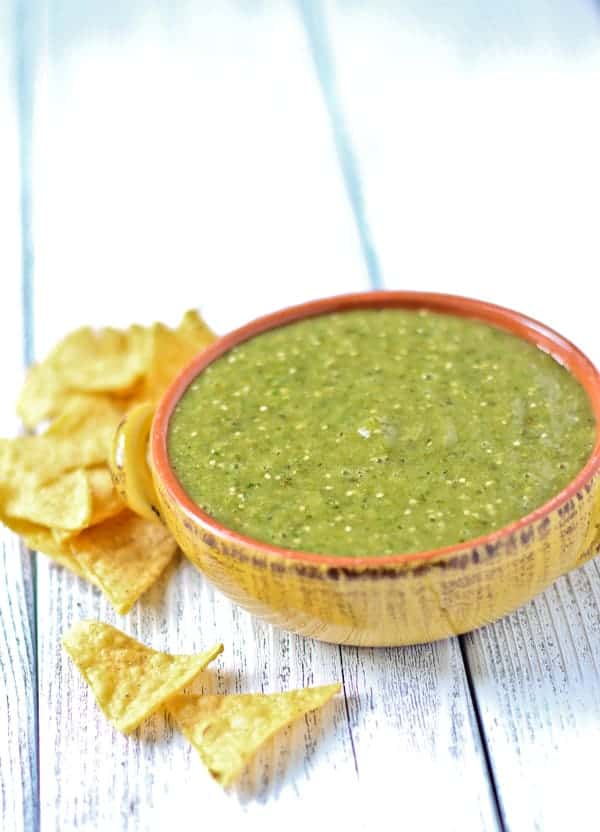 It's also incredibly simple to make! Just throw it in the blender and pulse away.
Some people have told me they're intimidated by tomatillos.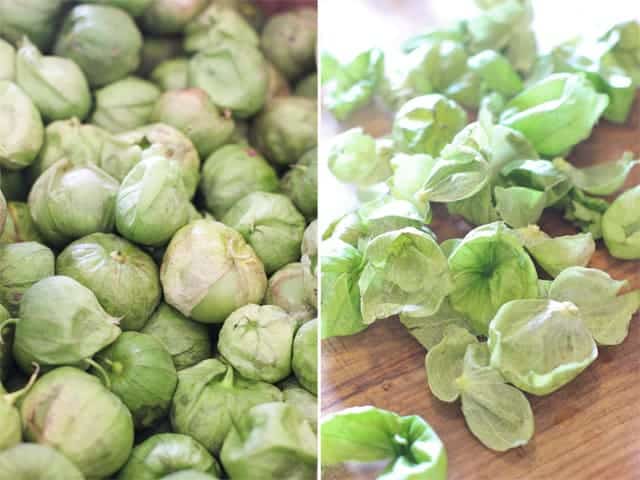 There's nothing to worry about.  These little guys look a little like gooseberries with their outer husk, but they are from the tomato family. Once you remove the inedible husk on the outside they look just like green tomatoes. Once you cook them they become juicy and sweet. And when you smoke them, they're magnificent!
This past weekend, I made GALLONS of this stuff! It's time to share the love here on the blog.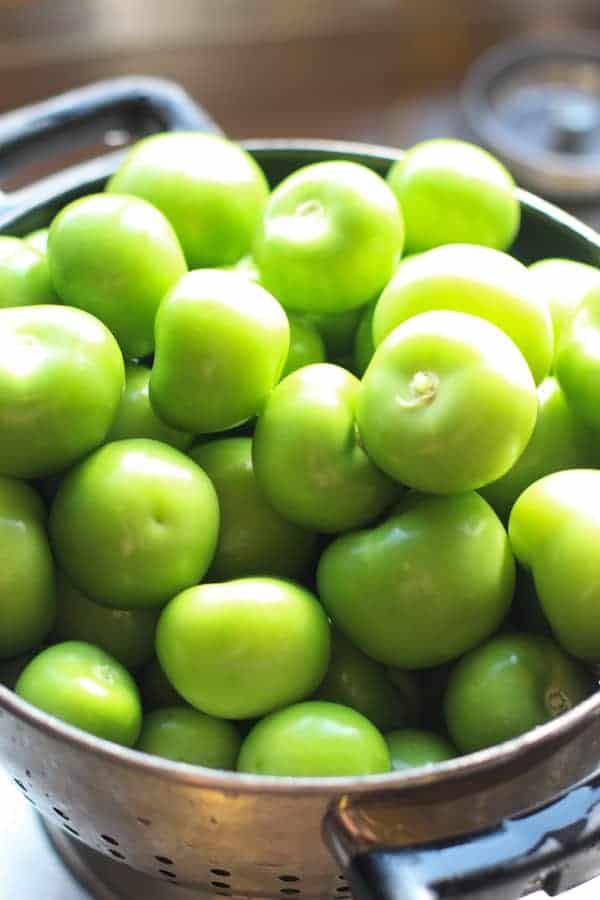 To start, just remove the outer husks and discard them. Then rinse the tomatillos and quarter them (you can just half the smaller ones if they're cherry tomato size). This will maximize the flavor potential when they're on the smoker.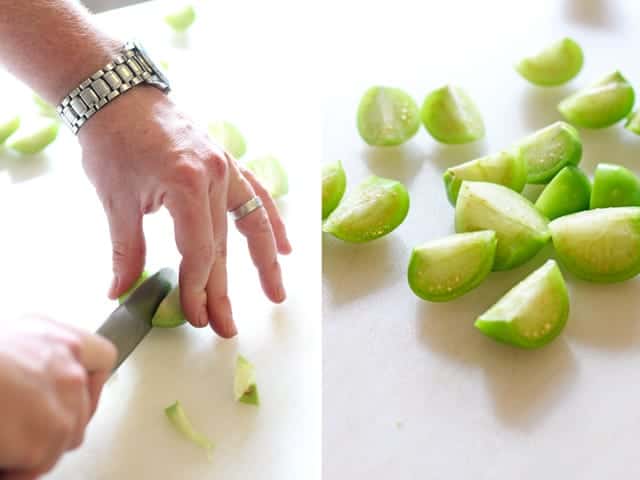 Place them on a foil-lined cooking pan, or baking dish. You'll want to catch the juices that start to seep out, so make sure it's a tray that will collect any juices.
Then place them on the smoker set to around 275 degrees for about 90 minutes, or until they look soft and roasted (they will turn a darker color).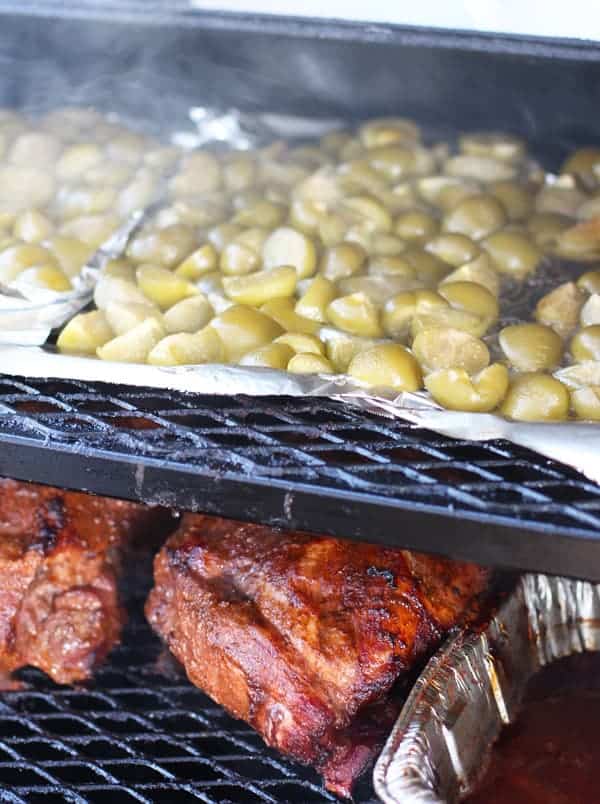 Remove them from the smoker and place in the blender. Add some chopped shallots, apple cider vinegar, cilantro and some salt and pepper, and give them a pulse.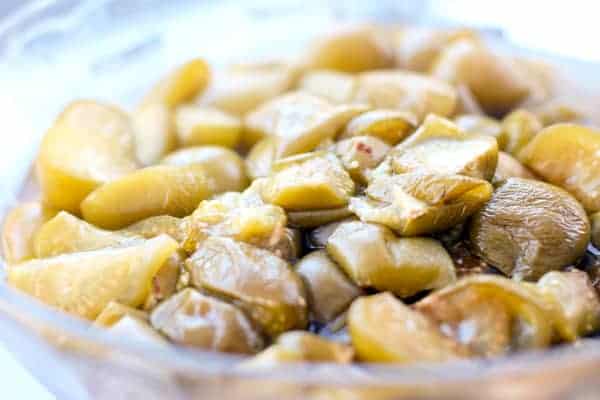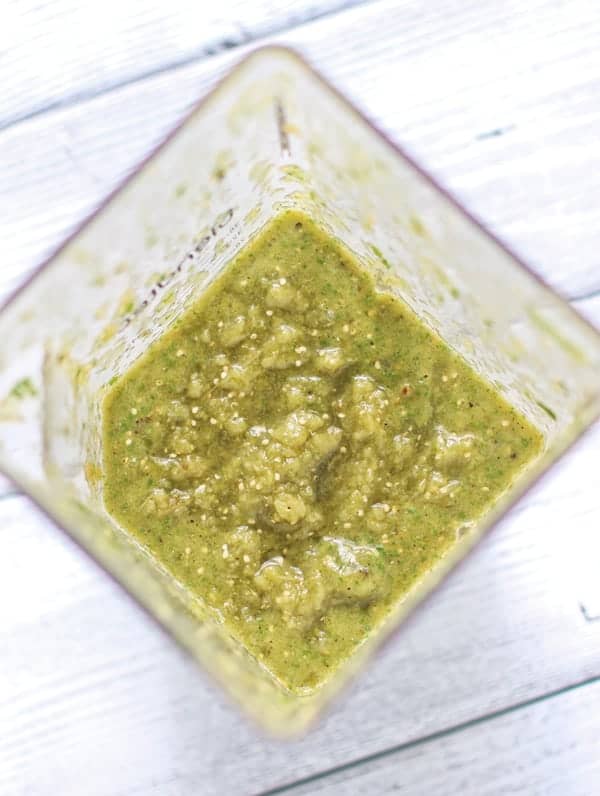 DONE AND DONE!
The taste of this salsa is a bit different then the flavor profile you'll find in most jarred Tomatillo Salsas (often called Salsa Verde). It's a mix of sweet, savory, and smoky. We balance the smoky flavor of the tomatillos with apple cider vinegar to give it a nice bite. If you're not a huge fan of vinegar, just go light on it and add it a tablespoon at a time until you get to the flavor you like. The tomatillos should be sweet enough, but if you like you can always add a teaspoon of sugar just to bring out the flavor more.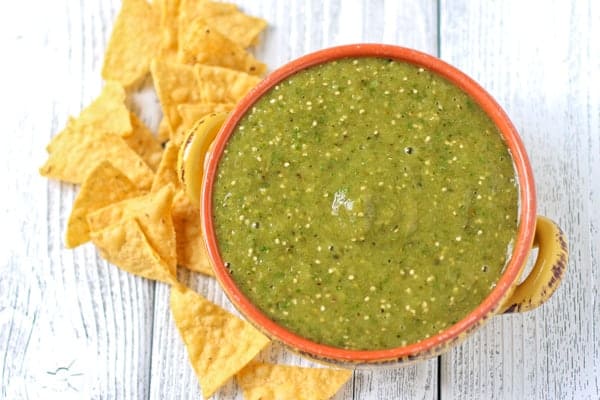 After about a day in the fridge the salsa may thicken up and look a little gelatinous. Just add a little warm water (or more vinegar) and mix up and it will go back to normal.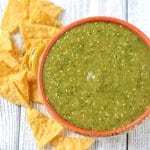 Smoked Tomatillo Salsa
A simple tomatillo salsa using smoked tomatillos and made in the blender. A delicious topping for sausages, chicken, or simply with chips.
Keyword:
smoked salsa verde, smoked tomatillo salsa
Ingredients
6

tomatillos, outer casing removed

½

cup

shallots, diced (can also use red onion)

1/3

cup

apple cider vinegar

1

handful of cilantro, chopped (about ¼ cup packed)

2

teaspoons

salt

Freshly cracked pepper

Water

as needed
Instructions
To smoke the tomatillos:
Preheat smoker to 275 degrees Fahrenheit

Rinse tomatillos, and cut into quarters. Place onto a sheet pan and lightly sprinkle 1 teaspoon salt and freshly cracked pepper over the tomatillos.

Place tomatillos onto smoker for 90 minutes or until they look soft and roasted.

Remove from smoker.
To make the salsa:
Place the smoked tomatillos and any juices into a blender or mixer while still hot. Add diced shallots, apple cider vinegar, cilantro, 1 teaspoon salt and mix.

For less acidity, add water until desired flavor, for more acidity add more apple cider vinegar in small quantities.

Serve over your favorite sausages, or meats.
Recipe Notes
Salsa may thicken up after sitting in the fridge overnight. Just warm up again and add a tablespoon at a time of water or apple cider vinegar.
How to serve Smoked Tomatillo Salsa
With chips
Over tacos
Use in this amazing Smoked Chicken Verde Soup
Serve over grilled flank steak
Use as a base for chicken enchiladas
Breakfast Chilaquiles (yes please!!)
Or as a topping for your favorite sausage
---
For more info on our sister company, Ember and Vine, or if you are interested in a wood-fired catering event, check out our website. 
---
If you like this recipe we'd truly appreciate it if you would give this recipe a star review! And if you share any of your pics on Instagram use the hashtag #vindulge. We LOVE to see it when you cook our recipes.