Find out how to make this super easy Smoked Tomatillo Salsa Verde using tomatillos roasted in the smoker or grill, and quickly made in the blender.
This simple green salsa is fantastic with chips or served over tacos, enchiladas, chicken, sausage, or seafood.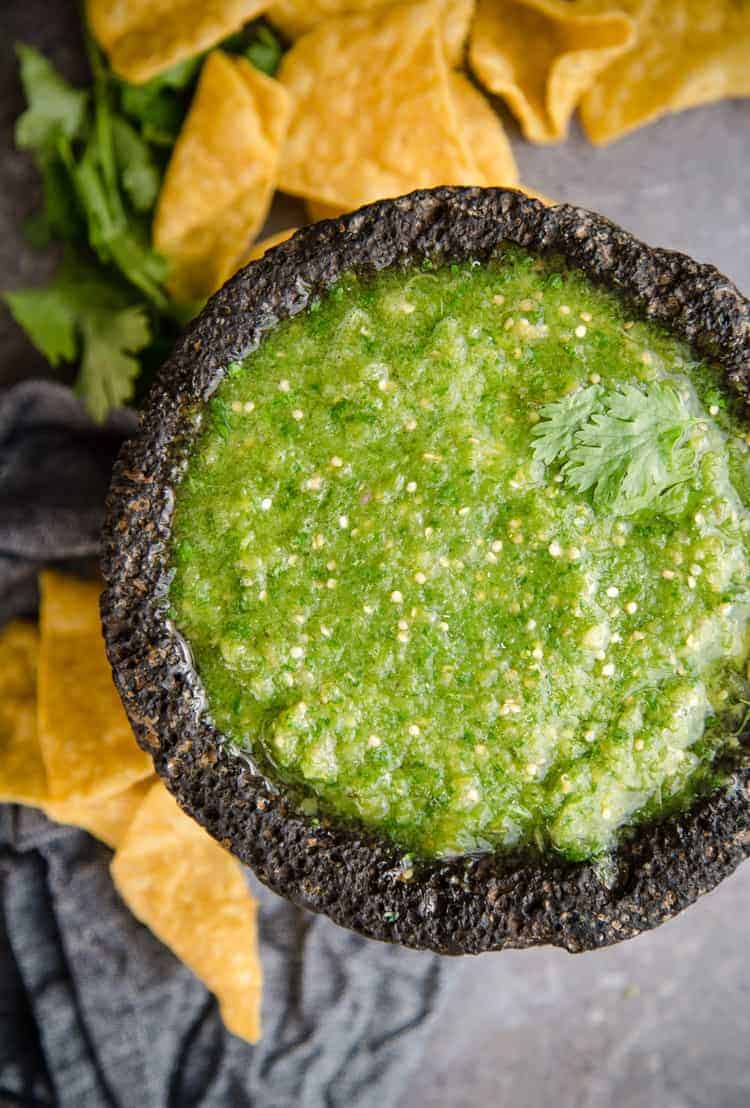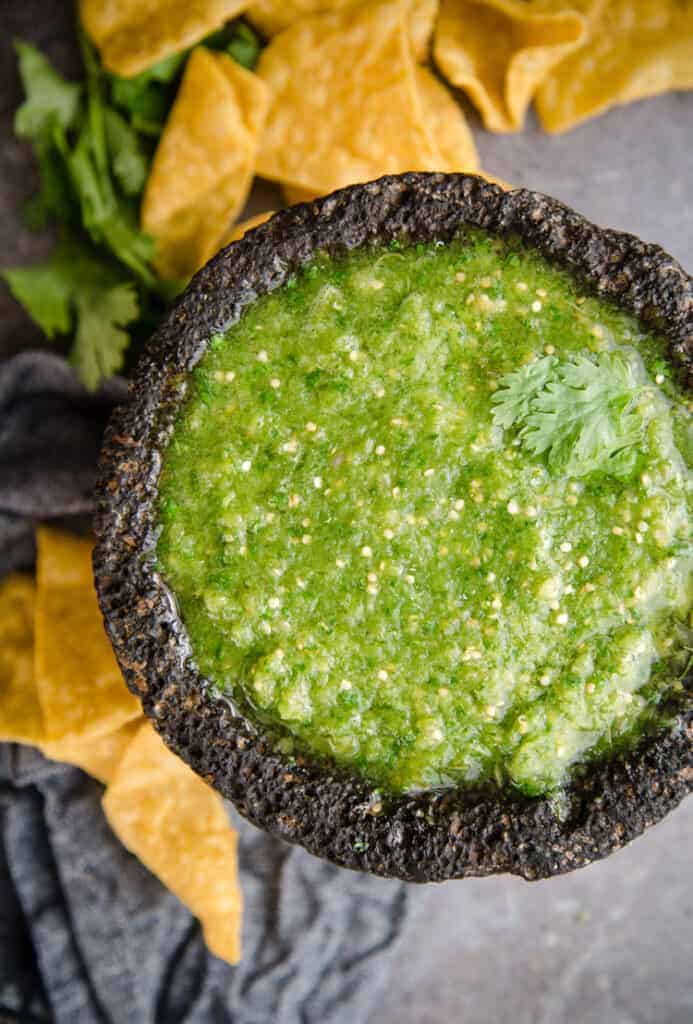 This was one of the first recipes we started serving at our Ember and Vine catering events. We would serve it over smoked sausages and people ate em up (literally!). I can't tell you how many people asked if we bottled the sauce to sell.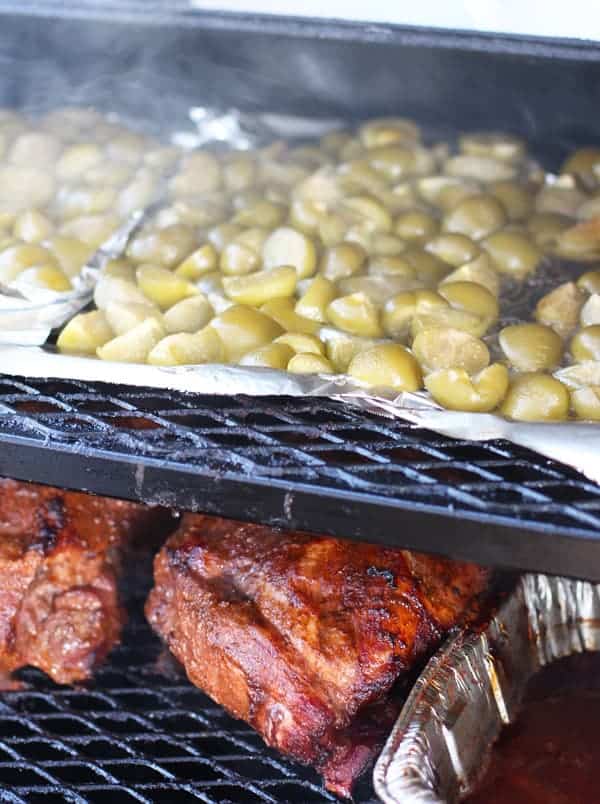 Instead of selling a one time jar of salsa, we would rather empower our guests (and readers!) to learn how to make it. It's so easy to make and is fantastic over everything from breakfast eggs to mixing into enchiladas!
But first let's clear something up…
What is Salsa Verde?
Salsa Verde is "Green Salsa" literally translated. Typically salsa verde is a salsa made from tomatillos, which are green. Cilantro is often added to salsa verde as well.
Are Tomatillos the same as Green Tomatoes?
No. Both tomatoes and tomatillos are a plant of the nightshade family, bearing spherical and green fruit. Green tomatoes are simply unripe tomatoes. Tomatillos, which originated in Mexico, are a different plant. They are covered with a sticky husk that you should remove before working with, and have a tart flavor. We find them best when roasted (and in this case smoked on the smoker or grill). These are what you find in your typical salsa verde.
How to Make Tomatillo Salsa Verde With a Smoked Twist
First prep those tomatillos. You'll need to remove the outer paper-like husk, and discard them. Then give them a light rinse to wipe off some of the sticky residue.
Cut the tomatillos in half (this will maximize the flavor potential when cooking on the smoker. Place them on a baking sheet or over foil so that you can collect any juices that may flow out.
Then place them on the smoker set to around 275 degrees for about 90 minutes, or until they look soft and roasted (they will turn a darker color).
Remove them from the smoker and place in the blender. Add some chopped shallots, apple cider vinegar, cilantro and some salt and pepper, and give them a few pulses to get to your desired consistency.
Take advantage of 25% off most Blendtec blender purchases using the code VINDULGE at check out! (affiliate link)
This salsa is not just a great dip for chips, it's also an incredible marinade for chicken, and it's great on top of tacos, grilled sausages, served over your breakfast eggs, or paired with flank steak.
It's incredibly versatile, and incredibly delicious.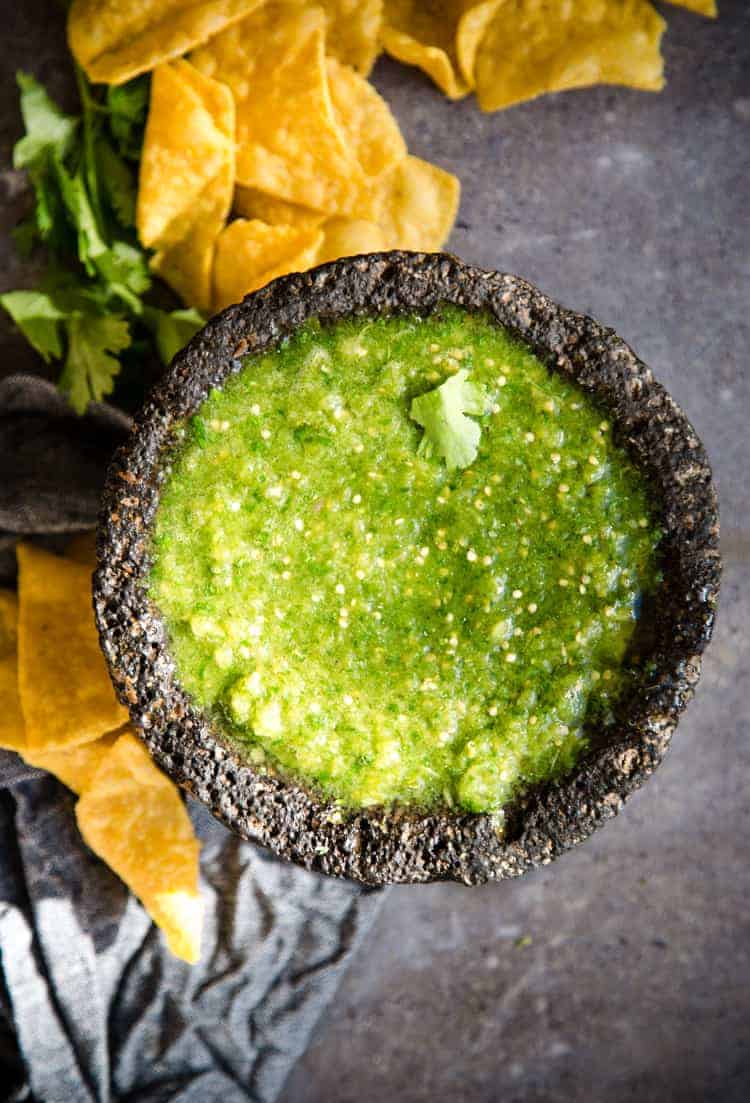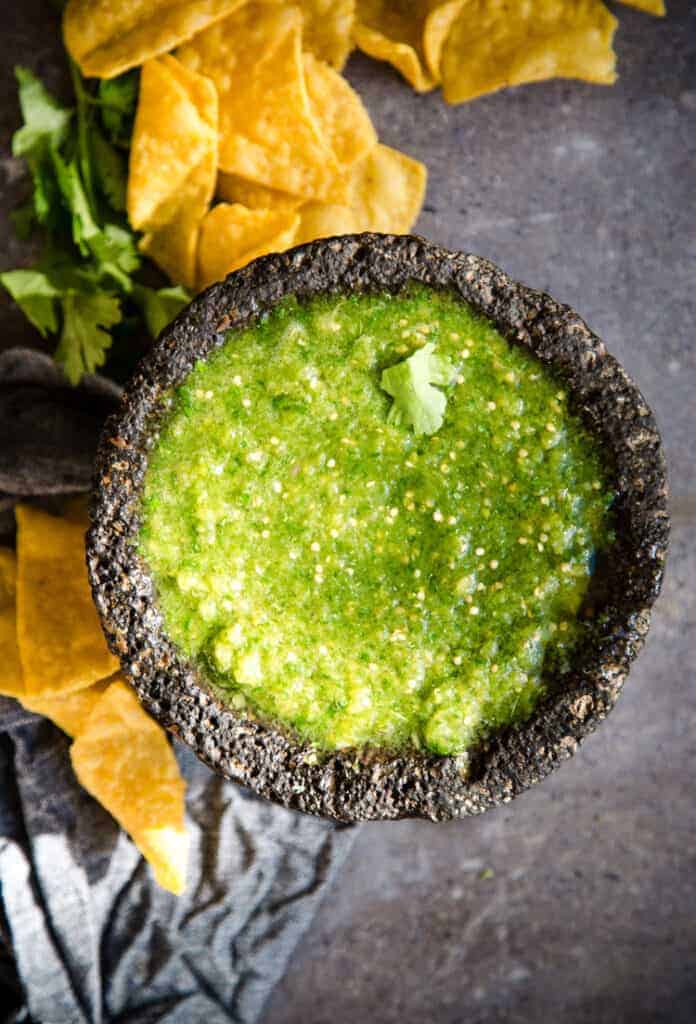 The taste of this salsa is a bit different then the flavor profile you'll find in most jarred Tomatillo Salsas (often called Salsa Verde). It's a mix of sweet, savory, and smoky. We balance the smoky flavor of the tomatillos with apple cider vinegar to give it a nice bite. If you're not a huge fan of vinegar, just go light on it and add it a tablespoon at a time until you get to the flavor you like. The tomatillos should be sweet enough on their own, but if you like you can always add a teaspoon of sugar just to bring out the flavor more.
After about a day in the fridge the salsa may thicken up and look a little gelatinous. Just add a little warm water (or more vinegar) and mix up and it will go back to normal.
When Can I Buy Tomatillos
While late summer and early fall tend to be the common time when tomatillos ripen regionally, they are shipped all year round from various parts of the world. Tomatillos should be easy to find in most grocery stores.
How to serve Smoked Tomatillo Salsa
How to Store Salsa Verde
Place in a glass mason jar with a lid and it will stay fresh for up to 2 weeks in the fridge.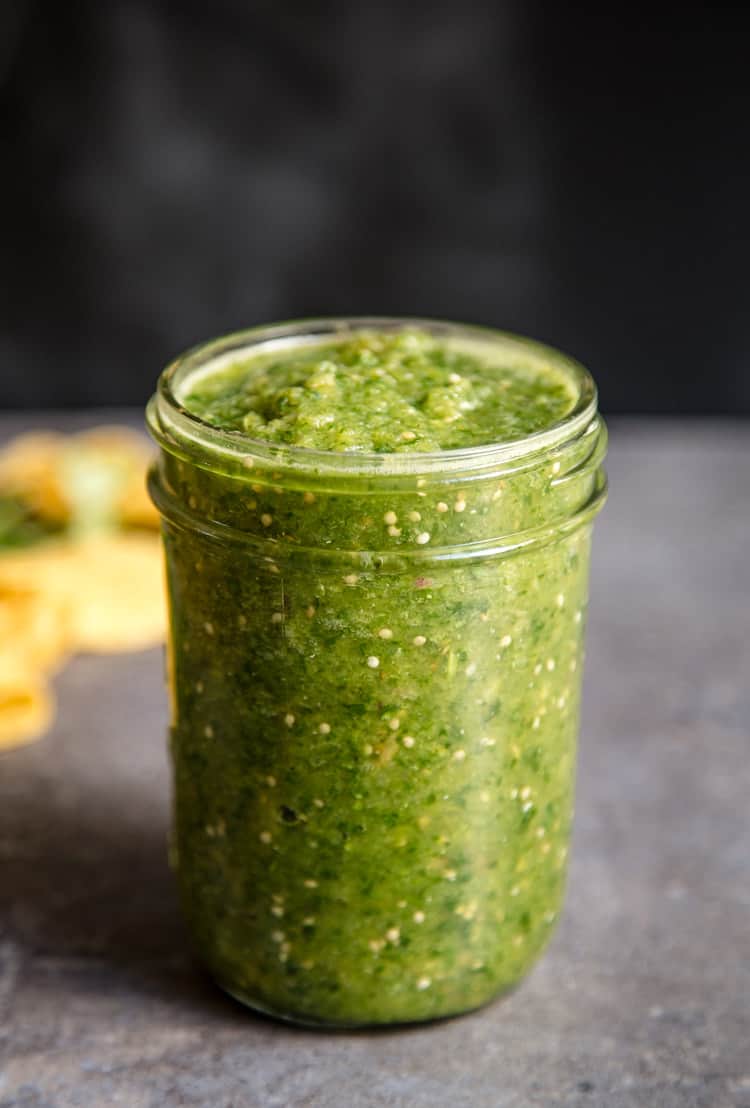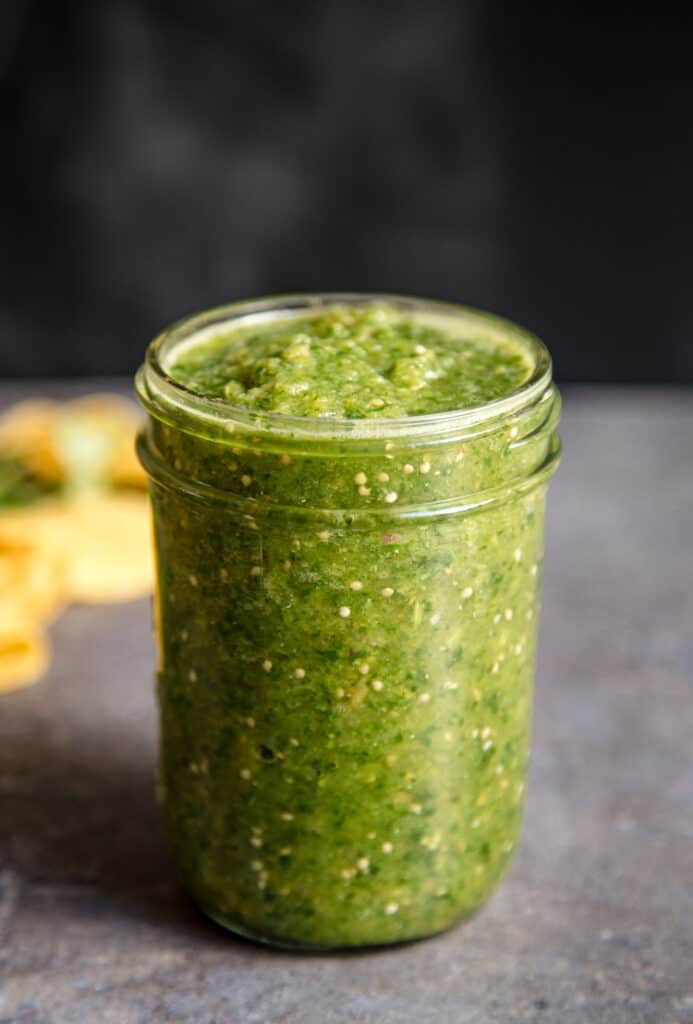 Smoked Tomatillo Salsa Verde Recipe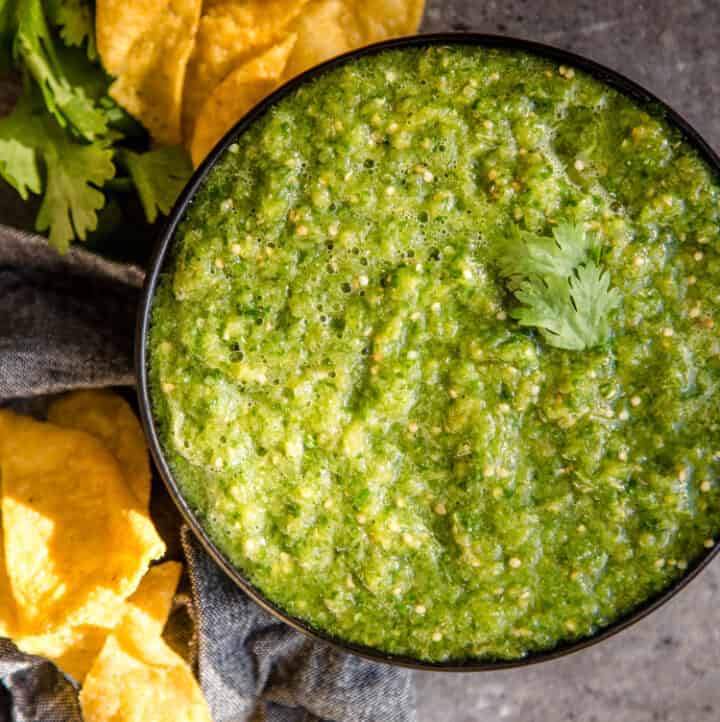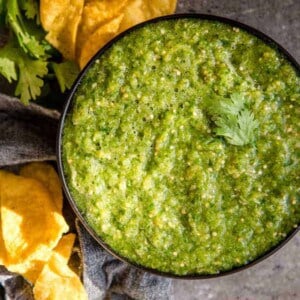 Smoked Tomatillo Salsa
An easy tomatillo salsa verde using smoked tomatillos and made in the blender. A delicious topping for sausages, grilled chicken, or simply with chips.
Print
Pin
Rate
Ingredients
10-12

medium sized tomatillos, outer casing removed

1

lg

shallot, diced (can also use red onion), about ½ cup total

¼

cup

apple cider vinegar

*(may not use it all, see notes)

1

handful of cilantro, chopped (about ⅓ cup packed)

1

teaspoon

salt

freshly cracked pepper

water

as needed
Instructions
To Smoke the Tomatillos:
Preheat smoker to 275 degrees Fahrenheit

Rinse tomatillos, and cut in half. Place onto a sheet pan and lightly sprinkle 1 teaspoon salt and freshly cracked pepper over the tomatillos.

Place tomatillos onto smoker for 90 minutes or until they look soft and roasted.

Remove from smoker.
To make the Salsa Verde:
Place the smoked tomatillos and any juices into a blender or mixer while still hot. Add diced shallots, apple cider vinegar (starting with 2 tablespoons), cilantro, 1 teaspoon salt and mix.

For less acidity, add water until desired flavor, for more acidity add more apple cider vinegar in small quantities.

Serve over your favorite meats, or as a dip with chips.
Notes
*Depending on how ripe and juicy your tomatillos are we like to add apple cider vinegar, 1-2 tablespoons at a time. If your tomatillos are really soft and juicy you may only need 1 or 2 tablespoons. Start small, and add 1 tablespoon at a time until you get to a consistency and flavor you like. 
*Salsa may thicken up after sitting in the fridge overnight. Just warm up again and add a tablespoon at a time of water or apple cider vinegar.
Vindulge readers get an exclusive 25% off discount with Blendtec Blenders by adding the code VINDULGE at check out. Take advantage of this amazing blender for all your sauce and product needs!
Find the perfect wine pairing at the Vindulge Wine Shop
---
If you like this recipe we'd truly appreciate it if you would give this recipe a star review! And if you share any of your pics on Instagram use the hashtag #vindulge. We LOVE to see it when you cook our recipes.