My mother loves to cook.  More than this she loves cooking for people.  She will intentionally make enough of any dish for an army, just so she can bring some to co-workers or friends the next day.  It is how she expresses her love to people.
She has no secrets in her kitchen, and is happy to teach anybody willing to learn some of her specialties, be they tamales, enchiladas, holiday green chili turkey, or her famous salsa.  She always tried to teach me how to cook when I was younger.
However, when I was a hormonal teenager I declared I didn't need to learn how to cook.  That I was an independent woman and independent women don't spend time in the kitchen.  I was stubborn and had a lot to learn.
My love for cooking came later, in my twenties, as I was looking for something to occupy my time after receiving my master's degree.  I was bored and needed something new to challenge me.  So I started cooking.  It was then that I learned one of the truest signs of independence IS knowing how to cook for yourself.  How to not rely on someone else to do it for you.   Knowledge is power, and THAT is independence!  It was also then when I really started to miss my moms cooking and began reaching out to her for some of her recipes.
Mom has always said she would like to create a cookbook someday of her many recipes.  The problem is that nearly every single recipe of hers is inside her head.  She has never written anything down.  The times I've tried to shadow her, and write recipes down for her, something ALWAYS happens leaving the recipe incomplete.
I'll turn my back for one second and she'll add something without me seeing, or add something without measuring it.  "How much seasoning did you use for the meat Mom?"  "I don't know", she'll respond, "I just eyeballed it".  Ugh!
I don't even think my mom owns measuring instruments at home. Everything is done by eye and estimate.  It has been daunting to try to record her recipes.  But I've decided it needs to be done!  Some of these recipes must live on.  Not that my mom is going anywhere!!! She's a healthy and sassy woman with a good few solid decades left in her.  But I just think it's important to help her continue to share her passion for cooking.  So my sisters and I have been trying to record her recipes, one by one.  I started with several of her salsas (her basic salsa, and some that are less traditional), and added her holiday staple, green chile turkey (though this isn't technically a complete recipe either).
During her visit last month I finally got out of her one of her most comforting recipes of all — her Red Chile Sauce.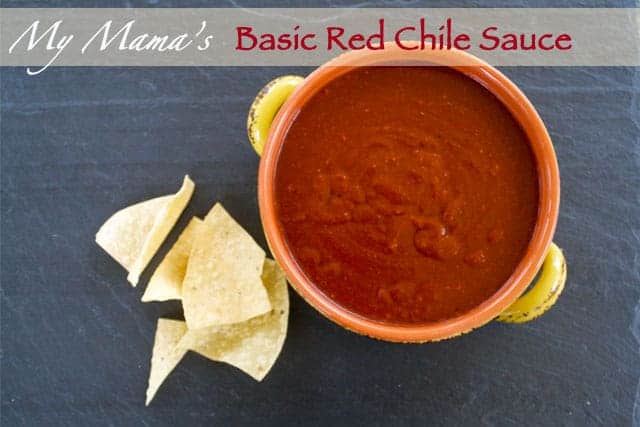 So for Mother's Day, as an ode to my own mom, I share My Mom's (famous) Red Chile Sauce.
This has to be at least my fifth attempt of trying to write down this recipe.  The last time was when about a year ago while I was visiting.  I ended up leaving the room for one minute to check on the kids and boom, I missed something.  #RecipeFail
This time I got it all, from beginning to end.
This recipe is for a basic sauce.  There are several ways to make a red chile sauce.  Try googling it and you'll find hundreds of different methods.  This is the way my mom learned when she was growing up.  She learned it from her own grandmother and also by watching her aunt, who owned a Mexican restaurant in L.A. where my mom worked.  This is the method she learned from as a kid, and the method she has always used since.
When it is finished it makes for a rich, authentic, and delicious base for enchiladas, huevos rancheros, chilaquiles, taquitos, tamales, or to pour over burritos. The options are endless!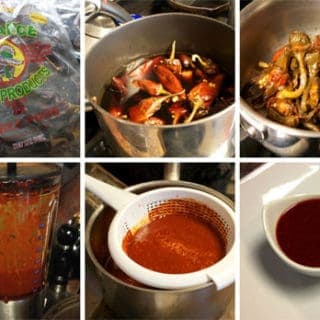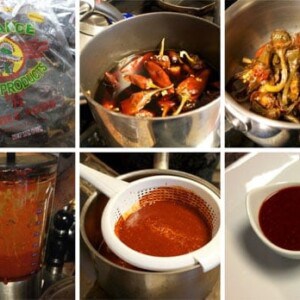 Ingredients
1, 8

oz

bag of dried whole New Mexico Red Chile Pods

my mom prefers New Mexico Red Chile over other styles because of the heat and flavor they give to the sauce

1

bouillon cube

mom prefers chicken bouillon, but if you're not into the MSG that's in some brands then all vegetable bouillon works too (and doesn't have any MSG)
Instructions
Rinse the chile pods.

Fill a large pot ¾ full with water and bring to a boil, mixing in one bouillon cube. Mom is convinced that the bouillon takes away any bitterness from the chiles, so it's an important ingredient in her particular sauce. Add the chile pods, cover, and simmer for 45 minutes, until the pods are fully hydrated. Do not discard the water. Let cool enough to work with.

Next, remove the heads from the chiles. This can be done before you boil them (and many recipes recommend this), but mom prefers to do it after boiling them because the stems/heads come off easier this way.

Puree the chiles in a blender in batches. Add about 8-10 chiles at a time along with 1 cup of the boiling liquid. Blend until smooth. This may require several batches.

Sift the sauce through a colander to get any chunks or remaining seeds out.
Notes
At this point, we separated the sauce into 2 ½ cup portions to freeze.
One batch (8-10 pods), plus the water, is all you need for one sauce portion (or one meal).
This amount made 3 batches. The sauce is not ready to eat at this point. It is just the base for your enchilada sauce.
Find the perfect wine pairing at the Vindulge Wine Shop
Mom then used this base to create a batch of Red Chile Beef Enchiladas…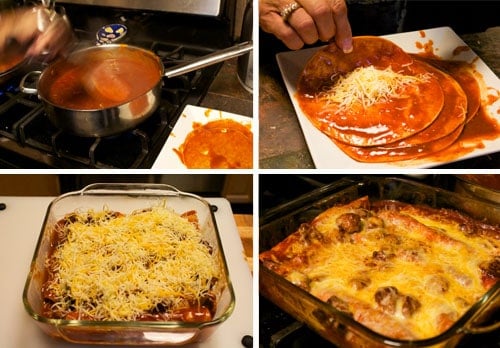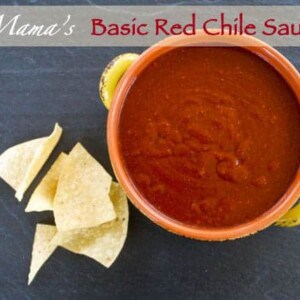 Ingredients
1

lb

Chuck Roast

cut into 1-inch cubes (approx 2 cups)

1

tablespoon

garlic powder

½

teaspoon

each salt and fresh ground pepper

1

bouillon cube

2

cups

Red Chile Sauce

above

some people will add cumin, but mom hates the flavor of cumin. I personally love it, so I'm not sure how we're related!
Instructions
Heat a large skillet to medium heat and coat with a tablespoon of oil.

Season the meat with garlic powder, salt and pepper, and cook in the skillet until almost browned.

While the meat is cooking prepare a slurry: mix 3 tablespoons flour with 1 cup water and shake until flour is dissolved. Add to the cooked meat.

Add 2 cups of the reserved Red Chile sauce into the meat and slurry mix.

Add 1 bouillon cube.

Let simmer 15 minutes.
Notes
Use as a topping for cheese enchiladas! Your family and friends will start requesting this weekly!
You can also omit the beef and make the sauce without it. I like to just cook the basic red chile sauce with the same slurry, fresh chopped garlic, and season with salt, pepper, cumin, oregano, and…. yes, bouillon.
Find the perfect wine pairing at the Vindulge Wine Shop
 
You can also dress it up pretty and gift to your favorite someone, like this: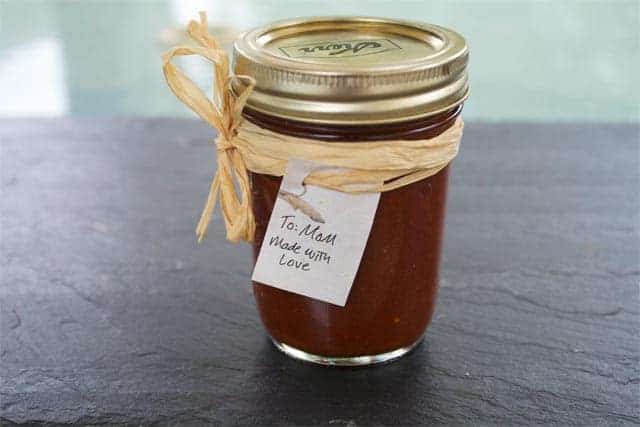 Happy Mother's Day to all the awesome Moms out there… especially mine.
I love you Mom.  Someday your cookbook will be complete!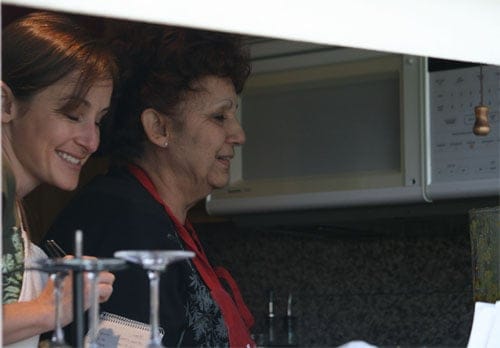 For more of my Mom's recipes:
Mama's basic salsa recipe
Chipoltle Garlic Salsa and Tomatillo and Roasted Green Chili Salsa
Green Chili Turkey
~~~~~~~~~~~~~~~~~~
Want more?  If you liked what you read you can subscribe to Vindulge and have new posts delivered directly to your inbox.