Growing up in a Mexican-American household our classic meal was typically drenched in a flavorful Mexican Red Chile Sauce. My mom would simply take New Mexico Chiles simmer them in hot water with fresh garlic and then use a blender to her preferred consistency. That's it. No tomato sauce or chili powder is needed.
And now I'm finally sharing the secrets for the perfect authentic red chili sauce, great for enchiladas or other Mexican food classics.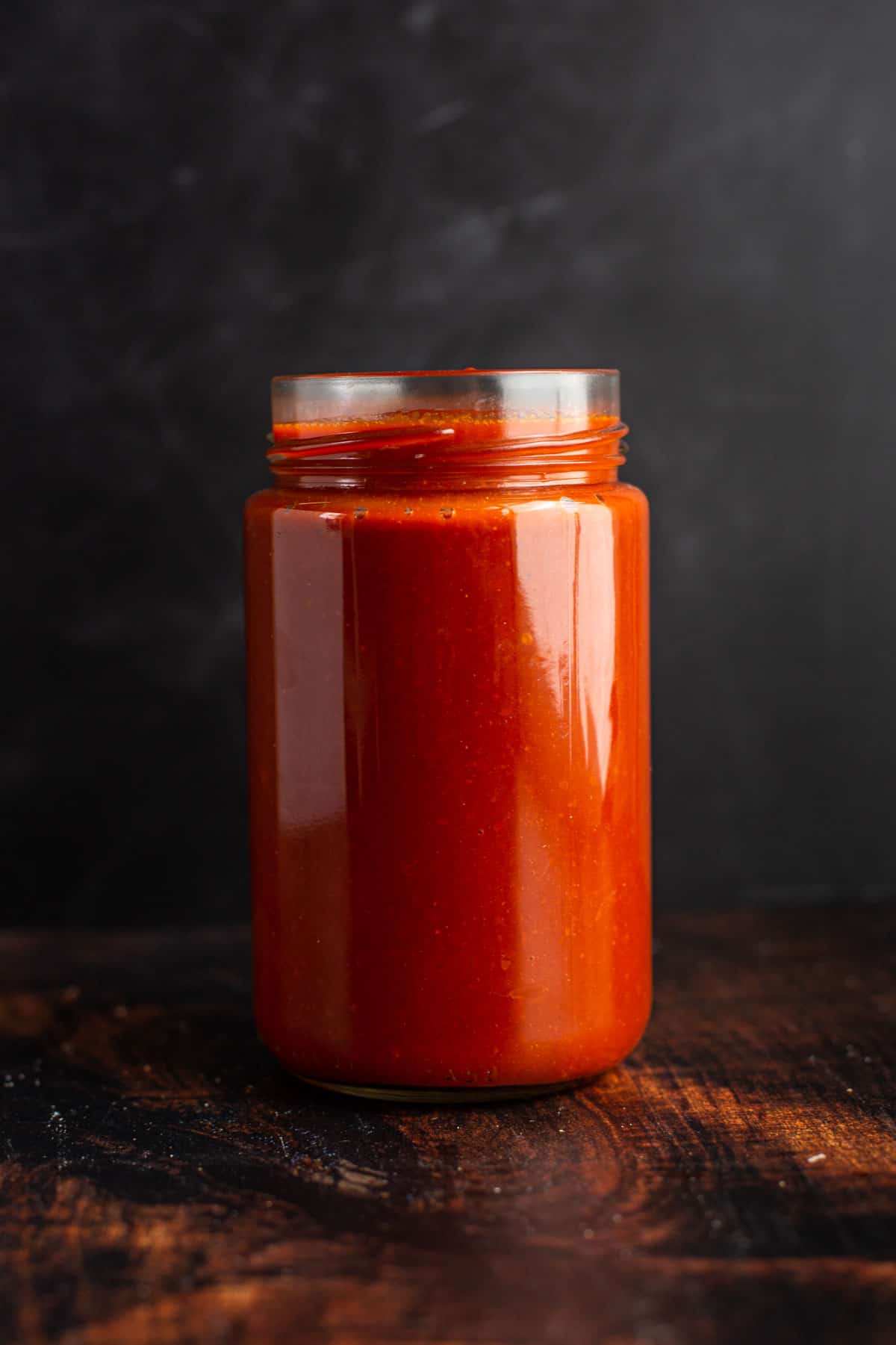 One of the secrets I found is that my mom starts with this basic sauce, and then adds various ingredients to the sauce after it is made to fit the style of Mexican food she was making, from enchiladas to a sauce over a burrito. And she never really told us the secrets to that technique until now.
Jump to:
Recipe Highlights
This is a flavorful red chili sauce that is medium heat.
You can modify the flavor using any dried chile like ancho chiles or other dried peppers.
You will find dried red chile pods in the Mexican aisle of most grocery stores.
About Dried Chile Pods
Many authentic Mexican recipes start with dried chiles, whether a red sauce or a green sauce. The most important ingredient for this red chile sauce recipe is the dried red chiles. It is the base of all the flavor. By changing the type of chile pods you can make this a mild heat or even into a spicy red sauce. But for your first time we recommend starting with one of two red chiles.
To start out use dried Mexican Chile, which is also know as red chile or hatch red chile. This style of chile tends to be slightly bitter but a bright flavor and color which is appealing. There are ways to offset the bitter flavor with other ingredients. See below for more details. They may also be called California chile pods.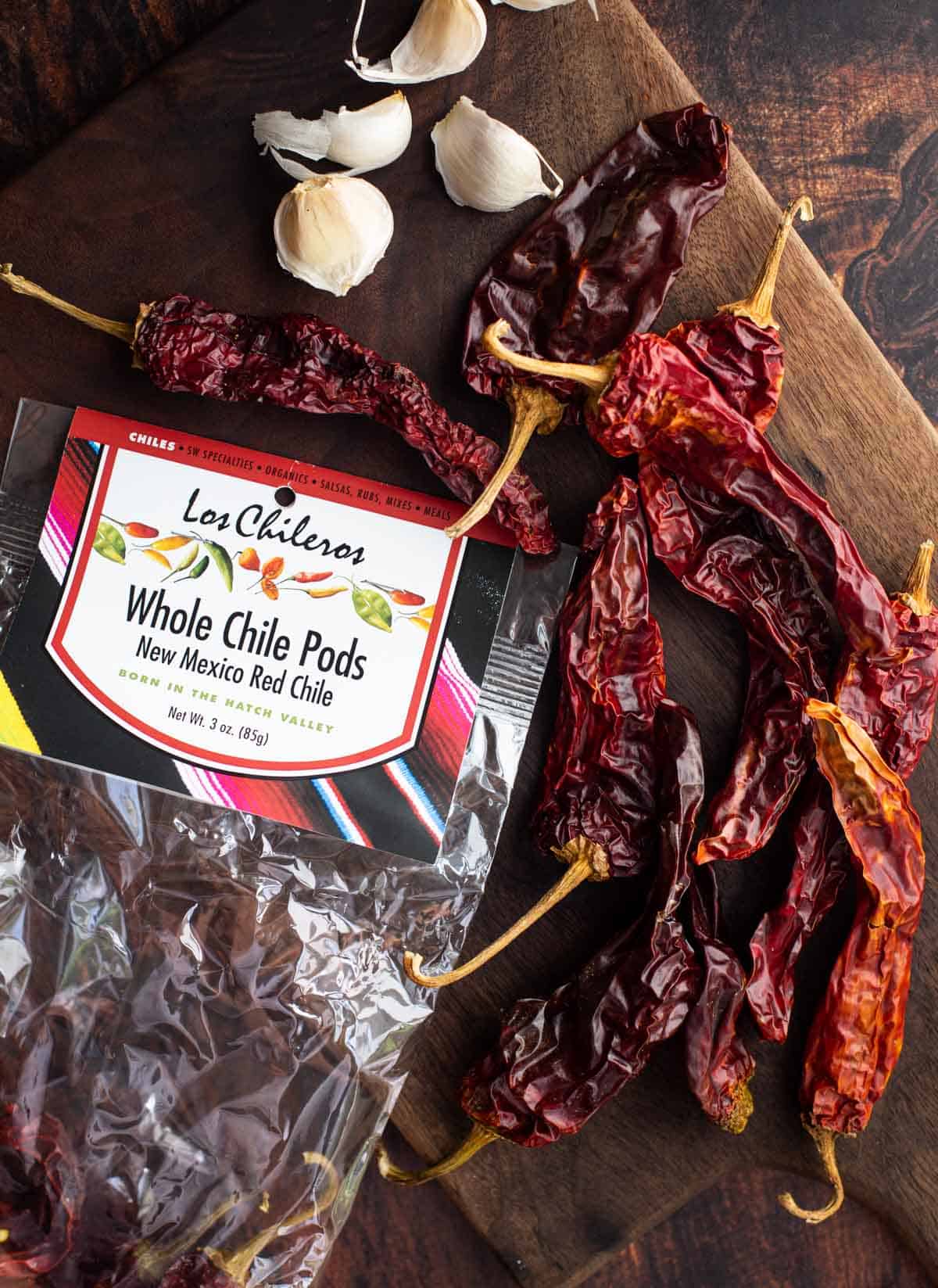 The other most common is the dried guajillo pepper, which will be more earthy and give a darker color to the chile. Guajillo typically make a low heat red chile sauce with a little more sweetness.
If you want more heat then you can combine more dried chile, like chile de arbol or even sweet pasilla chiles. The goal is to experiment with various types of dried chiles to find the combination you like.
You can get chili pods online if you can't find them at your local store. They come in multiple sizes, but the typical package will be 3-ounces. If you mix peppers use the full 3-ounces of the underlying pepper for flavor and then add 2 or 3 other peppers to enhance the flavor.
Ingredients for Red Chile Sauce
Dried New Mexican Red Chile or Guajillo Peppers
Cold Water – Which will be boiled to hydrate the pepper and then some used to make the sauce
Garlic Cloves – Crushed
Kosher Salt – This will be important after you make the sauce
Tools for Red Chile Sauce
Large Stock Pot (At least 3 quarts)
Good Blender – A food processor can work too but you will have better success using a good blender.
Instructions
First: Start with removing the stems and seeds from the chile pods.
Second: Bring cold water to a boil in large stock pot.
Third: Add the dried chile pods and garlic to the boiling water and reduce to a simmer. Simmer for 30 minutes.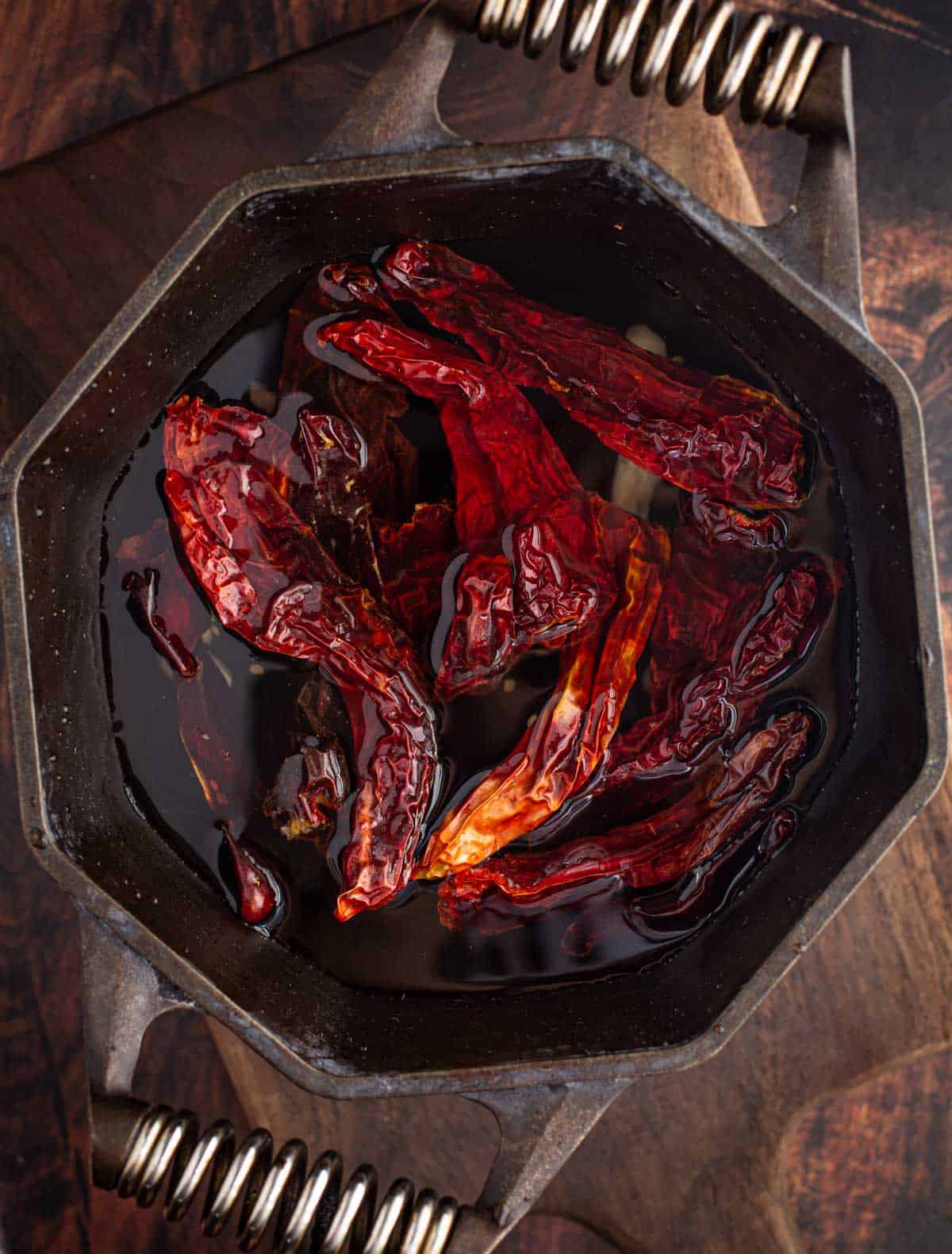 Fourth: Remove the chile pods (now rehydrated) and place them and garlic in the blender. Take one cup of the water it was simmering in and place in the blender. Pulse until the chile sauce is smooth and any skin and seeds are completely pulverized (pulse for about 3 minutes).
Fifth: Add salt. If the sauce is bitter then add more salt to offset the flavor.
Optional – If there is still skin and seeds in the red chile sauce then pour the red chile sauce through a mesh strainer to separate.
Flavoring the Red Chili Sauce
Once the simple sauce is done you can flavor or enhance as you see fit. For a classic enchilada sauce recipe we like to add onion powder and more salt to balance the potential for a bitter sauce. For burritos we will start by browning some chuck meat and then add the red chili sauce with some Mexican Oregano for a take on chile Colorado.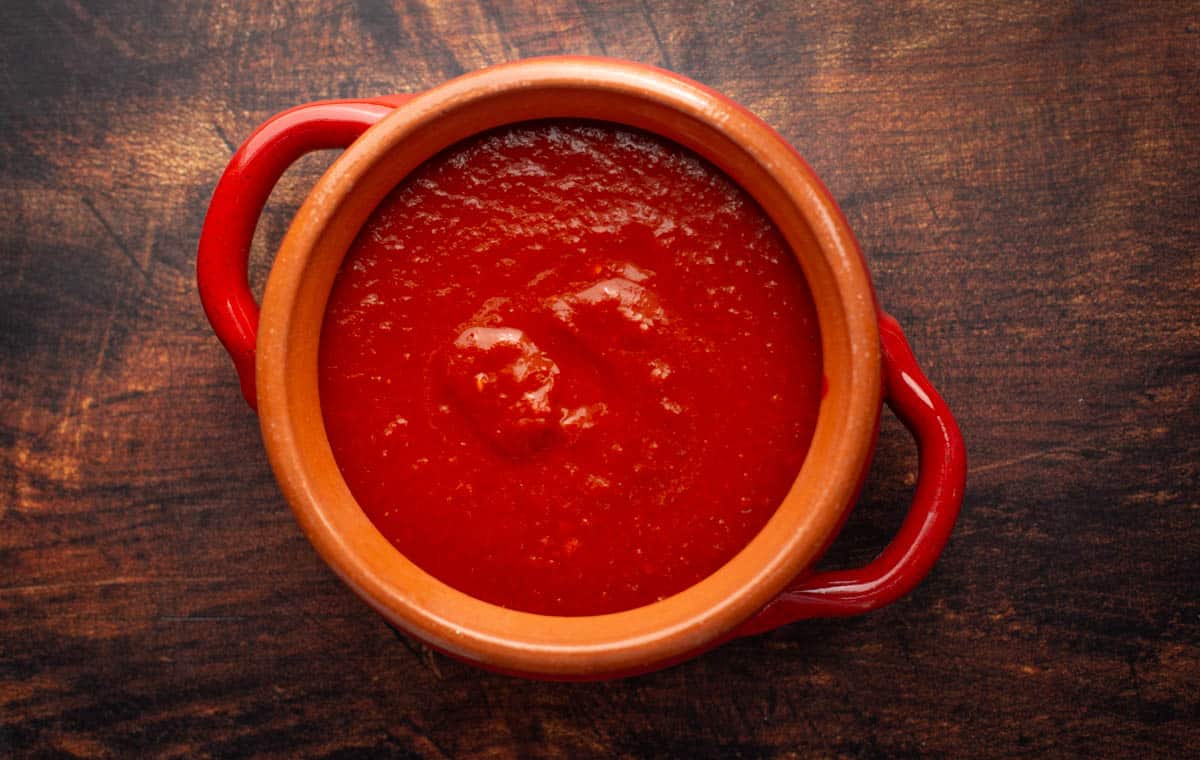 Variations
If you want to spice it up and not play with various chili pods use your favorite hot sauce for heat. You can add chicken broth (or stock) versus water to the blender for a little more richness.
Storage
This can be used immediately or you can store in a mason jar for up to 10 days in the refrigerator. Otherwise freeze in quart sized baggies to make it last up to one year.
Recipe Inspirations
This sauce is great on our pork enchiladas, which is a great way to use leftover pulled pork. We also use this sauce as a base for our beef enchiladas, a great use of chuck roast. You can easily drizzle this over brisket nachos too.
---
This post was originally published in May of 2014 and updated July of 2022 with more specific recipe steps, storage details, and new process photos.
This post may contain affiliate links. This means if you click on the link, we may receive a small commission if you purchase through the link. We partner with brands we know and love and use and it helps keep the blog going!
---