Turn leftover pulled pork into a plate full of incredible Pulled Pork Enchiladas. Perfect for Cinco de Mayo, or an easy weeknight dinner.
You can also explore our entire roundup on leftover pulled pork recipes for more great ideas.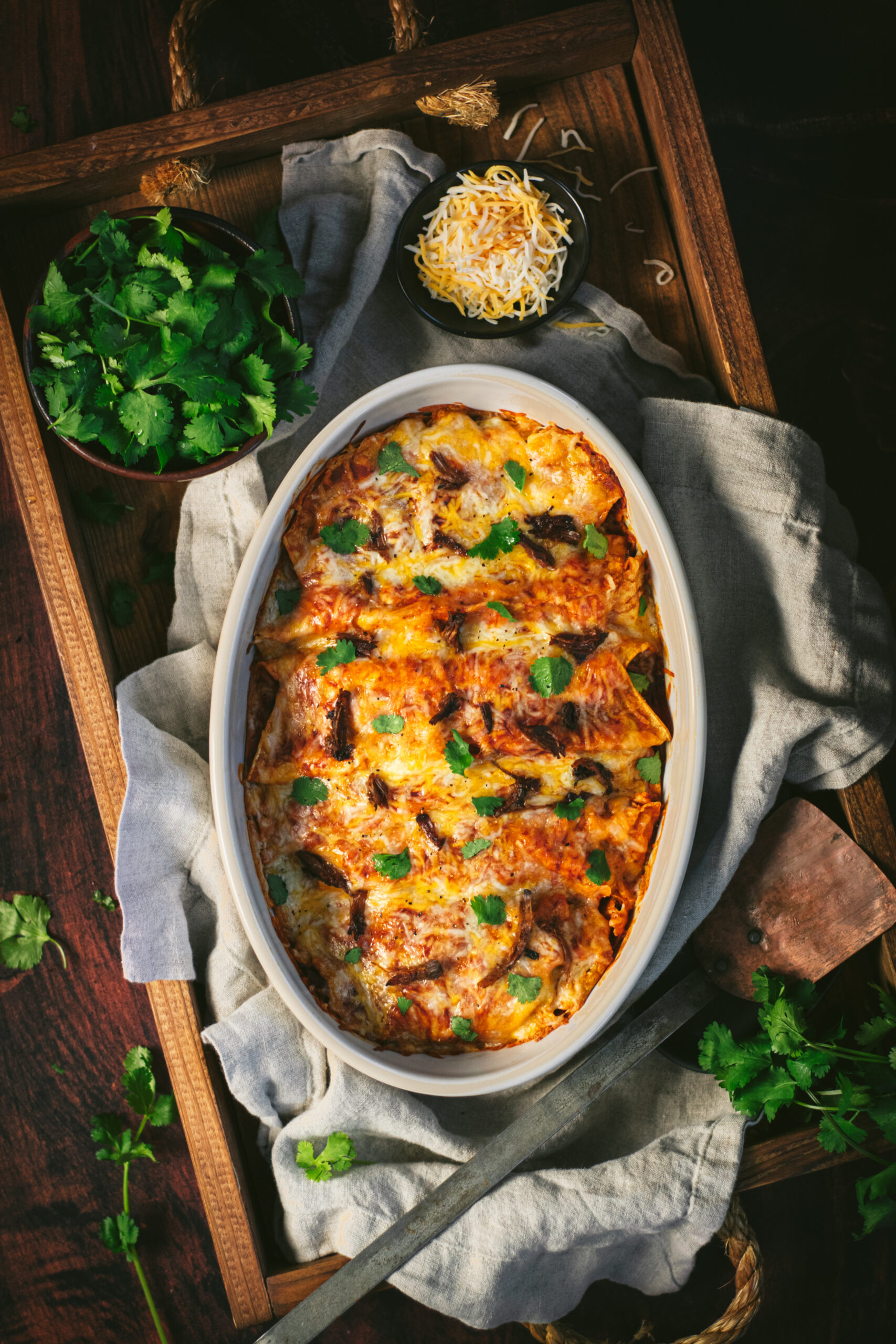 Jump to:
It's time to talk about something serious. Cinco de Mayo. As a Mexican American from central Arizona we love to celebrate this day with all things food. Festive food. I'm talking salsa, guacamole, tacos, taquitos, burritos, fajitas, flautas, machaca, quesadillas, you name it. And of course all of the enchiladas in the world.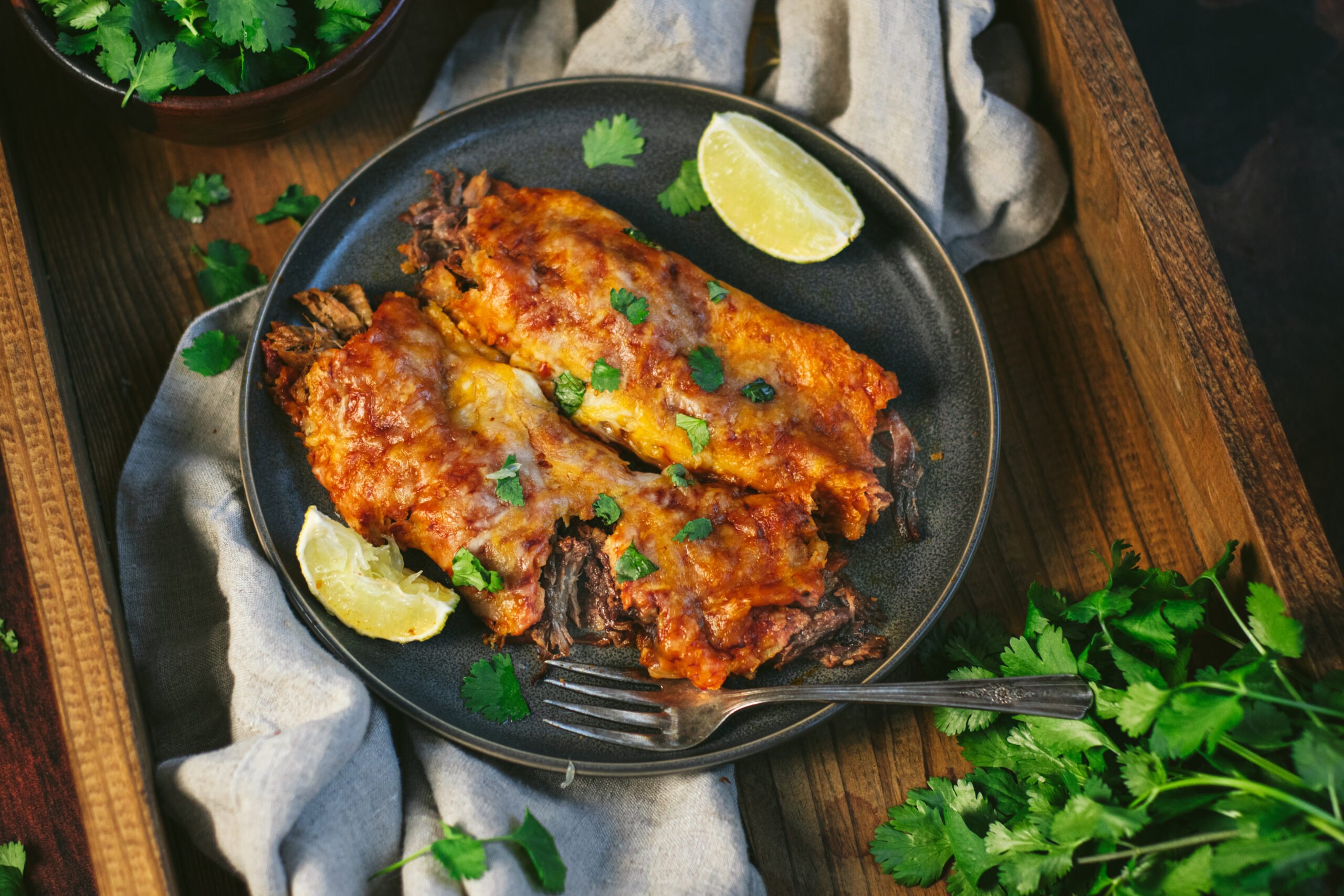 And you know who makes the best enchiladas? My mom. And when my mom and our smoked meat get together for a party it's all sorts of deliciousness happening for dinner. And the last time my mom visited from AZ we happened to have some leftover pulled pork laying around (because who doesn't?) and decided to put it to good use by making enchiladas with my Mama's Basic Red Chile Sauce.
But don't fret. If you're not up for making the homemade sauce, you can totally buy a store-bought enchilada sauce (that's what we usually do. Just don't tell my mom!).
Some people seem to think there's some secret technique behind making enchiladas, or that it's some complicated process. Well there's no secret, and it's not complicated.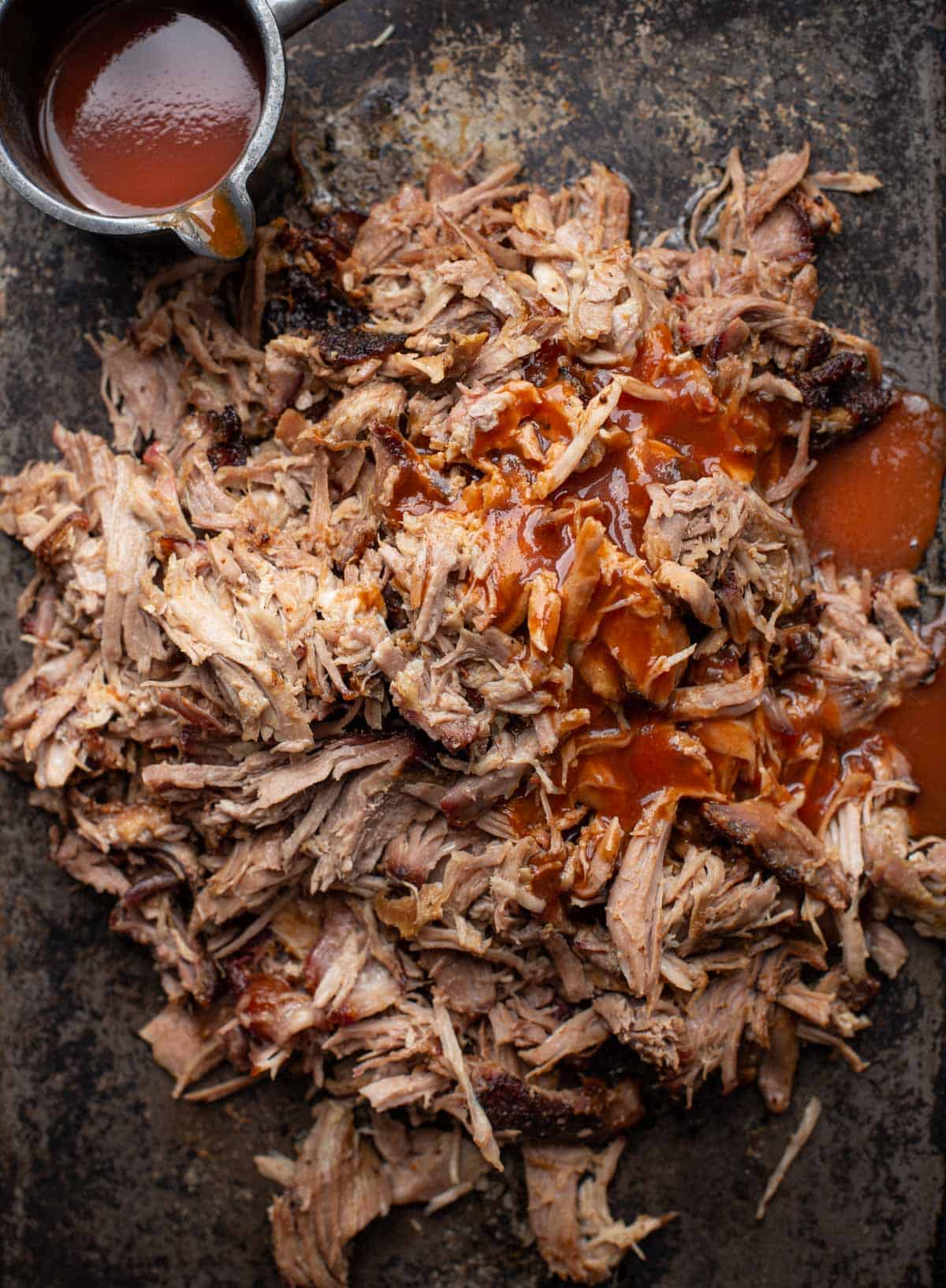 How to make Enchiladas with Leftover Pulled Pork
When making any kind of enchiladas it's important to keep in mind your corn tortillas. Depending on the tortillas you buy they can easily crack in the process of rolling your enchiladas. This is because they're pretty dry right out of the package making them easy to tear. This is why it's helpful to soften them first. And everyone will have their own method of softening the tortillas so that they don't break.
Growing up my mom used to have a pot of hot oil that she would dip the tortillas in before placing the filling and rolling them. I didn't love having that excess oil in the dish (though it did make them extra delicious), so we started softening them up in extra warmed enchilada sauce instead. Just make sure the sauce is warmed, this will help the tortillas soften.

Dip your dry tortilla into the sauce to get it wet all around, then place it on a plate, stuff a couple tablespoons of the filling, and roll them up, just like so.
Then roll them up with your filling and place inside your baking dish like little soldiers side by side, and top with the remaining sauce and any additional pulled pork and a big handful of shredded cheese.
Pop that bad boy in the oven until melted and warmed through (around 20 minutes), and you've got yourself an enchilada dish for smoked food lovers.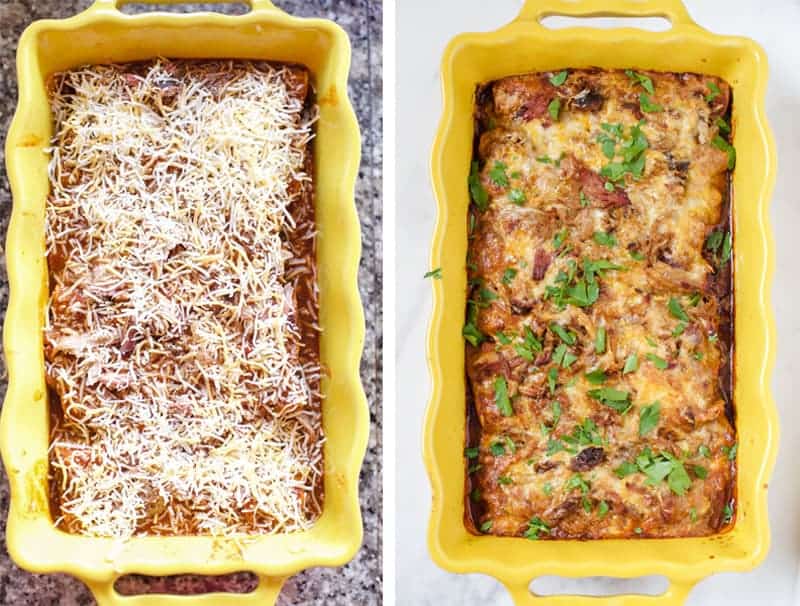 Dig in!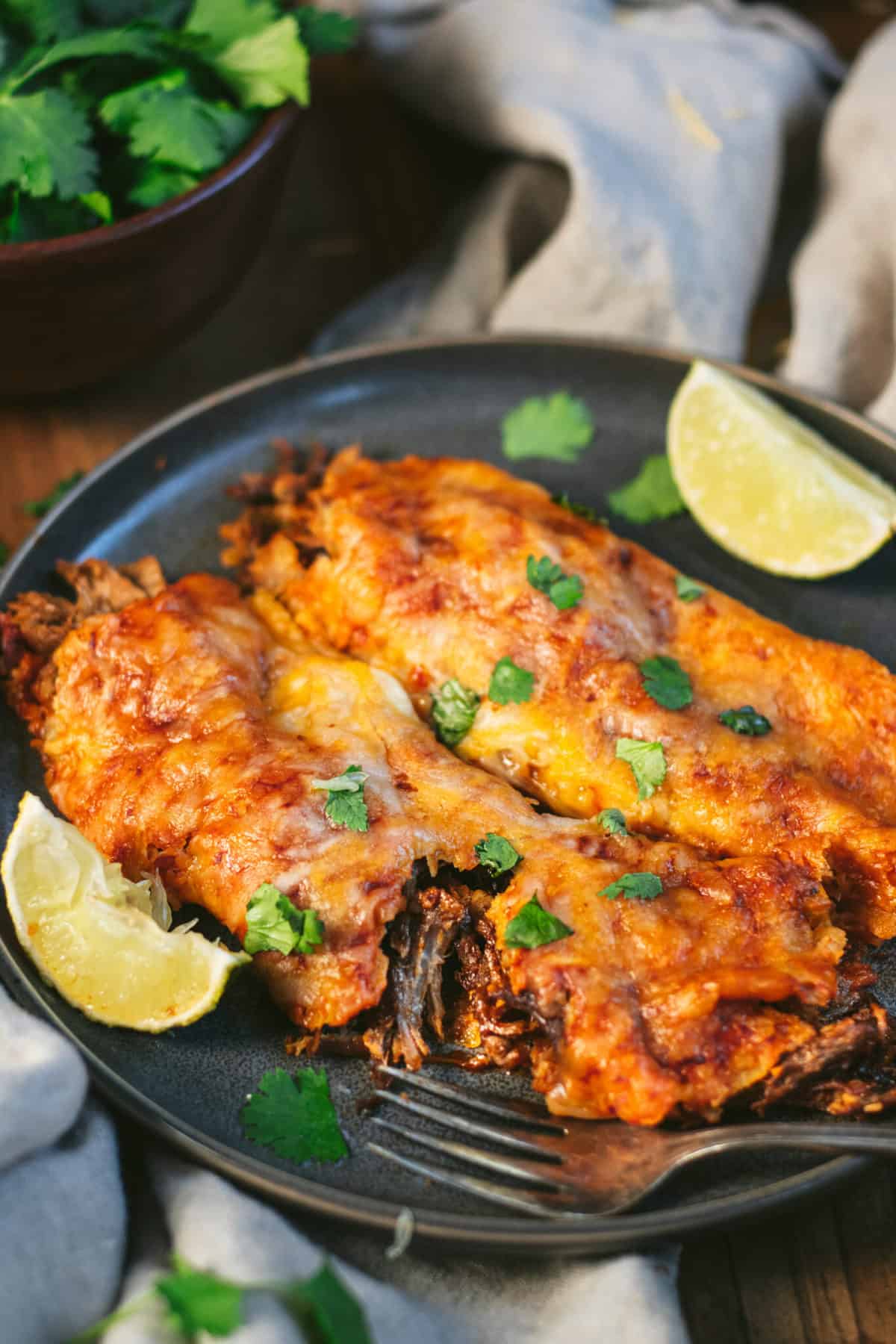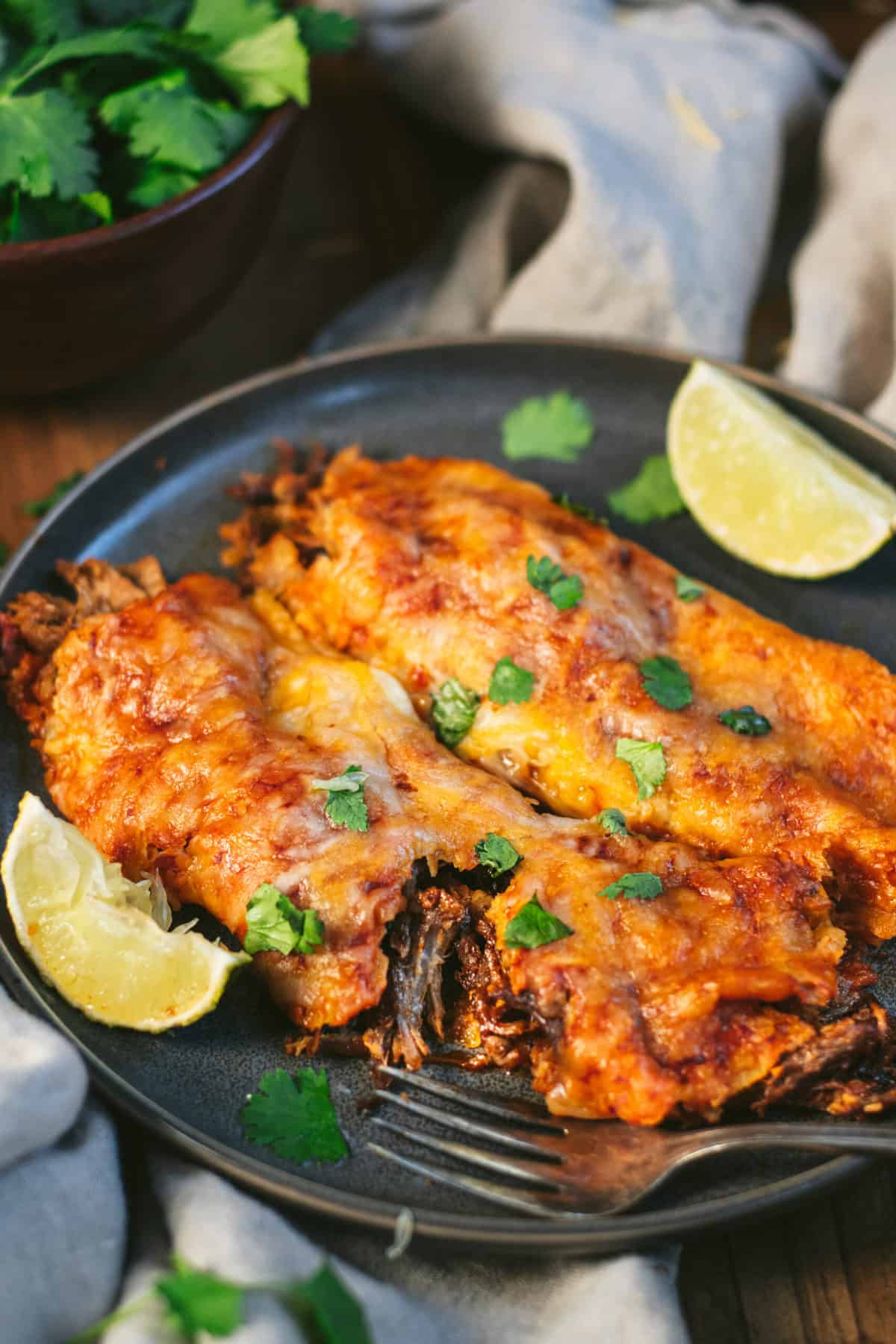 Love this recipe? Try out our beef brisket enchiladas with leftover smoked brisket too.
Wine Pairing for Enchiladas
My go-to for enchiladas is usually a fruity and easy drinking red like Malbec or sometimes Carminere. I'm not looking for anything with tannins or too much complexity. Just like one would reach for a Pacifico or Corona with their Mexican-American dish of choice, I'm looking for a simple and refreshing wine for my hearty meal.
---
If you like this recipe we'd truly appreciate it if you would give this recipe a star review! And if you share any of your pics on Instagram use the hashtag #vindulge. We LOVE to see it when you cook our recipes.
*This post was originally published in April 2017 and was updated January 2022 with new photos and added clarity. The recipe remains the same.*
---
---