A roundup of some of my favorite things from the past week in the categories of wine, food, travel and lifestyle.
Since this past weekend was Mother's Day, many of the items that topped the list this week are, naturally, a result of a memorable weekend.
LIFESTYLE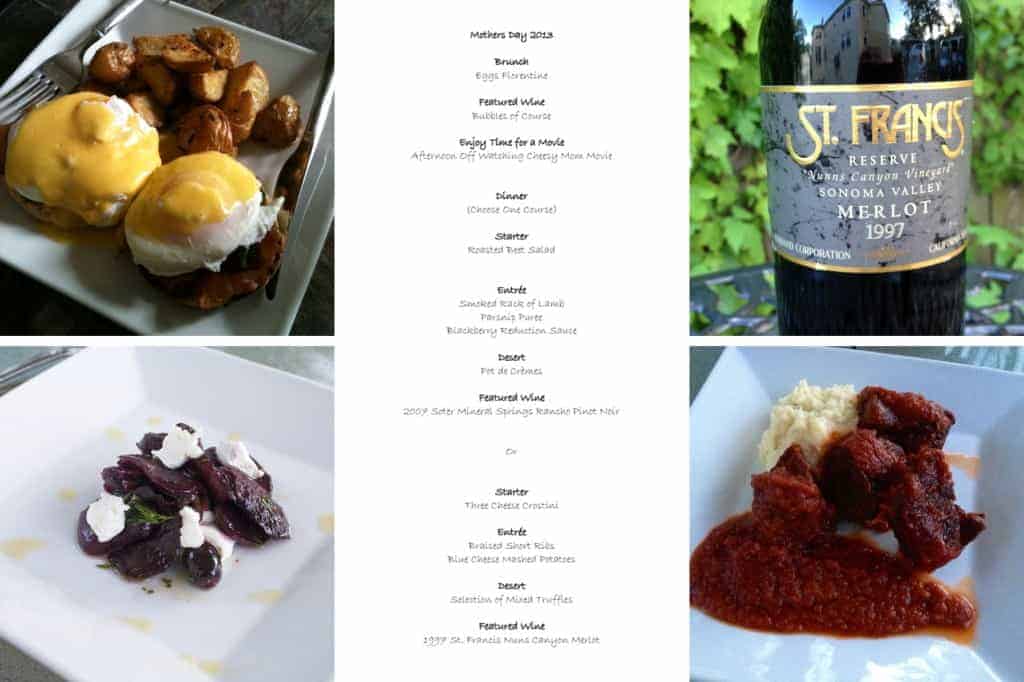 My weekend began with my husband presenting me with this sheet of paper (centered on the photo collage). "You must choose your entrée for Mother's Day", he says. "I need to do the shopping today so everything is ready for tomorrow. So make your selection. And read the fine print, no substitutions."
No substitutions? Who does this guy think he is, Gordon Ramsay? He can't intimidate me!
I worked my magic and smoothed talked him into switching up the first courses, so I got the beet salad, short ribs, and truffles for dinner! Any other day I would have opted for the pots de crèmes, but with a heavy dish like short ribs I thought dessert should probably be lighter. A bite of chocolate would be perfect.
What was more perfect was that hubby was thoughtful and cute with this whole pre-planned menu thing. I appreciated the thought that went into it.
FOOD
This Beet Salad, recipe by Paula Deen
This was the starter course that hubby prepared using this recipe (photo bottom left in the collage). I was a little judgmental of him using canned beets at first, but when he reminded me that beets are not yet in season I gave him the benefit of the doubt. This salad was delicious! He swapped out the feta for goat cheese at my request, because there's nothing like the combo of goat cheese and beets, and only used half the recommended oil. You must try this salad, especially those who may think they don't like beets. Roasting them, tossing with olives, rice wine vinegar, oil, and topping with the cheese makes for rich and divine salad.
These Braised Short Ribs, recipe by Anne Burrell
There is no good photo on the Food Network website for these ribs, so my dark photo taken with my iPhone will have to do (bottom right). This was a very different style of Braised Short Ribs than I am used to. Typically the sauce is requires more liquid and chunks of vegetables. This recipe calls for pureeing the veggies, adding a TON of tomato paste, and slowly cooking the short ribs in this very thick, rich, and insanely flavorful sauce.
It was ridiculous. Ridiculously good that is.
Hubby served it along with these Blue Cheese Mashed Potatoes from The Neelys (I heart them). They had just the right amount of blue cheese in them without overpowering the dish. And yes, just in case you were wondering, we're both kind of obsessed with The Food Network.
We paired it with a 1997 St. Francis Merlot, Nuns Canyon Vineyard Reserve, Sonoma Valley, which was admittedly a bit too mellow and aged for this particular dish, but alone it was drinking very nicely and a great example of how well the wines from St. Francis can age.
The wine was soft and silky and showed its age with deep earth tones and aromas that were almost port-like. The colors had developed a brown hue, and the mouth was soft with very little tannins left. We've had this bottle since we lived in San Francisco (pre-2006), so it was time to open this bad boy and I'm glad we did. It's always fun opening up older wines even if they don't always go perfectly with the intended dish!
WINE
In addition to the St. Francis I'm also including a wine that may be easer to find (since the Merlot has likely been sold out for years).
2010 B-Side Red Blend, by Don & Sons



Napa Valley, CA
13.6% abv | $31 (but on sale on their website right now for $23.25) — (received as media sample)
Blend of 49% Cabernet Sauvignon, 23% Merlot, 16% Syrah, 11% Petit Verdot, 1% Cabernet Franc
Back when I was a freshman in high school I used to date a guy who was a junior. He dressed in all black and was obsessed with The Cure. The true Cure fanatics are the ones who appreciated the B-Side albums more than the mainstream. He would make me mixed tapes of his favorite Cure songs (B-Sides of course!) that I would then blast on my Walkman trying to memorize the lyrics of all the songs so I would fit in better with him and the Cure loving crowd. I was a dork.
When I first heard the story of this wine I was immediately transformed to those B-Side Cure days.
The story behind the B Side Wines from the website
In the early 1950s record companies introduced the two-sided 45. The "A" side played the song the record companies hoped would become a hit. But the "B" side was often the real find, frequently revealing an undiscovered gem.

Inspired by these unheralded classics, B Side wines bring this alternative sensibility to the decidedly A-list world of Napa Valley wine. Hailing from Napa's "flip" side, B Side reds are crafted with grapes sourced from the slightly-off-the-beaten-track vineyards along the valley's eastern hillsides. They're authentic originals: a little experimental and unexpected, crafted and perfected behind-the-scenes for those with a penchant for discovery.
I first tasted a small sample of this wine during a live twitter tasting. Both the wine and the story behind the wine piqued my interest. I was then sent a full bottle to review, which I finally opened up this week.
The wine has dark rich cherry, blackberry, and blueberry fruit up front, and dark and luscious in the mouth with bold tannins. The wine is not super complex, but it is smooth and rich in fruit and very pleasing to drink. It would make for a nice pairing for grilled flank steak, ribs, or any kind of meat accompanied by a rich sauce (like a reduction sauce or BBQ sauce). In fact this wine would go quite well with the short ribs from above. The price is nice too compared to what can be expected from Napa.
TRAVEL
This article – Visiting European Wine Regions? Throw Out the Itinerary!, By Evan Dawson on Palate Press
I love Evan Dawson's writing, as you may remember from a review I did from his book Summer in a Glass. In this article he recounts a recent trip he took with his family to France, and stresses the importance of not being tied to a strict itinerary. "There is a powerful effect to throwing out a day's itinerary and replacing it with a simple curiosity about small towns, their people, and their produce." Read more…
SNACKS
I've mentioned before that I've been trying to find new foods that give me energy, while also providing me with necessary nutrients. It's exhausting waking up at 5:30 am and attending to the needs of twin toddlers throughout the day, while managing a business, writing, and trying to fit in workouts. I need help to sustain my energy. Chia Seeds have definitely been helping, but I've also been sampling these bars all week. Plus I should also mention I'm training for another half marathon (egads!), which means I'll need even more power food during my training!!

I was sent three different types of thinkThin bars to test, and have been snacking on them all week. I didn't care much for the peanut butter high protein bar (they were dense and reminded me of Cliff Bars, which I also don't care much for). They did contain 20g of protein, which would come in handy for the days you need a huge protein boost! I did, however, really enjoy the thinkThin Crunch blueberry mixed nuts and also the thinkThin coconut chocolate mixed nuts. These are my style of energy bar!
The blueberry bar had a great crunch and nice sweetness from the blueberries and honey. I loved the combo of the peanuts and almonds (my favorite nuts), and the crispy crunch you get from the soy crisps.
The coconut chocolate bar reminded me of the Quaker Chewy Granola Chocolate Chip Bars I used to eat growing up, but much fresher, crunchier, less chewy, and they actually have some protein (9g vs only 1g in the Quaker ones) and fiber (4g vs 1g) with equal amounts of sugar (7g), so they offer more in the way of nutritional value — something I look for in a bar like this.
I can see these being excellent bars to travel with, or keep in your bag if you need a midday power boost. The only warning on the coconut chocolate is that the chocolate will likely melt in hot weather, so the blueberry would be better for on the go if you were going to be in warm conditions.
I mention all this because thinkThin wants to give this very package away to one reader of Vindulge!!!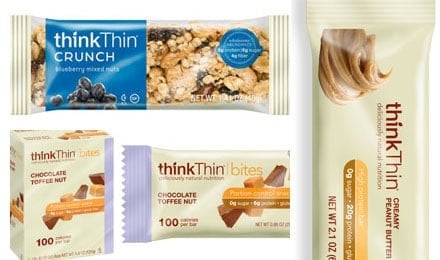 GIVEAWAY – ENTER TO WIN
One winner will receive a thinkThin Wellness Box, which includes:
One 10 bar box of thinkThin® high protein bars (with 0g sugar)
One 10 bar box of thinkThin® Crunch (with 10g protein and 70% less sugar than leading fruit and nut bars) (My favorites!!)
Three boxes of thinkThin® Bites
For those of you watching your GMO's I also want to mention the Crunch variety (the ones I really like) is non-GMO. They are also gluten free, high in protein and fiber.
HOW TO WIN?
All you need to do to win this Wellness Box is leave a comment here on the blog telling me what your favorite energy food is. Do you prefer smoothies to give you energy or are you a bar kind of person. I'd love to know what foods give you the best energy throughout the day. A winner will be selected at random and notified on Tuesday May 21st.
You can also leave a comment on my Facebook page. I'd love to hear from you.
~~~~~~~~~~~~~~~~~~~~~~~~~~~~
Why I write these Friday Favorite Posts
Want more? If you liked what you read you can subscribe to Vindulge and have new posts delivered directly to your inbox.
Previous Friday Favorite Posts