It's that time of year. You know what I'm talking about. Time to pop to the bubbly. Of course regular readers of this blog know I drink bubbly year round (and every Friday night if you follow my Instagram feed).
But for many who don't frequently indulge in my favorite drink it's this time of year where you start paying more attention to this magical sparkling drink as the holidays approach. It's also the time of year when I start receiving more and more questions around the styles of sparkling drink. So I was excited when 90+ Cellars reached out to sponsor a post around bubbly education related to Prosecco, and what makes it different from Champagne and other sparkling wines of the world.
So let's start with the basics.
"BUBBLES," "SPARKLING WINE," "PROSECCO," "CHAMPAGNE" — WHAT THE HECK IS THE DIFFERENCE?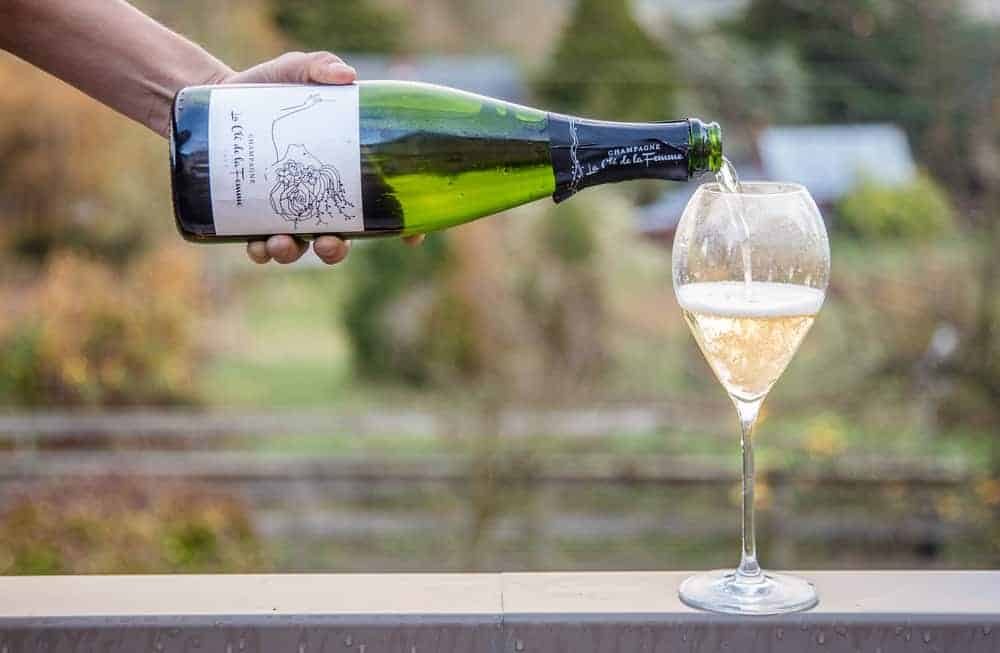 Champagne:
The first thing to know about "Champagne" is that it is first and foremost a place. Specifically, Champagne is a region located approximately 90 miles northeast of Paris, France, where the sparkling wine of the same name is produced. A sparkling wine is only true Champagne when it comes from the Champagne region of France. Sparkling wine made outside of this region is just that – sparkling wine. But there are several regions of the world who also have a regional name for their style of sparkling wine. Prosecco is one of them. So we're comparing just these two today.
Grapes Permitted: Champagne can be made from a single grape varietal of Pinot Noir, Pinot Meunier, or Chardonnay, or as a blend (and a few more permitted grapes exist, but those are found in very small quantities).

If you want to know the intricate details about how Champagne is made, head over to this post for a rundown of the intricate details. In the meantime let's talk Prosecco, and then some of the differences between the two.
PROSECCO: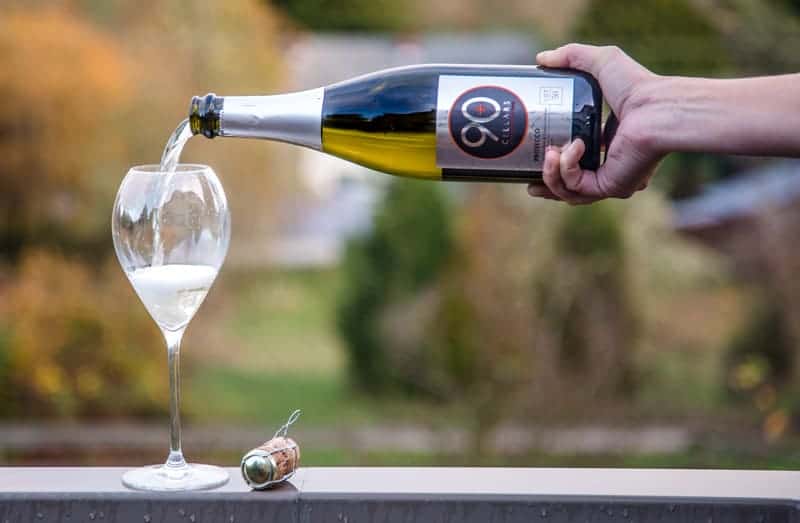 Prosecco is a sparkling wine that comes from the Veneto region in Northern Italy (and also some parts of Friuli-Venezia Giulia region, also in Northern Italy).
Grapes Permitted: Prosecco is made using the grape Glera (formerly referred to as Prosecco grapes), and must be made from at least 85% of this grape.  Other permitted grapes allowed to the remaining 15% are Bianchetta Trevigiana, Glera Lunga Verdiso, Perera, and international grapes Chardonnay, Pinot Bianco and Pinot Grigio.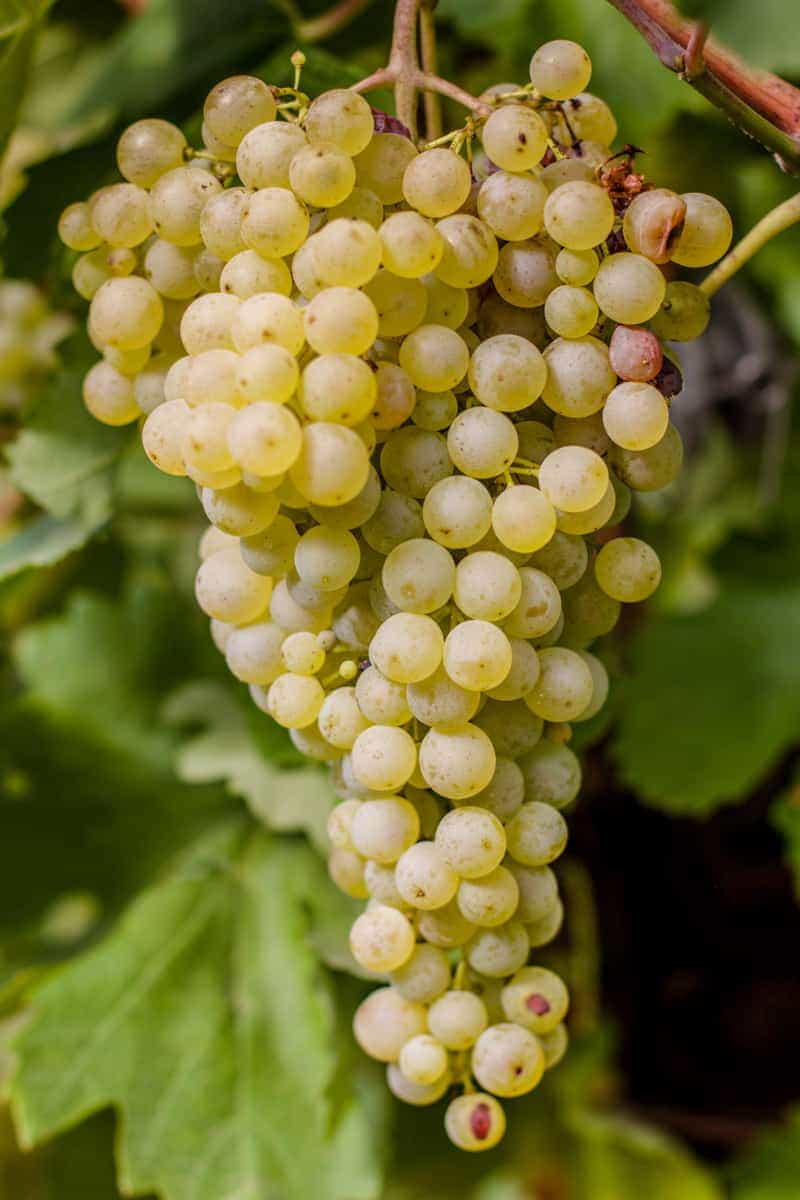 Glera grapes 
Method of Production: Champagne vs. Prosecco
Champagne Method
The process of making Champagne is complex, time consuming, highly regulated, and dependent on factors that can only be achieved within this very region in order to create a very high quality product. The wines in this region always go through Method Champenoise (or the "traditional method") in which the wine undergoes secondary fermation in the bottle. During this process yeast is added to the wine along with some sugar ("liquor de tirage") which stimulates the second fermentation and thus the bubbles that are achieved from it.
After secondary fermentation has finished the bottles go through "remuage" or Riddling – a process that requires twisting of the bottles to move the sediment, or "lees" (or dead yeast cells), towards the bottle cap  in order to get rid of it without losing much of the remaining wine.
When it is ready, the neck of the bottle is frozen and those dead yeast cells are removed through a process called 'disgorgement'.  A wine must be aged a minimum of 18 months on the lees before it's released (three years for a vintage). It may seem simple, but this is a very complex process. Again, check out this post for more details.
Charmat Method (used in most Prosecco production)
With Prosecco, the most common method used to achieve bubbles is via the tank or Charmat Method. This is where the secondary fermentation happens inside a large tank. After primary fermentation, the yeast and sugars are added to the base wine in order to start secondary fermentation in a large tank (vs. in the bottle as in the Champagne method). The tank is sealed to prevent the CO2 from escaping, allowing for those bubbles we all love to develop. The wines are then filtered, given a dosage (added for level of sweetness), and bottled. These are generally not aged, and meant to be consumed young while fresh and fruity (with a few exceptions).
Difference in Taste:
Because of the length of time Champagne spends on its lees (those little dead yeast cells), the wine inherits this signature bready, brioche, and toasty notes, along with apple and citrus flavors, depending on the style. Because of where the grapes are grown (limestone and chalk soils) you get a signature minerality to the wines that are distinguishable from other regions of the world. Quite often, the longer these wines age (before bottling) the more complexity of flavors will evolve. The bubbles on these wines will be incredibly fine and clean.
Prosecco takes on more bright fruity characteristics, often with flavors of honeysuckle, apples, pears, and signature floral notes. Most Proseccos don't age as long as Champagne, therefore those nutty and bready characteristics will likely not be there. Instead you'll find fresh and bright vibrant fruit flavors. The bubbles will generally be bigger and more spritzy than Champagne. They can be incredibly fun and pleasurable to sip on.
Of course, not all Prosecco is made this way and not all is fresh and fruity. There are different quality tiers of Prosecco, from Prosecco DOC (the most common) to Prosecco Conegliano Valdobbiadene Superiore DOCG, and even smaller, more concentrated designations, which are among the highest quality within the region.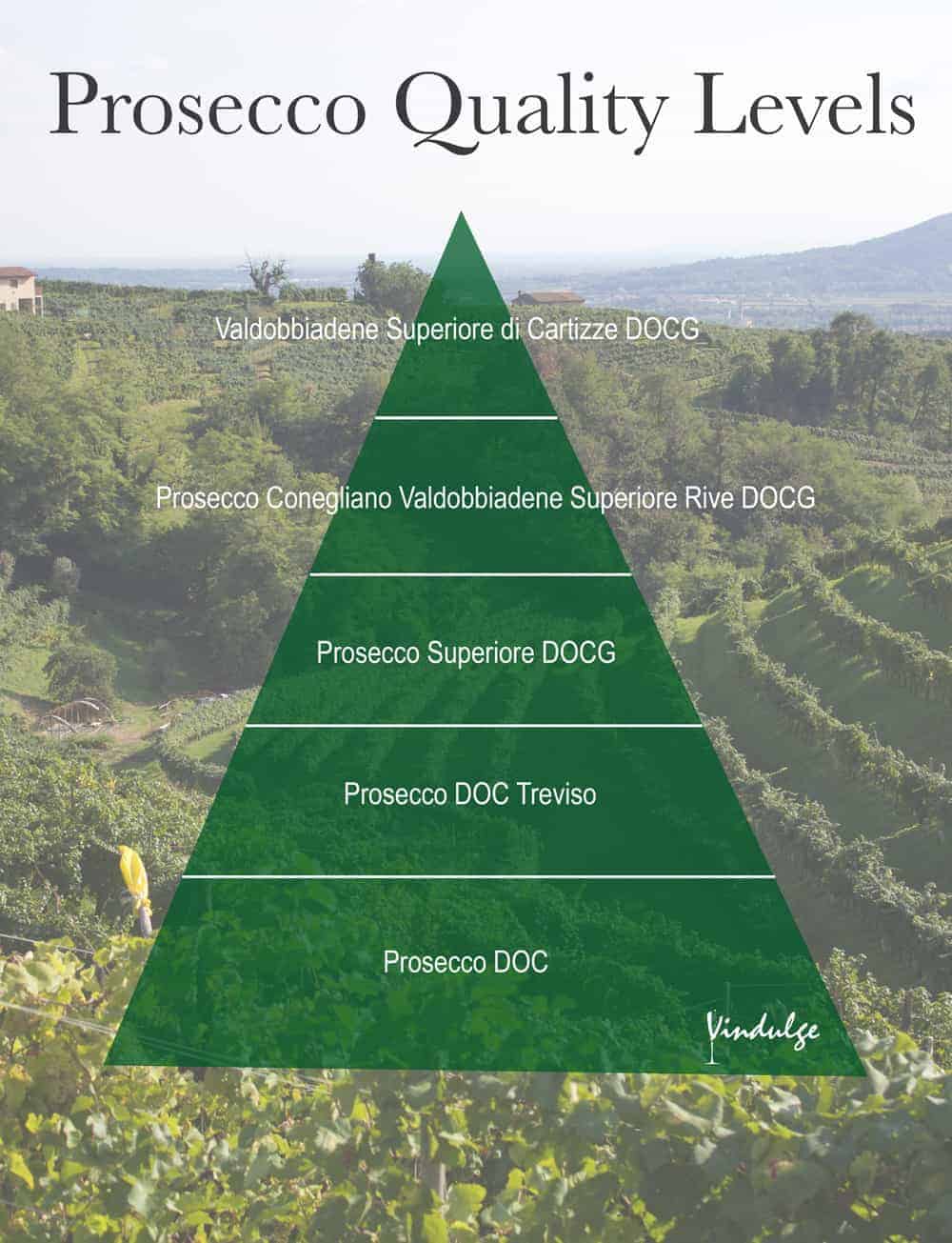 Some of the higher end wines are being made in the bottle vs. tank. But even those DOCG status wines that are made in the Charmat method can be incredibly elegant and complex. They're just wines you'll have to seek out unless you live in a major market for these wines.  The majority of what you'll see in an average wine store are the fresh and fruity style, starting around $10-$20. These are perfect for your holiday get togethers, brunch, and for making cocktails.
Both Styles are made in ranges from Dry to Sweet
Difference in Price
In general, you'll find those fresh and fruity style Proseccos starting in the $10-$20 range.
Champagnes start around $40, unless you find that Costco brand Champagne, then you only have to fork out $20. I've tried it, and it's not too bad! Most, however, start at around $40 and go up from there.
Foods to Pair
Everyday Proseccos (especially those labeled Prosecco DOC) should be enjoyed young, fresh, and often. You'll find them on the sweeter side than Champagne and make for great pairings for appetizers, salads, or used in cocktails. They're also fantastic just as an aperitif on their own. For a fun alternative to a still white wine, try using Prosecco in your next Risotto.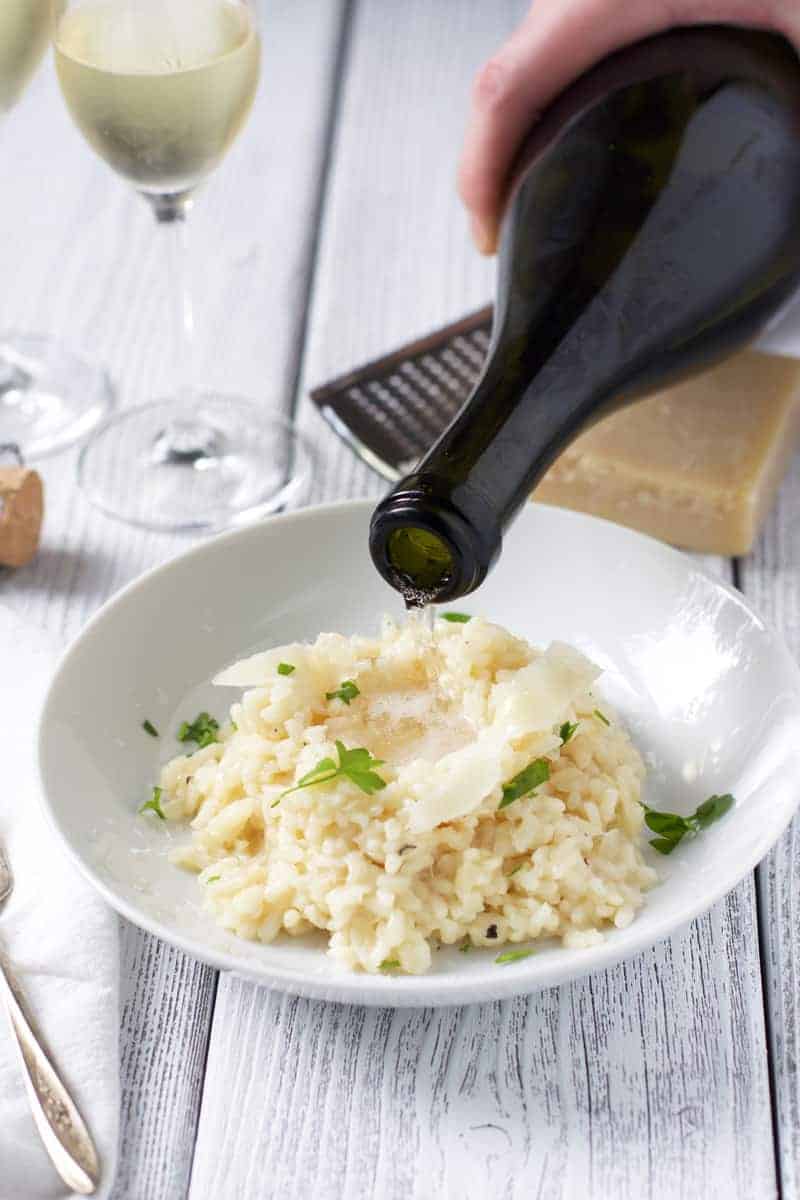 Champagnes range in styles so much that they can pair with oysters, and shellfish, to salty snacks like French fries and potato chips (not kidding!), to rich dishes like creamy pastas, foie gras, and yes, even meat. I'm just gonna throw it out there that there's a Champagne for almost any kind of dish out there. It's one of the most versatile wines to pair on the planet. However, I generally don't use Champagne for cocktails or mixed drinks, mostly due to the cost and flavor. I'm not going to shell out $50 to use in a drink that will make the flavor of the Champagne indistinguishable. I want to drink that nectar all on its own.
What about Other Sparkling Wines of the World?
Yes, of course. There are sparkling wines made all over the world, and many have regional names (such as Cava from Spain, and Cremant from regions within France but outside of Champagne). When in doubt, if it's not from Champagne it's bubbly, bubbles, or sparkling wine. But now that you know about Prosecco, you can designate that one by name.
If you want to compare the two styles we focused on here, 90+ Cellars has some great examples of both Prosecco and Champagne at incredible prices.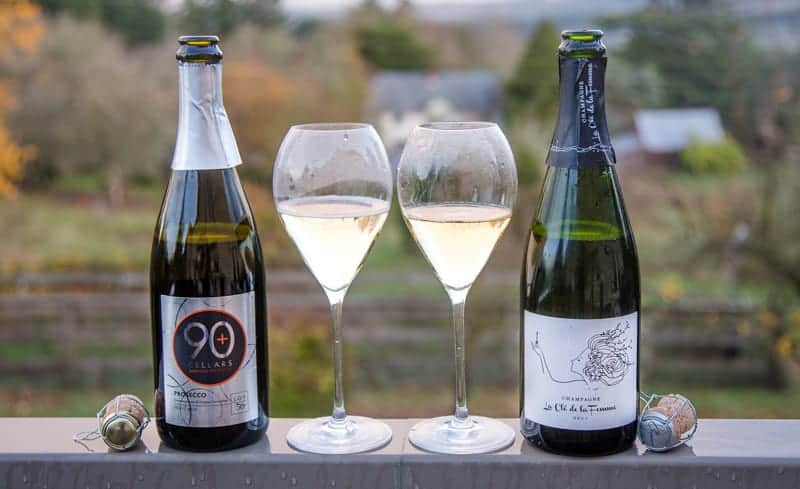 Ninety+ Cellars began in 2009, when the economy was in a rut. Founder Kevin Mehra sought out to bring high quality wines to the market at a lower price than what consumers were used to. He began partnering with wineries that had a history of high ratings and quality and purchased any extra wine they had for sale, and then labeled it under his Ninety+ Cellars label. You'll find wines from all over the world in their portfolio, at great prices.
The Champagne (pictured above) is about $10 less than your average entry level Champagne at only $30 and it's elegant, yet fresh, and would be fantastic for your New Year's Toast.
The Prosecco (also pictured above)  is only $10, and I can tell you, it's fantastic for this price. Much better than examples I usually drink for $15-$20! It's on the drier side for a DOC Prosecco and has beautiful honeysuckle, peach, and floral flavors. This is one to stock up for your holiday parties.
Speaking of holiday parties…
If you want a fun holiday cocktail for a party try a Pomegranate Mimosa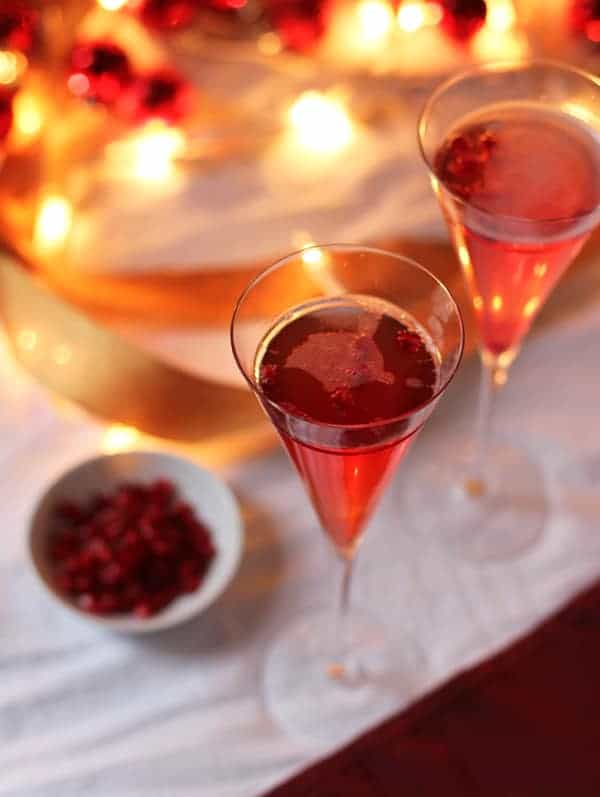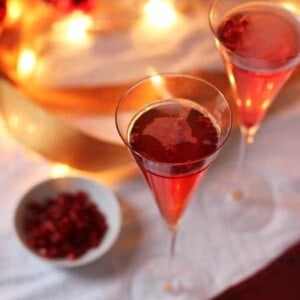 Pomegranate Mimiosa
A quick and easy holiday cocktail made with pomegranate juice and Prosecco.
Print
Rate
Ingredients
1

oz

chilled pomegranate juice

recommend POM

1/2

oz

Cointreau

or other orange-flavored liqueur

4

oz

chilled Prosecco

recommend brut or demi-sec

1

teaspoon

pomegranate seeds

for garnish
Instructions
Pour pomegranate juice and Cointreau into a Champagne flute.Top glass with sparkling wine. Add pomegranate seeds for garnish. (If you don't have Cointreau then orange juice may substitute).
Speaking of Prosecco, stay tuned. I'll be spending all of next week in Conegliano Valdobbiadene, the heart of the Prosecco region.
---
Thank you to 90+ Cellars for sponsoring this post. As always all opinions, thoughts, and recipes are my own.
---
Want more? If you liked what you read you can subscribe to Vindulge and have new posts delivered directly to your inbox.