Smoked Salmon and Dungeness Crab Cakes are what happens when the dynamic duo of Dungeness crab and smoked salmon join forces with a killer wine pairing. This Salmon Cakes recipe is perfect for when you want to stretch your dollar with traditional crab cakes. The combo is absolutely delicious!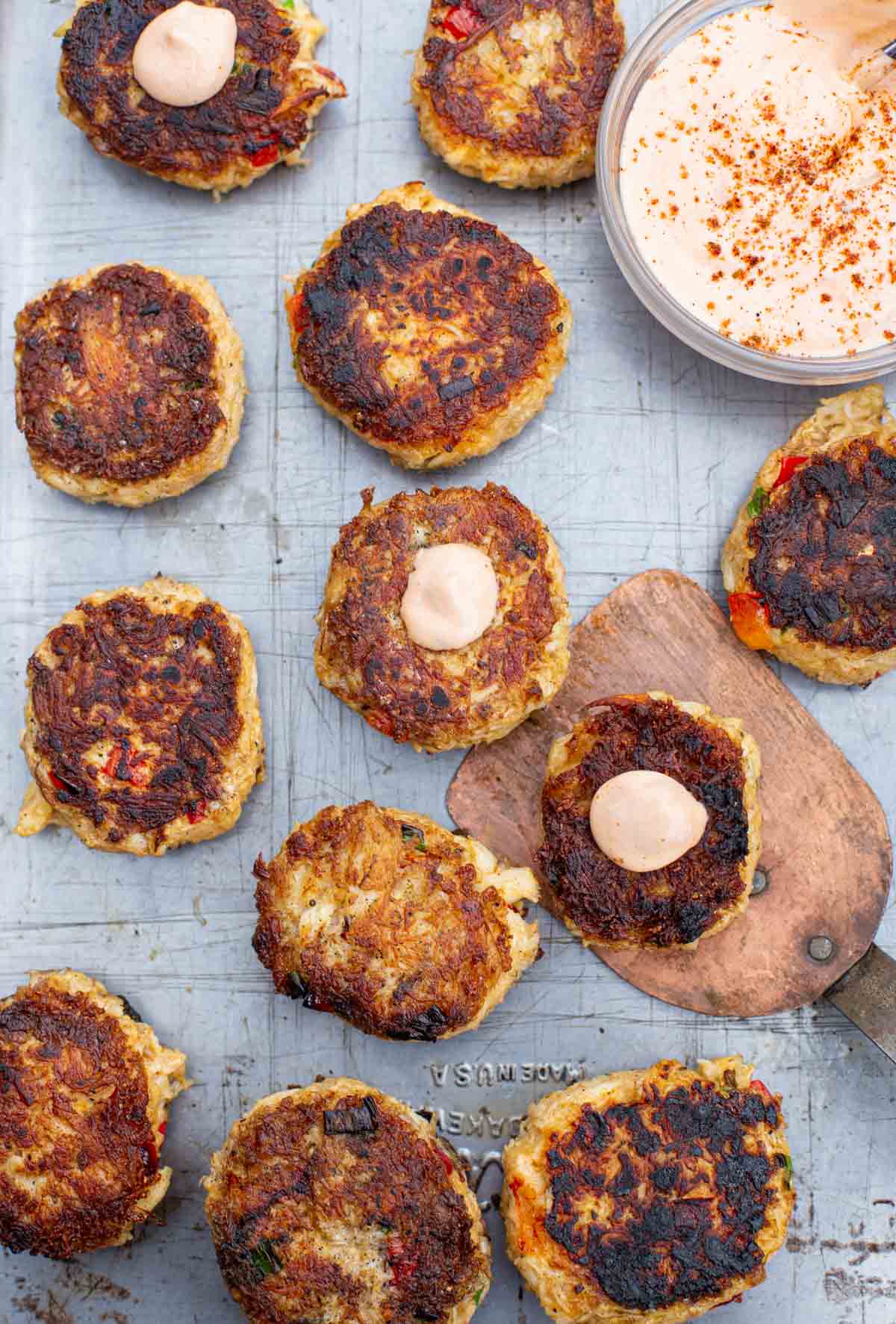 Smoked Salmon and Dungeness Crab Cakes Highlights
Mixing salmon with crab meat makes these cakes more affordable than Dungeness crab alone (which can be very expensive).
Great use for leftover salmon.
Smoked Salmon brings more flavor to the salmon cakes but you can use any type of cooked salmon.
Lessen the use of mayo by adding Dijon mustard as the binding agent.
This recipe is dairy free and can be made gluten free by using gluten free Panko crumbs.
See us feature this recipe on our ABC morning show AM Northwest.
Jump to:
Ingredients
We start with great cooked (smoked) salmon and Dungeness Crab (we recommend Dungeness, but you can use any crab meat). Then it's about the binding agents and the filler flavors.
Because we want the flavor of the salmon and crab to shine, we keep the flavors simple with some green onions, red bell pepper, and panko bread crumbs for texture and crunch. To brighten the flavor we use lemon juice for freshness, and a pinch of smoked paprika for color and flavor. Though I wouldn't object to you adding some dry red pepper flakes or a few dashes of hot sauce for a little kick.
Smoked Salmon
This recipe was inspired by an old Food.com article in which their version of a salmon and crab cake was crab cakes served over a salmon filet. We thought, why not actually shred some salmon into the crab which makes the meat last and adds a little more flavor. And to add even more flavor we decided to smoke the salmon.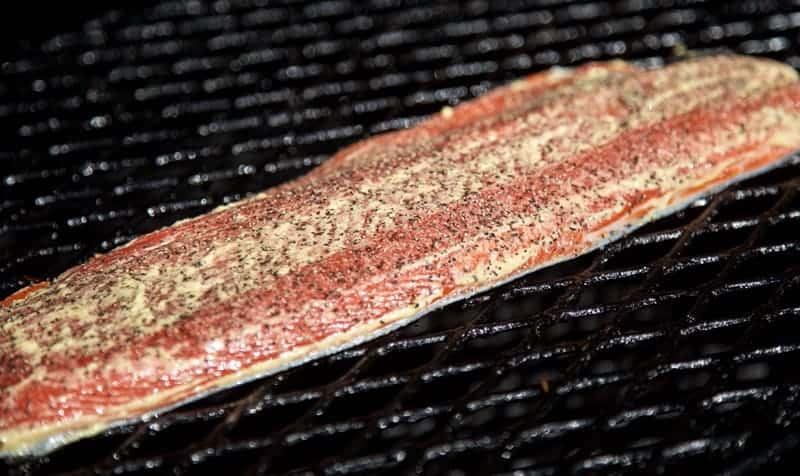 We flavor the salmon simply, with some Dijon mustard, salt and pepper, and smoked it for 60 minutes. We then shredded the meat, combined the salmon with the crab and remaining ingredients, and then form into salmon cakes.
For the full details on how to smoke salmon you can review our smoked salmon recipe.
Preparation
Salmon is rich and moist with a natural oily texture. Because of this you don't need to go overboard with extra binding. And when using the crab, be sure the liquid is drained. If you add too much moisture the crab cakes fall apart.
We use extra virgin olive oil for frying the cakes. An ice cream scooper is a great tool for making even sized cakes. Just scoop the filling into a ball and flatten on the pan.
Instructions
Smoke Salmon as mentioned above. Then shred the salmon meat to the same texture as the Dungeness crab meat.
Combine the smoked salmon and crab meat together. Add the red bell pepper, green onion, mayonnaise, Dijon mustard, lemon juice, breadcrumbs, salt, pepper, and smoked paprika. Taste and adjust any seasonings to your preference. Since there's no raw egg in the mix you can taste and adjust the flavors until you're happy with the mix.
Heat oil: in a large nonstick skillet or plancha (flat top) on your grill.
Form the salmon/crab mixture into cakes and fry: form the mixture into a 2" diameter cake and flatten slightly. In batches of 3-4 patties, cook on each side for approximately 2 to 3 minutes or until golden brown. Remove and place on a paper towel to soak up any excess oil. Serve immediately with your favorite dipping sauce.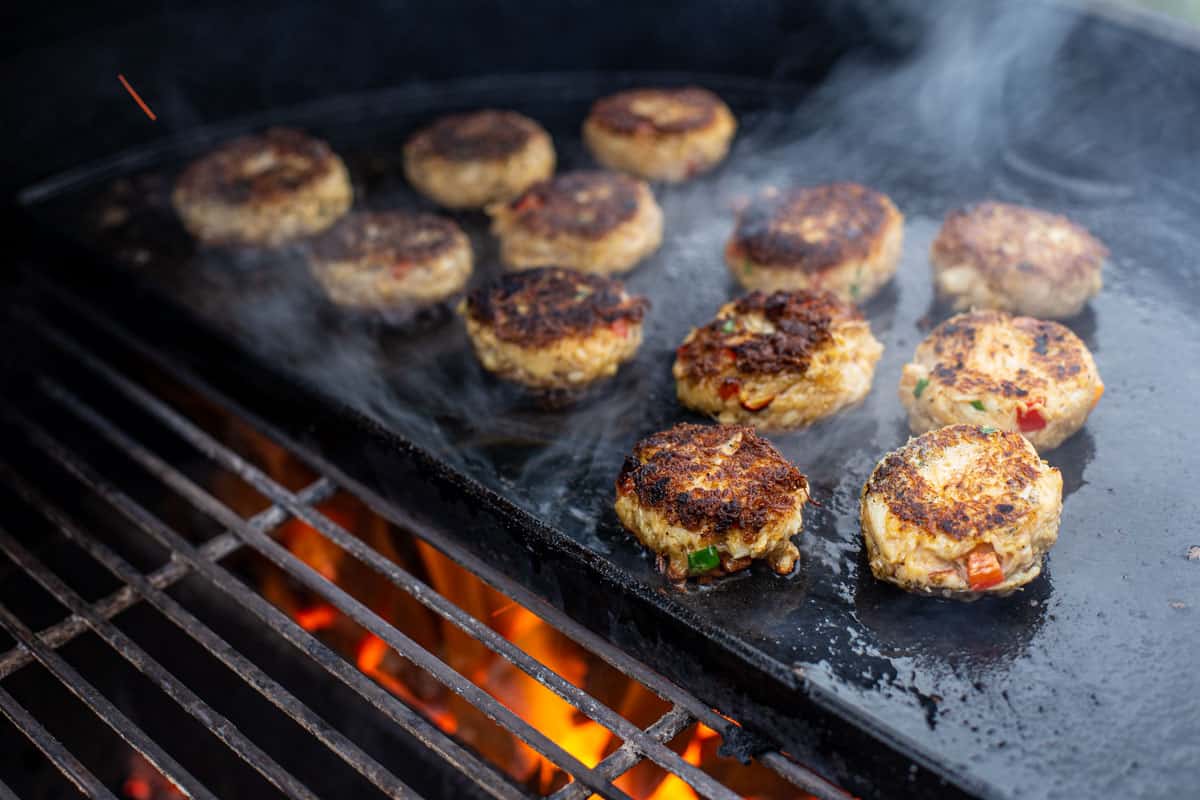 The result. Pure awesomeness.
The freshness of the Dungeness crab and the smokiness of the salmon take center stage, and aren't overshadowed by too many fillers that can come from a mayo overdose. There's great moisture in the cakes, but it's all coming naturally from the meat (not mayo). You still can feel the texture of the meat along with the crunchiness of the bell peppers and onions.
The size of the cakes is perfect as an appetizer, or served over some greens for a light dinner.
Wine Pairing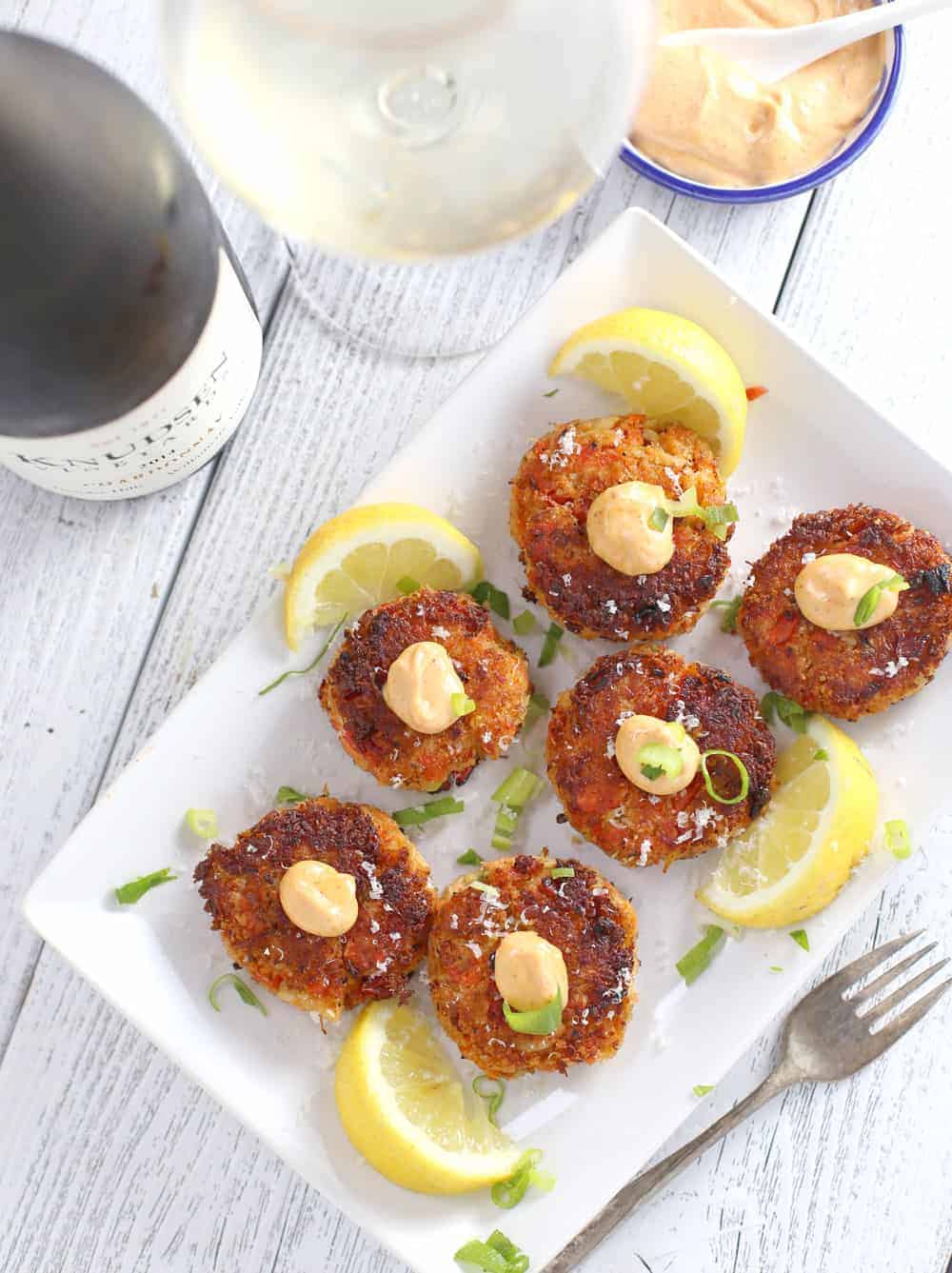 My two favorite pairings for any kind of crab cake is sparkling wine or Chardonnay. There's nothing better for those delicate flavors and balance of the Dungeness crab and that smoked salmon than bubbles that cut through the richness and textures of the outside of the cakes. Chardonnay provides an equal richness that can provide an excellent balance to both the flavors of the salmon, with the acidity to cut through the elegant cakes.
More Seafood Recipes
---
*This recipe was originally published in May of 2016. It was updated in July 2022 with updated details and photos.
If you like this recipe we'd truly appreciate it if you would give this recipe a star review! And if you share any of your pics on Instagram use the hashtag #vindulge. We LOVE to see it when you cook our recipes.
---