This Garlic Pizza Recipe is all about flavor from a garlic olive oil and mozzarella base, to a generous topping of fresh arugula and a balsamic drizzle. This pizza recipe with no red sauce will impress everyone on your next cook with the flavors of melted cheese and garlic and the bright bite from the fresh toppings.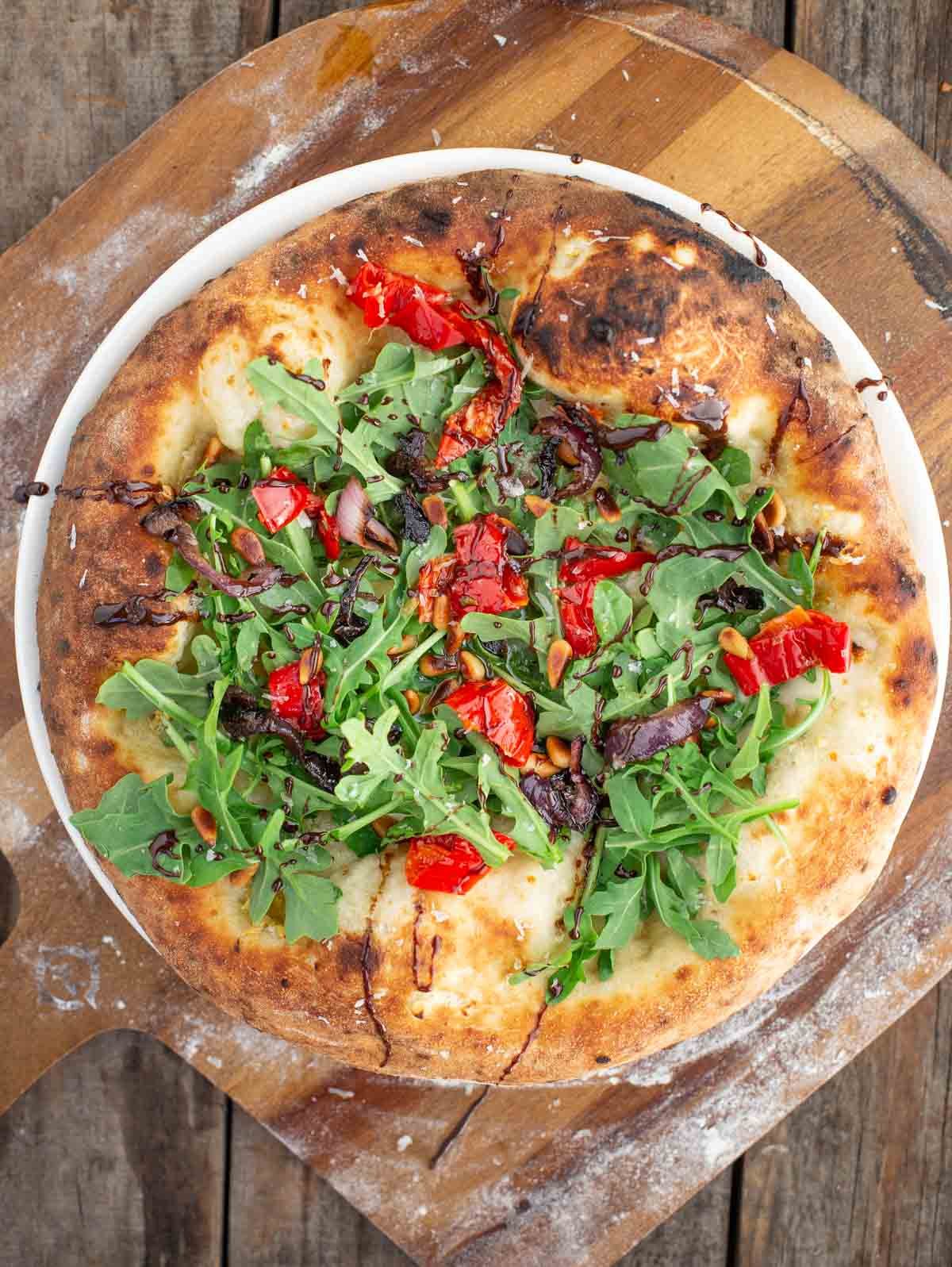 Recipe Highlights
The garlic oil is a simple way to start the garlic pizza using grated garlic.
The garlic pizza is cooked with the oil and cheese and then finished with the fresh toppings at the end.
It's an easy pizza to modify with your favorite toppings or a gluten free pizza dough.
Jump to:
Ingredients
A good pizza dough
Garlic oil
Fresh mozzarella
Caramelized onions
Fresh arugula
Spicy pickled peppers
Aged balsamic vinegar for a drizzle over the top
Finishing salt – learn more in our guide on kosher salt
Garlic Pizza Recipe Oil
The goal is to infuse garlic flavor into oil. We use extra virgin olive oil and then freshly grated garlic cloves in the oil to infuse flavor without getting large chunks of garlic.
For one portion we use ¼ cup of the oil and two garlic cloves. This is good for up to two pizzas.
We also have a great white pizza sauce that is just as delicious. Alternatively you can buy a garlic infused olive oil to save time.
Tools
For a full list of tools check out our guide for essential pizza tools. The most important are: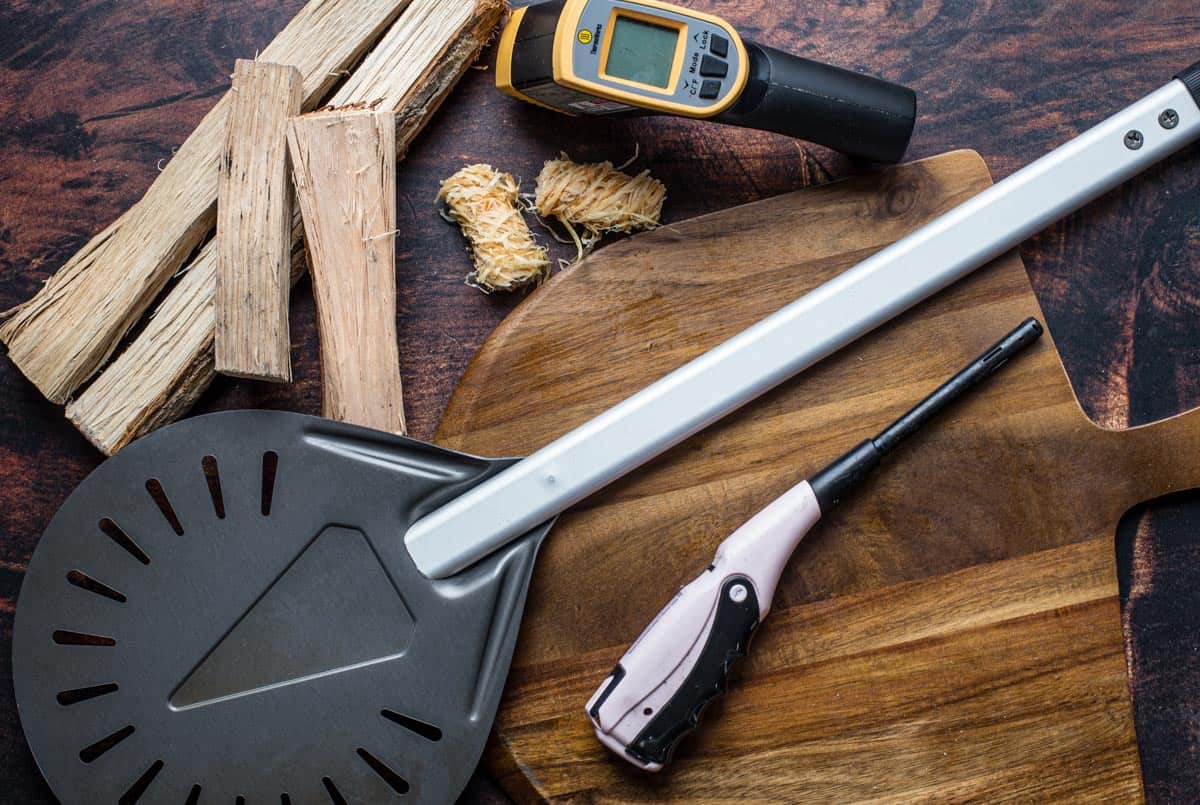 Directions
For this garlic pizza recipe we start by cooking the dough topped with the garlic sauce and cheese and then add the fresh ingredients after the pizza is cooked. Be sure ingredients are prepped in advance as the pizza will cook quickly.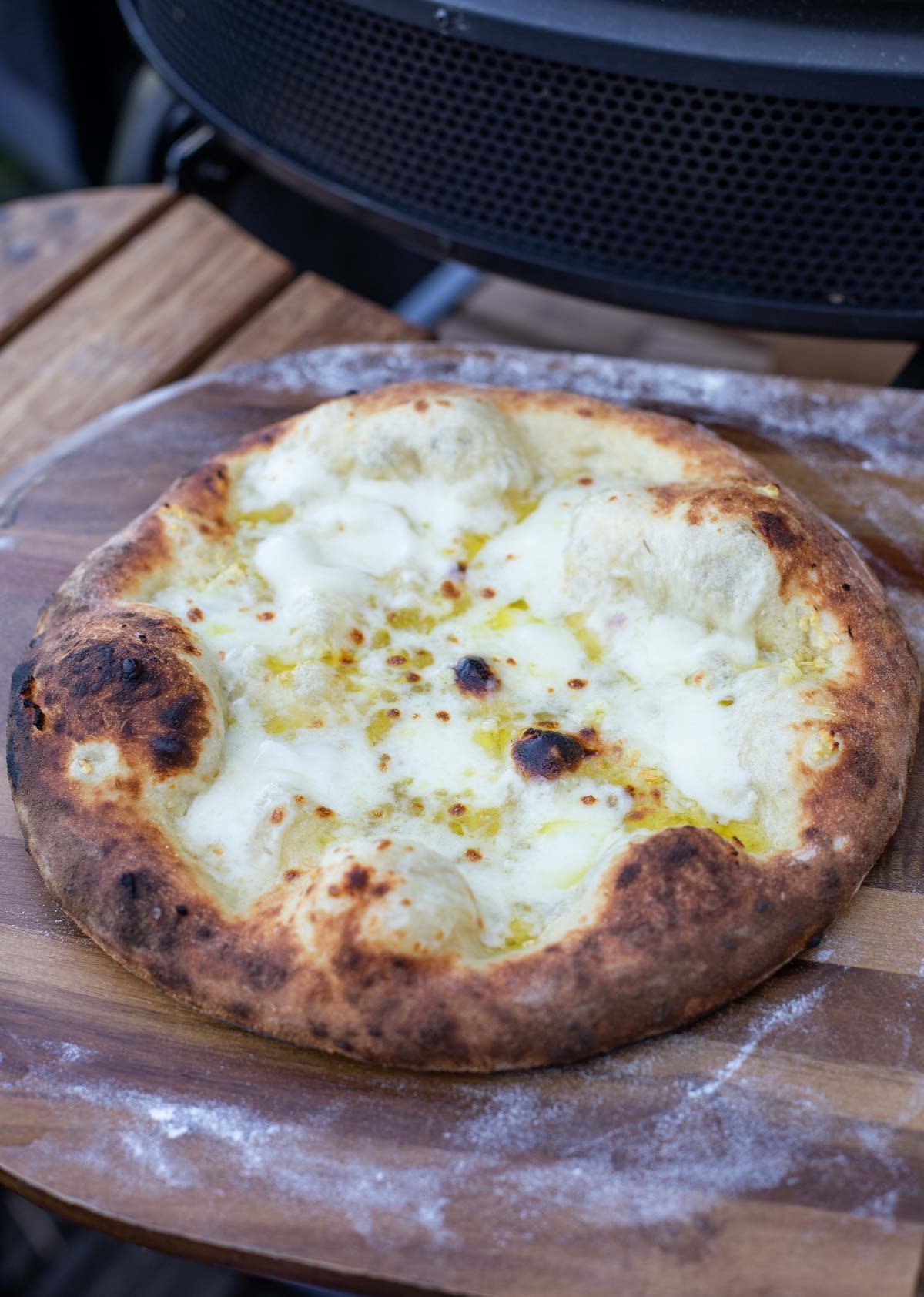 Preheat Oven: Prepare your pizza oven targeting the pizza stone at 500 – 550 degrees. For a traditional kitchen oven this means placing the pizza stone in the oven and turning it on to 550 degrees. Let is warm for 45 minutes.
Prepare Garlic Oil: In a small bowl add the olive oil and then shave the garlic clove using a micro-plane grater. Set aside until ready to use.
Caramelize Onions: While the oven is warming up caramelize the onions. In a sauté pan over medium heat add butter. Next add the sliced onions and stir occasionally until the onions soften and then turn brown. Adjust the heat down if they start to crisp up or burn. This can take up to 25 minutes.
Prepare Pizza: Roll out your pizza dough into a 11 to 13-inch round on a floured pizza peel. Brush the oil onto the pizza and then top with small clumps of the fresh mozzarella cheese. Holding the pizza peel be sure the pizza can slide, if it doesn't lift the edges of the dough and add more flour.
Cook Pizza: Slide the pizza onto the pizza stone and cook for 4 minutes or until the dough rises. Then rotate the pizza 180 degrees and continue cooking until the cheese melts and the dough is cooked through on the edges and bottom. Remove the pizza.
Top with Remaining Toppings: Add the fresh arugula, caramelized onions, pickled peppers, and then drizzle with the balsamic vinegar. Add a pinch of finishing salt and then slice and serve.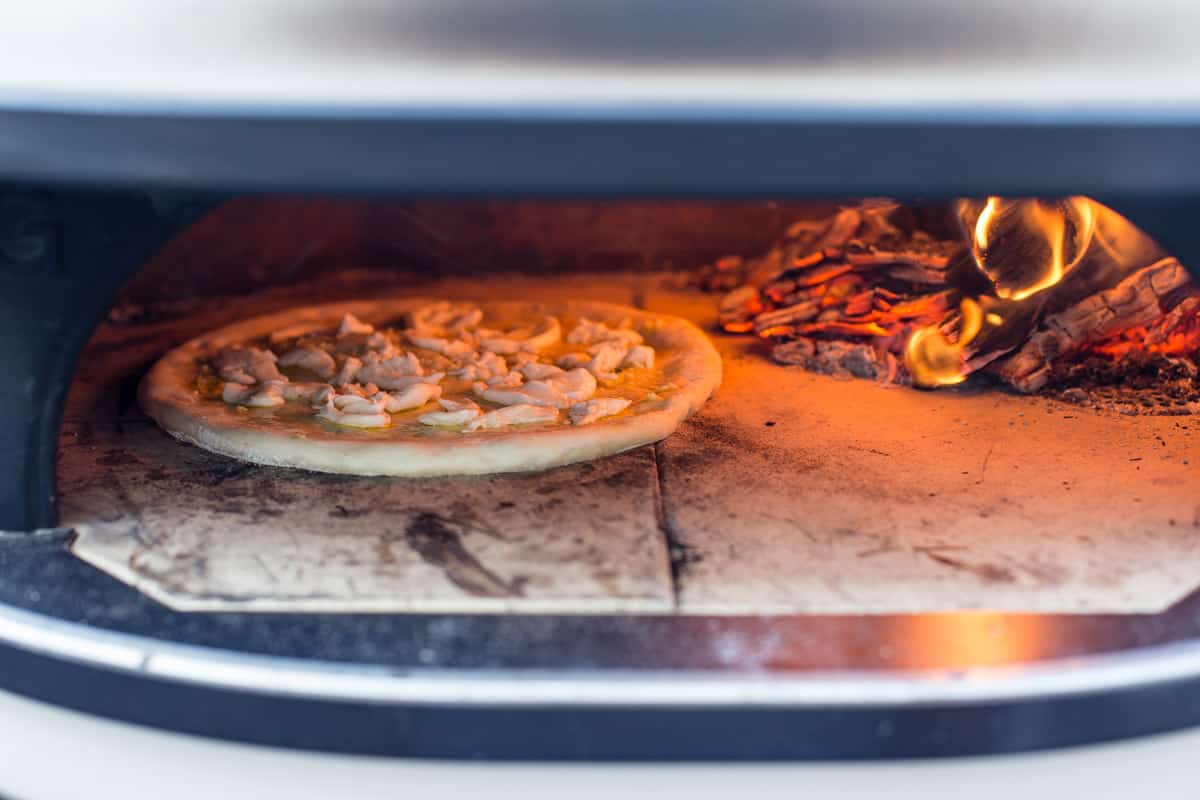 Adjustments for different Pizza Cookers
For Grilled Pizza: If you are using a grill you can follow our guide on how to grill pizza.
For a Pizza Oven: For a Neapolitan style crust and pizza oven target the stone at 700 degrees and adjust the cooking time to 1 minute and 30 seconds. More details in our article about how to use a Gozney Dome Pizza Oven.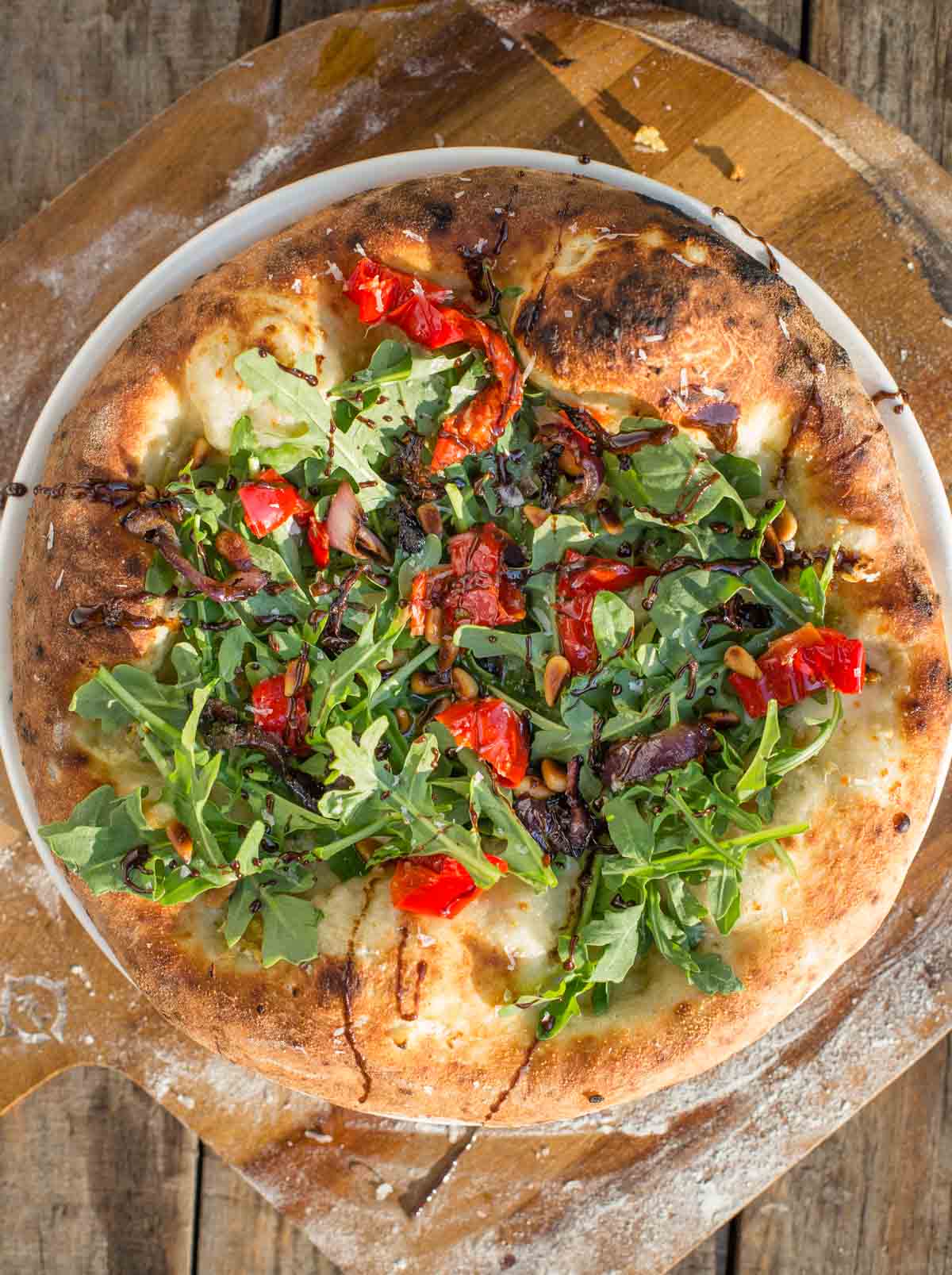 Other Pizza Recipes
You can check out our full list of pizza recipes or try out some of our favorites.
---
Tried this recipe? Give us a star rating and we would love to see! Mention @vindulge or use the hashtag #vindulge on all the social media handles. And consider subscribing to our newsletter where we drop all our favorite ideas and inspirations every week.
This post may contain affiliate links. This means if you click on the link, we may receive a small commission if you purchase through the link. We partner with brands we know and love and use and it helps keep the blog going!
---