No pizza arsenal is complete without an easy White Pizza Sauce Recipe. With a basic white sauce you can transform your pizza into an amazing flavor explosion.
Or explore our other pizza recipes, from a perfect margherita pizza to grilled pizza on a Big Green Egg. If looking for more sauces consider our red pizza sauce or even our classic chimichurri sauce.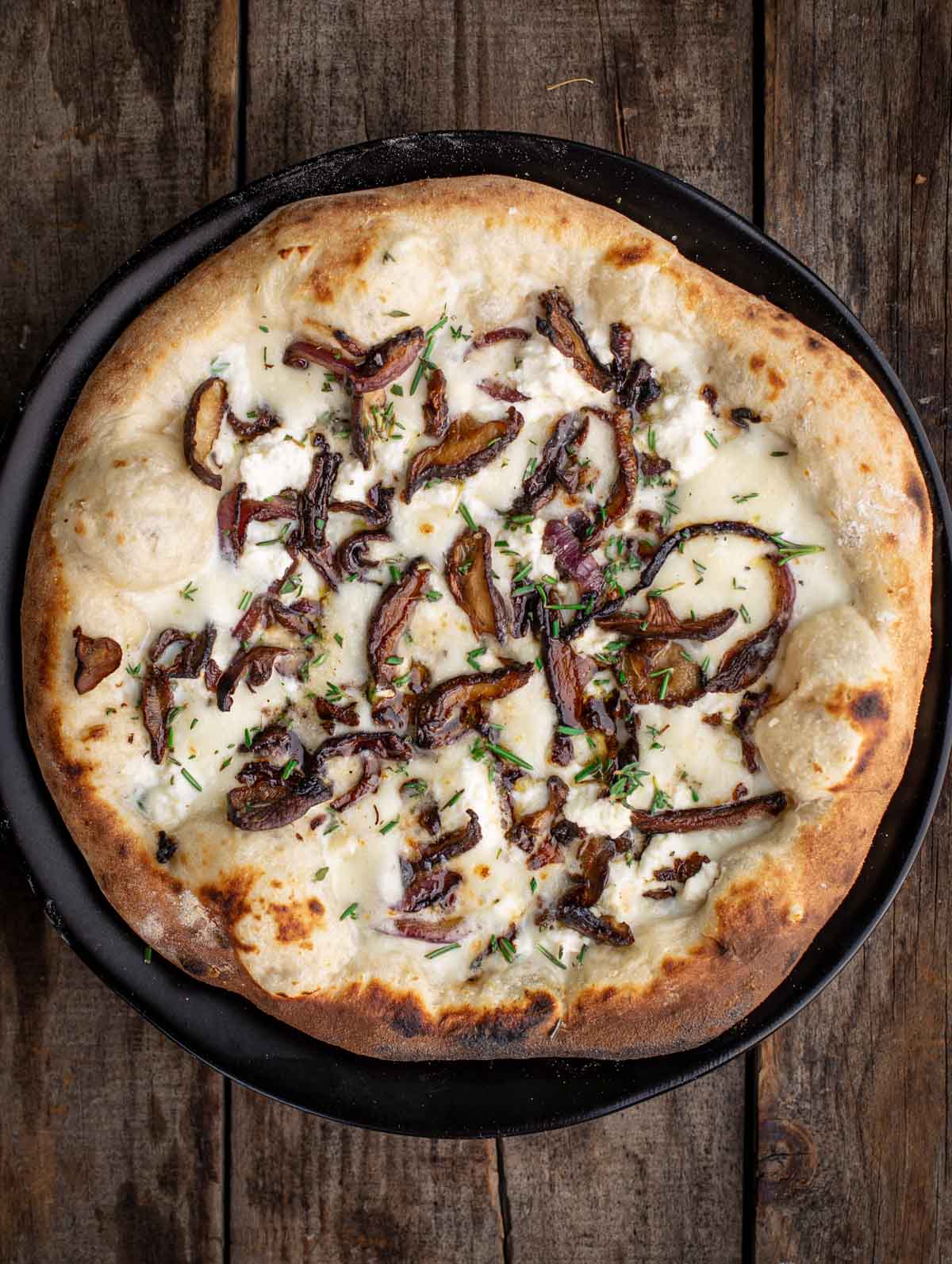 Recipe Highlights
The white sauce is made as a simple bechamel base of garlic and whole milk and thickened with a roux (equal parts butter and flour).
Can be made gluten free with a cup for cup gluten free flour.
It's ready in under 10 minutes.
Great for a white sauce pizza.
Jump to:
Ingredients
Garlic – to add a zesty flavor
Roux – equal parts flour and butter
Whole Milk – adds the creaminess factor and can be subbed with heavy cream with a richer and denser consistency and flavor
Herbs – adds a nice aromatic aspect.
Salt – for finishing.
The Best White Pizza Sauce
The main ingredient to this pizza is the white sauce. The concept is to make a basic béchamel-inspired sauce and then add in additional flavors. This recipe yields one cup of white sauce, and we plan ⅓ cup of sauce per 12-inch pizza. So you can essentially use this white pizza sauce recipe on three 12-inch pizzas.
In a small sauce pan over medium heat add olive oil and garlic. Stir and let garlic soften for up to four minutes. Don't let the garlic brown – if it starts to brown reduce the heat (otherwise it will be bitter). The goal is to soften it only.
After garlic softens add butter and let it melt. After butter is melted stir in the flour and let it combine with garlic. Continue stirring for 2 minutes. The consistency of the roux will thicken into a paste. This will be the thickening agent for sauce.
Add whole milk, thyme, rosemary, and kosher salt. Stir to combine and let the sauce start to simmer. As it simmers stir constantly for up to four minutes and then turn off the heat. Continue to stir – the sauce will thicken and is ready for pizza.
Gluten Free Option: You can use the same ratio with cup-for-cup gluten free flour blend, like Bob's Red Mill.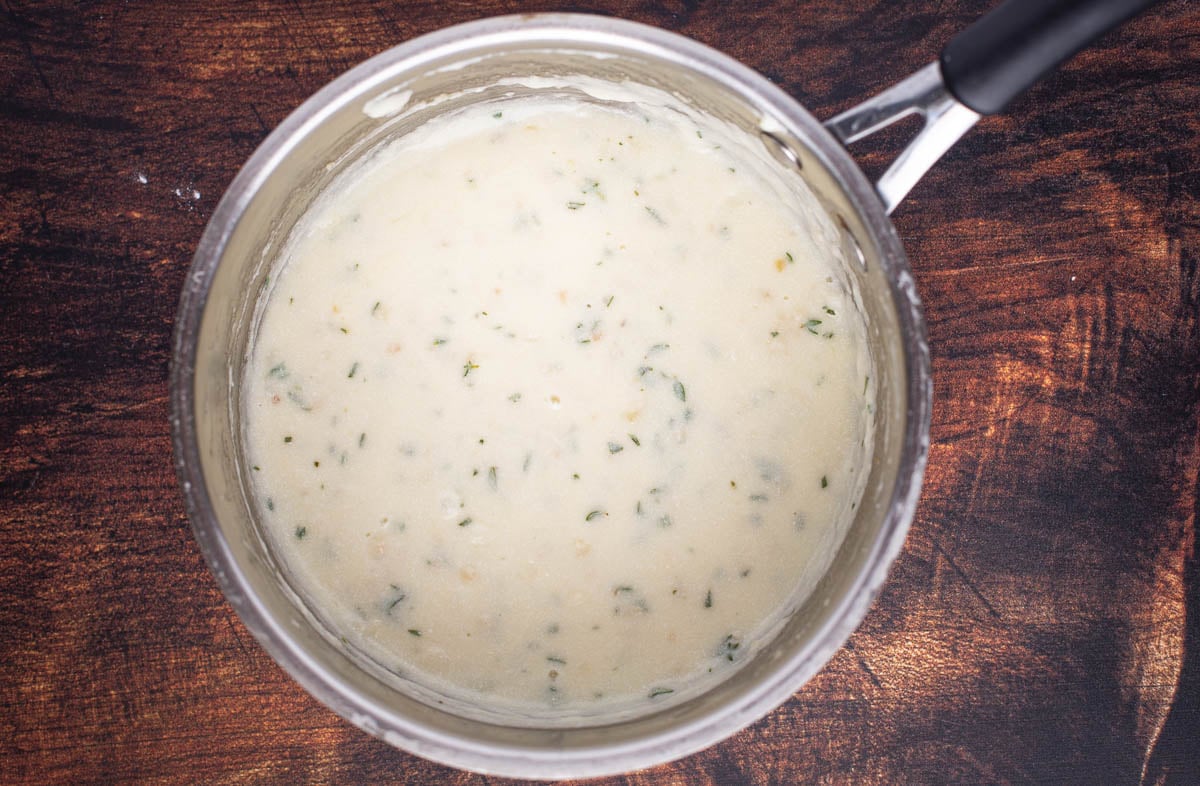 How to Store White Pizza Sauce?
You can let it cool and store it in the refrigerator in advance or just reserve it for making pizzas right away. If storing this white pizza sauce be sure the sauce completely cools, and then add it to the container and the refrigerator.
We do not recommend freezing as it will break the sauce as it defrosts.
Variations of White Pizza Sauce
While this recipe features only a few ingredients you can add more flavor with your own twist.
Parmesan Cheese – This will add a salty element and thicken the sauce even more. Try this if you like a really rich sauce (about ¼ cup of shredded cheese).
Truffle Oil – A little goes a long way. But add a hint of truffle oil if you want a wow factor.
Nutmeg – A splash of freshly ground nutmeg can add another aroma that is very delicious and reminiscent of a white sauce with pasta.
Pizza Inspiration
After the white sauce is ready you can use this white pizza sauce for any number of pizzas. Consider a basic pizza with the following:
Fresh Mozzarella Cheese
Fresh Ricotta Cheese
Sprinkle of Kosher Salt
Caramelized Onions
Sautéed Mushrooms
Cooked Sausage or Bacon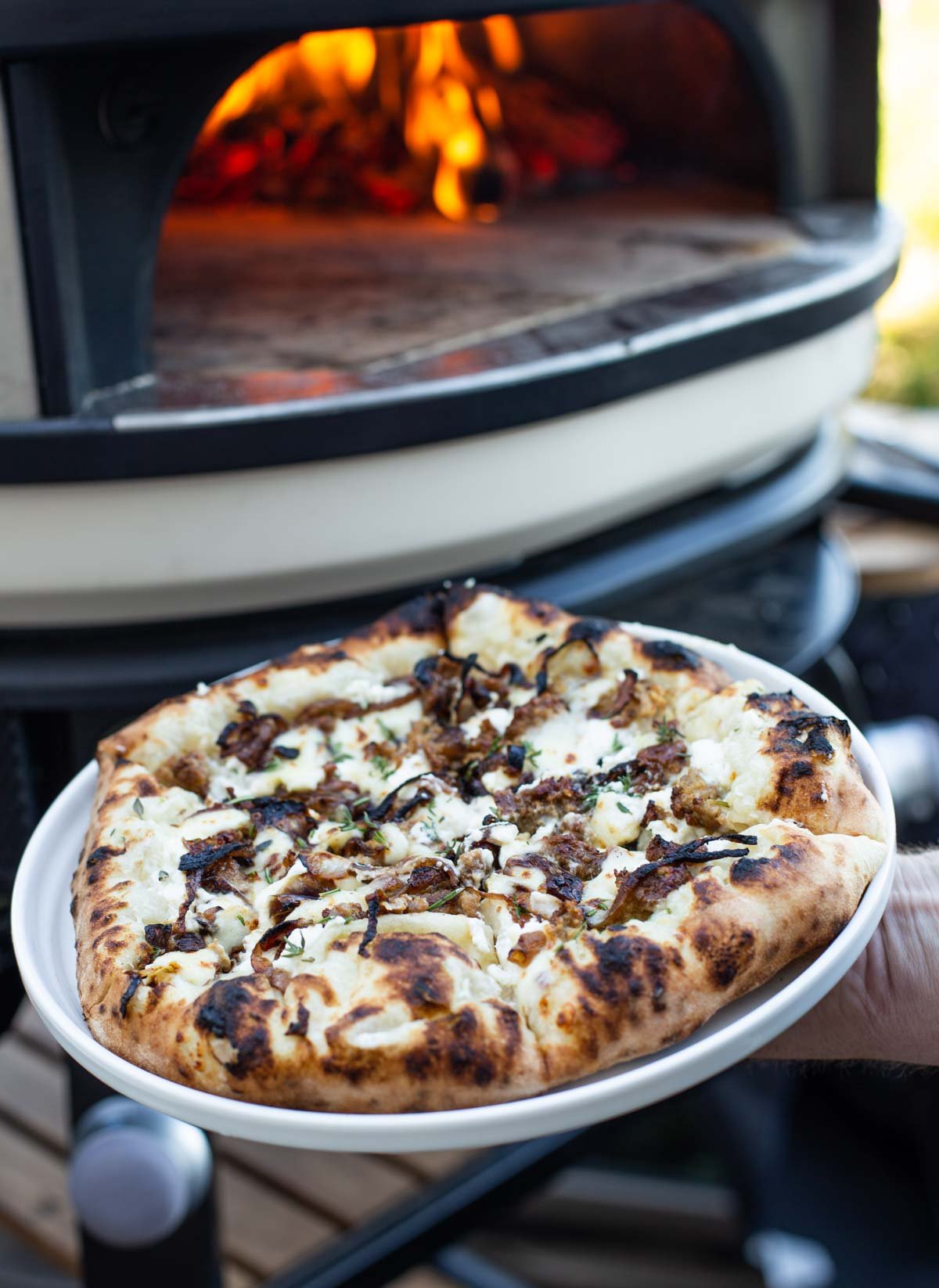 Other Pizza Inspirations
You can see our full list of pizza recipes and inspirations or check out the following favorites.
---
Tried this recipe? Give us a star rating and we would love to see! Mention @vindulge or use the hashtag #vindulge on all the social media handles. And consider subscribing to our newsletter where we drop all our favorite ideas and inspirations every week.
This post may contain affiliate links. This means if you click on the link, we may receive a small commission if you purchase through the link. We partner with brands we know and love and use and it helps keep the blog going!
---