Green Chile Pizza brings the flavor of New Mexico to your table. Using roasted green chile, chorizo, and a garlic and olive oil sauce, this green chile pizza recipe will wow your tastebuds.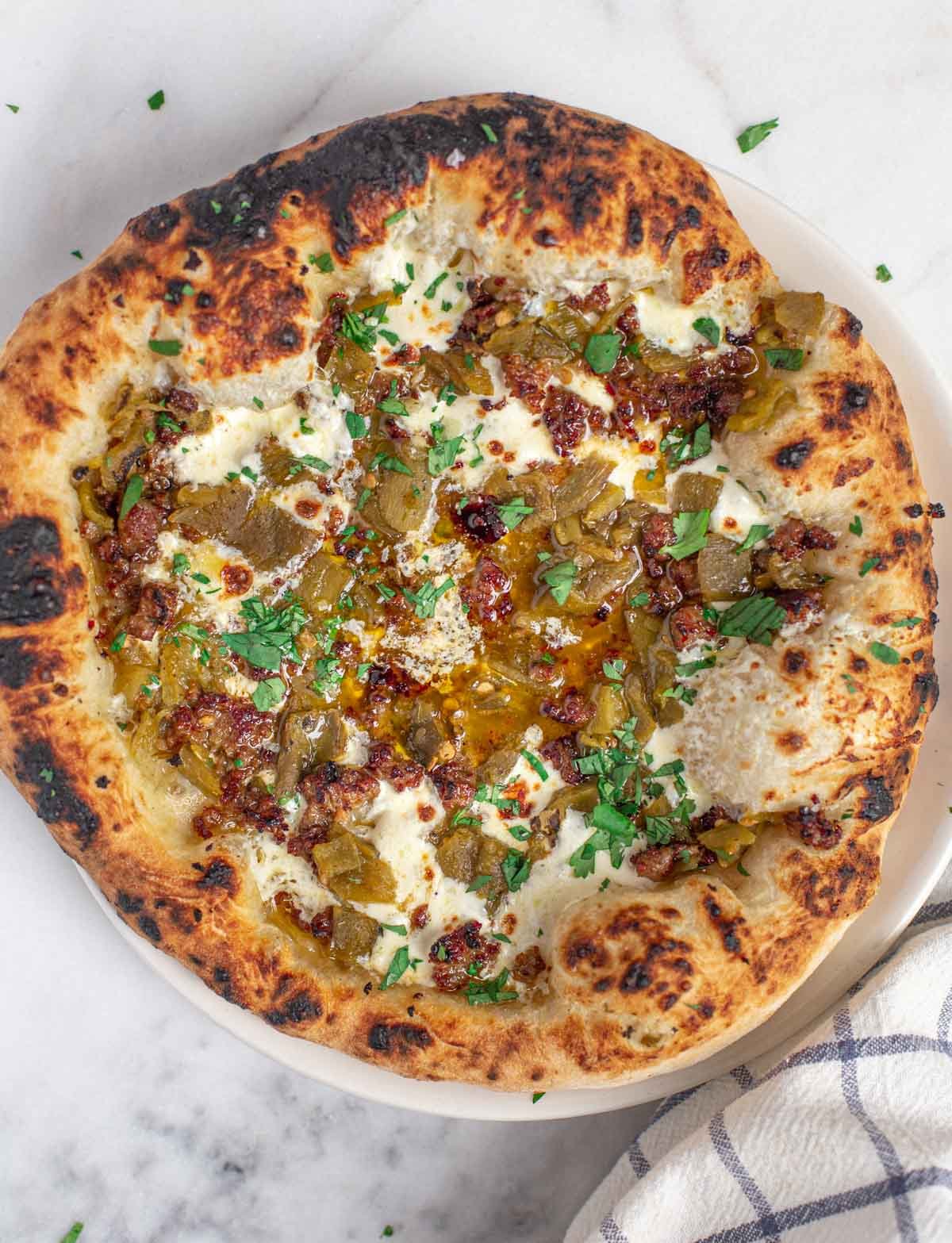 Jump to:
Ingredients
Sauce
While we have had some delicious green chile pizzas with red pizza sauce, the red sauce tends to mute the flavor of the chiles. For these flavors, we're going with a base of garlic infused olive oil to let the chiles and chorizo shine.
In a small bowl pour the olive oil. Using a fine chesse grater grate one unpeeled garlic clove into the olive oil. Stir to combine.
Grating prevents large chunks of garlic in the sauce.
Portions are in the recipe card.
Preparation
To avoid the pizza from sticking to your pizza peel a few key steps are important when preparing and making your green chile pizza.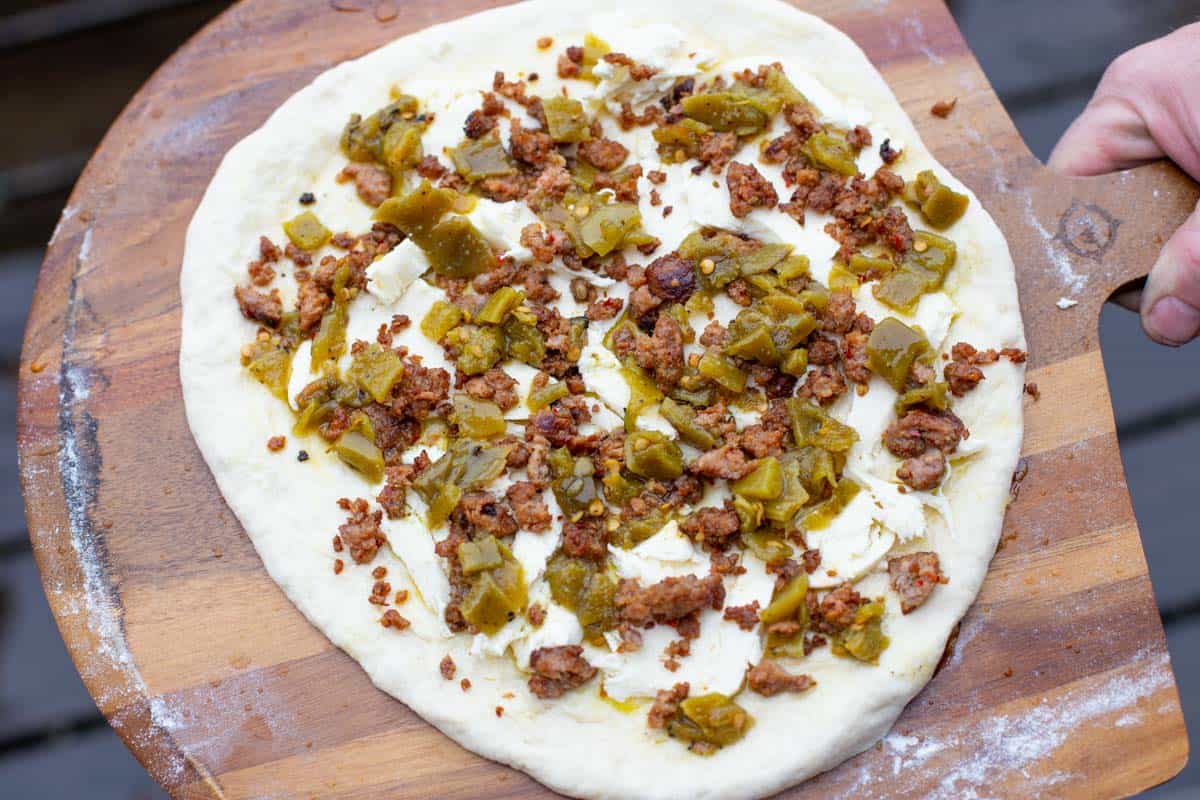 How to Make Green Chile Pizza
Lightly coat the pizza peel with flour. Gently form the pizza dough into an 11 – 13 inch circle on your pizza peel. Brush on the garlic olive oil.
Layer the rest of the ingredients starting with the mozzarella cheese, then the green chile, then the chorizo.
Gently try to move the pizza back and forth on the pizza peel to make sure it will slide off onto the pizza stone. If it does not slide, gently lift half the pizza and add more flour to peel and repeat on the other half. Once the pizza can slide on peel slide it into the pizza oven.
For Neapolitan style pizza, slowly rotate the pizza with a turning peel every 7 – 10 seconds so the crust evenly cooks closest to the fire. Remove after 60 – 90 seconds when the edges of the crust are evenly cooked. Remove from pizza oven and add the cilantro.
Optional: Dust the top with Maldon finishing salt and slice and serve.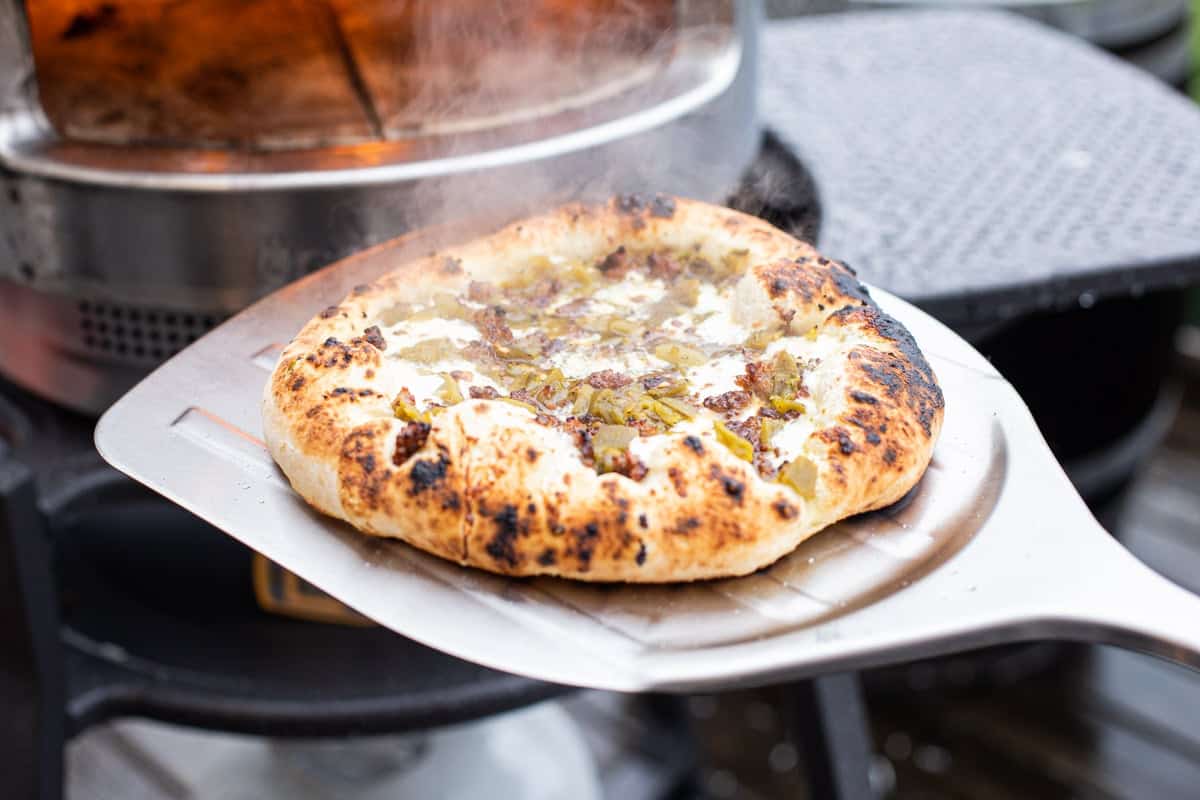 If using a kamado grill read our article on making pizza on a Big Green Egg.
Tools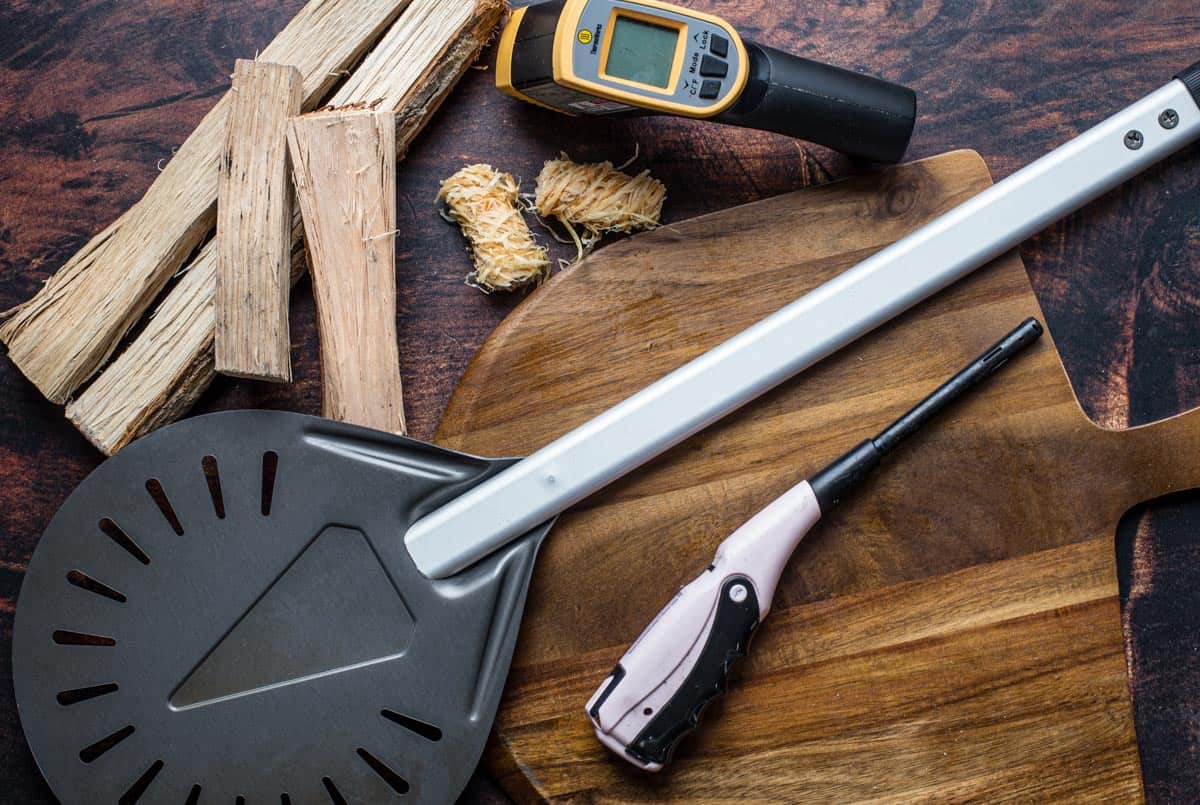 Read on for our comprehensive list of essential pizza tools.
More Pizza Recipes
This post may contain affiliate links. This means if you click on the link, we may receive a small commission if you purchase through the link. We partner with brands we know and love and use and it helps keep the blog going!
Tried this recipe? Give us a star rating and we would love to see! Mention @vindulge or use the hashtag #vindulge on all the social media handles. And consider subscribing to our newsletter where we drop all our favorite ideas and inspirations every week.
---