Our Grilled Chicken Lettuce Wrap starts with a soy based marinade, grilled hot and fast on a skewer, and then finished with a no-sugar dipping sauce. Fill the wrap with your favorite raw veggies. Substitute the soy with Tamari and you have a gluten free chicken lettuce wrap.
Every year in January we go on a 10-day cleanse with no sugar. This year we added gluten, dairy, grains, and processed food to the cleanse. We're not looking to deprive or punish ourselves. On the contrary, we're looking to add more natural and clean (but still delicious!) flavor in all our dishes. And this grillled chicken wrap meets all the requirements. This recipe is inspired by Dr. Mark Hyman's 10-day detox challenge Asian Chicken Wraps.
Why This Recipe Works
Cutting the chicken breast in small cubes helps the marinade work through more of the chicken
Grilling the chicken adds more flavor
No-added sugar (only clean whole foods in this recipe!)
Easily adaptable to an appetizer with butter lettuce or endive cups
Can be gluten free using tamari sauce versus soy sauce
Jump to:
Ingredients for Grilled Chicken Lettuce Wraps
When it comes to chicken lettuce wraps we focus on boneless chicken breast and sturdy romaine lettuce (or butter lettuce) as the key ingredients. From there we play around with fresh veggies we have the fridge for the toppings themselves.
Marinade: low sodium soy (or tamari), sesame seed oil, juice of ½ an orange, fresh ginger, garlic cloves, shallots, and rice wine vinegar.
Protein: boneless-skinless chicken breast, simply seasoned with kosher salt and coarse black pepper
Wraps: romaine lettuce (or butter lettuce), julienned red pepper, jalapeños, carrots, cilantro, crushed cashews
Dipping Sauce: soy, rice wine vinegar, juice of ½ an orange, sesame seed oil, fresh sesame seeds
Adaptations
Grilled Chicken Lettuce Wraps are like a blank canvass. Just add any and all flavors that you like.
Appetizer: Simply sub the romaine for endive cups or butter lettuce and you can plate this as a beautiful appetizer.
Heat: Add red chili pepper flakes to the marinade and dipping sauce for more heat (or sprinkle inside the wrap).
Preparation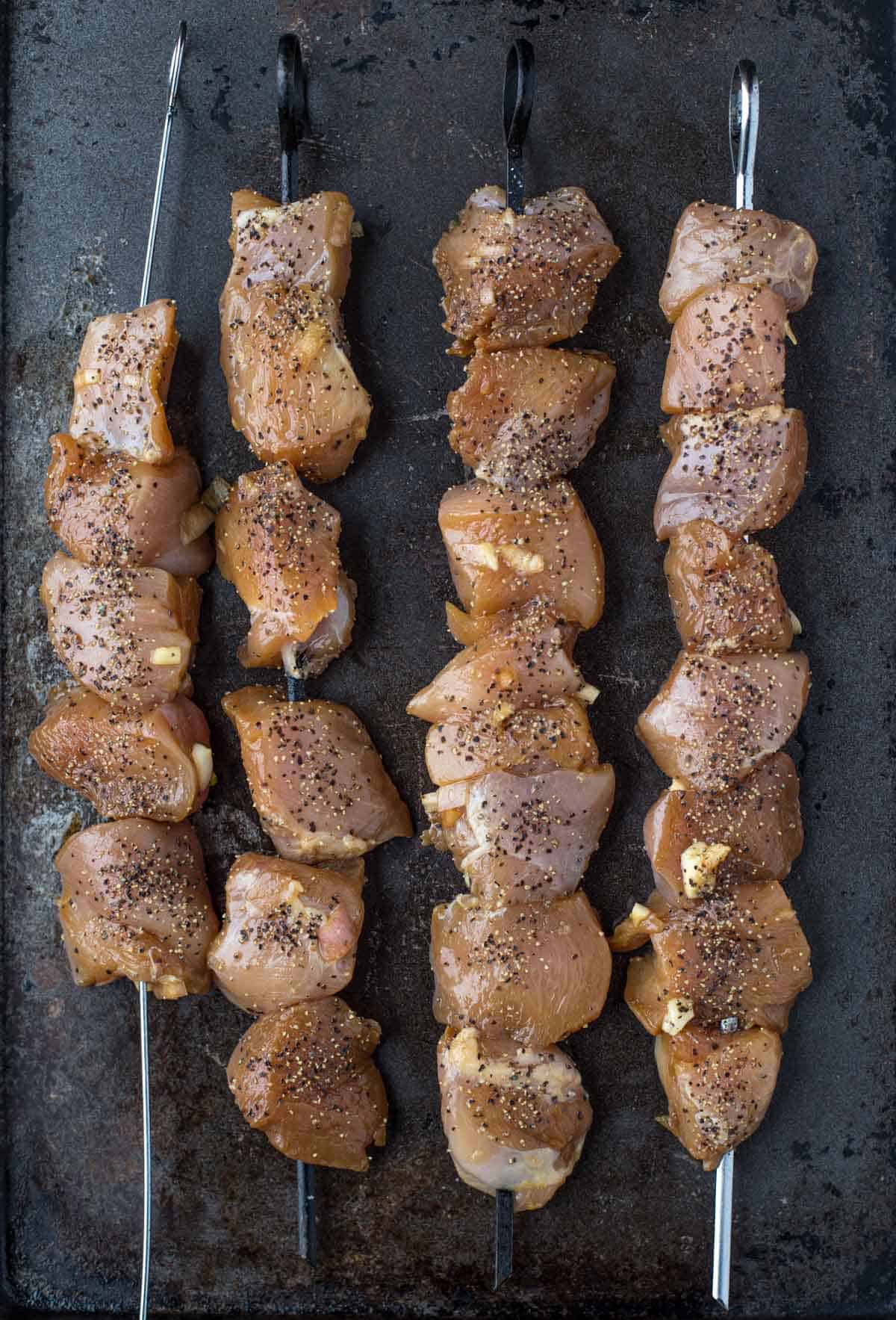 Cube up the chicken breasts. This will help the marinade get more surface area as the chicken sits in it.
Combine all marinade ingredients in a one gallon plastic baggie and then drop in the chicken. Squeeze out as much air as you can. Marinade for two hours and then get the grill ready.
Alternatively, you can do this before you go to work and then remove the chicken from the marinade when you get home. We don't recommend overnight because the chicken will toughen up too much.
When you are ready to grill the chicken cubes, place them on skewers. If using wooden skewers, soak them in water in a dish for at least 30 minutes, ideally 1 hour.
Rinse and dry the romaine.
Grilling Marinated Chicken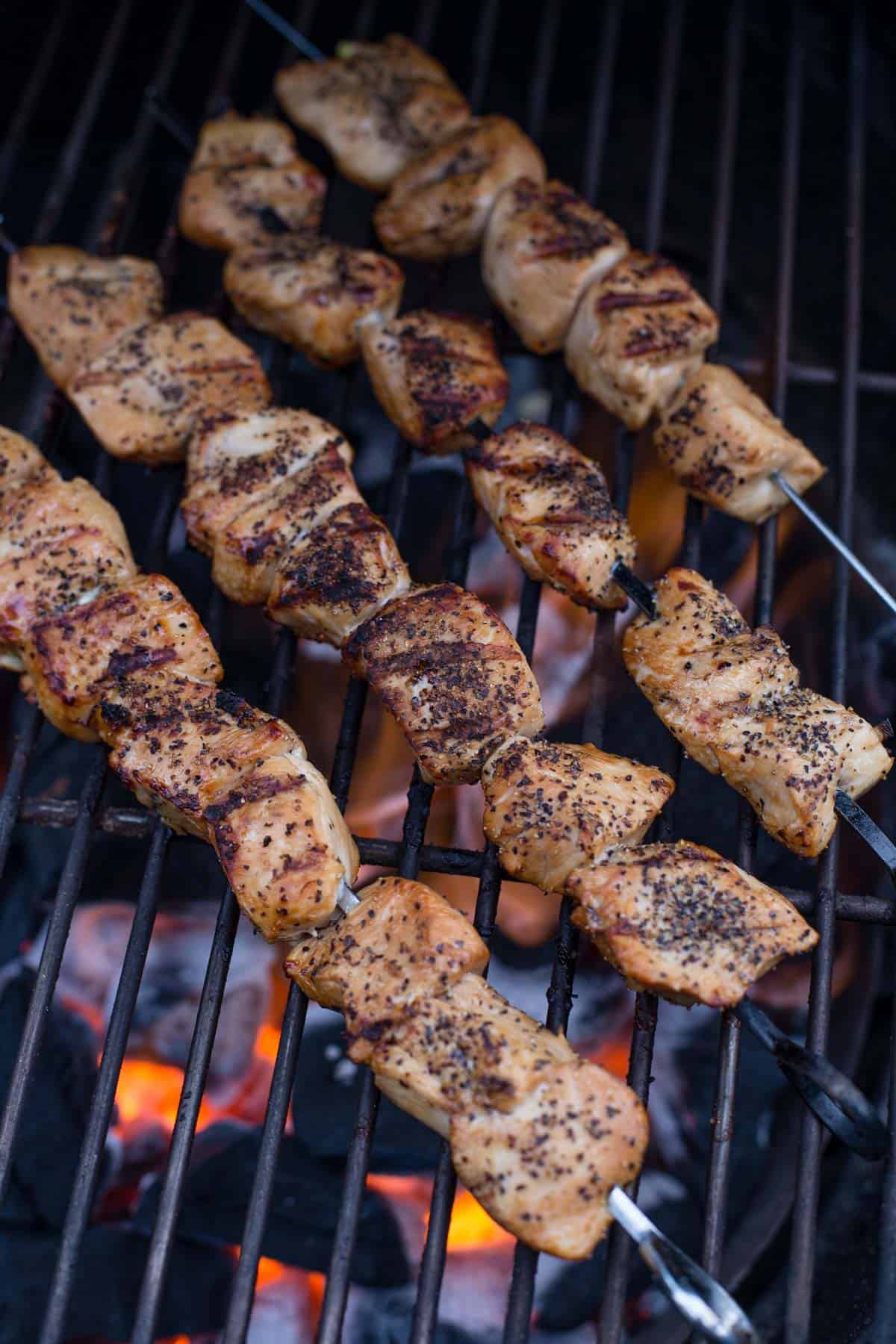 Prepare the grill for direct grilling, targeting 450 – 500 degrees Fahrenheit. For a gas grill that's medium heat.
Season the chicken skewers liberally with salt and pepper (or your favorite chicken seasoning).
Pace over direct heat, close lid, and grill direct for 5 minutes. Flip when you see good sear marks. Continue grilling 5 more minutes or until the internal temperature of the chicken reads 160 degrees Fahrenheit using a good instant read Thermometer, like the Thermoworks Thermapen One.
Remove, roughly chop up the chicken, and then serve with the wraps and dipping sauce.
Making the Grilled Chicken Lettuce Wraps
To prepare the lettuce wraps, layout the romaine and other toppings. Combine the dip ingredients together and stir. Place chicken, and all the toppings in the wrap, lightly drizzle in the dipping sauce.

Related Recipes
Wine Pairing for Grilled Chicken Lettuce Wraps
Wine and soy or umami flavors can be tricky. However a nice option is anything like a dry sparkling wine or rosé (bonus points if it's a sparkling rosé). Another option is a riesling for a refreshing pairing. Those flavors are not muted and contrast each other for balance in flavor.
This post may contain affiliate links. This means if you click on the link, we may receive a small commission if you purchase through the link. We partner with brands we know and love and use and it helps keep the blog going!