These Grilled Steak Lettuce Wraps are made from tender steak bites marinated in a combination of Sake, soy, and ginger, and grilled on a skewer. Add pickled carrots, and some fresh veggies for a savory and delicious appetizer or even a main meal!
This is also a great recipe when you have trimmings from cutting up and preparing other steak cuts like our Beef Tenderloin.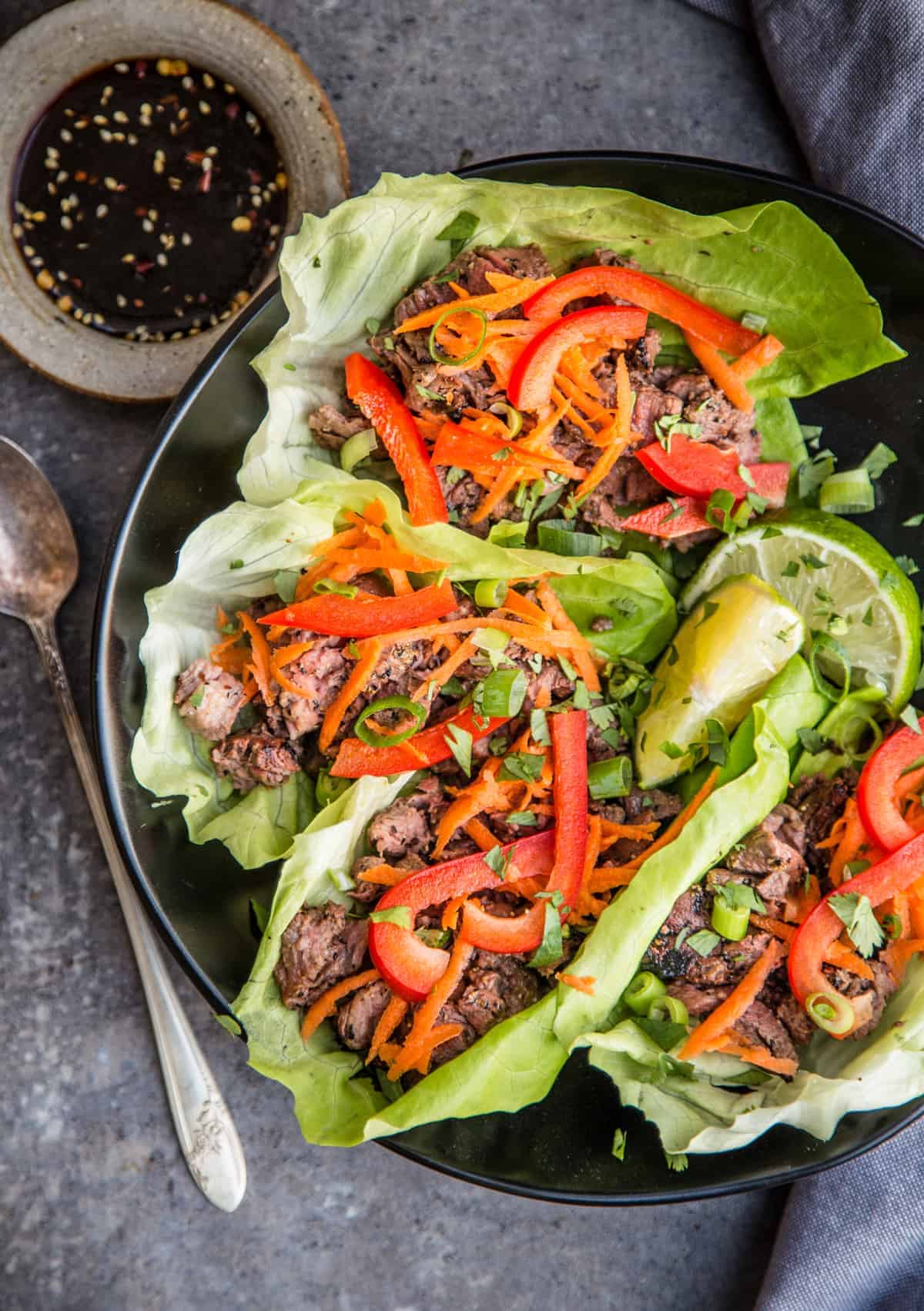 Lettuce wraps are a great way to create a light and fresh meal from vegetables and meat. We love to take a protein like steak, marinate it, grill, and then finish with the lettuce wraps and some sauce. It's also a great one if you're practicing a low carb or gluten free diet, or just need a break from the heavy breads and fillers. (Note that you want to buy Gluten Free Soy Sauce)
Jump to:
This lettuce wrap recipe uses Sake as a marinade and as part of the dipping sauce for a fruity element, and soy for the savory flavor. There are many ways to build on this recipe based on your personal preference.
How To Make Lettuce Wraps
We follow a few key steps in order to get the most flavor from this easy lettuce wrap recipe.
Marinade the steak to tenderize and add flavor.
Grill the steak for some earthy element.
Slice up fresh vegetables for a fresh and element and some crunch.
Finish with a savory sauce.
Marinade
A marinade for any dish is meant to tenderize or add flavor. In this case, we are doing both. The marinade will also have similar flavor profiles as the sauce, with the goal to tie together the flavor of the meat and the finishing bite. For our marinades we always balance the flavors by adding savory, sweet, and acid components.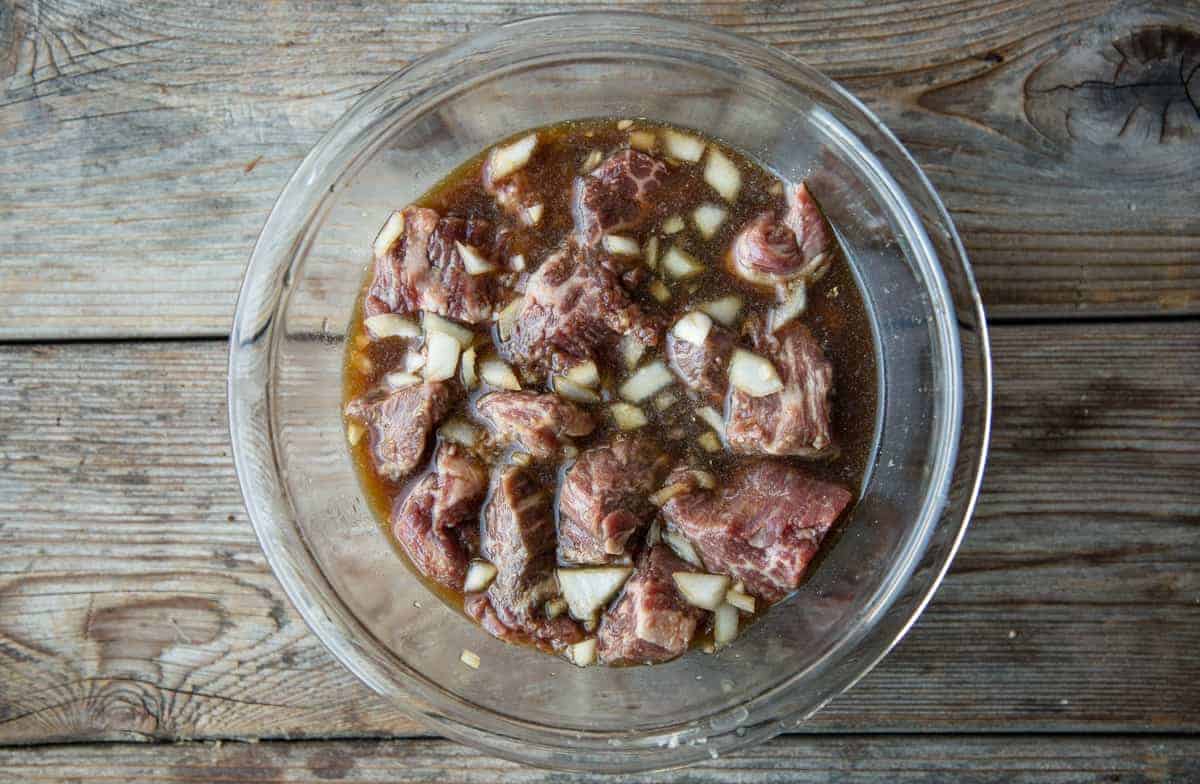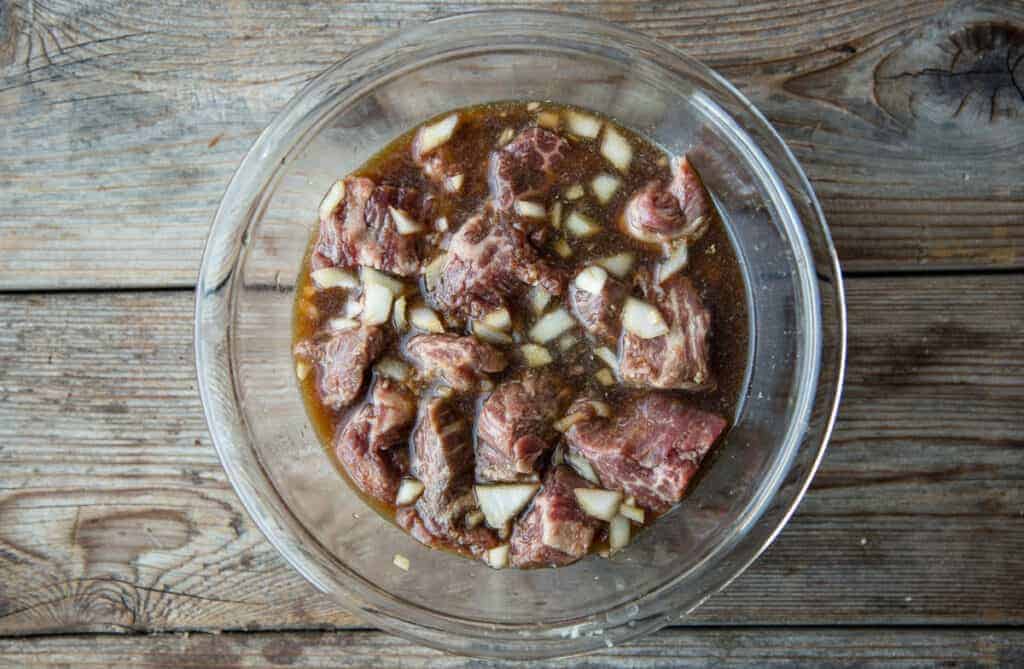 Ingredients we use for our lettuce wrap steak marinade:
Savory – Soy sauce, yellow onions, ginger, and garlic bring savory and heat. Alternatively you can use Worcestershire, shallots, cayenne, or other similar ingredients.
Sweet – Saké, a fruity rice based alcohol, and honey add sweetness. Alternatively you can use brown sugar, or agave nectar.
Acid – Acid is what helps tenderize the meat. Lime is the key acid in this marinade. Alternatives include rice wine vinegar or apple cider vinegar.
Mix all the ingredients together and place into a 1 gallon plastic sealable bag. Add the steak to the baggie and marinate for up to 3 hours in the refrigerator.
Best Steak for Lettuce Wraps
We commonly make this recipe when we have trimmings left over from cutting up other steaks like a NY Strip Loin, Beef Tenderloin, or other large cuts. Simply cut the trimmings or your steaks into small squares that will be skewered and grilled.
Cutting up the steak into smaller cubes also allows more marinade to hit more surface area of the steak for flavor.
If you don't have trimmings then great options include:
Sirloin – These tender and marbled steaks are great to cut up and marinade.
Eye of Round – This more lean cut will tenderize nicely.
Tri Tip – This has great marbling and is very tender.
We don't use ground beef because we want to slice the steak after grilling and have that texture versus the ground smaller pieces.
We use Snake River Farms Tenderloin Pieces that we've cut up from prior roasts and frozen. Or you can buy them in one pound batches as well. Remember that any steak trimmings are great for these types of recipes.
You can also chicken or any other protein in this recipe. It's another great idea for leftovers like our pulled pork lettuce wrap. Just skip the marinade.
Seasoning and Grilling The Steak
Remove the steak from the marinade and discard the marinade. Place the cubes of steak on the skewers and season with a simple rub of equal parts kosher salt, granulated garlic, and coarse black pepper.
Chef's Tip: If you are using wooden skewers, be sure they have soaked in water for an hour so they don't burn on the flame.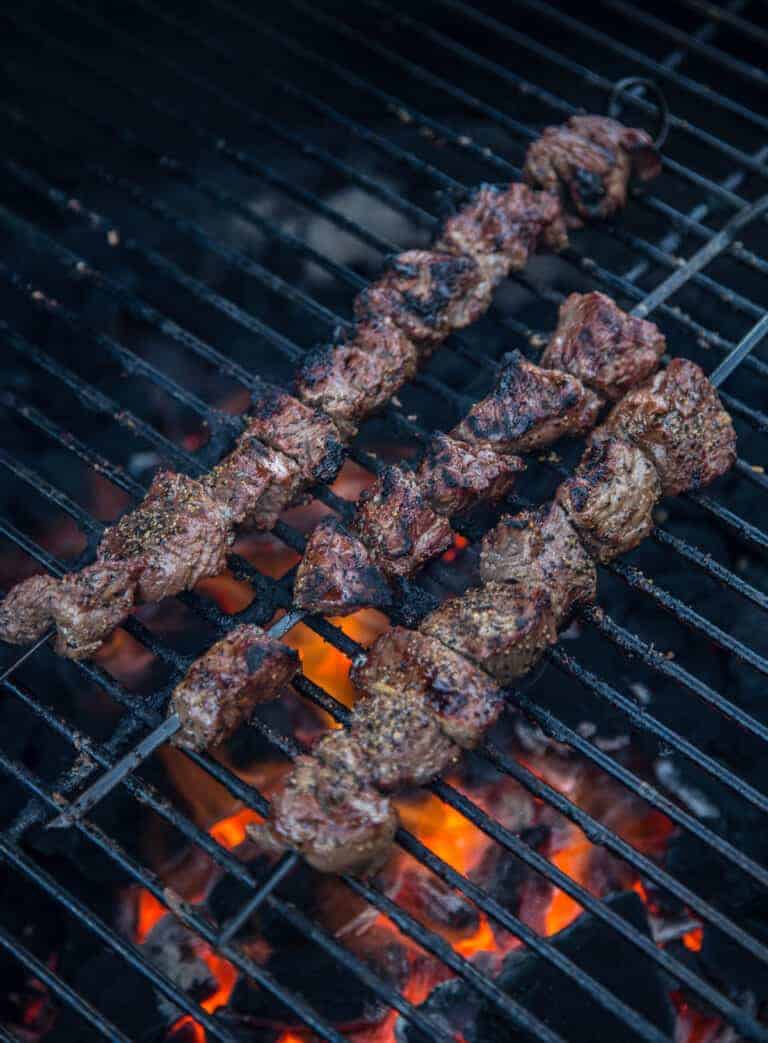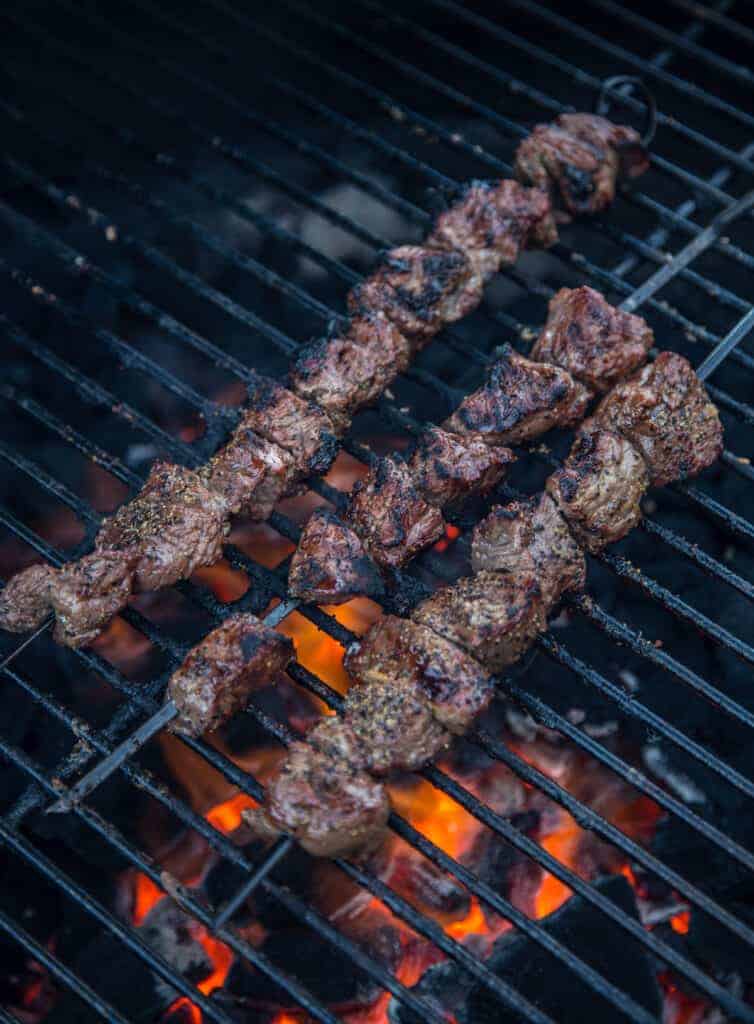 Grill the skewers over direct heat with the target temperature over the direct heat of 500 – 550 degrees Fahrenheit. This will sear the steak quickly on the exterior while keeping the interior tender. Grill for approximately 6 minutes and flip once. Continue grilling until the internal temperature reaches your preferred temperature, about 4 additional minutes. We pull ours at rare, or 125 degrees F, using a good instant read thermometer like the Thermoworks Thermapen MK4.
Temperature Ranges for Beef
Rare: 120-130 degrees F
Medium Rare: 130-140 degrees F
Medium: 140-150 degrees F
Medium Well: 150-160 degrees F
Well Done: 160 degrees F (and not recommended)
Lettuce Wrap Ingredients
There is no need to cook the filling. Simply prep some simple and colorful vegetables before you grill the steak. The fresh flavors are a great complement to the grilled steak.
You can do so many combinations of flavor, based on your preference. The key is consistent size of the cuts. So we use a box grader to shred our carrots finely using the large hole and we'll finely dice the peppers and green onions with a sharp knife. Our favorite ingredients include:
Carrots – You can add a quick pickle to the carrots for some added flavor. Simply use 1 cup apple cider vinegar, 1 cup water, 1 tablespoon kosher salt, and 1 tablespoon of sugar, mix together and add the carrots. After 15 minutes they are ready to go.
Red Bell Pepper – Adds crunch and sweet.
Green Onions – We dice these with a knife. These are not as strong as shallots or yellow onions but still add that nice onion flavor.
What Kind of Lettuce for Lettuce Wraps
Our go to is butter lettuce. A nice crispy crunch and still strong enough to hold the ingredients. They key to a good lettuce for the wraps are lettuce that is strong and larger to be able to wrap around the ingredients. Other options include:
Butter Lettuce
Hearts of Romaine
Endive are smaller and great for larger groups where you want a smaller bites
Sauce
Simply add all the ingredients together in a bowl and use to dip the wraps in, or use a spoon to drizzle a small amount into each wrap. As we said in the beginning, we replicate many of the marinade ingredients to tie the flavors together.
Sake, soy, and fish sauce add savory elements. Thai sweet chili adds sweet. We also add red chili pepper flake for a little heat and sesame seeds for a little toasty element.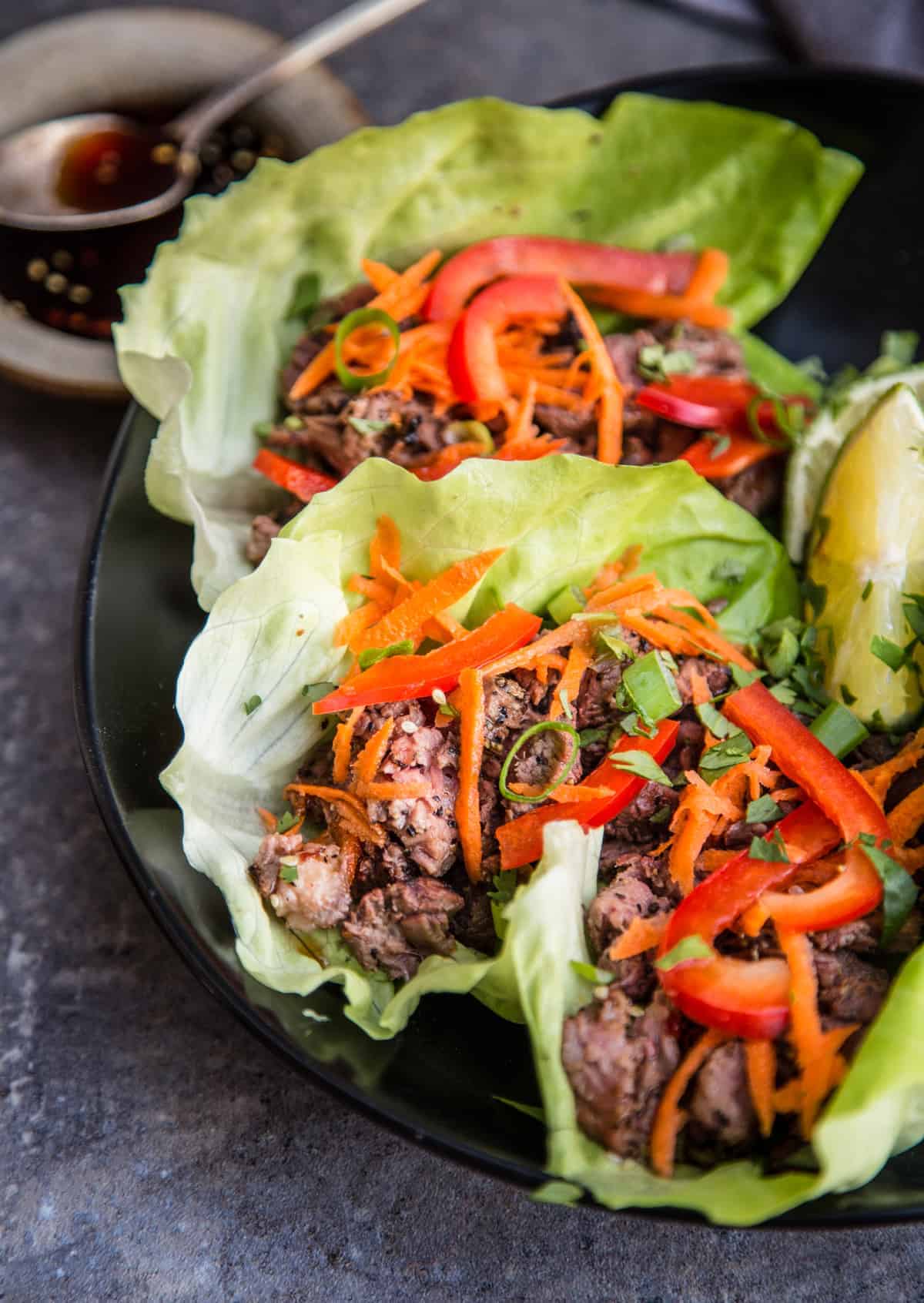 Other Appetizer Ideas
This post may contain affiliate links. This means if you click on the link, we may receive a small commission if you purchase through the link. We partner with brands we know and love and use and it helps keep the blog going!