Tired of traditional BBQ sauce with pulled pork? Try this sweet and savory Asian dipping sauce to jazz up your next batch of leftover smoked pulled pork! These Pulled Pork Lettuce Wraps are a fantastic (and light) alternative to tacos or sliders, with killer flavor!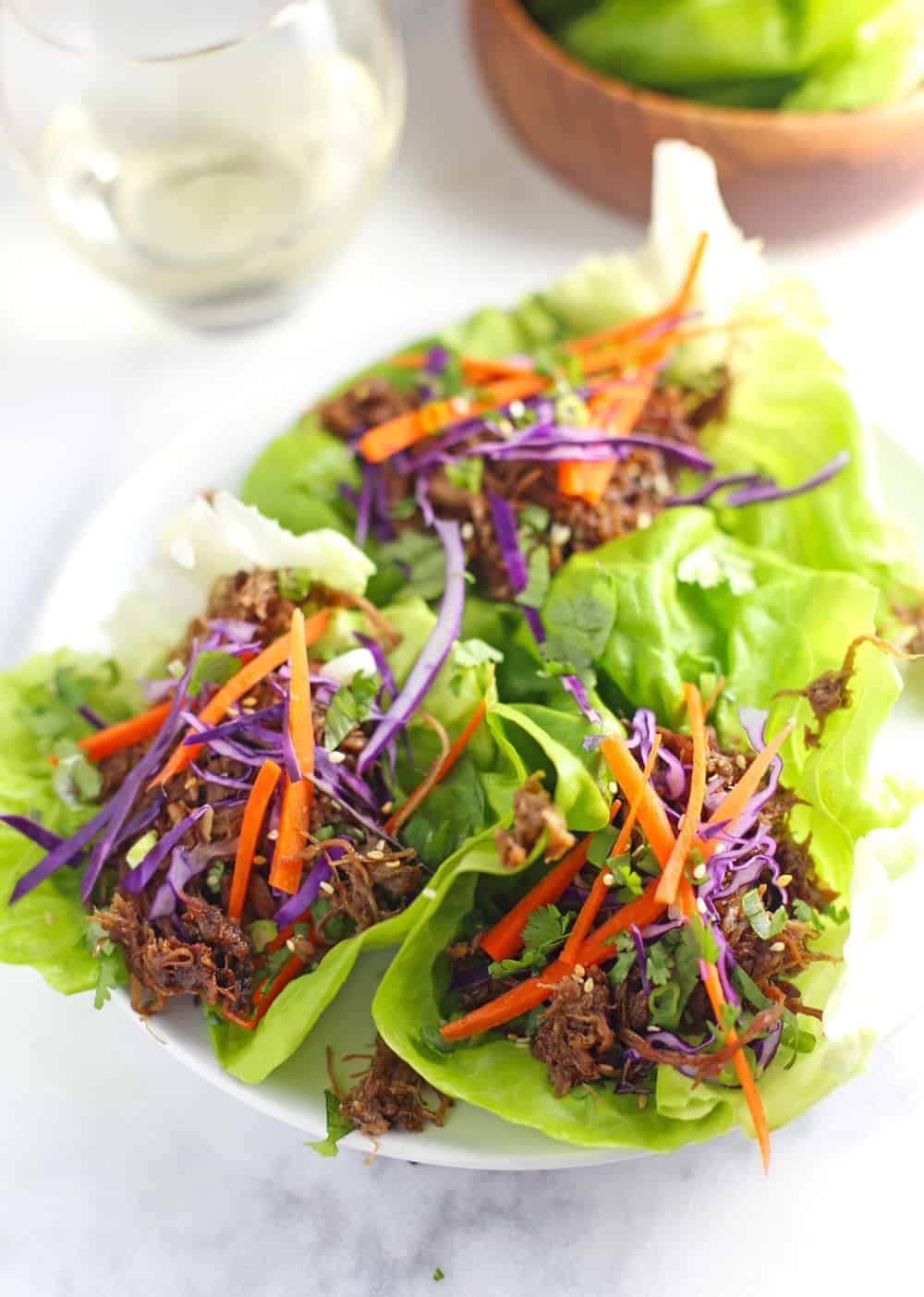 We're total suckers for Taco Tuesday. It's so easy to toss whatever you have laying around and layer it into a soft tortilla and chew away.
But, we've been trying to use up some leftover pulled pork lately. And I'm not gonna lie, I do get a little tired of the traditional bbq sauce, cheddar cheese, combo. I'm often craving something a little more savory.
We love the combination of eastern flavors and spices (soy, ginger and spices like Chinese five spice).
Speaking of… if you are looking for some of those flavors, you can check out our recipe for Smoked Pork Ribs with Asian Spice Rub.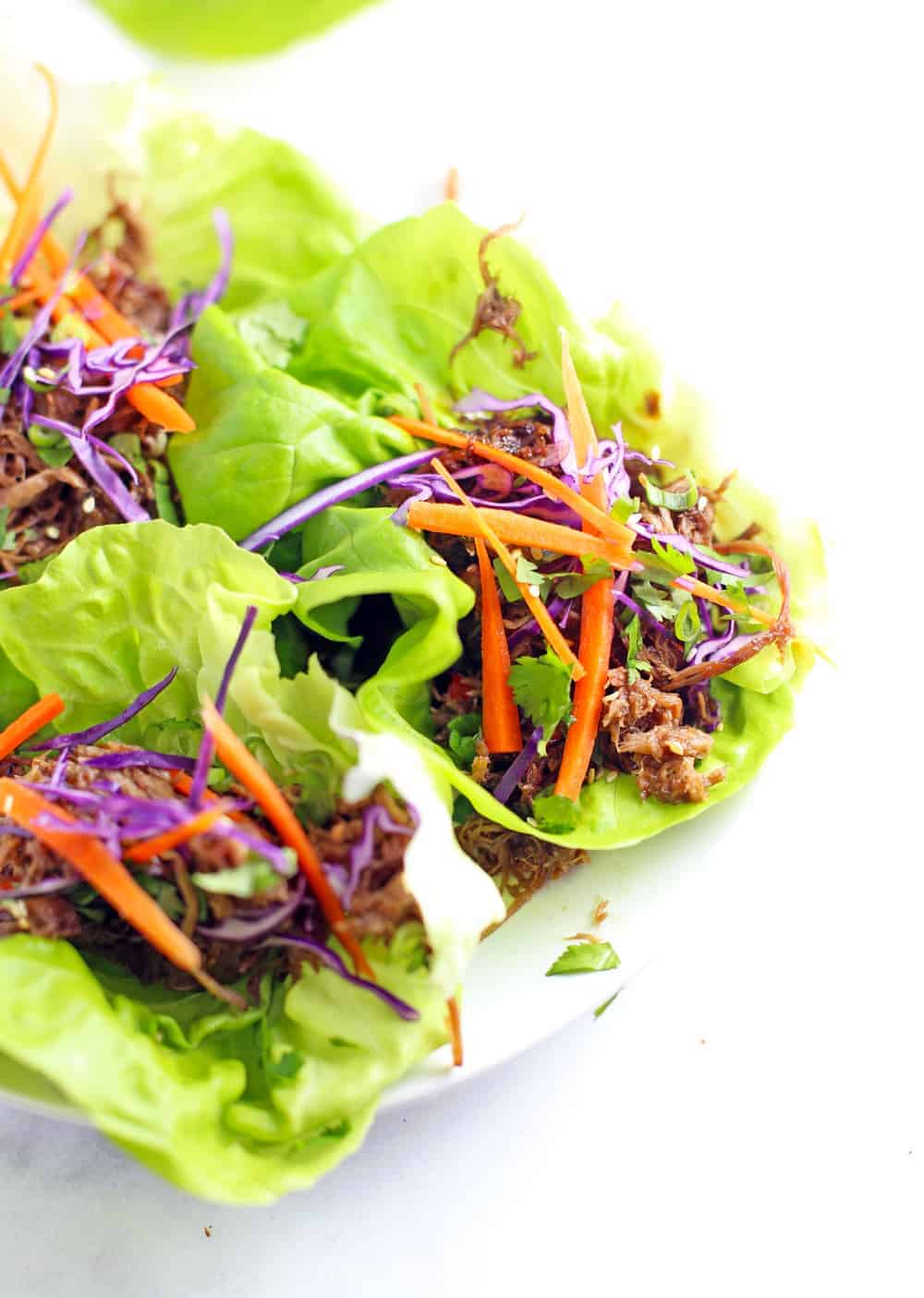 Smoked Pulled Pork Lettuce Wraps with Asian Dipping Sauce
Take any pulled pork you may have lying around. I'm totally cool with wherever it comes from (leftover smoked pulled pork, crockpot pulled pork, heck even if you buy the Trader Joe's store-bought pulled pork, whatever works for youl!).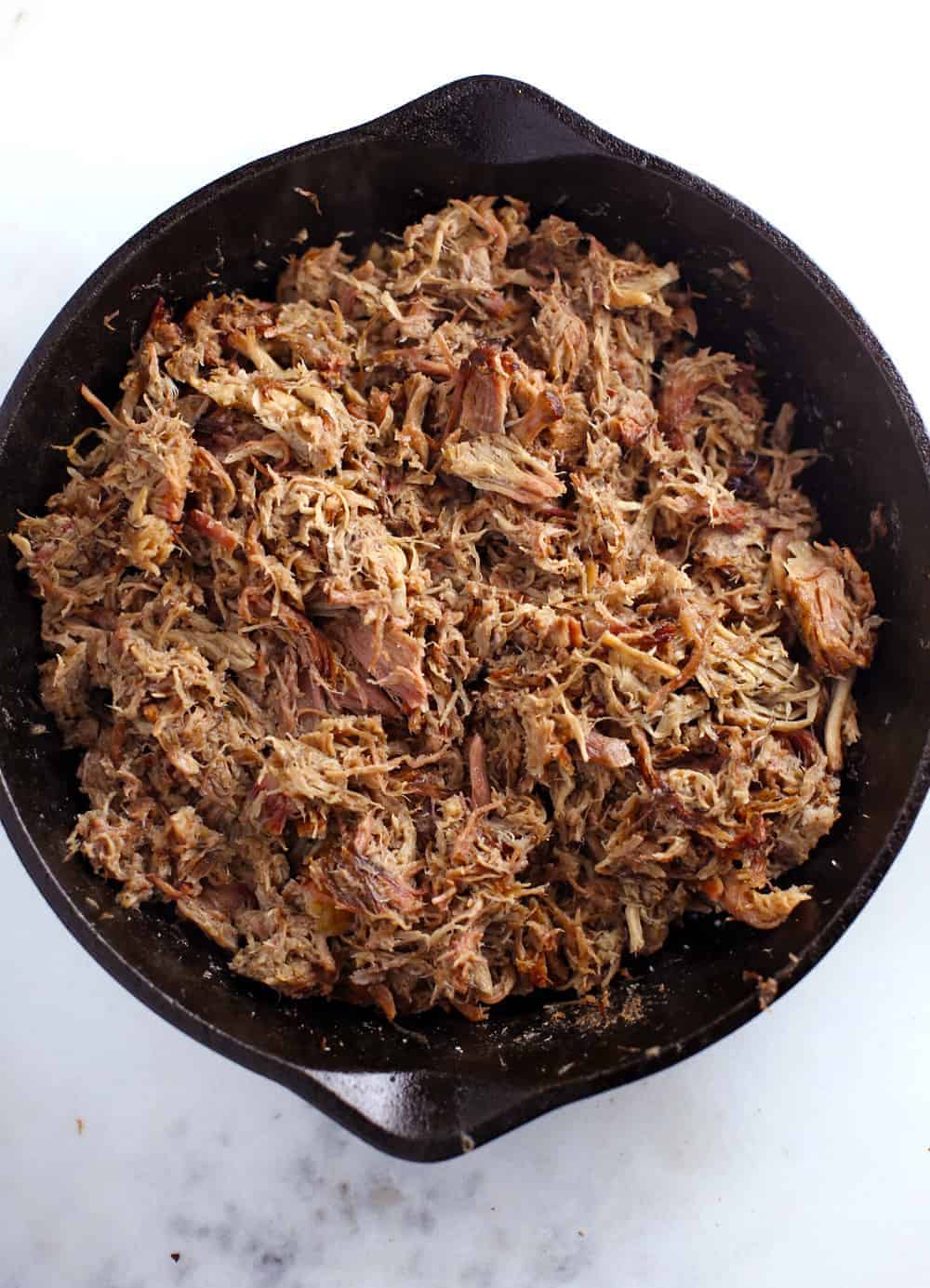 Just start warming up the pulled pork in a skillet.
And while that's warming up make your sauce.
In a separate small saucepan, combine soy sauce, balsamic vinegar, brown sugar, green onion, rosemary, garlic, ginger, honey and let it reduce. It helps to add a bit of a slurry to get it to thicken up too. Once it gets to the consistency you want (should be thick, like maple syrup, but not as thick as honey) take it off the burner and toss a few tablespoons into the pulled pork and save the rest to serve over your lettuce wraps after you've loaded them up with all sorts of happiness.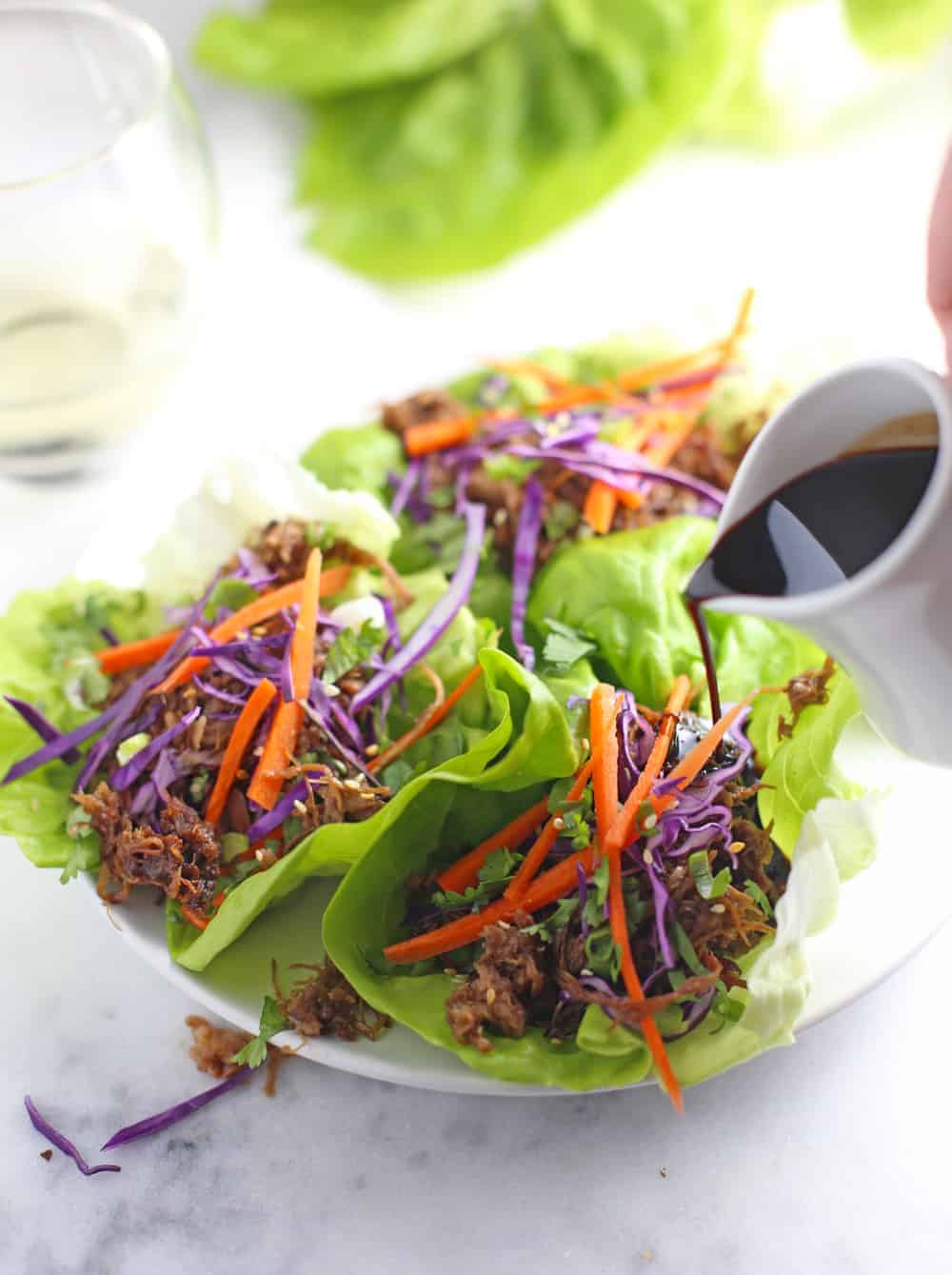 Toppings for Lettuce Wraps
Speaking of "happiness" I'm obviously referring to all of the crunchy veggies and herbs you may choose to add (like carrots, cabbage, green onions… the options are endless!). So while the sauce is reducing cut up your desired veggies to add to your lettuce wraps, turn on some happy tunes, and pop open a bottle of wine and get ready for fantastic and healthy meal. Our favorite toppings include:
carrots, julienned
purple cabbage, shredded julienned
green onions, chopped
cilantro
sesame seeds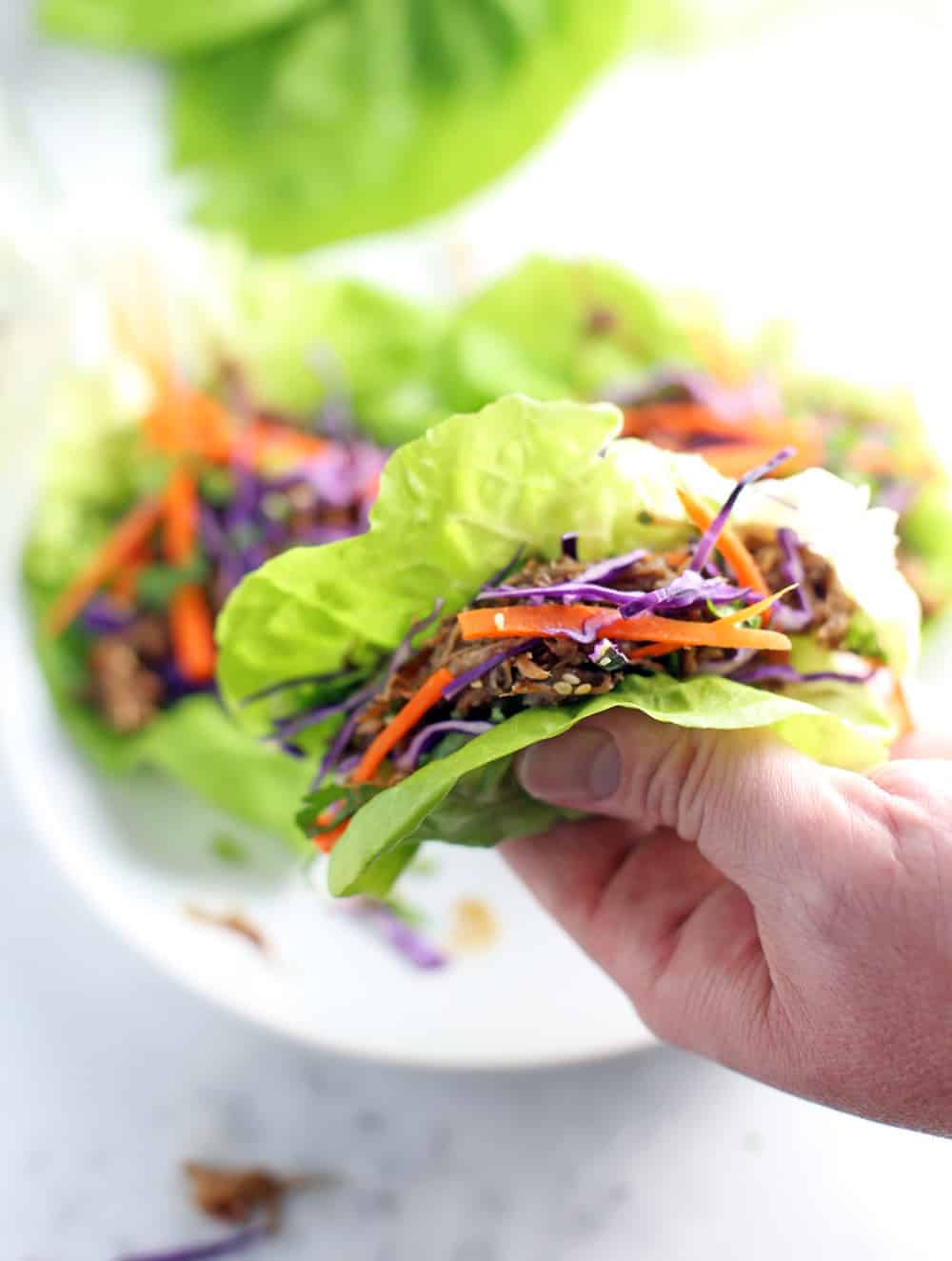 Wine Pairing for Pulled Pork Lettuce Wraps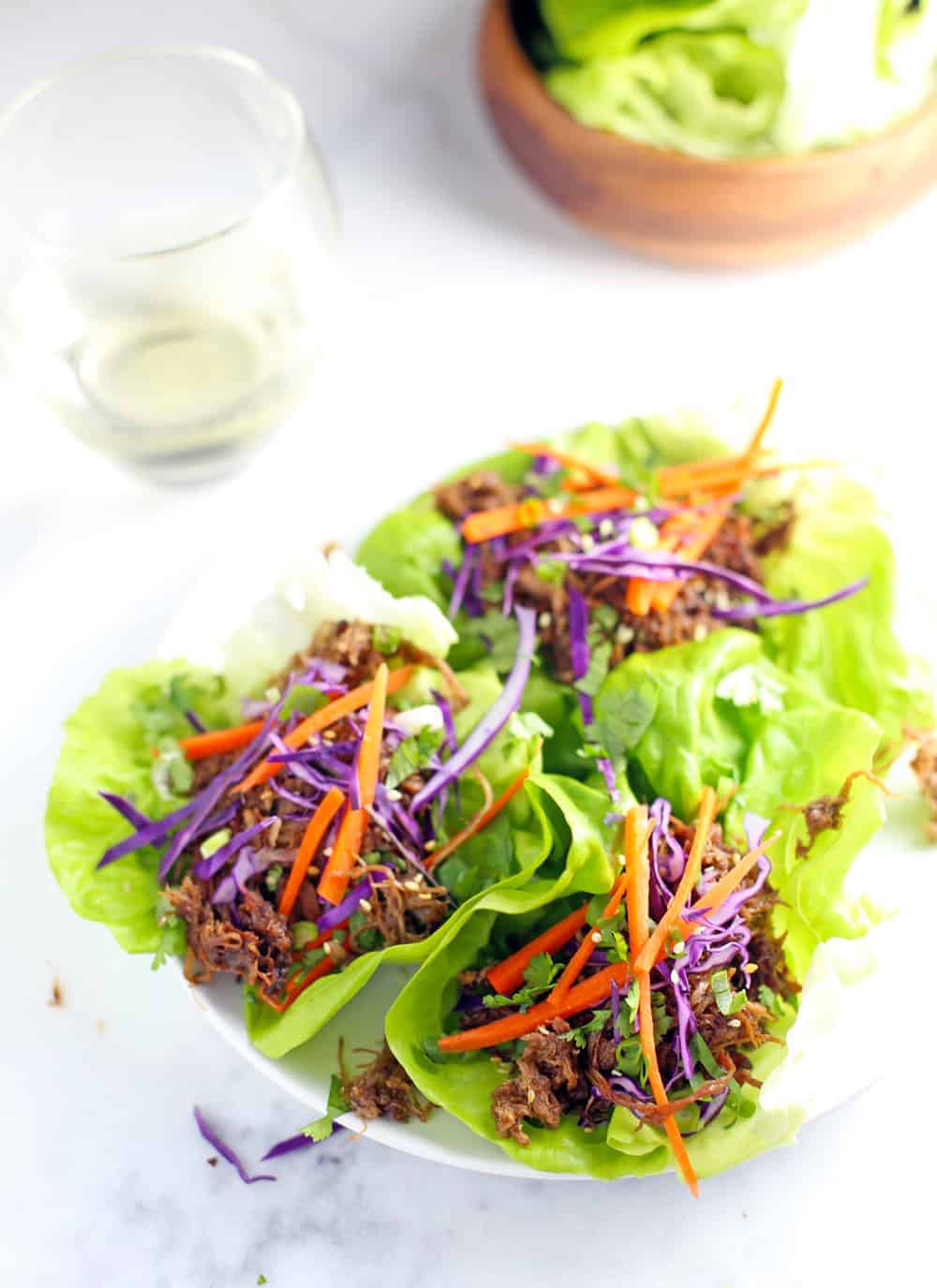 I love the mix of savory flavors you get from the sauce (especially from the soy and balsamic), mixed with the mildly smoky meat, freshened up by the crunch raw veggies and fresh herbs. This is a great one to experiment with both red and white wines. We tried it with some local Pinot Noir and it was actually quite awesome. The fruity Pinot along with its savory flavors were a pretty decent match for the dish.
But my favorite pairing so far has been Riesling. We've been playing around a lot with Riesling and smoked meat and I've gotta tell you, Riesling can stand up to some smoke, folks. And with the complexity of flavors we've got here, the acidity in the wine, brightness, and fruity flavors, this was a winner!
---
For more Leftover Pulled Pork Recipes, click here.
*For our recipe and technique that we used for these lettuce wraps, check out this post on how to smoke a pork butt. That post also includes some of my favorite uses for leftover pulled pork.
Pulled Pork Lettuce Wraps with Asian Dipping Sauce
---
If you like this recipe we'd truly appreciate it if you would give this recipe a star review! And if you share any of your pics on Instagram use the hashtag #vindulge. We LOVE to see it when you cook our recipes.