Pulled chicken is one of the easiest ways to smoke and serve chicken for a crowd. Smoke a whole chicken (or a chicken cut up into quarters) and then finished as smoked chicken sliders for the ultimate Easy Pulled BBQ Chicken sliders.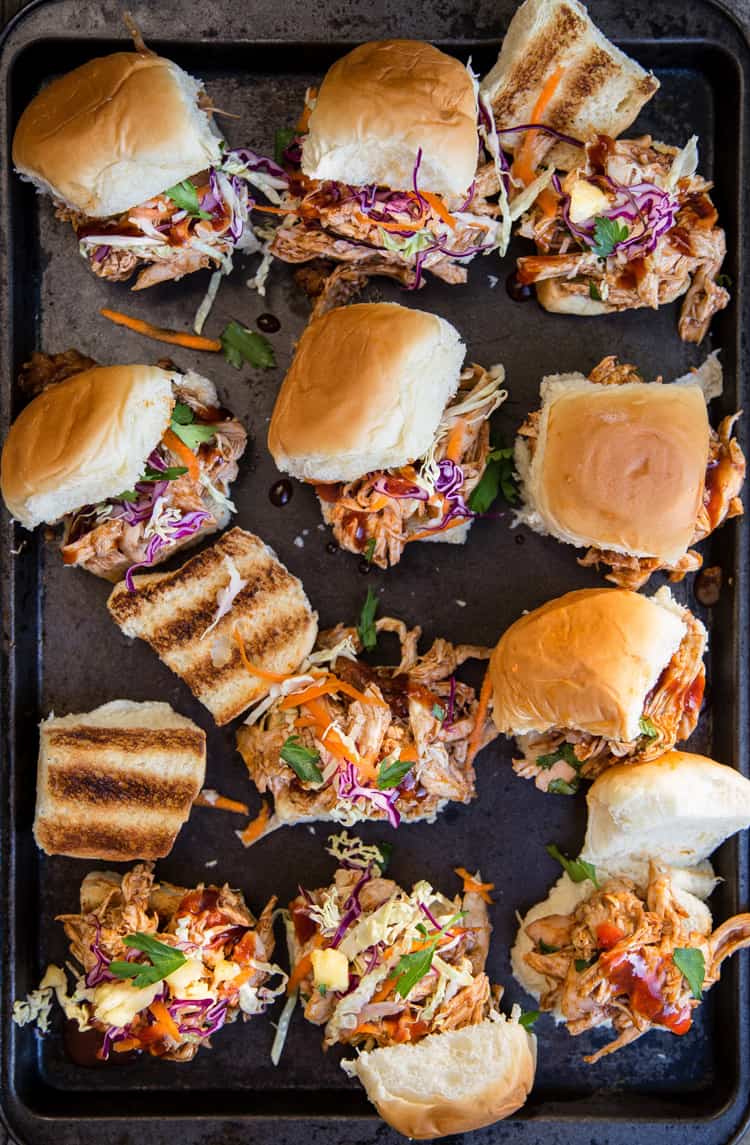 We love preaching all things chicken and poultry. It tends to be an under-appreciated meat. Like a blank canvass, chicken can take on flavor in so many ways. Our pulled chicken is easy, simply seasoned, smoked, and then shredded and used as a topping to a salad, or for sliders. For our pulled chicken we start by smoking a whole chicken (or quartered chicken).
Jump to:
Ingredients
Whole Roaster Chicken – We tend to shoot for the 5 pound range.
Extra Virgin Olive Oil – The binder for the seasoning.
Seasoning – We use our poultry seasoning or you can use your favorite BBQ rub. We have seasonings to explore as well.
Sauce – We douse a KC barbecue sauce as the main condiment. We also have a great red wine barbecue sauce that is savory and sweet with a touch of heat.
Bread – We opt for a standard Hawaiian style bun which is sweet and soft. Use your favorite slider buns.
Coleslaw – You can opt for the store bought slaw, or make your own. In this chicken slider recipe we are using our grilled pineapple slaw. We also have a great no-mayo coleslaw that is great when you are bringing this as a picnic item.
Preparation
You can elect to remove the skin (when smoking the skin gets rubbery due to the low heat) or smoke with the skin on.
Pat dry the chicken both outside and inside the cavity prior to seasoning otherwise the binder and rub will just fall off.
We like to make the coleslaw the day prior so it's ready and we can focus on the smoked chicken sliders.
Add olive oil to the dry chicken in the cavity first and then the outside. It's then ready for the seasoning.
Should you rinse your chicken? No, cross contamination is more likely and many studies suggest to simply pat dry. No need to rinse chicken.
How To Smoke A Chicken
Smoke at 250 degrees Fahrenheit (F), we love using fruit wood given our location in the Pacific Northwest. At 250, we find this is the right balance in temperature so the chicken does not dry out (at a lower range), and still gets a nice smoke flavor.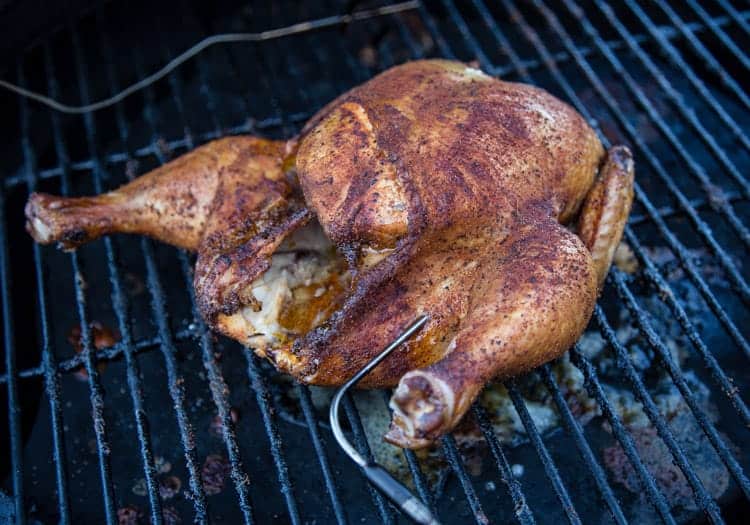 Remove the chicken from the smoker when the internal temperature of the chicken reaches 160 degrees F. Be sure to invest in a quality thermometer.
Finally, let the chicken rest, a theme for us. This allows the carry over cooking to finish and the moisture in the bird to redistribute within the cells.
How to Pull or Shred Chicken
For full details see our full guide on how to make pulled chicken on a smoker.
Be sure to let the chicken rest and cool slightly. We like to let it rest for 20 minutes.
Prepare a large bowl or sheet pan for the shredded meat.
If the skin isn't gone, remove it. Then remove the legs and thigh first and using hands remove the meat from bone, add to bowl.
Using a knife, remove the breast from the bone, and then break into chunks and add to bowl.
Remove additional meat from chicken carcass.
Place the bowl of chicken on top of a towel to prevent bowl from moving around.
Using two forks, pull at the meat until desired texture.
Add some barbecue sauce and mix up.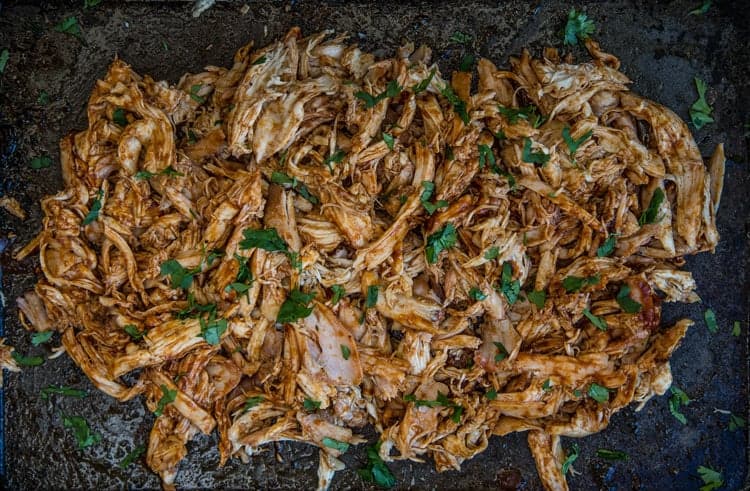 Don't throw away the carcass. Use it to make smoked chicken stock. A full recipe for this is in our cookbook Fire + Wine.
Making Pulled BBQ Chicken Sliders
Technically sliders are small steamed buns with meat. Ours isn't steamed, but it does use a key ingredient and that is the Hawaiian style roll (we love these rolls for sliders!).
Place around ⅓ cup of the BBQ chicken mix, then add some coleslaw with a fun pickled or vinegar element for the perfect chicken slider combo. We love this Grilled Pineapple Coleslaw for smoked chicken.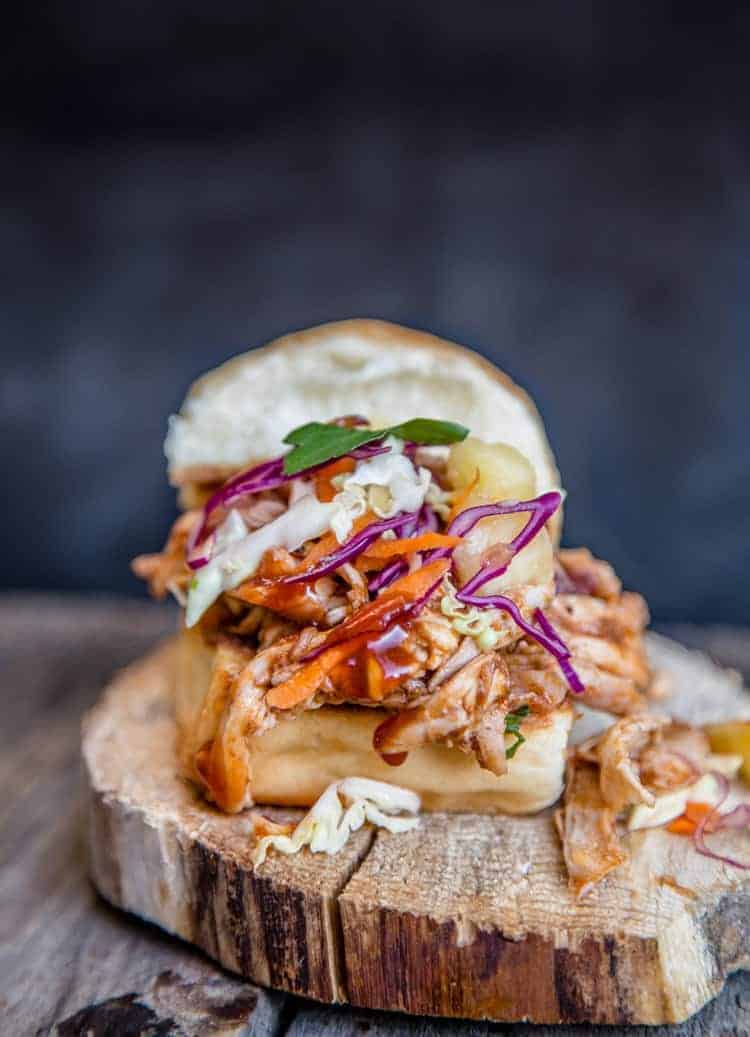 Advanced Preparation
Since the chicken will last up to five days in the refrigerator or six months in the freezer you can make the pulled chicken in advance or scale up in advance. We do not recommend saucing until you are ready to serve it.
Warm it up in a cast iron skillet with olive oil and sauce, or place in an oven in a baking dish at 200 degrees F. Warm for 20 minutes, add sauce and then prep the sandwiches.
Do I Need To Brine Chicken When Smoking?
No, we don't bother with a brine. We just make sure we don't overcook the chicken and let it rest before shredding.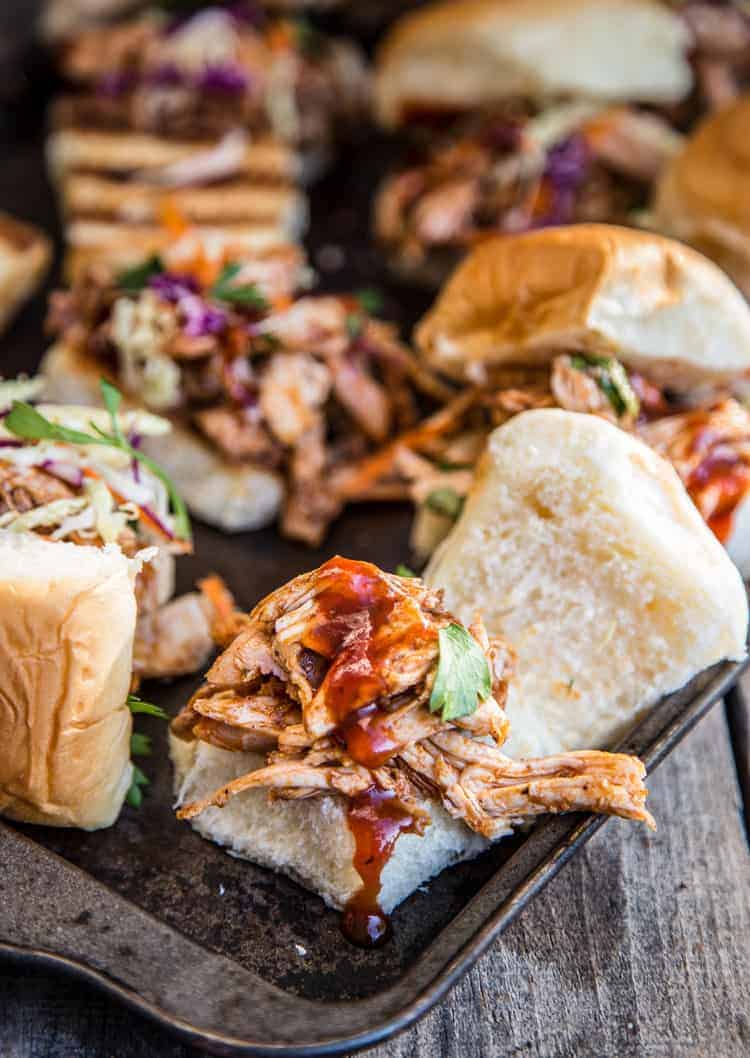 Other Fun Slider and Chicken Recipes
About Vindulge
Mary (a certified sommelier and recipe developer) and Sean (backyard pitmaster) are co-authors of the critically acclaimed cookbook, Fire + Wine, and have been creating content for the IACP nominated website Vindulge since 2009. They live in Oregon on a farm just outside Portland.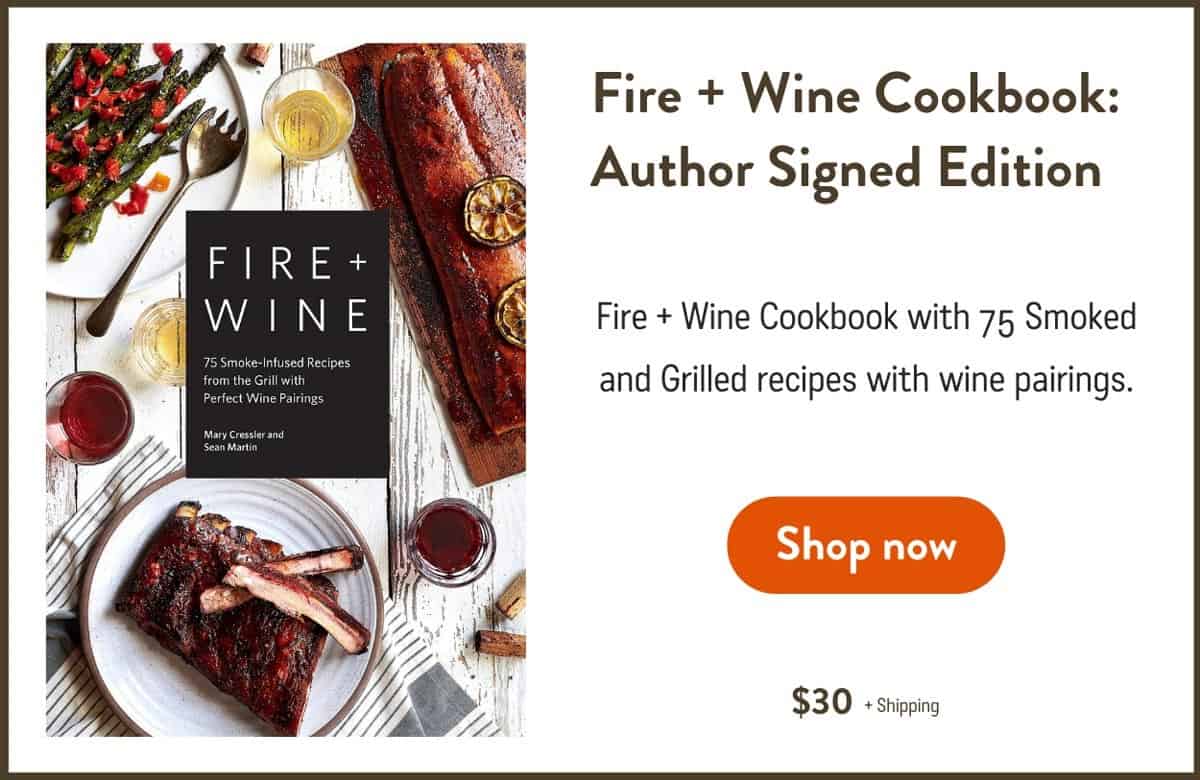 Tried this recipe? Give us a star rating and we would love to see! Mention @vindulge or use the hashtag #vindulge on all the social media handles. And consider subscribing to our newsletter where we drop all our favorite ideas and inspirations every week.
This post may contain affiliate links. This means if you click on the link, we may receive a small commission if you purchase through the link. We partner with brands we know and love and use and it helps keep the blog going!