Pulled chicken is one of the easiest ways to smoke and serve chicken for a crowd. Smoke a whole chicken (or a chicken cut up into quarters) and then finished as sliders is the ultimate Easy Pulled BBQ Chicken dish.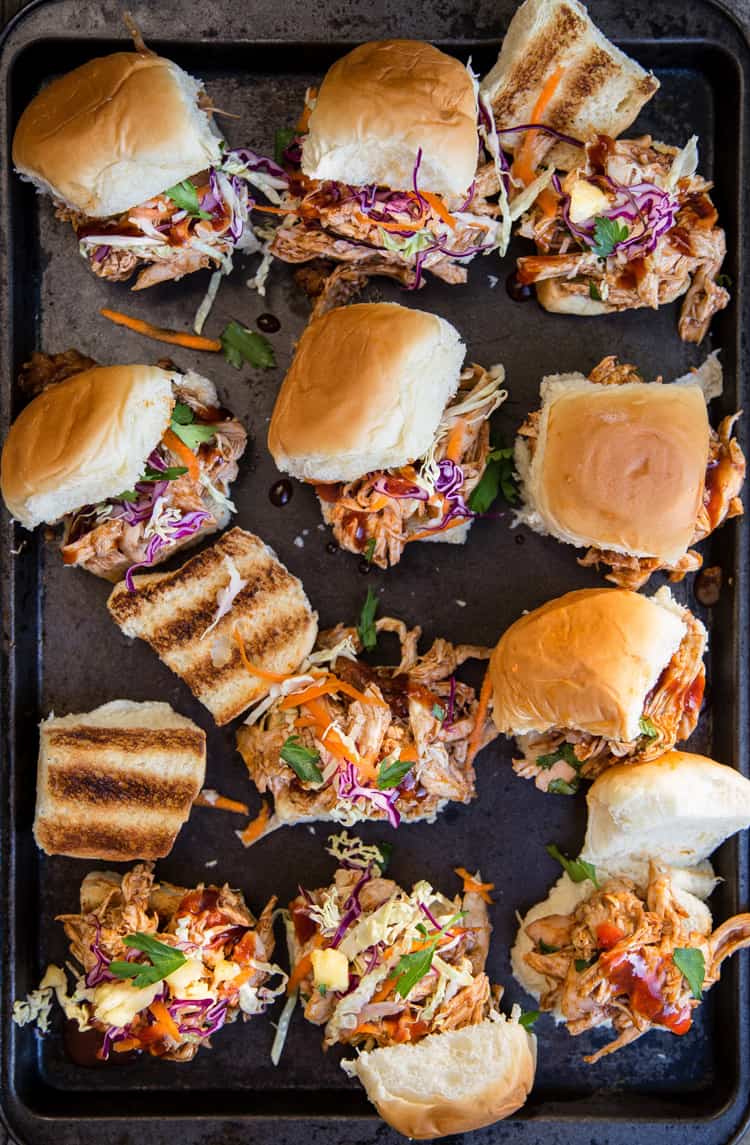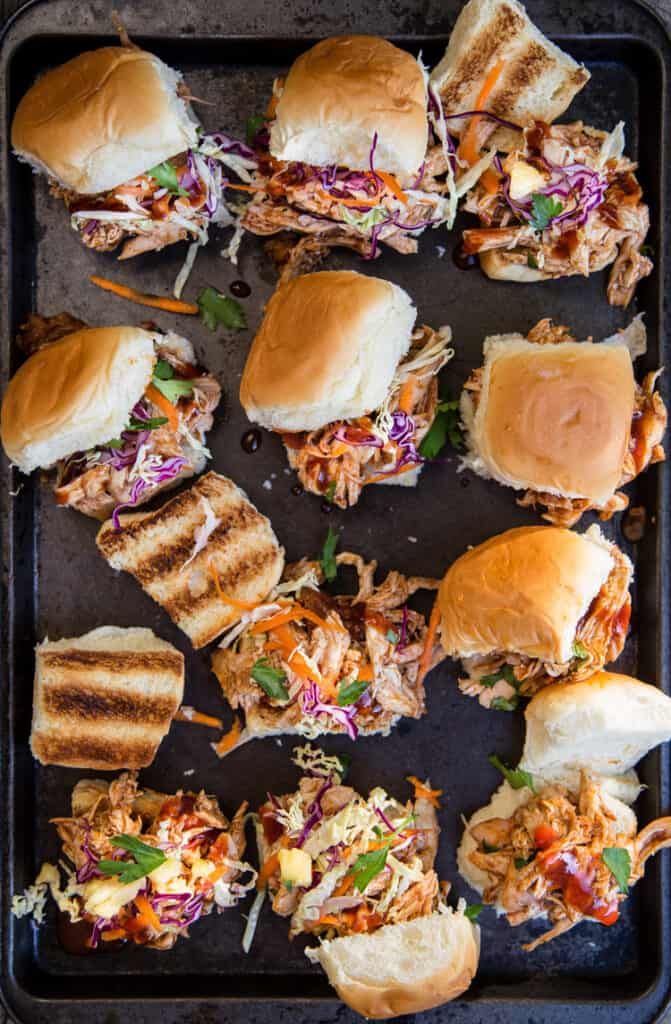 We love preaching all things chicken. It tends to be an under-appreciated meat. Like a blank canvass, chicken can take on flavor in so many ways. Our pulled chicken is easy, simply seasoned, smoked, and then shredded and used as a topping to a salad, or for sliders as in this case. For our pulled chicken we start by smoking a whole chicken (or quartered chicken).
How To Smoke A Chicken
First, let's talk about how to prepare a chicken. It starts with buying a whole roaster chicken. Roasters, or fryers, are all similar cuts, it's just how large they are that define it. Roasters tend to run in the 4 to 6 pound range and are perfect for our portion size.
Pat dry the chicken both outside and inside the cavity and season with your favorite rub. You can find our all purpose chicken rub here.
---
Should you rinse your chicken? No, cross contamination is more likely and many studies suggest to simply pat dry. No need to rinse chicken.
---
Next, smoke at 275 degrees Fahrenheit (F), we love using fruit wood given our location in the Pacific Northwest. At 275, we find this is the right balance in temperature so the chicken does not dry out (at a lower range), and still gets a nice smoke flavor.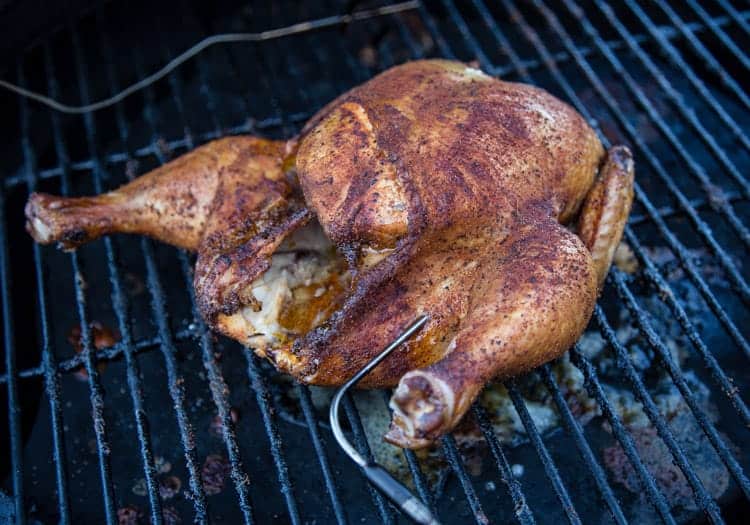 Remove the chicken from the smoker when the internal temperature of the chicken reaches 160 degrees F. Be sure to invest in a quality thermometer.
Finally, let the chicken rest, a theme for us. This allows the carry over cooking to finish and the moisture in the bird to redistribute within the cells.
How to Pull or Shred Chicken
Be sure to let the chicken rest and cool slightly.
Remove the skin, snack on it if you want or discard.
Prepare a large bowl or sheet pan for the shredded meat.
Remove the legs and thigh first and using hands remove the meat from bone, add to bowl.
Using a knife, remove the breast from the bone, and then break into chunks and add to bowl.
Remove additional meat from chicken carcass.
Place the bowl of chicken on top of a towel to prevent bowl from moving around.
Using two forks, pull at the meat until desired texture.
Add some barbecue sauce and mix up.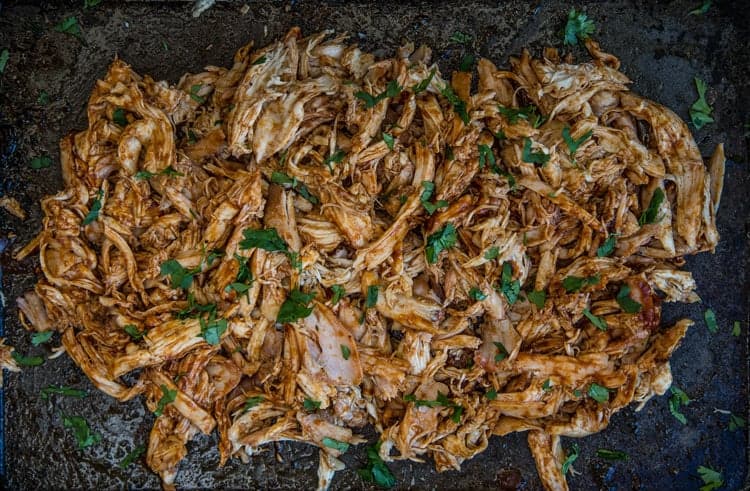 Making Pulled BBQ Chicken Sliders
Technically sliders are small steamed buns with meat. Ours isn't steamed, but it does use a key ingredient and that is the Hawaiian style roll (we love these rolls for sliders!).
Place around ⅓ cup of the BBQ chicken mix, then add some coleslaw with a fun pickled or vinegar element for the perfect chicken slider combo. We love this Grilled Pineapple Coleslaw for smoked chicken.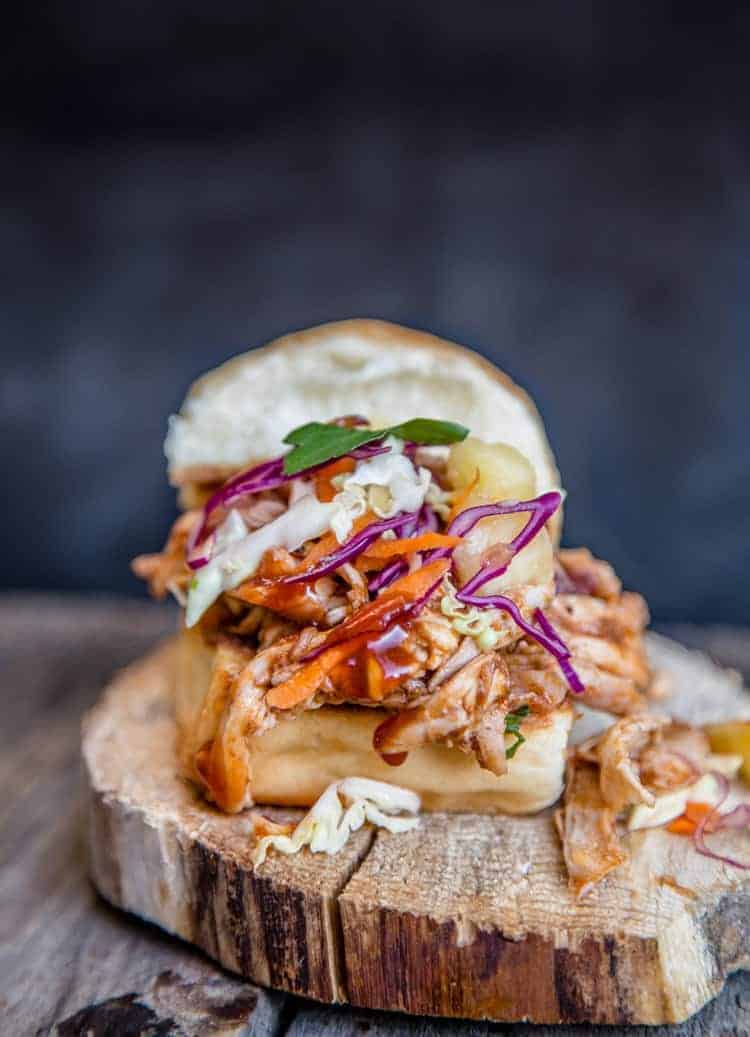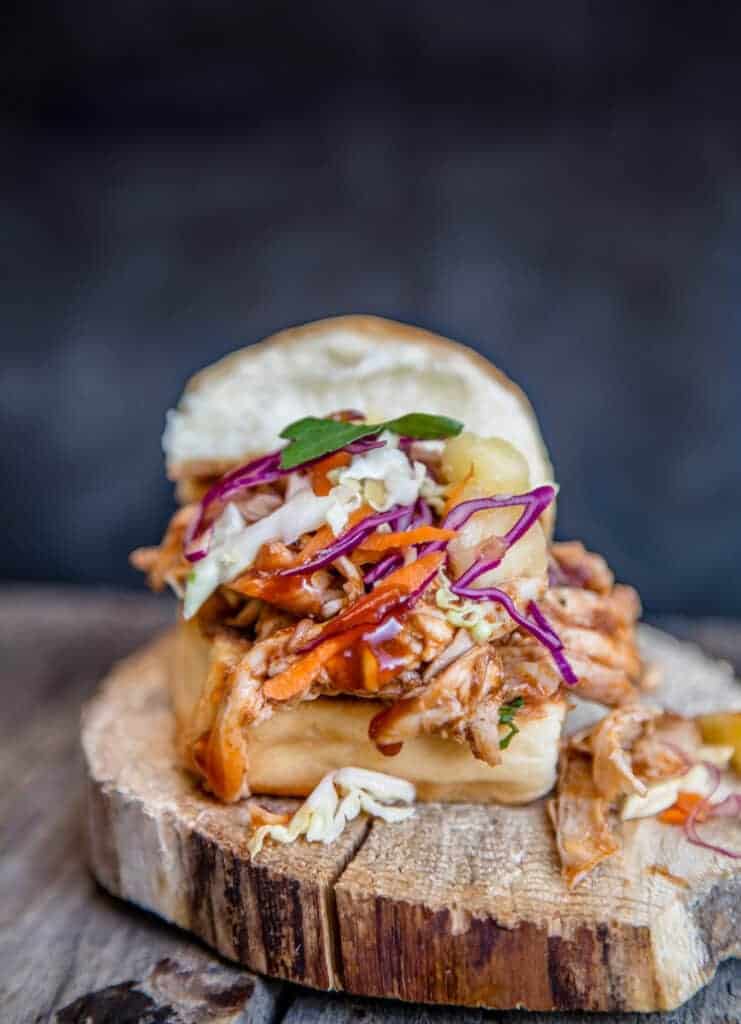 Do I Need To Brine Chicken When Smoking?
No. But if smoking you can brine with a simple sugar, salt, and liquid mix for additional flavor, but it is not necessary and in this recipe we do not use this technique.
Recipe for Pulled Chicken Sliders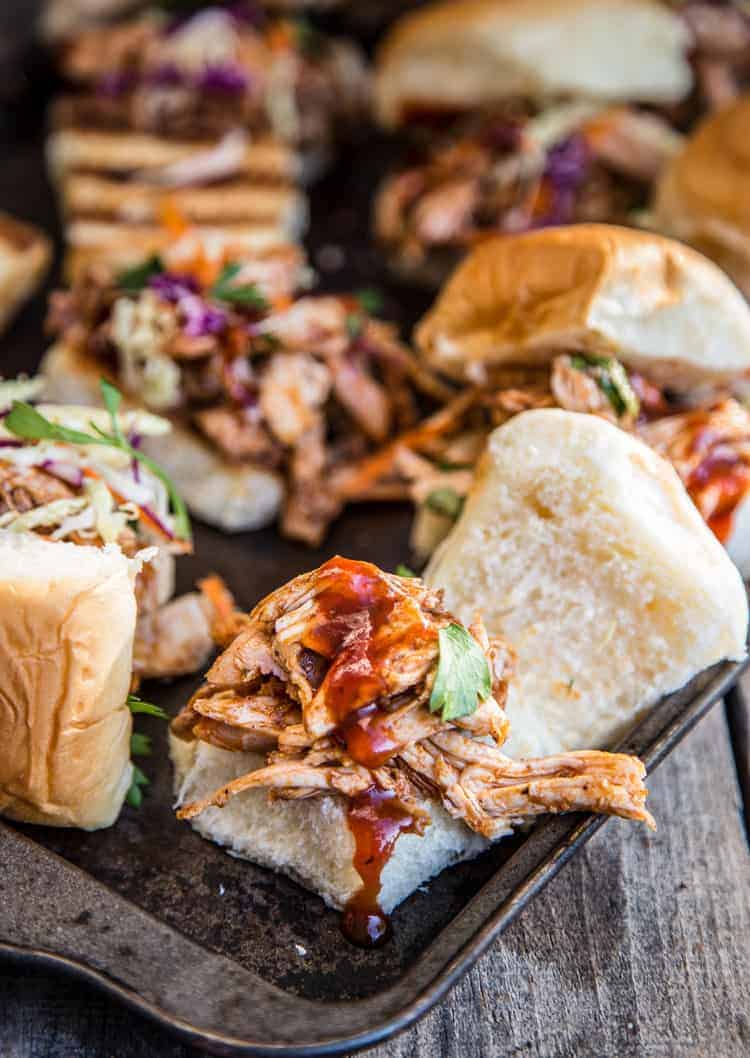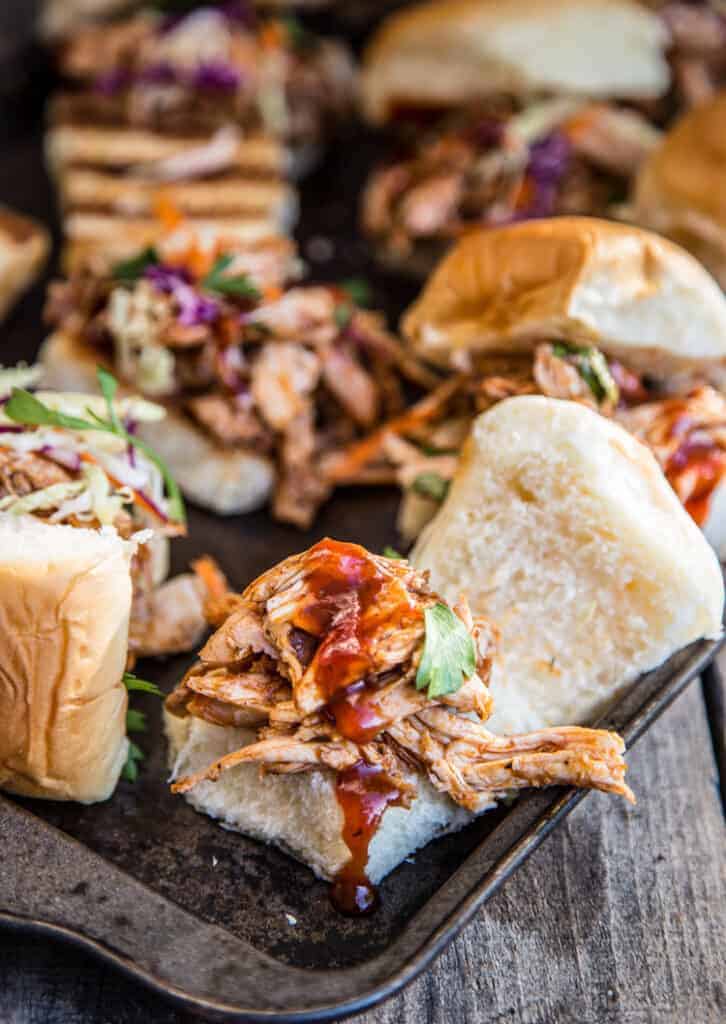 Other Fun Slider and Chicken Recipes
---
*This post contains affiliate links. We only recommend products we use and love!!!
---
If you like this recipe we'd truly appreciate it if you would give this recipe a star review! And if you share any of your pics on Instagram use the hashtag #vindulge. We LOVE to see it when you cook our recipes.