Smoked Pulled Chicken, or BBQ shredded chicken, is one of the most versatile BBQ recipes and also one of the easiest. This pulled chicken is tender, juicy, and full of incredible BBQ flavor. Find out how easy it is to make the best smoked pulled chicken!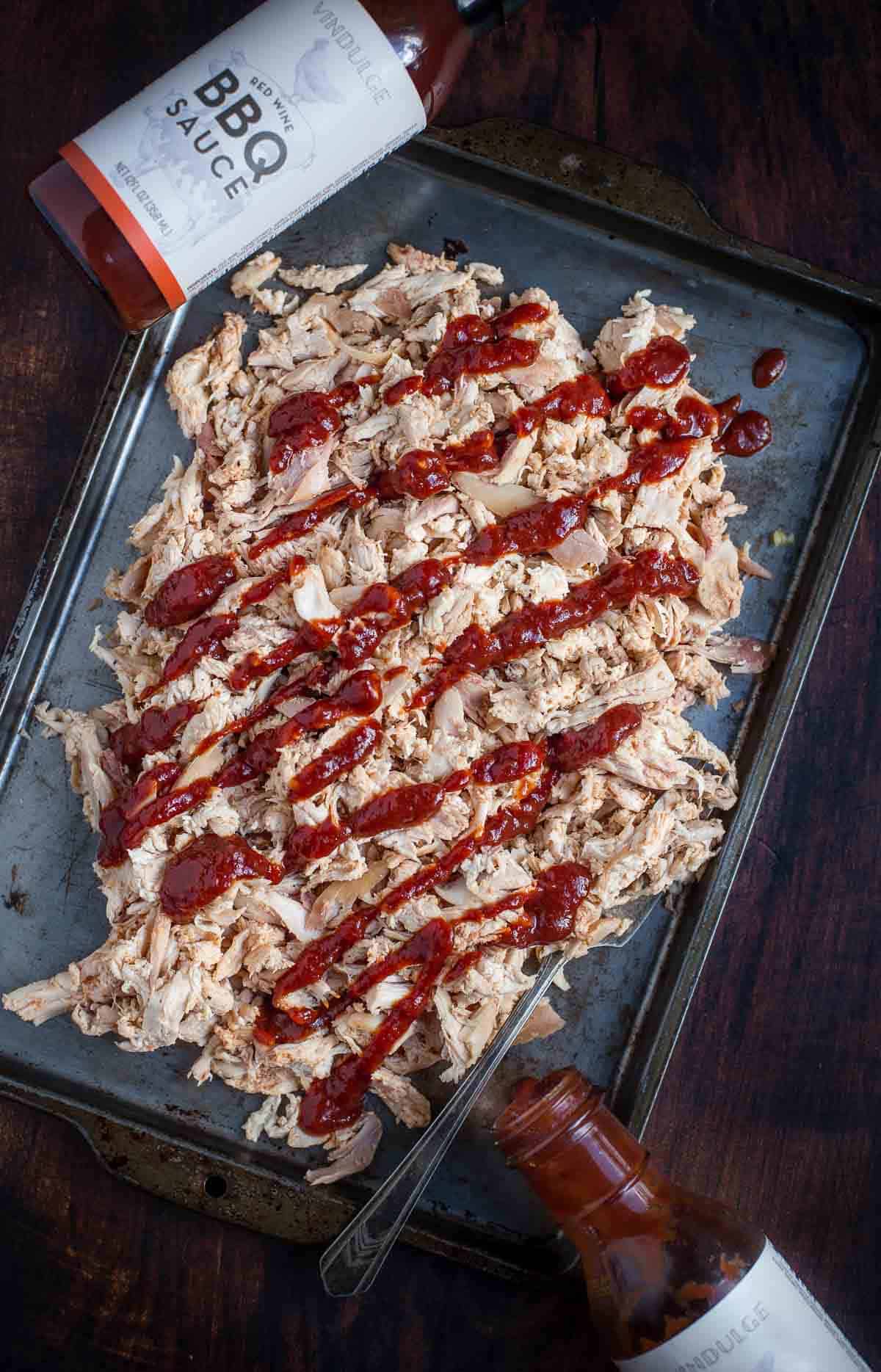 BBQ pulled chicken is always a crowd pleaser. It's affordable, yields a good amount, and is much quicker than its pulled pork counterpart. I love to use a whole roaster chicken for my pulled chicken so that you get a mix of dark and white meat together. It only takes minutes to prep, but it results in super tender, flavorful meat.
Not only does it make a great meal on its own it also can be used in so many other recipes (from sandwiches, to tacos, to soups and salads). We love to make this smoked pulled chicken recipe twice a month just to use it for meals throughout the week. The secret in this smoked pulled chicken is in the sauce!
Jump to:
Smoked Pulled Chicken Ingredients
Exact portions are in the recipe card.
Roaster Chicken – A five pound bird is ideal. You can use a single cut (like chicken thighs, but I love the mix of dark and white meat from a whole roaster).
Extra Virgin Olive Oil – This acts as a binder so that the seasoning sticks to the chicken.
Seasoning – We use our ultimate dry rub, which is a combination of sweet and savory and is perfect for smoked chicken.
Aromatics – Stuff the cavity to add flavor as the chicken smokes. I like to stuff the chicken vs injecting (for ease!). We use garlic and lemon to keep it simple (adding flavor and juiciness). As the cavity warms up, the flavors steam out and infuses into the chicken adding moisture and flavor.
BBQ Sauce: We use our red wine BBQ sauce as the perfect balance of sweet, savory, and acidic flavor (but you can also use your favorite style of BBQ sauce).
Related Article: Mix this pulled chicken recipe with any regional Styles of BBQ Sauce.
Preparation
We like to smoke a whole roaster chicken because of the ease and versatility. Alternatively you can spatchcock the chicken (remove the backbone and flatten the chicken) and that will speed up the cooking process.
Prep Tip: Be sure your chicken is dry before seasoning it. Water on the chicken will prevent the binder and seasoning from sticking. We use a paper towel to dry both the outside and the cavity before we add the seasoning.
Tools Used
Tongs – Good long tongs are one of the most important tools to own if you love live fire cooking. Don't use the cheap stuff, go big and your tongs will last forever.
Instant Read Thermometer – Always cook to temperature not time. And to best measure this an instant read thermometer is the other most important tool you need to have in your inventory. We love the Thermoworks Thermapen One as the best instant read thermometer on the market.
Bonus: Bluetooth Thermometer – There are also great thermometers that you can leave the probes in throughout the cook. Consider at least a two-probe leave-in thermometer if you cook low and slow. We love the Thermoworks Smoke Unit.
You can see all the tools we love in our guide for essential tools for smoking meat.
How to Make Smoked Pulled Chicken
Season, smoke, pull. It's that easy. And the skin is going to be discarded when you pull the meat, but we leave it on so it acts as a barrier to avoid drying out the breast meat.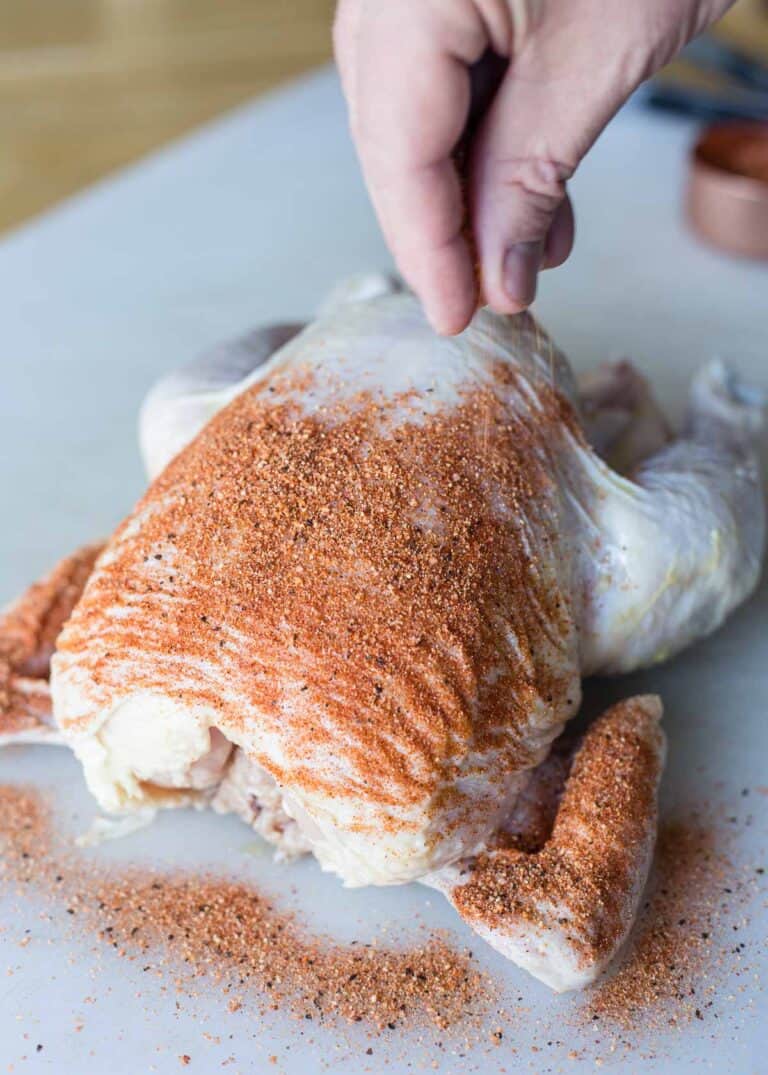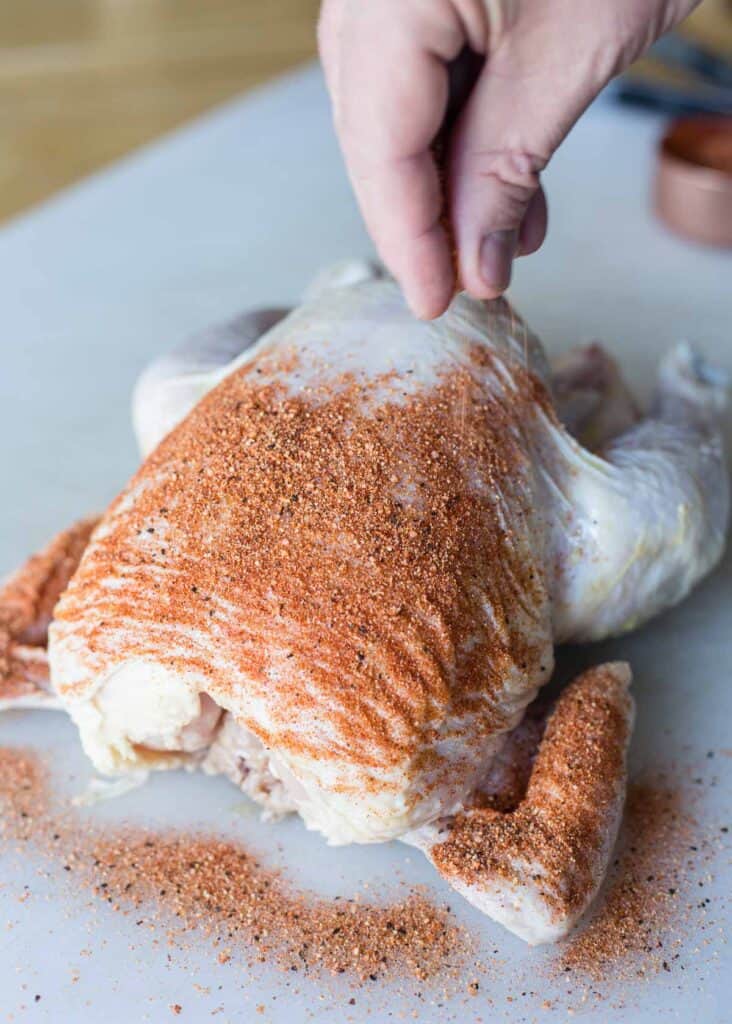 Preheat your smoker to 250 degrees Fahrenheit using a fruit wood like apple or cherry. Oak also works well. Coat the chicken with olive oil as the binder and liberally season the inside of the cavity and then the outside. Stuff cavity with lemon and garlic.
Place the chicken on the grill grates in the smoker breast side up and smoke for 3 hours or until the internal temperature of the chicken reaches 160 degrees Fahrenheit in the breast using a good instant read thermometer. Always cook to temperature and not time.
Remove the chicken from the smoker and let rest for 20 minutes to allow carry over cooking to finish. Then remove the skin and shred the meat using two forks or your favorite pulling tool (hint: a food processor works well for large quantities). After shredding, toss with the barbecue sauce and serve with your favorite sides.
Related Article: Perfect Chicken Temperature Guide
Don't throw out that carcass. Use it for smoked chicken stock. A full recipe is in our BBQ cookbook Fire + Wine.
Making in Advance
If making smoked pulled chicken in advance for meals, follow the same recipe instructions including saucing it. Then portion out the chicken for upcoming meals, or freeze it in vacuum seal bags.
Refrigerator – You can use the smoked chicken up to five days which is perfect for weeknight meals.
Freezer – Pulled BBQ chicken will last up to six months in the freezer. We use a vacuum sealer to avoid freezer burn, otherwise pack into quart size baggies. Allow 24-hours to thaw.
Other Smoked Pulled Chicken Ideas
You can use this pulled chicken for so many recipes. Add it to your favorite salads, sandwiches, or soups. Or try it with some of our favorites below.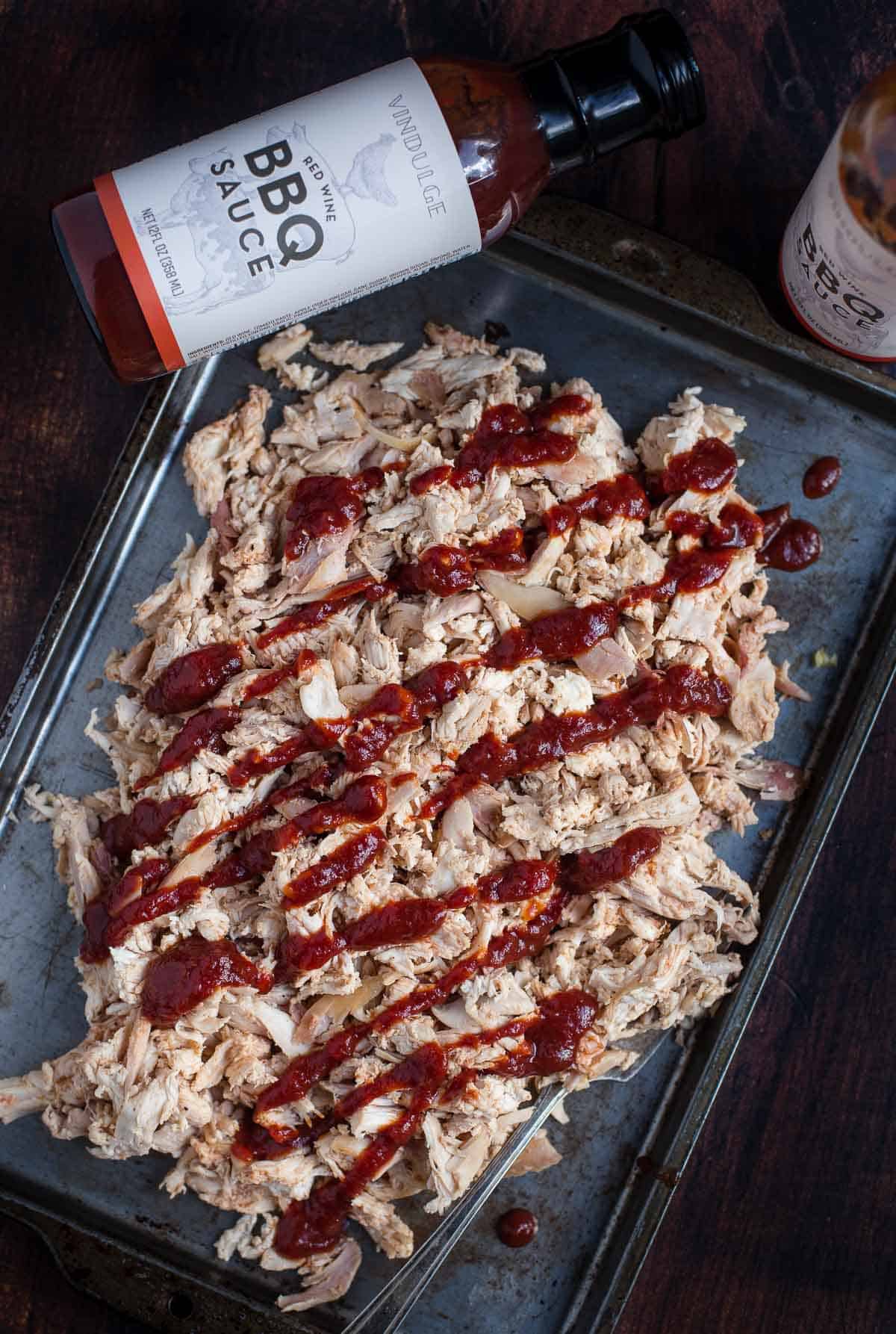 About Vindulge
Mary (a certified sommelier and recipe developer) and Sean (backyard pitmaster) are co-authors of the critically acclaimed cookbook, Fire + Wine, and have been creating content for the IACP nominated website Vindulge since 2009. They live in Oregon on a farm just outside Portland.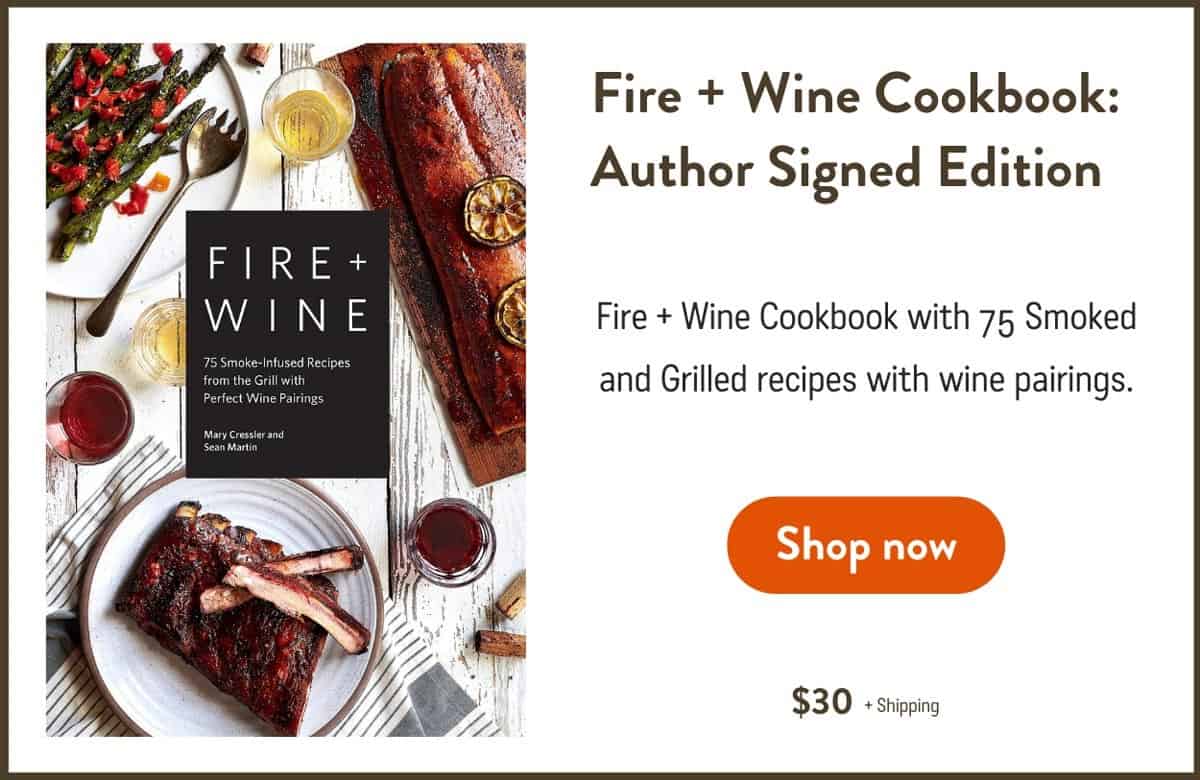 Tried this recipe? Give us a star rating and we would love to see! Mention @vindulge or use the hashtag #vindulge on all the social media handles. And consider subscribing to our newsletter where we drop all our favorite ideas and inspirations every week.
This post may contain affiliate links. This means if you click on the link, we may receive a small commission if you purchase through the link. We partner with brands we know and love and use and it helps keep the blog going!