An easy and versatile homemade Vinegar Based BBQ Sauce. This recipe is inspired by barbecue in the Carolinas and great on low and slow pork and chicken. This vinegar-based sauce is a tangy sauce with a hint of sweet.
Vinegar sauces have a liquid texture versus the thicker KC Style sauce, and have a base of apple cider vinegar, hot sauce, and spices like black pepper.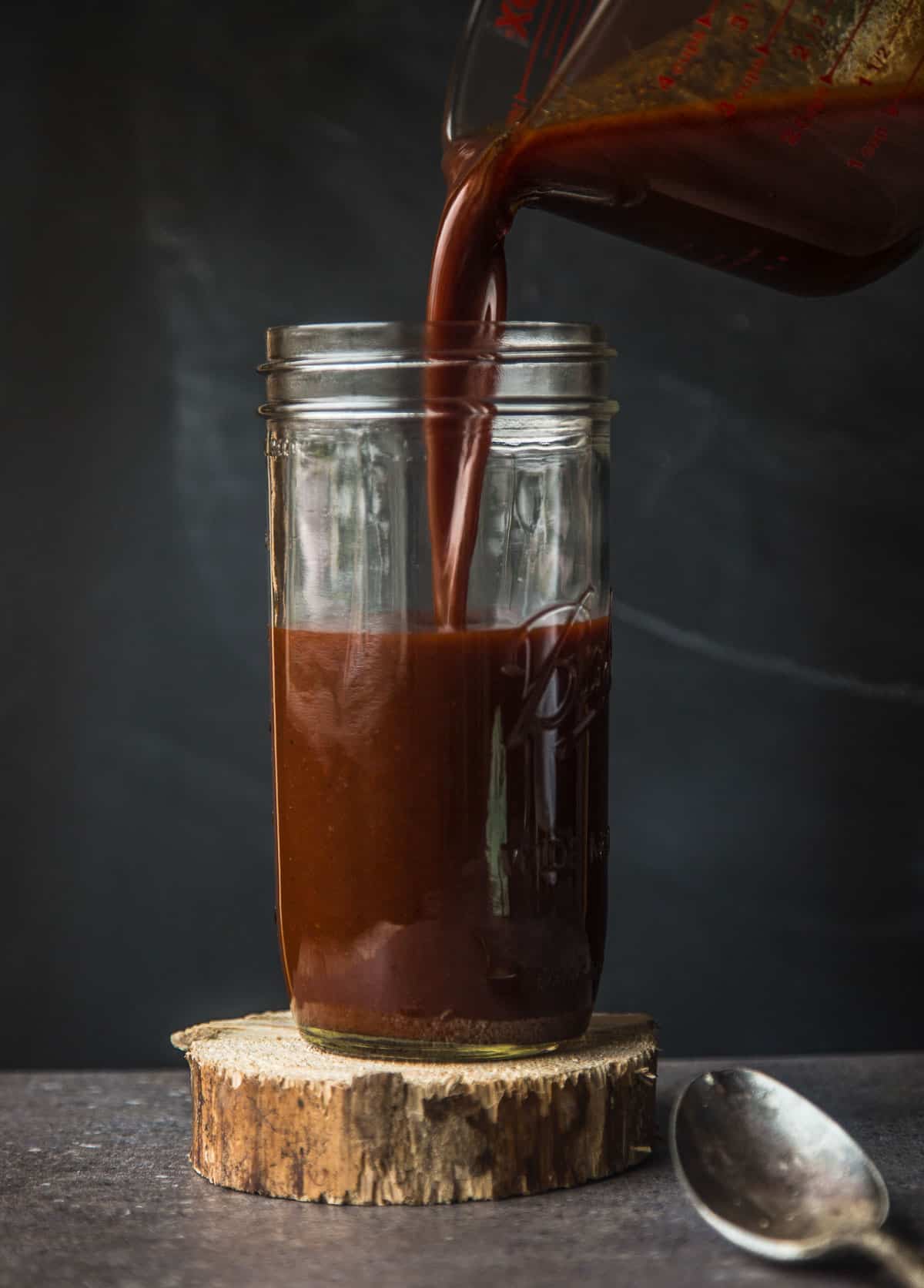 We love and respect all worlds of BBQ and various styles of BBQ sauces. For a rundown on different styles of sauces see this Guide to Regional BBQ Sauces from around the United States.
Jump to:
Carolina BBQ Sauce
This barbecue sauce is inspired by Carolina style BBQ, and is easy to adapt to whatever you like. A North Carolina BBQ sauce is most commonly a simple and quick vinegar based BBQ Sauce that's great on pulled pork and chicken.
Eastern Carolina typically consists of sauces that are heavy in vinegar and spices and generally thin and lighter sauces.
Western Style Carolina sauce, or Lexington style sauce, is typically a more traditional tomato or ketchup based sauce with butter. It's sweeter and thicker.
South Carolina BBQ sauce is typically a mustard based sauce.
Our recipe is a nod to both styles but heavily influenced by Eastern Carolina style sauce because that is our personal favorite and amazing on pork shoulder and ribs.
See below in the recipe card on how to embellish it to make it a mustard-based sauce (Carolina Gold), which is another amazing Carolina gem.
When I think of Carolina style BBQ I think of whole hog smoking, ribs, and all things pork. Pork isn't everything, but is a big influence among the greatest pit masters throughout the region. Because of the acidity, we find this vinegar based style of sauce to be a great pairing for BBQ and wine or to adapt with a little bit of fruit jam.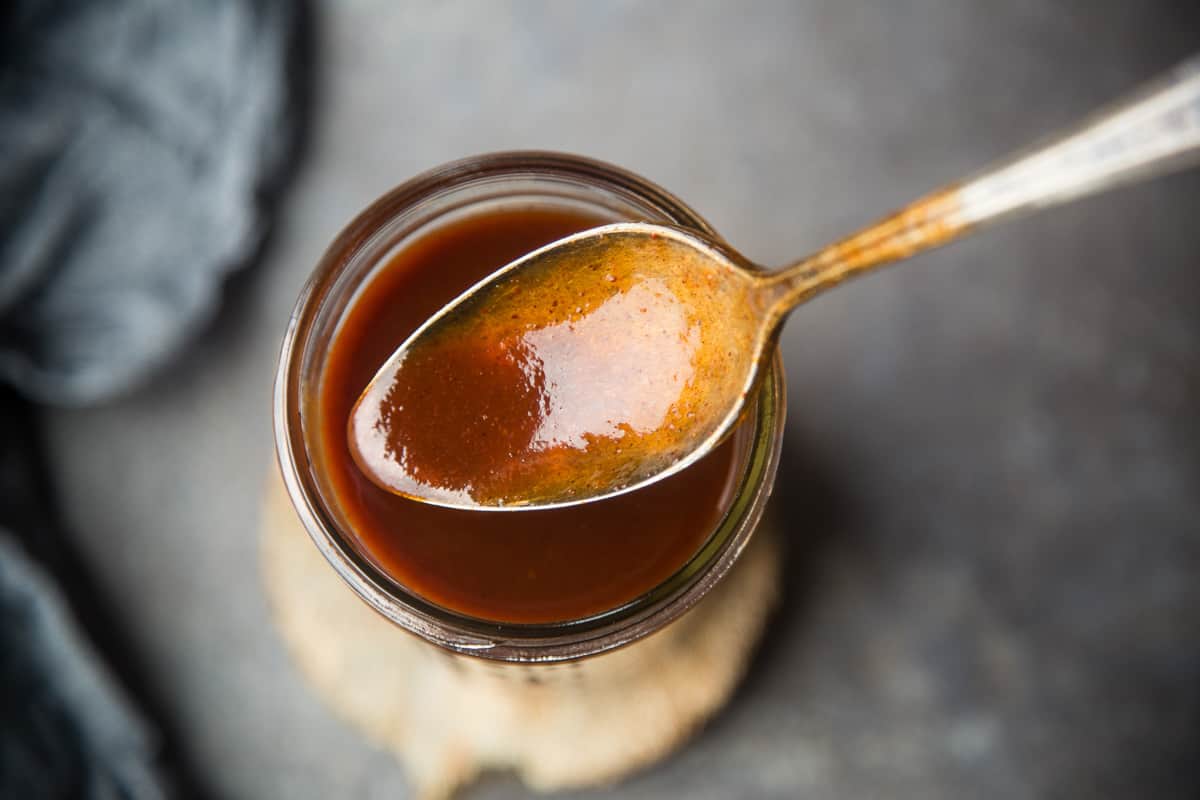 Ingredients for Carolina Vinegar BBQ Sauce
Our goal with this vinegar-based bbq sauce is balancing the acidity and the heat for balance on the taste buds. There is no liquid smoke in this simple recipe.
Apple Cider Vinegar – We like the sweeter flavor of apple versus white or white wine vinegar. It's naturally sweeter.
Ketchup – This adds thickness and sweetness. We don't use tomato paste as it's too concentrated.
Dark Brown Sugar – Unlike sweet molasses-based BBQ sauces, like KC style sauce, the brown sugar is added to contribute a slightly sweet flavor.
Black Pepper – We use whole black peppercorns and let it simmer with the sauce for a little heat.
Seasoning – Chili powder adds earthiness, kosher salt helps balance the acid, and dry mustard for a savory mouthfeel.
Heat – This is the secret ingredient that brings the flavors together. We use red chili pepper flakes and hot sauce. You can use a spicy sauce or mild sauce, whatever is your preference. If you like a more concentrated heat flavor you can substitute the chili pepper flakes with cayenne pepper (but use small portions).
How to Make a Vinegar Based BBQ Sauce
This style of sauce comes together fast and easy.
Simply combine ingredients in a sauce pan over medium heat. Stir until sugar and spices all dissolve. Bring to a low simmer and cook 10-15 minutes, then turn off the heat.
Strain the sauce into a bowl to remove the chili pepper flakes and peppercorns. Then, when cool, place BBQ sauce into a jar with a tight sealing lid. Store in the refrigerator.
See notes to jazz up the recipe
Storage
After we have simmered the sauce and let come to room temperature we store the sauce in the refrigerator. Because the pH level of this sauce is so high it has a long shelf life in the refrigerator of up to one year. But it won't last that long because you are going to use this simple sauce all the time.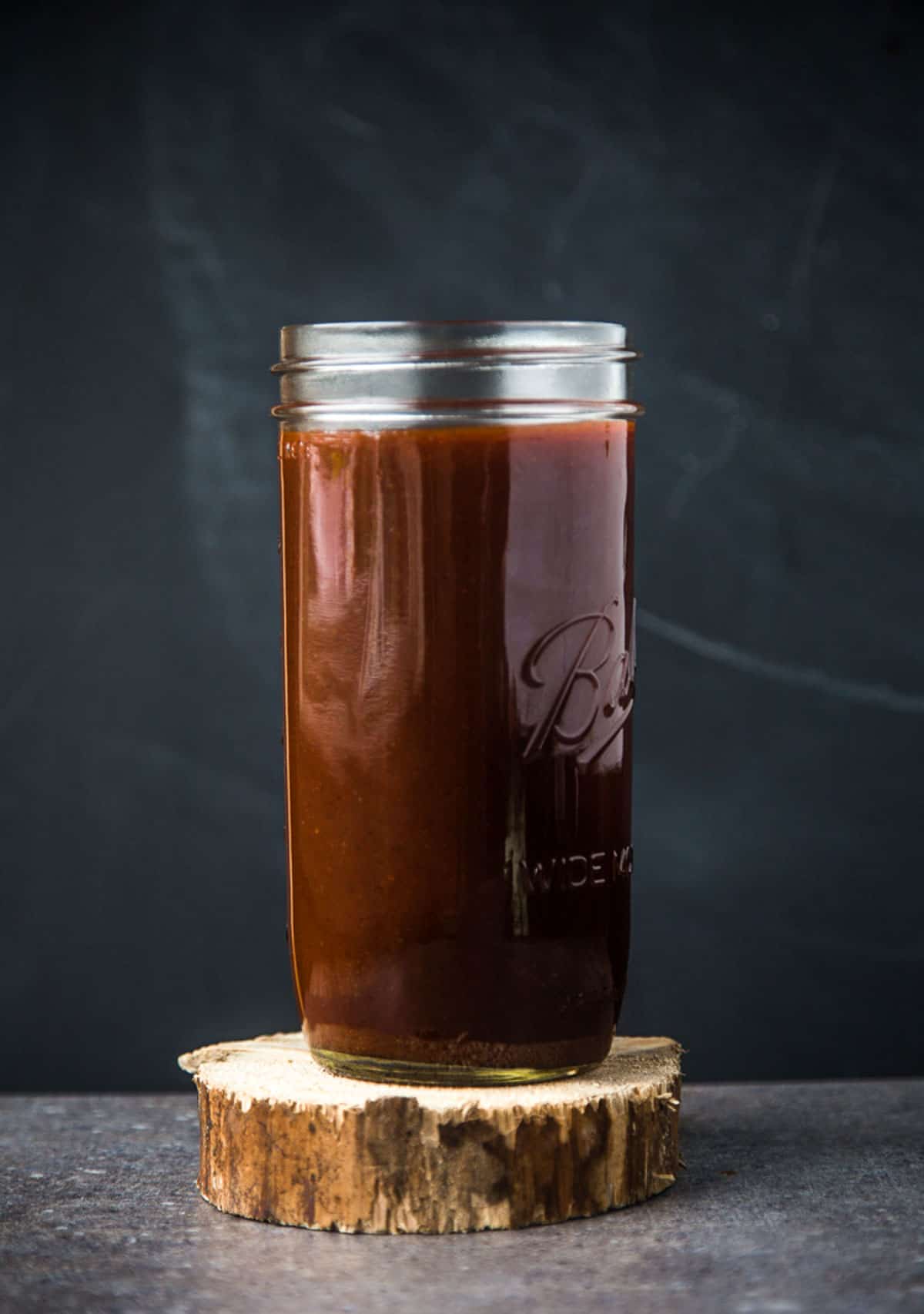 Frequently Asked Questions
​What state is known for vinegar based BBQ sauce?
North Carolina and South Carolina are the states where the vinegar and mustard style sauces originated.
How long will a vinegar based BBQ sauce last in the refrigerator?
Up to one year because it's vinegar based with a high pH level.
Which style of BBQ sauce is vinegar based?
A Carolina BBQ sauce recipe is the style.
Want More BBQ Sauce Recipes?
From mustard sauce to chimichurri we have a whole range of original barbecue sauce recipe options.
And for a rundown on different styles of BBQ sauces, check out this post.
What to use this Carolina Vinegar Sauce On
This will make any pork recipe shine, from pulled pork to whole hog. Here are a few of our favorites:
---
*This post was originally published in 2014 and updated in 2023 with new recipe details and specifics on ingredients. The original recipe remains the same.
This post may contain affiliate links. This means if you click on the link, we may receive a small commission if you purchase through the link. We partner with brands we know and love and use and it helps keep the blog going!
Mary (a certified sommelier and recipe developer) and Sean (backyard pitmaster) are co-authors of the critically acclaimed cookbook, Fire + Wine, and have been creating content for the IACP nominated website Vindulge since 2009. They live in Oregon on a farm just outside Portland.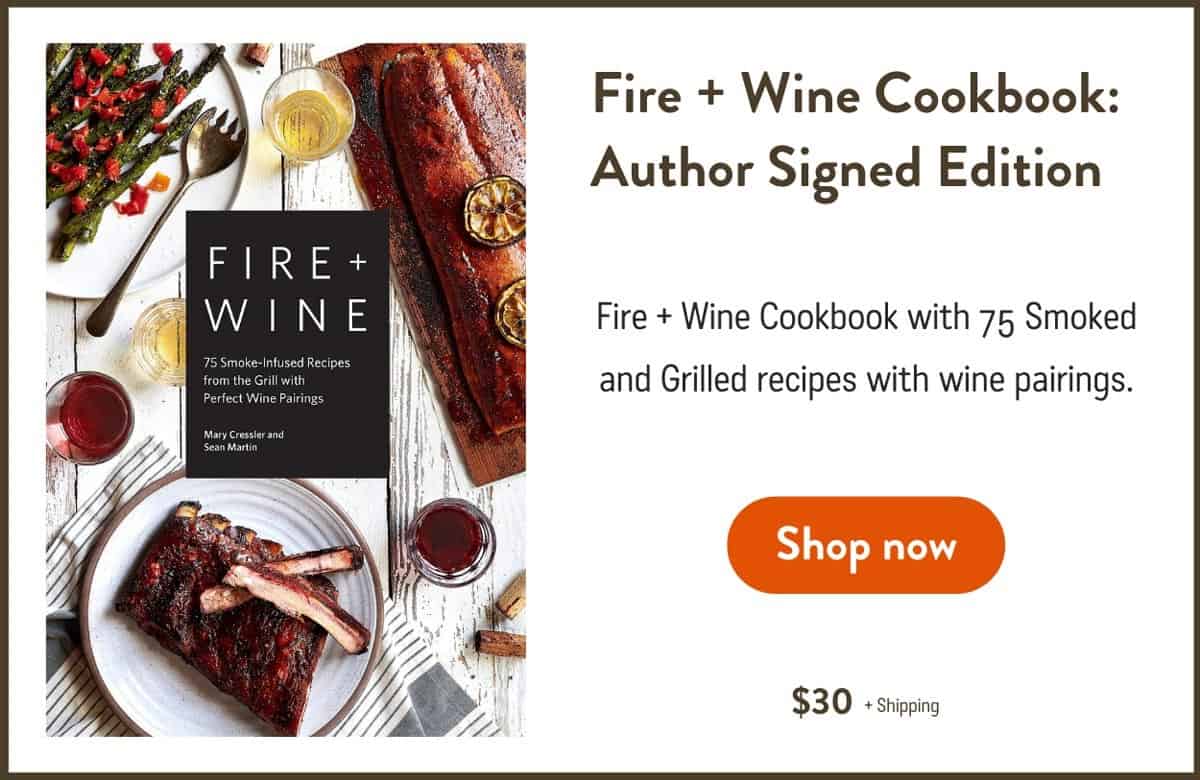 ---
If you like this recipe we'd truly appreciate it if you would give this recipe a star review! And if you share any of your pics on Instagram use the hashtag #vindulge. We LOVE to see it when you cook our recipes.