These Cowboy Ribeye Steaks, or in this case thick cut bone-in Ribeye steaks, are packed with incredible flavor and great for feeding a crowd. Find out how to cook this impressive looking steak perfect every time to truly wow your guests!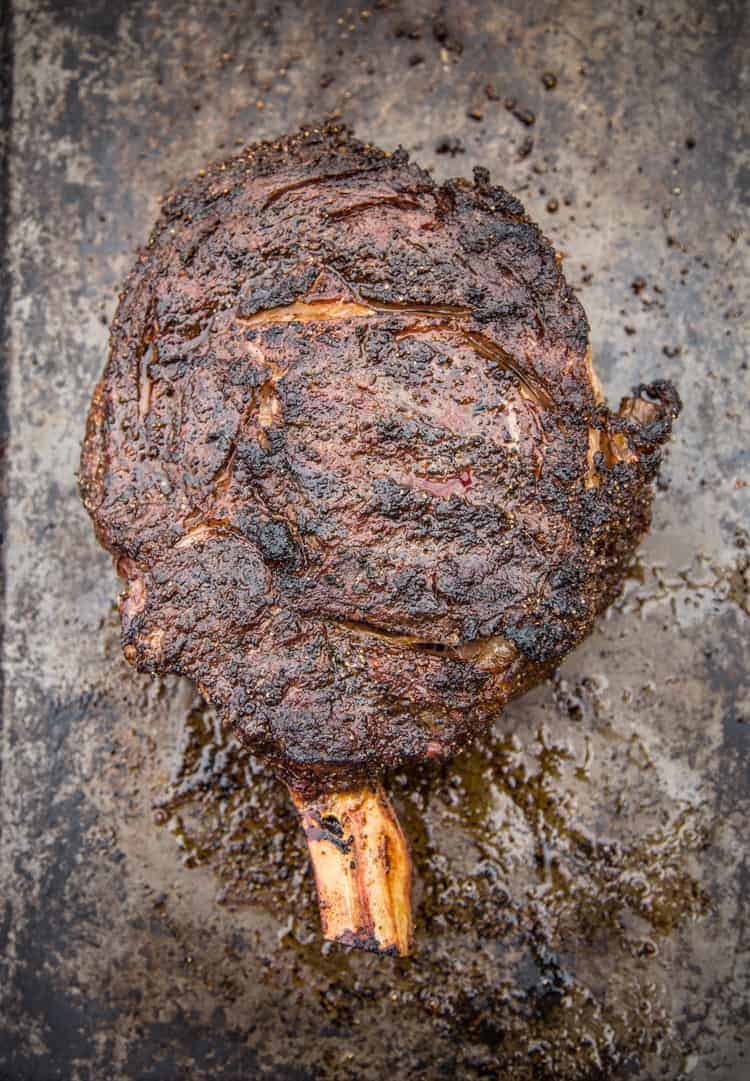 This post contains affiliate links, which means if you click on products, we may receive a small commission for the purchase of those products. We only partner with products we know and love and use the funds to keep the blog going!
Jump to:
We all love a great steak dinner! And these days there are so many fantastic cuts to choose from. Ribeye steaks are always a winner at our house, but there is some terminology to be aware of these days when finding the perfect steak for your taste buds and party needs!
Cowboy Steak versus a Tomahawk Steak
What part of the cow is a Tomahawk Steak or Cowboy Steak? Let's demystify something for a second. Cowboy steaks are typically a bone-in thick cut Ribeye. A Tomahawk is synonymous with Cowboy Ribeye but depending on where you buy it, the rib bone may be much shorter on the Cowboy cut. The bones on a Tomahawk, for example, tend to be 5 inches or more in length.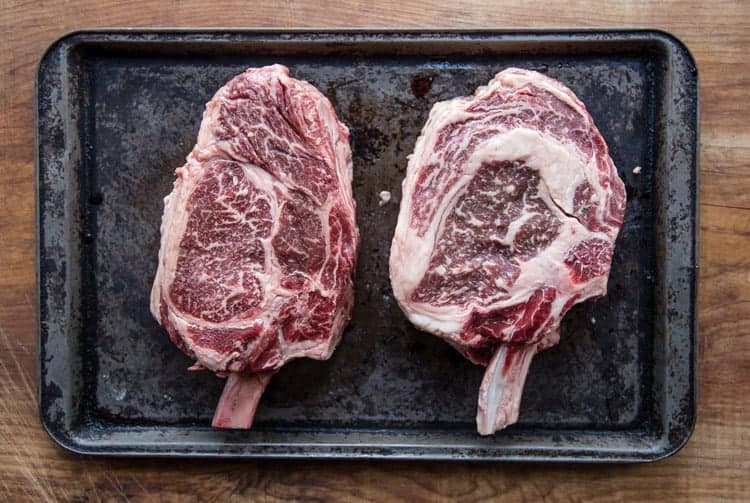 Pro Tip: When choosing between Tomahawk or a shorter bone-in Ribeye, go with the shorter thick bone-in Ribeye. The long bone looks awesome, don't get me wrong(!), but you do end up paying for that extra weight in the end.
Preparation
Simple kosher salt and pepper in equal parts is a simple way to season. We love to enhance the flavor profile of these steaks by using a coffee and chili based rub. The addition of coffee flavor is subtle and we use fresh (not used) finely ground coffee.
Season the steak an hour or two before you cook it. You can do it the night before, but seriously, who plans that far ahead?
If Grilling only, let the seasoned steak come to room temperature.
If Smoking or Reverse Searing you can put the seasoned cut right onto the smoker from the fridge.
Grilling Method
We use the reverse sear method for Ribeye. This is especially true for thick cuts of meat, because simply grilling can be a challenge with flare ups. More importantly, adding a smoke flavor element to the steak is simply amazing, and not much extra work. Using the reverse sear method on these thick steaks will ensure the meat is cooked to your preferred temperature every time. We love the Thermoworks thermometer products for all things around here.
Learn more about the reverse sear method in our guide. But simply put, reverse sear is:
Smoking the meat at a low temperature
Searing to get the crust until your final desired internal temperature
Resting to allow the juices to redistribute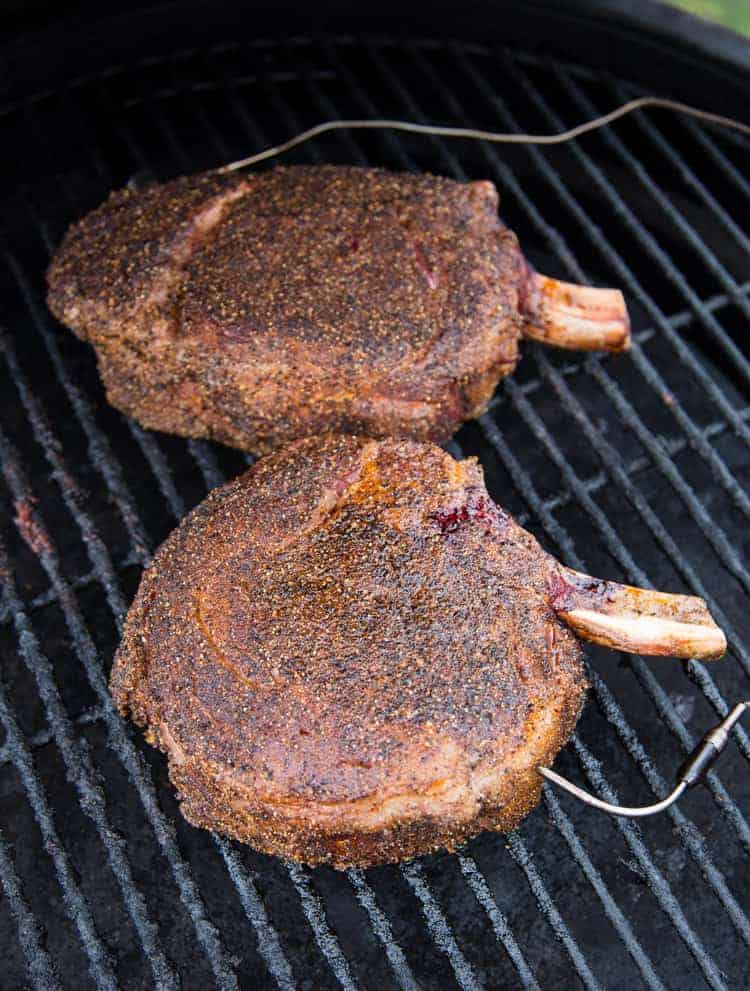 How to Slice a Bone-In Ribeye Steak
When slicing a bone-in ribeye, especially a Cowboy Ribeye:
Important: Let the meat rest at least 15 minutes to let the meat finish cooking and to allow the juices to settle in the meat.
Slice along the Bone.
Slice against the grain perpendicular to the bone (you can move the bone so you have the freedom to cut) in pencil width slices.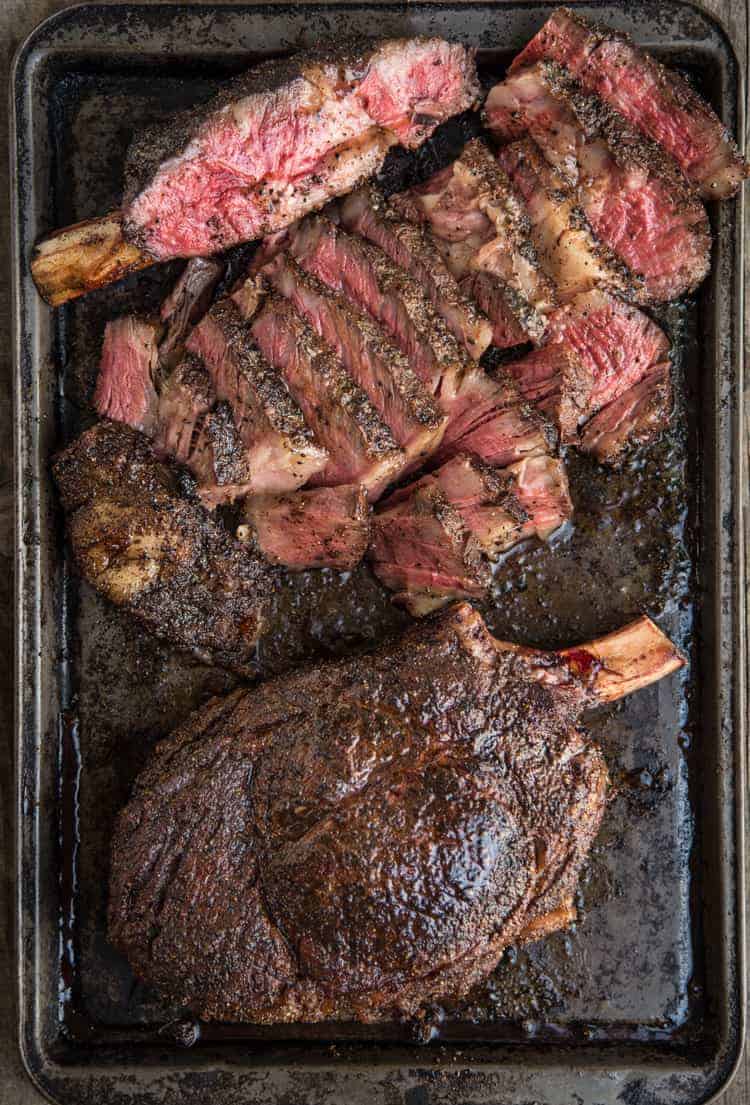 The best way to finish the steak is with a compound butter.
Herb Compound Butter
One of our favorite ways to finish a steak is to add a dollop of compound butter. The easiest way to make a compound butter for steaks, especially this recipe, is simply use room temperature butter, and then your favorite diced herbs, garlic, and salt. You can make in advance and have in the fridge ready to go. Our ratio:

4 Tablespoons Room Temperature Unsalted Butter
½ Tablespoon Finely Diced Fresh Rosemary
1 Clove Finely Diced or Minced Garlic
½ Teaspoon Kosher Salt
It's that easy. Combine the ingredients together, mix, and then portion as desired. We'll add about 2 tablespoons of the butter per steak given how big they are.
We add the butter while the steak is resting.
Wine Pairing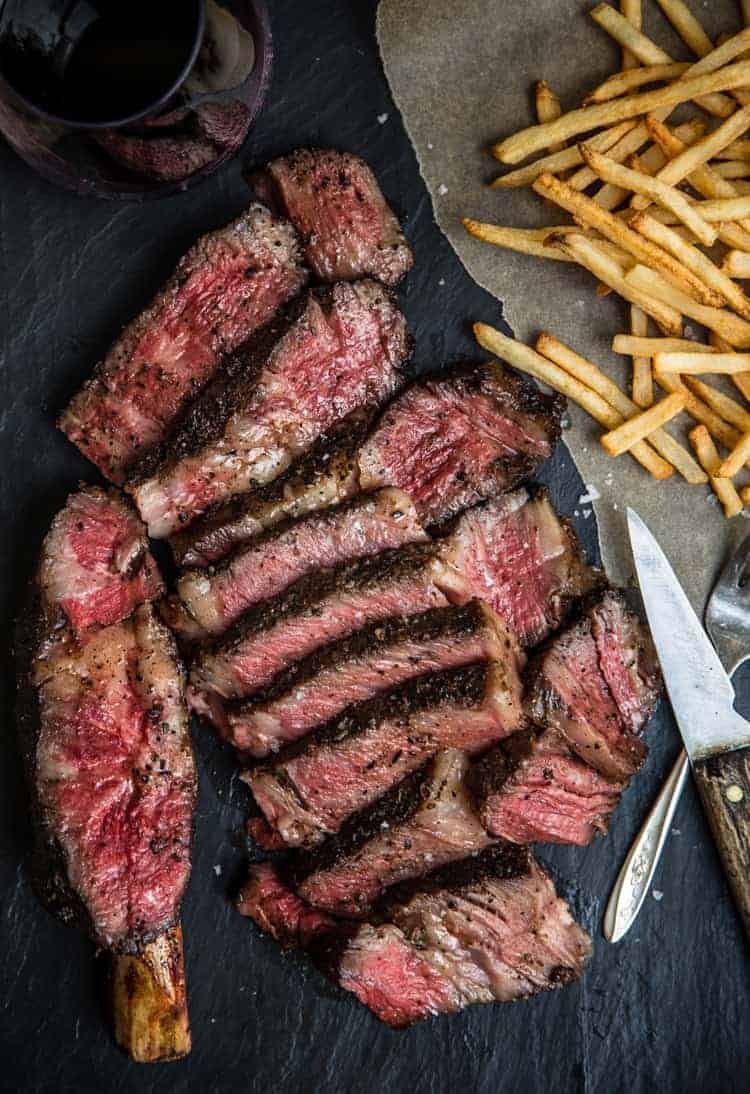 Cooking Ribeyes using a reverse sear method like this one, allows the steak to soak in those sweet wood flavors, and then finishing hot and fast to sear the exterior and attain the flavor crust. This method opens your options up to some fun bold wines. Ribeye also maintain a good fat to meat ratio, which means it's safe to go with something a little tannic (the fat will soften the wine's tannins).
Something big and smoky works for this king of steak. Cabernet Sauvignon is a standard and great go-to for this cut. A bolder style Merlot also works well. But this where you can open that Barolo or Sagrantino di Montefalco that you've been saving for the right occasion!
Explore wines from the Vindulge Wine Market.
Sourcing
Want to know where to get Cowboy Ribeye or Tomahawk Steaks? You can get at most box stores and specialty grocers. Call ahead to be sure they have them. We get and love our beef and pork from Snake River Farms. They are based and source in the Pacific Northwest, as well as have Double R ranch for Prime.
Sides Dishes Perfect for Cowboy Ribeyes
With any great cut of beef, like these steaks, add the perfect side dish to complement the flavor. Below are a few of our stand out sides for Cowboy Ribeyes:
If you like this recipe we'd truly appreciate it if you would give this recipe a star review! And if you share any of your pics on Instagram use the hashtag #vindulge. We LOVE to see it when you cook our recipes.
---