Do you know the secret to adding incredible flavor to turkey meatballs?
Bacon paste!
That's right. Bacon paste is the secret to incredible and flavorful Turkey Meatballs.
What is Bacon Paste?
I'm not talking about crispy cooked bacon (not that there's anything wrong with crispy bacon). I'm talking about bacon paste.
We told you about bacon paste back when Sean was sharing the secrets to his favorite grilled burgers. We also shared it in the recipe for the ultimate smoked meatballs. We love bacon paste!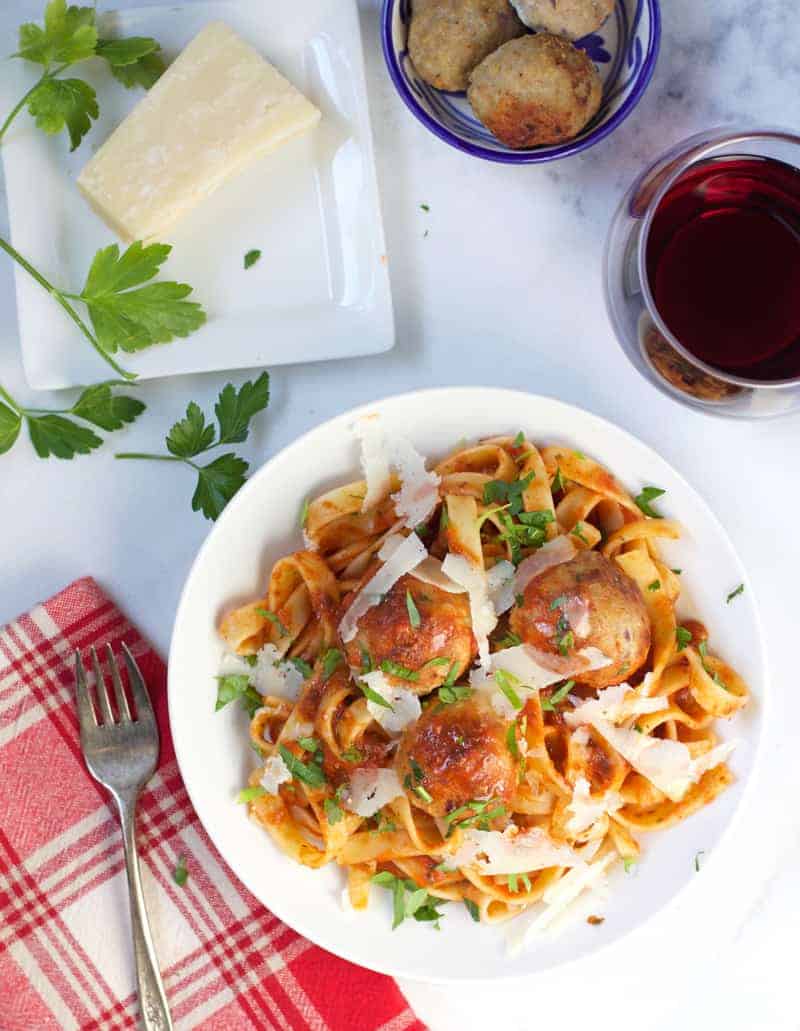 But the very first time we started cooking with bacon paste was to amp up the flavor of boring ground turkey and chicken. I first learned this amazing trick about a gazillion years ago from a bon appétit article (though I've purged my old magazines so not sure exactly where it all started). But the technique is unforgettable, and ridiculously easy.
See, the problem with regular lean ground turkey is that it can easily dry out creating a product that is not as desirable for a carnivore to eat as its juicy beefy counterparts. It's also pretty bland.
But with this bacon paste mixed into the ground turkey it added the missing component — fat, which added a much-needed moisture to the meatballs. End result? The meatballs don't taste too bacon-y, just moist and delicious! And the amount of bacon added is so minimal that you have nothing to worry about if you're watching fat and calories.
I used to struggle with getting Sean to eat poultry. He's such a diehard fan of beef that he snobbishly turned his nose at any kind of healthy alternative (my struggle is real, friends!!). But after I started incorporating just a wee bit of bacon paste to meatballs (and burgers) he became a believer. So much so that this has become a regular thing at our house.
Now the greatest thing about bacon paste is that this isn't a store bought product you have to seek out at a specialty store (although it wouldn't surprise me if someone has thought to jar it up and sell it!).
This is something you can easily make at home. All you need is some uncooked bacon and a food processor. Any ol' food processor will do. For this I don't bother busting out our large fancy processor. Since I just need to pulse a couple pieces I use my old crunkety small processor. Works perfectly.
How to Make Bacon Paste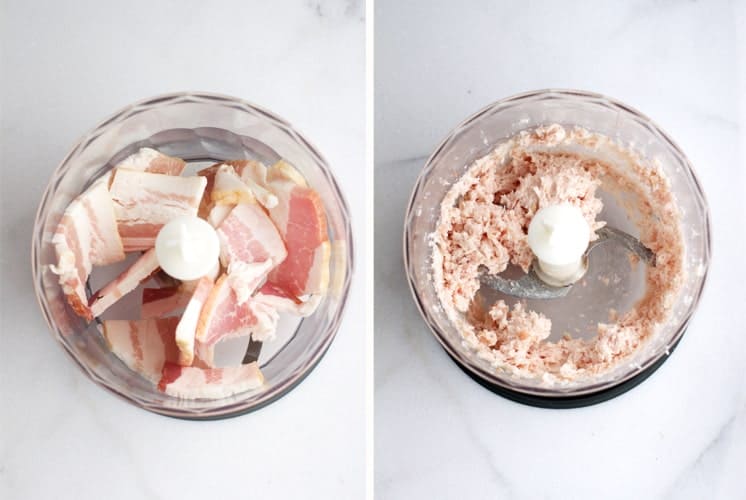 Simply take a couple strips of uncooked bacon, cut it in quarters, put into a food processor, and pulse until it turns into a paste-like consistency, and then add it to your ground turkey. This also works well with beef burgers, pork/beef meatballs, but my favorite is to add it to poultry. It adds incredible flavor to ground turkey or chicken without adding much fat or excess calories.
The ratio we use is 2 pieces of thick cut uncooked bacon for every 1 pound of ground meat. That's all you need to add a boatload of delicious flavor to your meatballs…. Seriously, a boatload!
Adding this raw bacon paste to your meatballs adds incredible flavor as well as moisture (from the fat) to ensure your meatballs don't dry out.
If you thought turkey meatballs were boring think again, my friend! Turkey meatballs have jet-setted to a new level! A good good healthy-delicious level.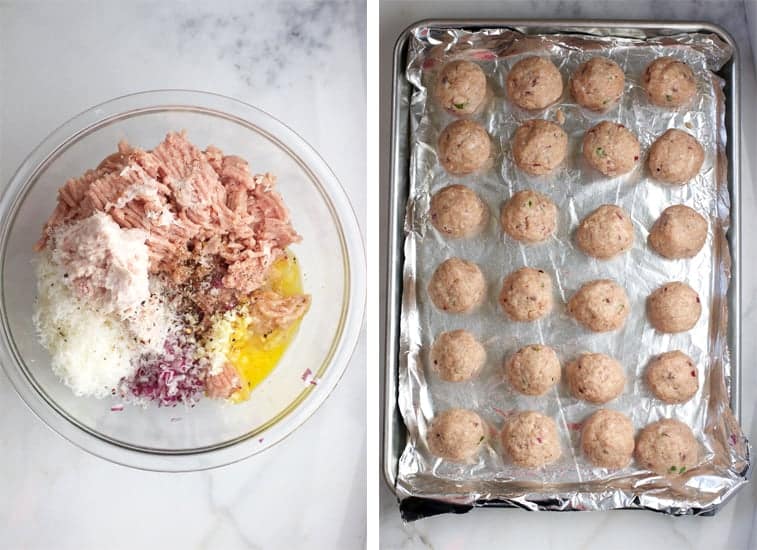 Below is a simple version of turkey meatballs. Feel free to add the bacon paste method to your favorite meatball or burger recipe. Or take the recipe below and add additional seasonings (like oregano, basil, or other Italian seasonings). But the simplicity of this, boosted by the flavor and moisture from the bacon paste, is our go-to for turkey meatballs for a delicious and healthy weeknight meal.
You can even cook the meatballs in advance and store them in the fridge for a few days or keep them in the freezer until you're ready to eat them. Then toss them with your favorite pasta sauce (they are KILLER with smoked marinara sauce), or use for meatball sandwiches (like these).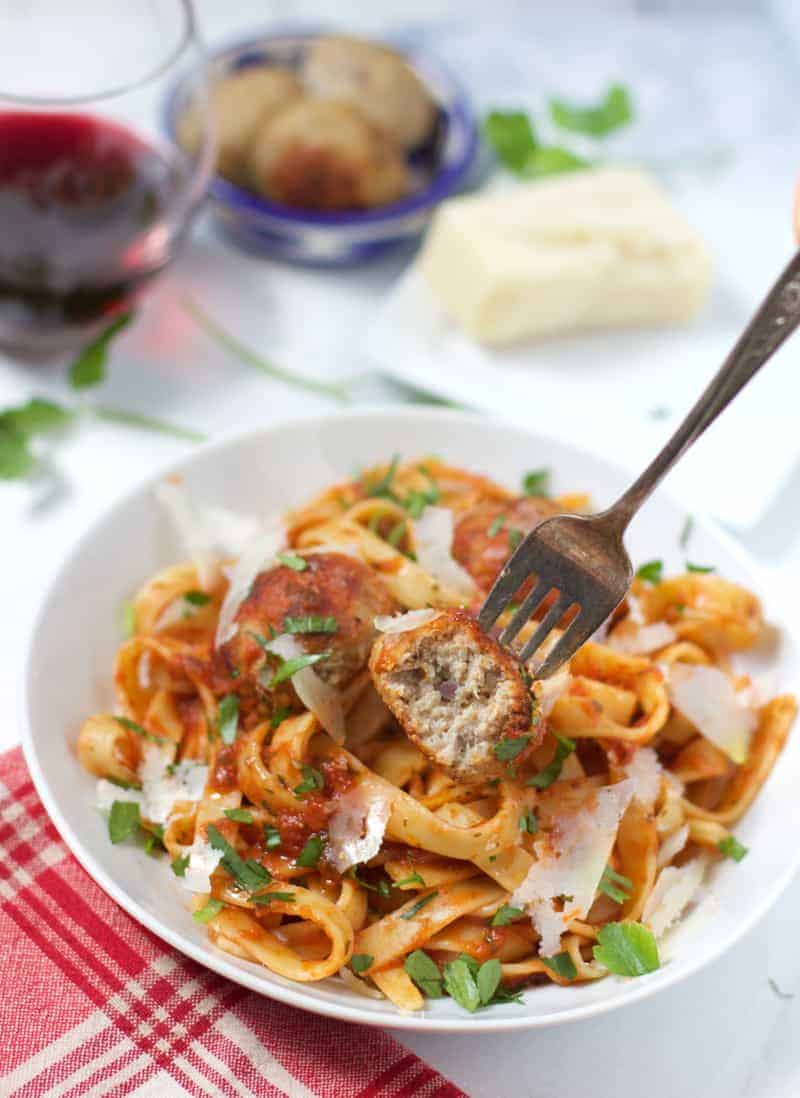 Cooking Method Alternatives
Smoke them — Just follow the directions below and place them on the smoker set to 250 degrees for about 1 hour or until they come to temp – 165 internal degrees.
Pan Fry — Just place them in a skillet coated with oil and cook 5-6 minutes until the internal temperature reads 165, and they are browned all over.
Wine Pairing for Turkey Meatballs with Bacon Paste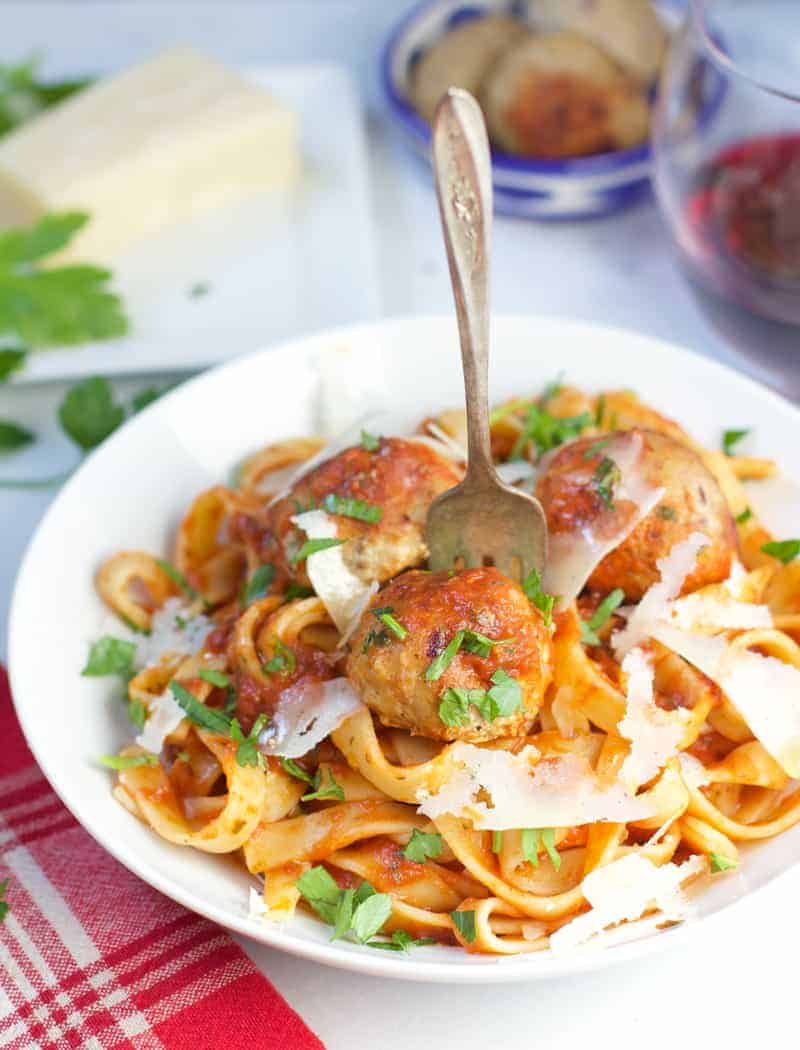 I'm always drawn to classic pairings when it comes to spaghetti and meatballs (or linguine in this case). Let the sauce guide you when it comes to the pairing since the meatballs aren't intense in flavor. The acidity from the tomato sauce is what you want to focus on, and the savory nature of the meatballs is secondary.
I love Italian-style reds, like Barbera for this. Those made from Sangiovese (like Chianti for ex.) are also classic examples to pair with red sauces. Tomatoes are high in acidity, and Sangiovese has signature acid notes that stand up to most tomato sauces. I also love Nero d'Avola from Sicily for this too. Every bottle of Nero d'Avola reminds me of traveling through Sicily and tasting some of the greatest meatballs I've ever had. It just seems like they are made for meatballs!
---
More Tasty Uses for Bacon Paste:
Turkey Meatballs with Bacon Paste Recipe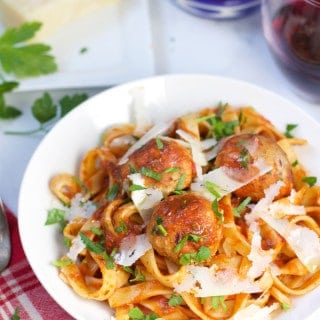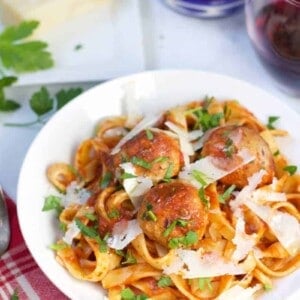 Turkey Meatballs with Bacon Paste
Recipe for easy turkey meatballs and the secret to adding delicious flavor and moisture to turkey meatballs — bacon paste! Learn the trick to amazing meatballs for your favorite pasta dish.
Print
Pin
Rate
Servings:
24
meatballs (5-6 servings)
Ingredients
2

slices

thick cut bacon, (peppered bacon works well)

1

package ground turkey, (approx 1.25 lbs)

1

egg

1

large garlic clove, finely minced

¼

cup

onion, finely diced (about ½ medium onion)

⅓

cup

Pecorino Romano or Parmesan cheese, finely shredded

½

cup

Panko crumbs, or ¼ cup regular bread crumbs

½

teaspoon

red pepper flakes

½

teaspoon

salt

½

teaspoon

ground pepper
Instructions
Preheat oven to 400 degrees.

Place the bacon in a food processor and pulse it a few times until it turns into a paste. Transfer to a large bowl.

Add all other ingredients and gently combine together being careful to not overwork the meat. Roll into golf ball sized balls and place onto a large foil lined baking sheet. Bake 15-10 minutes, or until internal temperature of the meatballs reads at least 165 degrees.

Store for later, or combine with favorite red sauce for spaghetti and meatballs.
Notes
This is for the basic recipe. Feel free to add additional seasonings (like oregano, basil, marjoram, etc.) to the recipe as you see fit.
Alternative cooking methods:
Frying: Heat oil in a large skillet and fry the balls for 5-6 minutes (depending on size), until internal temperature reaches 165. Then transfer to the sauce to combine.
To Smoke: Preheat smoker to 250 degrees F. Place meatballs (on a foil lined baking sheet or directly on grates) on smoker until internal temperature reads 165 degrees on a thermometer.
Find the perfect wine pairing at the Vindulge Wine Shop
---
If you like this recipe we'd truly appreciate it if you would give this recipe a star review! And if you share any of your pics on Instagram use the hashtag #vindulge. We LOVE to see it when you cook our recipes.