Pan Con Tomate, or Grilled Spanish Tomato Bread, is an easy appetizer with roots in Spain. It takes five simple ingredients and elevates them into a grilled toast that just sings late summer vibes.
If you have any late summer tomatoes hanging around, this recipe is perfect for you!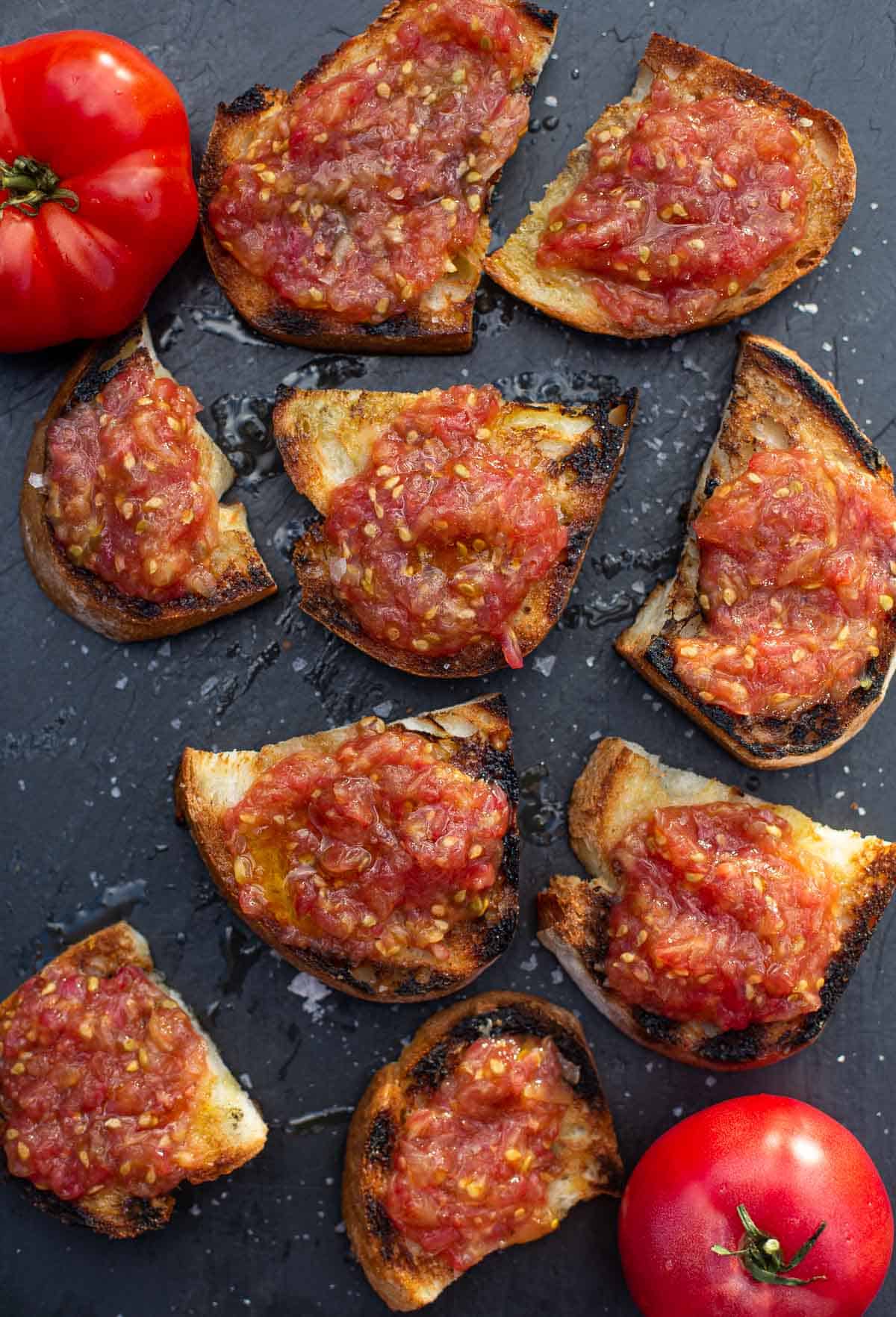 Jump to:
One of my favorite roles in recipe creation is getting to travel all over the world for inspiration. And one of my favorite food destinations is nestled within the many wine regions of Spain. One common experience is being presented with incredibly simple dishes that focus almost exclusively on fresh and local ingredients.
This Spanish Tomato Bread, or Pan Con Tomate, is one of those dishes with just five super simple and common ingredients. But in order to enjoy the full capacity of this simple dish those ingredients must be fresh to make this Spanish inspired appetizer really stand out.
What is Pan Con Tomate?
"Pan con tomate" is a traditional Spanish tapa dish, originating in the Catalonia region. Its name literally translates to "bread with tomato." It's a simple and humble, yet flavorful, dish that highlights the quality of its ingredients.
The beauty of "pan con tomate" lies in its simplicity and its emphasis on high-quality, fresh ingredients. Its history, intertwined with the broader history of the Mediterranean, the introduction of New World crops, and regional identity, has ensured its continued prominence in Catalan (and broader Spanish) cuisine.
Ingredients for Pan Con Tomate
I cannot stress enough to buy high quality and fresh ingredients to really make this Spanish toast recipe the most flavorful. That's what makes this dish a perfect one for those late summer ripened tomatoes.
Rustic Bread – We prefer a loaf style crusty bread (sourdough, ciabatta, etc) over baguette because we are grilling the bread. Baguettes will have the crust on the bottom which gets even more crispy when grilled. So we cut our loaf style bread into slices so we can get the texture we want from the grill.
Garlic Cloves – Peel off the skin but leave the garlic clove intact so we can rub it into the grilled bread.
Ripe Tomatoes – The real star of this pan con tomate is the tomato. We go out of our way to find heirloom or other ripe tomatoes that are plump, somewhat soft and full of flavor.
Extra Virgin Olive Oil – A high quality and fruit forward olive oil is going to add a depth of flavor to the ripe tomato pulp.
Finishing Salt – A Maldon (or specific large crystal finishing salt) is important for added flavor.
Optional: Serrano ham or Iberico ham – Any type of cured meat will be delicious but a thin slice of Serrano over the top adds a beautiful presentation.
Tools Needed
Box Grater – For the tomatoes.
Strainer – For the tomatoes.
Silicone Brush – Use this to brush olive oil onto the bread.
Long Tongs – This makes it much easier to grill the bread without burning your arm.
Preparation
The two important steps is to cut the bread to the correct thickness and grate the tomatoes.
Bread – Be sure the loaf is sliced into ½-inch thick slices so it's thick enough to get good char marks and still be ok to bite into. Any thicker and the bread becomes overwhelming when biting.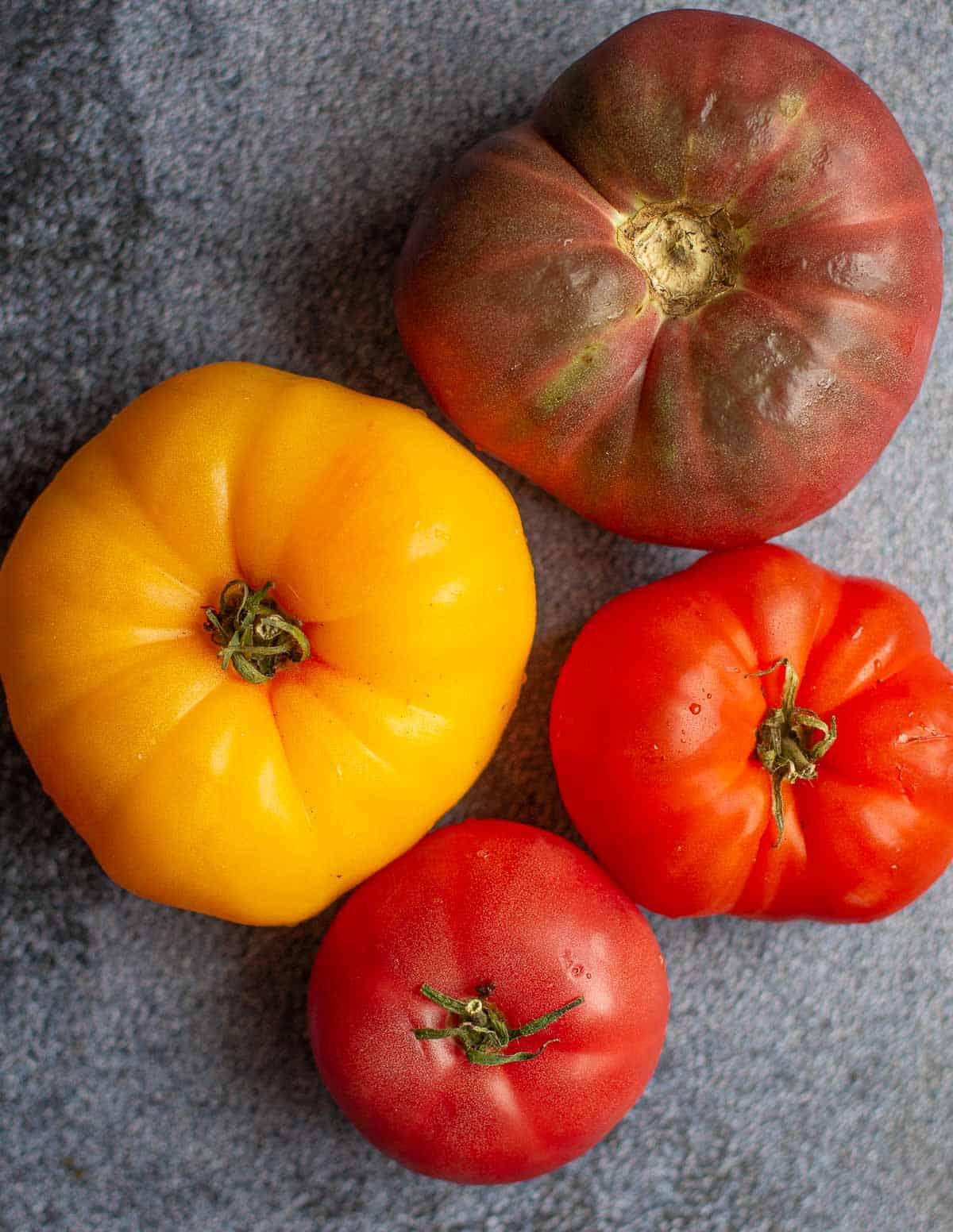 Tomatoes – Place a box grater inside a large bowl. Cut tomatoes in half and run the tomatoes along the large side until all you have left is skin. Discard the skin. In a second bowl add the strainer and then strain the excess liquid from the tomato. Don't press too hard. You just want to remove the extra liquid so it doesn't water down the bread. Add a pinch of salt to flavor the tomato pulp.
Recipe Steps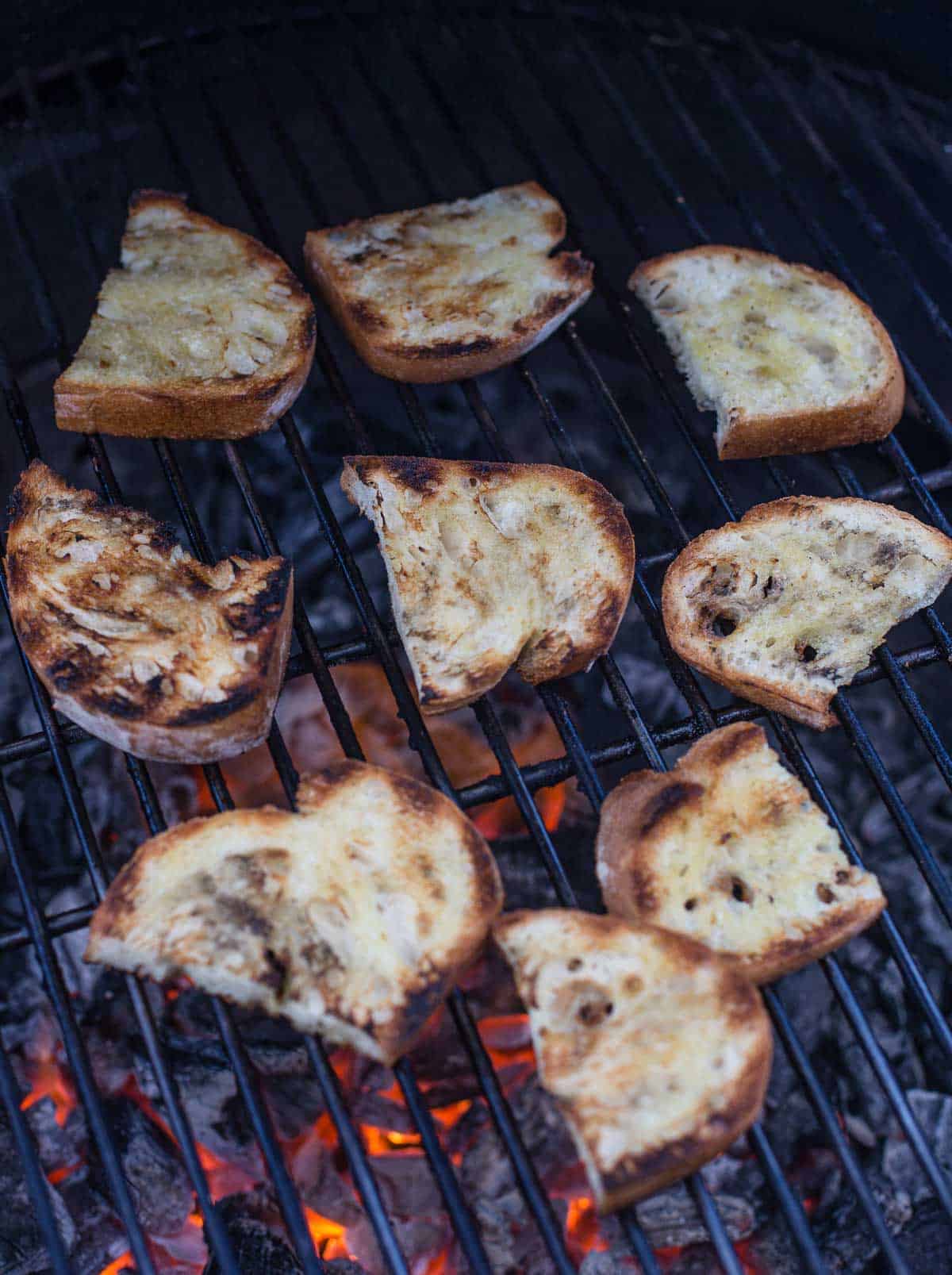 Warm Grill: Prepare the grill for direct grilling using lump charcoal. Target the internal temperature of the grill between 375 and 400 degrees Fahrenheit. Coat the tops and bottoms of the bread slices with olive oil using the silicone brush.
Grill: Place the bread slices on a clean grill grate over the direct heat. It's best to constantly flip the bread to promote even browning on all sides.
Season: As soon as the bread is removed and while still hot, rub one side of the bread with the peeled garlic clove. It should melt onto the bread like butter which is why you want to do this while the bread is hot.
Serve: Place a heaping spoonful of the tomato pulp onto the side of the bread you rubbed with garlic. Lightly drizzle with the Extra Virgin Olive Oil and then top with finishing salt like Maldon. Serve immediately.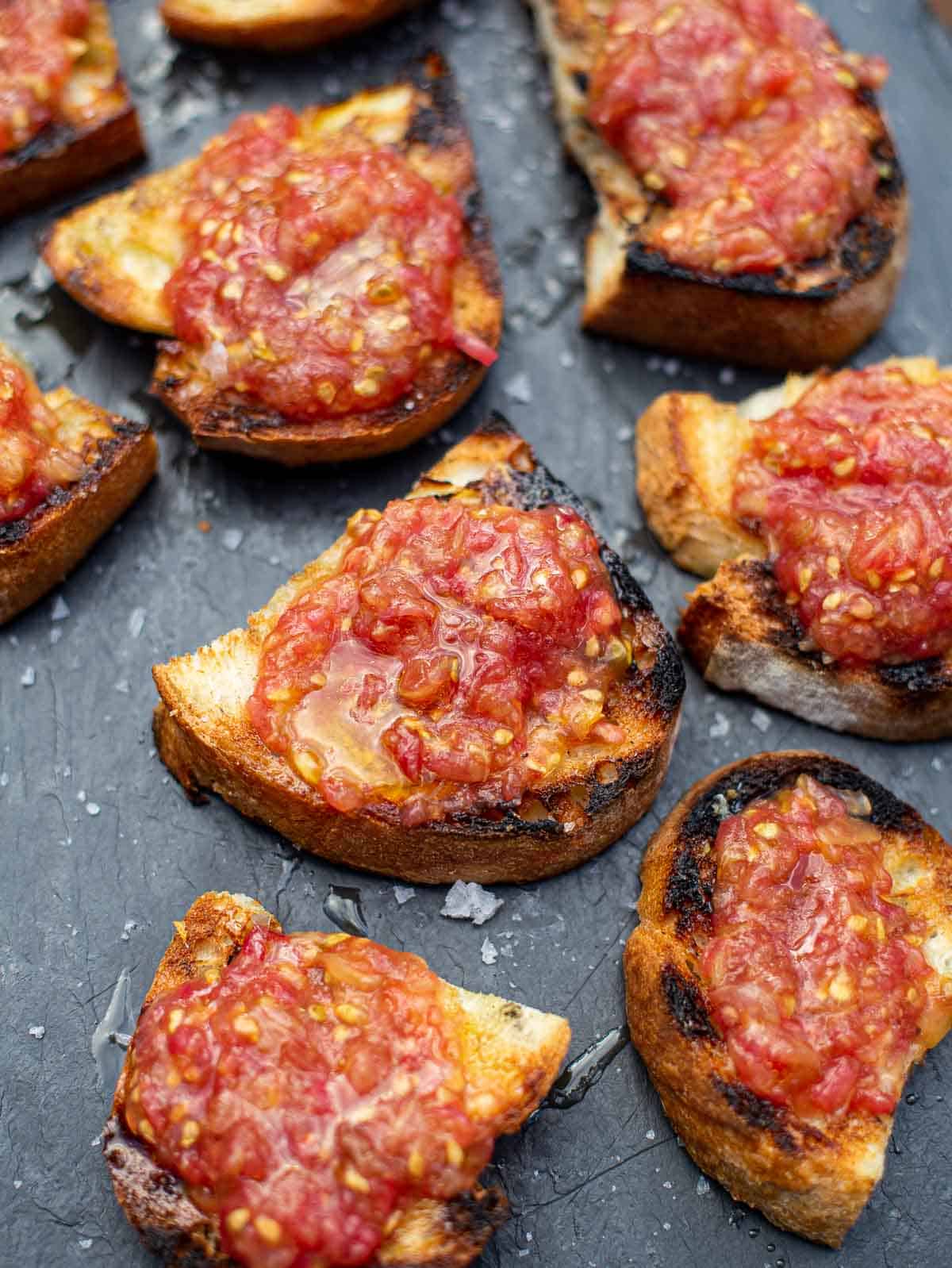 In Spain you'll see various amounts of tomato on the bread, from just barely brushed on, to what you see here. If the tomato tastes fresh and sweet, I love loading it onto the bread to taste the sweet flavors of summer tomatoes.
Variations for Pan Con Tomate
While this grilled tomato toast recipe is focused on four ingredients you can always modify with some fun ideas on the finish.
Cured Meat – Add some thin slices of cured meat like Iberico ham (Spanish focused, but you can always use Prosciutto, which is Italian… I won't tell).
Drizzle – A good aged Balsamic Vinegar can add some rich flavor as well to the finish but be sure it's a thick aged version.
Other Appetizer Inspirations
Whether our Puglia inspired tuna toast or a grilled brie with wine we have dozens of amazing appetizer recipes to choose from. Another incredible favorite of ours is our grilled olives in olive oil.
About Vindulge
Mary (a certified sommelier and recipe developer) and Sean (backyard pitmaster) are co-authors of the critically acclaimed cookbook, Fire + Wine, and have been creating content for the IACP nominated website Vindulge since 2009. They live in Oregon on a farm just outside Portland.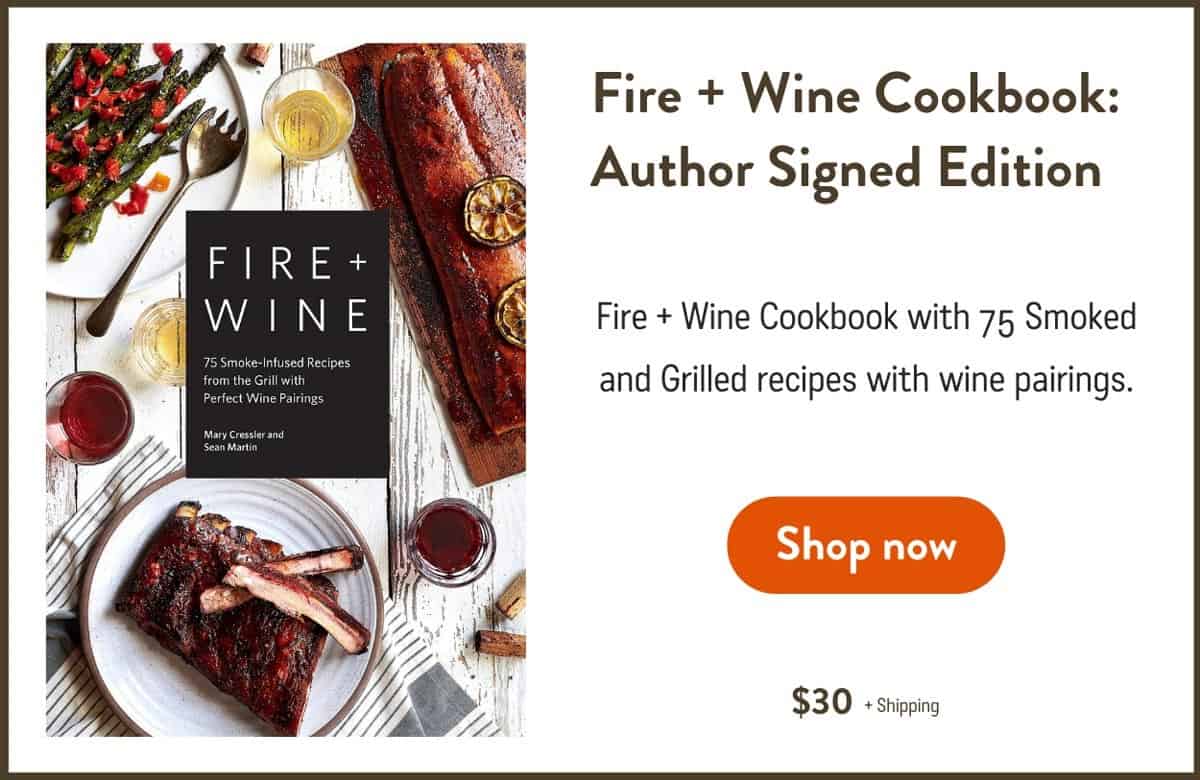 Tried this recipe? Give us a star rating and we would love to see! Mention @vindulge or use the hashtag #vindulge on all the social media handles. And consider subscribing to our newsletter where we drop all our favorite ideas and inspirations every week.
This post may contain affiliate links. This means if you click on the link, we may receive a small commission if you purchase through the link. We partner with brands we know and love and use and it helps keep the blog going!