… Or how I learned how to make a unique and unforgettable risotto recipe from a Prosecco producer in Italy.
"I'm not a trinket person. I don't spend much time in gift shops looking for souvenirs to bring home. While bottles of wine purchased in a region can bring back great memories, once they're gone they're gone. For me, one way to preserve the memory of a trip is learning how to make a dish that closely replicates something tasted at the source. A dish that would never fail to remind me of that place and time. And while traveling through Veneto, specifically the Conegliano-Valdobbiadene Prosecco Superiore DOCG region, that dish was Prosecco risotto." Read more…
Vineyards in the Conegliano-Valdobbiadene Prosecco production area
On my first night staying in the town of Conegliano, located in the heart of the Prosecco production region in northern Italy, I had dinner with Federico Dal Bianco, Marketing Manager and third generation family member of Masottina. It was just the two of us for dinner, and I knew we'd be talking about his wines the next day with the rest of the group who would be joining us later. So that night we talked about food (my second favorite subject!).
This is Federico Dal Bianco. Hi Federico!
During dinner I asked Federico what some of his favorite local signature dishes are – among them he listed mushrooms, meat (cow to be specific), polenta from the local grown corn that you see practically everywhere in the region (when you don't see vineyards that is), and tiramisu, to name a few – he returned the question back to me. "What is the regional cuisine like where you live?"
This smoked salmon dish was made in Oregon, using local salmon. Does that count??
Frankly, I was initially stumped. Portland, Oregon? While we do have some local specialties, like salmon, wild mushrooms, hazelnuts, berries, pears, among others, not to mention culinary trends like food carts. I'm hard pressed to define the region as having a specific staple dish that makes it uniquely ours. Do maple bacon donuts count? While we do have local ingredients that grow well, we are also a melting pot of styles and signature dishes. I couldn't think of something distinctly Portland, at least not in the traditional sense found elsewhere in the world.
What are your thoughts on uniquely Portland foods? I'd love to know.
Check out the rest of the article and get the recipe for Prosecco Risotto over on Palate Press. You can find it here.
Meanwhile here are some more pics of that memorable trip.
Glera grapes, used to make Prosecco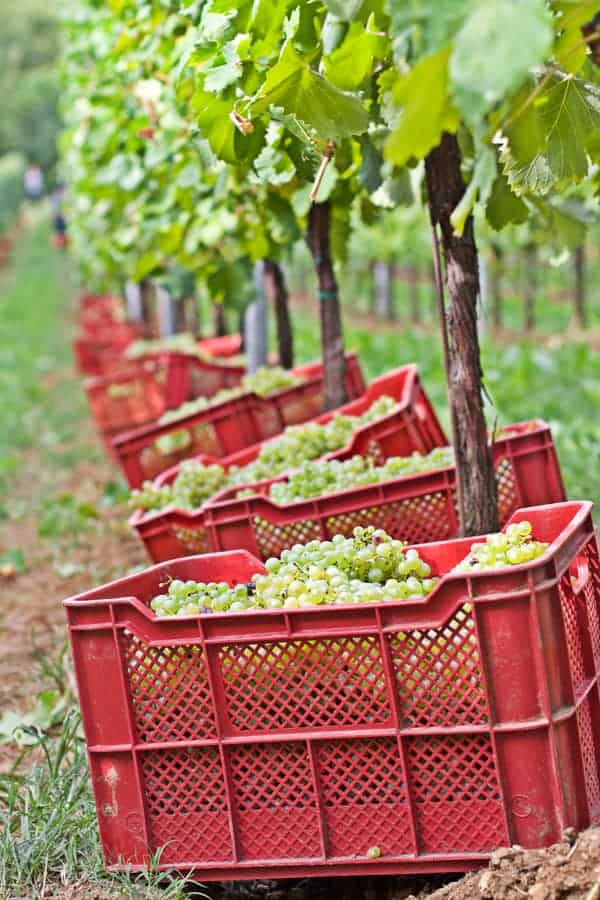 Harvest at Masottina's Contrada Granda Vineyard
The Castle of Conegliano, where I had the lunch that inspired this recipe
And speaking of the recipe, you can find it, and the story behind it, HERE!
---
More recipes inspired by my travels:
---