Smoked Sausage Sandwiches with Peppers and Onions are a super easy way to entertain a crowd. They come together in no time and are a great game day snack!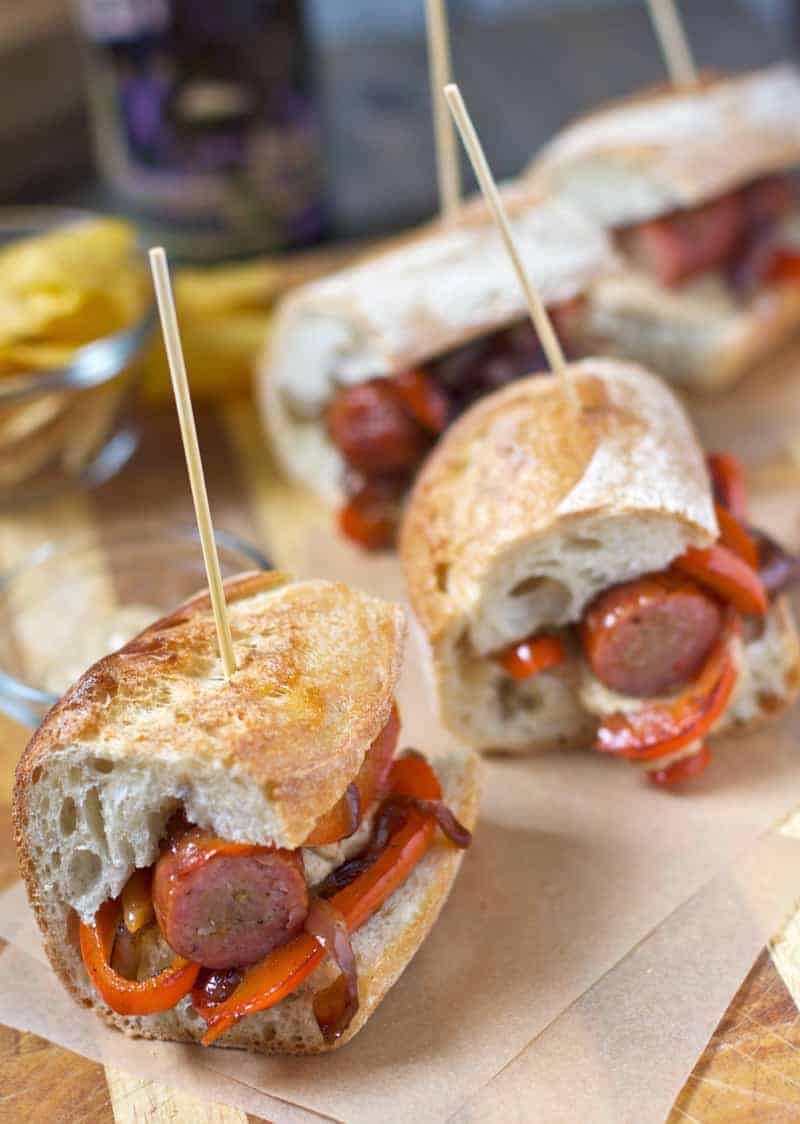 If there is anything we have learned when hosting a party at our place for a football game on TV, special event, playoff season, or party, it is to keep things simple yet delicious. I mean, it's not like you can wait for commercials during a game to run into the kitchen to prep and cook the food.
And in this case, it doesn't get any simpler than a smoked sausage sandwich on a baguette. Pair with a crisp beer? Oh yeah.
I'm going to assume you are firing up the grill or smoker for game day (why wouldn't you?) and likely have plans to throw on a few specialties (like these wings perhaps?). So while other foods are smoking along, throw some sausages on and make these mini-sandwiches to offer your guests.
Think of these like sausage sliders; hearty enough for a substantial snack, but not as filling as a lunch portion (that way guests can enjoy all the game day spread!).
Smoked Sausage Sandwich with Peppers and Onions
First things first, you've got to start with good quality sausage. There are only a few ingredients in this recipe, so use the best ingredients you can find for optimum flavor. Find it from your butcher or even attempt to grind yourself (I dare you!). The key is smoking for great added flavor and incredibly juicy sausages. Add a quality baguette with a slightly crusty bite and soft interior and the then top with the onions and peppers. The final pop comes from deli style mustard. It doesn't have to be fancy to be delicious. The smoky sausages, with crusty bread, and savory roasted peppers and onions. Yesssss.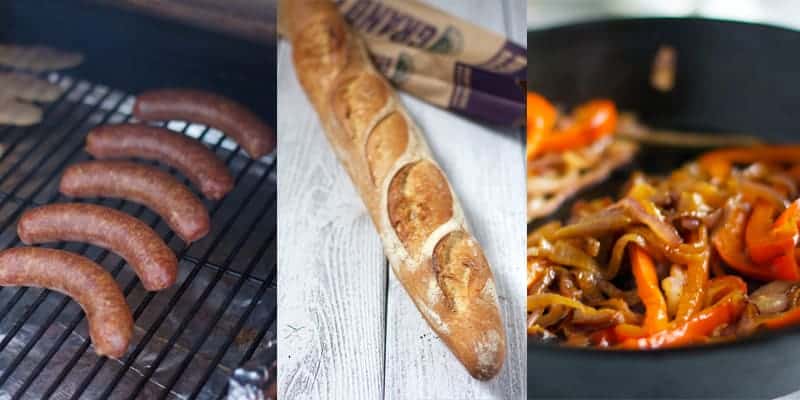 How to Make a Smoked Sausage Sandwich
Smoke Sausage: on the smoker for about one hour (or until the internal temperature reaches 165 degrees). Let sit for about 10 minutes and cut in half.
Cook Peppers and Onions: on a skillet over medium high heat cook the peppers and onions for about 8-10 minutes or until soft and slightly caramelized.
Prep Baguette: cut baguette into eight pieces and then cut down the center to make a bun-like shape, but take care not to cut all the way through.
Make Sandwiches: layer each sandwich some mustard, some pepper/onion mix, and top with the sausage. Repeat with each slice of baguette for eight servings.
Recipe For Smoked Sausage Sandwich
---
More Game Day Recipes
If you like this recipe we'd truly appreciate it if you would give this recipe a star review! And if you share any of your pics on Instagram use the hashtag #vindulge. We LOVE to see it when you cook our recipes.