Do you have leftover pulled pork? Use it to make these incredible and indulgent Pulled Pork Nachos! This is one of my family's all time favorite appetizers, and I know you'll love them as much as we do!
Perfect to cook directly on your grill, or in your oven. This pork nacho recipe is an easy dinner or game day snack.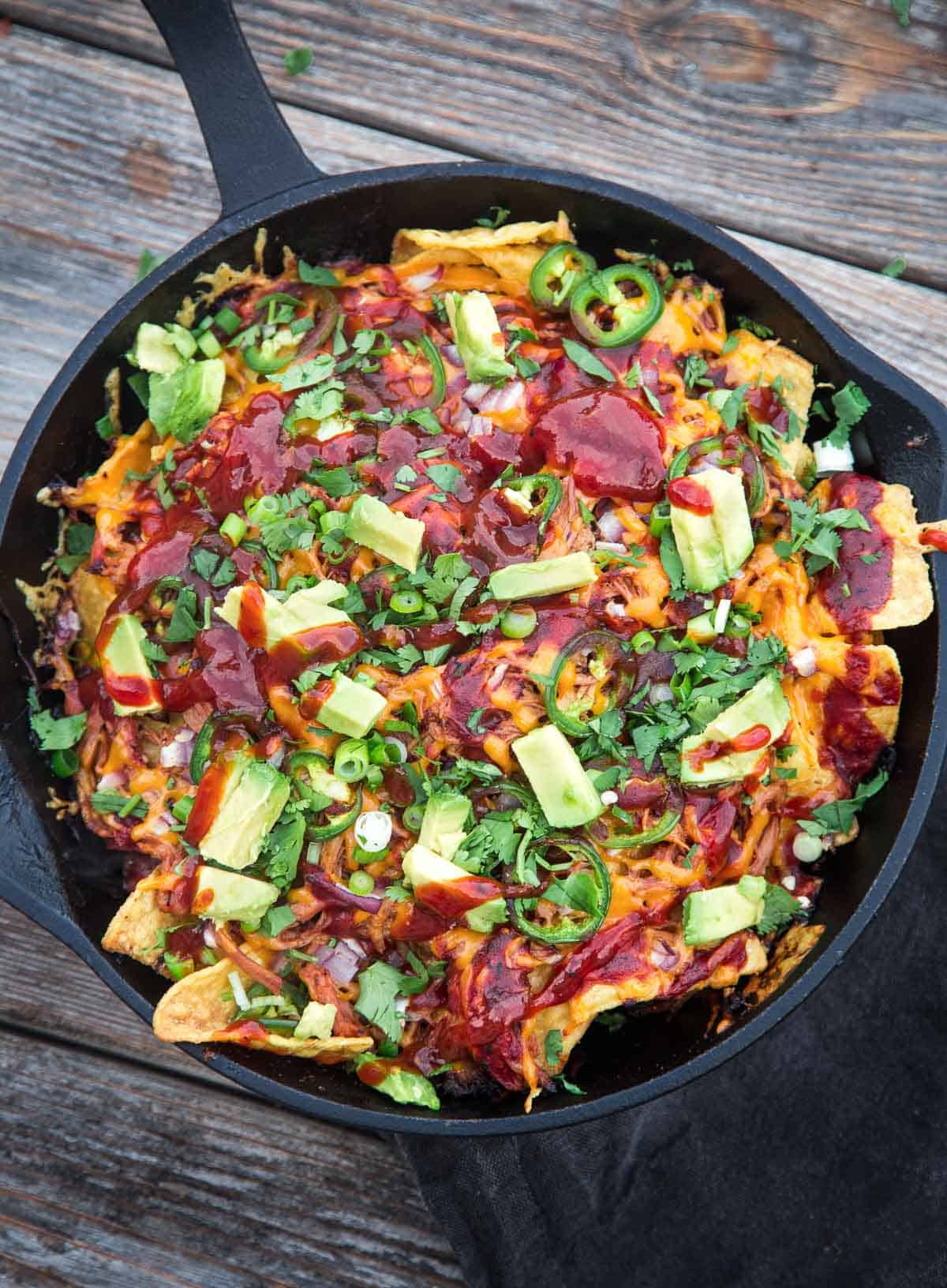 Smoking a whole pork butt (or Boston butt, or pork shoulder) is one of our favorite things to cook. It's the gift that keeps on giving with plenty of leftover meat. Start with smoked pulled pork, then use the leftovers in a number of excellent ways — like making these pulled pork nachos. We make these on the grill but you can also use a rimmed baking sheet for sheet pan nachos too.
Jump to:
Ingredients
The nice thing about pulled pork nachos is that you can adapt the recipe in so many ways.
Corn Nacho Chips – This may seem basic, but you need a good and sturdy corn chip that can handle the weight of all the ingredients. You want crispy chips after they have baked.
Pulled Pork – We used smoked pulled pork, but you can use pulled pork from your slow cooker or instant pot or you can even buy pre-smoked pulled pork.
Barbecue Sauce – We stick with the classic Kansas City Style BBQ sauce but you can adapt with your favorite store bought sauce or even make with any of our own styles of BBQ sauce.
Best Cheese – You can use different types of cheeses based on the flavor you want. Classic shredded cheddar cheese adds a nice tang. Another great option is Monterey jack as it's mild and melts really well. Or mix in equal parts. If you want to add heat then you can use pepper jack. It just comes down to your personal preference. You can even just use the mexican blend of shredded cheese found at most grocery stores.
Toppings – Specifically these are added before grilling or baking. You can get very creative but for this pulled pork nachos recipe we stick with diced red onion and thinly sliced jalapeños.
Garnish – This is added after the nachos are done baking. Add fresh chopped green onions (use the green end), cilantro, sour cream, and thinly sliced avocado.
Chef's Note: AVOID soggy nachos. Be sure you buy thick nacho chips that are crunchy and don't prepare these in advance. Be sure the oven is preheated and ready before adding the toppings.
Optional Toppings:
Beans – If you want to add more protein then consider adding some black beans or pinto beans before baking them.
Black Olives – You can add sliced black olives. We recommend doing this before you bake them.
Green Chile – We love roasted green chile or canned green chile as well and they can be of all types of heat levels.
Pulled Pork
We have tons of uses for leftover pulled pork, but this one is perfect when you just want a big plate of pure bliss. These pulled pork nachos are crunchy, smoky, saucy, and spicy. It's really all good things in the world, all loaded together, on into one amazing dish.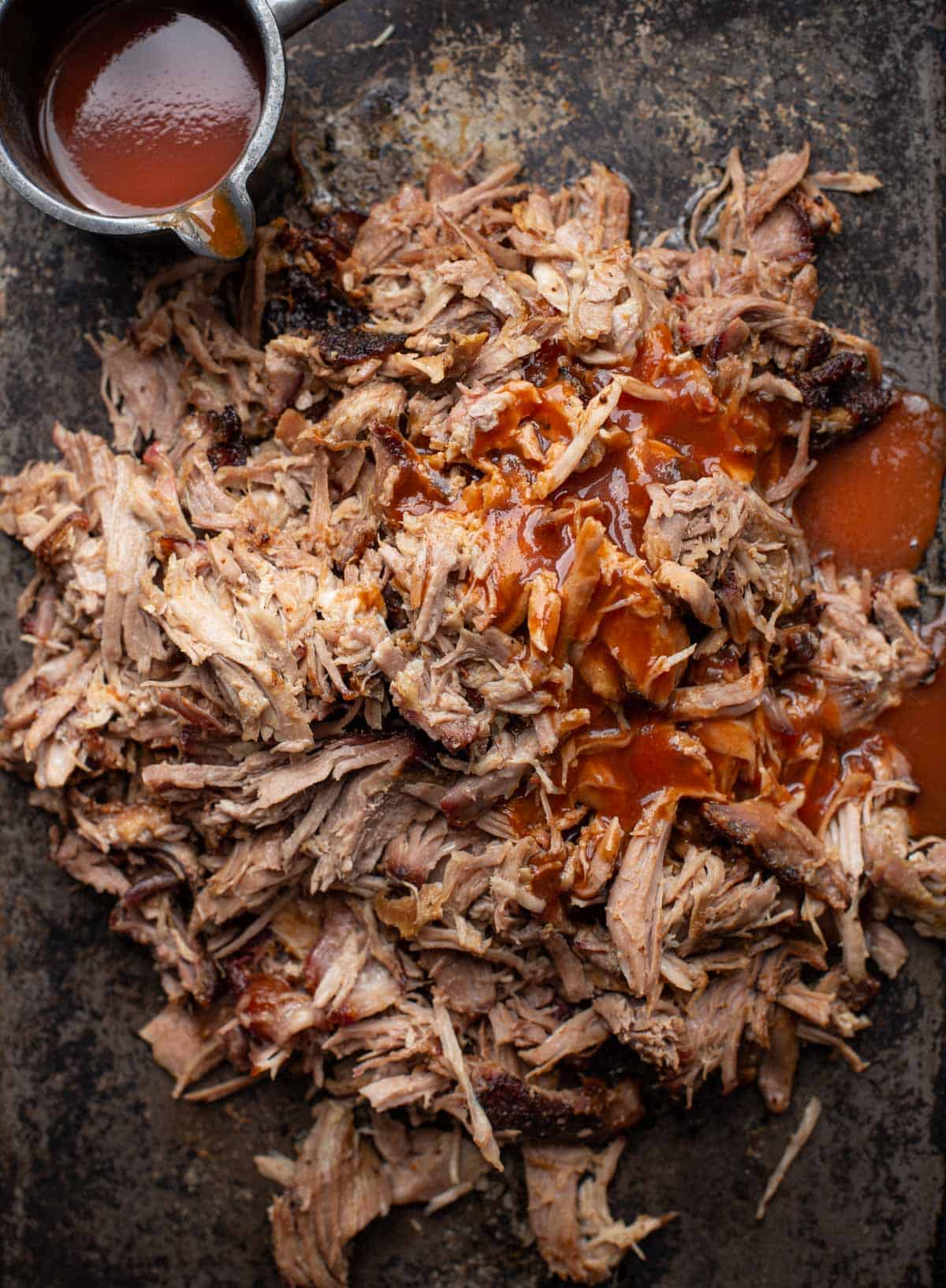 You can make pulled pork nachos with any kind of leftover pulled pork. But the very best nachos start with Smoked Pulled Pork.
You can layer up the goods on a sheet pan and bake them at 375°F. until the homemade nachos are melted and hot.
But if you have the time and willing to go to the distance (go you!!!), then my recommendation is to cook these directly on the grill.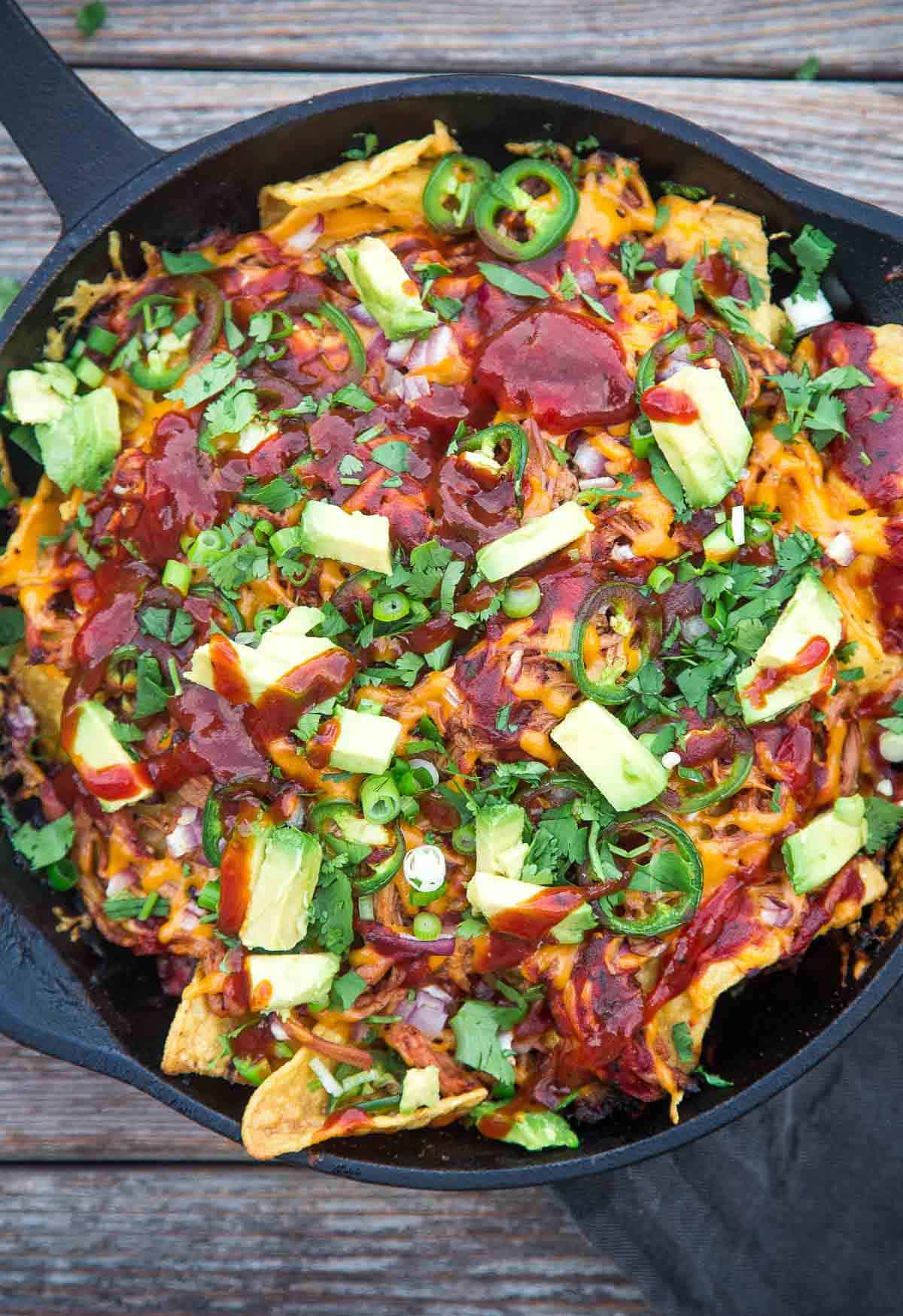 How to Make Pulled Pork Nachos on the Grill
Get your grill hot, around 375 degrees F, and set up for direct grilling. On a gas grill this would be medium heat.
Layer your nacho ingredients into a cast iron pan. I like to do at least 2 to 3 layers (depending on the depth of your pan) starting with a layer of corn chips, then the pulled pork, cheese, optional veggies and jalapeños, and a drizzle of BBQ sauce. Repeat until you have a mound of nachos in the pan.
Place on the hot grill, cover the lid, then cook until hot and melted (around 8 – 10 minutes total).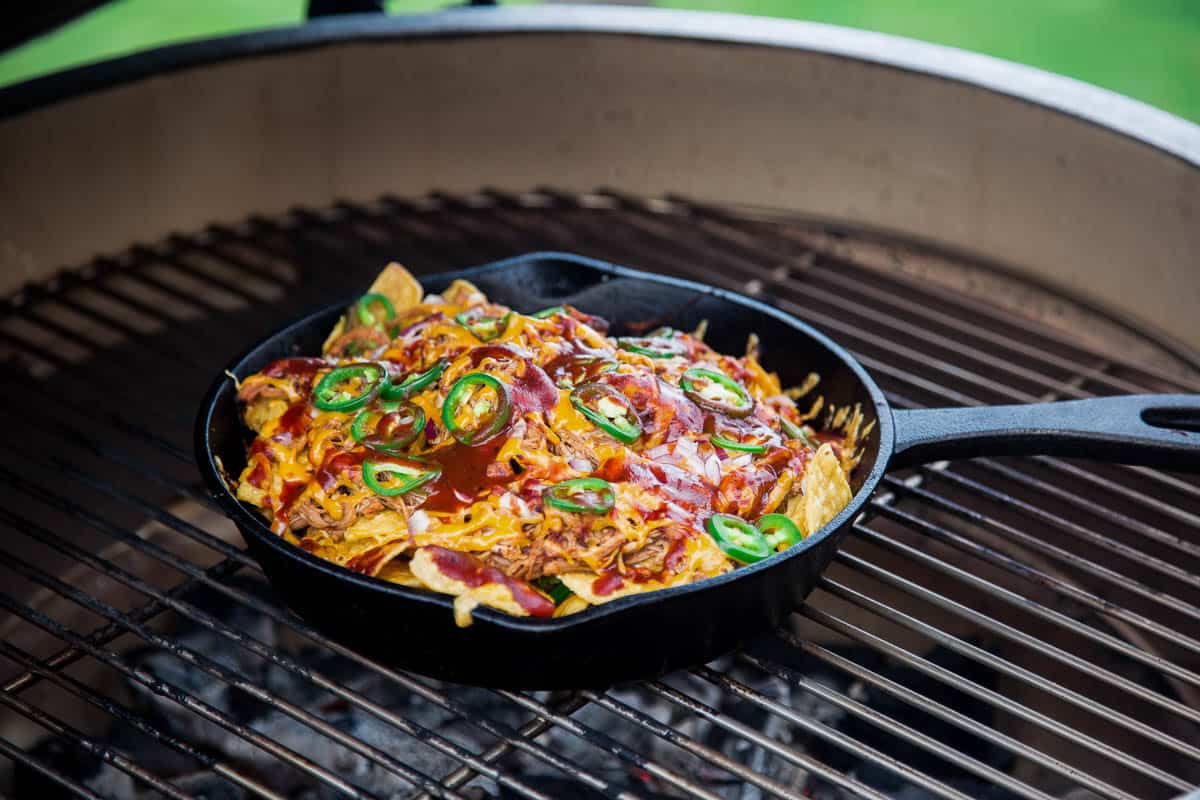 In The Oven
If you don't have a grill, or the weather isn't cooperating, follow the same instructions using your oven. Set oven to 375 degrees (F), and load up your ingredients in a baking dish or sheet pan. Because you have more surface area in a sheet pan you likely only need one layer for the portions in this recipe.
Whatever time of the year, and whatever sports you may be into, your game is screaming for these smoky indulgent BBQ Pulled Pork Nachos! But of course if sports ain't your thing, you can also enjoy these snuggled up on your sofa while wearing yoga pants, catching up on Netflix, and drinking red wine. 😉
More Leftover BBQ Pork Recipes
---
This recipe was originally published in March, 2018 and updated in May of 2023 with more recipe details and photos.
Mary (a certified sommelier and recipe developer) and Sean (backyard pitmaster) are co-authors of the critically acclaimed cookbook, Fire + Wine, and have been creating content for the IACP nominated website Vindulge since 2009. They live in Oregon on a farm just outside Portland.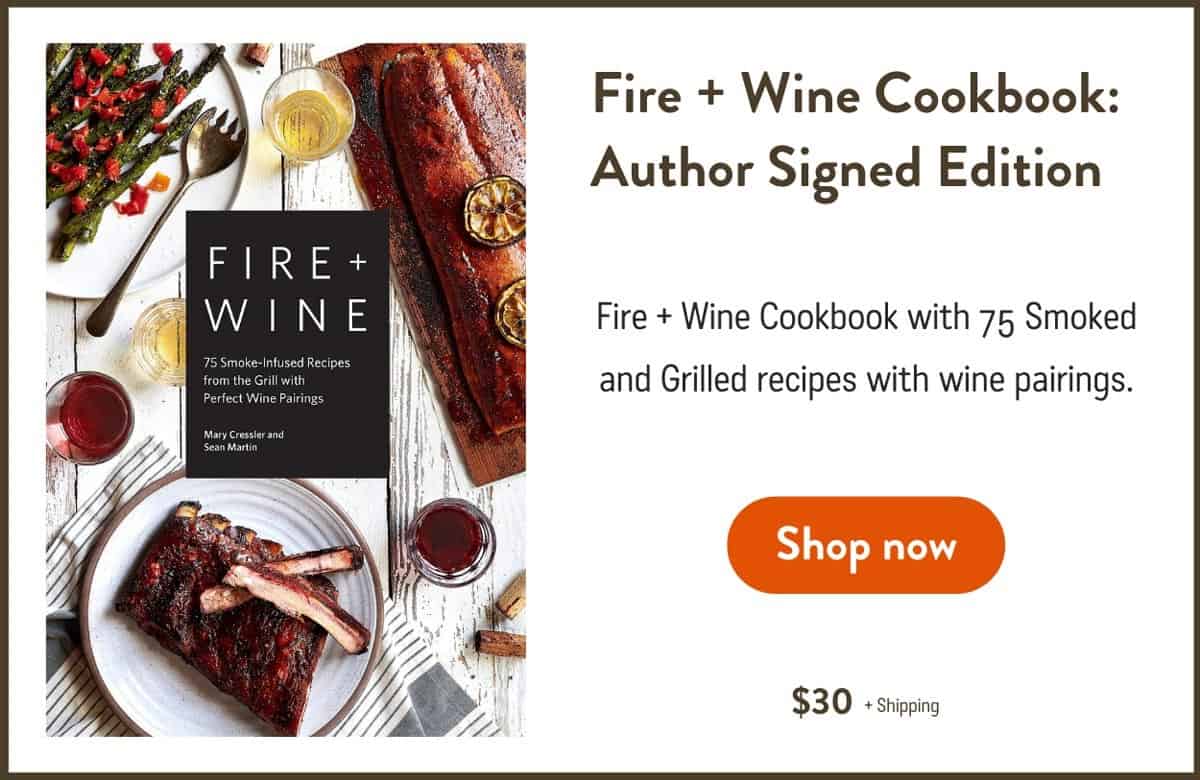 Tried this recipe? Give us a star rating and we would love to see! Mention @vindulge or use the hashtag #vindulge on all the social media handles. And consider subscribing to our newsletter where we drop all our favorite ideas and inspirations every week.
This post may contain affiliate links. This means if you click on the link, we may receive a small commission if you purchase through the link. We partner with brands we know and love and use and it helps keep the blog going!