Got leftover pulled pork? Use it to make these incredible and indulgent smoked Pulled Pork Nachos! This is one of my family's all time favorite appetizers, and I know you'll love them as much as we do!
Perfect to cook directly on your grill, or in your oven. Great for smoked BBQ pulled pork, or pork cooked in your oven or slow cooker.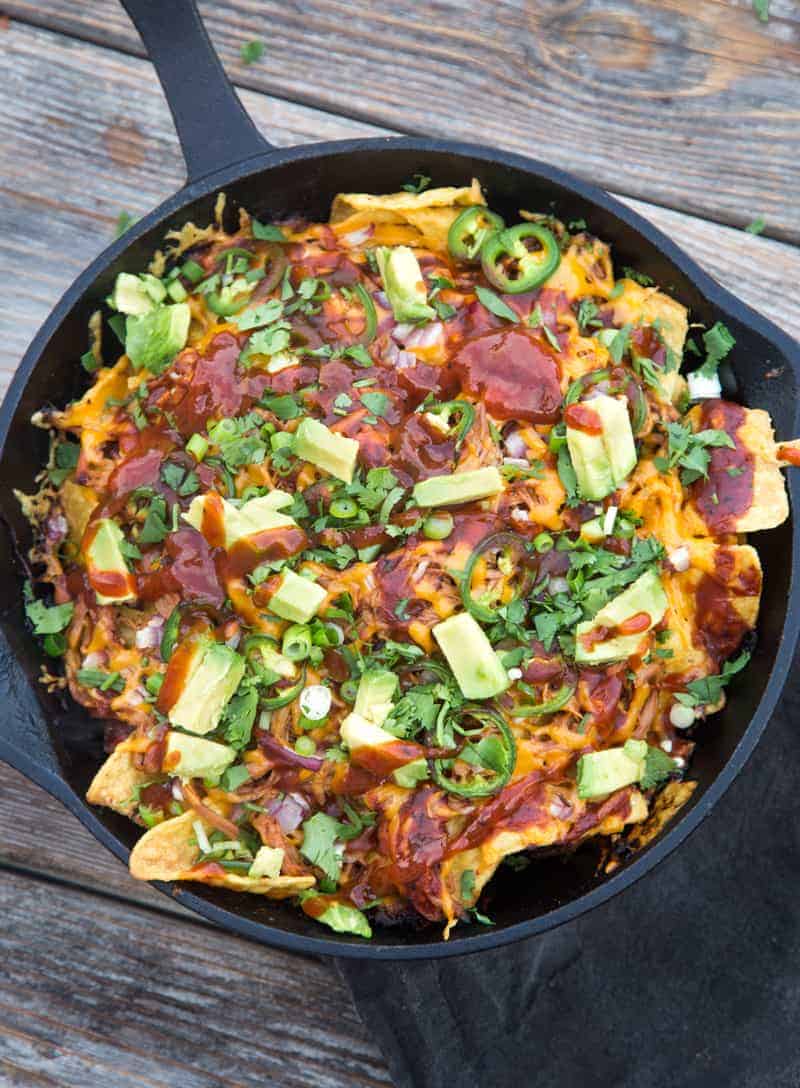 Smoking a whole pork butt (or Boston butt, or pork shoulder) is one of our favorite things to cook. It's the gift that keeps on giving. Start by making the ultimate pulled pork sandwiches, then use the leftovers in a number of excellent ways — like making these pulled pork nachos.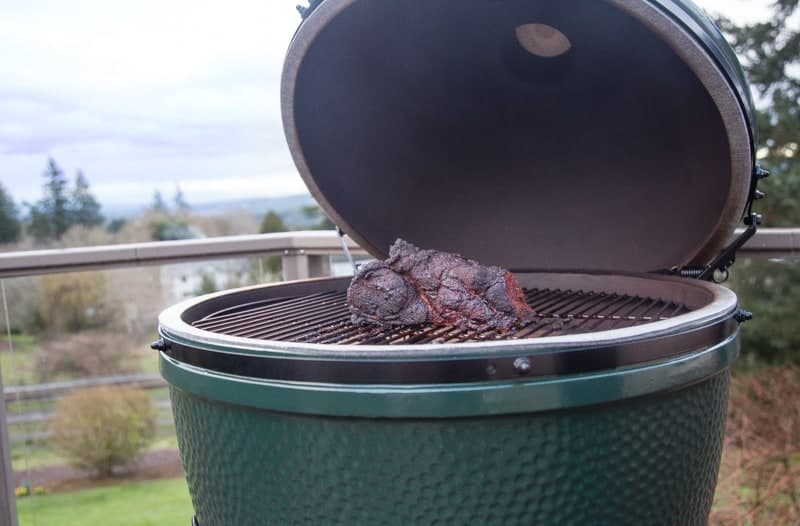 Pulled Pork Nachos
We have tons of uses for leftover pulled pork, but this one is perfect when you just want a big plate of pure bliss. These pulled pork nachos are crunchy, smoky, saucy, and spicy. It's really all good things in the world, all loaded together, on into one killer dish.
You can make pulled pork nachos with any kind of leftover pulled pork. But the very best nachos start with Smoked Pulled Pork.
You can layer up the goods on a sheet pan and back them at around 375°F. until everything is melted and hot.
But if you have the time and willing to go to the distance (go you!!!), then my recommendation is to cook these directly on the grill.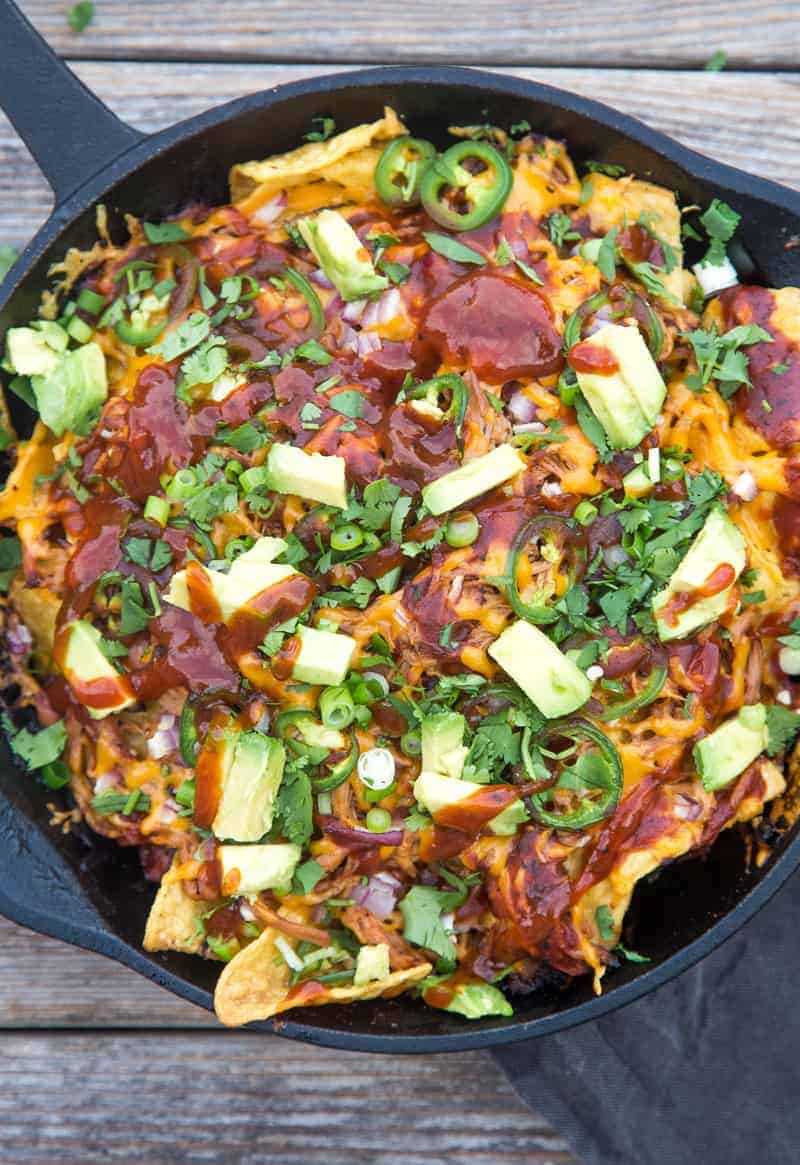 How to Make Pulled Pork Nachos on the Grill
Get your grill hot, around 375 degrees F.
Layer your nacho ingredients into a cast iron pan. I like to do at least 2 to 3 layers (depending on the depth of your pan) starting with a layer of corn chips, then the pulled pork, cheese, optional veggies and jalapeños, and a drizzle of BBQ sauce. Repeat.
Place on the hot grill, cover the lid, then cook until hot and melted (around 8 – 10 minutes total).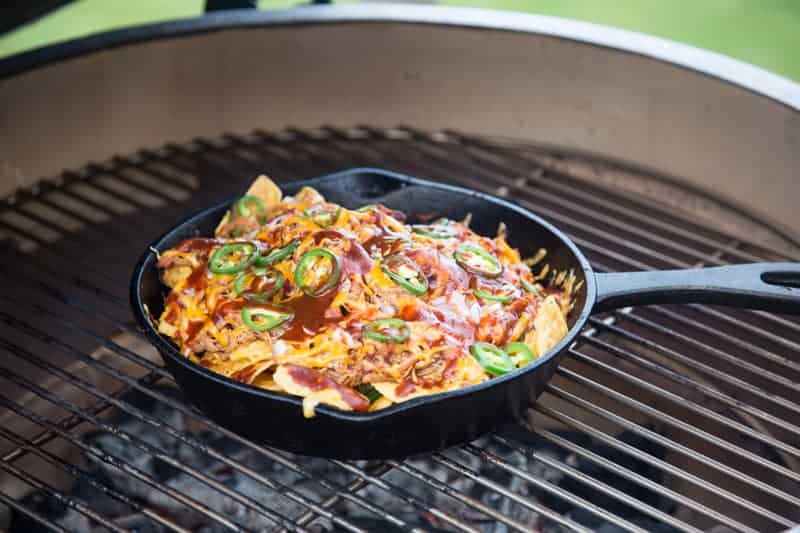 Do you need a grill to make these nachos?
No. But it is a great way to cook them, giving them extra smoky flavor. It's also pretty cool to impress your friends by cooking them on the grill.
But if you don't have a grill, or the weather isn't cooperating, follow the same instructions using your oven. Set oven to 375 degrees (F), and load up your ingredients on a cast iron pan or other oven-proof baking dish or sheet pan, and cook away in the oven.
Whatever time of the year, and whatever sports you may be into, your game is screaming for these smoky indulgent BBQ Pulled Pork Nachos! But of course if sports ain't your thing, you can also enjoy these snuggled up on your sofa while wearing yoga pants, catching up on Netflix, and drinking red wine. 😉
More Leftover BBQ Pork Recipes?
Pulled Pork Nachos Recipe
If you like these ideas for Leftover Pulled Pork we'd truly appreciate it if you would give this recipe a star review! And if you share any of your pics on Instagram use the hashtag #vindulge. We LOVE to see it when you cook our recipes.
---